BWN Nerds' Movie Review: Free Guy (2021)
The Nerds tackle the new Ryan Reynolds movie Free Guy! It did surprisingly well at box offices and has been quite a topic for the last few months. Does it live up to the hype?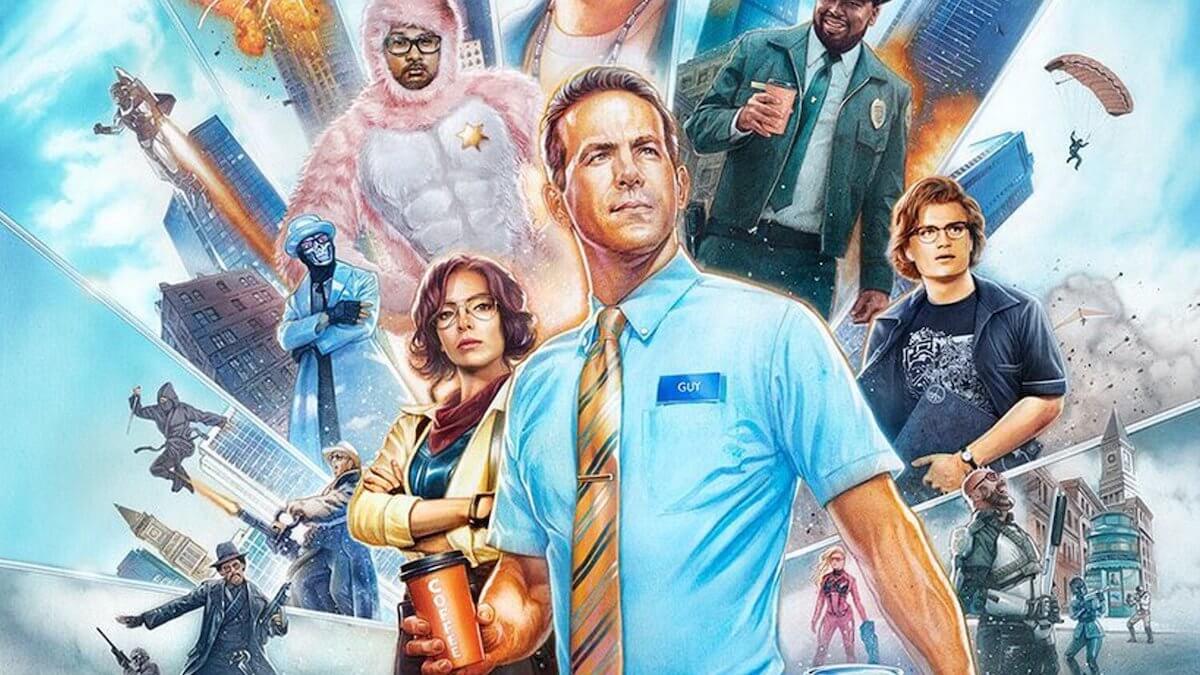 This week the Nerds decide to tackle another new movie! Free Guy opened with one of the stronger pandemic numbers and maintained number 1 status for two straight weeks. Smaller scale, not a large budget, but it plays in that space that seems to be fairly popular unless it's Pixels with Adam Sandler.
Does it live up to the hype?
*SPOILER WARNING*
Metacritic: 62
IMDB: 7.3/10
Rotten Tomatoes: Critic – 80% / Audience – 94%
Nerd's Take on: Free Guy (2021)
Dave
If you are one of BWN's loyal listeners (you 22 know who you are), then you know that we just wrapped up our review of Marvel's What If…? The topic of the Nerd Review this week is kind of like asking, "What If Ready Player One was merged with Wreck It Ralph, The Truman Show, and The Matrix? I am not entirely sure…. but I think it would look and feel a lot like Free Guy. And that, my friends, is a very good thing indeed.
Free Guy focuses on Guy. Guy is what is known in gaming circles as an NPC, which stands for Non-Player Character. Anyone who has played just about any video game since the dawn of time knows what a NPC is, even if they did not know the technical term for it. Well, Guy is an NPC in a MMORPG known as Free City. Every day, Guy wakes up, says hello to his goldfish, grabs a coffee, and heads to the bank where he and his best friend, Buddy, a Security Guard, work. Everyday the bank is robbed, multiple times. It is all good though as it gives Guy & Buddy a chance to talk as they lie on the ground waiting for the heist to be over. Guy, Buddy, and all the other NPCs in Free City have no idea they are not real…. that is until Guy sees the girl of his dreams walking around on the streets of Free City. This leads to Guy getting a hold of sunglasses, which are what the human controlled characters wear. If you ever saw They Live, when Guy puts on the glasses, he sees things the other NPC's cant, such as med-packs, high scores, and objects that are only visible to human controlled characters as in-game items. Guy has no clue what is going on but he follows his dream girl, known as Molotov Girl, and he is desperate to impress her. She tells him he needs to level up first. This leads to Guy breaking out of the routine of his programming and rapidly evolving into the first true case of AI in existence. Everyone who works at Soonami, the developer of Free City, thinks that Guy is a human controlled character using an NPC skin. Whatever the case, Guy comes to be known as Blue Shirt Guy and he develops a huge following.
Then we have what is going on in the real world. We get to meet Keys & Mouse, who are coders at Soonami and who have been working on the code for Free City 2. But prior to coming to Soonami, Keys developed the code for a somewhat similar game with Millie. Millie is the human controlling Molotov Girl and she is trying to come up with evidence that Soonami's head honcho, Antwan, stole the source code from the game that Keys & Millie developed and inserted it into Free City to help make the game infinitely better. At first, Antwan loves all the attention Blue Shirt Guy is drawing to the game. But Guy's antics soon become more problematic. Guy rescues Molotov Girl as she faces insurmountable odds in trying to retrieve a key piece of video evidence from the game. It is during this rescue that Keys comes the realize that Guy is not a human controlled character, but an NPC that has evolved and become sentient. Guy falls in love with Molotov Girl and she reciprocates, at least on some level. Antwan learns that Guy is an actual AI based being but all he can see is the threat to his empire that Guy might pose. He does everything he can to stop him, including rebooting the system and destroying servers. But Molotov Girl is able to restore Guy's memory and Guy knows exactly where they need to go to obtain the proof that Antwan is a thief. This leads to the climactic scenes of the movie which, like a hidden level of a great video game, slowly reveals a heart-warming love story hiding in plain sight the whole time.
Let me get this out of the way:  I loved this movie. From a nerd's standpoint, it is loaded with all sorts of nerdy stuff to make you smile. Anyone who has ever played a video game, especially a MMORPG, is going to be able to relate to so many aspects of this movie. There are multiplayer lounges, repetitive missions, just over the top violence for the sake of violence and, yes, there is tea-bagging and flossing going on (and, no, if you don't know what that means, I am not going to explain it here). It is very clever what director Shawn Levy did here. We have all done things to the NPCs in our favorite video games that we would probably rather not mention publicly. It just goes with the territory. Free Guy, much like Wreck It Ralph did, brings you into the actual lives of the NPCs and gives them personality and purpose, even if it is all a loop and programming. Once Guy learns of the reality of his situation, and of Antwan's ultimate plan to wipe out any possible existence of the source code from Millie and Key's original game, he becomes a hero as he defies the odds to help his friends out. There is plenty of action and adventure here for fans of those genres, along with a lot of really funny moments.
Probably the highlight of the movie is when Dude shows up. Dude is a heavily muscled version of Guy whose code has not been completed. Guy's battle against him is complete with a Captain America shield, a Star Wars lightsaber, and a Portal gun from the Portal video game. The way this is all integrated into the fight is more than a nod to these great movies and games; they actually shift the tide of the fight. There are lots of little things like that in the movie, just subtle nods to Nerdom and pop culture. It is nowhere near the level of nerd-nostalgia that we saw in Ready Player One, but it is tremendously fun all the same. If there is one problem, it is that the movie is not likely going to appeal to non-gamers. Yes, there is a great love-story that finally reveals itself at the end that anyone can enjoy. But the movie is steeped heavily in video game jargon, images, lexicon, and terminology that non-gamers will likely find pretty absurd. Therefore, if you are a non-gamer, this might not be your movie.
The cast is excellent, but that should come as no surprise as Ryan Reynolds, who plays Guy and Dude (except for Dude's body) is in another zone entirely right now. His performance here is honestly one of his best. It is like he was channeling an insanely good-natured version of Deadpool. Shockingly, there was no mention of Deadpool at all in this movie and that was a good thing. Jodie Comer absolutely kills it as Molotov Girl/ Millie and is the perfect foil for Guy as their relationship evolves. Joe Keery and his immaculate hair is excellent as Keys and there is a lot of his portrayal of Steve Harrington from Stranger Things present here, which really works to his advantage. The possible MVP of them all though is Taika Waititi whose portrayal of Antwan is the perfect blend of evil villain and just total douchebag. There are cameos from Chris Evans and the late Alex Trebek and voice cameos from Hugh Jackman (of course), Tina Fey, Duane Johnson, and John Krasinski. With a cast like that, how could the movie fail?
The short answer is it didn't. Free Guy is quite possibly the most surprisingly good movie I have seen in 2021. I knew it would be good; I did not know it would be special. It is funny, it is clever, it has just the right amount of nerd-based goodness mixed in with a surprisingly heart-warming conclusion, and it is just very entertaining from start to finish. It is as much a movie about friendship and what it means to be alive as it is about the inner workings of video games. I paid $20 to watch the movie and it was worth every penny. This is one I cannot recommend enough.
Rating: 4.5/5

Rey
Movies like Free Guy make me massively jealous.  I consider myself a creative person, one who has a ton of interesting ideas.  I could NEVER have come up with the premise for such a cleverly written and acted movie.  And that was the appeal of this movie, and then I had the pleasure of watching it.  My goodness, what a movie it was.
Normally, I like to give a bit more suspense in these articles before I give my opinion on a film.  Not this time.  This movie is a 5 out of 5 in every way.  This movie deserves to be in the time capsule.  This movie will be remembered as one of the finest achievements of cinema in this generation.  Kind of crazy for a Ryan Reynolds flick, right?
What makes this movie so genius is simply the way it flips something we know so well – video games – and flips it in a way that only someone highly inebriated and under the influence could come up with – what happens in a video game outside of the first-person viewpoint.  Ryan Reynolds brilliantly plays Guy, a Non-Player Character, who turns out to be a sentient AI created by Millie and Keys (Jodie Corner and Joe Keery), who created a game stolen by Soonami Games and their CEO, Antwan (Taika Waititi).  Both Keys and Millie decided to sell the game to Antwan and Soonami, while Millie feels that Antwan stole their code for the game.  This code turns out to be Reynold's Guy, a banker in Free City.
Guy's life is simple.  He wakes up, drinks coffee, looks out of his window, plays with his fish, hangs out with his best friend Buddy (a bank security guard played by Lil Rel Howery), and gets robbed repeatedly.  He carries on with his created purpose until he sees Millie's Free City avatar Molotov Girl, in which he falls instantly in love.  The rest of the movie is Guy learning more and more about himself, eventually finding out that he's in a game and that Antwan is trying to destroy it because Millie and Keys figured out that he stole their code.  The journey is hilarious, heartfelt, and ingenious.
There's no need to go super in depth.  There's no need to write a long love letter to this movie.  You just need to watch it.  It is legitimately one of my favorite movies I've ever watched, and I'm inspired by the ingenuity that led to the idea that became Free Guy.  So I appreciate you guys reading this article, but stop.  Go buy or rent Free Guy.  Then come back and tell me how right I was.
Rating: 5/5
Overall Nerds Rating for Free Guy (2021): 4.75/5
Bandwagon Nerds #106: Spider-Speculation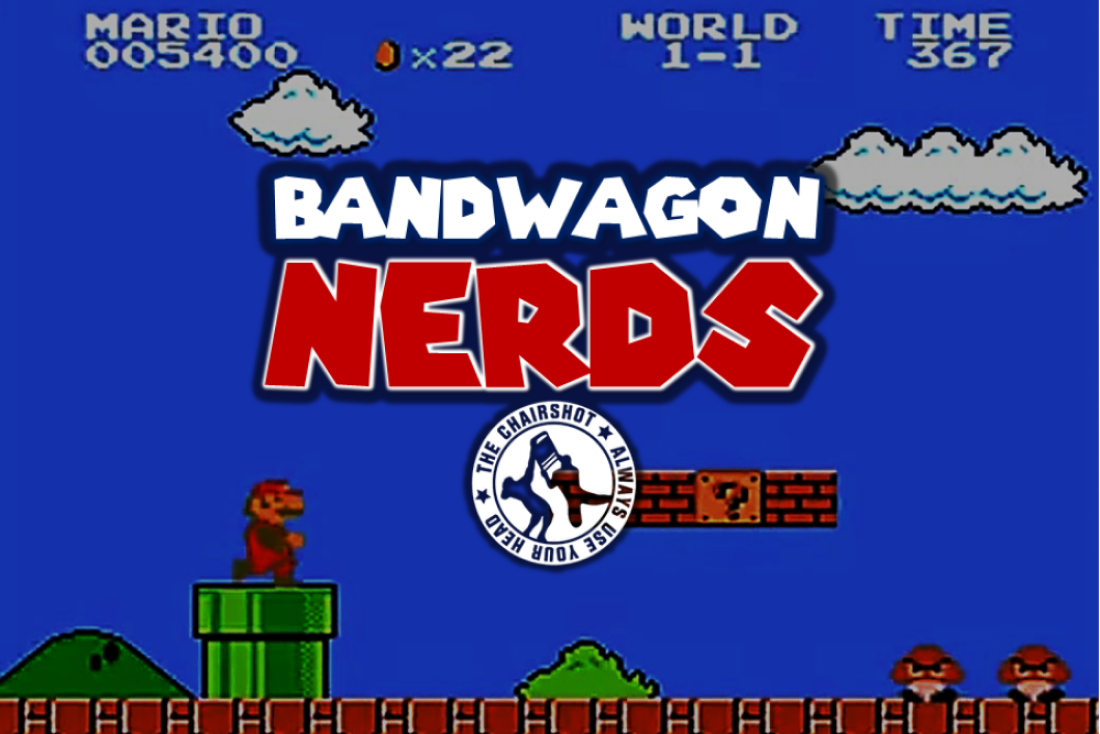 With Patrick and Dave under the weather and Rey out of action, the Bandwagon brings an episode a little shorter on time but still high on content!  This week, the Nerds continue their breakdown of Locke & Key.  Learn how this episode almost caused Tunney to break his promise to not binge the show.  In news around the Nerdosphere the guys discuss the controversy embroiling video game giant Activision, a Harry Potter Reunion special and a fifth Lethal Weapon movie possible coming to HBO Max.  Finally, a new trailer Spider-Man: No Way Home trailer dropped.  The Nerds discuss the potential spoilers and secrets before turning to the possibility that the MCU may be due for some critical and fan backlash.
@WrestlngRealist

@AttitudeAgg
@itsReyCash
@PCTunney
@therealcplatt
@ChairshotMedia
About Bandwagon Nerds
Join Patrick O'Dowd, David Ungar, PC Tunney and Rey Cash as they keep everyone up on all things nerd, and maybe add some new nerds along the way. It's the Bandwagon Nerds Podcast!
About the Chairshot Radio Network
Created in 2017, the Chairshot Radio Network presents you with the best in wrestling and wrestling crossover podcasts, including POD is WAR, Women's Wrestling Talk, The #Miranda Show, Badlands' Wrestling Mount Rushmores, The Outsider's Edge, DWI Podcast, Bandwagon Nerds, the Greg DeMarco Show, 3 Man Weave, Five Rounds, Turnbuckle Talk, Suwama's Station, The Reaction and more! You can find these great shows each week at theChairshot.com and through our distribution partners, including podcasting's most popular platforms.
---
The Chairshot Radio Network
Your home for the hardest hitting podcasts and radio shows!
Listen on your favorite platform!
iTunes  |  iHeart Radio  |  Google Play  |  Spotify
Listen, like, subscribe, and share!
---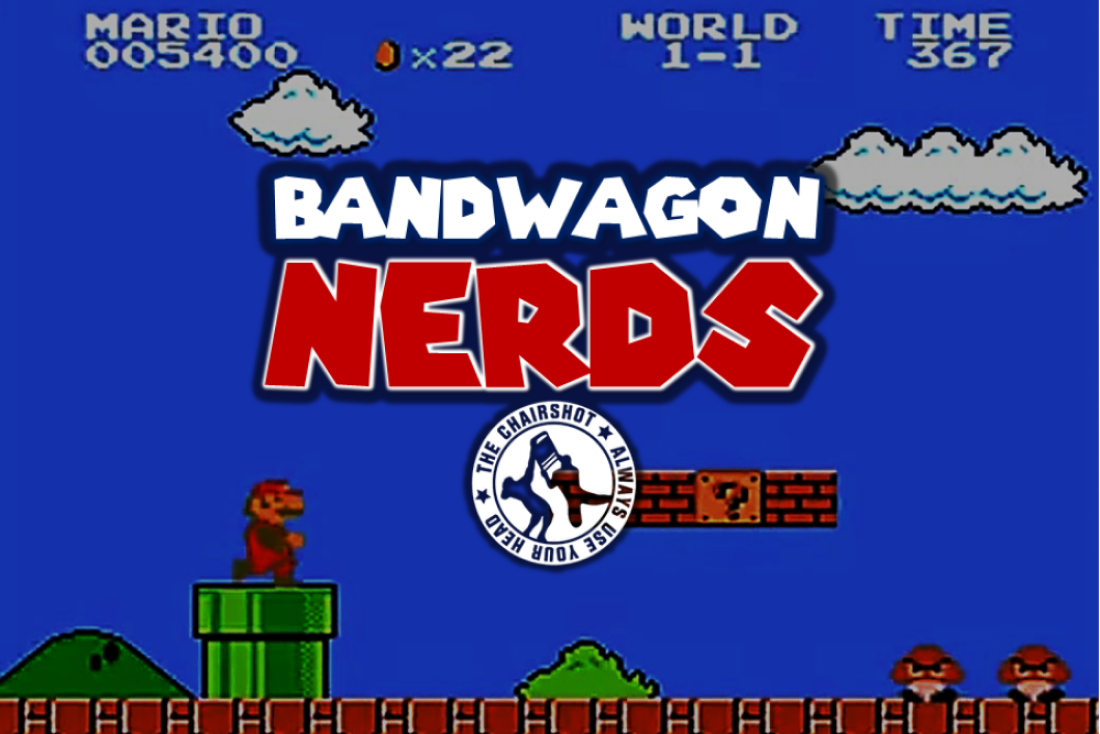 BWN Nerds' Movie Review: Red Notice (2021)
A movie with a few beloved stars, a simple enough premise and it was trending number 1 on Netflix for a while. We have three nerds weighing in! Does Red Notice survive the ratings?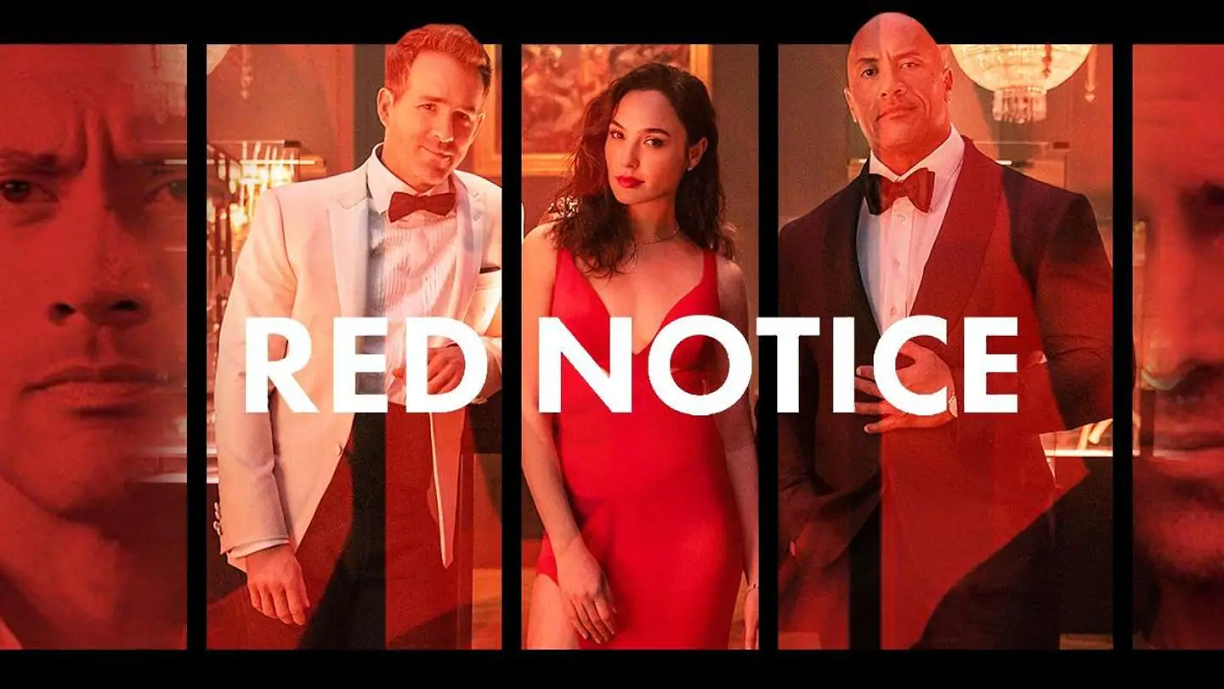 Welcome to this week's edition of the Nerd Review!  Every week the Nerds give you their take on a different movie from the Nerd-o-sphere.  This week, Patrick, Rey and Dave reviews Netflix's new action heist film Red Notice!
The Flick:  Red Notice
What's it About:  An art thief hunted by INTERPOL and an FBI agent trying to clear his name team up to steal three artifacts known as Cleopatra's Eggs. On their heels is an INTERPOL agent looking to bring them down. Standing in their way, another thief known as the Bishop who intends to steal the eggs for herself.
Metacritic Score: 39
The Nerds' Take on Red Notice (2021):
Rey: In the latest edition of "Which police officer will The Rock play today", I get to talk to you about Netflix's new smash hit Red Notice!  Now, when I say smash hit, normally that's a generic term.  With Red Notice, however, that term is as appropriate as possible.  This movie has been announced to have the biggest opening day in Netflix film history.  Think about the movies that entails.  So if nothing else, this is an ultimately successful movie that we've been tasked to review.
Clearly, as a wrestling fan, I love The Rock.  That goes without saying, but the additions of the amazing Gal Gadot and the hilarious Ryan Reynolds were extremely intriguing, so I was looking forward to seeing the possibilities that this movie could reach.  The premise of this movie is that The Rock is an FBI criminal profiler specializing in art crimes and he's been paired with Interpol agent Urvashi Das (Ritu Arya) to track down the theft of the three golden bejeweled eggs of Cleopatra, given to her as a wedding gift by her husband Mark Antony.  As we start the movie, we immediately get an idea of how well versed Rock is in his field as he figures out that the egg on display in the Museo Nazionale di Castel Sant'Angelo in Rome is a fake.  This is when you first see Ryan Reynolds as super art thief Nolan Booth.  There is an extremely fun and clever chase sequence that leads with Reynolds getting away, and the movie is off.
As Reynolds gets back to his home in Bali, Rock and Interpol Agent Das are there waiting there to arrest him when Rock gives us a glimpse of his ability to profile.  He breaks down everything about Reynolds' psyche right before they take him away.  As they're putting him and the egg in two separate SWAT vehicles, we're introduced to Gal Gadot's super art thief "The Bishop".  She steals the egg and replaces it with a fake and slips away.
For the rest of the crux of the movie, Gadot gets Rock arrested and puts Rock and Reynolds through multiple planned scenarios to try and get the other two eggs.  Rock and Reynolds end up having to team with each other in a team of convenience, which neither seems to want comedically marred by hijinks aplenty.  Rock is trying to prove his innocence by getting back the original egg and arresting Gadot, and Reynolds wants to prove that he's the best art thief in the world by beating Gadot and getting the egg.  Soon, once Gadot has two of the eggs, we realize that only Reynolds knows where the third egg is.  After sending Gadot on a false chase, he and Rock go to the correct location while coming to a legitimate partnership.  The third egg was owned by Hitler's antiquities dealer and was locked and stored in a secret bunker in the jungles of Argentina.  Rock and Reynolds accidentally end up finding it and of course, are followed by not only Gadot but Interpol Agent Das and her team.  One more major chase sequence sees Gadot, Rock, and Reynolds work together to escape the Interpol agents and get out of the bunker safe and free.
This is where the movie takes a massive turn.  As Reynolds is trying to find Rock, he shows that he cares about him more than the egg, and in turn, is blindsided by the fact that Rock and Gadot were together the whole time!  The two are a couple, and Rock was playing a long con to get Reynolds to give them the location of the final egg.  As they leave Reynolds locked up on the beach, they go to Egypt to sell the three eggs to a rich billionaire buyer who wanted the eggs to give to his daughter as a birthday gift.  Interpol breaks up the party, hilariously cameoed by Ed Sheeran, and Rock and Gadot sneak away.  Finally, we see the pair on a yacht celebrating their long con and successful financial heist as Reynolds shows up on the boat.  He explains to them that he worked with Agent Das to freeze their Cayman Islands account where they hid the money they made.  He also offers them a deal to do one more heist as a trio, which the pair begrudgingly accepts.  The final scenes of the movie show Agent Das giving all three "red notices," which is an Interpol notice of the most dangerous and on the run criminals (also where the name of the came from), and the trio walks towards the Louvre in Paris to begin the next heist.
This is, by no stretch of the imagination, a mind blowing movie.  Is not meant to be though.  What this movie is in spades is fun.  Throughout the whole time, the comedy of Reynolds, the suffering of Rock, and the clever front running of Gadot keeps you entertained the entire time.  The trio have impeccable chemistry, especially Rock and Reynolds, and the plot is just interesting enough to earn your interest.  The final twist at the end will surprise you if you allow yourself to fully immerse in the film, but even if you don't, you'll still enjoy the ride.  I thoroughly enjoyed this movie, and while it's not the plot of the year, I will always reward fun and enjoyment just as much.  I give it a 4 out of 5.
Rey's Rating: 4.0/5.0
Dave: After two weeks of very heavy, world building, thought provoking movies, this week's assignment is at the other end of the spectrum. Red Notice is not heavy on the plot or the details…. but it is a very fun, action-packed, romp starring three of the biggest stars in Hollywood today.
The plot of the movie is pretty basic and anything but ground-breaking. Two millennia ago, Marc Antony gifted Cleopatra three jeweled eggs as a wedding gift. The eggs were lost over time. Two of them had been located; the location of the third egg was a mystery. The movie begins with Special Agent John Hartley teaming up with Interpol agent Das to prevent the theft of one of the eggs from a museum in Rome. Renowned art-thief, Nolan Booth, is able to steal the egg, briefly, before Hartley discovers the egg on display is a phony. The first of many chase sequences in the movie takes place. Hartley apprehends Booth at his home in Bali. Booth is taken into custody. But, Booth's main rival, The Bishop, is able to steal the egg and sets up Hartley as the fall guy. Das sends Hartley and Booth to a prison in Russia. The two adversaries decide to work together to escape from the prison and prevent The Bishop from acquiring the second egg. Another grand chase sequence transpires but the guys escape and end up at a masquerade gala held by Sotto Voce. Voce has the second egg locked in a vault. This leads to an Oceans 11 type of vault heist…. only to discover that The Bishop found a different way into the vault. We get an awesome fight scene between The Bishop, Hartley, and Booth that ends with Hartley and Booth being held captive by The Bishop and Voce.
It turns out that Booth knows the location of the third egg, something no one has known in 2,000 years. Booth saves Hartley from some brutal torture by disclosing the location of the third egg…. but not really. He explains to Hartley that the third egg is in a Nazi bunker in Argentina. Booth and Hartley head to South America to get the third egg. But The Bishop and Das are both wise to what is going on and intercept them there. That is as much as I will disclose as the movie does have a couple of pretty decent swerves at the end, even if they are a touch on the predictable side.
As I am sure Patrick will mention in his review, Red Notice does not break any new ground here. There are elements of many popular movies here. I mentioned Oceans 11 already. You have elements of The Fast & Furious mixed in with True Lies, mixed in with Raiders of the Lost Arc, combined with some Tomb Raider, and a smattering of National Treasure. It even feels a bit like the Uncharted video game series in some places. Now, that is not to say that any of that is a bad thing. Not at all. But it is not very original. Borrowing an idea or two is one thing; fashioning a movie around five to six scenes that look very similar to things we have seen before is a bit of lazy booking. Much of the movie is predictable and a bit too tropey. One swerve is completely predictable; the other not nearly as much. There is the obligatory bromance that you get in movies such as this and it attempts to balance that out by having a strong female to be the Big Bad of the movie. In most places it works but, again, nothing is shown here that you probably have not seen somewhere before.
Still, I revert to my overriding feeling about Red Notice….it is just a lot of fun. If your head was spinning after watching movies like Dune and Eternals then you will appreciate Red Notice's simple, unapologetic, and over-the-top approach. It is, in every way, just a good, solid, adventure-based crime drama, with a lot of humor to it. So, the director did not think too far outside of the box. So what? Red Notice is not designed to take itself seriously. It is all about some pretty mindless fun and, on that front, it succeeded quite well. And make no mistake, Red Notice is very funny, which adds a lot to the entertainment value of the movie as a whole.
So, while the movie is nothing special from the standpoint of doing something unique or different, we have to talk about the cast, which is nothing short of phenomenal. It stars three of my personal favorites. First, we have Dwayne Johnson, who continues to own Hollywood. The man formerly known as The Rock continues to "bring it" as far as action movies are concerned. He is very good in Red Notice as Agent Hartley. He is a bad ass, as always, but not quite the unstoppable force that he was as Hobbs in the Fast & Furious movies. Across from him is the only man out there right now who can possibly challenge Johnson's claim to being King of Hollywood and this is the equally charismatic Ryan Reynolds. Reynolds delivers the strongest performance of anyone in this movie. He is the comic relief here and a ton of Deadpool, albeit of a much more family-friendly variation, is injected into his portrayal of Nolan Booth. The relationship between Hartley & Booth harkens back to a similar "strained relationship turned friendship" movie involving Dwayne Johnson at the beginning of his career, 2003's The Rundown. It is, of course, another example of a retread as Johnson and Reynolds's portrayal is eerily similar to that of Johnson and Sean William Scott from 18 years ago (has it really been that long?). And similar to The Rundown, we have a powerful female character driving a wedge between the two men but, in the end, uniting them. In The Rundown it was Rosario Dawson; in Red Notice, it is Wonder Woman herself, Gal Gadot. Gadot turns in a very solid performance as The Bishop and shows a bit of range to her acting skills. Last, but not least, is Ritu Arya, who plays the relentless agent Das and does a great job along the way.
If we were basing this on cast alone, Red Notice would be a 5/5 as everyone delivers in this movie. The problem is just that they don't have a lot of great stuff to work with. It is all quite good, but also a bit derivative. Appreciate the movie for what it is: A lot of fun, a lot of action, a lot of humor, and nothing that should be taken too seriously. If you are looking for a good movie to escape into for a couple of hours, then Red Notice will definitely leave you satisfied.
Dave's Rating:  3.75/5.0
Patrick:  This week, we Nerds head over to Netflix to check out the most viewed debuting film in the company's history: Red Notice. Starring Ryan Reynolds, Dwayne Johnson, and Gal Gadot, the film is an international heist movie that we've all seen before. But hey, this one has Ryan Reynolds, Dwayne Johnson and Gal Gadot.  I will say while Red Notice is enjoyable enough, it's really nothing special and will quickly be forgotten by audiences maybe as soon as they finish watching it. This is going to be a quicker review for me this week, as I really don't know that there is too much to say.
The movie follows master thief Nolan Booth (Reynolds) and FBI Agent John Hartley (Johnson) as they try to steal an ancient artifact known as Cleopatra's Egg before Nolan's rival the Bishop(Gadot) does first. Oh, Hartley is wrongly accused of being a crooked FBI Agent. He only teams with Booth to clear his name. Double Oh, they are all being pursued by INTERPOL Inspector Urvashi Das (played by Ritu Arya). The chase takes these four characters all over the globe in mix of Ocean's 11 hijinks, an Indiana Jones and a bit of Lethal Weapon buddy cop mixed in.
Reynolds and Johnson work really well together albeit in roles we are used to seeing them portray. Reynolds is witty and cocky as Booth. Johnson plays the straight tough guy to all of Reynolds wisecracks. It's a familiar formula and one I am sure was comfortable to the actors. But I've seen this move plenty of times before, and the rapport of the actors while solid, didn't blow me away. Gadot vamps it up as the femme fatale Bishop. All in all, they're a great deal of fun. But it's nothing you haven't seen these actors do before.
It's the same with the film itself. The story is one we've seen dozens of times over. There are action fun action sequences, but they're not anything unique. There are car chases. They are fun, but you've seen better ones in movies like The Bourne Identity. Hell, there are plot twists and guess what? They're pretty easy to pick up. The biggest highlight for me watching Red Notice? The Easter eggs referencing other famous movies. It's Reynolds whistling the previously mentioned Indiana Jones in a treasure vault. It's Gal Gadot doing a Wonder Woman pose in a fist fight. I think I had more fun hunting for the winks to the audience than watching the movie itself.
Look, Red Notice is a harmless, fun little movie. There's good chemistry among Reynolds, Johnson and Gadot and they are clearly having a good time. You could do worse with two hours than watch this movie. Unfortunately, there are so many other better films out there that do what Red Notice does. Ocean's 11 in particular comes to mind as it has all of the elements of Red Notice with better execution. So, no Red Notice isn't a bad movie, but it just can't compete with the numerous movies that did the story better
Patrick's Rating:  2.52/5.0
Overall Nerds' Rating for Red Notice (2021): 3.42/5.0