Andrew's Judgmental Album Reviews: Diablo Swing Orchestra – Swagger & Stroll Down the Rabbit Hole (2021)
The JAR ventured across an avant-garde metal band from Sweden. Join me down the rabbit hole as we see where this album takes us!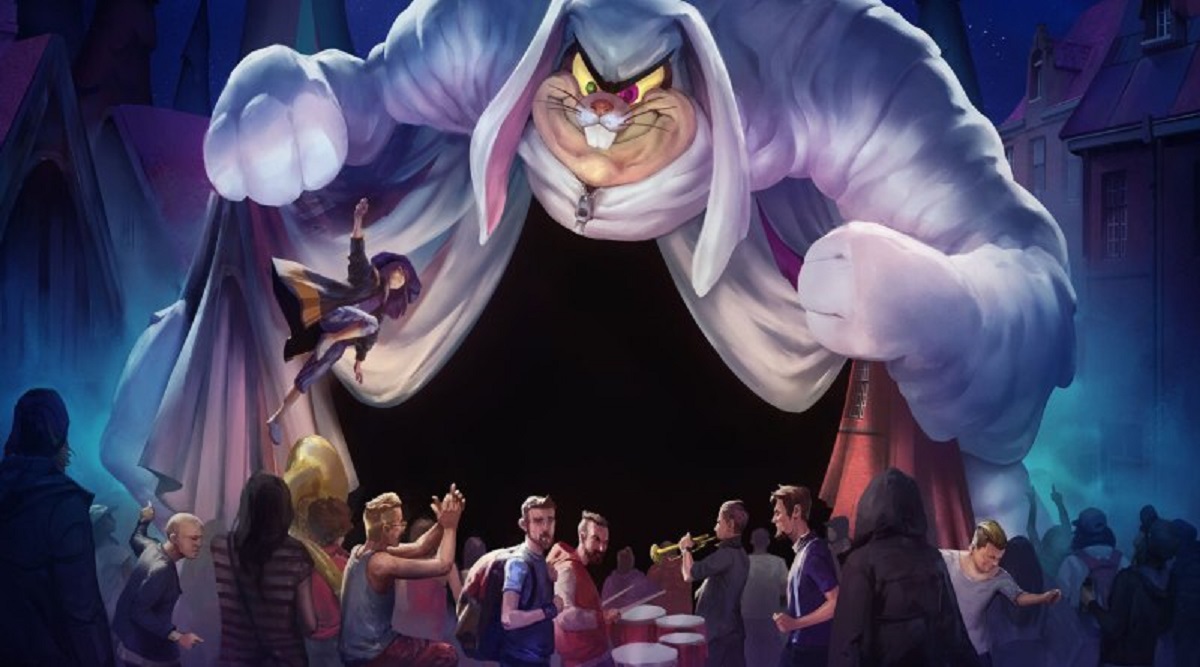 The JAR ventured across an avant-garde metal band from Sweden. Join me down the rabbit hole as we see where this album takes us!
You know, the title of this album oddly befits the way I stumbled upon the band. Spotify was just playing through associated acts during my Dream Theater review; and it starts playing Exit Strategy of a Wrecking Ball. At first I thought it was a Muse song, and Muse isn't a band I've listened to actively in a while so I looked over at the tab. Saw Diablo Swing Orchestra and was intrigued by the name of the band, and how they really mix up their sounds and instruments they used from song to song.
With that being said, apparently, DSW has been around since 2003 and I'm just very late to the fancy party. So my repressed theater kid is a little excited for all this, my music nerd is ready for ear candy…long and short, I'm actually kinda hype for this. The beauty of experimental bands is unlike Progressive bands, they don't go for pretentious as much as "AND NOW A MILK JUG AND A HARPSICHORD SOLO".
Time to see if this rabbit hole leads to Wonderland!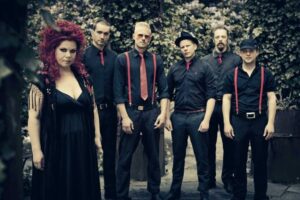 Artist: Diablo Swing Orchestra
Album: Swagger & Stroll Down the Rabbit Hole (2021)
Label: Candlelight
Total Track Time: 60:47
Sightseeing in the Apocalypse the title alone is amusing, the song starts out with a small marching band/military drum march, a choral arrangement and it sounds really uplifting. I feel like there's a Theremin effect in the song, but the music goes from uplifting and marching to a future beyond, but then the final lyric of "a future I cannot be near…" ends the song abruptly and immediately changes the tone. War Painted Valentine starts off quickly out of the abrupt silence, and there's trumpets which are mixed like an old chase scene from the 60s Adam West Batman. It then breaks down into this whispery female vocal, with a jazzy swing and a rap in a different language, similar to something Little Big would do. And then the chorus hits like Muse, while we go back to a swingy interlude with possibly…barnyard noises? Okay this is frenetic, but fantastic. A little bit of the computerized voice effect on a line just adds to the interesting…whatever…is going on in this song.
Celebremos Lo Inevitable we go from psychosis to a tango intro for this next song. It starts off like a beautiful James Bond club scene love song. After the subtle open it speeds up and reminds me of an Emilie Autumn song where it hits a frantic point and then returns to calm tango. With a title like Let's Celebrate the Inevitable, I suppose the movie aspect of things is pretty fantastically fitting. I'm not going into the lyrics just because the instrumentation is fun and gets a little more grit later on in the song. So it's just a fun ride. Speed Dating An Arsonist, ahh yeah been there man, but haven't we all? Wait-what? ANYWAY- the song is a swingy little jazz number initially, trumpets, light guitar and some female voices doing a little scat singing in the background before the proper vocals kick in. It's quirky, it's jazzy and the way the female vocals sound distanced and echoed out paints a nice visual of this being a song playing in a crazy person's head while they set the world afire. Soo…if this was still 2004, I'd totally expect many Harley Quinn fan music videos with this song. It's cute, a little unassuming, but completely unhinged.
Jig of the Century takes us to the Celtic aspect of this avant-garde crazy trip.  It keeps the spirit of a Dropkick Murphys song, with cleaner singing. So almost like a Celtic Sabaton especially when it hits the heavy guitar sludge and the trumpet bleats to get across a darker tone. We're playing in a Celtic Folk/Symphonic Metal mixture. The Sound of an Unconditional Surrender starts with sounds of a violin, xylophone and a triangle. So…stab me in the face with a clarinet, this is different. A light little cello pluck seems to there in the background as well. Then we get a dark pitching ocean ride kind of vibe from either a cello being played with the bow or possibly a stand-up bass. The female vocals come in and ebb and flow with the music, a pitching Siren song is the feeling that smacks me in the face. It's beautifully theatrical, like In All My Dreams I Drown from The Devil's Carnival. Malign Monologues oh a very basic jazzy swing here, like we all have heard something like this before. But the guitar and piano start directing it into heavier waters. Very Aladdin, to the point where I almost wanted to start saying "Mr Aladdin sir…", meets Dream Theater in a dark alley. Then it lightens up to a comedic point like a play talking about following him to his theater of lunacy, we go back to the jazz intro and then build the heavy tension back up a little. This whole album so far really feels like a theater kid's fever dream, and it's marvelous so far. It is definitely a bit much for some, similar to Twelve Foot Ninja, but if you're in the mood to be taken on a ride, this doesn't disappoint so far. Oh nice a little a cappella moment before we come up with a violin run, and a harpsichord.
Out Came the Hummingbirds so apparently the song is playing Contra to start with, and then we get a very heavy techno/electro sound after the video game-esque open. With the darker techno aspects and ever present sci fi/80s/synthwave/video game parts, it's just interesting. The whispery vocals give a really big 80s retro vibe to the whole song. Snake Oil Baptism aside from the obvious jazzy instrumentation, the Led Zeppelin or Jesus Christ Superstar approach to the male vocals stands out so far. The fact the chorus has a low croon to give the idea of a group of people saying it in unison like judgment is interesting. Les Invulnerables chimes and horns start this song like a Trans-Siberian Orchestra symphonic number, and then drop out for some really tempered male vocals. The horns remain and an acoustic guitar pluck complement a more somber delivery, similar to Kamelot's Sailor Man's Hymn. Which applies well since there is the sea faring feeling with the instrumentation and the line "She's breathing water" – be it literally drowning or just being overwhelmed by thoughts so it feels like your mind is an ocean, the song is hauntingly beautiful with great moments of brass kicking in for a bridge toward the end.
Saluting the Reckoning starts with a different, more Rock & Roll guitar tone. And it comes off like one of those songs you'd hear at a beach during an Elvis movie or possibly the dance scene from Pulp Fiction. The deep vocal delivery complimented with the female vocals and the very swingy Rock & Roll guitar and drum with trumpets as well, it's really a song that you'd expect to see people surf to and kids dancing on the beach. The Prima Donna Gauntlet heavy distortion on the intro to this song, but then when we get to the first verse it lightens a bit and the vocals come in clean and pleading with the violin accenting the emotion. The song seems to be this rising feeling in the singer to protect or get vengeance against those who have wronged the subject of the song. Vocally, this is very similar to Muse again, but the vigilante justice aspect of the lyrics is subdued by the almost romantic and uplifting instrumentation. It makes the idea sound much more beautiful until the last portion when the guitars get heavier, the distortion returns and we get growled screams of "Repent" about five times. Very cool way to juxtapose the message at the very end.  Overture to a Ceasefire is our final song on this crazy ride. It has an almost Carnival melody to it, so it harkens into that Emilie Autumn area again with the cellos, violins, light drums in more of a military march and chimes of some sort. I'm just waiting for the harpsichord. Well I don't think we get the harpsichord but it was different. Probably the weakest song on the album, but still not bad.
Hold on a second, I have to process what this was. This really is just a manic rollercoaster ride of ear candy, different genres that meld well together and some ridiculous (at times) lyrics that just help to drive the beat. I think the line from Malign Monologues about "Follow me, into my theater of lunacy" fits the concept and even more so given the Alice in Wonderland inspired title.
I enjoyed the trip down the rabbit hole, even if it felt like we spent far too much time with the Mad Hatter. You have to enjoy progressive and experimental elements in your music to enjoy this fully, but for those who do, you will be beautifully blown away. This might end up being my highest rated album yet – no might it will be. Damn enjoyable.
Final Judgment – 9/10
Bandwagon Nerds #143: HBO Maximum Shake Up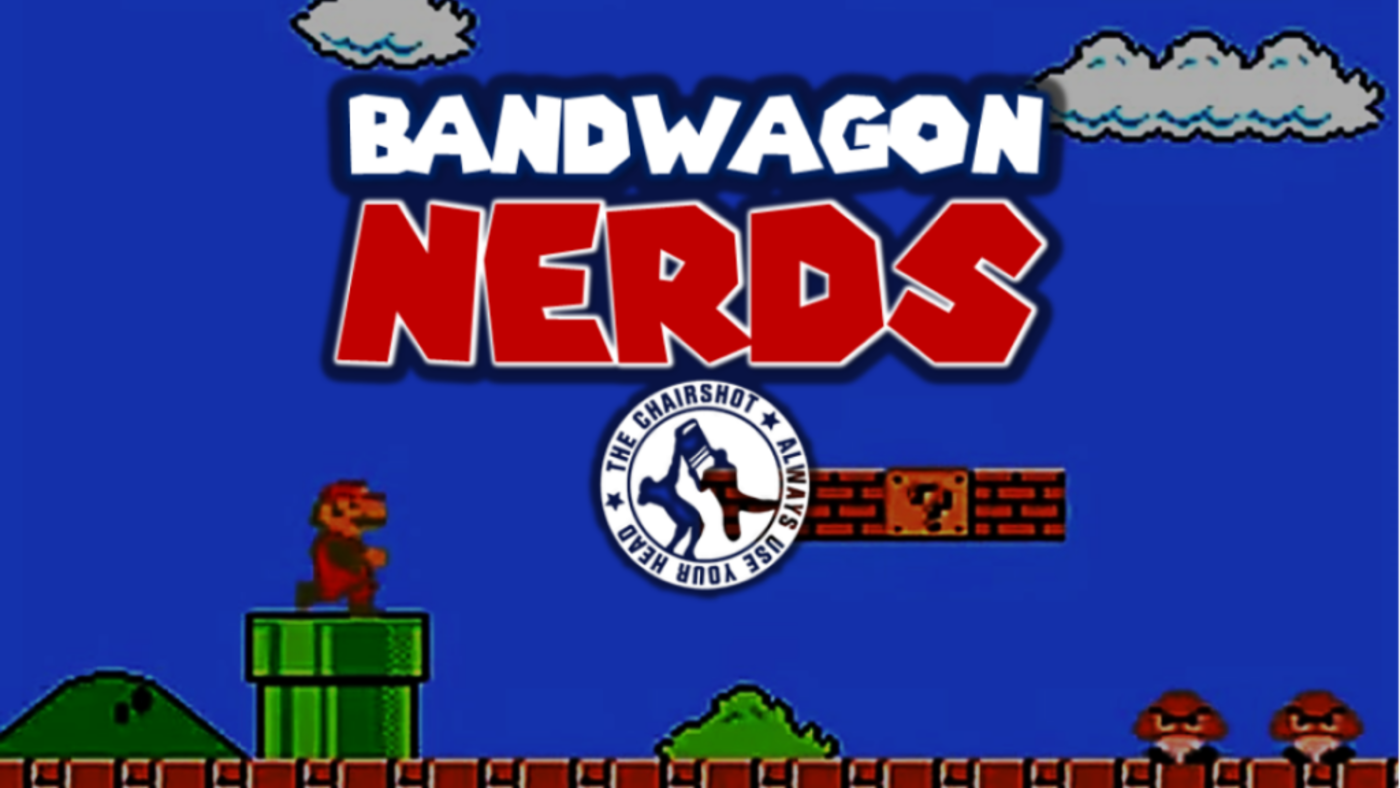 The entertainment world was shaken up this week as the first true ramifications of the Warner Brothers and Discovery+ merger came to pass.  From Batgirl getting scrapped to the formation of a new combined streaming service to a new direction for DC films, new Warner-Discovery CEO David Zaslav carried the Nerdosphere.  The Nerds take a deep dive into all of the the news, reacting to Zaslav's decisions and speculating what it all could mean for consumers and fans.
@WrestlngRealist

@AttitudeAgg
@itsReyCash
@PCTunney
@ViolentAesop
@therealcplatt
@ChairshotMedia
About Bandwagon Nerds
Join Patrick O'Dowd, David Ungar, PC Tunney and Rey Cash as they keep everyone up on all things nerd, and maybe add some new nerds along the way. It's the Bandwagon Nerds Podcast!
About the Chairshot Radio Network
Created in 2017, the Chairshot Radio Network presents you with the best in wrestling and wrestling crossover podcasts, including POD is WAR, Women's Wrestling Talk, The #Miranda Show, Badlands' Wrestling Mount Rushmores, The Outsider's Edge, DWI Podcast, Bandwagon Nerds, the Greg DeMarco Show, 3 Man Weave, Five Rounds, Turnbuckle Talk, Suwama's Station, The Reaction and more! You can find these great shows each week at theChairshot.com and through our distribution partners, including podcasting's most popular platforms.
---
The Chairshot Radio Network
Your home for the hardest hitting podcasts and radio shows!
Listen on your favorite platform!
iTunes  |  iHeart Radio  |  Google Play  |  Spotify
Listen, like, subscribe, and share!
---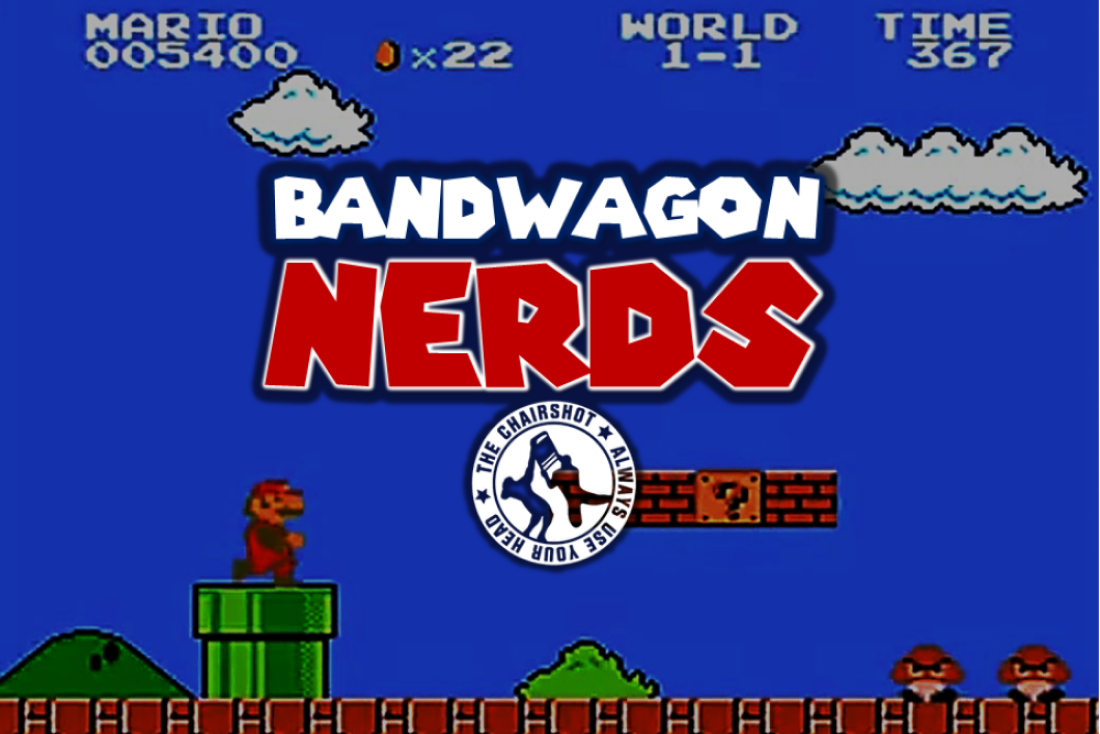 Home Is Where Hallmark Is: Time to Fall Into Love with the August Line-Up, and Westcott Bay Series Book 2!
Summer comes to a close and it's time to Fall Into Love as Home Is Where Hallmark Is previews August and more!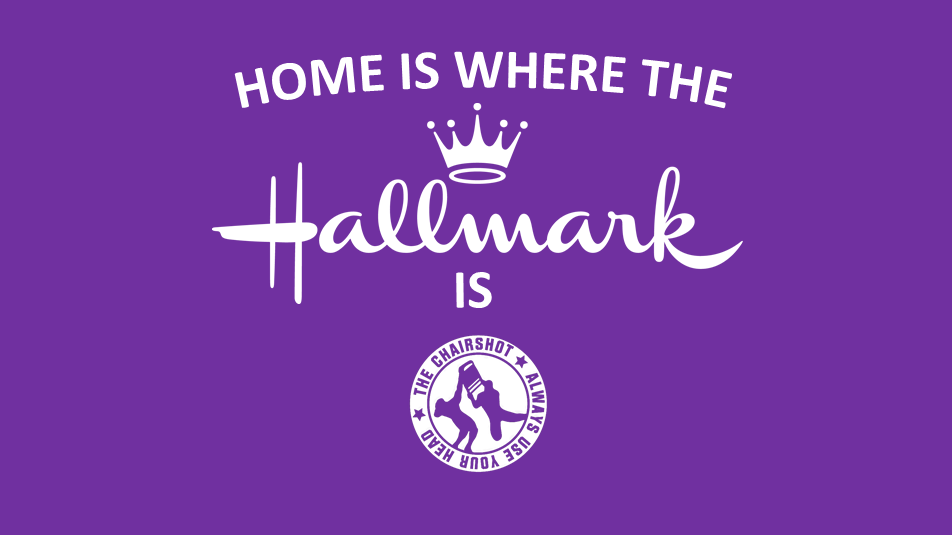 Summer comes to a close and it's time to Fall Into Love as Home Is Where Hallmark Is previews August and more!
Powered by RedCircle
Christmas in July is over and it's time to Fall Into Love! The ladies preview the movie line up for August, as well as discuss another new original series coming to Hallmark. Book 2 in the Westcott Bay series review and Liz officially declares Amber a Postable!
About Home Is Where Hallmark Is
Liz Pugliese and Amber Teasley are two forty-somethings who met thru Amber's husband. They have much in common but totally bonded over their love of All Things Hallmark. "Home Is Where Hallmark Is" was conceived out of this bond. Join them as they discuss the weekly movies, share Top Ten Lists, play Hallmark Bingo and argue over the proper pronunciation of words as North meets South.
About the Chairshot Radio Network
Launched in 2017, the Chairshot Radio Network presents you with the best in sports, entertainment, and sports entertainment. Wrestling and wrestling crossover podcasts + the most interesting content + the most engaging hosts = the most entertaining podcasts you'll find!
Featuring shows such as Bandwagon Nerds (entertainment & popular culture), The DWI Podcast (Drunk Wrestling Intellect), The Greg DeMarco Show (wrestling), The #Miranda Show (wrestling and entertainment), Chairshot Radio Hockey Talk, Patrick O'Dowd's Chairshot Radio 5×5 (pop culture), PC Tunney's Chairshot Bets (Sports), Down The Wire (Sports), Lucha Central Weekly (wrestling & lucha libre), Talk The Keki (Anime), Home Is Where Hallmark Is (entertainment), The Mindless Wrestling Podcast, and more!
THE CHAIRSHOT: ALWAYS USE YOUR HEAD
---
The Chairshot Radio Network


Your home for the hardest hitting podcasts and radio shows!
Listen on your favorite platform!
iTunes  |  iHeart Radio  |  Google Play  |  Spotify
Listen, like, subscribe, and share!
---