Cook's AEW Full Gear 2021 Gambling Picks
Cook goes through the betting lines for AEW Full Gear! Looks like Hangman over Omega could be a decent pay day if it happens!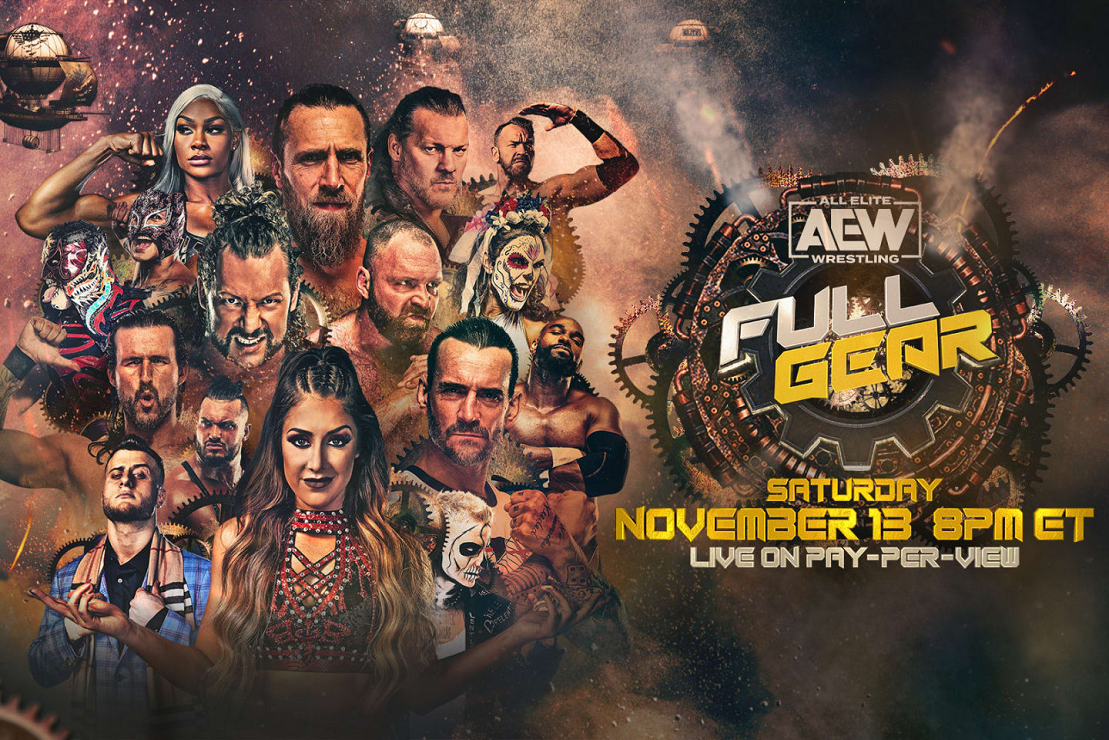 This Saturday night will bring us the third edition of AEW's Full Gear event. I'm not sure where you rank Full Gear among the AEW pay per view events, but this should be a pretty interesting show. The main event's been built up for quite awhile, and several matches have the potential to steal the show.
Is there potential to make some money? Of course there is! Well, not if you live where I do, where we only look at these things for entertainment purposes. Odds are provided by BetOnline, and are pretty fluid so you'll want to keep an eye on that page. The first two matches listed here have yet to be posted on the board.
Buy-In Match:
Nyla Rose & Jamie Hayter vs. Hikaru Shida & Thunder Rosa
Before #AEWFullGear THIS SATURDAY on PPV, tune in to #theBuyIn LIVE on @AEW's official YouTube at 7:30 pm ET for a tag team match with major implications for the TBS Women's Championship Tournament! @NylaRoseBeast teams with @jmehytr against @thunderrosa22 & @shidahikaru! pic.twitter.com/yEKpfccA36

— All Elite Wrestling (@AEW) November 11, 2021
All of these women are still active in the TBS Women's Championship Tournament, so this is a nice way to keep them active and plug that tournament on the pre-show. Shida & Rosa should be the picks to win here, as they're the technically superior pairing. Nothing against Nyla or Jamie, I just think that their opponents should be getting more than they are.
Pac & Cody Rhodes vs. Malakai Black & Andrade El Idolo
A deal with the Devil. #AEWFullGear @AndradeElIdolo and @malakaiblxck versus @CodyRhodes and @BASTARDPAC #aew #AEWDynamite pic.twitter.com/OZ7TVPqflk

— JoseTheAssistant (@JoseAssistant) November 11, 2021
Excalibur wants to tell me that Malakai & Andrade are such an odd pairing, but the much odder pairing will be standing opposite from them on Saturday night. Pac is a bastard while Cody will definitely let you know that his parents were married at the time he was conceived. (I assume they were, perhaps a dangerous assumption to make when a wrestler is involved.) Pac & Cody do have issues with these men, and they're at least on the same side when it comes to that.
The Malakai/Andrade connection over their bonds with Zelina Vega is pretty cool. I'd like to see it continue, and figure that they'll be on the same page more than Pac & Cody will be. If odds are released on this match, I wouldn't be shocked if Pac & Cody are favored. We're talking about one of the EVPs and an Englishman here.
Superkliq (-300) vs. Jurassic Express & Christian Cage (+200)
Another show to steal.

Kings of Pay Per View. #AEWFullGear pic.twitter.com/JslLovRZW0

— Young Bucks® (@youngbucks) November 9, 2021
Seems like the opener for this event should be either this match or the Tag Team Championship match, as both would get things off to a hot start. Some would tell me that the opening match would be a demotion for Adam Cole Bay Bay from his former position atop NXT, but the wise among us know that the long game is the right way to go here. Keep building Cole up slowly as he eventually takes his spot on top. There's no rush, and it's obvious that one of the main reasons Cole came here was for matches like this one. I know that makes the Cornette types regurgitate whatever they were recently eating, but facts are facts.
Cole & the Bucks seem like the easy pick here, keeping them strong for when they eventually make challenges to people currently higher on the card. I don't know what the end game is for the Jurassic Express & Christian, but I don't think it involves a long-term teaming.
The Inner Circle (-400) vs. Men of the Year & American Top Team (+250)
How y'all gonna feel when Dan Lambert pins Chris Jericho on Saturday? #AEWDynamite #AEWFullGear pic.twitter.com/vjsvFOe1ps

— Scorpio Sky (@ScorpioSky) November 11, 2021
The thing I like most about Dan Lambert is how much other people don't like him. Call me old school, but I like my heel managers to get heat from an audience. Has anybody done that better than Lambert here in 2021? Sure, Paul Heyman always spins a pretty yarn, but does he actually get heat for it? Not really. Don Callis is up there too, but Don gets a little too much respect from people for my taste.
It's tempting to pick ATT here and say the feud must continue…but we already saw ATT come out on top on Dynamite. Lambert got to stand tall over Jericho and promise more to come at the PPV. That almost always means that the good guys are getting their revenge at the PPV. Worse things to deliver on one of these events than Dan Lambert & his gang of MMA meatheads getting their asses kicked. They'll get their heat back soon enough when Lambert gets the microphone on a future event. The Inner Circle wins, then moves on to individual feuds with members of American Top Team.
MJF (-300) vs. Darby Allin (+200)
Two pillars of #AEW COLLIDE when @The_MJF takes on @DarbyAllin at #AEWFullGear THIS SATURDAY LIVE ON PPV! Available on all major providers, @BleacherReport, and internationally on @FiteTV: https://t.co/Igw7g1k9pp pic.twitter.com/EV7iLzDrqO

— All Elite Wrestling (@AEW) November 11, 2021
MJF seems to believe that he's one of the Four Pillars of AEW's future. It's an interesting idea with an interesting foursome: Darby Allin, Sammy Guevara, Jungle Boy & MJF. MJF holds victories over Guevara & Jungle Boy, and is now looking to add Allin to that list & make himself the top pillar in AEW. That seems like the most likely scenario to me, as MJF is largely known for winning things and never shutting up about them.
Does Darby have a chance? Sure! I'm not sure where he goes after such a win though. Easier to see a road for MJF up the card that makes sense at the moment.
CM Punk (-600) vs. Eddie Kingston (+350)
All the animosity between @MadKing1981 & @CMPunk explodes THIS SATURDAY when they go one-on-one at #AEWFullGear LIVE on PPV! Available on all major providers, @BleacherReport, & internationally on @FiteTV: https://t.co/Igw7g1k9pp pic.twitter.com/cN3ZueZkIp

— All Elite Wrestling (@AEW) November 11, 2021
Those of us who have known of CM Punk & Eddie Kingston since their IWA Mid-South days know exactly what these two are all about. Those who have no idea what an IWA Mid-South was don't really need to know the ins & outs of indy wrestling politics to figure things out. Punk became one of the biggest stars in pro wrestling, Kingston's still trying to get there. Punk's character has been dishonest for most of his career, Kingston's has been brutally honest. Punk's straight edge, Kingston's been fighting issues with drugs & alcohol most of his life. They are two polar opposites, and their interactions have a certain bite that most pro wrestling conflicts don't.
The main thing I hope here is that this isn't the end of the feud. One of my main criticisms of AEW is that sometimes they'll fall into an interesting feud and they won't go too far with it. I get it: they don't want to do endless rematches like WWE does. But too often we get these one-off stories that don't get followed up on. For example, I feel that Cody Rhodes would be doing better as a babyface if he had more than that one match with MJF. How has there only been one match with FTR & the Young Bucks? This thing with Punk & Kingston needs to go longer than one match at Full Gear. Those of you that want the old bitter CM Punk back…put him with Eddie Kingston for a few months and you'll get him back.
To me, it seems like Punk winning here & Kingston losing his mind over it is the most likely scenario. We want to make money here though, so the question is simple: Can we see Eddie Kingston winning? Other questions: Wouldn't it be interesting if CM Punk lost to somebody he calls a "bum"? How would Punk react to that? Would it send Punk down a road that would make him an even more interesting character than he currently is? I think he would be. That leads to the question of if AEW wants to go down that road.
For the sake of intrigue, I might throw a few bucks on Eddie Kingston.
AEW World Championship Eliminator Tournament Final:
Bryan Danielson (-300) vs. Miro (+200)
The tournament has been redeemed. @bryandanielson will be too.

— Miro (@ToBeMiro) November 4, 2021
Miro was a last minute addition to this tournament due to Jon Moxley's temporary departure from AEW. It says something about the way Miro destroyed Orange Cassidy and the way that Miro has delivered on the microphone of late that a good number of people think he's winning here. Wasn't Bryan Danielson supposed to win this thing from the start?
What if Jon Moxley was supposed to win this thing from the start? It sure seemed like Mox was headed for a heel turn, and a program with him & Adam Page could have been interesting. Maybe Miro gets shifted into that role instead? Wouldn't be a bad idea to build a new babyface champion against an asskicker destroying everything in his path. So there's the argument for the Redeemer. Not a bad one, I'd say. I still think Bryan Danielson wins, but there's definitely an argument for Miro.
AEW World Tag Team Championship Match:
Lucha Brothers (-700) vs. FTR (+400)
At least Penta & Fenix have been busting their asses every week on DARK, Elevation, and Dynamite defending their titles, wrestling multiple opponents of every variety & style, in tags & singles.

Oh wait…that's us. They've had the month off. My bad. https://t.co/uYntnTLdSr

— Uncle Dax FTR (@DaxFTR) November 8, 2021
It seems kind of shocking to me that the Lucha Brothers would be this favored against FTR. Especially considering that FTR beat them not too long ago for the AAA Tag Team Championship. I suppose the assumption we're working with here is that AEW wouldn't dare give FTR both sets of tag team titles, mostly because it'd be tough to get through the airport. Perhaps a unification match down the road is what we should be waiting for?
FTR's not a bad pick here, but I'm still thinking the Lucha Brothers retain.
AEW Women's World Championship Match:
Britt Baker D.M.D. (-1500) vs. Tay Conti (+800)
Hey @RealBrittBaker think @TayConti_ will beat you at #AEWFullGear?

Dr. Britt Baker 👇 #AEWDynamite pic.twitter.com/Yvm1BuFqvd

— All Elite Wrestling on TNT (@AEWonTNT) November 11, 2021
I'd love to come up with a reason to bet on Tay here. She seems like a peach, just an all around good person that you want to root for, so much to the point that people actually do root for her against Dr. Baker. Let's be honest, for somebody that's supposed to be the top heel of the women's division, Britt gets a good amount of cheers wherever she goes. AEW has seemingly decided that the best way to keep her from getting cheered is to not have her wrestle as much on television. She does wrestle more often than Shida did during her reign, but not much more often.
It's tough for the women of AEW. Not much TV time for them. Tay, as an example, went more than a month between TNT appearances heading into this title shot. She kept pretty active on YouTube, but we know by now that much of AEW's audience aren't regular Dark or Elevation watchers. Many are likely wondering why Tay's getting another shot here, and AEW hasn't done enough to sell people on her getting the win. So as much as I'd like to make a pitch for you to throw your money on Tay Conti, I can't do that in good conscience. Britt Baker shall retain.
AEW World Championship Match:
Kenny Omega (+500) vs. Adam Page (-900)
It was all a set up! @TheDonCallis attacks and the contract is signed…in @theAdamPage's BLOOD! THIS SATURDAY, Hangman vs #AEW World Champion @KennyOmegamanX at #AEWFullGear LIVE on PPV! #AEWDynamite pic.twitter.com/JFRGdQwf7E

— All Elite Wrestling (@AEW) November 11, 2021
This one seems like a foregone conclusion. We've assumed for awhile now that the Hangman was going to be the one to take the title off of Kenny Omega. Page is the guy that's been pegged to be the future top star of AEW. He's the man of the people, especially those that have followed the Elite before there was an AEW. Everything's been leading to the moment that Hangman Page would become the man.
What happens if he doesn't?
Maybe the plan was for Hangman Page to be the guy, but what if plans change? What if Tony Khan decides that there's more money to be made with Kenny Omega taking on all these big names than with Adam Page? Wouldn't people like to see a rematch between Kenny & Bryan Danielson, which would become imminent if Bryan defeats Miro earlier in the evening? Heck, how about Miro vs. Kenny? We all know that CM Punk's waiting in the wings. Oh, and how about Eddie Kingston as an underdog challenger should he beat Punk and have another big win or two?
I don't think any of those things would be awful ideas. So, if you're looking for an underdog to make you a ton of money on this show, Kenny Omega is the place to look.
King: Dominik Mysterio Needs To Do This At WrestleMania
Chris King is here with what WWE should do with Dominik Mysterio at WrestleMania in his long-awaited match against his father Rey Mysterio Jr.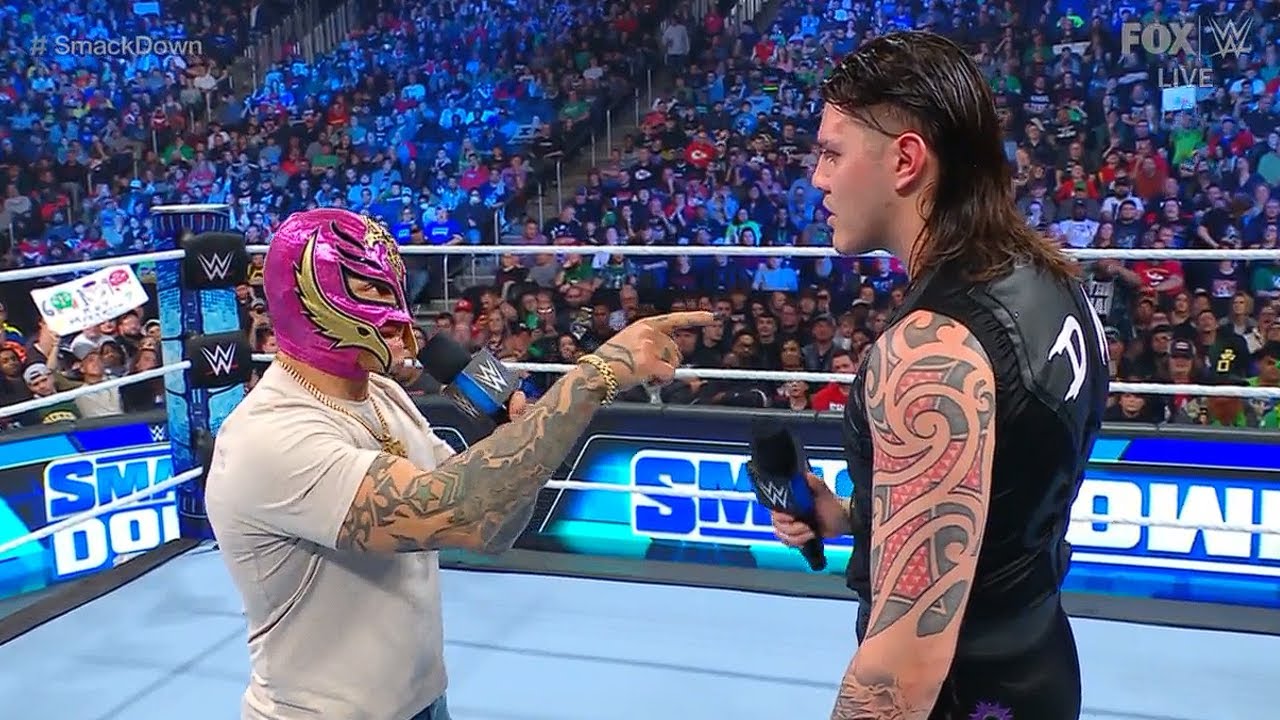 Chris King is here with what WWE should do with Dominik Mysterio at WrestleMania in his long-awaited match against his father Rey Mysterio Jr. 
On this week's episode of Friday Night SmackDown, Rey Mysterio finally snapped and beat some sense into his disrespectful punk-ass kid Dominik. The member of the Judgement Day came out to push his father again for a match on the Grandest Stage of Them All, this time with his mother and sister at ringside. The ungrateful punk told his mom to "Shut Up," as a father even I wanted to jump through the screen and whoop his ass.
Back in October of last year, Mysterio made the emotional decision to possibly quit the company but, instead, Triple H persuaded the Lucha libre superstar to move over to SmackDown to avoid his son. This came after Dominik shockingly turned on his father at Clash at the Castle. Mysterio did everything he could to refuse his despicable son's challenge for Mania but, a man can only be pushed so far. Mysterio will be inducted into the 2023 WWE Hall of Fame and I expect Dominik to embarrass his father during his speech to further this personal feud.
Yes, the WWE Universe hates Dominik and wants to see him get the ever-loving crap kicked out of him but, this feud is missing a special ingredient to capitalize on the biggest heat possible. Throughout this feud, Dominik has made mention of the legendary Eddie Guerrero on several occasions going back to the "iconic" 2005 feud.
I know WWE might not want to go this route but, Dominik MUST come out to Eddie Guerrero's theme at Mania. The disrespectful punk needs to come out in a lowrider to garner nuclear heat. It doesn't matter if The Judgement Day comes out and causes interference for Dominik to get the win, all that matters is that both superstars get the biggest payoff of this nearly year-long feud. Just imagine the Roman Reigns heat after he defeated The Undertaker and multiply that by ten. Dominik portrays the perfect heel and he truly is the missing ingredient that The Judgement Day needed to grow and evolve into a top faction.
King's WrestleMania Rewind: Eddie Guerrero vs. Rey Mysterio (WrestleMania 21)
In the next WrestleMania Rewind, Chris King takes us back to WWE WrestleMania 21, and Rey Mysterio vs Eddie Guerrero in a battle of tag team champions!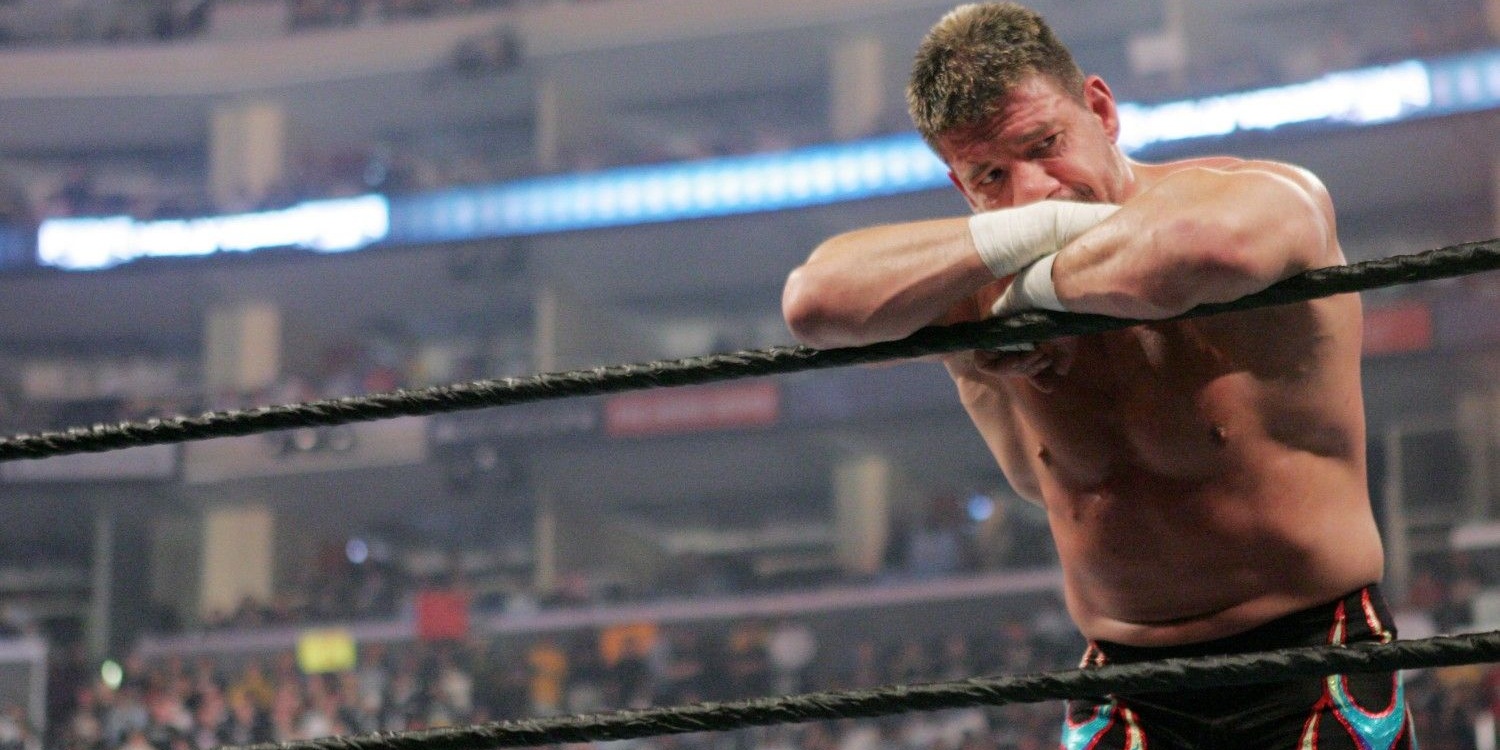 In the next WrestleMania Rewind, Chris King takes us back to WWE WrestleMania 21, and Rey Mysterio vs Eddie Guerrero in a battle of tag team champions!
Chris King is back with his third edition of WrestleMania Rewind. This week he's bringing us back to some 'Latino Heat.' We're rolling back to WrestleMania 21 where Eddie Guerrero faced longtime friend and rival Rey Mysterio.
This would be Guerrero's last Mania match caused by his unfortunate death. Over on SmackDown, Mysterio and Guerrero would become the tag team champions at No Way Out where they defeated MNM.
Chavo Guerrero would get into the head of Latino Heat by making him believe Mysterio was trying one-up his tag team partner. Chavo went as far as to tell his uncle to stop using the Guerrero name.
Guerrero would finally give in to his nephew's manipulation and went on to challenge Mysterio to a one-on-one match at WrestleMania 21. I For the first time in history, both tag team champions would face each other. Guerrero vs. Mysterio was the first match on the stacked card. Both partners threw everything at each other including the kitchen sink in a battle of one-up-manship.  In an incredible high-octane match that saw both superstars delivering counter for counter, Mysterio pulled off the win with a surprise pin roll up.
A few months later, what once was a friendly battle turned into a nasty fight involving the custody of Mysterio's real-life son Dominik Mysterio. After several torturous weeks, both former tag team champions would face off in a ladder match with the custody of Dominick on the line. I forgot how amazing this rivalry was and it's definitely worth a watch. Sadly, we would lose Latino Heat in November of 2005. There will never be another Eddie Guerrero. Viva La Raza!