News From Cook's Corner 11.22.21: Happy Eggsgiving
A few shows, some big news, and some more releases. This week had everything! For better or worse… – and Cook gives you the lowdown!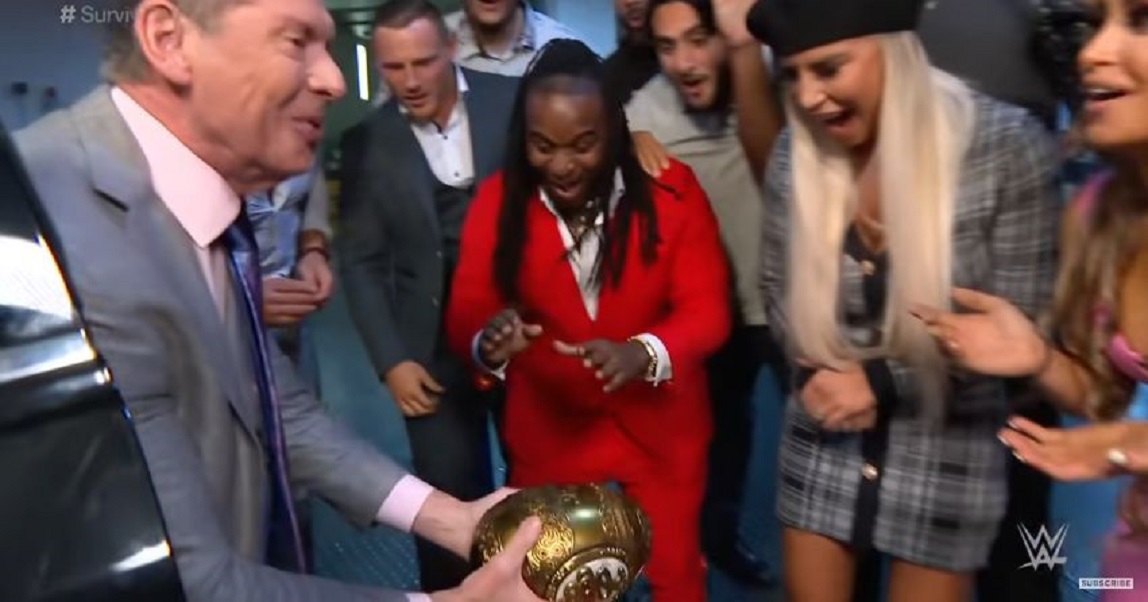 Hi, hello & welcome to News From Cook's Corner! This is the week where we think about all of the things we're thankful for. So I might actually do a Fave Five this week, considering the annual Thanksgiving column was the inspiration for the gimmick anyway! Gonna be a pretty busy week though, so we'll see how that goes.
Before you gorge yourself on turkey, here's the latest going on in the rasslin world…
More WWE Releases!
There's a pretty good chance that this will become a regular section of the ol' column. Eighty wrestlers have been released by WWE during 2021, with one (Samoa Joe. Remember him?) being rehired. Let's put this in perspective for a minute, as looking at the numbers can explain a lot of what's going on here.
Raw currently has forty-three wrestlers. SmackDown has thirty-six. NXT has forty-one male wrestlers & twenty-one female wrestlers. NXT UK has forty-three wrestlers. Wikipedia lists four wrestlers under 205 Live, six wrestlers as free agents, then twenty-two wrestlers as Performance Center trainees. If I had to guess, Wikipedia doesn't have a complete list of Performance Center trainees, so we really have no idea how many people are still hiding there. I seem to recall Nick Khan talking about signing a bunch of people when he was doing that media tour around SummerSlam.
The point I'm trying to make is that WWE has a ton of people under contract and really doesn't have that many spots. Most of those people listed under Raw & SmackDown haven't done much of anything in quite some time. The NXT & NXT UK rosters are freaking immense, and NXT is where a lot of the recent cuts have come from. There are going to be more people coming in, therefore there will be more cuts. It's just best to accept this now instead of getting all sad & depressed every time it happens over the next few months or however long we have before Nick Khan engineers a sale. Don't spin this as me being happy about people getting canned, I'm just saying "it is what it is".
So who was it this time?
A few of them were connected to the previous releases. John Morrison would be the longest tenured wrestler of this batch, considering his wife (known as Franky Monet on NXT & Taya Valkyrie elsewhere) was part of the last crop of releases this wasn't as big of a surprise as one may think. Kind of a dick move from WWE since they'd just moved from California to Florida to facilitate her training at the Performance Center. Other people will have to learn from these events. Johnny has been more entertaining during his stints outside of WWE than he has been in WWE, so I think he'll do just fine.
It's beautiful that in kayfabe, Jinder & Shanky released a diss track so hard and so fire that it caused Hit Row to never show their faces again in embarrassment.

— Toru Yano Fan Account (@ToruYanoFanAcct) November 22, 2021
Remember when B-Fab was released and everybody thought it was kind of random to get rid of one of Hit Row's members right after they debuted on SmackDown? Now they're all gone. Isaiah "Swerve" Scott had been a featured act in NXT and was a top star in the indies before signing with WWE. Ashante thee Adnois was fairly new but had potential, and then there's Top Dolla. This seems to come down to Top Dolla rubbing people the wrong way, including burying colleagues on social media & complaining to management about B-Fab's dismissal.
It's easy to understand why Top Dolla might have gotten a big head & thought his opinions mattered. He was featured on the Most Wanted Treasures show before ever appearing on NXT, so he was obviously a favorite of Paul Levesque's. He also became the featured member of Hit Row upon their arrival on SmackDown, as his 6'5 330 pound frame played better with main roster decision makers than Swerve Scott's lack of size. Dude moves pretty well for his size too, so there's some potential there. Apparently he didn't show enough potential to make up for whatever headaches he was causing, and the other two guys didn't have enough appeal without him.
It's tough, because I like it when people cause trouble backstage & stand up for themselves. Gives me more to write about here. However, I can't recommend such things in today's WWE. They're looking for excuses to fire anybody. Oh, and I also wouldn't recommend talking smack about the competition's executive vice presidents like Top Dolla did either. Maybe it'll impress Tony Khan, who knows.
Tegan Nox's NXT tenure had more ups & downs than anybody else's, I'd figure. Whenever she was about to get a push, she tore her knee up. They kept her around though, and finally moved her up to the main roster in July. She was placed in a team with Shotzi and they beat the Women's Tag Team Champions multiple times, but never got a title shot. Then they got split in the draft, and Nox never even made an appearance on Raw. I don't have any clue what happened other than somebody wasn't impressed with Nox for some reason. Seemed like a solid talent to me, but I'm just a dork with a column.
Drake Maverick was released back in April 2020, but was kept around to work the NXT Cruiserweight Championship Tournament and ended up getting his job back due to popular appeal. Of course, he didn't do a damn thing of note before getting released again, but I think we expected that. Got an extra year & a half of paychecks though, so there's that. Seems like a nice bloke, he'll land on his feet.
Shane Thorne disappeared from television once Retribution split up. He did a couple of dark matches recently with a Outback Jack-style Aussie gimmick, but nothing came of it. One would expect him to re-form the TMDK tag team with Mikey Nicholls at the earliest possible opportunity.
Jaxson Ryker was the final name of the list, and was another one that hadn't done anything notable in awhile. He did outlast his fellow Forgotten Sons in the company, but did not outlast his tag team partner after that group split, Elias. Ryker got some heat back in 2020 when he tweeted political views that his boss agreed with, but it turns out that was the most attention he ever got while working for WWE. How bout that.
We'll be back with more releases soon enough, I'm guessing. Again, we're not celebrating these things, but we're not going to act shocked either. As people have told me, it's the wrestling "business".
Did anything interesting happen at Survivor Series?
.@VinceMcMahon has ARRIVED at #SurvivorSeries! pic.twitter.com/EZd2hzStUH

— WWE (@WWE) November 22, 2021
Becky Lynch beat Charlotte Flair by holding the ropes on a roll-up. In fairness, Charlotte tried to do it first. Also in fairness, it was the same referee that Charlotte took issue with and beat up back in April, so she probably should have seen it coming. Who says WWE doesn't do long-term storytelling? Prior to the show, Fightful reported the match order, which had this as the main event and everything else in the reverse of which it happened. It's a good thing Fightful got some egg on their face, as this sure wouldn't have worked as the finish of the event.
Seth Rollins was the sole survivor in the Men's Survivor Series Elimination Match, because he needed the win. Of note here was Austin Theory having a pretty long run in the match, Kevin Owens walking out on his team like he was Bad News Brown, and Drew McIntyre & Bobby Lashley doing a double countout spot because they didn't need to lose.
Omos won the Rock 25th Anniversary battle royal, eliminating twelve people in the process. My takeaway from the match was they were trying to make Omos a star. Then I realized the the match was for Pizza Hut pizza, like how kids read books in school so they can win the Book It contest and get a class pizza party, I guess. I'm confused. How does The Rock feel about Pizza Hut? Never mind, one of the few things worse than political conversation is pizza conversation. If we go down this road we have to talk about pineapples and various cities' styles of pizza, and I just don't care about all that.
RK-Bro beat the Usos, and I think I'm the only person that doesn't go completely crazy whenever Randy Orton does an RKO. We know he's going to do it in a weird spot. It's been a thing for like a decade now. Maybe I'm just jealous of these people that are able to react like they saw something for the first time evry time. In any event, Randy Orton has now wrestled more WWE PPV matches than anybody in the history of the universe.
Bianca Belair was the sole survivor of the Women's Survivor Series Elimination Match. I thought the crowd was a little harsh, but it was a pretty sloppy piece of business & the booking was hella questionable. At least Bianca got to win.
Roman Reigns beat Big E to become the Universal Ultra Mega Champion of the Galaxy. Dude needs a few more nicknames so I'm trying to help him out. Big E got to do a big things, but we all knew what was going down here. Seems to hurt the drama factor to me. I may be wrong though, saw a bunch of people online calling it the best thing they ever saw. So what do I know?
The Rock didn't show up. Apparently I was supposed to expect him to? People sure seemed mad about it.
The big tease for Monday night? Oh, this is one for the books. Vince McMahon got a Cleopatra Egg from The Rock, apparently part of his Netflix movie. Allegedly worth $100 million. Somebody stole it. All the WWE Superstars get to go to Raw tomorrow night so Adam Pearce can question them about it. If this doesn't equal a record rating, I don't know what will.
To answer my question of whether or not anything interesting happened at Survivor Series…I'd lean towards no, but it wasn't an awful show or anything.
Kenny off of TripleMania Regia?
Kenny Omega might have lost his AEW & Impact Championships fairly recently, but he still has the AAA Megachampionship to his name. Omega was scheduled to defend that title against El Hijo del Vikingo at the upcoming TripleMania Regia event in Monterrey, but Dave Meltzer reports that the champion will be pulling out of the event due to upcoming surgeries.
Yep, surgeries. Kenny has a torn labrum, an abdominal hernia, a bad knee, and a septum issue as well. He's been working through the pain for awhile now, and is expected to be out at least through February. Seriously though, if anybody deserves some time off it's Kenny Omega. Dude has put the work in, whether you like him or not. It'll also give him some added time to focus on the AEW video games division.
New Japan & NOAH Working Together
NJPW v NOAH at Wrestle Kingdom January 8 pic.twitter.com/X8eqsnMDcd

— Super J-Cast (@thesuperjcast) November 20, 2021
Last week in this column, I wondered why New Japan was holding three different Wrestle Kingdom events, including one in Yokohama on January 8 that didn't have a fun IWGP Heavyweight Championship match announced for it yet. Turns out that the January 8 show will be a cross-promotional effort also involving Pro Wrestling NOAH. New Japan is reportedly planning on running a number of cross-promotional events in 2021 as part of celebrating the company's 50th anniversary. DDT, All Japan & Dragon Gate have apparently talked with NJPW about participating.
These reports indicate to me that NJPW isn't exactly bullish on the idea of borders being opened up anytime soon. It's good news for Japanese wrestling fans though, and will help New Japan fill some cards. It'll be fun to see Keiji Mutoh back in a New Japan ring, won't it?
Well, that's all we have time for this week. Thanks for reading, and until next time, keep your stick on the ice.
News From Cook's Corner 1.17.22: Gory Self-Mutilation
AEW tried to catch lightning in a bottle for the second time. Did it work? What other news struck last week?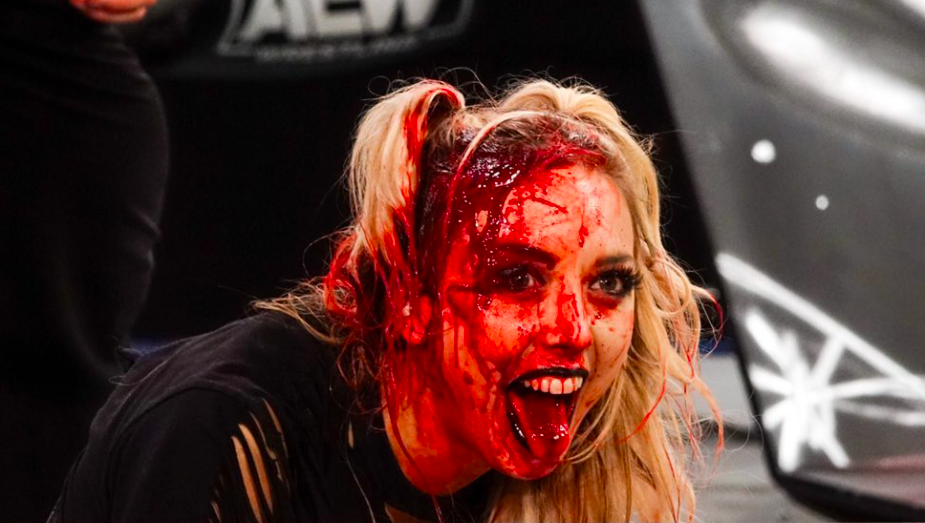 Hi, hello & welcome to News From Cook's Corner! We've got a short column for you this week, which most of you were probably expecting when the Cincinnati Bengals actually on a playoff game. Nah, I didn't party too much, just had an allergic reaction with my eye again. We've done this before. This time I'm pretty sure it had something to do with cleaning my bookshelf and rearranging my books. Hadn't done that in awhile, so there was a ton of duct. Sitting down and looking at a computer screen sucks, so we have to limit it as much as possible.
There's still a couple things that warrant discussion though, so let's get to it.
WWE On The Offensive
Looks like this week's top stories are about WWE trying to do things to undermine wrestling promotions. We start with Major League Wrestling, who has filed a federal anti-trust lawsuit against WWE claiming that WWE has interfered with their ability to make various media rights deals.
Some of the highlights:
-Former WWE executive Susan Levison allegedly warned an executive from VICE that Vince McMahon was "pissed" they were airing MLW programming. MLW claims that WWE had leverage over VICE due to the Dark Side of the Ring series often being focused on WWE subject matter.
-MLW alleges that when WWE found out about their agreement with Tubi, WWE threatened to stop doing business with Fox. The fallout from the Tubi agreement falling through led to a drop in ticket sales & event cancellations & delays.
-As an example of WWE's anticompetitive behavior, MLW cited AEW being held out of two arenas in the Cincinnati market due to pressure from WWE. Jon Moxley wrote in his book that the Heritage Bank Center on Cincy's riverfront refused to book AEW due to WWE influence. I don't know the other, could be the BB&T Arena across the river on the campus of Northern Kentucky University where WWE has held house shows. AEW wound up running the Fifth Third Arena on the campus of the University of Cincinnati, and outdrew the Raw taping held at the HBC just prior.
-Apparently starting in early 2020, WWE started trying to poach MLW wrestlers that were under contract, and aired footage of an MLW wrestler without MLW's consent. (Somebody would have to fill me in on this one, I haven't the slightest idea who this would be.) MLW also claims that WWE sought to prevent wrestlers from working with MLW by refusing to hire wrestlers that had worked there, and that one MLW wrestler demanded to be released early from his contract so he could join WWE.
Do I think that at least some of these allegations are true? Having followed pro wrestling for over thirty years and having read up on the history of WWE…you betcha!
I don't think there's a question that WWE has resorted to any means necessary to drive potential competitors out of their market. They've been doing this since taking most of the territories' top stars back in the mid-1980s. It's been a monopoly for nearly two decades for a reason. The main question I have: Will a judge actually care, or will they throw it out of court because it's silly pro wrestling?
How do you think WWE slips under the radar on things that other media companies & sports leagues actually have to deal with? People have been trained to not take WWE seriously. As much as people like us obsess over the rasslin' business, people that don't "get it" are happy to ignore it. Vince McMahon can do any darn thing he wants, and the reaction from folks outside the wrestling bubble will be non-existent. It's wrestling! To outsiders, the whole damn thing is an outlaw mudshow.
AEW = Gory Self-Mutilation
The Toronto Sun did an article on All Elite Wrestling over the weekend, talking about their status as a competitor to WWE. They asked WWE for comment & got one:
"If you look at the gory self-mutilation that bloodied several women in the December 31 event on TNT, it quickly becomes clear that these are very different businesses. We had an edgier product in the `Attitude' era and in a 2022 world, we don't believe that type of dangerous and brutal display is appealing to network partners, sponsors, venues, children, or the general public as a whole."
A few notes here:
1. I've been doing this stuff longer than I care to admit, and I never thought of asking WWE for comment on something. Should I start asking people for comments on topics I'm writing about? I doubt I'd get any answers, but it might be worth a shot.
2. This has been WWE's strategy when asked about AEW for some time now. We remember Vince McMahon using the phrase "Blood & Guts" to describe the promotion on a conference call. They know that people get squeamish about blood, especially when it comes to blood coming from women. The Fabulous Moolah never busted anybody open on television, and she trained most of the women for years. People aren't used to seeing it, and they often get uncomfortable with things they aren't used to seeing.
3. Most people find other people bleeding pretty gross. There's a reason why deathmatch wrestling is a niche produxct. People that love it really, really love it, but it's a very small percentage of the marketplace.
4. WWE's belief is that advertisers & media companies aren't big on blood, so they make sure to mention AEW's apparent lust for the red stuff whenever the subject comes up. Their hope is that advertisers will shy away from advertising with AEW, and media companies won't give AEW big money when their current deal with WarnerMedia is up.
5. Thus far, whenever Tony Khan is criticized on something, he doubles down on it. So there's a pretty good chance that we're going to see even more matches with female bleeding. AEW's female workers seem happy to do it.
🐇🔪🖤 pic.twitter.com/WswDnqeKQ5

— The Bunny 🐇 (@AllieWrestling) January 15, 2022
6. WWE could be called out as being hypocritical on this front, but there aren't many people that will hold them accountable.
It'll be interesting to see how this goes. All I know for sure is that the smack talk between these two promotions and their fans is just beginning. Think it's tocic now? Wait a couple of years.
Welp, that's all for this week. Thanks for reading! Join me later in the week for some Divisional Round picks. Until then, keep your stick on the ice.
In Memoriam: Pete was a longtime reader from back in the day. From my dealings with him he was a kind person that knew how to use his head. When you've written things on the Internet as long as I have, you learn that's a rare thing. From what I've read from people that knew him in real life, he was the same way off the computer. Sadly he passed away from cancer on Friday night. Pete was always about serving others, as he was a U.S. Air Force veteran & a regular blood donor. He will be missed.
NOAH WEEKLY NEWSLETTER VOL.156 ~ 12TH JANUARY 2022
Following the big clash with New Japan, NOAH had some shakes ups in their Junior Division! Hisame fills in all that blanks for anyone not caught up yet!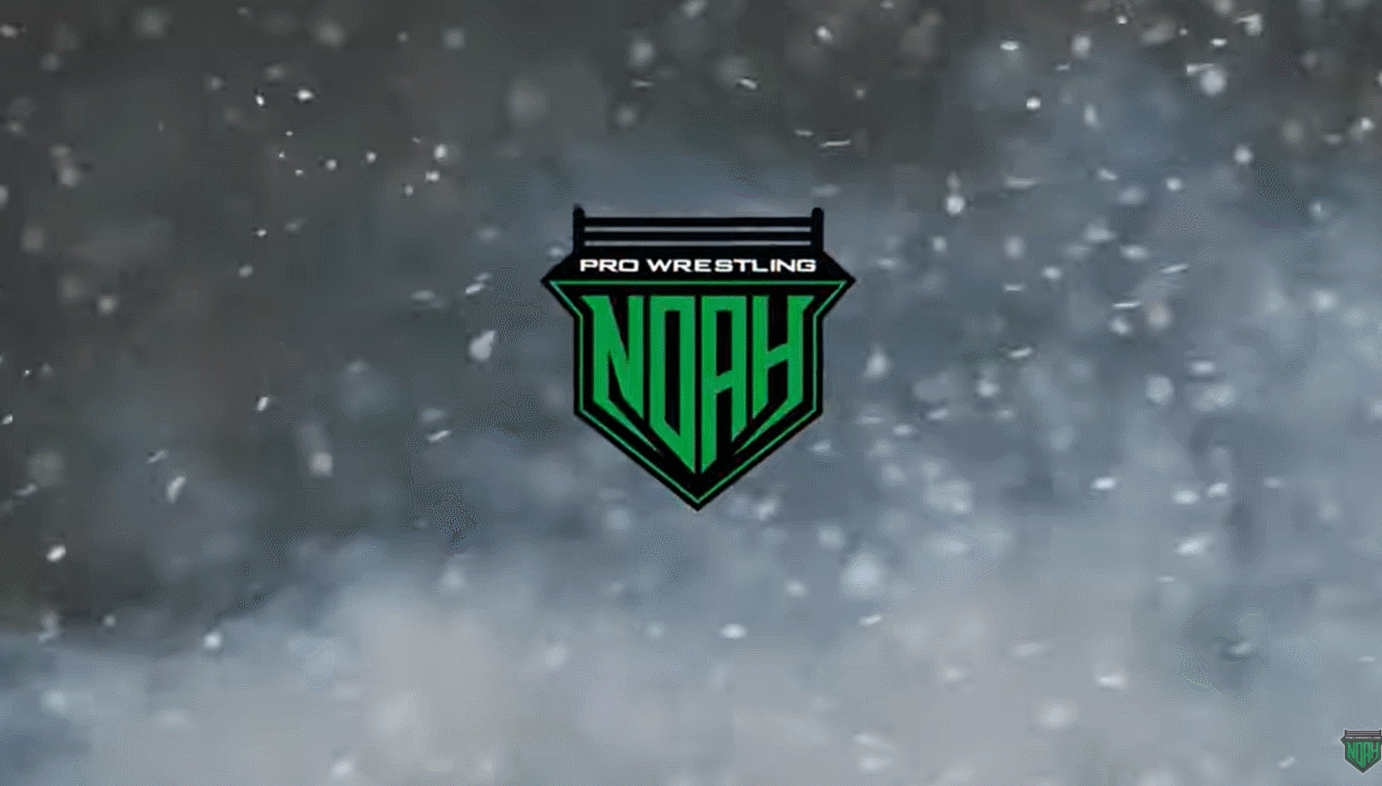 Following the big clash with New Japan, NOAH had some shakes ups in their Junior Division! Hisame fills in all that blanks for anyone not caught up yet!
NEWS
Masa Kitamiya vs Katsuhiko Nakajima 
After a tag match on the 4th January, Masa Kitamiya challenged Katsuhiko Nakajima for the GHC Heavyweight. Kitamiya won the right to challenge after defeating Nakajima. He didn't just defeat him, he destroyed him with the Saito Suplex. As Nakajima lay on the canvas semiconscious, Kitamiya loomed over him and spoke on the mic to challenge him for the belt. Title match has been set for Sunday the 16th at "BUMPER CROP 2022" in Sendai.
Neither Masa Kitamiya or Katsuhiko Nakajima have had much to say about the challenge. Nakajima has said more than Kitamiya however, calling this (sarcastic or not) a "nightmare" posting the picture of him laying on the mat and intimating later that he hadn't forgotten having his hair shaved off by Kitamiya, and hinting at other times that this match bought up various emotions. Naomichi Marufuji has summed this up as being a match containing elements that only Nakajima and Kitamiya know about and can understand, which will make it more exciting for the rest of us.
Kongoh vs The M's alliance 
Kenoh might not have left The Budokan as double champion, but an alternative offered itself. In NOAH belts are usually challenged for if you beat the champion, there is a loophole if you are on the winning team…or else make your challenge statement first before anyone else gets there. Manabu Soya went for the third option after Katsuhiko Nakajima had been defeated by Masa Kitamiya. During the match Soya had been wound up by Naomichi Marufuji, and spying those belts, he took the chance to bring them to Kongoh by taking them from Marufuji and Mutoh. Mutoh who had once called him a "big useless tree". Soya challenged for the belts on behalf of himself and Kenoh. Title match will take place on the 16th January in Sendai.
Masakatsu Funaki challenges Kenoh
On the 5th January, NOAH held one of their mystery cards and a traditional sudden title match in which Daisuke Harada, the second NOAH Junior to challenge for the belt, challenged Kenoh for the GHC National. Harada was unsuccessful, although he came very close, and Kenoh defeated him to retain after 10 minutes and 56 seconds. Harada would soon get his belt, and Kenoh would soon get a new challenger.
Masakatsu Funaki.
Funaki made his way silently to the ring and pointed to the belt. He didn't speak on the mic. He didn't need to. He simply motioned his intention, and then returned to the back. Title match will take place on the 22nd January in Funaki's hometown of Osaka at the Edion 2nd Arena.
NOAH vs New Japan
The first shots in the rivalry were fired when after the show at Korakuen Hall on the 5th January, the entire NOAH roster walked the short distance from Korakuen to the Tokyo Dome to invade New Japan. Treating the ring as if they were tourists (Keiji Mutoh was more interested in his camera and took selfies, as did Naomichi Marufuji, The NOAH Junior Regulars and Perros Del Mal), or else with open disdain, such as Kenoh who claimed that NOAH was there to help New Japan and was soon confronted by Takagi Shingo with Hiromu Takahashi and BUSHI. At the end of the exchange and without any violence as Shingo wouldn't get into the ring although Kenoh baited him, he and Kiyomiya shook hands. Kiyomiya later said that he had no idea that Kenoh was going to do this. They shook hands for solidarity in the fight against New Japan.
In the opening match Yasutaka Yano came to a draw with old friend and fellow Ehime boy, Kosei Fujita. Funky Express (without Masao Inoue) were defeated by The Third Generation, who Mohammed Yone had complained hadn't been exactly complimentary about them. The dark matches over, Yoshiki Inamura and Tomohiro Ishii got into a massive brawl, and probably managed to knock out the ABEMA feed. Fans wanted to see more of this, and Ishii hinted that it wasn't over between them. Daisuke Harada square up to Master Wato.
So far NOAH had not done well against New Japan. Atsushi Kotoge was pinned by SHO who hit him with a spanner, and it took HAYATA to score the first blow against the colossus by pinning Taiji Ishimori in a tag match. The focus was on HAYATA and Ishimori as it was Ishimori who had ended HAYATA'S first GHC Junior Heavyweight title reign and it was Ishimori's reign that HAYATA wanted to overcome, but the focus ended on the spark flying interaction between Ishimori and Seiki Yoshioka.  NOAH's luck took another dip when NOSAWA and YO-HEY took on NOSAWA'S old friends, El Desperado and Douki. NOSAWA'S heart was not torn enough to throw El Desperado's tag belt outside the ring, but again, it was not this rivalry that became the focus. The first time in the ring together, it was YO-HEY and El Desperado who found an interesting competitor in each other. YO-HEY also found something else interesting about El Desperado, but I'll let you Google "GinGin Boys" for that.
KENTA sadly did not appear in the event as he had become injured the day before in a ladder match against Hiroshi Tanahashi. His usual cheeky humor surfaced when he sent Tanahashi a picture of a little ladder and said that next time they should use that, and saying that the one good thing about being injured was that he didn't have to wear "that dumb t-shirt". That would be The Sugiura Army t-shirt with himself forcibly put on it. The replacement was Toru Yano, the bugbear of the opposing team, who were led by Minoru Suzuki. Yano said that Sakuraba had put a blindfold on him and deposited him at the entrance to the arena. It sounded like a kidnapping. After tearing into Suzuki, Sugiura pinned TAKA Michioku with the Olympic Slam. Backstage Toru Yano was excited about "next time", to be told by Takashi Sugiura that there would be no "next time".
Go Shiozaki kept up the NOAH winning streak with a victory over EVIL in a tag match. Fans would like to see Shiozaki challenge for the NEVER Openweight Championship.
In a very poignant match, Yoshinari Ogawa and Naomichi Marufuji took on Yoshinobu Kanemaru and Zack Sabre Junior. For Ogawa, everyone in the match has been a pupil at one time or another, and Zack was his tag partner while in NOAH and they even held the GHC Junior Tag together. For Marufuji, it was nostalgic as Kanemaru was his senior and had walked out of All Japan with Mitsuharu Misawa alongside Marufuji all those years ago. Marufuji was targeted more in this match than Ogawa was (respect still remains for their teacher, who could probably have reversed their moves and done something even worse), but it was NOAH who picked up the win. Nothing more came of this match, Ogawa went back to feuding with Perros Del Mal, the NOAH Juniors or whoever else crosses his path, and Marufuji was more interested in drinking with Kanemaru than fighting him.
In the double main event, Kongoh took on Los Ingobernables de Japón. Kenoh, naturally was not impressed by their entrance. Katsuhiko Nakajima had said before the match that he wasn't interested in Shingo. Shingo was old news, he had fought him and beaten him. His interest was in the person he had never beaten. Tetsuya Naito.
Naito and Nakajima had their interactions, but what fans took away from the match was a new feud, Kenoh vs Naito. Tadasuke was also given his time to shine, when he fought the heavyweights on their own level and Shingo in particular was taken aback by his heavyweight strength. But despite this, it was Tadasuke who took the fall. After the match Nakajima smirked at Shingo and held up his championship belt, the GHC Heavyweight. Shingo, who had lost his to Kazuchika Okada the night before, applauded him sarcastically and then waved him away.
In the main event Keiji Mutoh and Kaito Kiyomiya teamed together to take on Kazuchika Okada and Hiroshi Tanahashi.
Kiyomiya had stated over a year ago that he "wanted to experience The Rainmaker" and he did. Much to his extreme disappointment, and even with the new techniques that he bought out, he could not overcome the seniors. The Rainmaker experience bought him to tears when Okada pinned him using his namesake move. Mutoh gently took Kiyomiya from the ring and gave him some sage advice backstage as Kiyomiya curled up on the floor into a bow in shame. He had lost for NOAH. Mutoh reminded him that Kiyomiya's fight had just started. There would be more and it wasn't over yet. He also gave him some advice that Antonio Inoki had given him. The phrase doesn't translate well, but it basically means that sometimes to get something done, you have to go off the rails. Another person who proved helpful to Kiyomiya was Okada, who offered Kiyomiya to come and train in the New Japan dojo and when he felt ready he could go back to NOAH.
On the whole it hadn't been an overly successful evening for NOAH in terms of results in the ring, but the results outside of it where. Now that New Japan and NOAH have a better working relationship, they can both look to a future that involves each other in a positive way. Feuds were born at the event, even for Yasutaka Yano, a rookie. Kiyomiya said he wasn't going to be going to New Japan's dojo, but Mutoh's advice seemed to have invigorated him and the experience of fighting elsewhere had proved to him that the world he wanted to cherish was the one he was in, NOAH. El Desperado should probably have the last words as he stated in an interview with East Sports that he didn't think that a long feud that went on week after week would not be interesting, but, a fight with NOAH once every six months or even once a year would be.
You can order the event through ABEMA until the 21st January, after this time it will be placed on WrestleUniverse and New Japan World. If you are having troubles viewing it, please set your computer to Japan Standard Time.
N-Innovation & U-CUP 
After the excitement of New Japan vs NOAH, the NOAH Juniors returned to their eternal fighting when the first N-Innovation tournament took place over three days at Yokohama Radiant Hall. The event was designed for the four NOAH Junior units (Kongoh Juniors, STINGER, Perros Del Mal De Japon and The NOAH Junior Regulars) to fight against each other in different forms of matches, including a rumble which was won by Daisuke Harada. STINGER initially took the lead, but were caught up to and overtaken by the NOAH Junior Regulars. The team who inaugurated the event ended up being awarded with the U-CUP.
Night 3 was however the most explosive. The junior rumble had a stipulation that the first four from each unit eliminated would team together. Unfortunately for Yoshinari Ogawa this meant teaming with Eita, not that he cared it was against Tadasuke and Junta Miyawaki, it was his partner he had the issue with. That and Kotaro being the dogsbody that Ogawa had called him, by winding him up and holding open the ropes. Naturally Ogawa objected to tagging with Eita, but he did co-operate with him for a few seconds until Tadasuke caused them to fall out, and Ogawa ended up with water dumped all over him again.
Seiki Yoshioka and Yuya Susumu came to the rescue, and backstage the audience were treated to the sounds of the juniors fighting, which echoed in the hall as STINGER stormed Perros' interview.
Daisuke Harada defeats "Absolute Champion" HAYATA for the GHC Junior Title
After a reign of 198 days and 8 defenses, HAYATA dropped the championship to Daisuke Harada on the final night of the N-Innovation at Yokohama Radiant Hall. Harada had won the junior rumble and with it the right to challenge the champion. Their one and only pre match had been nothing to write home about, the match standing on its own. Harada defeated HAYATA after 27 minutes and 2 seconds with his new move, "The Dokaaan", which took HAYATA by surprise. After the match Harada paid tribute to HAYATA'S success by acknowledging the belt now came with more weight than ever before (i.e. he has a lot to live up to and surpass), and telling HAYATA that one day they would do this again. For Harada, it is also a case of now having a weapon with which to overturn the dominant heavyweights and put the juniors in the lead.
NOAH Junior Regular Army tag title challenge, but STINGER set a condition
Atsushi Kotoge set a precedent after winning the N-Innovation U-CUP (Unit Cup), by challenging HAYATA and Yoshinari Ogawa for the GHC Junior Heavyweight tag titles. Ogawa and HAYATA accepted the challenge (yes they are still teaming together and Ogawa admitted he he was disappointed to lose and had acted badly), and it is set for 22nd January in Osaka. However, after going to time out draw with STINGERS Yuya Susumu and Seiki Yoshioka on the third night of the N-Innovation, Susumu threw a spanner in the works and told STINGER that they were introducing a stipulation. If The NOAH Junior Regulars lost in the tag match on the 16th in Sendai, then they forfeited their title challenge to Susumu and Yoshioka. Backstage when STINGER were confronted by this, Susumu pointed out to Kotoge that he had no right to challenge as he (or they) hadn't even beaten the champions, so they had every right to make this stipulation. Kotoge said he did, as he won the N-Innovation, it was his right. Susumu said that if he really wanted to make things exciting, then he would take on their challenge. Kotoge had no choice but to accept, although he said they were cheating. NOSAWA Rongai then got word of what had happened and said that if STINGER were making that stipulation and The NOAH Junior Regulars were challenging, then Perros would also challenge. Susumu said that a "STINGER showdown" as he termed it, would be interesting.
CyberfightFestival 2022 returns
CyberFight Festival 2022 will return at the Saitama Super Arena on the 12th June 2022. Nothing has been decided yet in terms of cards, but the heads of each promotions seem to be hinting at a possible mixed tag or interleague matches. Naomichi Marufuji joked that it would be Sanshiro Takagi vs Kenoh or Sanshiro Takagi vs Kongoh. So far Kenoh has made no comment, not like last time when he simply said "….".
EVENT RECAPS AND POST MATCH INTERVIEWS
New Sunrise 2022, January 4th, Korakuen Hall: Event recap Post match interviews
Reboot 2002, January 5th, Korakuen Hall: Event recap Post match interviews
N-Innovation/U-CUP Night 1, January 6th, Yokohama Radiant Hall: Event recap Post match interviews
N-Innovation/U-CUP Night 2, January 7th, Yokohama Radiant Hall: Event recap Post match interviews
New Japan vs NOAH, January 8th, Yokohama Arena: Event recap
N-Innovation/U-CUP Night 3, January 10th, Yokohama Radiant Hall: Event recap Post match interview
ELSEWHERE IN NOAH
– Quiet shy HAYATA was left to close out the show on the 4th January. He simply said "Happy New Year". Yoshinari Ogawa found it very funny.
– Yasutaka Yano got his first singles win, albeit over fellow rookie Kai Fujimura
– Eita said he doesn't know and still doesn't know which one is Haoh and which one is Nioh. NOSAWA said he thought they were both Kenoh. Takashi Sugiura helped out by saying that "Nioh was Hi69".
– Go Shiozaki was not happy with Kaito Kiyomiya winning the match in NOAH on the 5th January, and then saying basically "NOAH is me". Like any good NOAH Born, he has sulked. Even worse was Kiyomiya's prominence at New Japan later that evening when he and Kenoh appeared to lead the promotion.
– Although they acknowledge the difficulties of teaming up together, Mohammed Yone and Masaaki Mochizuki (and yes, Ikuto Hidaka's name was included, even if he didn't say he would take part), have vowed that should the time come when they are free from their units for any reason, they would team together. The BattleArts boys would be back.
– Dragon Kid returned to NOAH as a surprise entrance on the mystery card show. He had last been in NOAH in 2007. He teamed with his teacher Ultimo Dragon. Ultimo was not very complimentary towards him. After the match Dragon Kid was told that Hajime Ohara was his student when in NOAH and that mask and name he was using, it was on loan and that loan had expired in 2021 and he didn't even like teaming with him.
– Super Crazy returned to NOAH as a surprise entrant in the mystery card and a member of Perros De Mal Del Japon. Super Crazy is an original member of the Mexican Group, Perros Del Mal. NOSAWA said that Super Crazy would be a member with an exclusive year long contract.
– Takashi Sugiura has taken to trolling Eita. Eita just ignored him. Tadasuke sadly could not do the same when Eita stood in front of him as he did his pose.
CURRENT CHAMPIONS
THIS WEEK IN NOAH
Thursday, January 13th: Tadasuke (36)
Sunday, January 16th: BUMPER CROP 2022 in SENDAI
Start time: 15:00 JST
Broadcast: WrestleUniverse
LINKS
"I will overturn the order of Pro Wrestling on the 8th January in Yokohama" – Kenoh, Keiji Mutoh and NOAH wrestlers invade the Tokyo Dome
NOAH's Naomichi Marufuji, New Japan are "Delicious food for us now". Overturn the number one in the pro wrestling world at the 8th January fight
GIF taken from WrestleUniverse
With thanks to Metal-NOAH & Flame286
Picture credit: Weekly Pro (many thanks to JenJ for sending me them)