BWN Nerds' Review: Hawkeye: Episodes 1 & 2(2021)
The Nerds are of course right on top of all things Marvel. Is Hawkeye starting strong or will it be a mixed bag like most of the other Marvel series this year?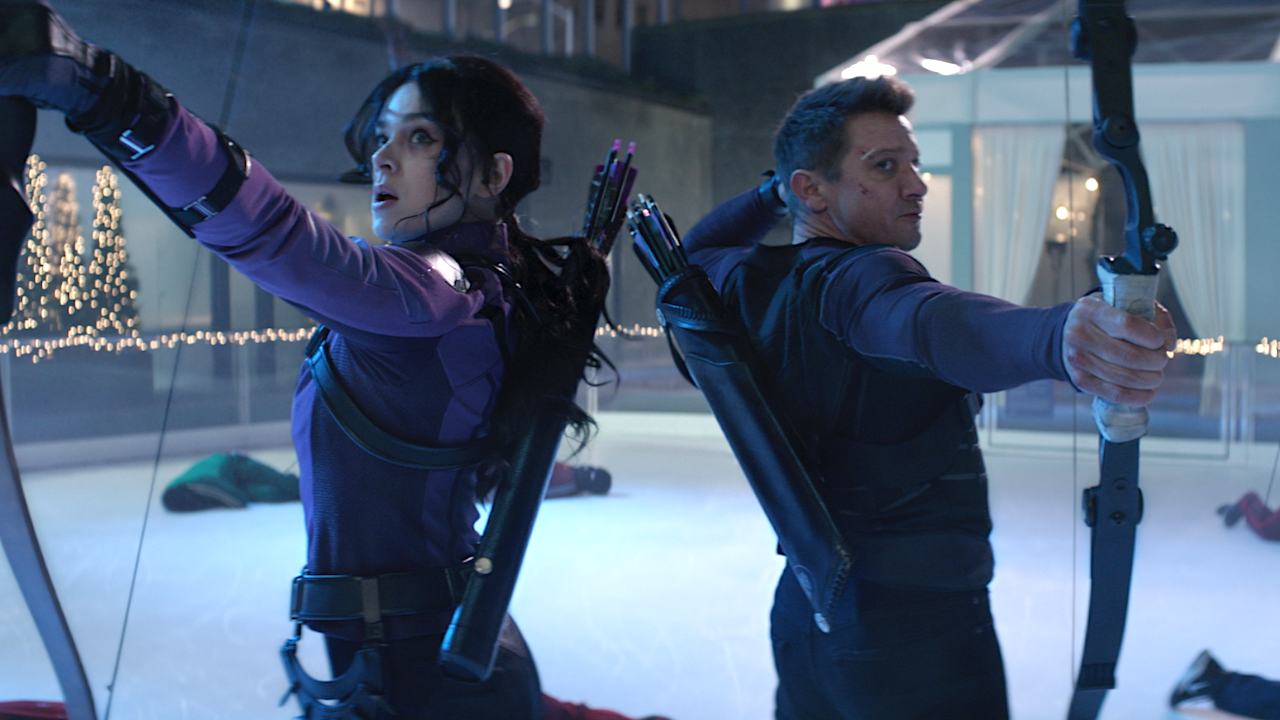 Welcome to this week's edition of the Nerd Review!  Every week the Nerds give you their take on entertainment from the Nerd-o-sphere.  This week, Patrick and Dave review Episodes 1 and 2 of the MCU Disney+ miniseries Hawkeye!
The Show:  Hawkeye
What's it About:  Stil struggling to rebuild his life after the battle with Thanos, Clint Barton is spending Christmas in New York with his children. When someone is spotted fighting crime in the guise of Barton's dark alter ego Ronin, Clint knows he must take action. Barton finds himself facing his past demons and mentoring a new hero.
IMDB Score: 8.1/10
The Nerds' Take on Hawkeye (2021):
Dave: The Nerd Review returns to the MCU for the next few weeks as we offer our thoughts and opinions on a series that Rey Cash was so excited about he could barely contain himself….Hawkeye.
Rather than do a blow-by-blow recap of the first two Episodes, let's focus more on what this series is really all about: The passing of the Hawkeye torch from Clint Barton to Kate Bishop. In many ways, this series is right in the cross hairs of a surprising amount of MCU backlash we have seen recently. The root cause of that backlash is a relative impatience on the part of some of the viewing public to move beyond the characters they know and love from the Infinity Saga and accept the fact that Marvel is telling a different story with new characters in familiar roles. This, as noted in my review of Eternals, was a key factor that had led to some poor reviews for that movie. After just two Episodes of Hawkeye, we are hearing some of the same sort of refrain.
As a character, Hawkeye is very similar to Black Widow in that his story has not really been told, at least not in any sort of detail. Those of us who are comics fans know that Hawkeye's story is a very deep, branching, and fascinating one. True enough, the MCU's version of Hawkeye is the more family-oriented version of the character. Still, there seems to be a lot of backstory that had not been presented as of yet.
Then, running parallel to this, is the story of Kate Bishop, Clint Barton's successor. The first two Episodes introduce us to Kate. We get to see how the Chitahuri invasion of New York from 2012's The Avengers dramatically altered her life and how Hawkeye became such a huge influence on her that day. We learn that Kate is a martial arts expert and a world champion archer in her own right. Early on, we get to meet Kate's mother and, more importantly, her fiancée Jack Duquesne, who we know from the comics as the villainous Swordsman. Duquesne's sword skill is on full display in an impromptu fencing bout between he and Kate. Before that happens though, Kate goes into stealth mode to discover that Duquesne and his uncle were taking part in a black marker auction where, of all things, the Ronin sword and Ronin costume were being auctioned off. Kate ends up donning the Ronin outfit and kicking a lot of ass. But, when Clint sees video of someone running around with the Ronin costume on, the impact of this visual is so powerful that he has to intervene, even at the expense of spending Christmas with his family.
Keep in mind, that is the first Christmas together for the Barton family since the unfathomable events of Infinity War and Endgame. Clint clearly is suffering from a form of PTSD from the horrific things he did while he was wearing the Ronin costume, not to mention the death of Natasha (Black Widow) Romanoff. Nat's death clearly still haunts him and this is evident when he sees her character being portrayed in Rogers: The Musical, a musical, albeit historically inaccurate, portrayal of the Infinity Saga. So, Clint has to go and track down who has stolen the Ronin costume and, more importantly, why? This leads him to Kate, just in time to rescue her from the Tracksuit Mafia. Clint knows the rabbit hole goes much deeper here and he allows himself to be caught by the Tracksuit mafia. Luckily for Hawkeye, the Tracksuit Mafia is as inept as a platoon of Stormtroopers and this allows Clint and Kate to make a getaway. Episode 2 ends with the apparent introduction of Echo and a definite curiosity as to where we are heading next.
Any criticism directed at these first two Episodes seems very petty. These were both very enjoyable Episodes and very necessary to establish some credibility for Kate Bishop as a character who we can not only care about, but who can command a certain level of respect as she, presumably, replaces Clint Barton in a new version of the Avengers. Kate is fearless, but still naïve as to certain things. She may be over-confident to a fault. Then again, the same can be said for Clint Barton. Clint has every intention to walk away from the whole situation but it becomes quite clear early on that is not going to happen. This is made all the more powerful by the knowledge that Clint just wants to get back to his family for Christmas but, alas, the life of a super hero is never that simple or easy.
Episodes 1 & 2 are very good, foundational Episodes. We are not really world building here so much as we are character defining. As far as getting people up to speed and interested in Kate Bishop, then Episodes 1 & 2 more than pass the test. I always go back to, was I entertained, and did I want to see what happens next and, on both fronts, I answer with a resounding yes. As I said at the outset, judging any of these MCU series off of 1 or 2 Episodes is just kind of dumb, as we have learned from WandaVision, Falcon & Winter Solider, & Loki. Hawkeye is no different. There is a lot of really cool stuff that is likely going to happen over the next four Episodes. As far as selling me on the whole concept, Episodes 1 & 2 were highly successful.
Dave's Rating:  4.25/5.0
Patrick:  There has been a plethora of new content dropping all around the Nerdosphere in November and early December. In fact, there has been so much content the Bandwagon doesn't have enough time on the podcast to fully review all the shows we would like to review. This is what led to today's (and the next four) review. This week, we begin our weekly review of the Hawkeye miniseries on Disney+. This tale sees Jeremy Renner return to the MCU as Clint Barton as Clint tries to move on from his superhero days after the battle with Thanos. While spending time with his children in New York City, Clint sees a news report where someone dressed as his vigilante alter ego Ronin flees a crime scene. Upon investigating Clint learns his old costume was "acquired" by young Kate Bishop (played by Hailee Steinfeld).  Kate just happens to be enamored with Hawkeye because he saved(unknowingly) Kate's life when she was a child during the Battle of New York. Unfortunately for Kate, the Ronin made some enemies while active and one group of enemies known as the Tracksuit Mafia wants Ronin's blood.
These first two episodes of the series are all about building a foundation for the story. Renner does well in the first episode of showing the Clint is still not completely past the events of Avengers Endgame, particularly when it comes to memories f his closest friend Natasha Romanov. Renner also does a great job of showing Barton's discomfort with his status as a hero. Clint wants little recognition from the public, even awkwardly attempting to refuse a comped meal at a restaurant. This is contrasted by Steinfeld's Bishop. After witnessing Barton in action, she does everything she can to train herself to become a superhero. Steinfeld plays the role of rebellious youth very, very well an brings an energy to the role that acts as a very nice counter point to the dour Renner.
And it's the interplay between Renner and Steinfeld is going to carry this series. It is clear that the design of Hawkeye is to continue the transition into the next generation of Marvel heroes.  Kate will be the next Hawkeye and this series is going to show us how. We know Bishop and Barton will eventually bond, but there will be work getting there.  In these first two episodes the audience sees the clashing of two generations in Renner and Steinfeld as the two work together to try and recover a stolen Ronin costume. Steinfeld's Bishop is wide-eyed and horribly naïve, yet she also recognizes what it takes to succeed in 2021. Steinfeld appears to be taking a great amount of joy playing this character and it reflects well on the screen so far. It is clear that Barton is supposed to be taking on more of that world weary hero mantle, but at times I did find Renner's portrayal a little wooden and less engaging.  Perhaps he was resentful over having to LARP? Who knows? I do have faith in Renner that this will change over the course of the series. Both Steinfeld and Renner still seem to be finding their footing in these first two episodes, but there is time for them to find a groove.
I would be remiss if I didn't also acknowledge the great Vera Farmiga as Kate's exasperated mother Eleanor. Vera does a terrific job portraying an affluent, single mother trying desperately to connect with her daughter, no matte what kind of trouble she causes. There is also a strength in Eleanor that Farmiga brings to the fore as she navigates high society functions and getting engaged to enigmatic philanthropist Jack Duquesne, played by brilliantly by Tony Dalton. Dalton plays Jack as a smarmy, sleazy phony that everyone seems to see through except Eleanor. It really is my one problem with Eleanor. Here's this smart, confident, wealthy woman getting sucked in by a guy who anyone with eyes can tell is shady at best. I hope she smartens up over the next four episodes.
Ok, so review time. As I mentioned above, these first two episodes are really all about building some foundations and relationships. Episode one in particular is all about catching the audience up on Barton's life and introducing the audience to Kate Bishop and her motivations.  Episode two starts the two on their journey together.  They will bond, fall apart, and ultimately come together positively to move the Hawkeye legacy forward.  These opening episodes serve their purpose well, but I won't say they are in the same ballpark as WandaVision or even Falcon and the Winter Soldier, but the opening of episodes of Hawkeye are solid in their own right.
Patrick's Rating:  3.86/5.0
Overall Nerds' Rating for Hawkeye (2021) : 4.05/5.0
Bandwagon Nerds #114: Return of the Reverend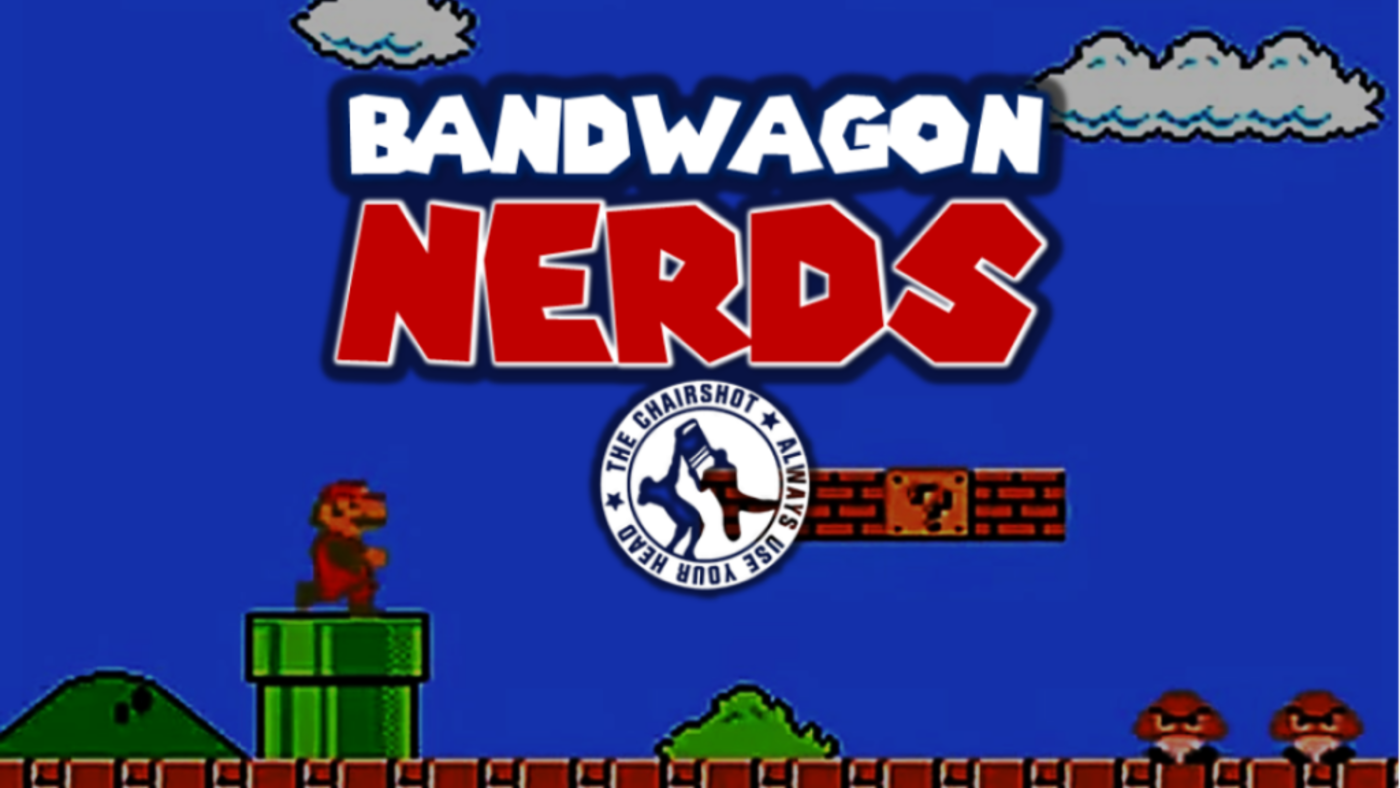 The Reverend Rey Cash returns to the Bandwagon just in time to discuss all of the latest Marvel Cinematic Universe news and rumors surrounding the upcoming Dr. Strange, Fantastic Four, and Black Panther Films! Patrick figures out why Dave doesn't care for The Witcher season 2 in the Bandwagon's review of season two, episode 5.  And finally, are there problems between Disney and Pixar brewing?
@WrestlngRealist

@AttitudeAgg
@itsReyCash
@PCTunney
@therealcplatt
@ChairshotMedia
About Bandwagon Nerds
Join Patrick O'Dowd, David Ungar, PC Tunney and Rey Cash as they keep everyone up on all things nerd, and maybe add some new nerds along the way. It's the Bandwagon Nerds Podcast!
About the Chairshot Radio Network
Created in 2017, the Chairshot Radio Network presents you with the best in wrestling and wrestling crossover podcasts, including POD is WAR, Women's Wrestling Talk, The #Miranda Show, Badlands' Wrestling Mount Rushmores, The Outsider's Edge, DWI Podcast, Bandwagon Nerds, the Greg DeMarco Show, 3 Man Weave, Five Rounds, Turnbuckle Talk, Suwama's Station, The Reaction and more! You can find these great shows each week at theChairshot.com and through our distribution partners, including podcasting's most popular platforms.
---
The Chairshot Radio Network
Your home for the hardest hitting podcasts and radio shows!
Listen on your favorite platform!
iTunes  |  iHeart Radio  |  Google Play  |  Spotify
Listen, like, subscribe, and share!
---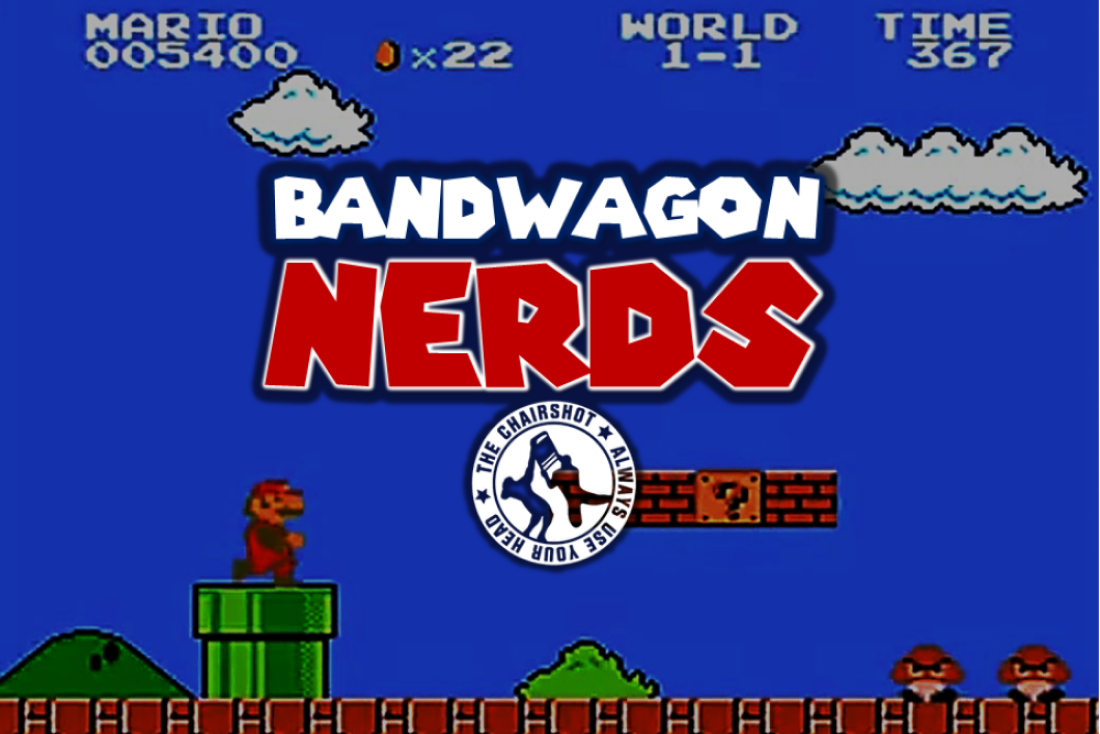 BWN Nerds' Review: The Book of Boba Fett – Ch. 2
After an overall luke warm start, does the second episode heat up at all for The Book of Boba Fett? Big Dave and Patrick weigh in!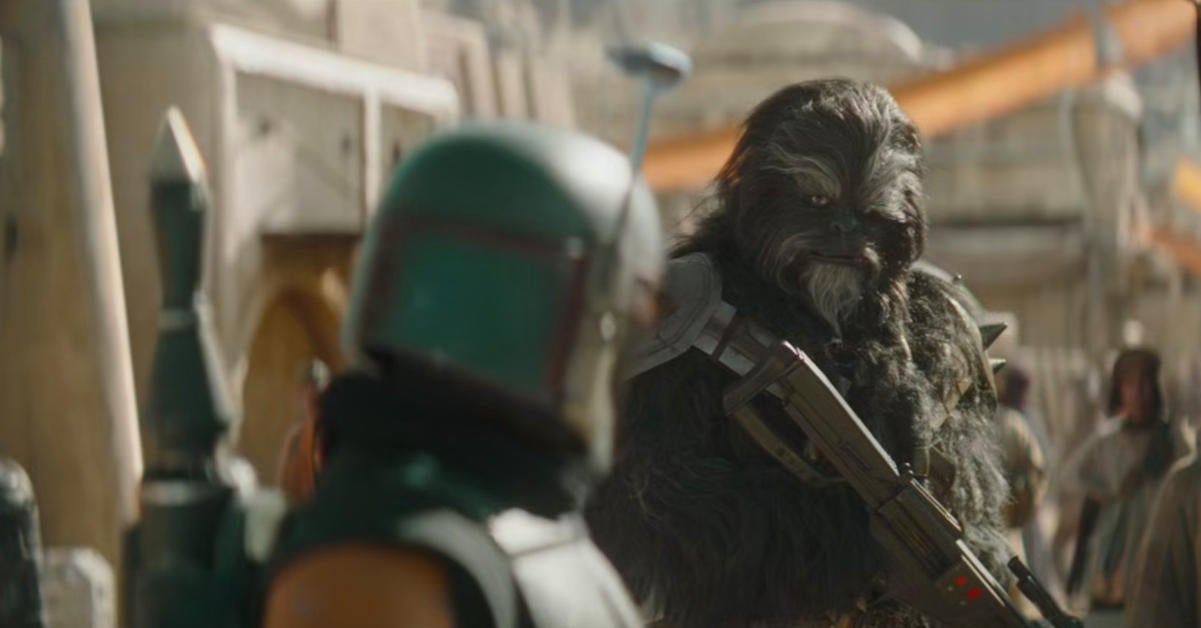 Welcome to this week's edition of the Nerd Review!  Every week the Nerds give you their take on entertainment from the Nerd-o-sphere.  This week, Patrick and Dave continue their review of the Star Wars Disney+ miniseries The Book of Boba Fett!
The Show:  The Book of Boba Fett Ch. 2: The Tribes of Tatooine
What's it About:  Following the events in season two of The Mandalorian, Boba Fett had laid claim to Jabba the Hutt's former criminal empire.  His rise to prominence is not met with open arms and Fett must navigate the Galaxy's criminal underground in Tatooine.
IMDB Score: 8.5/10
The Nerds' Take on The Book of Boba Fett Chapter 2:
Patrick:  Hello again, fellow Nerds. If you will recall from my previous review. I said I had some real concerns regarding where the story of The Book of Boba Fett was going.  My fears not only were not eased, they were significantly increased as the series appears to double down on the "civilized savior" trope and mobster in space story. Oh, plus we get that Boba Fett acid trip we've all been looking for. I don't know if I am being too hard on this show two episodes in, but I am completely underwhelmed right now.
Episode two continues the parallel story telling established in episode one.  In the present, Boba Fett and Fennec Shand question a surviving assassin from episode one. The assassin claims they were hired by the mayor of Mos Espa. This leads Boba to barge into the Mayor, who denies involvement and claims another ordered the hit. The audience is quickly introduced to said responsible parties in the form of Jabba the Hutt's twin siblings. We get a bit of a standoff in the streets of Mos Espa, with the Hutts laying claim to Jabba's empire and Fett saying no. This confrontation is clearly the beginning of what I assume will be another element of intrigue for Fett to navigate.
The audience is also given more story of Boba Fett's past. Fett is now living among his Sand People captors and learning their ways. Specifically how to use a gaffi stick. While training, the Sand People are attacked by a train loaded with advanced weapons that take advantage of the Sand People's more primitive weapons. After the attack, Fett notices some rough characters on speeders, and devises a plan. After getting permission to pursue this plan, Fett proceeds to acquire the speeders, teach the Sand People how to use them, and lead a successful takedown of the train. The Sand People honor Fett with a ceremony involving a lizard up the nose (more on that in a bit) and Fett carving his own Gaffi stick and going full Avatar and integrating himself fully with the Sand People.
My problems with this episode rest almost completely with this second storyline. The plotline in the present, while uninspiring, is at its worst a somewhat tired trope. Like I said last week, it's The Godfather…IN SPACE. Plus, we do get the introduction of some new characters and likely a glimpse into the larger world of the Hutts. But, this Avatar/Dances with Wolves civilized savior thing is just tired out, a little racist and completely unnecessary.  It's not enough that Boba Fett finds a way to survive amongst these people, no, He's their goddamned savior bringing technology to the primitives. I can emphasize enough how terrible of an idea this plotline is to me. And it's not enough that Fett is the savior. The series leans into other native tropes in their ceremony to accept him. They put him through some hallucinogenic acid trip to help him find the branch for gaffi stick.  UGH.
CGI effects have not improved in episode two, either.  I will say the Hutts looked good as CGI characters, and maybe that's why the train looked so terrible in this episode. They spent their budget on the huts. The train and speeders just looked like cartoons on a matte painting.  The perspective was all out of whack and the trains did look like it was moving so much it looked like it was growing on the screen. It's just bad and there is no excuse for it.
Finally, two episodes in and I, an admitted hater of Boba Fett, think Boba Fett is being done a disservice here as a character. Boba Fett is known as the most ruthless bounty hunter in the galaxy, and the writers of this series have completely taken away everything that made him compelling. I don't have a problem with Boba Fett having a code of some sort, but to make him stick to that code to the detriment of his success, especially when you consider he was at Jabba's side for much of his career, makes little sense. Yes, Boba Fett should be taken advantage of for being out of his element. But, this show is setting him up to look completely naive to how the underworld works. And Boba Fett is certainly not that. I really hope this show turns around in a hurry, because if it doesn't you're gonna get more scores like the one I'm dropping for episode 2.
Patrick's Rating:  1.92/5.0
Dave: Episode 2 of The Book of Boba Fett is more of a mixed bag than the first Episode. It does some things well but there are some head scratching moments as well. Similar to the first Episode, Episode 2 covers the present-day conflict involving Boba becoming the Daimio of Mos Espa and also furthers his backstory and his becoming an official member of a tribe of Tusken Raiders.
As for the present-day stuff, on the heels of an attempt on his life, Boba, Fennec, and his Gamorean guards march into The Mayor's office to confront the being they feel is behind the assault. The Mayor denies involvement but instead deflects blame to "The Twins". The Twins are cousins of Jabba The Hutt and they clearly feel they have a right to the throne, so to speak. Boba, basically, tells them to piss off and the stage is set for a big power struggle in the streets of Mos Espa. By far, the coolest part of any of this was the appearance of Black Krrsantan. Now, for those of you unfamiliar with the Star Wars comics, or the content formerly known as the Extended Universe, Black Krrsantan is a black furred Wookie bounty hunter. It is clear from the brief interaction that there is some familiarity between Boba and Black Krrsantan. That makes sense seeing as how they are both bounty hunters….at least until Boba tells The Twins he is no longer a bounty hunter. Suffice it to say we have not seen the last of this conflict. For those of us who have been long-time fans of the Star Wars comics, the appearance of Black Krrsantan is quite exciting. All I can say about him is to think of the polar opposite of Chewbacca and you will have a good idea about the personality of Black Krrsantan.
As for the flashback aspect of things, here is where things get weird. Now, I am all for further exposition of the Tuskens. They are a very misunderstood aspect of Star Wars lore. There is much more to them than Banthas, gaffe sticks, and being the beings that Anakin slaughtered "like animals" in Episode II. So, I am all on board with learning more about them. But this Episode's story as to how Boba helps to organize the Tuskens to teach them to ride land speeders so they can stop a train traveling through what I assume is the Jundland Wastes, where it takes pot shots at Banthas and Tuskens, just seemed very odd to me. Sure, the action is kind of cool. But even that fell flat. The fight on top of the train felt like a scene from Speed, just with a lot more people involved. Then after it is all said and done, we get a very strange sequence where Boba is presented with a gift by the leader of the Tusken Tribe…. a lizard that runs up Boba's nose and induces an acid trip like state so Boba can find a sacred piece of wood to fashion his own weapon? Yeah, it kind of lost me too. I understand that this backstory must be important as far as explaining how and why Boba has gone from bounty hunter to something more marginally more reputable. But it was still very strange.
After two Episodes, I find myself much more interested in the present-day aspects of things than I am with the Tusken flashback material. I am genuinely interested to see what happens between Boba, The Twin, Fennec, and Black Krrsantan. That being said, I would be remiss in not at least speculating some, which is what I did a lot during our review of Hawkeye. A theory gaining a lot of traction is that the organization that Boba helps the Tuskens thwart in the flashback segments is the Pyke syndicate. This is an organization that has been seen in The Clone Wars as well as Solo. The Pyke syndicate and the Hutts have something in common:  They both have worked with Crimson Dawn in the past and if Crimson Dawn is still active, this raises the possibility that Lady Qi'ra will come into the fold. Emila Clarke of Game of Thrones fame played Qi'ra in Solo and she took over control of Crimson Dawn after Darth Maul was finally killed, for good, by Obi-Wan Kenobi and…. you get the picture. It is all highly speculative, but also possible. The Book of Boba Fett feels a bit disjointed for me at this juncture…. but maybe, just maybe, we are being played here and this is, in fact, all going to tie in to Kenobi and Ahsoka. It is certainly possible.
As for this second Episode though, standing alone and based on what we know for certain right now, this felt like a step back for me. The introduction of Black Krrsantan notwithstanding, this was just a rather odd Episode that did not feel like it progressed things all that much. It was not a bad Episode at all, just a bit on the odd side, all things considered.
Dave's Rating:  3.75/5.0
Overall Nerds' Rating for Book of Boba Fett Chapter 2: 2.83/5.0