DeMarco: Pat McAfee Is One Of The Good Guys
Greg DeMarco, one to often disrupt the babyface/heel/hero/villain dynamic, discusses one of the true good guys–Pat McAfee, and his new deal with FanDuel.
Greg DeMarco, one to often disrupt the good guy/bad guy/babyface/heel/hero/villain dynamic, discusses one of the true good guys–Pat McAfee, and his new deal with FanDuel.
Thursday was a landmark day for Pat McAfee, sports media personality, pro-bowl NFL punter, WWE Smackdown color-commentator, and former WWE NXT superstar. While the deal didn't go down on Thursday, it was announced that day that Pat McAfee had signed a new deal with FanDuel for what he called "an absurd amount of money" to bring his show (and, presumably, brand) further under the FanDuel umbrella for a period of at least three years (the deal is for four, with an opt-out after three). According to The New York Post, the deal is worth $30 million per year, which indeed meets the "absurd" adjective used, and likely changes the sports media industry.
Remember, The Pat McAfee Show is a YouTube show that also airs on Sirius XM satellite radio. But if you've ever listened to it, you know they don't really focus on the radio feed at all, oftentimes missing breaks (the show still cuts away, sometimes mid-sentence) and only ever really pushing the YouTube channel. McAfee himself has said it's because Sirius doesn't tell them how many people are even listening, whereas YouTube gives him detailed analytics.
Those details are trivial, what's important here is that Pat McAfee just signed a deal with FanDuel for $30 MILLION DOLLARS A YEAR for his YouTube show. Has anyone else, in any industry, signed that much for a YouTube show?
I like to look at things through a different lens, and you will see tons of people reporting on this deal. I have a simple topic here: Why?
What makes Pat McAfee, and more importantly his entire brand, so attractive to FanDuel? The answer is quite simply, really. He's one of the good guys.
Sources: The Pat McAfee Show and FanDuel have agreed to terms on a new deal, ensuring that FanDuel continues to be the exclusive sports book of the show. It's a 4-year, massive deal that includes an opt-out after three years. 💰💰💰

— Ian Rapoport (@RapSheet) December 9, 2021
Pat McAfee Is A Real Person Who Happened To Make It
Many celebrities will try to brand themselves as just like you or me. But that's simply a lie–many of them aren't. Maybe they were at some point, but fame and money can change a person. Yes, Pat McAfee keeps a private jet, lives in a huge house and has tons of money. But the person hasn't changed. He's still down to earth, authentic, and oftentimes at awe of the the life he leads, one he calls "stupid" at least once per week.
That makes him relatable. Which is why his audience sticks around. Authenticity is a big thing, something you'll see again later in this article. Pat McAfee is definitely that.
Pat McAfee Knows Exactly Who He Is
Pat McAfee is a millionaire in at least eight different industries, a story he tells from time to time (and one he made part of his storyline with Adam Cole). No, I can't list them all, but obviously we can count football, podcasting, merchandise, gambling, wrestling–that's five right there.
But here's the thing: I am not even sure he graduated from West Virginia (he hasn't referenced graduating from what I have heard), and by his own admission he's never read a book in his entire life. He doesn't pretend to be smart, but he does surround himself with smart people. He will routinely tell you, on his show, that no one needs to hear him discuss certain topics  (politics, medicine, legal matters, etc), yet shys away from nothing. That's bold, and fortune favors the bold.
Pat McAfee Isn't Afraid To Go After Something
You don't get all of the opportunities that have come the way of Pat McAfee on accident. You have to be driven to succeed, and not be afraid to ask the question–shoot your shot. McAfee has obviously done that. He had no problem leaving a major brand like Barstool to create his own thing. It obviously paid off–no one can say he was wrong to bet on himself with that one.
Now, if you haven't watched the video at the top of this article, you might want to. That will help you understand the next point.
It's a roughly $30 million per year deal, industry sources say. 💰 https://t.co/dd9ZbPlqmv

— Shams Charania (@ShamsCharania) December 9, 2021
Pat McAfee Appreciates Everything He Has
Watch the video. Pat McAfee appreciates every bit of this "stupid" life he leads, and he gives back. He's often doing huge giveaways, but there are so many examples just from Thursday that point to his level of appreciation:
He immediately donated tons of money to two foundations that are set up by Peyton Manning and Robert Mathis–players who have appeared on his show when they don't often make appearances (Mathis even did so in studio).
He made his parents millionaires on the spot.
He gave each person working on his show a bonus of $250,000. A quarter of a million dollars. When he signed his first FanDuel contract, he gave them each $50,000. Cash. In a backpack. Hand delivered to their house.
He's doing a social media giveaway for his followers–listeners of his show–totaling $1.5 million. They made him what he is today, and he's giving back.
He let NFL insider Ian Rapoport reveal the deal itself, and the length; he let Shams Charania report the financial side of the deal. Why is that important? Both appear on his show weekly–for free. McAfee is smart enough to know this info will get out, so he might as well make sure those reports will benefit those who have stuck with him.
These are just examples from Thursday. Former players have come on his show to promote a venture, and will reveal that McAfee financially helped them start it–and Pat will get mad that they revealed it.
Bold.
Driven.
Authentic.
The three words above appear in this article about Pat McAfee. That's no accident. Those three words jumped out at me when I took a new job in February 2019, after my prior company went belly-up and laid all of us off. The three words define how I live my life, and fully apply to McAfee. Now, that company has also been sold and had no problem laying me off 4 days after they found out about my leukemia diagnosis.
There's a reason why Aaron Rodgers, who hates the media, goes on Pat McAfee's show each week. Why AJ Hawk appears on a daily basis. They like the person behind it all. It's not favoritism in this case, it's the same authenticity that created a crazy engaged fanbase. FanDuel doesn't offer $120 million dollars (over four years) and build a whole  to a show that topped out at 175,000 viewers one time (for their NFL Draft special) for no reason. Those numbers aren't worth that kind of money, unless a great portion of those viewers–exponentially higher than the industry averages–are engaged and participating. Obviously, McAfee's is.
This is no accident. Good things can happen to good people, and Pat McAfee is one of the good guys.
King's WrestleMania Rewind: Charlotte Flair vs. Asuka from WrestleMania 34
Chris king is back with one of the most underrated matches in WrestleMania history–Charlotte Flair vs. Asuka!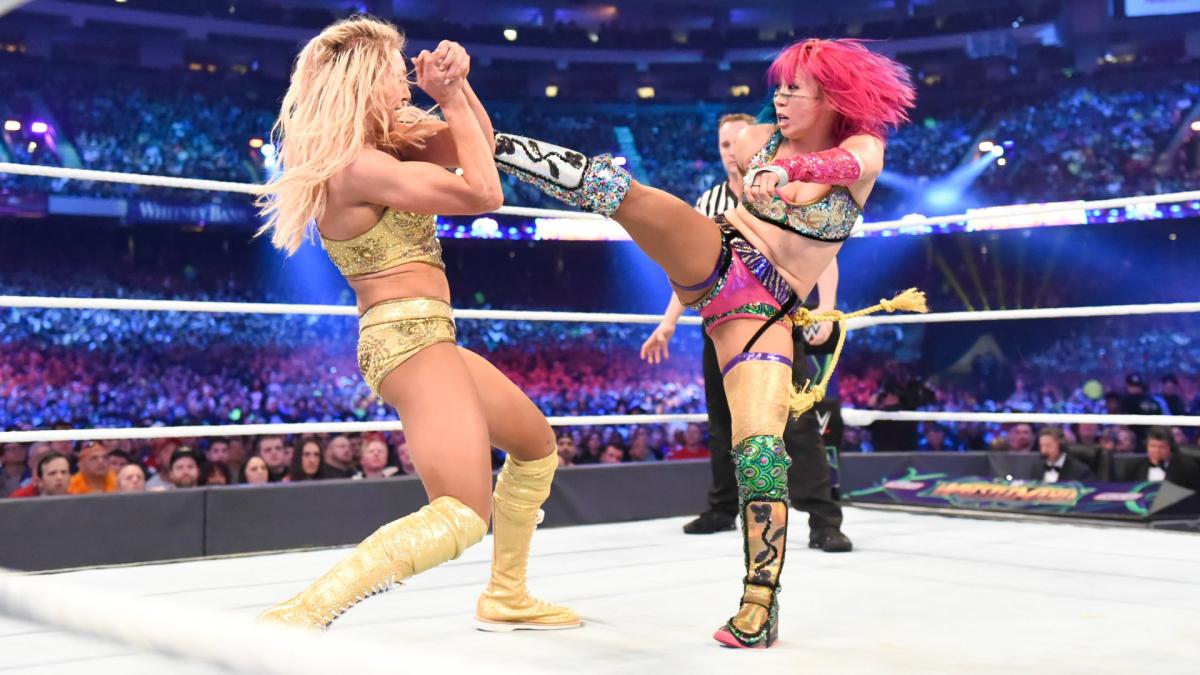 Chris king is back with one of the most underrated matches in WrestleMania history–Charlotte Flair vs. Asuka!
We look back at Charlotte Flair vs. Asuka at WWE WrestleMania 34. 'The Empress of Tomorrow' put her unprecedented and historic undefeated streak of 914 days on the line against 'The Queen's' SmackDown Women's Championship.
For years, this was considered a dream match while Asuka dominated the roster in NXT, while Flair won numerous championships on the main roster on both Raw and SmackDown. The Empress made her long-awaited debut on the September 11th episode of Raw and began to tear through the competition.
Asuka outlasted all twenty-nine other women in the historic first-ever Women's Royal Rumble match to challenge for the title of her choosing. At Fastlane, she made her choice.
The WWE Universe was so excited for this match myself included. Both superstars delivered a fantastic performance on the Grandest Stage of Them All executing counter after counter. Asuka showed off some nasty-looking kicks to her opponent, and Flair hit a thunderous Spanish Fly off the top rope. Flair was seconds away from defeat at the hands of The Empress but she locked in Figure Eight and Asuka was forced to tap out.
I can't even begin to explain how shocked I was at this outcome, as nearly everyone expected The Empress to continue her undefeated streak and walk away with the women's title. This controversial decision was the downfall of Asuka's momentum. She would ultimately win the SmackDown Women's Championship at the 2018 TLC pay-per-view in the triple-threat ladder match.
Fast forward to this year when Asuka has recently returned with her Japanese-inspired persona Kana. Kana is dangerous and ruthless and is heading into a championship with Bianca Belair at WrestleMania 39. The Empress has regained all her momentum and is highly favored to walk away with the Raw Women's Championship. Let's hope that Asuka and Belair can tear the house down and deliver an A+ grade match both women are fully capable of.
King: Dominik Mysterio Needs To Do This At WrestleMania
Chris King is here with what WWE should do with Dominik Mysterio at WrestleMania in his long-awaited match against his father Rey Mysterio Jr.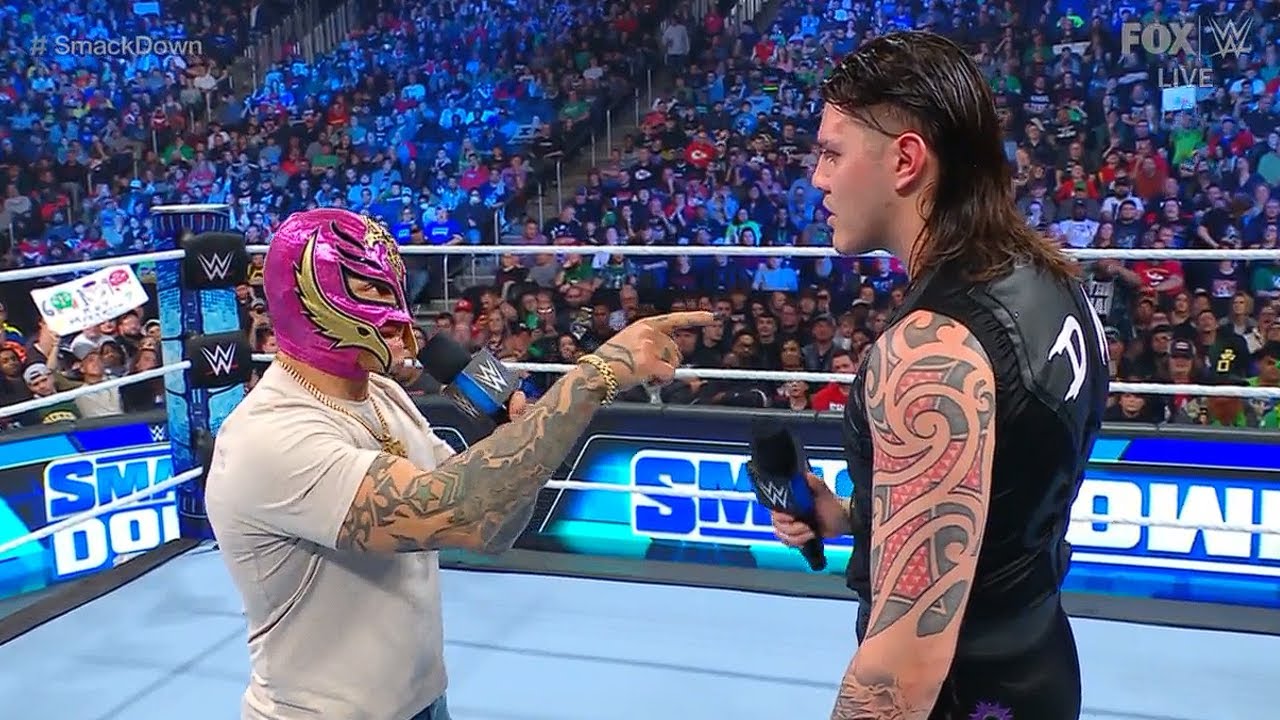 Chris King is here with what WWE should do with Dominik Mysterio at WrestleMania in his long-awaited match against his father Rey Mysterio Jr. 
On this week's episode of Friday Night SmackDown, Rey Mysterio finally snapped and beat some sense into his disrespectful punk-ass kid Dominik. The member of the Judgement Day came out to push his father again for a match on the Grandest Stage of Them All, this time with his mother and sister at ringside. The ungrateful punk told his mom to "Shut Up," as a father even I wanted to jump through the screen and whoop his ass.
Back in October of last year, Mysterio made the emotional decision to possibly quit the company but, instead, Triple H persuaded the Lucha libre superstar to move over to SmackDown to avoid his son. This came after Dominik shockingly turned on his father at Clash at the Castle. Mysterio did everything he could to refuse his despicable son's challenge for Mania but, a man can only be pushed so far. Mysterio will be inducted into the 2023 WWE Hall of Fame and I expect Dominik to embarrass his father during his speech to further this personal feud.
Yes, the WWE Universe hates Dominik and wants to see him get the ever-loving crap kicked out of him but, this feud is missing a special ingredient to capitalize on the biggest heat possible. Throughout this feud, Dominik has made mention of the legendary Eddie Guerrero on several occasions going back to the "iconic" 2005 feud.
I know WWE might not want to go this route but, Dominik MUST come out to Eddie Guerrero's theme at Mania. The disrespectful punk needs to come out in a lowrider to garner nuclear heat. It doesn't matter if The Judgement Day comes out and causes interference for Dominik to get the win, all that matters is that both superstars get the biggest payoff of this nearly year-long feud. Just imagine the Roman Reigns heat after he defeated The Undertaker and multiply that by ten. Dominik portrays the perfect heel and he truly is the missing ingredient that The Judgement Day needed to grow and evolve into a top faction.