Andrew's NJPW Wrestle Kingdom 16 Results & Match Ratings: 1.4.2022
Wrestle Kingdom Day 1 brings us 4 championship matches, but we all know that Shingo vs Okada is the big draw. Does Okada channel the power of the 4th generation belt to overcome The Dragon, or will Shingo prove his dominance?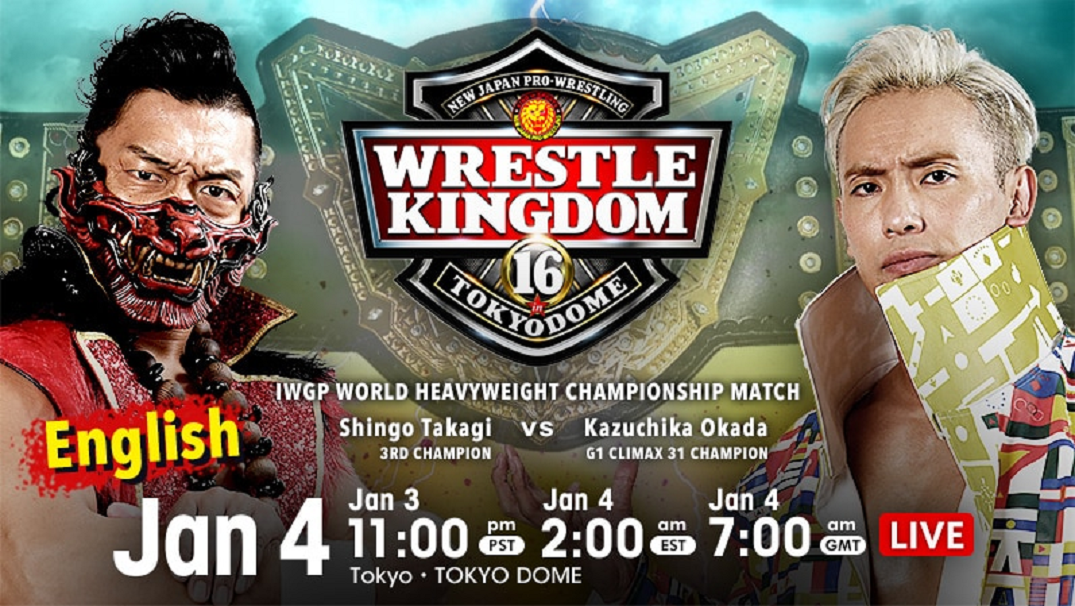 I'd be lying if I said I was really excited for this show. I'm generally hopeful, but since New Japan has been less than inspired for nearly an entire year, I don't have much of that hope.
Shingo Takagi vs Kazuchika Okada is the only match that really jumps out to me, and that's a problem. Wrestle Kingdom, much like WrestleMania is supposed to be a bunch of "main events", and this feels like a one match card.
So maybe I'm taking that "expect disappointment so that way I'm not disappointed" approach a little too far, but I guess we'll see!
Ratings:
New Japan Ranbo for KOPW 2022: Minoru Suzuki, Chase Owens, Cima and Toru Yano qualify for KOPW 2022 match tomorrow – **
SHO vs YOH: YOH wins via Starfish Leg Clutch – ***
Bullet Club (KENTA, Taiji Ishimori & ELP) vs Hiroshi Tanahashi, Ryusuke Taguchi & Rocky Romero: Bullet Club wins via DQ – **
United Empire (Will Ospreay, Great-O-Khan & Jeff Cobb) vs LIJ (Tetsuya Naito, SANADA & BUSHI): Ospreay wins via Hidden Blade – ** ¼

Catch Wrestling Rules:

Ren Narita vs Katsuyori Shibata: Shibata wins via PK – *** ¼
NEVER Openweight Championship: Tomohiro Ishii (c) vs EVIL w/Dick Togo: EVIL wins via Everything is Evil – Zero, this was hot garbage – TITLE CHANGE!!
IWGP Heavyweight Championship: Dangerous Tekkers (ZSJ & Taichi) w/ Miho Abe (c) vs YOSHI-HASHI & Hirooki Goto: Goto/HASHI wins via Naraku – *** ½ – TITLE CHANGE!!!
IWGP Junior Heavyweight Championship: Hiromu Takahashi vs El Desperado (c): El Desperado retains via Pinche Loco – *** ½
IWGP World Heavyweight Championship: Shingo Takagi (c) vs Kazuchika Okada: Okada wins via Rainmaker – **** ½ – TITLE CHANGE!!!
Results:
New Japan Ranbo
Aaron Henare and Chase Owens start off. Kosei Fujita is the third person…and you know none of this really matters until later. We just enjoy the surprise veterans or freelancers and maybe some shenanigans. Yuto Nakashima…I don't even remember this Lion…he must've started doing things when I stopped paying attention last few months. Ryohei Oiwa…Christ 3 Young Lions in a row. I care about as much about this as I would an enema. Hiroyoshi Tenzan is…something I guess. Wato came in at some point but my stream hiccupped. OH LOOK! It's DAA KIINNG! (that's a Lu Bu reference for no one). The Young Lions get fed to Suzuki, so that checks out. Hey Kojima comes out after the mass murder of Young Lions.
TAKA Michinoku comes out next! Cima as well? Okay that's surprising. Cima immediately eliminates TAKA, and now its Kokeshi no vocal chords vampire chicken! DOUKI is another person who is irrelevant in this match. BLUE JUSTICE! Kanemaru bringing the booze as the grandpa battle continues with Suzuki and Nagata. Togi Makabe still has his music censored. Bad Luck Fale may be Mathew's Fire Pro champion, but he's just a mook here. HEY TATSUMI FUJINAMI MAKES IT ALL BETTER! Oh yeah Yano is last because he's still trophy Jesus.
Fujinami has landed about 37 Dragon Screws. Double pinfall on Makabe and Fujinami while Makabe is in a Figure Four.
Chase, Suzuki and Cima gang up on Yano after the 4 are decided just because everyone is sick of Yano's crap.
SHO vs YOH
Well I guess it's a good way to build off YOH making it to the BOSJ finals and SHO having a fairly successful 2021. This match was dominated early by SHO , and YOH was fighting from underneath. With the exception of a very sloppy transition into the Stargazer from YOH it was a decently wrestled match. SHO had great aggression, Togo distracted the referee a little bit, but nothing insane. SHO almost used a wrench, but YOH countered into a Leg Clutch with the arms pinned, so I'm calling it a Starfish Clutch.
Bullet Club (KENTA, Taiji Ishimori & ELP) vs Hiroshi Tanahashi, Ryusuke Taguchi & Rocky Romero
The story coming into this was the fact that the US title match is no disqualification, so Tanahashi is trying to push himself. He is trying to help himself understand the rule breaking/sneaky style mentality so the Mega Coaches are trying to help him prepare.
As is easily predicted, Tanahashi goes dark in this match, gets caught using weapons and gets his team disqualified. This either implies that tomorrow Tanahashi will catch himself before he goes too far, then KENTA will retain. OR Tanahashi will do what's need because KENTA is aligned with the NOAH Sugiura-Gun on the 8th.
United Empire (Will Ospreay, Great-O-Khan & Jeff Cobb) vs LIJ (Tetsuya Naito, SANADA & BUSHI)
Cobb and Naito started things off as a preview to their singles matches tomorrow. Naito wasn't able to get a ton of offense in until LIJ started using Triple Team attacks to chop down the big man. SANADA came in for the preview against O-Khan, and SANADA managed to get O-Khan in the Paradise Lock, while O-Khan feigned a Plancha and even used a Leg Clutch as a way to try and get in SANADA's head.
When BUSHI got tagged in, we had to assume he was eating the pin because he's the only one with nothing on the line tomorrow. Ospreay came in, made light work of BUSHI, took his head off and United Empire won with little effort and a lot reserved for tomorrow.
Catch Wrestling Rules:

Ren Narita vs Katsuyori Shibata

So we didn't know who Shibata was facing, and with Narita coming out, that's one of the least sexy situations that could've happened. When Shibata comes out, he asks for the microphone and makes it interesting. He changes the rules to a normal full contact pro wrestling match.

One had to imagine that both he and Narita went over this match often in the LA Dojo, and it was a Young Lion match with different weight. Narita held his own at different points, pushed Shibata into the corner at different times with strikes, applied the Narita Special with the rolling transition into a Texas Cloverleaf, but Shibata got to the ropes. Shibata pushed the young wrestler to give him more, Shibata also gave the fans some of his classics like the Hesitation Dropkick, Sleeper into PK, and that was all she wrote.

Nothing surprising as a result, the match itself was just a bit surprising since the rules got changed.

Well now, looks like New Japan is back on AXS TV! 10 pm eastern directly following IMPACT! So it appears that whatever happened a few years ago, is now water under the bridge.
NEVER Openweight Championship: Tomohiro Ishii (c) vs EVIL w/Dick Togo
EVIL attacks before Ishii is in the ring, small chair duel before EVIL throws him into the barricade to knock over the ring announcer, because that always happens; then we get the chair around the neck/home run swing spot. Oh look the turnbuckle pad is missing too and EVIL throws Ishii into that. Then he distracts the referee and Togo gets in a few shots. God this is such a terrible formula.
Ishii makes a decent comeback but of course, dumb stuff from EVIL and Togo. Literally all of House of Torture gets involved, Yujiro and SHO; YOH comes through the crowd to help equalize a bit, but this formula is repetitive, stupid and just generally sad. It's rarely ever interesting or a clever twist, it's always the same garbage.
The numbers get the best of YOH, Yujiro hits a low blow when it looks like Ishii is about to finish things. Belt shot to the head from EVIL and then Everything is…garbage. So congrats to EVIL for tanking the NEVER Openweight to that level of irrelevance that the 6 mans will always be at. Just…trash. The fact that this is on a Wrestle Kingdom card is embarrassing.
IWGP Heavyweight Championship: Dangerous Tekkers (ZSJ & Taichi) w/ Miho Abe (c) vs YOSHI-HASHI & Hirooki Goto
Things are erratic for a good portion of the early goings. YOSHI-HASHI and ZSJ start things off, where the CHAOS crew tries to apply some tandem attacks, while ZSJ and Taichi just go for staggered and quick Tornado-esque interference tactics. It's not until we get a double submission moment with ZSJ applying a few to Goto and Taichi using the Stretch Plum on YOSHI-HASHI where we see the pace slow down a little.
ZSJ and Taichi look for a finish, Goto stalls it so they go for a Holy Demon Army call with the combination Backdrop Driver/Chokeslam. Taichi's pants come off, he looks for the Thrust Kick, but HASHI stops things. Goto tries to roll ZSJ up the same way he did in Tag League, but ZSJ kicks out. HASHI and Taichi become the legal men and start off with the Fighting Spirit strike spot. HASHI and Taichi trade Thrust Kicks, ZSJ tries to wipe out Goto, go for Zack Mephisto, but HASHI fights out. HASHI mounts a comeback, Goto comes in and they go for their own assortment of tandem finishes but ZSJ breaks up the pin. Zack eats a GYW for his trouble and they focus on Taichi. Taichi stops the tandem attack, pushes Goto back to Zack, Gedo Clutch, but only a 2!
ZSJ eats a Shoto, Taichi tries to stave off both men, but he eats a Canadian Destroyer from HASHI, a Reverse GTR and then Naraku gives HASHI another damn title win. Ugh…
After the match both Taichi and Zack congratulate HASHI and Goto, have fairly calm words and then head out. All of 2021 Tekkers have done a great job at basically being babyfaces in most situations. Even though they are still technically affiliated with Suzuki-Gun, they've definitely redefined their characters.
IWGP Junior Heavyweight Championship: Hiromu Takahashi vs El Desperado (c)
Things start off fast paced with the opening strikes that Hiromu loves to start with. Forearms into Lucha overhand Chops. A quick back and forth, Despy gets the advantage, hits a middle rope con Hilo, but Hiromu responds in kind with the Apron Sunset Bomb that beat Kushida in Hiromu's return a few years ago.
Both crawl in at 19 after the quick bursts of offense. The slowly get up and go back to forearms, Despy gets rocked but wraps around, drops Hiromu and then hits a Frog Splash for a 2 count. Despy looks for the finish with Pinche Loco, but Hiromu blocks. Hiromu hits a Pop Up Powerbomb, the release Belly to Belly in the corner and continues to run the momentum. Dynamite Plunger into the Death Valley Driver into the corner. Hiromu tries to end things, but Despy goes for a big counter flurry to keep him alive. After some frantic counters, Hiromu almost pulls off the Time Bomb, but Despy turns it into a Stretch Muffler. Can't quite finish the Numero Dos, but its great watching them struggle for positioning.
Hiromu hits the Victory Royal, almost pulls off Time Bomb again, but Despy counters, El Es Culero for a 2, even hits a Dudebuster for a near fall. Hiromu fires, comes off the ropes and eats a stiff right punch to the face. Pinche Loco lands, Despy goes for a second but Hiromu counters with the Hiromu Roll and only gets 2. A Kushida-esque right hand from Hiromu returns the favor from before. Despy with one more punch of his own, hits the double Pinche Loco and …it's surprisingly over. Not bad, just really quick and oddly paced.
Noticeable after the match, Despy's eye is swollen. Not sure if one of those punches caught him and maybe that sped things up since it felt a little abrupt. Let's just hope it was a pivot and not an excuse to give the main event like 55 minutes. Now honestly I wouldn't hate if the match went to time limit draw, but I don't want it to be obviously foreshadowed from a quick semi-main.
IWGP World Heavyweight Championship: Shingo Takagi (c) vs Kazuchika Okada
Okada comes out in a Hakata with the lists of Rainmaker accomplishments, since today marks 10 years of Rainmaker, he came out in slightly self-serving fashion. As if this is merely another thing to add to his list. Classic Okada. He even has a towel around his neck as an homage to Antonio Inoki (who we saw open the show).
Very deliberate early pacing, where both men feel each other out, and then on the second volley both allow the other to take a few swings or try stuff. It's a great confidence spot with both men respecting the other's offense but trying to prove their own toughness. Before spilling to the outside, a cute wrinkle fairly early. Shingo likes to feint a Lariat/Punch and then snap off a DDT, but Okada tried to be one step ahead, and ate the lariat instead.
Okada manages to spike Shingo on the outside, but Shingo powers up, keeps a hold of Okada and Suplexes him onto the outside mats. A lot of this early story is just toughness and grit, which Shingo is winning early on. When they get back on the outside, Okada takes some control and pulls off some classic Okada. Throws Shingo over the guardrail and then does his running Crossbody beautifully over the rail.
Okada hits the Missile Dropkick, goes into the Money Clip but Shingo fights it off. Does his Back Elbow/Punch combination and then calls for the Ukon Lariat, Okada ducks and gets caught by the DDT. So that was a good way to call back to an earlier spot in the match. Some fighting back and forth but Shingo hits the Noshigami before landing a Wheelbarrow German Suplex.
This was a great back and forth, Shingo did a lot to try and avoid the Rainmaker, hitting double Made in Japans for near falls. I got a bit taken in by the match because it was haymakers and counters, just generally feeling like anyone could win at any time. Stay Dream attempt from Shingo before Okada counters it into an Avalanche DDT. Hands thrown, craziness, and Okada catches a Shingo with another Rainmaker, stacks him up and OKADA WINS LOL! The rain continues to fall!
Overall Score: 7.25/10
Well my initial feelings were sadly correct. This show was insanely underwhelming. Even though everyone hates EVIL and not because he's a heel because his matches are repetitive garbage. But even if I hate YOSHI-HASHI coming out with another belt it was still a solid enough match. The Despy match really felt short even though I don't mind him winning, Hiromu doesn't need the title, he's the face of the division because of his personality.
Okada officially putting the 4th Generation belt to bed and being the new champion going into the Ospreay match is a nice way to bring that story full circle. It would be nice for Okada to win tomorrow and there being some tension between Nakajima and Okada with the NOAH crossover is nice. Nakajima and Okada are very close in age with similar enough levels of arrogance. It's like they could be best friends or the worst enemies.
Tomorrow thankfully seems marginally more interesting, but today was pretty lame, mostly EVIL's fault.
Mitchell's WWE NXT UK Results & Report! (5/26/22)
Heritage rules this rematch!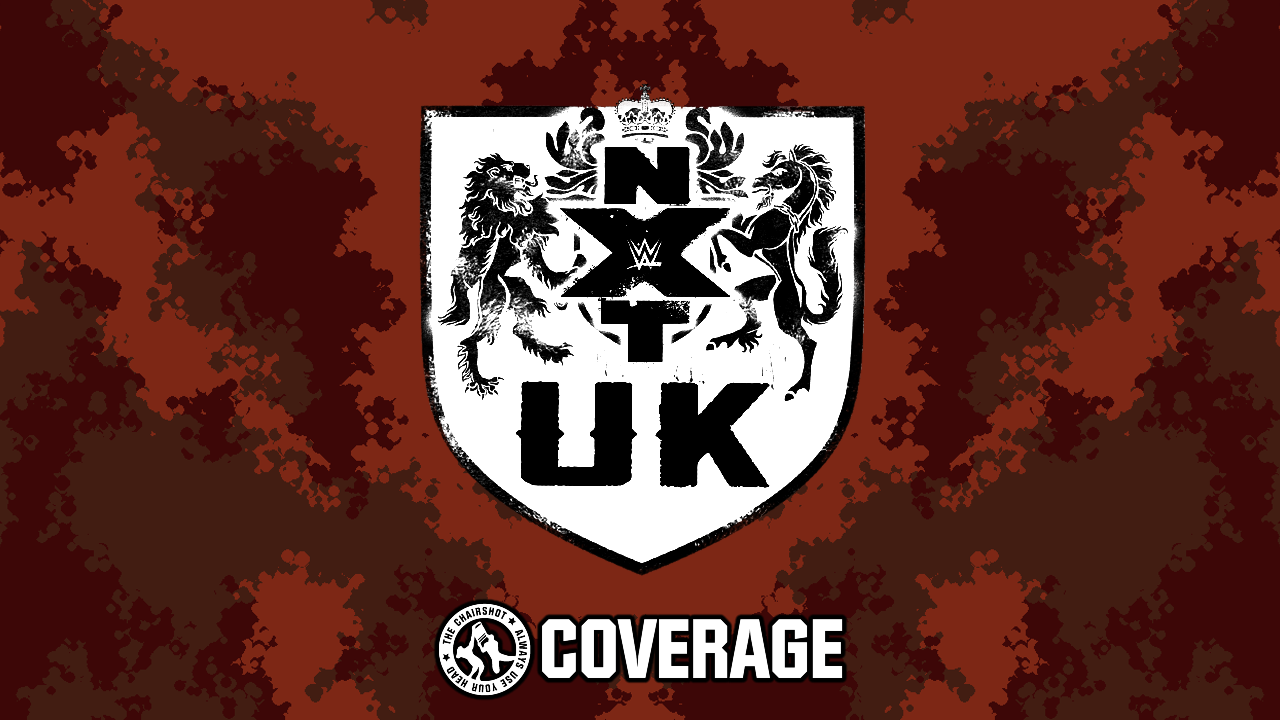 A-Kid and Charlie Dempsey go another round, in British Rounds!
The inaugural NXT UK Heritage Cup Champion, A-Kid, is looking for payback against Charlie Dempsey, and it'll be under Heritage Cup Rules! And with Die Familie banned from ringside, will Dempsey be able to win all on his own?
OFFICIAL RESULTS
Mark Coffey VS Saxon Huxley; Coffey wins.
Emilia McKenzie VS Lash Legend; Lash wins.
Sha Samuels w/ Noam Dar VS Damon Kemp; Samuels wins.
Heritage Cup Rules: A-Kid VS Charlie Dempsey; Dempsey wins.
PLAY BY PLAY
Mark Coffey VS Saxon Huxley!
The Coffey Brothers couldn't hold it together, and they not only missed out on the NXT UK Tag Team Championships, but Joe Coffey has gone off to sort himself out. Can this Gallus Boy be on top all on his own? Or will the Divine Beast of the Astral Plane have to tell him, "Better luck next time?"
The bell rings and fans rally as the two tie up. Coffey headlocks, Huxley powers out but Coffey rams shoulders! They tie up again, Coffey headlocks again, but Huxley powers out again. They ram shoulders again, then Coffey gets around to a waistlock. Huxley bucks Coffey but Coffey uppercuts, then arm-drags! Coffey keeps on the arm, wrenches and wristlocks, but Huxley scoops! Coffey slips free, waistlocks, but ducks the elbow to fire off forearms! Coffey whips, Huxley reverses but Coffey ducks and dodges, only to run into a THESZ PRESS! Huxley dribbles Coffey off the mat, then fires up!
Fans rally and duel as Huxley runs and KNEES Coffey against ropes. Huxley whips and KNEES Coffey again, then whips for a kitchen sink knee! Fans rally and Huxley runs to drop an elbow! Cover, TWO! Huxley clamps on with a neck wrench but Coffey endures. Fans duel, Coffey fights up and throws body shots. Coffey throws hands, bobs 'n' weaves, ROCKS Huxley then snapmares him. Huxley gets up, LARIATS collide, but Coffey runs again. Another DOUBLE LARIAT, Coffey runs, and he slides under the Thesz Press to pick Huxley up and TOSS him! Fans fire up and both men go to corners.
Huxley fires up, he runs corner to corner but Coffey dodges the elbow! Coffey rallies with forearms and shoulders, ducks and DOUBLE CHOPS Huxley down! Huxley goes to a corner, Coffey uppercuts! Then back elbows! Huxley fights the bulldog but Coffey comes back with a GAMANGIRI! Cover, TWO! Huxley's still in this but Coffey drags Huxley up. Coffey wrenches, reels Huxley in but Huxley throws elbows to fight off the lift. Huxley BOOTS then TWO HAND CHOKE SLAMS! Cover, TWO! Coffey survives but Huxley drags him back up. Huxley scoops, Coffey slips out and shoves, ducks and ROCKS Huxley with a right!
Coffey hits a BIG back suplex, then he runs to SLIDING ELBOW! Cover, Coffey wins!
Winner: Mark Coffey, by pinfall
The younger brother wins big all on his own! Will he be able to lead the firm back to the top of NXT UK and once again make this Gallus' Kingdom?
Ivy Nile speaks.
"In two weeks, the Final Boss, Meiko Satomura, is going to find out what the Pitbull of Diamond Mine is all about. I'm a different breed, I'm on a different level. No girl here can stand toe to toe with me. Meiko Satomura is going to find that out. I didn't travel halfway across the world to not take home the gold. I'm taking this one home to Diamond Mine." Will the Best in the World feel the pressure when she takes on Ivy for the NXT UK Women's Championship?
NXT UK hears from Sam Gradwell, and Von Wagner.
The Thunderstorm says, "There he is, Big Von. How's it goin', mate? Last time I saw you, you were stamping and shrieking like a unruly chimp. That's what happens when you grow up to the size of a brontosaurus. You group up with everyone being scared of ya. But there's not one speck of exaggeration in my eyes or soul when I tell ya I am not scared of Von Wagner." But Von says it's obvious Gradwell likes to run his mouth. Gradwell does his talking but Von does damage in the ring. Gradwell's never faced someone with Von's size or power. Gradwell admits Von is an impressive fighter, but so is Gradwell. Von's never faced someone like him, either.
Gradwell says Von looks like he hasn't gotten any brains since birth. Von's favorite meal is probably medium-rare Wooly Mammoth, no seasoning. Von says you can tell Gradwell is aggressive, but that won't stop Von from punching him in the face. Gradwell's faced big men before, and fighters, brawlers, submission artists, but bloody hell! Tossing Jiro into the crowd!? Von is going to show Gradwell what big business is. This is Wagner's World, Gradwell's just living in it. Von's down watching film, and Gradwell's ready to put in the work. Will the Thunderstorm be able to wobble Von's jowls and rattle his kidneys before Von can do the same to him?
Emilia McKenzie VS Lash Legend!
The protégé to Meiko Satomura is just one of many who didn't like the first impression made by the baller turned wrestler. Nor did she like the second or third impression. But Lash isn't here to make friends or even get along, she's here to win. Will #SuplexMillie throw Lash all the way back to the States? Or will Lash prove "Legend" is more than just a name?
The bell rings and they tie right up! Lash laughs as Millie can't push her back, and then Lash shoves Millie down! Millie comes back, gets around to waistlock, but Lash pries free. Millie headlocks, but Lash blocks the takeover. Lash powers out, runs Millie over, and soaks up the heat. Lash talks trash but Millie throws body shots. Lash knees low, puts Millie in a corner and then TOSSES her across the way! Fans chant, "You Suck!" but Lash ignores them to run at Millie. Millie dodges and fires off forearms! Lash shoves Millie away but Millie dropkicks the leg out! Millie runs, but into a FLAPJACK!
Lash laughs and then looms over Millie. Fans taunt Lash but lash pulls Millie's hair. The ref counts, Lash pushes Millie down and stomps her around. Millie throws body shots but Lash stomps her again. Lash runs, does her make-up, and drops an elbow! Lash then kips up, and she stands for a cocky cover. ONE, and fans chant "You Still Suck!" Lash tosses her hair, but runs into a BOOT! Millie goes up and leaps, but Lash catches her! Lash dribbles Millie in the ropes! Lash carries Millie around to FALL AWAY SLAM, and stay on her feet! Fans chant "Lash is Trash!" but she stalks Millie to ropes.
Lash whips Millie hard into a corner, then asks where's the real competition. Millie fires off forearms! Lash knees low, then brings Millie around to whip hard into the corner. Millie staggers into a SPIN-OUT BACK SUPLEX! Cover, TWO! Lash drag Millie up, Canadian Rack, and she thrashes Millie around! Millie endures, fights free, and she ROCKS Lash with forearm after forearm! Lash grabs Millie's hair and scoops her to SLAM her down. Lash drops an elbow but misses as Millie gets up! Millie is in a corner, Lash runs in but Millie dodges, comes back and ROCKS her! Lash stays up but Millie LARIATS again!
Millie keeps moving, ducks and dodges and dropkicks a leg out! Millie keeps moving, BASEMENT UPPERCUT! Fans fire up with Millie and she drags Lash up, SWINGING NECKBREAKER! Lash bails out and wants out, but Millie DIVES on her at the ramp! Millie won't let Lash bail on her, but Lash shoves her into the apron. Lash gets back in the ring but Millie seethes and pursues! Millie climbs up the corner, Lash stands, and Millie CROSSBODIES! Cover, TWO! Millie snarls and she brings Lash up in a waistlock! Lash fights the lift, but Millie dodges the boot! SPEAR! Cover, TWO!! Lash survives and Millie can't believe it!
Millie fixes her ponytail and she CLUBS Lash. Lash throws body shots, Millie whips but Lash reverses. Lash run sin but Millie slips away! Millie shoulders in, climbs back up, and handsprings, into a BOOT! Cover, Lash wins!
Winner: Lash Legend, by pinfall
Lash talks more trash, but she did manage to back up her words. Will Lash become the alpha female on both NXT UK and NXT prime?
Mark Andrews has NXT UK Media follow him.
He peeks in on Kenny Williams getting on security's case, saying their "pea brains" can't keep up with his evidence. If any of them see the masked men, let him know. When Kenny gets his hands on them, he'll rip them limb from limb! Andrews spooks Kenny and asks what's going on. This is serious business! Someone is stalking Kenny! Andrews is on here, too! Well, maybe not worry about that and worry more about their match. Andrews should relax, he might aggravate his shoulder. Andrews says he was out three months with that shoulder because of Kenny! The security has Andrews stay back, and Kenny says see ya later!
Security then asks Kenny to clean up his papers. His conspiracy web can't be in this room. What? Okay… Will Kenny be able to focus on his career with all this clutter in his mind?
Sha Samuels w/ Noam Dar VS Damon Kemp!
The East End Butcher is back in action, with the Scottish Supernova in his corner. But will having the NXT UK Heritage Cup Champion nearby help his odds of getting through the Diamond Mine's Golden Gopher? Or will Kemp crush Sha under the pressure?
The bell rings and fans rally as the two circle. They tie up, Sha gets the arm and wrenches for a wristlock. Kemp spins through, slips around, waistlocks and he SLAMS Sha down! Sha fights up, Kemp SLAMS him again! Then SLAMS him again! Kemp floats around, straddles then floats again to gator roll Sha around! Kemp then shifts to a gut wrench and he carries Sha for the suplex! Fans cheer but Dar is frustrated on Sha's behalf. Kemp whips and scoops Sha to then SLAM him down! Speaking of slam, Dar slams back whatever's in the flask. Fans fire up for the strength of the gopher, and Kemp gets Sha up with a fireman's carry. Sha fights free, Kemp counter punches him!
Kemp whips, Sha reverses and LCOBBERS Kemp! Sha runs in, SPLASH in the corner, then he gives the "stupid mug" a LARIAT! Fans echo "EAST~!" for Sha as he covers, TWO! Sha gets the leg, and he uppercuts it! "No pinkie!" "No party!" Sha stomps Dar, rains down elbows, then stands on Kemp before he KICKS him in the back. Cover, TWO! Dar has someone on the phone, he says this is big money! Sha goes to drink from the flask, but it's empty! Dar hogged it all! Kemp gets Sha's leg but Sha CLUBS him down. Sha scoops and SLAMS Kemp, then he drops an elbow! And another! Sha goes up the corner, for a BIG ELBOW DROP! Cover, TWO!
Sha grows frustrated and fans rally up. Sha drags Kemp up, Kemp throws hands! Sha wrenches and WRINGS Kemp's arm out, then clamps onto the shoulder. Kemp resists, grabs at a leg, but he throws body shots. Kemp ROCKS Sha, and again, then whips. Sha reverses, but Kemp dodges the corner splash! Sha BOOTS Kemp, goes up and leaps, but misses the elbow drop! Fans rally up while both men are down, and Sha staggers up. But Kemp picks the leg and shifts to a fireman's carry SLAM! Then Kemp gut wrenches and deadlifts Sha for another SLAM! Kemp clinches for an OVERHEAD Belly2Belly!
Sha stagger sup, into another OVERHEAD Belly2Belly! Kemp builds speed, clips Sha then CLOBBERS him! Kemp fires up and he drags Sha up, fireman's carry for a ROLLING SENTON! Kemp still isn't done, but Dar grabs at him! Sha CLOBBERS Kemp in the distraction, and then whips for a SPINEBUSTER! Cover, Sha wins!
Winner: Sha Samuels, by pinfall
Mr. Supernova 11 tipped the odds in Sha's favor, and now the East End Butcher has the winner's purse! But will Kemp find a way to get even with them down the line?
NXT UK looks closer at the Tag Team Championship Triple Threat.
Trent Seven groans about having to sit in this chair and talk about "Ashton & Ollie" again. Ashton Smith points out that he and Oliver Carter fight by a code. A code that Seven no longer has, after he put his feet up on the ropes to keep the pin! Third chance, third time's the charm! Oliver Carter says they'll make it rain on Moustache Mountain! But Rohan Raja says that with Moustache Mountain and Smith & Carter too busy worrying about each other, they've taken their eyes off Die Familie. Seven says alright, how about we focus on "D Family." No, it's Di-e Fa-mi-li-e. Whatever.
But Raja says the record speaks for itself: victory after victory after victory. But Tyler Bate says Die Familie has yet to face anyone on Moustache Mountain's level. Raja says Bate & Seven might be the pillars of NXT UK, but it is time for those pillars to fall. Teoman says they're not the bad guys, they're the good guys! They take care of each other! What about the other teams? Smith says he fights for Carter just as he would his own children. Some day, when his daughter writes a eulogy for him, she'll say that her father and his tag partner became the NXT UK Tag Team Champions. They're closer than family.
Bate & Seven say they are also closer than brothers, but Raja says the champions aren't even on the same page. Seven does say a win is a win and Bate has a smile that says, "Whatever you say." Raja sees how desperate Seven is not to lose. Teoman says desperate men make mistakes. Seven asks Bate if he's heard "Dye Family's" catchphrase. "The eye sees everything." Well you know what the eye will see after this? Raja says it'll be Die Familie as champions, Carter says it'll be the beating Die Familie takes from the Hottest Tag Team Under the Sun, but Seven says the eye will be looking through a telescope, at the peak's summit, and see Moustache Mountain. The Triple Threat is coming, who defies the odds to be THE NXT UK Tag Team Champions?
Damon Kemp returns backstage.
Wolfgang is there and checks on him. That was tough luck out there. But while Kemp's wanting to learn the British way of doing things, to beat guys like Sha & Dar, he should learn how to do things the Glasgow way. Kemp nods, and he follows Wolfgang out. Is Gallus going to give the Golden Gopher some special pointers?
Heritage Cup Rules: A-Kid VS Charlie Dempsey!
Speaking of Die Familie, they love using the numbers game, all in the name of supporting each other. But that "support" won't be around with Sid Scala putting a ringside ban on Teoman & Rohan Raja! Will the Spanish Sensation finally get a fair fight out of the technical prodigy? Or will Dempsey have some real nasty tricks all his own?
The bell rings on round one and the two circle. They tie up, Dempsey throws AK down and has the wristlock, but AK kips up. Dempsey wrenches to a wristlock, throws AK down again and headscissors. AK scuffs Dempsey, kips up but Dempsey holds onto the arm to wrangle him back down. Dempsey headscissors again, AK moves around and turns Dempsey over. AK bridges back, ties up the legs and goes for the arms. Dempsey resists so AK headbutts him in the back! AK has the arms, and he ditches the legs for CATTLE MUTILATION! Dempsey rolls over fast, fights up but AK still has the arms for a motorcycle stretch.
Dempsey powers through to turn things around but AK flips and kangaroo kicks! Dempsey goes to ropes and the two reset. Fans rally, AK and Dempsey feel out a knuckle lock but AK shoots around to waistlocks. Dempsey wrenches out to a hammerlock and he wants the crossface, but AK holds that off. Dempsey uses the hammerlock to wrangle AK down and go for the other arm. AK guards that arm, so Dempsey traps the arm to SNAP LOCK! And another SNAP LOCK! Dempsey then bridges for an inverted cravat! AK endures as we're under a minute here, but Dempsey floats over and brings AK back up. HALF HATCH SUPLEX! Cover, TWO!
Dempsey keeps on AK with a facelock but AK wrenches free and dropkicks Dempsey down! AK hurries to cover, TWO! AK keeps on Dempsey with a rear mount and wants a sleeper. Dempsey tucks the chin to hold that off. they gator roll again, and Dempsey floats out. Ten seconds, AK trips Dempsey and hooks his legs, rolls him over, EURO CLUTCH, TWO!! And there's the first round bell!
AK: 0; Dempsey: 0
AK smirks but Dempsey scowls at how close that was. Both men refresh, and the second round begins. Fans rally as the two circle, and they tie up. Dempsey headlocks, AK powers out, Dempsey runs him over! Things speed up, AK hits a BIG hip toss! Cover, TWO! AK waistlocks but Dempsey fights up. AK headlocks, Dempsey fights but AK hits the takeover. AK has the arm, he twists the wrist but Dempsey rolls and kips up. Dempsey fights through to back drop AK and trap the arm. AK kips to get his shoulders up, but Dempsey pushes the arms down with knuckle locks. AK kips up again and gets to his feet, but Dempsey straight arm levers!
Dempsey then throws AK with a knuckle lock plex! Dempsey traps one arm and pulls on AK's neck! Another knuckle lock cover, TWO as AK kips up. Dempsey tries another straight arm lever, but AK slips out to the SLEEPER! Dempsey slips out and full nelsons but AK breaks free using his leg. AK tilt-o-whirls to a crucifix but Dempsey stays up, so AK goes full sunset flip! Cover, TWO! Dempsey knees low, has the arm, and he RAMS into the shoulder again and again. We're back under a minute, they knuckle lock and fans rally. AK bridges back, Dempsey jumps on to get the cover, TWO as AK bridges back up!
Dempsey tries again but AK monkey flips him away! They both roll back, now Dempsey monkey flips! They're both down, TWO! Dempsey has leverage but AK kicks. Dempsey throws knees, but AK reels him into a headlock. Dempsey pries at the hold but we're under ten seconds again! Dempsey swings AK for a BACKBREAKER! But there's the bell!
AK: 0; Dempsey: 0
Another case of being saved by the bell, but it was AK who was spared. Dempsey refreshes while AK hobbles over. AK gets his ice and his drink of water, and it's on to round three! Fans rally as the two circle, AK throws kicks but Dempsey tries big palm strikes. AK rolls to pick the leg, HEEL HOOK! Dempsey fights it with his own HEEL HOOK! Fans fire up for the dueling holds, so AK SLAPS Dempsey! Dempsey SLAPS back! They go back to the heel hooks, but AK's hurts more! Dempsey hurries to the ROPEBREAK! AK lets go but he kicks Dempsey. Dempsey fires forearms, knees, and CHOP after CHOP!
AK drops to a knee, Dempsey KNEES him down! Cover, TWO! Dempsey runs to CLOBBER AK with a EuroUpper! Cover, TWO! Dempsey clamps on and he drags AK up. Dempsey headlocks, AK pries free and headlocks back. Dempsey powers AK to ropes but AK uses them to flip up and over. Dempsey shoots in for a roll-up but AK just sits on it! TWO, Dempsey tries a sunset flip but AK rolls through to get the legs! AK tries to turn Dempsey but Dempsey throws him away. AK comes back and wheelbarrows, but the cazadora is blocked! Dempsey WHEELBARROW GERMANS! Bridging cover, TWO!!
We're under a minute again and Dempsey smothers AK with the lateral press and double wristlock! TWO, but Dempsey digs his elbows into AK's ribs. AK endures, Dempsey gets the leg, INVERTED BOW 'N' ARROW!! AK taps, Dempsey gets a fall!
AK: 0; Dempsey: 1
Dempsey lets go, but he's a bit annoyed AK tapped before he had truly locked it in. AK may have been playing smarter, not harder. They both refresh and now it's time for round four! Dempsey and AK circle, AK KICKS Dempsey's leg. And again! Dempsey blocks the next kick, for a DRAGON SCREW! Dempsey holds on, he wants a leg lock but AK kicks at him with his free leg! Dempsey lets go, but he comes back to ROCK AK with a forearm! But AK ROCKS Dempsey! Dempsey EuroUuppers, but AK gives it back! AK wobbles, Dempsey EuroUppers back! Dempsey swings but misses, AK GERMAN SUPLEXES!
AK holds on, he drags Dempsey back up, but Dempsey bucks him at the ropes. AK ducks the back hand to NORTHERN LIGHTS! Bridging cover, TWO!! Dempsey staggers and fans rally behind AK. AK storms in but into a headbutt. AK CLUBS Dempsey, Dempsey throws a knee. Dempsey whips, AK reverses and CHOPS! Dempsey rebounds but jumps into a REAR NAKED CHOKE!! AK has the body scissors, the sleeper, but Dempsey fights around. AK shifts to a GUILLOTINE! Dempsey powers out to BUTTERFLY NORTHERN LIGHTS! Bridging cover, TWO! But now it's just a BUTTERFLY CLUTCH!
We're under a minute, AK endures and slips free! AK waistlocks again, but Dempsey switches! AK switches back! HALF 'N' HALF!! Dempsey staggers up and AK DYNAMIC DROPKICKS! AK covers, and ties this up!
AK: 1; Dempsey: 1
And now, going into the fifth, we're back to square one! Can AK game plan a victory in these last two rounds? AAK rushes in but Dempsey dodges! Only for AK to BOOT him away! AK goes up, CROSSBODY! Cover, TWO! AK keeps on Dempsey with a facelock, then a FISHERMAN SUPLEX! Bridging cover, TWO! Dempsey escapes but there's still time! AK aims and runs in to KICK! Dempsey sits up, AK KICKS him again! Cover, TWO, but ARMBAR! Dempsey scrambles to clasps hands and he makes it a stack, only for AK to make it a TRIANGLE HOLD! Dempsey tries to get the shoulders down but AK kicks him away.
Dempsey rebounds and swings, but AK slips around! Dempsey fights the takedown, deadlifts AK, and POWERBOMBS AK down! Cover, TWO!! AK survives and fans fire up behind him! A standing count starts, both men stir at about 3, but Dempsey is rising at 4. Dempsey flops back down., AK slips around to get a sleeper! We're under a minute, AK squeezes tight and Dempsey is turning red! AK lets go to PENALTY KICK! But the clock is ticking as both men have to catch their breath. Dempsey gets to ropes, AK ROUNDHOUSES him! AK knuckle locks and BENDS the fingers! He brings Dempsey down for the cover, TWO as Dempsey bridges!
Dempsey still has power as he stands up from the bridge! AK is shocked but he reels Dempsey in. Dempsey holds off the monkey flip and we're at 10 seconds. Dempsey brings AK up but AK jumps right to the ropes! MOONSAULT DDT!!! But AK crawls to the cover, the bell saves Dempsey!!
AK: 1; Dempsey: 1
So close and yet so far, but there's still the sixth round! Will this end in regulation or need to go into overtime? The bell rings, and AK runs corner to corner! DROPKICK!! Direct hit and Dempsey is down! AK stalks Dempsey to roes, HALF 'N' HALF! AK has the fans rallying behind him and he gets Dempsey again. Dempsey clings to ropes, throws elbows but AK throw body shots! ANOTHER HALF 'N' HALF! Dempsey flounders, "This is Awesome!" but Dempsey grabs his towel. AK grabs Dempsey, GERMAN SUPLEX! Dempsey flounders, the ref has to take the towel away. Wait, Dempsey brings out something from inside his trunks?!
Dempsey tosses the thing to AK! They're brass knuckles!! Dempsey plays like AK was threatening him with those!! The ref sees those, takes them away, but a SUCKER PUNCH from Dempsey! Then FISHERMAN BACK SUPLEX! Dempsey wins!!
Winner: Charlie Dempsey, by pinfall
One minute and 34 seconds left in round six, and Dempsey shouts out his true heritage with this win! But has Dempsey proven what lows he'll go to in order to rise up the ranks in NXT UK?
---
My Thoughts:
A great episode for NXT UK, with a lot of good set-up for the big title matches coming up. Good little promo from Ivy Nile to hype up her taking on Meiko Satomura, but I don't see Ivy taking the title from the Final Boss and bringing it to the US. Great promo vignette for the NXT UK Tag Team Championship Triple Threat, though the promo skills are mostly with Moustache Mountain and Smith & Carter. The match will still be great, and this could be how Bate & Seven lose the belts without taking the pin. At a certain point, I feel like Bate & Seven are going to NXT 2.0, and maybe even to RawDown. I can only hope British Strong Style reunites on SmackDown and that helps "Butch" Pete Dunne ditch Sheamus & Ridge Holland.
We also got good promos to set up the grudge matches. Andrews finding Kenny was a good promo, and you can bet the "masked bozo," Tiger Turan will show himself during that. Gradwell and Wagner each watching highlights of the other man was a good promo idea, and Wagner actually sounded better here than his usual promos. Though at the same time, this was easy enough material: Von's big, he beats people up, he'll beat Gradwell up. Given that, pretty sure Gradwell gives Von one of his toughest matches since Von got himself into that Fatal 4 Way at the start of 2.0.
Very good opener out of Mark Coffey VS Saxon Huxley, and Coffey wins as a point of showing he can do things on his own. This will definitely motivate Joe Coffey to return and get in Mark's face about thinking he's better or something like that. Millie VS Lash was good, and I should've figured Lash would win. Though Lash lost in the Women's Breakout Tournament, she's still being built up. And at the same time, Millie is still building up on the slow burn towards her eventual title match with Meiko Satomura. Sha VS Kemp was very good, but I was rather surprised Sha got the win given the trend with the NXT 2.0 visitors. But Kemp getting help from Gallus is an interesting twist. Kemp and Wolfgang teaming up against Sha & Dar would be pretty cool.
A-Kid VS Dempsey in the Heritage Cup Rules match was a great main event. As usual with these kinds of matches, they push things to the late rounds, but this time, they were able to really bring up the drama with how close each round was when they ended. But to think, Dempsey would shout out William Regal with those brass knuckles. Dempsey gets a great win here, even though a Heel, and could move up towards the Heritage Cup Championship itself. Dar VS Dempsey would be a great one, and it won't even matter who is Heel, Sha and Die Familie could cancel out.
My Score: 8.4/10
Mitchell's AEW Dynamite Results & Report! (5/25/22)
Happy Anniversary, AEW!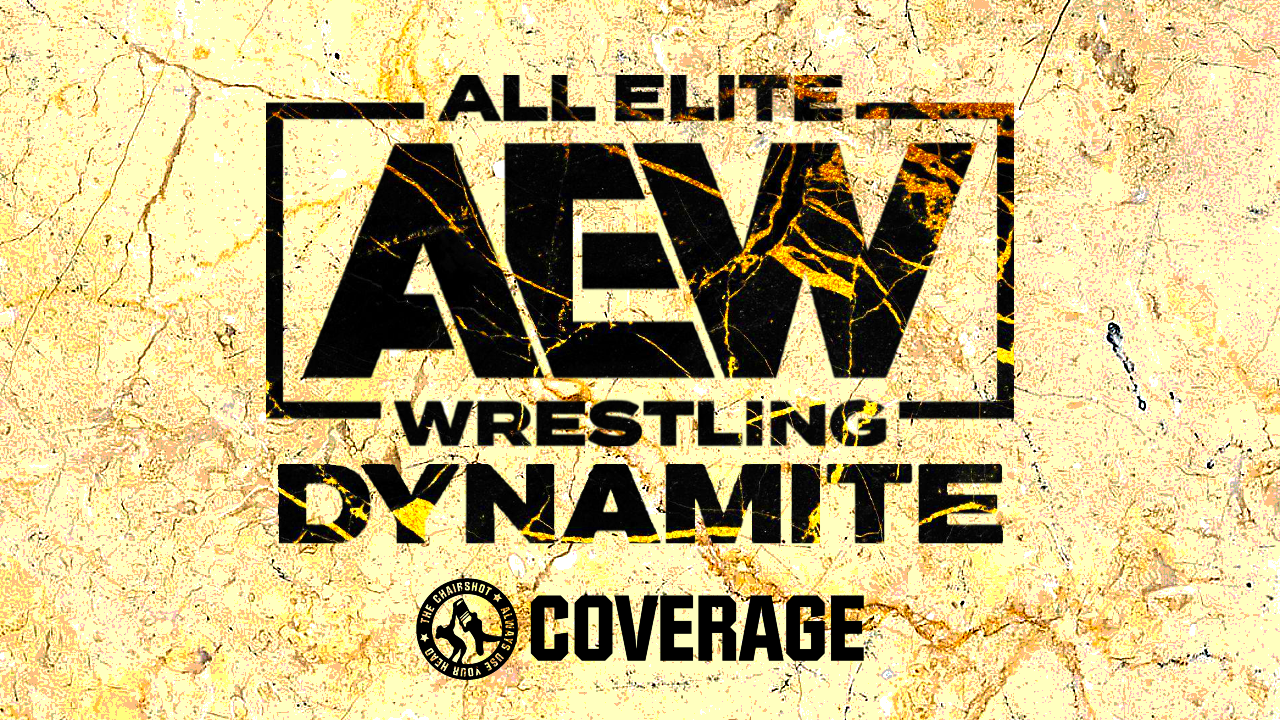 It's the three-year anniversary of All Elite Wrestling!
And with Double or Nothing this Sunday, Hangman Adam Page and CM Punk have one last face-to-face! Will they keep it civil? Or will they start throwing hands before their AEW World Championship match?
OFFICIAL RESULTS
Steel Cage, MJF as Special Guest Referee: Wardlow VS Shawn Spears; Wardlow wins and will face MJF at Double or Nothing.
Jon Moxley & Eddie Kingston VS Private Party; Moxley & Kingston win.
ROH World Tag Team Championships: FTR VS Roppongi Vice; FTR wins, by disqualification, and are still ROH World Tag Team Champions.
Triple Threat: Jungle Boy VS Ricky Starks VS Swerve Strickland; Swerve wins.
Owen Hart Foundation Women's Tournament Opening Round: Britt Baker VS Toni Storm; Baker wins and advances to the finals.
Owen Hart Foundation Men's Tournament Semifinals: Samoa Joe VS Kyle O'Reilly; Joe wins and advances to the finals.
PLAY BY PLAY
Steel Cage, MJF as Special Guest Referee: Wardlow VS Shawn Spears!
The final hurdle is here! If the War Dog can get through the Chair Man inside this cage, he'll get Maxwell Jacob Friedman at Double or Nothing! But of course, stacking the deck as always, MJF is going to be the officiator in this match, wearing his own custom referee shirt. He claims he'll call this right down the middle, but will MJF make sure Spears slays the giant and saves him from certain doom on Sunday?
Once again, Wardlow is in cuffs while being escorted to the ring. Fans chant, "WARD~LOW!" the whole way, and Wardlow steps inside the steel. MJF says he's got those cuffs, as soon as he does the pat down. Wardlow is clean, but MJF "misplaced" the key. Fans boo, because they know this is just another way to rig this match! Spears attacks Wardlow outta nowhere, and MJF has the bell ring! Spears stomps, CLUBS and then throws body shots and more stomps. MJF whistles and has Spears back down, because he "found" the key. But then MJF stomps away on Wardlow, too! MJF knows Wardlow can't attack him because that'll violate the match contract!
Spears CLOBBERS Wardlow, stomps him, and MJF smirks. Wardlow gets up but elbows Spears away! Then BOOTS him! But MJF rakes Wardlow's eyes! Fans boo but MJF eggs them on. Spears drags Wardlow up in the gap between ropes and steel, and both he and MJF run to RAM Wardlow into steel! MJF and Spears high-ten and then soak up the heat. Fans taunt Spears with "TEN! TEN! TEN!" and Spears brings the kneepad down. But Wardlow back drops Spears away! And BOOTS him! MJF stares Wardlow down because again, he can't be touched. Wardlow endures the taunting, even as MJF SPITS in his face!
But then Wardlow BREAKS the cuffs on his own!? Wardlow CLOBBERS Spears over and over, THROWS him into the steel, then drags him up to TOSS him into more steel! Fans tell MJF he F'd up, but Spears HOTSHOTS Wardlow! Fans boo as Spears hurries up a corner, but Wardlow is after him! Wardlow won't let Spears escape, he CUBS Spears over and over, then throws him down! Wardlow adjusts on the top rope to SWANTON BOMB! Cover, but of course MJF doesn't count. Wardlow realizes he should've known better. Fans chant, "Ref, You Suck!" but MJF doesn't care. He's untouchable in this match! But Wardlow stepping closer does scare him…
Wardlow gets Spears up, but MJF LOW BLOWS him! Spears hurries to fireman's carry, C4!! Cover, MJF is ready, TWO!! MJF went as fast as humanly possible and Wardlow still got out! Not only that, Spears realizes his finisher juts got buried! Fans chant for "WARD~LOW!" as he stirs, but Spears goes outside the cage to get his chair! This non-escape cage match has to end in the ring but Spears brings in his insurance policy! MJF holds Wardlow up for Spears, and Spears winds up, but Wardlow moves! CHAIRSHOT TO MJF!! Wardlow didn't need to touch MJF to get even with him! And now Spears is stunned as fans chant that he F'd up!
Spears then realizes Wardlow is standing back up. Spears turns around, Wardlow brings the straps down! Spears is now wishing escape was a way to win. Wardlow gets Spears up, POWERBOMB! But that's just one! Here's another POWERBOMB! And then a third POWERBOMB! The Powerbomb Symphony has the fans rocking, and a spare ref runs in! Wardlow sets up Spears' chair, gets Spears back up, and fans are thunderous! Wardlow reels Spears in again, POWERBOMB ON THE CHAIR!! Cover, Wardlow wins!!
Winner: Wardlow, by pinfall (WILL face MJF at Double or Nothing)
Wardlow got even with Spears, but now he wants MJF! Security rushes in but Wardlow DECKS each of them one at a time! There's almost no end to these guys, but Wardlow gets that last one with a kick! Wardlow reels this guy in, gets him up, and BOMBS him against the cage!! The man falls into the gap, never to be seen again! Wardlow then climbs up the cage just to make a point that MJF can't hold him back anymore! Is Wardlow not only going to win his freedom from MJF, but rid AEW of MJF once and for all?
AEW's heart goes out to Uvalde, Texas.
After the tragedy of the school shooting, all any of us can really do is love each other and pray violence stops.
The Jericho Appreciation Society walks 'n' talks.
Daniel Garcia tells Blackpool Combat Club, Eddie Kingston, Santana & Ortiz that this Sunday, Double or Nothing, Anarchy in the Arena, the JAS shows you how violent sports entertainers can really be. But then hold on, who is this bozo wearing a Moxley shirt? Menard and Parker get in this guy's face. Good quality shirt. Is this polyester? Parker asks if he wants a taste of his switchblade… comb. Y'know what happens when you're a Moxley fan? FIREBALL from Jericho!! The Wizard strikes again! Will the JAS show no mercy to anyone who isn't on their side?
Tony Schiavone is in the ring.
As we celebrate three years of AEW where it all began in Las Vegas, Nevada, we have the biggest AEW World Championship match ever on the biggest night ever, Double or Nothing. And the challenger is the Best in the World, CM PUNK! Fans fire up as Punk makes his entrance! And he sits cross-legged on the stage while he rallies the fans to get louder. Punk continues down to the ring and fans chant his name. Schiavone then introduces the other half of this face-to-face, the AEW World Champion, HANGMAN ADAM PAGE! Fans fire up again as the Cowboy makes his way out, belt on his shoulder.
Hangman joins Punk and Schiavone in the ring and Schiavone says these last few weeks, both men have joined commentary and watched the other go to work. Hangman's used Go To Sleep, Punk's used the Buckshot, and there's been a lot of talk and now, for the first time, they're standing here for a face-to-face interview. Schiavone starts with Punk, saying Punk is prepared for Double or Nothing and becoming the next AEW World Champion. Punk has a mixed reaction from Vegas but with plenty of fans chanting his name. Punk says it is safe to say, "the biggest moment of my career happened right here in Las Vegas."
Punk is grateful to be in the position he is in, loves the fans all over the world, and plans to walk in challenger, and respectfully walk out the champion. Schiavone now goes to Hangman and says Hangman knows just who he is facing, what everyone knows about CM Punk, but this confidence level is off the charts for the challenger. Fans also have a mixed reaction for Hangman, and still plenty chanting, "COWBOY S*IT!" Hangman says he said exactly what he was going to do to Punk, and did he stutter? "There is nothing that you can do to me to take this championship away from me!"
Schiavone says this is a determined champion, but Punk says he isn't so sure why Hangman takes this personally. Hangman is a champion because he is Hangman Adam Page, the toughest SOB in AEW, and he holds that gold for a reason. But there is a locker room full of people just like Punk waiting for their shot. This is just business. It's Punk's shot, it's not personal. Schiavone says there seems to be respect here, but Hangman takes the mic to say, "I said three weeks ago exactly what I was going to do to you. I said I was going to destroy you. I said I was going to annihilate you, to embarrass you. And I did not mean at Double or Nothing. I meant right now."
Punk smirks and says, "Okay," as Hangman says he's been waiting for this moment not just weeks, but for months. Hangman has imagined himself sitting on the stage, cross-legged, and he'd pull out a lighter to light a pipe bomb and roll it down to Punk's feet and watch it blow up in Punk's face! How cathartic it would feel, and how full circle for Punk, right here in Vegas. But now that we're here… Hangman realizes that he just can't do it. He can't. Not because he's afraid he'd get fired or because he's afraid of Punk. But when Hangman thought about what he wanted to say, he realized it's just what Punk would do.
And fighting Punk's hatred, pettiness and cowardice with more of the same would not be the right thing to do. But Hangman will say face-to-face, man-to-man, how he feels about Punk. "I don't hate you. I almost pity you. And I have no respect for you and what you've done since you've gotten here. You want this AEW World Championship? I don't think you understand what it means to be a champion. After all these years, I don't think you get it. Because it's not just about what happens in this ring, it's about what happens when that red light turns off. What happens when you go back through that curtain. Those small, quiet moments when you think no one's watching. That's what makes a champion."
Hangman says Punk talks a big game about worker's rights, but has shown the exact opposite since getting here. Hangman loves this place, cares about this place, this is his home! And at Double or Nothing, Hangman will not be defending this title against Punk. For the first time in Hangman's life, he will be defending ALL ELITE WRESTLING from Punk! Fans fire up hearing that one! Hangman then offers the mic to Schiavone and he takes it back. Punk's response is he doesn't get why Hangman's so angry and taking this personally. "It makes me a little bit confused. You're kinda talking in circles, it's a big riddle, but if you're so upset that I'm here, you're gonna have to do something about it on Sunday.
"Win, lose or draw, I respect you, Hangman. But remember, those roads you traveled to get here? They were paved by me. This house that you built? It was constructed with lumber from trees that I chopped down. The world you traveled to get here, to create All Elite Wrestling, happened because I gave you the blueprint. You will shake my hand Sunday. Y'know what, Hangman, you're gonna shake my hand right now." Punk holds out his hand, fans are a bit torn, and Punk says all this misplaced anger isn't for Punk, it's for Hangman himself. Now shake his hand. Hangman says no thanks, so Punk shoves him. And Hangman DECKS Punk!
Fans fire up as Punk is rather shocked by that move. But he also smiles, perhaps getting exactly what he wanted. Hangman scowls and storms off, will he have a better poker face when it's Double or Nothing?
AEW looks closer at the coming TBS Championship rematch.
The Queenslayer made the save for Statlander on Rampage, but Jade Cargill asks, "Anna Who?" The girl she already beat? But Anna says she doesn't get all the extra BS, like the lights and the pyro and the Baddies Section. Jade already beat dat ass, but Jay thinks she deserves another shot? Jay says after her lose, she learned from some of the best on the roster. Now, she's ready to beat the best and be TBS Champion. Double or Nothing, Jade says you put all your money on her because she is nothing but money. Will #ThatBitchShow just get even bigger and better? Or will Number 99 be the one in 30-1?
The Jericho Appreciation Society heads to the ring!
William Regal is already on commentary as Jericho leads Parker, Menard, Garcia and Jake Hager out. But Jericho has the music cut so the fans can't sing Judas. Vegas, you don't have what it takes to sing that song, so sit down and shut up! No singing for Vegas! The JAS then also goes to commentary, because they're going to watch this next match.
Jon Moxley & Eddie Kingston VS Private Party!
The Maniac & The Mad King team up together again to prepare for Double or Nothing, and enter from the crowd! Bryan Danielson would've been here but he got his leg trapped between ramp and ring on Rampage last Friday. But will Marq Quen & Isiah Kassidy end up appetizers for the violent appetites of Blackpool Combat Club and their allies? Or will the AFO's party boys do the dirty work for JAS?
The second Quen & Kassidy make their entrance, there's a brawl at the ramp! Kingston hammers Kassidy and Moxley has Quen! Moxley bumps Quen off buckles and the bell rings to get this on record! Moxley stomps a mudhole, fans are fired up as Kingston RAMS Kassidy into steel steps! Moxley rains down fists on Quen, then he BITES Quen on the head! Kingston brings out a table?! Moxley whips Quen corner to corner but Quen BOOTS him and QUEBRADAS! Cover, ONE!! Quen gets Moxley up, wrenches, but Moxley rolls and wrenches back to hammerlock and SLEEPER! Tag to Kingston and fans fire up!
Kingston and Moxley mug Quen, Kingston HEADBUTTS Quen, then POWERBOMBS Quen down! Kingston paces, drags Quen back up, and he says he can do what Moxley can do. Kingston underhooks Quen, is that a PARADIGM SHIFT!? Kingston kicks Quen around, fishhooks the face, then drags Quen over to tag Moxley. Moxley whips Kingston in to SPLASH Quen, then Moxley clotheslines! Moxley feeds Quen to an STO! Moxley then drags Quen up, scoops him, but Quen slips off! Quen dodges to PELE! Tag to Kassidy, but Moxley blocks a kick and spins Kassidy, only for the DRAGON WHIP to come around!
Private Party DOUBLE DROPKICK Moxley to a corner, Kassidy runs in to back elbow! Kassidy sets up, Quen hits PARTY IN MOTION! Quen then sets up, Kassidy swaggers and runs, but Moxley CLOBBERS him! Kingston drags Quen out, Moxley gets Kassidy up, X-PLEX! Kingston hits an EXPLODER on Quen! Vegas fires up as Dynamite goes picture in picture.
Moxley drags Kassidy up, throws him out, and then goes out after him. Moxley RAMS Kassidy into railing, Kingston does the same to Quen on the other side. Kingston brings a chair over, Kassidy throws hands on Moxley, but Kingston stands on Quen. The ref reprimands Kingston, and stops him from using the chair. Kassidy whips but Moxley reverses and Kassidy hits railing hard! Quen kicks Kingston back, but Moxley RAMS Kassidy into steel steps! Kingston RAMS Quen into more railing! Moxley drags Kassidy back up and puts him in the ring. Moxley drags Kassidy around while Kingston CHOKES Quen with camera cords!
Moxley stomps Kassidy, has the legs, TEXAS CLOVERLEAF! Kassidy endures while Kingston brings Quen up. Moxley shifts to an Indian Deathlock STF while Kingston RAMS Quen into more railing! Kassidy endures, Kingston gets a drink of water, then he SPLASHES Quen with the bottle! Kassidy gets free of the STF but swings into a GERMAN SUPLEX! Moxley drags Kassidy back up, waistlocks, GERMAN SUPLEX! Dynamite returns to single picture and Moxley drags Kassidy off the ropes. Moxley half nelsons but Kassidy resists the suplex! Kassidy elbows free, reaches out, but Moxley keeps him from Quen!
Kassidy SCREW HIGH KICKS Moxley, tags Quen, SPRINGBOARD CLOTHESLINE! Then he sucker punches Kingston! Quen runs, flapjack dropkicks Moxley down! Moxley and Kingston regroup. Quen FLIES and takes out Kingston! Kassidy TORNILLOS to take out Moxley! Private Party puts Moxley in and Kassidy hurries, but is put in a corner. Kassidy BOOTS Moxley, leaps, FLYING STUNNER! Quen is up top now, he SHOOTING STAR PRESSES! Cover, TWO!! Moxley survives but Quen tags Kassidy. Kassidy springboards in but Moxley dodges. Kassidy comes back, Moxley sends him at Quen, SILLY STRING- NO! Moxley powers out to LARIAT Kassidy!
Kingston rushes in to URAKEN Quen! Kingston has Quen in the STRETCH PLUM, Moxley rains down HAMMER 'N' ANVIL ELBOWS on Kassidy!! Quen is tapping, Kassidy is a ragdoll! Moxley finishes Kassidy with PARADIGM SHIFT!! Cover, Moxley & Kingston win!
Winners: Jon Moxley & Eddie Kingston, by pinfall
The JAS rush the ring but Kingston goes at them first! Moxley, too! Hager RAMS Moxley into the apron, Jericho and Menard help out, but here come Santana & Ortiz! And even Bryan with his beat up leg! It's chaos already as they brawl around ringside! Refs try to stop this but fans want to "LET THEM FIGHT!" Jericho SMACKS Kingston with a chair! Menard and Bryan claw at each other, Jericho gets in the ring and soaks up the heat like his side's already won. But Bryan gets in the ring to go after him! Jericho kicks the bad leg! Parker helps stomp Bryan, and then the JAS undoes railing so they can leave through the crowd! If this is how it was tonight, how much more insane will it get at Double or Nothing?
AEW takes a closer look at the Owen Hart Cup.
Mark Henry says watching all the competition in these tournaments, he is sure Owen would be so proud. Toni Storm says just a few months ago, she thought she was out of wrestling for good. But now she is this close to the finals. Britt Baker vows to defeat Storm and win the tournament at Double or Nothing to prove once again she is the best. Kyle O'Reilly tells Samoa Joe, Double or Nothing will be an Undisputed Elite finals. But Joe ponders the question, "How do you beat someone like Kyle O'Reilly? A submission aficionado, a striking prodigy." But like all fancy things, you just place it on the anvil and break it. And when Joe is down with Kyle, he's coming for Adam Cole, BAYBAY.
ROH World Tag Team Championships: FTR VS Roppongi Vice!
As if a three year anniversary isn't big enough, Cash Wheeler & Dax Harwood defend one of their two world tag titles against a team that's been all over the world, but still hungry for more. Will FTR stay #TwoBeltTopGuys? Or will Rocky Romero & Trent Beretta not just be kings but champions of the night?
The introductions are made by Bobby Cruz, tensions rise but the ref keeps the peace. The ROH belts are raised, and we see if RPG Vice hits the jackpot here in Vegas!
Cash starts against Rocky and fans rally, "F T R! F T R!" Cash and Rocky circle, approach, and Rocky KICKS Cash's leg. Cash shakes that off and ties up with Rocky. Rocky waistlocks but Cash wrenches and wristlocks. Rocky rolls, wrenches back, hammerlocks, but Cash slips around to hammerlock back. Cash really clamps it on but Rocky drop toeholds and headlocks. Cash rolls to a cover, ONE! Rocky holds on, Cash fights up, and powers out. Rocky runs Cash over! Things speed up, Rocky runs Cash over again! Rocky KICKS Cash, brings him up, CHOPS and runs, but Cash hurdles to run Rocky over!
They keep moving, Cash hurdles but Rocky deflects the dropkick! Rocky gets the arms, GEDO CLUTCH! TWO! Cash goes for a leg, Rocky turns that around to a backslide, TWO! Cash runs in, but into an ARMBAR TAKEDOWN! Fans fire up, Cash rolls to the ropes! Cash gets out, fans fire up and Rocky shows off some of that Latino Heat swag. Cash gets up and in, fans rally up, and Cash tags Dax. Rocky tags Trent, and now Dax and Trent stare down. They tie up, Dax headlocks, Trent powers up and out. Dax runs Trent over, things keep moving, and Trent gets up. Dax slides under but Trent CHOPS him! Dax staggers to a corner, Trent CHOPS back!
Dax turns it around, CHOPS and CHOPS, but Trent CHOPS back! Dax CHOPS, Trent kicks low! Trent stalks Dax to a corner, whips him corner to corner hard and Dax staggers. Dax still back elbows then snap suplexes! Tag to Cash, Dax gives him the boost for a BIG leg drop! Cover, TWO! Cash brings Trent up, but Trent blocks this suplex to suplex back. Cash slips out, waistlocks, but Rocky tags in before the O'Conner Roll! Rocky KICKS Cash, kicks again but Cash blocks! Cash ducks the enziguri but not the HEEL KICK, and Trent gets Cash with a HALF 'N' HALF! Rocky hurries to cover, ROPEBREAK!!
Fans fire up while Dynamite goes picture in picture. Rocky stomps Cash, drags him up and CHOPS him to the corner. Cash CHOPS back, CHOPS with his left hand, but Rocky blocks the third chop! Rocky wrenches, ELBOW BREAKER, and a KICK to the arm! Rocky drags Cash around, snapmares him down, and tags in Trent. Trent slingshot sentons, covers, TWO! Trent clamps onto Cash with a top wristlock but Cash clasps hands. Cash fights up, gets around to push Trent towards the corner but Trent digs in his heels. Cash scoops and SLAMS! Both men crawl, hot tag to Rocky! Rocky runs and dropkicks Dax down!
Rocky stomp Cash, then drags him up to throw forearms! Snapmare and basement dropkick! Rocky clamps onto Cash with a chinlock and grinds him down. Cash endures, fights up, reaches out, but Rocky holds on. Cash atomic drops Rocky and gets free! Rocky tags Trent and Trent CLUBS Cash down! Trent hauls Cash up, CHOPS him, but Cash CHOPS back! Trent knees low, tags Rocky back in, and RPG Vice double suplex! Cover, TWO! Rocky clamps back on with another chinlock as Dynamite returns to single picture. Fans rally, Cash moves around, gets around, BIG back suplex! Both men are down again and fans fire up!
Rocky and Cash crawl, hot tag to Trent and he keeps Cash from Dax! Cash hops up, reaches out, Trent pulls him away, but Cash fights through to hot tag Dax! Dax ducks Trent's haymaker to JAB, JAB, JAB and DECK Trent! Rocky runs in, Dax rallies on him, too! Dax CHOPS Trent in a corner, uppercuts, CHOPS, repeat! Rocky returns but Dax DECKS him now! Dax whips, Trent reverses and Dax hits buckles hard! Dax falls back, Trent drags Dax up to whip, but Dax reverses! Trent ducks the clothesline to get around and GERMAN SUPLEX! Trent holds on, another GERMAN SUPLEX! Dax switches to GERMAN SUPLEX back!
Dax holds on, he GERMAN SUPLEXES Trent again! Trent grabs ropes to deny the hat trick! Dax CLUBS Trent, Trent elbows Dax! Trent swings, Dax dodges, GERMAN SUPLEX! Bridging cover, but Rocky DOUBLE STOMPS it apart! Trent hurries, tag to Rocky! Rocky KICKS Dax in the bad side, then ROCKS him and suplexes! Dax slips out, slips under, but Trent tags in before the atomic drop! Dax still elbows Trent, runs, but into a DOUBLE JUMP KNEE! Fans fire up and Rocky hurries after Cash to DECK him! Trent brings Dax up, hangs him out to dry, then Rocky goes up! Missile dropkick! Trent hits the SLIDING KNEE! Cover, TWO!!
Dax survives and RPG Vice can't believe it! Trent says they'll finish this, and fans duel. Rocky goes up as Trent Alabama Lifts, but Cash trips Rocky up! Trent dumps Dax to DECK Cash, but Dax cradles Trent! TWO!! Dax scoops but Trent cradles, TWO!! Dax pops Trent up but Trent victory Rolls, TWO!! Both men bob 'n' weave, Dax fakes Trent out but Trent fights off the Piledriver! Trent gets Dax back up and tucks him in, Rocky is back up top! STRONG ZERO!!! Cover, Cash barrels into Rocky to break it!! Wait, wait, is that the UNITED EMPIRE rushing down the ramp?! The IWGP Heavyweight Tag Team Champions, Great-O-Khan and Jeff Cobb, are here!?!
Khan & Cobb get in the ring and they CLOBBER EVERYONE!
Winners: FTR, by disqualification (still the ROH World Tag Team Champions)
Khan throws Trent out, Cobb throws Cash out, and then Khan MONGOLIAN CHOPS Rocky! Dax is alone and the fans are losing their minds! Cobb gets Dax up, Khan runs, IMPERIAL DROP!! Khan then feeds Rocky to a TOUR OF THE ISLANDS!! The United Empire still isn't done, they mug Dax, then clear off the timekeeper's table! GUT WRENCH POWERBOMB through the table!! Khan gets another table, and he drags Trent over. IRON CLAW, and then he goes up the steps! ELIMINATOR through the table!! They then grab the ROH World Tag Team Championships and hold them up high. Will the United Empire conquer not just NJPW but AEW and the world?!
The Hardy Boyz speak.
Matt tells the Young Bucks that their stories both began with a lot of similarities. They were all born and raised by wholesome, religious parents. They had innocent upbringings where they didn't smoke or drink. They didn't even curse! And they all had dreams of becoming pro-wrestlers. But that's where the parallels end. The Hardys broke into the business in the early 90s, and it was a different industry back then, and a majorly different culture. The brutal, tough roads the Hardys had to walk, the Bucks could never, EVER have survived! The Bucks don't have the grit, the resilience that these two have. The Hardys no only survived, but they became a revolutionary tag team.
Sure, the Bucks are talented, are Elite, but let's call it like it is. When the Hardys look at the Bucks, and even when the fans look at the Bucks, all they see are Hardy Boy cosplayers! The reason the Hardys are here in AEW is to cement their legacies as the GOATs of tag team wrestling. Jeff says that was GR-E-E-E-E-EAT. Get it? Goats? But they're not a team in their prime, they're a team in their OVERPRIME, and it is overtime! The pressure is on to win. This is a clean slate for Jeff, it is his time approaching the eventual time. But this final run will be the best run!
So at Double or Nothing, the Bucks are just two little stepping stones on the Hardys' way to becoming AEW World Tag Team Champions to complete the collection! And if the Bucks think they're in their prime, well, they will NEVER be better than the Hardys! The Hardys have been better at every stage of life! Better as babies, as kids, as teenagers, at their peak, and right here and now even as middle-aged and extreme! The Bucks may be elite, but this is the DELETE! They will DELETE the Bucks this Sunday! And there's a saying: Never meet your heroes, they'll probably disappoint you. But for the Bucks, it'll be more like disappointed that they can never beat their heroes!
Triple Threat: Jungle Boy VS Ricky Starks VS Swerve Strickland!
Captain Charisma set up a prelude to the AEW World Tag Team Championship Triple Threat at Double or Nothing, because he wants his guy to get back at both the FTW Champion and the man who cost JB that FTW Championship. But will JB just end up getting beat up by his challengers before the title match because of Christian Cage? Or will Jurassic Express have all the momentum going into this Sunday?
The bell rings and fans fire up as these three stare each other down. JB and Swerve then come to an understanding, and they both look at Starks. Starks realizes that and bails out, and says he beat them both already so he doesn't have to do anything. Fans chant, "Whose House?" "Swerve's House!" as Swerve offers a handshake to JB. JB accepts, but Starks slides into shove Swerve into JB! Starks rolls Swerve up, JB breaks it as he rolls Starks up! TWO, JB ends up in Swerve's cradle, TWO! Starks blocks Swerve's kick and sends it into JB! Starks throws Swerve down, then goes after him, but Swerve moves around to EDDY GORDO RANA!
JB CHOPS Swerve, knuckle locks, and goes up and up, only for Swerve to bring him back down. Swerve blocks a chop and knuckle locks, then turns JB around to double knuckle lock from behind. JB hops up onto Swerve's shoulders, Swerve throws him at Starks, JB RANAS Starks out of the ring! JB dodges Swerve, dropkicks him then kips up! Fans fire up with JB and he runs at Swerve to CLOBBER him at ropes! JB runs again but Starks trips him up! Starks throws JB out, but JB whips Starks at the corner! Starks slides through the gap and comes back around, to CLOBBER JB! But Swerve runs at the ropes!
Starks ducks but Swerve handsprings over him, only for Starks to shove him into railing! Starks gets up on the apron to strike his pose, then jump down and stomp Swerve! Dynamite goes picture in picture as Starks talks trash on the Swerve fans.
Starks drags Swerve up, whips him hard into railing, then he goes after JB. JB ROCKS and CHOPS Starks but Starks ROCKS and throws JB down! Starks drags JB up and puts him in the ring to then drag him up and around for a suplex. Starks holds JB up, does a hip swivel and then SLAMS JB down! Cover, TWO! Swerve returns but Starks kicks him and throws him out. Starks brings JB up but JB throws body shots! Starks CLUBS JB down, looms over him, and brings him up to knuckle lock and CHOP! Starks goes up slowly, tightrope walks with some swagger, and gives JB some OLD SCHOOL! Starks strikes his pose again as fans rally.
Swerve is on the apron but Starks DECKS him! Starks then drags JB up and CHOPS him. JB CHOPS Starks back! Starks CHOPS again! Starks digs his knee into JB at the corner, the ref counts, Swerve CLOBBERS Starks! Swerve whips Starks to a corner, runs in but Starks back elbows! Starks throws swerve back out, gets JB back up and wrenches to whips to ropes. OVERHEAD Belly2Belly! But Swerve gets in to throw Starks to a corner! Swerve elbows, snapmares, and then goes up for the FALLING UPPERCUT! Starks goes to the apron but Swerve joins him out there. Swerve claws Starks' face but Starks throws an elbow.
Dynamite returns to single picture as Starks throws a forearm but Swerve gives it back. Starks BOOTS, Swerve keeps Starks from running off. Starks elbows Swerve again, JB runs in but Starks HOTSHOTS him! Swerve BOOTS Starks, JB runs and RANAS Swerve off the apron! JB throws Swerve back in, hurries and BLINDSIDE LARIATS! Cover, Starks breaks it! Starks whips JB, JB reverses to wrench and RACK BOMB! Cover, TWO! JB is annoyed, Starks gets away, Swerve ROCKS JB with a forearm! Swerve whips corner to corner hard, and then he brings JB up to the top rope. Swerve climbs up, brings JB up, but JB throws body shots.
Starks returns, he jumps up to join in, hitting each man in the head! But they double pie face Starks down hard! JB then CLUBS Swerve, gets around, SUPER POISON-RANA!! But Swerve lands on his feet!! Vegas loses its mind and JB is confused! JB and Swerve fire up, but Starks BOOTS Swerve down! JB dodges Starks' clothesline but Starks blocks a kick. Starks ducks JB's enziguri but Swerve's SUPERKICK connects! JB aims but Swerve deflects that superkick to throw JB down! Swerve rolls JB's arm to lift him up, stalling suplex, but Starks SPEARS them down!! JB lands on his feet, though, and SUPERKICKS Starks!
JB runs, but Starks MICHINOKU DRIVERS! Cover, Swerve breaks it!! Fans are thunderous, Starks and Swerve kick each other and Starks stomps! Fans are loving "A E DUB!" as Starks tries to underhook. But Swerve powers out to a fireman's carry, but Starks fights free of that. Starks waistlocks, Swerve switches, but Starks fights off the half nelson suplex! Swerve CHOPS Starks' on the back again and again, but Starks arm-drags free! Swerve uppercuts, but Starks reels him in! Swerve breaks free with his leg, but Starks pokes eyes! Starks underhooks and Canadian racks, ROSHAMBEAUX! But JB gets Starks SNARE TRAP!! Starks is caught, reaches out, crawls forward, ROPEBREAK!
But JB drags Starks away! JB resets the SNARE TRAP!! Starks is fading, HOUSE CALL from Swerve!! Swerve wants someone to get up, Starks sits up in a daze. Swerve is up stop, SWERVE STOMPS!! Cover, Swerve wins!!
Winner: Swerve Strickland, by pinfall
But "Powerhouse" Hobbs gets in! And he CLOBBERS Swerve! JB jumps on Hobbs for a sleeper but Hobbs throws him off! But Luchasaurus rushes out there and he choke grips Hobbs! Hobbs pries free!? But here comes KEITH LEE! The Limitless One isn't going to let this keep going without him! Keith, Hobbs and Luchasaurus, the big men of each team, start throwing hands! Hobbs ROCKS Keith, Luchasaurus TAIL WHIPS Hobbs, but Keith GRIZZLY MAGNUMS Luchasaurus! Keith then LIMITLESS TORNILLOS them both down!! Fans lose their minds all over again and Keith regroups with Swerve. Will all of the AEW Tag Division soon bask in their glory?
Dan Lambert & the Men of the Year speak.
Lambert says, "Sammy, Tay and Frankie must have a combined IQ of room temperature with the air conditioning on if they thought for one second that busting up Scorpio's TNT title belt was going to get them the match that they want. Well, somebody please tell these idiots about this new invention we have called the internet and show them how to look up American Top Team. Because maybe then, they would understand that winning every championship there is in combat sports means I probably have every belt maker in the world on speed dial." That's right, Lambert ordered Scorpio a brand new belt even before AEW's favorite couple could tweet out a picture of themselves in the middle of some disgusting act wearing the old one.
So, Scorpio Sky gets a special Friday Night Rampage. The brand new, custom made TNT Championship, handcrafted in Scorpio's image, will be presented to him and he will love it. Scorpio snaps his fingers and we cut away, but will Sammy, Tay & Frankie just look to break that belt up, too?
Schiavone is on stage.
This Sunday, the AEW Women's World Championship will be defended. Schiavone introduces the champion, Thunder Rosa! La Mera Mera makes her way out, and Schiavone asks her about Deeb's challenge. Rosa wants us to see her face. It has no face paint! This is the real Rosa, the face of someone who has worked and earned everything she has, and is grateful for being champion. That has never complained, either. Because that is what champions do. Deeb, "mi reina," you are NOT a champion. Fans cheer Rosa on, and Rosa tells Deeb that she complains, is a little petty.
Rosa says Deeb points fingers at people and companies, pinning things on her past, with her questionable changes. Maybe Deeb should look in a mirror and blame herself. Rosa's face used to look up to Deeb, but no more! And on Sunday, Deeb won't see this face. On Sunday, the war paint is on. On Sunday, the warrior inside Rosa takes over! On Sunday, La Mera Mera will teach Deeb a lesson in respect for disrespecting Schiavone, for disrespecting Rosa's mentor, Dustin Rhodes, for disrespecting the fans, and especially for disrespecting Rosa, the AEW Women's World Champion!! And y'know what? Deeb will be very scared, because Rosa will haunt her forever!
AEW returns as Schiavone interviews Red Velvet backstage.
A tremendous match between The Chef and Kris Statlander in the Owen Hart Cup, but Statlander won. Velvet is surely upset. No sh*t, Schiavone. Velvet says she should have won that match, and she should be facing Ruby Soho. But speaking of, Soho walks in because she heard her name. Does Velvet have something to say to her? Yes, actually. If Soho needs to know how to beat Statlander, Velvet's got this notebook right here. Statlander's knee is messed up, and she has a bad shoulder, too.
Velvet leaves and Soho says she can admit, when she faced Statlander last time, Soho won by the skin of her teeth. But in the next round of the Owen Hart Cup, Soho knows she's not facing the same Statlander. This notebook is useless, so Soho throws it away. Soho will keep what Velvet said in mind, though. Will the Runaway be able to get past whatever this new form the Galaxy's Greatest Alien has taken and head for Double or Nothing? And speaking of…
Owen Hart Foundation Women's Tournament Opening Round: Britt Baker VS Toni Storm!
The Doctor made Maki Itoh tap out while the Lightning From Down Under struck a Hayter. Only one moves on to Double or Nothing and the finals, who wins the first of tonight's "double main event?"
In a surprising move, Britt tells Rebel and Jamie Hayter that she'll be fine without them. They head back to the back, this will truly be 1v1, just as Storm wanted it. The bell rings and Vegas rallies for "D M D!" Britt and Storm circle, tie up, and go around. Storm clamps onto the arm, wrenches, but Britt reaches for ropes. Storm keeps her away from ropes, but Britt wrenches back. Britt hammerlocks, spins Storm and snapmares but Storm wrenches right back. Storm keeps Britt down with a wristlock, but Britt fight sup to break free. Britt snapmares, but Storm wrenches Britt right back, then headlocks for the takeover.
Britt keeps her shoulder sup, headscissors, but Storm pops free. Storm and Britt tie up again, Britt hits a headlock takeover. Storm headscissors and she keeps Britt down. Britt gets frustrated but endures as Toni pushes up for more pressure. Britt moves around, Storm pushes up again, but Britt kicks her way to the ROPEBREAK. Fans rally and duel as Storm lets off and waits on Britt. Britt gets up, kicks Storm low, but Storm rushes in. Britt sidesteps but Storm redirects herself to avoid the table top, and she basement dropkicks Britt down! Britt bails out but Storm pursues, and she ROCKS Britt with a forearm!
Storm brings Britt around and POSTS her! The ring count climbs, Storm ROCKS Britt with an uppercut. Storm gets in the ring to refresh the count, then she uppercuts Britt again. Storm aims at the apron but Britt blocks the bump to smack Storm off the apron instead! Britt puts Storm in the ring, fans duel, and Britt climbs up. Storm shoves Britt out! Storm hurries to ROCK Britt with a right, then stalks her to steel steps. But Britt rakes eyes! Britt Hits a COMPLETE SHOT to the steps! Storm flops down and Britt gets in the ring to refresh the count! Britt hurries after Storm as Dynamite goes picture in picture.
Britt rains down fists on Storm, lets off to spell "D M D," then she drags Storm up. Britt SMACKS Storm off the steps, then takes the fan sign that says "DMD is DUMB," to rip it in half! Britt refreshes the count again, puts Storm back in, then takes her time getting in the ring. Storm kicks at Britt but Britt stomps and kicks Storm. Britt CLUBS Storm, scuffs her, talks trash on Storm, then puts her in a corner. Britt CHOKES Storm, but the ref counts. Britt lets off at 4, brings Storm around and throws forearms! Britt sits Storm down, drags her back out, and then pulls her into the post! The ref counts again and Britt scuffs Storm as she lets off.
Britt gets back in the ring with a smirk and she brings Storm up. Britt throws Storm down by her hair, covers, TWO! Britt clamps onto Storm with a seated cobra twist, but Storm endures. Fans rally up, Britt pulls Storm's hair and talks more trash, but Storm endures. Storm fights up, throws body shots, and gets free! Britt ROCKS Storm, but Storm ROCKS Britt! Dynamite returns to single picture as the forearms fly back and forth! Storm gets the edge, but Britt dodges to SUPERKICK! Storm staggers, Britt goes up the corner, and Britt leaps for PITT- NO! Storm blocks the sunrise to go up and TORNADO DDT!
Britt flounders away and fans fire up. Storm fires up, she runs in corner to corner, HIP ATTACK! Then Alabama lift, ALABAMA SLAM! Storm rolls Britt back to her feet and reels her in, but Britt powers up to AIR RAID CRASH! Cover, TWO!! Fans fire up but here comes Hayter! She coaches Britt up but Britt tells her to go back. Storm rolls Britt! TWO!! Britt kicks low, reels Storm in, FISHERMAN SCREW! Cover, TWO!! Storm survives and Britt is beside herself! Britt waistlocks, ripcords, but Storm dodges to GERMAN SUPLEX! Britt flounders to the apron and out of the ring. Storm hurries after her, TORNADO DDT to the floor!!
Storm drags Britt up, puts Britt in, and fans duel! Hayter is on the apron but Storm DECKS her! Storm runs at Britt, blocks the superkick and kicks back! Storm reels Britt in, Britt back drops but Storm sunset flips! Britt sits on the cover, Hayter helps Britt grab the rope! BRITT WINS!
Winner: Britt Baker, by pinfall (advances to the finals)
Storm is shocked! Britt did 99% of the work and still stole this one! Who will The Doctor meet in the finals? We see Statlander VS Soho this Friday on Rampage!
Owen Hart Foundation Men's Tournament Semifinals: Samoa Joe VS Kyle O'Reilly!
The Panama City Playboy waits the winner of this at Double or Nothing, and he's hoping for an Undisputed Finals! Will #KillerKyle keep that dream alive? Or will the Samoan Submission Machine make sure the Cup stays far out of their reach?
The bell rings and the two circle. Kyle and Joe test the waters with kicks, fans sing, "Joe is gonna kill~ you!" and Joe withstands Kyle's quick flurry! Joe backs Kyle down with his own kicks and knees, and even adds elbows and a KICK! Kyle staggers but he steadies himself and the two reset. Kyle shoots in, Joe switches, Kyle flips it to a facelock. They move around, Joe wants a leg now, and he gets Kyle down! Kyle uses a leg guard and they end up in ropes, Joe lets off quickly. Fans fire up for the opening exchange and the two reset again. They knuckle lock, Kyle gets the arm and wrenches it. Joe wants the sleeper!
Kyle trips Joe, Joe kicks Kyle away and avoids the Penalty Kick to CHOP Kyle off his feet! Fans are stinging from that one, and they chant for "JOE! JOE! JOE!" Kyle gets up, Joe JABS, JABS, then CHOPS Kyle in the corner. Joe brings Kyle around but Kyle wants that bad arm! Joe uses the good arm to scoop and SLAM Kyle! Kyle sits up and gasps, Joe CHOPS him on the shoulder, then PENALTY KICKS and ELBOW DROPS! Fans fire up and Joe covers, TWO! Joe CLUBS Kyle, CHOPS him, CHOPS again, then HEADBUTTS! Joe throws a back elbow, reels Kyle in, and snap suplexes! Joe floats to the cover, TWO!
Joe smirks and JABS Kyle again. Joe runs but into a KNEE! Kyle wrenches the bad arm to WRING it out! Joe rolls away, Kyle snarls and he stomps Joe to ropes. Kyle gets the bad arm, hammerlocks, and he rains down elbows and knees! Kyle floats over to do the same to the other side, then he runs for a SLIDING KNEE! Joe writhes, Kyle KICKS the bad arm! And again! Joe staggers but Kyle brings him around to clinch and fire off more knees! Kyle runs but Joe CLOBBERS him! Fans fire up and Kyle flounders to the apron. Joe storms over, but Kyle gets the leg! DRAPING DRAGON SCREW! Kyle then goes up the corner, FLYING KNEE to the bad arm! Cover, TWO!
But into an ARMBAR! Joe clasps hands, or rather holds his own wrist! Kyle wants the arm but Joe gets the ROPEBREAK! Kyle holds until 4 and Dynamite goes picture in picture.
Kyle KICKS Joe against the ropes, then KICKS him again. Joe bails out of the ring, Kyle goes out after him, and Kyle wrenches the bad arm for a double wristlock. Kyle then hammerlocks the arm, makes Joe take a seat and he KICKS away on Joe by the barriers! Kyle ROCKS Joe, then gets some space. Kyle runs back in, but Joe DECKS him with a forearm! Fans fire up and Joe brings Kyle up. Joe CHOPS Kyle into taking a seat, then Joe gets some space. Joe encourages fans to fire up, and he run sin to BOOT WASH Kyle against railing! The front row fans fire up getting a whole new experience as Joe brings his foot back over.
Joe drags Kyle up and puts him in the ring. Joe takes a moment to catch his breath, then he gets in. Kyle gets the bad arm to wrench, hammerlock, and leg sweep! Joe lands on the bad arm and clutches the shoulder! Kyle rains down palm strikes on Joe, floats over to the other side for more, then back again! Kyle lets off to get the bad arm and grind the shoulder. Joe endures, even as Kyle grinds the elbow into Joe's head. Joe fights up but Kyle throws him down! Kyle runs to drop a knee on Joe's shoulder! Kyle paces, stomps the bad arm, then hauls Joe up as Dynamite returns to single picture.
Kyle throws forearms, KICKS, and repeat, focusing on the bad arm. But Joe uses the arm to catch the kick! Kyle fires off palm strikes, knees and another kick, but Joe ROLLING LEG SWEEPS! Kyle goes down and fans fire up with Joe! Joe JABS, JABS and JABS, to then whip and atomic drop! Joe keeps moving, and he BOOTS Kyle down! SENTON! Cover, TWO! Kyle survives but Joe keeps cool. Joe stands Kyle up for knee after knee, but Kyle blocks to KICK the bad arm. Kyle runs, but Joe LARIATS him down! Cover, TWO!! Kyle survives and Joe is beside himself! Fans rally behind Joe and he watches Kyle rise.
Joe brings Kyle up but Kyle throws a forearm! Joe responds with palm strike after palm strike from his good arm! Joe has Kyle in the corner, puts him up top, then tucks him in! MUSCLE- NO! Kyle fights out and has the bad arm! Kyle shifts around from double wristlock to FUJIWARA ARMBAR! Joe endures but Kyle pushes back! Joe crawls, reaches out, turns on his side, ROPEBREAK! Kyle lets go quickly but still wants the bad arm. Kyle rips off the tape and snarls as he KICKS the arm again! Joe is in the corner, Kyle BOOTS him! Joe JABS, and JABS, and CHOPS! Kyle BOOTS again, but Joe KNEES Kyle as he shoots in low!
Kyle staggers, yoyos in the ropes, and LARIATS! Joe ENZIGURIS! Kyle PENALTY KICKS! Fans fire up again as both men are down! Kyle and Joe go to opposite corners, fans love "A E DUB!" for this, and Kyle runs corner to corner! URENA- NO! Arm-drag counter, and Kyle shoots around. O'Conner Roll, TWO! COQUINA CLUTCH!! But Kyle has the bad arm! Joe is still locking it in with the one good arm! Kyle sputters, and he's out! JOE WINS!!
Winner: Samoa Joe, by submission (advances to the finals)
Even with one good arm, the ROH World Television Champion pulls off the victory! But here comes Adam Cole, BAYBAY! Cole and Joe have never had a match against each other before, and now they will in a historic finals match at Double or Nothing! Who will win the inaugural Owen Hart Foundation Men's Tournament?
---
My Thoughts:
A great episode for Dynamite, especially as a go-home for Double or Nothing. For one, opening with the Steel Cage was an awesome move. I should've figured MJF would go that far to try and screw Wardlow over, but it was awesome how Wardlow turned it around on MJF. That was one serious headshot and MJF sold it perfectly. Wardlow of course wins, and of course we're now getting MJF VS Wardlow at Double or Nothing, and who knows how that goes. There is a very good chance MJF wins, though, with the dirtiest of ways to win, but I bet Vegas would go nuts if Wardlow won. Also great to see that I called the TNT Championship was being remodeled for Scorpio, I bet that thing will look awesome.
Great promo from the JAS, and wow, Jericho with another fireball just because that staffer wore a Moxley shirt. If this were sports entertainment, they would've mentioned Jericho getting fined a lot of money. Regal and Jericho were very good on commentary during Moxley & Kingston VS Private Party, which was a lot of fun and a pretty good sampler of what Anarchy in the Arena will look like. I don't want it to be so chaotic because that'll be hard for everyone to keep up with all the action, but it will surely be just brawling all over ringside and even in the ring, and who knows what we'll see these teams do to each other.
Good promo vignette from Jade and Jay to hype up the rematch, but again, because it's Jay again, I feel like Jade's got this one. I did like that Velvet, though Heel, gave Ruby, a Face, advice on how to beat Statlander since Velvet is now Statlander's enemy. Ruby had a good Face response, and Ruby VS Statlander on Rampage is going to be a great match. Great promo from the Hardys to hype up their match with the Bucks, no idea who wins that match, but I definitely see the winner going after the AEW World Tag titles. And while Rosa had a very good promo, they started her music a little early. Probably just them misreading her promo, but it also felt like they were playing her off, which is a bit rude to do to your AEW Women's World Champion. But that aside, Rosa is surely retaining against Deeb.
Great segment from Hangman and Punk, and though Hangman purposefully danced around the issue, I'm pretty sure what he was getting at is Punk coming in and throwing off all the plans for the AEW originals, Hangman himself included. Punk also had a good counter saying he was the foundation of what AEW is even about. That match is going to be amazing, Hangman knocking Punk down technically means Punk is standing tall because he got in Hangman's head. I would think Hangman retains the title and that strengthens his reign, probably so he'll be real strong for Kenny Omega's eventual return.
The ROH World Tag Team Championship match was great stuff, and I even liked that it ended up like it did because The United Empire shows up to further build towards Forbidden Door. FTR wants more tag titles, RPG Vice called out a lot of champions, and now it seems the Empire figures they'll grab up titles, we could get a huge tag title match with this feud. The Triple Threat of JB, Starks and Swerve was great stuff, and between Swerve winning the match and Keith running off the other heavies, I have a feeling Keith & Swerve end up losing somehow. That might mean Jurassic Express finds a way to retain, maybe Team Taz wins, but who knows.
Great "double main event" from the Owen Hart Cup Semifinals, and we even got a good promo vignette to hype the matches up. Britt VS Storm was of course still affected by Hayter showing up, but I almost thought Hayter was going to accidently cost Britt. But no, Britt still wins, as expected, and she is paralleling Cole as they're both finalists. Joe VS Kyle was awesome stuff, and especially with Joe selling the arm damage from last week. Joe winning was great, though, and that gives us a classic Face VS Heel showdown. I suppose it would be too early for Cole VS Kyle, possible dysfunction between them in AEW after doing that story in NXT, and Cole VS Joe will still be awesome. But with Lethal, Sonjay & Singh lurking, I bet Joe loses because of them and Cole wins, he and Britt will be an Owen Hart Cup winner power couple.
My Score: 8.9/10