Andrew's NOAH the New Year 2022 Results & Match Ratings: 1.1.2022
Pro Wrestling NOAH kicks off the new year with a show at the Nippon Budokan! Ultimo Dragon, Keiji Muto and KENTA are kicking off the new year NOAH style!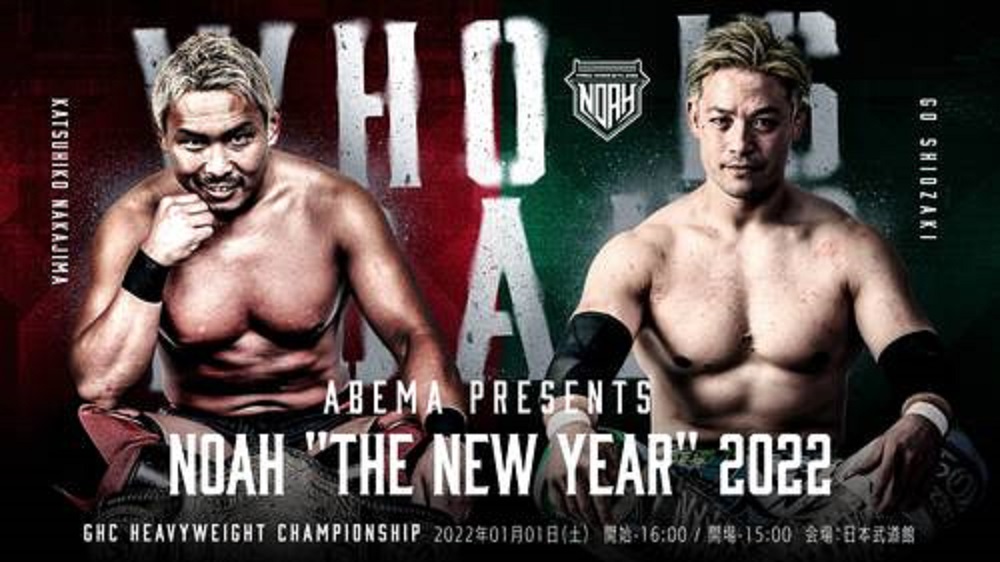 Pro Wrestling NOAH kicks off the new year with a show at the Nippon Budokan! Ultimo Dragon, Keiji Muto and KENTA are kicking off the new year NOAH style!
Now I haven't been shy in my general disinterest of wrestling, which honestly NOAH is the only brand that kept my interest, I just was generally disenchanted by wrestling in 2021. Might as well try to kick things off with NOAH's big Budokan New Year show!
A few of the early attention grabbing highlights, Ultimo Dragon, KENTA and 4 championship matches! Do Marufuji and Keiji Muto hold on to the tag team titles? Does Go Shiozaki return to the mountain top after his injury hiatus and dethrone Katsuhiko Nakajima?
Only one way to find out!
Ratings:
Junta Miyawaki & Kinya Okada vs Kai Fujimura & Yatsuke Yano: Miyawaki wins via Falcon Arrow @8:39 – ** ½
Funky Express (King Tany, Akitoshi Saito & Mohammad Yone) vs KONGOH (Tadasuke, NIOH & Manabu Soya): Yone wins via Muscle Buster @8:45 – ** ¾
STINGER (Seiki Yoshioka & Yuya Susumu) vs KONGOH (HAOH & Aleja): HAOH wins via 450 Splash @11:44 – ***
Atsushi Kotoge, Daisuke Harada, Hajime Ohara & Ultimo Dragon vs Los Perros del Mal de Japon (Kotaro Suzuki, YO-HEY, EITA & Nosawa Rongai): Ultimo wins via La Magistral @13:51 – *** ¼
Masakatsu Funaki & Hidaka Ikuto vs Kendo Kashin & Kazuyuki Fujita: Fujita wins via Beast Bomb @12:17 – **
GHC Junior Heavyweight Championship: HAYATA (c) vs Yoshinari Ogawa: HAYATA retains via Cradle @20:54 – **** ¼
GHC Heavyweight Tag Team Titles: Keiji Muto & Naomichi Marufuji vs Masato Tanaka & Masaki Mochizuki: Geniuses retain via Figure Four @20:50 – **** ¼
KENTA, Takashi Suguira & Kazushi Sakuraba vs Daiki Inaba, Yoshiki Inamura & Masa Kitamiya: KENTA wins via Go 2 Sleep @25:46 – ****
GHC National Championship: Kenoh (c) vs Kaito Kiyomiya: Kenoh retains via Roundhouse Kick @24:42 – **** ¼
GHC Heavyweight Championship: Katsuhiko Nakajima (c) vs Go Shiozaki: Nakajima retains via Emerald Flowsion @30:10 – *****
Results:
Starting off with a musical number, we go into a quick vignette that is shot like a classic Edo Period drama. With Shiozaki entering the evil emperor's (Nakajima) throne room and they have a stare off before going to a few cuts of the rest of the card's major combatants. It was a really nice touch, and gets the idea of the returning hero trying to take down the villain over beautifully.
Junta Miyawaki & Kinya Okada vs Kai Fujimura & Yatsuke Yano
Miyawaki gets the Young Boy treatment because he's been injured for nearly a year. He was starting to get some headway before his injury, but now this is effectively a "get right" match and allows him to set the tone at the historic Budokan.
The less experienced duo of Yano and Fujimura do their best to really try to work over Miyawaki. Lots of great tandem attacks, the Midnight Express Double Drop Kick and just generally throwing the book at the returning elder young boy. Miyawaki starts his comeback with a Tornado DDT, Snap DDT, Fisherman's Buster and a delayed Falcon Arrow that was just beautiful. Good way to show Miyawaki is back in form.
Funky Express (King Tany, Akitoshi Saito & Mohammad Yone) vs KONGOH (Tadasuke, NIOH & Manabu Soya)
Still not used to seeing Taniguchi as King Tany. It allows for him to actually show a measure of personality which he usually doesn't, and it's not super hard to wrap my head around…I just will always see him as the Maybach monster…and now he's doing disco.
This goes the way most multiman Puro matches do. Each side gets their moves in, all the men get a shot to shine and then we finally start getting to the meat of the match when Yone comes back in and Tadasuke takes a hot tag and peppers Yone with some offense. Tadasuke also does his best Chris Jericho impression before hitting a Swanton and then going for his version of the Jumbo Lariat. Yone buys time with his Disco pose, then catches Tadasuke and that allows the rest of the Funky Express to get in some offense. Reverse Sitout Powerbomb from Tany, Death Sickle from Saito and Muscle Buster from Yone gives the Funky Express the win!
Is this a bad sign for KONGOH? With 3 more matches involving KONGO members, two of them being the biggest titles in the company, is this a harbinger?
STINGER (Seiki Yoshioka & Yuya Susumu) vs KONGOH (HAOH & Aleja)
Stinger starts things off quickly, as to be expected. Junior Heavyweight style doesn't change too much over all the Puro companies, and when all four of these men are known as more classic Juniors and not mat technicians, this should be quick and striking.
When it comes to my knowledge of these teams, Susumu and Yoshioka are very accomplished as singles and together. They wrestle circles around most Juniors in the business at the moment. Aleja has potential but HAOH is usually more of a glue guy. Only time he really impressed me was his singles match with Kotaro Suzuki, but he at least has the potential to bring it.
With all that said, we get levels of cockiness from the Stinger crew, and the Kongo guys utilize their cleverness and gaps in the defense to stay in the match. HAOH does a move I've seen him do a few times, but it's still cool. He feeds into the corner, jumps on the middle turnbuckle, baits the guy in, walks the ropes away, rewinds and attacks. Kongo takes that advantage and they start quickening the pace, trying to steal one. Tandem Neckbreaker/Leg Drop, HAOH goes for a Leg Twist German, but Yoshioka kicks out, HAOH hits the 450 Splash, and picks up the win!
Kongoh got a win back and it definitely came in a match where they were not favored.
Atsushi Kotoge, Daisuke Harada, Hajime Ohara & Ultimo Dragon vs Los Perros del Mal de Japon (Kotaro Suzuki, YO-HEY, EITA & Nosawa Rongai)
So the beauty in the heel group here is that EITA is known for his Dragon Gate career, but Nosawa got the okay to utilize a the Perros del Mal stable in NOAH. So the Perros have their Dragon Gate guy, and the babyfaces have, well…THE DRAGON that started Dragon Gate.
Kotaro calls out Ultimo first, and they have a decent exchange, where Ultimo gets the standing Headscissors twist off twice. Mark Pickering does a great job at showing the ties between most of the men. Ohara is Dragon's protégé, and Dragon has faced everyone on the Perros team many times. So I do appreciate that he's doing great keeping the story threading together. Kotoge and Harada are a tag team known as Momo no Seishun. So whatever ties aren't present because of Ultimo Dragon, it's because the Perros are a thorn in many sides.
The Perros really utilize the sliding and tandem dropkicks a lot. Poor Kotoge is on the receiving end of numerous kicks to the head, gets tripped in the corner, posted between his legs and then Suzuki pushes him back into the post using the ropes for added leverage. Kotoge needs to find a way to tag out and possible check to make sure he doesn't have a concussion or an impromptu vasectomy. After some attempted stopping, Harada finally gets tagged in, evens things out and Ultimo gets his hands on Eita for a few moments.
Nosawa takes the tag from Eita, they clear house a bit and Nosawa tries to embarrass Dragon with a La Magistral, but Ohara breaks it up. Dragon tries his own, but a low blow and distracted referee gives Nosawa the chance to try and take Dragon's mask. Kotoge makes the save, Eita tries to take out Kotoge but Kotoge keeps the advantage. Dumps Eita out, big Tope con Hilo, so the Babyfaces are rolling. Nosawa tries a few moves into a La Magistral, but Dragon counters that, and finally locks in his La Magistral for the win.
Ultimo is now 4-0 in his career in NOAH. Will he stick around? This was the best I've seen Ultimo look in a while.
Masakatsu Funaki & Hidaka Ikuto vs Kendo Kashin & Kazuyuki Fujita
This match went how most of us expected. Kashin got beat up quite a bit, Ikuto threw the decorations at him, Funaki stretched him but Fujita was the enforcer. Once Kashin got Fujita back in, Ikuto died. Ikuto sells the Beast Bomb as a Knockout, so much so that Funaki goes to get water and pours it on his face to wake him up.
Decent enough match, but Fujita is still very legit and when he's motivated, his matches are impressive to watch.
GHC Junior Heavyweight Championship: HAYATA (c) vs Yoshinari Ogawa
Ogawa really has had a tendency to attack his tag team partners when they hold the singles title. If this goes the way of his Kotaro Suzuki challenge, it was more just to get the challenge out of his system and then back to business as tag champions. The NOAH Junior division is always…interesting if nothing else.
Things start very quickly, Ogawa may have a longer wrestling career than HAYATA does years alive, but that doesn't slow him down. HAYATA and Ogawa spend some time utilizing the guardrails and outside, before bringing things back in as to not risk a DQ. After some back and forth, Ogawa finally gets a hold of his strategy and keeps a Key Lock in for quite some time. Even rolling through with it, countering HAYATA's attempted rope run comeback with a Hip Toss into more Key Lock. HAYATA manages to get out and then goes for some high risk spots landing a big Tornado DDT out of the corner, and HAYATA tries to keep things going. As he whips Ogawa into the corner, Ogawa stops himself and counters HAYATA to take back the momentum. HAYATA goes back to the arm he was working on with an Armbar, HAYATA tries to get out of it, but Ogawa transitions it into a Hammerlock and drops the knee into the wrist.
Ogawa is doing a great job keeping up with the speed and still applying his great technical prowess. MY FAVORITE OGAWA MOVE! HAYATA gets the advantage, goes for a Thesz Press from the middle rope, but Ogawa falls backwards so his knee meets HAYATA's nether region in the most seamless counter to a move. Can't DQ a guy when the other person drove himself into the knee. This of course gives Ogawa some solid time in control, which he uses the apron, the post, works over some joints and holds a top wristlock as the re-enter the ring and HAYATA barely escapes to the ropes.
HAYATA does manage a small glimmer of hope before posting himself and Ogawa goes back into a Top Wristlock/Camel Clutch variation. HAYATA gets Ogawa off balance, but Ogawa hits a Snap DDT, posts him again, Back Suplex and then Back Drop Driver twice; but HAYATA kicks out. So Ogawa is showing frustration as he's going to power moves instead of his technical prowess. He goes to the well too many times, HAYATA flips through the Backdrop, hits a Lariat and then a combination of kicks ending with an Enzuigiri. DDT from HAYATA, which makes sense to soften him up for Headache, but then HAYATA goes to the Moonsault and Ogawa gets the knees up.
Both men are making dumb choices because they're frustrated. HAYATA goes for Headache, Ogawa blocks in, tries to lock in a leg lace or Figure Four on HAYATA, but a quick Up Kick and HAYATA cradles Ogawa tightly for a 3 count! Surprise pin out of both men's desperation, doesn't make anyone look bad. Really clever finish.
After the match HAYATA extends the hand, but Ogawa is still hot that he lost because he got out witted and not directly beaten. So Ogawa throws down the Junior Tag title, rejects the handshake and stomps off.
GHC Heavyweight Tag Team Titles: Keiji Muto & Naomichi Marufuji vs Masato Tanaka & Masaki Mochizuki
Mochi starts things off with Muto, which makes sense due to Tanaka having a match earlier in the day for the Zero1 promotion. So this allows Mochi to get some more work against Muto and give Tanaka as long of a breather as possible.
Tanaka and Marufuji go back and forth for a little bit and Tanaka doesn't look gassed at all. He's crisp, going move for move and forces Marufuji to avoid the Sliding D or it could've been an early issue. Muto gets back in and both Mochi and Tanaka work over the Legend. Indian Deathlocks and a heavy focus on his legs is smart. Not only is Muto's age a key factor in where to attack, the surgically replaced knees are always a target and after he pulled it back out last year, there has to be a tiny fear of the Moonsault returning.
Mochi and Marufuji square off, as we get for tag team partners teeing off. Mochi's kicks and Marufuji's whip like chops trade back and forth. Mochi gets the best of things, gets Tanaka in and Tanaka tries to keep the pressure up. Sliding D off the apron, a few big Brain Busters, but Marufuji keeps fighting back with KO-OHs and clever shots to keep his team in. Multiple Sliding D variations from Tanaka, Marufuji with a flurry of his own offense before Tanaka hits a Kobashi style Spinning Backfist for both to have to tag out.
Mochi and Muto go back and forth. A few great kicks and a block of the Shining Wizard almost spell disaster but Marufuji makes a save. Slingshot Backstabber from Marufuji gives Muto the opening for the Shining Wizard, but a Shotei stops Muto, Tandem Sliding D and Sliding Knee force Marufuji  in to make the save. Marufuji pulls off the 2v1, dodges a few attacks, and manages a Jumping KO-OH, Shining Wizard from Muto. Marufuji and Muto pull off some tandem offense of their own, but Mochi refuses to stay down. Mochi refuses to lose to multiple Shining Wizards, so Muto pulls out the Figure Four and Mochi is forced to tap.
The Geniuses mark their first successful defense together.
KENTA, Takashi Suguira & Kazushi Sakuraba vs Daiki Inaba, Yoshiki Inamura & Masa Kitamiya
KENTA and Kitamiya start off, KENTA continues his shenanigans of powdering early. Kitamiya then pushes his power game on KENTA and you can see small glimmers of old KENTA getting dragged back out. As they do the usual take turns approach to tag teams, Inamura comes in and gets tied in the ropes early and KENTA decides to step on the Young Bulldozer's face. This pisses off Inamura, so even though Sugiura is the legal man, Inamura goes after KENTA and KENTA takes the old NOAH veteran approach. He no sells the offense, grabs him by the hair and this has a lot of shades of when the current vertarns were young facing Kobashi, Misawa, Sasaki and KENTA took great notes. Inamura makes it his life goal to go after KENTA. Inamura catches him by surprise, but as things break down a little later you can see KENTA isn't playing. He's no selling Inamura and even no sells Kitamiya's attack, just walks off. This s really interesting. This is either NOAH KENTA doing his veteran approach, or someone really pissed him off.
WOW, Inamura charges in to break a pinfall and KENTA casually steps back and makes the younger look stupid while stepping on Inaba. This is really classic veteran match play and then Inamura blind sides KENTA. KENTA drops to a knee and stares the kid down. Kitamiya gets Suigura in the Prison Lock, KENTA walks in to break it up, but Inamura comes in and stares down KENTA. After some staring and a few words, KENTA slaps him back into 2021, and Inamura powders looks rattled. KENTA does get the hold broken, but then eats some offense by Kitamiya for his troubles.
Kitamiya and Sakuraba exchanging as things break down a little more, Inaba gets tagged in and tries to speed things up. Sakuraba blocks a Brainbuster attempt by sitting out, but Inaba continues his relentless assault. Smartly, Inamura and KENTA come in together and this was a war. KENTA does more selling for the youngster and Inamura gets some great moment in. Kitamiya might still be a little salty that about KENTA walking away from him earlier, but it paid off in a beautiful old school NOAH way. KENTA landed his offense, and punctuated the match with a Go 2 Sleep.
KENTA puts over Inamura in the post-match, Sugiura asks KENTA to fight for NOAH against the NJPW team on the 8th.  KENTA agrees to team with Suigura and Sakuraba again and legitimately looks happy. With KENTA putting Inamura over, it's either a clever cover that he took the Pillar approach to dealing with younger wrestlers or that was the idea that KENTA was intended to go through the pacings with the tiny tank.  
We've had such great matches, it's hard to think that these final 2 still have potential to raise the bar even higher. Kaito and Kenoh have had a brotherly rivalry as have Katsuhiko and Go. So familiarity breeds contempt, and these could set the bar insanely high for the first day of a New Year.
GHC National Championship: Kenoh (c) vs Kaito Kiyomiya
Early on Kaito tries his damndest to apply his athleticism and just generally more flashy moves. Its fun to see how far Kaito has come, since I remember when he first came back from abroad and was really in a bit over his head. He was thrown into the fire and even given a yearlong Heavyweight Title reign as he was learning. Seeing a much more polished Kaito is actually really fun personally.
Kenoh starts beating the hell out of the Supernova, throws him around outside and lands pinpoint Sole Butts, Round Kicks and just general big brothering. Chiding slaps, kicks for the hell of it and Kenoh is trying to prove a point. Kaito manages a Lariat off the ropes, dumps Kenoh to the outside and then charges and does a no touch Tope con Hilo right on to Kenoh.
Kiyomiya locks Kenoh into the Stretch Plum, and it's nice to see how he started off as channeling Misawa, and now he's learning to reinvent and adapt other things to slowly become his own person. Kenoh fires as Kiyomiya taps into a bit of the Rainmaker cockiness, since he so desperately wants a match with Kazuchika Okada. We see a Snap Dragon Suplex from Kenoh, Okada-esque Dropkick from Kiyomiya and then Kenoh hits a PK for them to both have a breather spot.
The aggression turns up, Kenoh starts hitting some stiff strikes and looks to go to the ropes. Kenoh's finisher is a Rolling Double Foot Stomp when he's not knocking people out. Kaito blocks, Kenoh jumps to the ramp, Kaito tries to follow but Kenoh catches him with a fierce German Suplex. As Kaito is rocked, Kenoh hits a normal Double Foot Stomp, but between how long it takes to roll him in the ring, Kaito kicks out.
Kenoh tries to hit a PK and go back for another Professional Foot Stomp, but Kaito blocks him and starts putting some offense together. Big strikes, Falcon Arrow variations, but Kenoh kicks out. They trade counters on big moves until Kenoh pulls a little Minoru Suzuki, changes levels and tries to slow the Supernova with a Sleeper. Kaito is mostly out, Professional Foot Stomp, but only two. Tiger Suplex, Dragon Suplex, strike exchange. The aggression and frustration is palpable. Kenoh hits a thunderous Roundhouse as Kaito folds over and the referee stops Kenoh from covering Kaito and calls for the bell. Kaito got knocked out, Kenoh retains!
Happy birthday Kenoh, you bastard!
GHC Heavyweight Championship: Katsuhiko Nakajima (c) vs Go Shiozaki
Sufficed to say, these two have a lot of history. As opponents, as one of the best tag teams of the last few years AXIZ. Nakajima betrayed Shiozaki in 2020 during Go's big title run. Go was able to stifle Nakajima's rise in 2022, but after injuries caught up with him, Nakajima has had a chance to ascend to the top. Do we get a returning hero celebration, or will Go need more time to get back to his peak performance and fall to the Dark Side of Nakajima?
The first exchange is a kick from Nakajima, and returned with a thudding Shiozaki chop. Nakajima powders and Shiozaki goes after him. Nakajima trips up Shiozaki and sends him face first into the middle turnbuckle, kick to the pad and some nice offense from Nakajima. We then get Nakajima going from corner to corner for his 5 Second Pose on your throat. Nakajima's personality always shines in his matches but his ability is second to none.
The smartass tendencies of Nakajima continue, and Shiozaki lands a Gowan Lariat because Nakajima is leaving himself open. Machine Gun chops in the corner, and Shiozaki is really playing the hits to prove his shoulder is in good shape. Those chops hurt my chest watching on Wrestle Universe. Nakajima catches Go with a classic Enzuigiri, and that gives him the momentum. Nakajima throws Go out, Apron PK and then just a lot of use of the outside to assist his attacks. They go to the ramp, fight back and forth and then Nakajima gets an idea.
2003 Kobashi and Misawa went through his mind, but Shiozaki blocked numerous times. Shiozaki counters, and then executes a release German Suplex sending Nakajima to the floor from the elevated ramp. Shiozaki manages to get Nakajima back into the ring before 20, goes for a larger move but Nakajima buys himself time by rolling away from it and landing a swift kick to help recollect himself. Fighting Spirit Kicks/Chops trade begins when they get up. This fighting spirit spot is a little reminiscent of the Kensuke Sasaki v Kenta Kobashi chop fest. Granted it's both of their mentors, but it's their version of it since Nakajima is known for his kicks.
Sick bump #2 pic.twitter.com/oRlwu28Ek3

— Pro-Wrestling Noah Eng (Hisame, 冰雨) (@Hi5ame) January 1, 2022
Go Flasher stops Nakajima's run long enough for Shiozaki to collect himself and try to mount a comeback. Shiozaki charges with the Lariat, but it gets countered with a kick, then Nakajima kicks Go in the face and he's rocked. Vertical Spike from Nakajima and…oh wait Go kicked out! Shiozaki dodges the punt, Nakajima tries to go after him and Shiozaki's struggling to get up. The referee checks to make sure he's actually okay, and apparently is. R15 returns a boot from Shiozaki, then as he's perched, Nakajima goes for an Avalanche Frankensteiner, but Go holds on. Lifts Nakajima all the way up, Avalanche Brainbuster, stumbling and a Gowan Lariat takes Nakajima's head off but only for 2!
Shiozaki removes the elbow pad, close range Gowan Lariat, also for just 2. Shiozaki goes for his big match move homage to Kenta Kobashi, as he goes for the Moonsault, but Nakajima moves. Punt from Nakajima gets a very weak kick out from Go. Vertical Spike number 2, with a long delay, is – AGAIN Shiozaki kicks out! Nakajima calls Shiozaki to his feet and hits him with a fusion of the Vertical Spike and Emerald Flowsion. Nakajima retains!
Overall Score: 9.5/10
Either my expectations were just insanely low, or whatever, but this show was possibly the best event I've seen. It flowed, the four hours breezed by and everything fed well into each other. The last 5 matches were amazing, they all had their own personality; but it was just wonderful to watch.
NOAH continues to impress me the more I watch the product, and hopefully NOAH can drag this level of quality and intrigue out of New Japan. Here's to hoping that all 3 Wrestle Kingdom days are just as captivating, not just the January 8th event.
KONGOH ended up going 3-1 in all their matches, and the way they ended the show by declaring their intentions again New Japan and saying "WE are NOAH", is great stuff.
/
📺【ABEMA PPV】絶賛販売中🔥
\

■WRESTLE KINGDOM「新日本プロレス vs プロレスリング ・ノア」横浜アリーナ
配信:1/8(土)こご5時〜
販売:2022/1/13(木)よる11時59分まで

日本向けPPV⇒https://t.co/CljBwn9F44
海外向けPPV⇒https://t.co/IUO6DhWjYk#プロレスのチカラ #njpw #noah_ghc pic.twitter.com/KoEi1ztPSr

— プロレスリング・ノア |PROWRESTLING NOAH (@noah_ghc) January 1, 2022
Mitchell's NJPW WTL X Super Jr. Tag Results & Report! (12/7/22)
The Super Jr. Tag League penultimate round!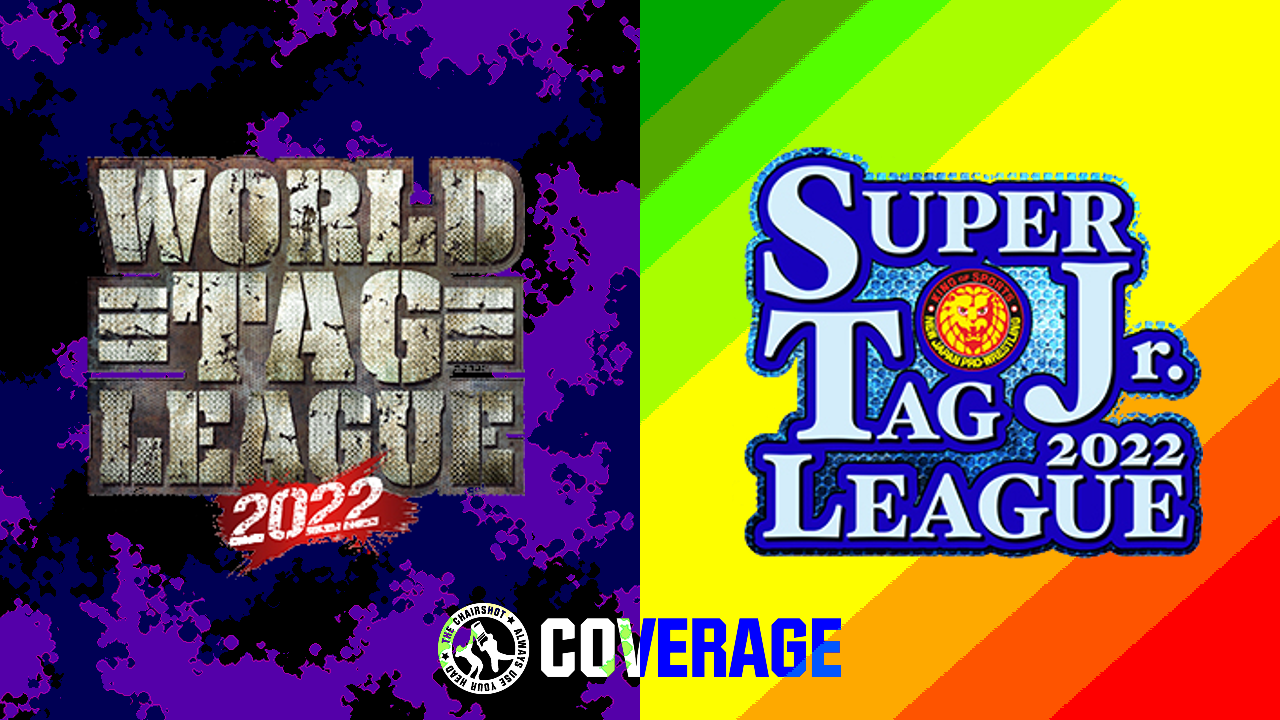 The Super Juniors are so close, they can almost taste it!
NJPW continues on and the Super Jr. Tag League is almost done! Is it inevitable that Ace Austin & Chris Bey are finalists in the tournament? Or will they get burned by the #GLEATSAUCE?
OFFICIAL RESULTS
Yuto Nakashima & Ryohei Oiwa VS Oskar Leube & Kosei Fujita; Leube & Fujita win.
Six Man Tag: Suzuki-Gun VS Bullet Club; Suzuki-Gun wins.
8 Man Tag: Toru Yano, Hiroshi Tanahashi, Tomoaki Honma & Master Wato VS Los Ingobernables de Japon; LIJ wins.
Super Jr. Tag League 2022: KUSHIDA & Kevin Knight VS TJP & Francesco Akira; TJP & Akira win.
Super Jr. Tag League 2022: Ryusuke Taguchi & Clark Connors VS YOH & Lio Rush; Yoh & Lio win.
Super Jr. Tag League 2022: DOUKI & Yoshinobu Kanemaru VS SHO & Dick Togo; Douki & Kanemaru win.
Super Jr. Tag League 2022: Robbie Eagles & Tiger Mask VS BUSHI & Titán; Bushi & Titán win.
Super Jr. Tag League 2022: Alex Zayne & El Lindaman VS Ace Austin & Chris Bey; Zayne & Lindaman win.
PLAY BY PLAY
Here are the current
Super Jr. Tag League

standings!

Austin & Bey: 6-1, 12 points
Bushi & Titan: 5-2, 10 points
TJP & Akira: 5-2, 10 points
Yoh & Lio: 5-2, 10 points
Zayne & Lindaman: 5-2, 10 points
Taguchi & Connors: 3-4, 6 points [ELIMINATED]
Eagles & Tiger Mask: 2-5, 4 points [ELIMINATED]
Douki & Kanemaru: 2-5, 4 points [ELIMINATED]
KUSHIDA & Knight: 1-6, 2 points [ELIMINATED]
Sho & Dick: 1-6, 2 points [ELIMINATED]
Super Jr. Tag League 2022: KUSHIDA & Kevin Knight VS TJP & Francesco Akira!
The Time Jet may be out of the running, but they could use this moment to turn it all around! Will Kushida & Knight find #Time2Fly? Or will Catch 2/2 not be denied their spot in the finals?
The Orchestrator, Gideon Grey, is here to make the introductions for the Public Enemy & Nova Fireball. The teams sort out and fans applaud as Knight starts against TJP. Fans rally as the two circle. TJP avoids Knight's rush at the legs, gets around to a waistlock, but Knight switches. TJP sits, pries at the hold, but Knight brings him up to SLAM him down! Knight floats to a facelock, TJP rolls but Knight stays with him, but TJP slips away. Fans applaud this opening exchange and the two reset. Knight and TJP circle, knuckle lock, and TJP spins to wrench and wrangle Knight with a top wristlock.
Knight rolls, stands, TJP wrenches his arm again. Knight rolls, handsprings and wrenches back! Fans applaud while TJP works on a return. TJP rolls, spins, cartwheels, but Knight stops the headscissors to CHOP! Fans applaud as TJP staggers to ropes. Knight CHOPS TJP again, then whips TJP to ropes. They RAM shoulders but neither man falls. Knight flexes and fans applaud. TJP runs, they RAM shoulders again and Knight stays up. Knight says TJP doesn't have it, but TJP kicks low! TJP runs, but Knight hurdles over! TJP rebounds, and he blocks the hip toss into a cobra twist! Fans applaud while Knight endures.
TJP drops for a ground cobra cradle, TWO! Knight whips, TJP stops himself and comes back to tie Knight's one arm up, and he YANKS Knight's other arm back! Fans applaud while TJP drags Knight away. Tag to Akira and Catch 2/2 mug Knight. They double whip but Knight DOUBLE FLYING SHOULDER TACKLES them down! Fans fire up as Knight brings Akira up. Knight wrenches Akira, tags Kushida, and he hands off the wrench. Kushida wrenches to a wristlock, then tags Knight back in. They hand off the wrench again, tag, and then hand it off again! Kushida CLUBS Akira's arm, wrangles him down, and traps the arm to TWIST!
Fans applaud as Kushida drags Akira up to wrench again. Tag to Knight, they hand off the wrench again and again and again! Then they double snapmare to double knee drop both arms! Fans applaud but TJP runs in! Into a drop toehold and PENALTY KICK to the arm! Kushida & Knight secret handshake, then they double whip TJP to a corner. Then they double whip Akira into TJP! Kushida runs in to back elbow sandwich the champs! Knight runs in to STINGER SPLASH SANDWICH the champs! Knight pushes Akira aside to whip TJP corner to corner. TJP goes up and over, Akira returns for a RAILGUN DROPKICK!
Fans rally as Akira drags Knight up to CLUB him on the neck. Akira stomps Knight in the corner and digs his boots in! The ref counts, Akira stops at 4, then tags TJP. Catch 2/2 drag Knight up, they double whip him to ropes, and SOBAT, KICK, KICK and BASEMENT SHOTGUN! Cover, TWO! TJP sits Knight up to KNEE him in the back! TJP drops knees on the arm, then on a leg. Then TJP has the leg for a standing toehold. Knight endures, even as TJP twists the ankle! Fans rally, Knight fights up and stands. TJP stays clear of the haymakers but Knight breaks free. Knight kicks with the other way but TJP blocks it!
TJP slips around, but Knight ENZIGURIS TJP down! Fans rally, Akira grabs Knight's legs but Knight kicks him away. But TJP runs past Knight to BLAST Kushida! Knight run sin but TJP goes up and over to get a TARANTULA! Akira intercepts Kushida at the apron for a TARANTULA! Fans fire up for the double shoutout to Tajiri, and Catch 2/2 lets off as the ref counts. Akira returns to his corner, TJP stalks Knight and fans rally up. TJP drags Knight up, scoops and SLAMS him, then goes to the apron. Slingshot SENTON! Tag to Akira, and he runs to go up the Electric Chair! "Take Picture!" But Knight JET FLIGHT DROPKICKS Akira down!
Fans fire up while all three men are down! Knight crawls, hot tag to Kushida! Kushida climbs up and AX HANDLES TJP down! Kushida KICKS and KICKS and KICKS Akira, then whips him to ropes. Akira reverses but Kushida FLYING FOREARMS! Kushida dodges to PELE! TJP kicks Kushida, runs, but into a hip toss! Cartwheel, basement dropkick! Fans fire up with Kushida and he winds up, but Akira blocks the Buzzsaw! Akira whips Kushida to ropes, but Kushida reverses. Akira sunset flips but Kushida stays up! Kushida has the arm, for an ARMBAR! The fans fire up as Kushida pulls back, but Akira rolls to the ROPEBREAK!
Kushida lets go quickly and fans rally up. They clap for "KU-SHI-DA!" as he wrenches Akira's arm to an ELBOW BREAKER! Kushida aims, but Akira dodges the Penalty Kick! Akira CHOPS, but Kushida ROCKS! Akira SUPERKICKS, but Kushida SHOTEIS! Fans fire up while both men are down! Kushida crawls, hot tag to Knight! Knight hurries after Akira, brings him up and whips him to a corner. Knight runs in and Kushida runs in from the apron, SPLASH ENZIGURI COMBO! Knight hoists Akira up top, climbs up after him, but TJP gets in! TJP Electric Chair Lifts Knight, but Kushida HANDSPRING KICKS Akira!
Knight fights free of TJP while Kushida has a KIMURA on Akira! TJP lets Knight go to go after Kushida! TJP has the Electric Chair Lift, but Kushida fights free to get the HOVERBOARD KIMURA! Knight jumps to SUPER STEINER Akira! Fans fire up and Knight leaps, SATELLITE DDT!! Cover, TJP SLAMS Kushida onto it! Fans fire up while Kushida throws TJP out. Knight drags Akira up, fans clap "TIME TO FLY!" They double suplex but Akira fights it. Akira ROCKS and CHOPS on repeat! But Knight knees low! Time2Fly double whip but Akira shotguns the clothesline apart! And TJP runs in to DOUBLE BULLDOG!
Fans fire up and TJP blocks a kick to spin around, LEG CAPTURE BACK SUPLEX for Knight! Kushida DECKS TJP! Akira GERMAN SUPLEXES Kushida! Knight SLIDING SHOULDERS Akira down! Fans are thunderous as all four men are down! Knight sits up, he brings TJP up but TJP throws a forearm. Knight forearms back, so TJP forearms again. The forearms keep going, then TJP UPPERCUTS! Knight UPPERCUTS in return! The forearms return, Knight gets the edge! Knight runs, into a ROLLING SOBAT! TJP runs, ducks a lariat and SUPERKICKS! TJP runs, into a DROPKICK! Knight kips up and fans fire up again!
Knight runs corner to corner at TJP, but TJP goes up and over! TORNADO DDT!! Cover, TWO!! Knight is still in this and fans are thunderous! TJP drags Knight to a drop zone, goes up the corner, but Knight is up! Knight springs up to join TJP, he throws body shots, but TJP hits back. Fans rally as TJP slips under and trips Knight! Knight is in a Tree of Woe, TJP helps Akira walk the tightrope, for a MISSILE WOE DROPKICK! Knight is down in another drop zone and TJP goes back up! MAMBA SPLASH!! Cover, but Kushida breaks it! Kushida CLUBS Akira, CLUBS TJP, then BUZZSAWS Akira! Kushida runs, but into an ALLEY-OOP!
Fans fire up as Catch 2/2 sit Knight up! 2 BY 2!! Cover, Catch 2/2 win!
Winners: TJP & Francesco Akira, by pinfall (gain 2 points; Kushida & Knight earn 0)
That's two more points for a dozen total! Will the IWGP Junior Heavyweight Tag Team Champions prove they are THE best tag team in the division?
Super Jr. Tag League 2022: Ryusuke Taguchi & Clark Connors VS YOH & Lio Rush!
The Wild Hips haven't had much luck in the league, but they're not giving up! Will Taguchi & Connors stampede through Direct Drive & The Bad Child? Or will the Men of the Hour still have time on the clock?
Taguchi and Connors reach into their bags, and they have beer again! Fans applaud, and the Wild Hips offer some to Yoh & Lio. Really? Right now? Sure! Think of it like a party. Fans applaud but Yoh & Lio aren't sure, they're technically working. Yoh and Lio take a can each, Connors & Taguchi crack theirs open and drink. Fans applaud, it's now or never for Lio & Yoh. They argue it out, but Lio says his stomach doesn't feel good. Connors understands and fans applaud. The beers are put aside for now, and the teams sort out. Lio starts with Connors and fans rally up at the bell. Lio and Connors circle, feel things out, and knuckle lock.
Connors shoots in but Lio sprawls and facelocks. Connors slips out to facelock and then waistlock then back to a facelock. Lio slips out to waistlock, they stand up, and Connors pries free to switch. Connors drags Lio down, goes back for a facelock, but Lio switches that onto Connors. Connors fights back up, throws a knee, and fans applaud as Connors headlocks. Lio powers up and out but Connors runs him over! Fans applaud again and Connors runs the ropes. Lio drops, then redirects to whip Connors. Connors redirects, too, and then again! Lio handsprings to dodge, then he mule kicks and ENZIGURIS! Fans fire up and Lio covers, TWO!
Lio has the fans rally up, and Lio wrenches Connors' arm. Tag to Yoh, they double whip Connors and double kick. Yoh whips Lio but Connors avoids the scissor kick! Lio whips Yoh now but Connors avoids Yoh to rebound and run them both over! Fans fire up with Connors and he calls to Taguchi. Taguchi hops in, Connors EuroUppers Yoh. Yoh is in one corner, Lio is in the other and the Wild Hips combine. WHIP HIP into Lio! WHIP HIP into Yoh! And then another for Lio! And another for Yoh! Then Taguchi WHIP HIPS Connors into Lio, and then WHIP HIPS him into Yoh! Fans fire up as the Wild Hips butt bump.
Taguchi sets up on the corner and Connors brings Yoh around. But Yoh reverses and sends Connors into the Funky Weapon! Lio returns to LARIAT Connors down! Taguchi hops down and runs at Yoh, but Yoh atomic drops the hip attack! Yoh scoops and SLAMS Taguchi, then he and Lio hook Taguchi's legs into the ropes! Not quite a Tree of Woe, more a Bush of Woe. Fans rally as Lio and Yoh fire up. They hook up, ROLLING DIVING HEADBUTT into the Bush! Fans fire up while Taguchi flops over. Yoh drags Taguchi to the apron, and he uses the ropes in a Paradise Lock!? Yoh learned a form of Paradise!
Connors returns but Yoh kicks him down. Yoh drags Connors up to ROCK him with a forearm, and then stomp him in the corner. Tag to Lio, he and Yoh double whip Connors to DOUBLE ELBOW! Then Lio runs to get a wheelbarrow boost from Yoh, WHEELBARROW SPLASH! Cover, TWO! Lio taunts Taguchi then clamps onto Connors with a sleeper and body scissors! Yoh plays defense, but Taguchi can't get free anyway. Connors fights up with Lio as a backpack, and he RAMS Lio into the corner! Yoh tags in, Connors hurries to his corner, but he can't tag Taguchi like that! Lio whips Connors to the corner, Yoh & Lio mug him!
Yoh & Lio drag Connors up again, throw forearms and haymakers, then Yoh has Connors on ropes. Yoh throws more forearms, puts him back in the corner, but Connors fights back with forearms and elbows! Fans rally, Connors crawls, but Lio drags him up for a BIG back suplex! Fans rally, Yoh & Lio drag Connors up and double whip. Connors ELBOWS Yoh away but Lio kicks him low. Lio runs, Connors drops and POUNCES Lio into Yoh, and Yoh falls on Taguchi! Taguchi's free from Paradise! Fans fire up as Connors hurries over, hot tag to Taguchi! Taguchi fires up, and he HIP ATTACKS Yoh at the ropes! Then HIP ATTACKS Lio at the ropes!
Taguchi keeps going, another HIP ATTACK for Yoh! Another HIP ATTACK for Lio! Baseball slide and APRON HIP for Yoh! Fans fire up and Taguchi takes aim from the apron. Springboard and MISSILE HIP! Taguchi covers, TWO! Taguchi drags Yoh up but Yoh swings, into a waistlock. Yoh elbows free, runs, but Taguchi follows! Yoh catches the hip attack into a waistlock, but Taguchi elbows free. Taguchi fakes Yoh out into running into a HIP ATTACK! Fans fire up and Taguchi runs side to side! PEOPLE'S T-BAG!! Cover, TWO!! Yoh survives and fans fire up. Taguchi calls upon the powers of Strong Style! "ORYA~!"
But Lio gets in the way, and offers the beer! He wants to have the drink now? Lio gets the fans to applaud for it, and they crack open the beers. They drink, and Lio hits a STUNNER on Taguchi! Lio laughs at Taguchi falling for it, then he HAANDSPRING KICKS Connors off the apron! Lio hurries to get another drink of beer, then he builds speed! But then Lio feels queasy! Connors runs in to SPEAR Lio down! Fans fire up, Connors drags Yoh up but Yoh throws forearms! Yoh ROCKS Taguchi, UPPERCUTS Connors, but runs into DOUBLE HIP ATTACKS! The Wild Hips combine their powers, take a drink, and show the RED UNDIES! CROSS HIPS!!! Cover, Lio breaks it!!
Fans fire up and Connors throws Lio out. Taguchi stands back up and fans rally. Taguchi stands Yoh up, to ENZIGURI! Fans fire up and Taguchi drags Yoh up into chicken wings! But Yoh wheelbarrows and victory rolls, only for Taguchi to sit on it! TWO!!! But Taguchi has OH MY GAH ANKLE!! Yoh flails, reaches out, moves around, and Connors keeps Lio on the outside! Yoh scrambles to get a BEER! Yoh stands up to make Taguchi drink!! Taguchi chugs, Yoh shakes him up!! Taguchi is dizzy now, but he SPITS the beer! He's gone from The Rock to The Game! Taguchi kicks low, runs, but into 3K!!!! Cover, the Men of the Hour win!!
Winners: Yoh & Lio Rush, by pinfall (gain 2 points; Taguchi & Connors earn 0)
It's all about the game and how you play it, but the Wild Hips got beat at their own game! Will Yoh & Lio close in on that outside shot to the finals?
Super Jr. Tag League 2022: DOUKI & Yoshinobu Kanemaru VS SHO & Dick Togo!
Japones Del Mal & The Heel Master got the biggest win they could by beating the IWGP Junior Heavyweight Tag Team Champions! Will that momentum help them finish strong? Or will the House of Torture ruin things for them right before the end?
Both sides argue about the other needing to be thoroughly checked. After all, Douki has the pipe and Kanemaru has the whiskey, but the Murder Machine has a wrench and the Spoiler has his choker. But for now, the teams sort out and Dick starts against Kanemaru. Fans rally as the two circle. They tie up, Dick powers Kanemaru to ropes, but lets off as the ref counts. Kanemaru dodges the sucker punch and tells the ref that's what he was talking about! Dick apologizes, and offers a handshake. Kanemaru says don't even bother with that. Dick shakes Sho's hand and Sho hops in to shake the ref's hand. Dick also shakes the ref's hand.
Douki steps in and the House of Torture offers him a handshake, too. Douki & Kanemaru reach out to accept, but then they block the cheap kicks! Douki throws Sho's foot into Dick, then he throws Sho out while Kanemaru rolls Dick up! TWO!! Dick escapes, Douki goes out after Sho while Kanemaru stalks Dick to the corner. Dick pokes Kanemaru in the eye! Dick then whips corner to corner but Kanemaru reverses. Dick BOOTS Kanemaru, runs, but into a dropkick to the legs! Tag to Douki, Suzuki-Gun SMASH both knees! Cover, TWO! Douki stomps Dick around, then puts the leg on the ropes for a HIP DROP!
Fans rally while Douki drags Dick up. Douki kicks low, whips Dick to ropes, then runs in, only to be put on the apron. Dick swings but Douki shoulders into him. But Sho trips Douki up! Dick BLASTS Kanemaru, Sho stomps Douki around by commentary. Sho drags Douki up, brings him all the way to the back wall, rakes the eyes, and then goes into the rear stage area! Sho sends Douki into the wall! Dick keeps after Kanemaru while Sho whips Douki at the edge! Douki keeps from falling, he turns around and Sho BOOTS him off the stage! Fans applaud as Sho stands tall. Sho stomps Douki in front of the back row, then says to turn our attention back to ringside.
The ring count starts while Dick waits on Douki. Sho wants the count to go faster, and then he touches the Super Jr. Tag League trophy. Fans rally as Douki stands, and he hurries up the aisle! We're at 12 of 20, Sho gets on the mic to shout that this is over! Sho rings the bell himself! The ref tells Sho no, but Sho makes the ref raise his hand in victory. Doukik returns! But Sho and Dick mug him! The ref reprimands them, counts, but both Sho and Dick let off at 4. Douki fights up but Dick fights off the scoop. Dick throws body shots and he CLUBS Douki down! Dick scoops and SLAMS Douki down! Dick then clamps onto Douki's arms for a motorcycle stretch!
Fans rally as Douki endures and reaches out. Douki gets the ROPEBREAK, and Dick lets off. Dick scrapes his sole on Douki's face, then he tags Sho. Sho runs to BLAST Kanemaru, then he and Dick mug Douki. Douki hits back but Sho rakes the eyes! Sho shoves Douki down, brings him back up, and throws him out of the ring. Sho distracts the ref so Dick can ROCK Douki! Dick puts Douki back in for Sho to ROPE GUILLOTINE! Cover, the ref refuses because of shenanigans. Sho stomps Douki then covers, TWO! Fans fire up while Sho is upset with the ref. Sho drags Douki back up but Douki throws forearms! Sho rakes the eyes!
The ref reprimands but Sho grins as he brings Douki up again. Douki blocks the suplex and fans rally. Sho powers Douki up but Douki fights it. Douki powers Sho up, but Sho bends Douki's fingers! Sho suplexes but Douki slips out! Douki waistlocks but Sho elbows free. Sho runs, but into a FLYING HEADBUTT! Fans fire up while both men are down again! Sho and Douki crawl, hot tag to Kanemaru! Kanemaru stomps on Sho then BLASTS Dick! Kanemaru whips, Sho reverses but Kanemaru dropkicks the legs out! Kanemaru drags Sho up, SHIN BREAKER and then a  dropkick to the legs! Kanemaru steps through for a FIGURE FOUR!
Sho endures the leglock and Kanemaru trashes about! Dick gets in to stomp away on Kanemaru! The hold is undone but the ref reprimands Dick. Kanemaru drags Sho around, stomps the legs, but Sho bends the fingers! So Kanemaru rakes Sho's eyes! The ref reprimands them both, Kanemaru kicks Sho and runs. But Sho uses the ref as a shield! Sho then runs but now Kanemaru uses the ref as a shield! Kanemaru kicks low, ELBOWS Sho in the head, then runs, but Dick gets a cheap shot in! Sho SPEARS Kanemaru down! Tag to Dick and the House of Torture stomps away on Kanemaru. They whip him corner to corner, then Sho runs in.
Kanemaru dodges Sho, kicks Dick and sends him into Sho! ENZIGURI for Dick! Fans fire up while all three are down! Douki calls out and Kanemaru heads that way! Hot tag to Douki! Douki goes up to CROSSBODY! Dick staggers up, Douki dodges him to springboard BACK ELBOW! Douki drags Dick into the drop zone, for a RUNNING DOUBLE STOMP! Cover, TWO! Fans rally, Douki drags Dick up and hooks him up! But Dick fights the Gory Especial to snapmare and ghost pin! TWO! CROSSFACE!! Fans rally while Douki endures! Douki reaches out, claws his way over, but Dick rolls him way!
But Douki slips out to waistlock! He baits Dick into a double pump handle and he flips Dick over! Douki then rolls Dick into ITALIAN STRETCH #32! Fans fire up while Dick endures! But then Sho drags the ref out! Sho gets in to stomp away on Douki! The Young Lions check on the ref while Sho gets his wrench! But Douki gets his PIPE! Fans fire up as Douki's is bigger! Sho still swings but Douki dodges! Douki swings but Sho dodges! Douki blocks the wrench attack and Sho drops it! Douki JAMS Sho with the pipe, then CHOKES him with it! But Dick slides in to use the SPOILER CHOKER! But Kanemaru takes a swig!
Yujiro & Evil rush out from the back! But Kanemaru WHISKEY MISTS Yujiro! Then he KICKS the ropes to hit Evil down low! Then Kanemaru WHISKEY MISTS Dick! But Sho LOW BLOWS Kanemaru! Everyone falls at the same time! Fans fire up and rally as the ref returns! The ref can't make heads or tails of what happened, but Dick and Douki stay in the ring. Dick drags Douki up, underhooks, but Douki blocks the Pedigree! Dick CLUBS Douki down, drags him back up and tries again. But Douki wrenches out! Dick rakes the eyes! Dick gets the whiskey and tags a swig!? But Douki HELL STABS! The whiskey spews into the air!
Douki drags Dick back down, ITALIAN STRETCH #32!!! Dick verbally quits, Suzuki-Gun wins!!
Winners: Douki & Yoshinobu Kanemaru, by submission (gain 2 points; Sho & Dick earn 0)
Incredible! Douki the underdog has gotten his team to three wins in this latter half of the tournament! Is this a sign that things are finally clicking for Japones Del Mal?
Super Jr. Tag League 2022: Robbie Eagles & Tiger Mask VS BUSHI & Titán!
The Flying Tigers may not have a shot at the finals, but they can shoot down another team's chances! Will the Sniper of the Sky and the Junior Heavyweight legend eliminate LIJ? Or will the Black Mask y El Inmortal stay alive for one more round?
The teams sort out, Eagles calls out Titan, so LIJ fist bumps. Fans applaud as Titan and Eagles circle. They tie up, Eagles wrenches an arm to a wristlock, but Titan rolls, handsprings and wrenches back. Eagles endures the wristlock now, but he uses the ropes to flip through and wrench back. Titan endures now, rolls, kips up and bridges to then handspring and wrench back! Fans rally as Titan wrenches again. Titan whips corner to corner, Eagles reverses but Titan goes up and over to handspring away. Fans cheer and things keep moving. Titan jumps over, whips Eagles but Eagles reverses to go up and around and arm-drag! But Titan handstands walks!
Titan rolls, handsprings, and fans fire up as things keep moving. Titan hurdles, Eagles counters the arm-drag to a takedown, and then he handsprings to basement dropkick! Fans cheer the opening exchange as Eagles covers, TWO! Eagles keeps on Titan, brings him over, and bumps him off buckles. Tag to Tiger and he KICKS and KICKS and KICKS Titan down! Tiger stomps Titan, brings him up and ROCKS him with a forearm. Tiger runs but Titan DROPKICKS him in return! Fans rally and Titan rolls to tag in Bushi! Bushi stomps Tiger, bumps him off buckles, then CHOPS! And CHOPS again!
Bushi pushes Tiger out, turns him, and hits a NECKBREAKER! Cover, TWO! Bushi goes after Tiger's mask! The ref reprimands, Bushi stops going after the laces to pull at the chin! The ref reprimands and counts, Bushi stops at 4. Bushi stomps Tiger down, then he tags in Titan. Titan climbs while Bushi drags Tiger up. Bushi wrenches an arm and Titan DOUBLE STOMPS it! Titan kicks Tiger around, then mule kicks him. Titan snapmares Tiger to PENALTY KICK! Fans rally and Eagles coaches Tiger, but Titan stands Tiger up. Tiger throws body shots, then throws KICK after KICK! Titan blocks a kick but Tiger SPIN KICKS him away!
Fans rally, Tiger rolls and hot tags Eagles! Eagles springboards up and over Titan, BLASTS Bushi, then RANAS Titan! Fans fire up as Eagles WHEEL KICKS Titan and kips up! Titan bails out, Eagles builds speed, but Bushi trips Eagles up! Titan mule kicks Tiger, CLUBS him down and gets back in the ring. Titan KICKS Eagles while he's down, then he tags Bushi. Fans rally as LIJ mug Eagles, then double whip him corner to corner. Bushi runs in to back elbow Titan, and then sets up for INMORTAL IN MOTION! Feed to a lift, DROPKICK SPINEBUSTER COMBO! Cover, TWO! Fans rally up but Titan BLASTS Tiger!
Fans rally up as LIJ loom over Eagles. They kick Eagles around, drag him up and double whip again. Eagles reverses to send Bushi away and then he knees Titan low. Bushi returns and Eagles sends him into Titan! Titan falls, Eagles mule kicks Bushi then runs, BASEMENT DROPKICK BLINDSIDE LARIAT COMBO! Fans fire up while all three men are down! Eagles crawls for his corner, hot tag to Tiger! Tiger goes up top and CROSSBODIES Bushi down! Titan CLUBS Tiger, holds him up, but Tiger BOOTS Bushi and KANGAROO KICKS Titan! Bushi returns, into a tilt-o-whirl BACKBREAKER! Cover, TWO!
Fans rally as Tiger brings Bushi back up. Tiger underhooks Bushi but Titan runs in! Tiger mule kicks Titan, Eagles runs in to KICK, and then DOUBLE ROUNDHOUSES take Titan down! Fans fire up and Bushi fires forearms on both Flying Tigers! Bushi fires off on Tiger, but Eagles SOBATS Bushi! Eagles cravats Bushi and Tiger gives him a boost into the ASAI DDT! Roll and feed to the underhooks, TIGER DRIVER! Cover, Titan breaks it! Eagles throws Titan out and Tiger goes to a corner. But Titan POSTS Eagles! Tiger reaches the top but Titan attacks him first! Titan ROCKET LAUNCHES Tiger off the corner!
Bushi crawls to the LIJ corner, hot tag to Titan! Titan roars, fans fire up, and Titan springboard MISSILE DROPKICKS! Titan drags Tiger up, reels him in and suplexes for the GOURD BUSTER, to a SUPERKICK! Cover, TWO! Tiger is still in this and fans rally up. Tiger goes to a corner, Titan powers up and runs in, LOCO- NO, Tiger BOOTS Titan away! Then crucifix takedown! TWO!! Into the REVERSE DOUBLE ARMBAR!! Titan endures, flails, Eagles intercepts Bushi into the RON MILLER SPECIAL!! But Titan gets the ROPEBREAK! The Flying Tigers let LIJ go and Eagles kicks Bushi out.
Eagles rallies the fans and he joins Tiger in bringing Titan up. The Flying Tigers double whip Titan to a corner, Eagles goes to the apron. They both run in, ENZIGURI ROUNDHOUSE COMBO! Fans fire up as Tiger brings Titan up to the top rope. Bushi rushes in but Eagles springboards and missile dropkicks the legs out! Tiger climbs up after Titan, underhooks the arms, and fans rally up! SUPER BUTTERFLY SUPLEX! Cover, TWO!! Titan survives, but Tiger has a KIMURA! Titan endures as Tiger also traps his head! Bushi barrels through Eagles to break it up! Fans rally as Bushi fires forearms on Eagles.
Eagles knees low, Bushi ducks a roundhouse to spin Eagles into a DDT! Tiger fires off on Bushi, knees low and SOBATS! Tiger runs, but into a DROPKICK! Bushi runs to BLAST Eagles! Then Bushi builds speed to DIVE onto Eagles! Fans fire up and Titan roars! Titan drags Tiger up, reels him in to a fireman's carry, and spins for the LANDSLIDE! Cover, TWO!! Tiger survives again and fans fire up! Bushi returns as Tiger goes to a corner. Titan runs in, LOCO LARIAT! Bushi hits the CODE BREAKER! Titan springboards, but slips! Angel Inmortal is more a diving headbutt botch! Bushi hurries to get Titan back up and Titan resets.
Bushi watches Eagles while Titan COAST2COAST dropkicks Tiger!! Cover, LIJ wins!
Winners: Bushi & Titán, by pinfall (gain 2 points; Eagles & Tiger earn 0)
It wasn't pretty, but it was effective! LIJ stay alive for another round, will they make the Super Jr. Tag League finals tranquilo?
Super Jr. Tag League 2022: Alex Zayne & El Lindaman VS Ace Austin & Chris Bey!
The #SAUCEHEARTS holds their fate in their own hands! If they win, they take over the top spot! If they lose, their bubble bursts right before the end! Can Zayne & Lindaman stop the Inevitable? Or will Ace & Bey keep things Too Sweet?
The teams sort out, Zayne steps up and calls out his former friend, Ace. Ace & Bey Too Sweet and then point finger guns at Zayne. Lindaman says, "Boo~!" but Ace starts against Zayne. The fans rally as the two stare down, but then Ace tags out to Bey. Bey & Ace laugh at Zayne thinking he was going to get his way. Zayne and Bey circle, fans rally up again, and the two tie up. They go around, Zayne puts Bey on ropes but he stares Ace down. Red shoes counts the break, Zayne lets off with a pat on Bey's shoulder. Bey acts like he's gonna punch, but he just hands Red Shoes some of his gold chains that're coming loose.
Zayne and Bey reset as fans rally up, and Bey gets around to waistlock. Zayne works on the hold but Bey shifts to a headlock. Zayne throws body shots, then elbows, then he powers out, only for Bey to pull on Zayne's beard! Bey laughs and flexes while Red Shoes reprimands. Bey headlocks, but Zayne powers up to put Bey on ropes! Zayne then powers out to wrench Bey's arm. Bey endures the wristlock, but Zayne pulls on Bey's beard! Tag to Lindaman and Lindaman kicks Bey low. Fans applaud as Lindaman wrenches and wristlocks Bey to then YANK the arm! Lindaman YANKS the arm again, and he keeps Bey from Ace.
But Bey pulls Lindaman's hair! Red Shoes reprimands but Bey knees Lindaman low, tags Ace, and Bullet Club mugs Lindaman. They double whip Lindaman corner to corner, Bey runs in but Lindaman picks Bey up! AIR RAID CRASH! Ace runs in and knees low. Ace whips, Lindaman reverses and SAYANAGIS! Then BASEMENT DDT! Fans fire up with Lindaman and he looms over Ace. Lindaman drags Ace, scoops him and SLAMS him, then rallies the fans as he goes to the corner. Lindaman runs, stomps and goes to the other corner! Fans fire up as Lindaman climbs, but Ace wants Red Shoes to check him. This is a distraction so Bey can trip Lindaman up!
Ace hobbles over and tags in Bey. Bey BLASTS Zayne, then he and Ace double whip Lindaman! POMMEL KICK, and then FINESSE IN MOTION! Bey feeds Lindaman to Ace's drop toehold and Eddy Gordo Kick! Bey DOUBLE STOMPS Lindaman down! Bey stands on Lindaman in a cocky cover, TWO! Fans applaud while Bey drags Lindaman up. Bey ROCKS Lindaman, drags him up again, and then CLAWS Lindaman's eyes! Red Shoes counts, Bey lets off and pretends he can't hear the fans rallying up. Bey KICKS Lindaman in the side, then coordinates with Ace. Bey bumps Lindaman's face off Ace's boot!
Red Shoes reprimands while Bey tags Ace. Bullet Club double wrench Lindaman, double CLAW his back, then double drop toehold to Too Sweet CLAW his back! Fans applaud while Ace stomps Lindaman. Cover, TWO! Fans applaud more, Ace stomps Lindaman more. Ace CHOKES Lindaman with his shirt, then drags Lindaman up to gut wrench suplex! Ace stands on Lindaman before a LEG DROP! Cover, TWO! Ace KNEES Lindaman in the back, and again, but Lindaman gets up to ROCK Ace! And again! But Ace NORTHERN LIGHTS! Bridging cover, TWO! Ace drags Lindaman up and tags in Bey.
Bullet Club mugs Lindaman, double whip him to ropes but Lindaman holds ropes. Ace runs in but Lindaman steps aside to send him tumbling out! Bey runs in but Lindaman puts him on the apron. Bey holds onto Lindaman to keep him from Zayne, and Bey shoulders in. Bey slingshots up and over, but Lindaman CLOBBERS him! Fans fire up, hot tag- NO, Ace trips Zayne off the apron! Bey CLOBBERS Lindaman while Ace stomps Zayne. Bey snapmares and UPPERCUTS Lindaman in the back. Cover, TWO! Bey argues the count while fans rally up. Bey sits Lindaman up for a chinlock and grinds him down.
Fans rally as Lindaman endures. Lindaman fights his way up, throws elbows, but Bey CLUBS Lindaman down! Tag to Ace, and Ace brings Lindaman around, DOUBLE SWEEP COMBO! And then the STANDING MOONSAULT LEG DROP COMBO! Cover, TWO! Fans rally up while Ace grows frustrated. Ace drags Lindaman up, whips him hard into the corner, and Bey CHOKES Lindaman while Ace distracts Red Shoes with talk about Zayne. Red Shoes keeps them apart, and then Ace goes over to Lindaman. Ace tags Bey, drags Lindaman up, and Bey takes a crane stance. Bey crane steps to then poke Lindaman in his eyes!
Fans applaud while Bey crane steps around. Bey drags Lindaman up, reels him in, and says he's gonna give us three amigos. But Lindaman blocks the first amigo! Bey throws body shots, then a knee! Uno Amigo! Then Dos Amigos! Then THREE AMIGOS! Bey kips up and fans applaud. Bey goes up the corner, fans fire up, and Bey mocks Zayne with "ITADAKIMAAASU~!" MOONSAULT, but Bey has to roll through when Lindaman moves! Lindaman runs in, gets around, kicks Bey's legs out then dropkicks him in the back! Fans fire up while both men are down, hot tags to Ace and Zayne! Zayne fires off hands on Ace, then spins him for the DISCUS LARIAT!
Fans fire up as Zayne storms up on Ace, fires off boxing elbows, then mule kicks! Zayne runs but Bey runs in to SOBAT! Bey whips, Zayne ducks 'n' dodges, then he DOUBLE RANAS Bey & Ace! Fans fire up and Zayne swings, but Bey catches him! Ace runs up but Zayne BOOTS him! Zayne elbows free of Bey to knee him low, then he runs again, DOUBLE ROLLING SCISSOR KICK! Fans fire up again as Zayne focuses on Ace. Zayne stalks Ace, drags him from the corner, and he pulls the kick pad away from the boot! Ace kicks Zayne away, but Zayne blocks the roundhouse! Zayne drags Ace down and Ace desperately claws for the ropes! ROPEBREAK!
Zayne holds on but Bey drags Ace out to safety. But then Lindaman runs in and he uses Zayne as a boost to SOMERSAULT SENTON out onto Bullet Club! Fans fire up with that direct hit, and Zayne waits on them to stand back up. Fans rally, Lindaman drags Ace up for Zayne and puts him in. Zayne drags Ace up, reels him in, but Bey SUPERMAN PUNCHES Lindaman! Zayne suplexes, Ace slips out and goes to ropes. Zayne runs in, he blocks Ace's boot and flips him to the apron. Bey gets up to join Ace, Zayne runs in but he gets DOUBLE KNEES! Ace & Bey dump Zayne out, and then Bey gets in to build speed. Bey FLIES and takes out Zayne!
Lindaman swipes at Ace but Ace handsprings up and over! Ace PENALTY KICKS Lindaman down! Ace and Bey get Zayne up, Ace slingshots in and kips up to build speed! THE FALL TO GLORY! Fans fire up for the Fosbury Flop and Bey says that was great! Ace puts Zayne in the ring, fans rally up and Bullet Club sees Zayne go to the corner. Bey sets up, but Zayne ducks the pommel kick! Zayne BOOTS Bey, puts Ace in the corner to ELBOW, then he hoists Ace up top. Bey runs in but is sent into Ace's knees! Zayne uses Bey to get up and SUPER STEINER Ace! And GERMAN SUPLEX Bey onto Ace! Fans fire up as Zayne drags Ace up.
Zayne scoops for the BAJA BLAST! Cover, TWO! Ace survives but Zayne keeps his focus. Lindaman returns, he and Zayne coordinate. Lindaman drags Ace up and Zayne goes to the corner. Lindaman hits KUMAGOROSHI, and Zayne shouts "ITADAKIMAAASU~!" Zayne climbs up, but Bey GAMANGIRIS him down! Lindaman storms over but Bey GAMANGIRIS him, too! Ace hits a BIG back suplex on Lindaman, and Bey climbs up after Zayne. Zayne is reclined along a top rope, Bey DOUBLE STOMPS him down! Bey drags Zayne up and torture racks! Ace steps in to FLYING CHUCK and Bey spins to RACK NECKBREAKER!! Ace covers, TWO!?!?
Fans are thunderous as Zayne survives! Bullet Club grows frustrated, but they decide to bring out the trump card. But Lindaman BOOTS Ace! And ROCKS Bey! And ROCKS Ace! Lindaman fires off on Bey, then BOOTS Ace! Lindaman whips but Ace reverses. Bey SPLASHES Lindaman, hoists him up top, and then Ace goes up top with Bey. They bring Lindaman up, but Zayne CLUBS them first! Zayne adds on now, for a TOWER OF DOOM, DOUBLE POWERBOMB SUPERPLEX!! Fans fire up as all four men are down! They all stir, and Bey slowly rolls out of the ring, as does Lindaman. That leaves Zayne and Ace alone.
Zayne crawls over to Ace, and Ace SLAPS Zayne! Zayne SLAPS Ace, and they SLAP back and forth! Then they throw forearms back and forth! Fans rally as the two fight up to their feet to throw more forearm shots! Ace gets the edge, knees low then swings, but Zayne spins him! Ace blocks the lariat, Zayne blocks the kick! Zayne ducks a kick to wrap Zayne up! TACO- NO, Ace slips out! Ace KNEES, KNEE LIFTS and HEEL KICKS! Zayne wobbles, Ace runs, THE FOLD!!! Cover, LINDAMAN BREAKS IT!! Fans are thunderous as Lindaman waistlocks Ace and deadlifts! Bey saves Ace to PELE Lindaman!
Fans fire up, Bullet Club coordinates, ONE TOO- NO, Lindaman catches the cutter to GERMAN SUPLEX! Bey lands on his feet, but Lindaman GERMAN SUPLEXES! Zayne kips up, Ace BOOTS him, but Zayne ducks the roundhouse! Lindaman GERMAN SUPLEXES! DOUBLE BRIDGE!! SAUCEHEARTS WIN!!!!
Winners: Alex Zayne & El Lindaman, by pinfall (gain 2 points; Ace & Bey earn 0)
INCREDIBLE! The top team falls, and now we have a NEW top team! Can the Bullet Club still have an impact on the Super Jr. Tag League finals?
Here are the NEW
Super Jr. Tag League

standings!

Zayne & Lindaman: 6-2, 12 points
Austin & Bey: 6-2, 12 points
Bushi & Titan: 6-2, 12 points
TJP & Akira: 6-2, 12 points
Yoh & Lio: 6-2, 12 points
Taguchi & Connors: 3-5, 6 points [ELIMINATED]
Eagles & Tiger Mask: 2-5, 4 points [ELIMINATED]
Douki & Kanemaru: 3-5, 6 points [ELIMINATED]
KUSHIDA & Knight: 1-7, 2 points [ELIMINATED]
Sho & Dick: 1-7, 2 points [ELIMINATED]
---
My Thoughts:
A great event for the Super Jr. Tag League, and I am surprised that we still have FIVE teams, aka half the block, still alive going into the final round! Hilarious stuff from Wild Hips VS Yoh & Lio with the beer and the references to The Rock, Stone Cold and I suppose Triple H. Douki & Kanemaru getting a win over Sho & Dick was great, even if it didn't affect the finals. Eagles & Tiger gave LIJ a great match but LIJ was the team I expected to win out. I did not, however, think #GLEATSAUCE #SAUCEHEARTS Zayne & Lindaman were gonna get this one, and that is great stuff. It is revenge on Ace for him betraying Zayne and joining Bullet Club, and keeps him and Lindaman alive.
Now, three of the five matches on Friday the 10th matter, with LIJ VS Yoh & Lio, Zayne & Lindaman VS Douki & Kanemaru and Catch 2/2 VS Ace & Bey. Yoh & Lio have a "win and they're in" scenario for having beaten SAUCEHEARTS and Bullet Club, and they'd eliminate LIJ from the running. And for LIJ, they beat Catch 2/2, who beat everyone else, but they lost to Bullet Club. Ace & Bey would have to lose for LIJ to get in, but then I think that gives us LIJ VS Catch 2/2 for the finals. That match-up seems to fit the story, but I wouldn't mind another scenario just so we don't get LIJ VS Catch 2/2 before a potential WrestleKingdom title match.
My Score: 8.8/10
Mitchell's AEW Dynamite Results & Report! (12/7/22)
The best tag teams collide!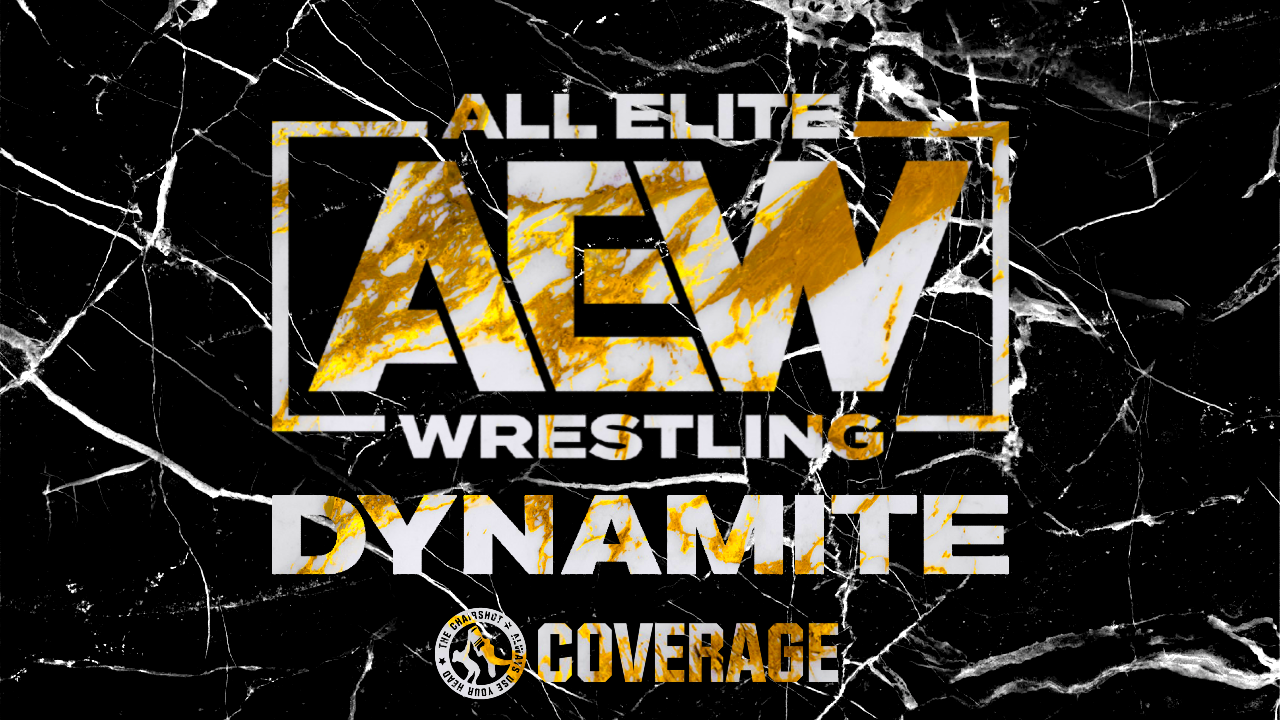 Will The Acclaimed hold onto their forever reign?
In an epic clash, The Acclaimed defend their AEW World Tag Team Championships against the THREE BELT CHAMPIONS, FTR! Will Cash Wheeler & Dax Harwood move up to FOUR belts tonight?
OFFICIAL RESULTS
Dynamite Diamond Ring Battle Royal: Ricky Starks wins and will challenge MJF for the Dynamite Diamond Ring.
AEW TNT Championship: Samoa Joe VS Darby Allin; Joe wins and retains the title.
Jake Hager & Daniel Garcia VS Claudio Castagnoli & Wheeler Yuta; Claudio & Yuta win.
Six Woman Tag: Jade Cargill & The Baddies VS Madison Rayne, Skye Blue & Kiera Hogan; Jade & The Baddies win.
AEW World Tag Team Championships: The Acclaimed VS FTR; The Acclaimed win and retain the titles.
PLAY BY PLAY
Dynamite Diamond Ring Battle Royal!
Another year, another battle for that coveted $150,000 diamond ring! But things are a little different, as Maxwell Jacob Friedman, our NEW AEW World Champion, has the prerogative to not participate in this match. Instead, think of this more as a #1 contender's battle royal with the winner getting to choose when and where they face MJF for that ring. Ricky Starks vows that when he wins this match, he'll make next week's title match into a Winner Takes All! Will this be an Absolute Victory for Ricky Starks? Or will someone else in this crowded field take that diamond ticket instead?
Fans go wild as Starks makes his entrance, and then they go wild as "Jungle Boy" Jack Perry makes his entrance. We already have Brian Cage, The Butcher, The Blade, Orange Cassidy, Captain Shawn Dean, Matt Hardy, Ethan Page,  Lee Moriarty, W. Morrissey, Kip Sabian, Dalton Castle and The Boys at ringside, but wait! Here comes The Natural, Dustin Rhodes! Fans fire up for the hometown hero, the bell rings, and everyone rushes into the ring! Well, almost everyone as Kip plays things a bit more shrewdly, and even Castle & The Boys wait as things sort out. Cassidy takes his time because that's just the way Freshly Squeezed rolls.
The Butcher brawls with Dean, The Blade is after JB and Dustin is on Hardy while The Firm's All Ego and #TAIGASTYLE mug Starks. Castle slides in to help Starks out, and Kip yanks Cassidy out under the bottom rope, wanting to continue things from Rampage's All-Atlantic Championship Lumberjack Match! Kip RAMS Cassidy into railing! Ethan bumps Castle off buckles and Starks turns things around on Moriarty. Ethan CHOKES Castle while The Boys protest. Castle hits Ethan back, Moriarty turns things around on Starks to rain down fists. Starks stops that and hits an atomic drop! Hardy helps Ethan by going after Castle.
Dustin digs his boots into Ethan while Hardy dribbles Castle off buckles. Kip throws Cassidy around ringside, Dustin bumps Ethan off buckles. Dustin CHOPS Ethan, Cassidy turns things around on Kip but Kip sends Cassidy into the apron! Fans rally for Starks, Castle gives Hardy a raspberry? Dustin ROCKS Butcher, Dean throws hands on Cage. Kip and Cassidy are finally in the ring and Cassidy bounces Kip off buckles. And again! And again! Butcher CLUBS Cassidy down! Butcher and Kip work together on Cassidy but he kicks at them. Cassidy gets free, dodges Kip, and runs in at Kip, only for Kip to send him up and out!
Cassidy holds onto the ropes, but Kip BITES one of Cassidy's hands! Cassidy still skins the cat to headscissor Kip! Kip resists, pushes Cassidy away, but Cassidy hits him back! Blades sucker punches Cassidy and drags him off! Blade ELIMINATES Cassidy, then POSTS him! Fans boo but the damage is done and Kip is all smiles. Dustin runs at Kip and hits a DESTROYER! Dustin clotheslines Kip up and out to ELIMINATE him! Fans fire up but then Butcher CLUBS Dustin! Butcher fires off hands but Dustin gives them back! They brawl with haymakers but Butcher knees low! And again! Butcher fireman's carries but Dustin fights free!
Dustin is on the apron, he throws hands on Butcher while fans go nuts over Starks narrowly avoiding elimination at the hands of Matt Hardy! Dustin ROCKS Butcher, Hardy kicks at Starks. Moriarty is after Castle in a corner while Butcher rakes Dustin's eyes! Butcher CLOBBERS Dustin and ELIMINATES him! Fans boo but Blade high-fives with Butcher while staying safe on the outside. Butcher fires off on Dustin, Cage throws Castle out! Cage KNEES Castle off the apron, but The Boys catch him! Cage ROCKS Castle again, the Boys keep Castle up again! And again! They carry Castle to safety on the other side of the ring!
But Cage is there! Cage swings, Castle ducks to ROCK Cage back! Castle gets in safe, but Cage scoops him! Cage TOSSES Castle out onto the Boys and ELIMINATES him! Fans boo but JB DROPKICKS Cage out of the ring! Cage  stays on the apron, he ROCKS JB in the ropes, suplexes him, but JB slips out to waistlock! Cage elbows JB away, but JB SUPERKICKS Cage! Meanwhile, Starks is fighting off both Hardy and Ethan Page! He gets them to back off, before he DOUBLE AX HANDLES them both down! JB goes up a corner, he leaps at Cage, APRON METEORA! JB ELIMINATES Cage! Prince Nana is furious but fans are fired up as AEW goes picture in picture!
JB checks his leg as he gets in the ring. Moriarty is right on JB by pulling his hair! Moriarty UPPERCUTS JB, has him in a corner, and digs his boots in! Ethan stomps Dean while Hardy rushes Butcher. Butcher dumps Hardy but Hardy holds the ropes! Hardy fights his way back in, he CLUBS Butcher down, and Ethan applauds. The Firm give Hardy thumbs up as Hardy picks Butcher up and works to dump him out! Butcher holds on while Moriarty stomps Starks and Ethan keeps on Dean. Butcher fights off Hardy, then catches his breath leaning against ropes. Ethan makes Starks look at the camera before he CLUBS him down!
JB CLUBS Ethan! Moriarty full nelsons JB but JB elbows him away. JB digs a boot into Ethan and Starks joins in! They let off, drag Ethan up, and they work together to pick Ethan up! Ethan fights and Hardy helps Ethan for The Firm. Hardy bumps Starks off buckles again and again and again! JB fights Ethan off while Hardy shouts, "DELETE! Dean turns things around on Moriarty JB stomps Ethan then CLUBS Butcher. Dean scoops and SLAMS Moriarty while Hardy tries to throw Starks out again. But Starks drags Hardy up and over instead! Hardy dangles but so does Starks! Dynamite returns to single picture as Ethan hurries to save Hardy!
Starks fights Hardy but Ethan HOTSHOTS Starks! Starks sputters, Hardy gets in safe. Butcher fights off JB and Dean, but Dean fights him with forearms. The Firm all mug Starks, but fans rally up behind Starks. Starks fires off on Butcher while he can but Butcher ROCKS Starks! Starks runs to BLAST and ELIMINATE The Butcher! But then The Firm jumps right on him! Moriarty throws Starks out but Starks stays safe on the apron. Starks ROCKS Moriarty, JB runs in to RANA Moriarty up and out to ELIMINATE him!! But Morrissey BOOTS JB while he's hanging on, and that ELIMINATES JB!!
Fans boo, Morrissey isn't even really in this match! But Moriarty & Morrissey aren't done with JB, either, as they drag him up, APRON CHOKE SLAM!! Hardy meanwhile hits Dean with a SIDE EFFECT! The refs reprimand, Moriarty and Morrissey back off, leaving Ethan, Hardy, Starks and Dean as our final four. Hardy drags Starks up to give him a SIDE EFFECT! Fans boo, but then Ethan tells Hardy to stop doing his V1 and raise Ethan's hand in victory. But Ethan hasn't won yet! Hardy says, "DELETE! DELETE! DELETE!" and then Ethan tells him to get Starks up. Hardy does as told, The Firm mugs Starks, and then they put him on the ropes.
Starks holds on as both Hardy & Ethan lift, but Dean makes the save! Dean fires off hands on Ethan! Hardy goes after Dean, but Dean fires off hands on Hardy! Dean UPPERCUTS Hardy but Ethan CLUBS Dean! Ethan whips Dean, Dean gets around, FLOAT-OVER DDT! Dean kips up and fans fire up! Stokely is upset but Dean drags Ethan up to throw him up and over! Ethan holds on desperately and Hardy kicks Dean! TWIST OF FATE! Ethan shouts to throw Dean out and Hardy tells Ethan to do it. Ethan says fine, he drags Dean up and tosses Dean to ELIMINATE him! Fans are thunderous as now Starks is 2v1 against The Firm!
Ethan tells Hardy to do his job and help him win. Hardy shouts, "DELETE! DELETE! DELETE!" But he BLASTS Starks! The Firm mugs Starks and fans boo hard as ever! Ethan feeds Starks to the facelock, TWIST OF- NO, Starks shoves Hardy up and out to ELIMINATE him! Ethan fires off on Starks, it's just the two of them now! Starks wrenches and TORNADO DDTS!! Fans are thunderous as Starks is electric! He runs in but Ethan dodges the Spear! ROUNDHOUSE! Ethan snarls, he drags Starks up, fireman's carry, but Starks RANAS Ethan out! STARKS WINS!!
Winner: Ricky Starks (#1 contender to the Dynamite Diamond Ring)
But to rain on the parade already is MJF! The AEW World Champion and #TripleB, the Big Burberry Belt, are here with a mic as fans boo hard as they can. The fans then cheer on Starks and MJF smirks. MJF tells Starks, "I'll be with you in one second." MJF then says, "Bryan Danielson, a little birdy told me you didn't wanna show up tonight, and I think I know the real reason why. The real reason why is because you're terrified of me. And I don't blame ya, bud. After what I did to your boy, Willy Reegs, I'd be scared, too."
Fans boo but MJF says, "Because I'm a bad, bad man. And that's why in a week from now, I'm gonna be a FOUR-TIME, FOUR-TIME, FOUR-TIME, F-F-F-FOUR-TIME beautiful Dynamite Diamond Ring Champion. And I will still be the holder of the grandest prize of 'em all, the Triple B, baby! Now Richard, people seem to really like you around here, huh?" Fans cheer Starks on again, and MJF says "They talk about you like you're some underutilized god of professional wrestling. And trust me, you are very talented, you really are. But you wanna know the truth, bud? Here's the truth, Absolute." Fans tell MJF to STFU but he just shrugs that off.
MJF says the truth is that in comparison to MJF, Starks is the Absolute drizzling sh*t! Or should MJF say, "You're a roody poo candy ass!" After all, Starks stole literally everything else from that guy. But no offense, Richard, you're just "a Dollar Store Dwayne." So MJF will call Starks "The Pebble." So here's what happens next week in the main event of Dynamite, little Pebble. Fans chant for the "PEBBLE~! PEBBLE~!" MJF says he's gonna put The Pebble in his pocket, hop in his brand new Porsche, because unlike all the "simple-minded humanoids" of Austin, MJF is rich. MJF will drive Pebble to the nearest body of water, take him out of his pocket, and skip "your scrawny little pigeon-toed ass all the way back to Billy Corgan's NWA so you can wrestle on YouTube where you belong!"
Fans boo but Starks just smirks. MJF says "Facts don't care about your feelings, Texas!" But MJF doesn't care that Starks is Absolute, because MJF is a Generational Talent, and his Reign of Terror has only just begun. MJF soaks up the heat and then Starks pushes right past him to get a mic of his own. Fans cheer on Starks but MJF tells them all to shut up. Starks tells "Maxi Pad", which fans now chant at MJF, that he should've expected a fifth-rate Roddy Piper to come out here and try to steal the spotlight. Oh~, he trashed the city! OH~! He trashed the fans! How much more shtick does MJF got? Cuz the low hanging fruit is running dry!
Starks says every week, MJF walks out here smelling like paint thinner and ass, having spray tanned his eczema to where if he took his shirt off, his back would look like he laid on an ant colony for seven hours. MJF has his crappy shoes, pants that are never ironed, a shirt that is too small, that stupid scarf, and that even dumber haircut, and he acts like he's better than Starks?! Give us a break!! Fans are fired up hearing that! "Everything about you screams, 'Cheap.' The cheap suits, the cheap shoes, the cheap heat. Oh my God, and you are our new AEW Champion, huh? Well here's the thing. With that AEW Championship comes a big responsibility that you know nothing about!
"The difference between you and me is that when these people got behind me, I gave them a reason to keep going. When they put faith in you, you let them down. When Regal put faith in you, you let him down. But brother, when it comes to Ricky, I delivery on time, every time, every night, every week, every month! And you can take your little ass to Greece for three months because oh~, you didn't get paid enough! Oh~, you got out politicked by somebody smarter than you! But the fact remains is that I've been here, busting my ass. You wanna talk responsibility? Let's talk about the fact that you avoid responsibility! You avoid any type of pressure.
"I show up to sign meet 'n' greets, where you, you don't care! You just blow it off because hey! Everybody hates Max, so he has nothing to lose, right? Yeah, well, guess what, buddy? There comes a lot of responsibility when it comes to people actually liking you. And beside your nose being a lot darker than the rest of your body, me on the other hand, I live with dignity, I live with respect. You know nothing about that! When I lived in my car in South Austin, guess what I was doing? I was grinding! I knew the responsibility of taking care of myself! When it comes to that woman right there, it's MY responsibility to get her a car, to get her a house.
"And you think because you paid people, because you kissed ass, that Maxwell 'I'm better than you,' you can get whatever you want? Please, gimme a break." Fans are all fired up! Starks tells MJF that next week is a BIG deal. Starks is putting up and shutting MJF up for once in his miserable, narcissistic, punk-ass little life! MJF doesn't deserve the title but Starks does! Wrestling on YouTube? Guess what? Been there, done that, busted his ass to get here! He never needed a name to make it here, and he doesn't need one to beat MJF's ass! He is Ricky Starks, he is stand ten toes down right here.
Next week, Starks smacks that mole of MJF's neck, stomps a new hole right into MJF, and then he takes that title! Fans are thunderous for Starks as he says he's doing MJF a favor he's never had done in his life: Starks takes the responsibility off this "little boy's" plate. MJF LOW BLOWS Starks! Fans boo as MJF takes off the belt, the scarf, and brings out the Dynamite Diamond Ring. MJF puts the ring on, takes aim, and fans shout "F YOU MAX!" But Starks dodges to SPEAR!! Fans are THUNDEROUS as MJF falls out of his shoes and then falls out of the ring! Starks holds up the world title, will he be holding that and the Dynamite Diamond Ring at the end of Winter is Coming?
Darby Allin speaks.
"May 12th, 2021 was when I lost the TNT Championship. From that time 'til now, I feel like a lot of people have all said to me, 'Darby Allin is being slept on. Darby Allin is forgotten about.' Well it's up to me to wake everyone up, and I'm gonna win that TNT Championship. I said that this crowd chants one thing, 'Joe is gonna kill~ you.' Well Joe, you're gonna have to bury me with that TNT Championship, because I am not leaving Austin, Texas without it."
Samoa Joe responds.
"Darby Allin, the curious little dead boy. I know exactly what you see when you look at me. You see a crucible that you wanna put yourself through. You see the violence that I inflict and you say to yourself, 'That is a trial I can endure.' Well, Darby, tonight you're gonna learn that curiosity has a price that is about to get real expensive." Will the Relentless Underdog put it all on the line just to get back that title? Or will he fail to dethrone the King of Pro-Wrestling Television?
Jon Moxley speaks.
"You think last week got a little outta hand? I don't. In fact, I'm starting to really, really like The Cowboy, Hangman. Because he fell off his horse, dusted himself off, and got right back in the saddle, and he did his talking with his fists. There's not enough of that around here. There's too much talking. This is All Elite Wrestling, not All Elite Talking. There is no Blackpool Microphone Club. This is COMBAT! This is the sport of kings! Tonight, myself, Wheeler, Claudio, this Weekend at Final Battle, this Friday night on Rampage, we bring back 100 proof, in-your-face, ass-kicking wrestling! Jericho Appreciation Society. I'm so over the Jericho Appreciation Society.
"I'm gonna be out there tonight, just to make sure there's no sports entertainment shenanigans. And this weekend, we put the JAS in our rearview mirror for good! Hangman Page, you want another piece? You know where to find me." The Maniac heads out, but will he be able to focus on the JAS with the Cowboy coming for him?
AEW TNT Championship: Samoa Joe VS Darby Allin!
#TwoBeltJoe has been intimidating and brutal even when he's had no belts. How much more vicious will he become in order to keep his throne as King of TV?
The introductions are made, the TNT title is raised, and we see if Darby wins, or even survives!
The bell rings and fans rally as Darby and Joe stare down. Fans do sing, "Joe is gonna kill~ you!" Joe steps up to Darby, daring him to do something. So Darby fires off fast hands! Joe puts Darby in a corner, but Darby dodges him to fire off hands again! Joe shoves Darby away, but Darby SHOTGUNS Joe out of the ring! Darby keeps moving to DIVE, but Joe casually moves aside and Darby crashes into railing! Joe grins as he goes back for Darby while fans lose their minds. Joe CLUBS Darby, drags him up, and sits him on the apron to then SWING him into the railing! And SWING into the apron! And back into railing!
Fans are torn but Joe soaks it all up. Joe goes back for Darby, and he tears up the floor mats! Joe drags Darby up and smacks him off the apron. Darby flounders around in a daze, but Joe drags him back up. Joe puts Darby in the ring, just to drag him out after refreshing the ring count. Joe then hits Darby with a BIG back suplex to the floor! Darby writhes, but at least that was a padded part. Joe refreshes the count himself now, and he drags Darby back up. Joe brings Darby to the bare patch now, and fans boo while the ref counts. Darby fights the lift but Joe still gets Darby up! Darby bends Joe's fingers to get free!
Darby runs in, but Joe POWERSLAMS Darby to the bare concrete!! Joe shouts at Darby, "Do you wanna die, Darby?! HUH!?!" The ref checks Darby while AEW goes picture in picture.
Joe leaves Darby behind while he clutches an arm and his ribs. Joe returns, having refreshed the count, and he puts Darby in the ring. Joe stalks Darby, mockingly applauds, and then drags Darby up. Joe CHOPS Darby and he flops down into a corner. Joe stands on Darby's neck, the ref counts, and Joe lets off at 4. Joe smirks as he paces around. Darby drags himself up in a corner but not very far. Joe drags Darby up but Darby throws body shots! Darby runs, but Joe CLOBBERS him with an elbow! Joe is fired up and he drags Darby into a neck wrench! Darby endures, even as Joe looms over him. Joe throws Darby down but fans rally up.
Darby flounders about and it amuses Joe. Darby kicks back, manages to kick harder, and he BOOTS Joe away! Darby stands to throw more body shots, but Joe HEADBUTTS Darby down! Joe snarls, he drags Darby back up, and he dumps Darby to the apron. Joe drags Darby up as Dynamite returns to single picture. Joe JABS Darby, and then runs him side to side to POST him! Fans lose their minds again and Joe pretends he can't see where Darby went. Doc Sampson checks Darby and the ring count starts. Fans count along while Joe just strolls around the ring and flexes. Darby is somehow okay to continue, and he crawls his way over at 5 of 10.
Darby flounders up at 7 and in at 8! Fans cheer but Joe is annoyed. Joe asks Darby what more has to happen. Joe kicks him around, Darby gets mad. Darby SLAPS Joe and it staggers him! Darby runs, gets around, but Joe hits an atomic drop! And then runs to BOOT Darby down! Then he SENTONS! Cover, TWO!! Darby is still in this though he goes to the apron, and Joe can't believe it! But then Joe builds speed! But Joe has to bail out as Darby slides back in! Darby PLANCHAS, but into a fireman's carry! Darby fights free to RAM Joe into steel steps! Darby then goes up the corner for a SUPER COFFIN DROP!! Both men are down and fans are thunderous for "A E DUB! A E DUB!"
Darby staggers about, but he pushes Joe into the ring. Darby keeps moving, COFFIN- NO, the splash is caught to a SLEEPER! But Darby drops to KICK Joe away! Darby slips around, THROWBACK STUNNER!! Joe stays up so Darby hops on, CODE RED!! Cover, TWO!!! Joe survives but Darby has new life! Fans are giving a standing ovation as Joe and Darby rise. Joe goes to a corner, Darby runs in but into the URENAGE! Joe drags Darby up and puts him on the top rope. But Darby claws Joe's face! Joe CHOPS Darby, climbs up after him, and hoists Darby up. But Darby BITES Joe's forehead!! Joe falls back, Darby adjusts, COFFIN DROP!! Into the COQUINA CLUTCH!!!
Darby flails, he reaches out, but the sleeper and body scissors squeezes tight! Darby has a wild look in his eyes, until those eyes roll back! Darby is OUT, Joe wins!!
Winner: Samoa Joe, by submission (still AEW TNT Champion)
Darby fought his heart out, but we are still in the #TwoBeltJoe Era! Darby manages to stand up again, and he says he's not dead! Joe has to put him down for him to stop! Darby dares Joe to keep fighting, but Joe HEADBUTTS Darby down! Joe grabs Darby's own skateboard and he brings it over. Fans boo as Joe scares off the ref with the board! Joe then drags Darby up, puts the board down wheels up, and he puts Darby on the corner. Joe tucks Darby in! MUSCLE BUSTER on the wheels!!! Darby isn't even moving, but Joe still puts the COQUINA CLUTCH back on!! The ref reprimands, more refs rush out but HERE COMES WARDLOW!!
Wardlow rushes to the ring and Joe runs away! Fans cheer on "WARD~LOW! WARD~LOW!" as he reminds Joe that they're not through with each other! Joe moves on to ROH Final Battle to defend his ROH World Television Championship against Juice Robinson, will Joe make it through The Booster only to find Wardlow's World waiting for him?
Backstage interview with Kip Sabian and Orange Cassidy.
Tony Schiavone says there is a No Physicality Agreement in place as these two are here to talk. What is on Cassidy's mind? Cassidy doesn't know what Kip is doing, but he doesn't need to do this. If he wants a title shot, just ask. Kip says, "How convenient, my sweet little Clementine. You wait until an unprovoked attack by Dustin Rhodes. I'm hurt. You just don't want me at my best." Cassidy says if Kip isn't gonna fight this Friday on Rampage, then find someone who can. Kip ponders the idea, and heads out. Cassidy asks Schiavone if that's a yes. Seems so. Then who will crazy Kip find as a Superbad proxy to take on the All-Atlantic Champion?
Chris Jericho speaks.
"Initially, what started out as a deliberate desecration of the legacy of ROH has now led me to become the greatest ROH Champion of all time. Oh, the irony. Claudio, you don't have the belief that you can beat me when it counts and become the ROH World Champion once again. Isn't that true? That is why I'm gonna beat you at Final Battle, and it is why you're gonna have to join the Jericho Appreciation Society. But Claudio, I am telling you this right now, it is going to be the best thing for you. I am looking so forward to taking you under my wing, and most importantly, I am looking so forward to beating you at Final Battle. I'll see you then, Claudio. All Honor The Ocho."
Jake Hager & Daniel Garcia w/ Sammy Guevara VS Claudio Castagnoli & Wheeler Yuta w/ Jon Moxley!
Speaking of the war between JAS and BCC, another battle happens here in Austin! Will "Rock Hard" Hager & the "Dragonslayer" use sports entertainment to gain the momentum before the Final Battle? Or will the Swiss Superman & Decoder use a pro-wrestling solution on their JAS problem?
The teams sort out and Yuta starts against Garcia in a preview of their ROH Pure Championship rematch set for Saturday. They circle, then Garcia tags to Hager. Hager and Yuta circle, but then Hager has everyone hold on. Because he's brings out the purple bucket hat, and throws it to Claudio! Hager says Claudio needs to get used to wearing that. Claudio considers it, he holds the hat up, but then he PUNTS the hat to the crowd! Hopefully Austin likes that hat. Hager KNEES Yuta, CLUBS him, then back suplexes! Yuta lands on his feet, CHOPS Hager, but Hager swings. Yuta dodges but Hager CLOBBERS Yuta!
Hager drags Yuta up, bumps him off buckles and tags Garcia in. The JAS mugs Yuta with a CHOP and some stomps. The ref counts, Garcia digs his boots in but he lets off at 4. Yuta gets up to COHP and forearm and repeat! Garcia CHOPS, Yuta CHOPS, repeat! Yuta whips, Garcia reverses and runs in but Yuta goes up and over. Yuta scoops Garcia to SLAM him, then SENTON! Cover, TWO! Yuta keeps on Garcia with a pull of the ear, then he tags Claudio. BCC double whip and DOUBLE BOOT! Garcia scrambles away, tags Hager, but Hager runs into a drop toehold! Claudio facelocks then armlocks while fans chant, "WE THE PEOPLE!"
Claudio chinbars then goes after an arm, but Hager throws elbows. Hager ROCKS Claudio with rights, whips him corner to corner, but Claudio goes up and over. Claudio hip tosses then covers, ONE!! Claudio keeps on the arm, tag to Yuta, and Yuta climbs up to AX HANDLE the arm! Yuta wrenches, but Hager shoves him to a corner. Hager runs in but into a BOOT! Yuta hops up, leaps and MISSILE DROPKICKS Hager down! Garcia runs in but Yuta slips around, OLYMPIC SLAM! Garcia bails out, Yuta builds speed and Yuta DIVES to take out both Hager and Garcia! Fans fire up as Yuta puts Hager in.
Yuta climbs up, but Sammy distracts! Garcia shoves Yuta off the top and Hager catches him! Claudio protests but Moxley grabs a chair! Hager SLAMS Yuta down while Moxley storms after Sammy. Hager runs to the corner for the HAGER BOMB! Cover, TWO!! Yuta survives, Moxley backs away from Sammy, but Hager tags Garcia in. Garcia and Hager mug Yuta, Garcia throws EuroUppers and forearms. Yuta fights back with forearms and elbows of his own! Garcia kicks low then CHOPS Yuta down! Garcia fishhooks Yuta's face, pushes him down, then argues with the ref. Garcia storms after Yuta, but then sucker punches Claudio!
Yuta headbutts Garcia low! Garcia suplexes, Yuta turns it around to suplex and he puts Garcia up top. Yuta climbs up after Garcia, brings him up, and hits a SUPERPLEX! Both men are down and fans fire up while AEW goes picture in picture! Garcia and Yuta crawl, Moxley coaches Yuta up, but Garcia tags Hager! Hager runs in to BLAST Claudio! Hager bumps Yuta off buckles and digs his boot in! The ref reprimands and counts, Hager lets off, and Garcia CHOKES Yuta while the ref is busy with a protesting Moxley. Sammy also gets a shot in before Garcia lets Yuta go. Hager looms over Yuta, drags him up and chicken wings the arms.
Yuta endures as Hager grinds a shoulder, but fans rally up. Yuta fights up, reaches out, but Hager whips him away from Claudio. Yuta holds ropes then he dumps Hager out! Hager hurries back up to drag Yuta out! Hager RAMS Yuta into railing! And then Hager puts Yuta back in to cover, TWO! Hager hauls Yuta up, tags Garcia in, and the JAS mug Yuta again. Garcia grinds his forearm into Yuta's face, fishhooks Yuta's nose, and he talks trash to the fans. The ref counts, Garcia lets off, and he snapmares Yuta to then mock Claudio's cannon arms. Garcia wraps on a chinlock and he grinds Yuta down. Yuta endures while Garcia pushes up for added pressure.
Moxley and Claudio coach Yuta as he fights his way up. Garcia clinches but Yuta JAWBREAKERS free! Dynamite returns to single picture as both men crawl. Yuta reaches out, but Garcia drags him away! Yuta slips under to ROCK Garcia! Garcia BOOTS Yuta, but Yuta rewinds and slips around, GERMAN SUPLEX! Fans fire up and both men crawl again. Hot tags to Hager and Claudio! Fans fire up as Claudio rallies on Hager with EuroUpper after EuroUpper! Claudio whips Hager to a corner for a BIG uppercut! Then he whips Hager corner to corner for another BIG uppercut! Claudio fires off more EuroUppers, but the ref counts.
Claudio lets off at 4, then jukes to EuroUpper again and again and again! Claudio puts Hager up top, EuroUppers again, then climbs up to join him. Claudio stands on the very top, for a SUPER STEINER! It wasn't the cleanest but it worked! Cover, TWO!! Hager survives but clutches a shoulder. Claudio trips Hager to have the legs! Fans fire up but Garcia hops on with a SLEEPER! Claudio stays up, Yuta climbs, and Claudio SLAMS Garcia down for Yuta's DIVING SPLASH! Fans fire up, but Hager trips Claudio to an ANKLE LOCK! But Claudio turns, BOOTS Hager, only for Hager to lift! Claudio sunset flips through, to get the SWISS SWING!!
Fans count along, Hager goes around and around and around for TEN! Sammy is freaking out as Hager staggers, into a LARIAT! Cover, TWO!! Hager is still in this but Claudio drags him up. Claudio reels Hager in, Gotch Lifts, but Hager back drops! Claudio lands on his feet, dodges, but Sammy stops the springboard! The ref reprimands, but Moxley trips Sammy off the apron! Moxley DECKS Sammy and fans fire up! Claudio finishes the leap, but into a SPINEBUSTER from Hager! Hager has the leg for the ANKLE LOCK! Claudio endures, reaches out, but Hager drags him from ropes! Garcia runs in to intercept Yuta!
Garcia has Yuta's legs for the DRAGON TAMER!! The JAS have double submissions and fans boo! But Claudio rolls to send Hager into Garcia! EUROUPPER! Cover, BCC wins!!
Winners: Claudio Castagnoli & Wheeler Yuta, by pinfall
Fans fire up and Moxley joins his brothers in the club to celebrate! Tony Schiavone joins them all to interview them. He knows they just got a big win ahead of a big night on Saturday, but they have to talk about what happened at Full Gear. Here is an interview Schiavone did with William Regal a few weeks back that might explain some things.
The footage plays and Schiavone talks with his "long time friend," Regal. Regal says it will be 30 years in January. Full Gear was unbelievable, but Schiavone wanted to know about how all that transpired. Regal told Schiavone before that "people are only going to see this if something bad happens to me. And when you're somebody like me, and spent your life being as horrible as I have, you're always expecting something bad to happen." Schiavone says Regal is the Villain of Villains. Well, Regal took great exception to what MJF did to Schiavone. And MJF seems to be made about emails and this and that, so Regal just gave MJF what he wanted.
MJF is world champion now. But do you know that saying, "Be careful what you wish for?" Because now, everyone in the company will be chasing MJF. Regal realized a few months ago that the three veteran members of the Blackpool Combat Club don't need Regal around anymore. He's "surplus to requirements." But he knew they wouldn't let him go, either. But he needed to show them why they don't need him, and why they can teach Wheeler Yuta how to become the greatest professional wrestler in the world, because they've all got that capability. "But you have to lead by example."
So hopefully, and Regal knows he will, because Moxley is a very calculating man, Moxley will understand this. "The reason I did what I did, and to lead by example, was to teach you the final thing that I could ever teach you. Always stay one step ahead, and make sure you always keep eyes in the back of your head. I'm Blackpool Combat Club 'til the day I die. Fellas, it's been emotional." Lord William Regal's message ends, and Schiavone says that was two weeks ago, before what MJF did. He knows they're all a bit speechless, but does anyone have a comment?
Moxley takes the mic to say, "All I know is one thing for sure. The three men in this ring live and breathe for the sport of professional wrestling! You can call us whatever you want, but December 10th, ROH Final Battle, this war with the Jericho Appreciation Society is OVER! These men make a statement. This Friday night on Rampage, I make a statement! I'm gonna challenge any wrestler in the world to come right here in this ring and find out just where you stand on the food chain. This Friday on Rampage, I make a statement! At Final Battle, they make a statement! Pro-wrestling is about to make a serious statement!"
The fans fire up hearing that from Moxley, but who will step up to his Open Challenge? And can Claudio and Yuta both take back the ROH titles to restore that honor to those championships?
The House of Black speak.
Malakai says, "This company has allowed itself to be corrupted. Corrupted by people that point fingers at others while still holding the shovel in their hands that they used to dig the graves for others. And now, it is sick and it is dying. And perhaps it is time for myself and the House to… put down this corruption. Ms. Hart, what is the crime?" Julia steps out from the shadows to say, "The crime is treason." Malakai asks "Mr. Matthews, what is the verdict?" Buddy walks out from the shadows to say, "Verdict: War." "And Mr. King, what is the sentence?" Brody walks out to say, "It as if you throw a side of beef to a pack of wild dogs. We will tear the meat from the bone. The sentence is extermination."
Malakai says it has been decided. "To anyone that has an issue with what we have done over the past two weeks, or anything that's been said here, well next week Wednesday, come one, come all." The House of Black drifts into the shadows, who will be the first to be torn apart?
AEW returns with Jamie Hayter's sit-down interview.
Tony Schiavone sits with the undisputed AEW Women's World Champion, and he notes that last week, she asked the question, "Why not a sit-down interview with me?" Well, here we are, and the floor is hers. Hayter says Saraya got a sit-down, cool. Toni Storm got one, alright. But not with Hayter? That baffles her. So no, Schiavone, you ask her something. What does he wanna know? Well, Schiavone notes the AEW Women's Division has been blossoming. Great competitors are showing up, and this week on Rampage, we will see Hikaru Shida VS The Bunny for Shida's Regina di Wave Championship. What are Hayter's thoughts on the division?
Hayter says it is getting "interesting." But unfortunately for everyone else, Hayter is on top now. And everyone is trying to grind their way to the top to get her title. She will do her duty as champion to be both reigning and defending. Hayter will have a very, very close look at that Regina de Wave title match on Rampage. "Thing is, it doesn't really hold a candle to the AEW Women's World Championship, does it?" Schiavone says nothing does, and Hayter agrees. This is AEW. But Hayter will "give one of those girls the opportunity of a lifetime. Whoever wins that match, they get to wrestle me for the AEW Women's World Championship, if they dare."
Schiavone says Hayter's going to be a fighting champion and she says that's right. She is a fighting champion, "and a bloody good one at that." Who will be the Regina di Wave Champion after Rampage? And will they accept Hayter's challenge to them?
Six Woman Tag: Jade Cargill & The Baddies VS Madison Rayne, Skye Blue & Kiera Hogan!
The UN-DE-FEA-TED AEW TBS Champion got her belt back but got rid of the weak link, as she puts it. Red Velvet is back, Leila Grey is still around, but Kiera Hogan got kicked to the curb! Will Kiera get revenge on #ThatBitch with help from the Coach & Student? Or will Jade be undefeated even in trios action?
The teams sort out, Jade starts against Skye. The fans rally up but Jade says no, she's above Skye. Tag to Velvet and Velvet gets her return to action already. Velvet and Skye tie up, they go around, and Velvet wrenches to a wristlock. Skye cartwheels, wrenches and wristlocks back. Then she slips around to hook, but Velvet blocks the arm-drag. Velvet brings Skye up but Skye shifts sides to arm-drag Velvet from the other arm! Velvet staggers up and fans fire up. Skye and Velvet tie up again, Velvet headlocks but Skye snapmares free. Skye steps over an arm, and wraps Velvet up for a creative take on La Magistrol, TWO!
Velvet has a cover now, TWO! Skye has it back, ONE! Velvet has the cover again, TWO! Fans fire up for that exchange, and Velvet has to admit that was good. Velvet offers a handshake, Skye accepts, and then Skye turns to her partners. But Velvet throws Skye down by her hair! The ref reprimands, fans boo, and Velvet bumps Skye off buckles. Tag to Grey, the Baddies double whip to double CHOP! Grey covers, ONE!! Fans rally, Grey drags Skye up to whip her to a corner. Grey runs in to SHINING WIZARD! Grey then headlocks but Skye denies the bulldog to kick the legs out! Grey blocks a superkick but Skye spins through to KICK Grey down!
Fans fire up as Skye drags Grey back up, tag to Rayne. Skye & Rayne double whip, trip and basement dropkick Grey! Rayne covers, ONE!! Rayne drags Grey up to bump her off buckles! Tag back to Skye, Rayne snapmares but Grey scrambles away to tag in Velvet! Velvet ducks Skye's clothesline to come back, but Skye dodges to SUPERKICK! Velvet flops to the outside and fans rally as Skye builds speed. Skye falls into the apron skirt trap! Velvet fires off on Skye! The ref reprimands, Velvet lets off, then she climbs over Skye to stand on the apron while AEW goes picture in picture.
Velvet stirs it up and has a taste while Skye flops out of the skirt. Velvet puts Skye back in the ring, clamps onto an arm and grinds the shoulder. Velvet bumps Skye off buckles, tags in Grey, and Grey taunts Rayne and Kiera while Velvet uses Skye as a boxing bag! Jade also talks trash on Skye while the ref reprimands Grey and keeps Kiera back. Grey hurries over to pull Skye's hair! The Baddies mug Skye, then Grey tags in. The Baddies double suplex Skye high and hard! Jade applauds her team while Grey covers, TWO! Grey is annoyed but she rains down fists on Skye. Grey wraps on a headlock and she grinds Skye down.
Fans rally as Skye endures. Grey stands over Skye while pulling on the hold, but Skye still fights her way up. But Grey wrangles Skye back down! Grey grinds the hold, Skye keeps her shoulders up, and fans rally again. Skye fights up a second time, she throws body shots, and then she JAWBREAKERS! Grey staggers away, tag to Velvet, and she runs to BLAST Rayne! Velvet stands Skye up to mule kick, then she covers, TWO! Dynamite returns to single picture as Velvet tells the ref something's in her eye, while choking Skye with a knee! The ref notices the choke, she counts and Velvet steps off at 4. Velvet talks trash to Rayne, covers Skye, TWO!
Velvet drags Skye up but Skye breaks free. Velvet mule kicks, brings Skye around and- NO, Skye slips out of the Final Slice! DOUBLE LARIATS take them both down! Fans fire up as Skye and Velvet crawl. Velvet grabs Skye's leg to keep her from her team, but Skye fights up to stand up. Velvet throws the leg down, but they both SUPERKICK! Both women go down again and fans fire up! Skye crawls, as does Velvet, hot tags to Kiera and Jade! Jade storms up, Kiera dodges and Kiera fires off forerams and CHOPS! Jade shoves back but Kiera SHOTGUNS Jade! Kiera sees Grey coming and tosses her out! Kiera goes side to side to BOOT WASH Jade!
Velvet runs in but Kiera sends her out now! Fans fire up with Kiera while Rayne DECKS Grey! Kiera runs in but Jade blocks the boot for a SPINEBUSTER!! Jade taunts Kiera, drags her up to chicken wings, but Kiera switches out! Hot tag to Rayne! Rayne dodges jade, ENZIGURIS, then reels her in! Ripcord, RAYNE- NO, Jade ROCKS Rayne first! Then chicken wings, for the JADED! Cover, The Baddies win!
Winners: Jade Cargill & The Baddies, by pinfall
Just as Kiera was on fire, she let off to see if Rayne could stop Jade. Jade was not stopped, she is 43-0 overall now, and still TBS Champion. Will The Baddies continue to dominate AEW?
Backstage interview with Saraya.
Tony Schiavone is with The Revolution on a very festive set. Schiavone congratulates Saraya on her return to action and the win, and she thanks him for that. Saraya is actually surprised Britt isn't- Oh, wait, here she is. Britt says no one needs to worry now. And Britt also congratulates Saraya on "the biggest win" of her entire career. It will never happen again. Also, Britt was thinking about something Saraya mentioned to her. Something about everything being handed to her on a silver platter. But Saraya came to AEW, and her first match was a PPV match against "the biggest star in the Women's Division."
So here's one more thing handed to Saraya: Tickets to the Kia Forum, for the January 11th edition of Dynamite. Saraya can be front row and watch Britt be the star that she is, or maybe she can step in the ring again. Saraya tells "Baby girl," she would love to beat Britt again. Of course! Round two! Uh, no, Britt didn't say it'd be against her. Saraya forgot that Britt has the AEW Women's World Champion, Jamie Hayter, with her at all times. Except right now. But it will be a tag match, Britt & Hayter VS Saraya and whoever Saraya can find to tag with her. But good luck, Saraya will never beat Britt & Hayter.
Britt heads out and Saraya asks Schiavone if he wants to get in the ring. Britt brings Schiavone with her so Saraya accepts that she'll have to find someone. She has a little over a month, who will The Revolution invite to her house?
BREAKING NEWS for Rampage!
Jon Moxley's open challenge has been answered by THE FUTURE! Konosuke Takeshita is stepping up to take on The Maniac, will Konosuke be the one to make a statement? Plus, we see Moriarty & Morrissey of The Firm in action, we hear from Ruby Soho and Tay Melo about their renewed feud, and we hear from Athena ahead of her ROH Women's World Championship match against Mercedes Martinez!
AEW World Tag Team Championships: The Acclaimed VS FTR!
Max Caster & Anthony Bowens want to prove they're the best, so that means facing the best! Cash Wheeler & Dax Harwood have been AEW World Tag Team Champions before, but they want to make history be becoming FOUR BELT CHAMPIONS! Will FTR stand for #FourTitleReigns? Or will Platinum Max & the Five Tool Player prove they are AEW's Forever Champions?
Caster of course has a rap on deck! "Acclaimed on the mic, it's about to be a problem. You the Top Guys but you 'bout to the bottoms. Whole world just scissoring. We gonna beat y'all down right in the ring! FTR, you're a joke. I think your name stands for Find The Remote! Yo, you just a hocker. You gonna lose just like Herschel Walker." Bowens gets the mic to say, "AUSTIIIIN, TEXAAAAAS~! The Acclaimed have arrived! SCISSOR ME, DADDY ASS~!" And he does! The introductions are made, the AEW belts are raised, and we see who has what it takes to be THE BEST team in the world!
The teams sort out and fans are thunderous for both teams. Bowens and Dax start, they circle, and fans sing, "OH~ Scissor Me, Daddy~!" Bowens smirks and conducts the fans while Dax keeps his cool. They tie up, go around, and Dax puts Bowens in the corner. Tag to Cash but Bowens gets away. Cash and Bowens circle now, and we see Sonjay Dutt, Satnam Singh, Jay Lethal & Jeff Jarrett all watching backstage. Cash and Bowens tie up, Bowens headlocks but Cash turns it around. Bowens powers out but Cash runs him over. Things speed up, Cash hits a headlock takeover but Bowens headscissors. Cash kips free and hits another headlock takeover.
Bowens headscissors again, Cash kips free again, avoids a sweep and waistlocks to roll and bridge to a cover, TWO! Cash hits another headlock takeover but Bowens rolls that to a cover, TWO! Bowens and Cash stand off and fans fire up. Cash talks with Dax, then Bowens tags Caster in. Cash tags Dax, Caster swaggers and taunts Dax. They circle, tie up, and Dax headlocks. Caster powers out, Dax runs him over! Things keep moving, Caster hurdles and hip tosses! Caster then dropkicks Dax, arm-drags him, and he grinds the shoulder! Fans fire up as Caster brings Dax over. Tag to Bowens, they hand off the wrench to ELBOW BREAKER! But Dax ROCKS Bowens!
Dax bumps Bowens off buckles, CHOPS him, and fans "WOO~!" Bowens fires forearms in return, then CHOPS back! Dax CHOPS! Bowens CHOPS! Bowens fires more forearms, then whips, but Dax blocks a hip toss, only for Bowens to block a hip toss, and repeat! They go around and around, they end up on the ropes and the ref counts. Fans fire up as Dax slowly lets off, but Bowens shoves him. Cash steps in, but then so does Caster, and things are heated between the teams. The ref has them cool off, but then the brawl erupts! Austin is loving this as Cash UPPERCUTS Caster while Bowens has Dax in the corner!
Caster gets up, he dodges Cash to clothesline Cash out! Cash lands hard while Dax turns things around on Bowens. Dax ROCKS Bowens but Caster scoops him to SLAM him! Bowens goes up, SCISSOR ME TIMBERS! Fans fire up and Bowens calls to Caster. They SCISSOR FINGER! Bowens tags Caster back in, then he drags Dax up. The Acclaimed mug Dax, Caster whips but Dax ducks 'n' dodges then trips Caster! Dax ties Caster up, but Caster punches and BOOTS his way out of the Sharpshooter! Caster has the legs now, and he figures out the hook. Cash runs in but Bowens trips him! Bowens steps through, The Acclaimed have DOUBLE SHARPSHOOTERS!!
Fans are thunderous as FTR endures! Dax crawls, ROPEBREAK, and The Acclaimed let off. FTR regroups on the outside while Daddy Ass SCISSOR FINGERS his boys! Caster goes out to ROCK Dax, and Bowens is after Cash. Cash POSTS Bowens, Dax ROCKS Caster! Cash BOOTS Caster, Dax moves the apron skirt out of the way so Cash can bump Caster right off the edge! Then they put Caster under the ring, to CATAPULT GUILLOTINE Caster with the ring frame! Caster writhes while checking his teeth, and FTR SCISSOR FINGER! Fans aren't sure what to make of that as AEW goes picture in picture.
Cash mocks the fans with the scissor fingers while Billy checks Caster. Dax shouts at him to get back, then he puts Caster in the ring. Dax storms up on Caster and BOOTS him down! Tag to Cash, and Dax bumps Caster off Cash's knees. Caster staggers, Cash CHOPS him! And CHOPS again! Caster flops over and Cash soaks up the cheers and jeers. Caster gest to ropes, Cash is on him with a EuroUpper! Cash flexes and then drags Caster up to snapmare. Cash clamps on a chinlock and he thrashes Caster around. Caster endures as Cash grinds him down into the mat. Caster fights up, throws body shots, but Cash shoves and RAMS into him!
Cash headlocks, then short arm LARIATS Caster down! Tag to Dax, he drops a leg, then covers, TWO! Dax drags Caster up and around, for a BIG back suplex! Tag to Cash, he stays between Caster and Bowens, and he sits Caster up for the chinlock. Caster endures again as Cash grinds him back down. Fans rally, Caster fights up, and Dynamite returns to single picture. Caster throws body shots, arm-drags free, but Cash KNEES Caster down! Cash brings Caster up to CHOP him, then he hoists Caster to the top rope. Cash ROCKS Caster, CHOPS him, then climbs up after him. Caster resists, throws body shots, and fans fire up!
Caster shoves Cash down! Caster adjusts, CROSSBODIES, and both men are down! Austin is thunderous as both men crawl. Team Double Jay all critique what they're seeing, wanting someone to capitalize. Hot tag from Cash to Dax! Dax stays between The Acclaimed and he DECKS Caster! Dax takes a swing on Bowens but he avoids it, and then Dax turns around into a BIG back drop! Hot tag to Bowens! Bowens rallies on FTR with haymakers and elbows! Bowens kicks Dax low, then CLUBS and CLUBS and ELBOWS and CLUBS away on Dax! Fans fire up with Bowens and he dodges Cash to mule kick, front KICK and FAMOUSER!
Dax returns but Bowens ELBOWS, JABS, CHOPS and SUPERKICKS Dax down! Bowens runs to SHINING WIZARD! Cover, TWO!! Dax survives and Bowens grows frustrated. Billy coaches him through it and fans are dueling. Bowens watches Dax rise, to mule kick, front KICK and FAM- NO, Dax slips out to GERMAN SUPELX! Dax holds on to GERMAN SUPLEX again! Dax drags Bowens up again, but Bowens switches! They go to ropes, O'Conner, TWO and Cash is there! Bowens stops from running into Cash, but then Dax rushes in! Bowens moves, Dax stops from running into Cash! Bowens runs in, Dax moves, and Bowens does run into Cash!
Cash goes down, Bowens wobbles, Dax O'Conner Rolls, TWO! Dax stops himself in time from hitting buckles, but he turns around into a fireman's carry! USHIGOROSHI! Cover, TWO!! Dax survives and Bowens is beside himself! Fans are thunderous all over again! Bowens drags Dax up, ducks his haymaker, but Cash tags in before the atomic drop! Bowens elbows Cash, ROCKS Dax, then wrenches Dax's arm. Dax ROCKS Bowens, reels him in, Cash goes up! SPIKE PILEDRIVER!! Cover, TWO?!?! Bowens survives and FTR can't believe it! Cash cools off, he drags Bowens around and tags in Dax.
Fans rally for Bowens but FTR drag Bowens up again. They double suplex, but Caster SPEARS Cash! Bowens cradles Dax, TWO!!! Bowens ROLLING ELBOWS Dax down, then tags Caster! They roll Dax into Caster's wheelbarrow, Bowens runs around, WHEELBARROW CUTTER!! Cover, TWO!!! Dax survives again and The Acclaimed can't believe it! The Acclaimed hurry as fans duel again. Caster drags Dax up, coordinates with Bowens, but Dax slips out of the bomb! Dax BOOTS Caster into Bowens! Bowens falls out, Cash slides in! Dax whips, but Caster fights the flapjack! Bowens shoves Cash into Dax!
Dax stays up and swings on Caster, but Caster dodges! Caster gets Dax up, but now Dax fights the flapjack! Cash CLOBBERS Bowens! Dax sunset flips, Caster rolls through and runs at Dax! Dax POSTS Caster with that! And then the BIG RIG!!! Cover, Bowens breaks it in time!!! Fans are shocked and FTR cannot believe it! "This is Awesome!" as Cash watches Bowens on the apron. Cash runs in to BLAST him to the railing! Dax drags Caster up, he hoists Caster up top then tags Cash. Dax climbs up after Caster while Cash goes to the other corner. But Bowens DECKS Dax! Cash leaps but into the ARRIVAL!! Caster adjusts, for the MIC DROP FLOP!!
Cash avoids disaster, but Bowens CLOBBERS Dax! Bowens swings at Cash, but into a Gory Especial, and GORY BOMB!! Caster rolls Cash up! TWO!! Caster BOOTS Cash, CHOPS him, but Cash DISCUS LARIATS!! Cover, TWO!! Cash drags Caster up, short arm LARIAT! And then another short arm LARIAT! Cash reels Caster in, hauls him up, POWERBOMB! Jackknife, but Caster rolls it through!! THE ACCLAIMED WIN!!!
Winners: The Acclaimed, by pinfall (still AEW World Tag Team Champions)
FTR is shocked! Caster & Bowens win by the skin of their teeth, but all it takes is a moment! But to show respect to Cash & Dax, they offer up the scissor fingers. FTR join in on a HUGE SCISSORING! But then from the back, the Gunn Sons, Austin & Colten, are sarcastically clapping. Austin tells FTR, "So close! Legacy, bye-bye. And Colten, the fans thought we would get involved? Haha, no. You guys are TRASH!" Colten says, "But Austin, they've had a pretty good year. And we don't want it to end yet. So we got you guys some Christmas presents."
Austin & Colten bring out a couple stockings, and Austin reads the card. "Oh, it looks like it's written in blood. It's from… DEM BOYS! The Briscoe Bros! Saturday, Final Battle!" But wait, there's more! In the stockings, Austin & Colten bring out DOG COLLARS!! The Briscoes want a Double Dog Collar Tag Team Match! "Merry Christmas, b*tch!!" Jay & Mark Briscoe threw out the challenge, and FTR are all for it! But will the three-belt champions soon lose one of those in the most brutal way possible?
---
My Thoughts:
A pretty awesome episode for AEW here as a go-home to a lot of things going on under the AEW umbrella. For one, great battle royal to open the night. I knew Starks would win but AEW still does a great job with the chaotic nature of battle royals, and in using them to give us a lot of story at once. I bet Jungle Boy moves on from Luchasaurus & Christian Cage (for now) by taking on The Firm after that just nasty looking apron choke slam JB took from Morrissey. Plus, there was a lot going on with Matt Hardy and Ethan Page, Hardy is going to be conflicted all the way until the moment Hardy can't take it anymore and he rebels against The Firm.
Then after the win, Starks and MJF have an amazing promo. Starks tore into MJF, but because Starks stood tall tonight, I'm pretty sure MJF retains his title and diamond ring. A bit of a shame for Starks then, but he's proven himself a world title picture guy, so surely Starks finds his way back around during MJF's "reign of terror." Great promos from Darby and Joe ahead of their title match, and I don't think I've seen anyone take a powerslam to bare concrete and still wrestle. I figured Joe would retain, though, as he now has Wardlow coming for him. Joe VS Juice happens at Final Battle, Joe surely retains there, too, and then I think we get Joe VS Wardlow for Holiday Bash or New Year's Smash. Joe can try ducking Wardlow but he can't duck him for three months to get to AEW Revolution.
Speaking of one of the things to come out of the battle royal, I like that Cassidy and Kip had an interaction. But at the same time, Kip using what happened in the battle royal as an excuse not to face Cassidy for Rampage was pretty good Heel stuff. Cassidy could be facing just about anyone with Kip able to bring anyone in, but I would love if they used this moment to bring Miro back. There's a lot of reasons why, from Kip being the guy who brought Miro into AEW to begin with, and Miro wanting the All-Atlantic Championship from how he almost had that title in the first place. And that'd be something to make Rampage an amazing episode.
Good promos from Hayter, Saraya and Britt, and I like that Hayter wants to be a fighting champion. She helped hype up Shida VS Bunny, and now that the winner gets a title match, that's going to be even better stuff. I think Shida wins to retain, and then Shida and Hayter can have a big match for one of the holiday episodes. Britt challenging Saraya for a match in January is pretty interesting stuff, and of course it's a tag match so Britt doesn't have to face Saraya 1v1. I think Saraya ends up bringing Toni Storm into that match, and there's a way to get them all into the title scene. I would love if this led to Britt VS Hayter to give us the story they could've/should've before.
Good match from The Baddies VS Kiera, Skye & Rayne. It was rather awkward booking that Kiera tags in right as she was doing great, but someone needed to take that loss other than her. Jade stays undefeated but Kiera could be the one they'll build into taking the TBS Championship off her. Kiera is also returning to her "Fire" look from Women of Wrestling, so that's pretty cool. Kiera and Jade can go full Starfire VS Blackfire from the Teen Titans and that'd be a great little nod to both their nerdier sides given all of Jade's great cosplay ring gears for her big matches. Now, sadly, Bow Wow might still be a distraction for Jade, but at least Kiera will be someone we've seen in AEW and not someone brand new brought in just to beat Jade.
Great promo from Moxley to call out Hangman while hyping up BCC VS JAS. And good promo from Jericho to hype up his match with Claudio. Great tag match as well, and BCC winning out makes sense. The go-home math adds up to where JAS finds a way to retain the titles. Regal having a video message that was rather "If you're seeing this, I'm dead" trope. But I'm a little perplexed by Regal's logic, and by the BCC more or less shrugging it off. I thought it would've been more effective if someone attacked during that moment but I supposed that'd be too much given BCC VS JAS has to still wrap up. Moxley VS Konosuke will be great stuff, but Moxley is surely winning, and then Hangman probably comes out to make a challenge for Winter is Coming or New Year's Smash.
Really good promo from The House of Black, and who knows who they'll face first, because it's all to bide their time until Death Triangle VS The Elite settles. Then the House can go after the AEW Trios Champions for the next feud. And then we got an awesome tag team championship main event. Acclaimed VS FTR was borderline PPV level, but I'm honestly surprised The Acclaimed won. This really should've been a bigger moment than it was treated, because we were then just given the Ass Boys being the proxies to the Briscoes. This is sadly a spotlight on how Tony Khan isn't able to handle both companies at once, because one, should we not have had FTR VS Gunn Sons by this point? The Gunns have been pestering FTR for so long, they should get a shot at the ROH titles!
Yes, Briscoes VS FTR Part 3 with dog collars is going to be awesome stuff that makes Final Battle even better, but c'mon. Unless FTR is dropping those belts to Briscoes, it's going to be even worse when the Ass Boys take the titles off them. I know FTR has been busy with the other two belts of theirs, but c'mon. The Gunns were mocking FTR a couple months ago at Battle of the Belts 4, that should've given us a promo of the two teams arguing, an ROH tag title match happens, and there, done. Ass Boys get their shot, they miss, they move on to try the AEW World Tag titles because The Firm wants all sorts of belts.
My Score: 8.9/10