Cook's 2021-22 NFL Gambling Picks: Super Wild Card Weekend
Much like the Steelers, Cook has a mediocre at best season and yet finds himself in the Playoffs! How close are his picks? Who's calling the money line? Do Chiefs win by 50?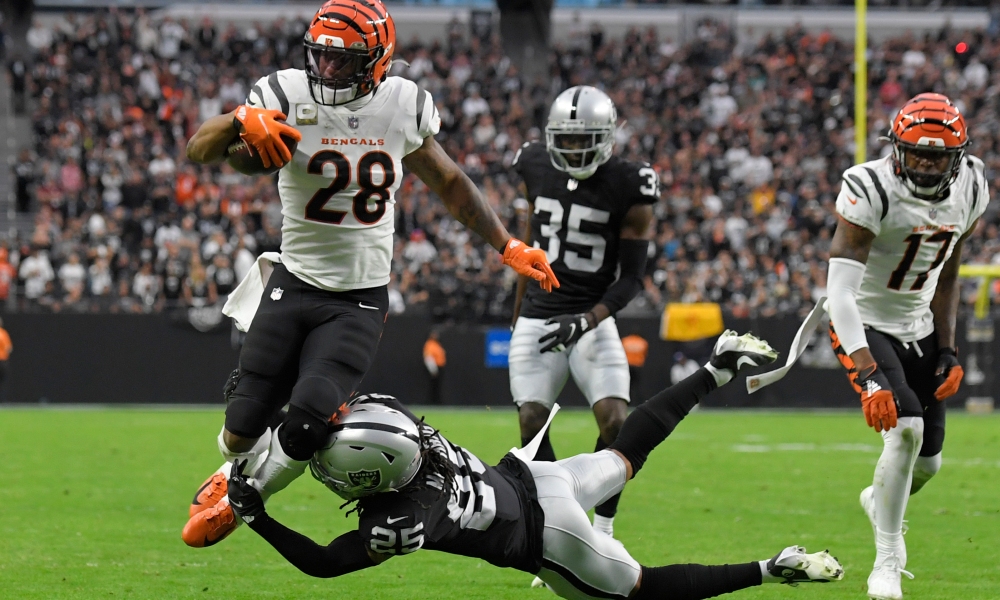 Hi, hello & welcome to Super Wild Card Weekend! We've managed to add two extra games to this round, and one of them is going to be on Monday night. I'm sure whoever wins won't complain when they get a short week against their opponent in the Divisional Round. At this point in the season, complaining is somewhat limited as long as you're still playing.
Yep, I'm still playing too. Even though the regular season didn't go as hoped, nobody from The Chairshot told me to gather my belongings. You might have expected to see me out on the street with Joe Judge, Matt Nagy and the rest, but I'm still here doing my thing. Let's get to it. Odds are from Vegas Insider.
Saturday, January 15
Las Vegas at Cincinnati (-5.5)
The Bengals-Raiders Wild Card game will feature the three top players in QB pressures according to NFL Next Gen:
Crosby, LV — 82
Hendrickson, CIN — 79
Ngakoue, LV — 71

— Ben Baby (@Ben_Baby) January 12, 2022
I'm not here to make excuses for my poor regular season performance. However, I can't help but feel that my constantly picking against my favorite team in an attempt to get some good mojo going had a bit of an effect on things. Again, not making excuses, I should have been able to make up more points on other games. It's an aspect of the strategy that we'll have to analyze during the off-season.
In any event, the Bengals are coming full-circle here. Unless you've been living under a rock you've heard at some point about the 31-year playoff losing streak they're on. You've also heard about how the first loss came to the Los Angeles Raiders in a game where Bo Jackson suffered a career-ending hip injury. It's one of those memories from the good ol' days that I can't forget. Cincinnati sports media is telling us to forget all about the Curse of Bo Jackson, or Carson Palmer's knee, or any other of the calamities that have be-fallen the Bengals during this stretch. Now that Joe Burrow is the quarterback, things are different.
Hey, I hope they're right! If anybody seems to have the stuff necessary to get this franchise over the hump, it's Burrow. His calmness combined with a lack of time for failure & ability to connect with everybody in the room has made him a great leader. Along with his superior football-playing ability, of course. Burrow's got everybody to buy in, so much so that the Bengals are the favorites in a playoff game a year after winning four games and two years after winning two games. Pretty heady stuff.
Of course you know I'm picking the Raiders, so let's touch on them for a minute. As much as nobody believed in the Bengals up to this point, nobody believed in the Raiders either. The fact they've made it this far is downright astounding with everything they've been through this season. It's a nice story. I wish it wasn't going up against my Bengals, but such is life. A brief glance at their Week 11 meeting shows a 19-point victory for the Bengals, but it was much closer than that. The Raiders were only down 16-13 early in the fourth quarter. The Raiders shut down the Bengals for the first half, shutting down their passing game & running game by creating pressure. The Bengals eventually got the advantage by sticking with the strategy of running Joe Mixon down Vegas's throats, and he wore them down. Burrow only threw for 148 yards & a touchdown in that game. If Vegas can keep him closer to those numbers than the video game numbers he posted against Baltimore & Kansas City, they should be able to go into Paul Brown Stadium and come out with a win.
Everybody will tell you that nobody picked the Raiders, but you'll know better.
New England at Buffalo (-4)
Patriots – Bills
8:15 kickoff Saturday

High 9°
Low 1°

— Andrew Siciliano (@AndrewSiciliano) January 11, 2022
I had the opportunity to work at this game, at least until the trip got cancelled. Doing anything in those types of temperatures doesn't sound like a good time to me, and throwing the ball deep probably won't be fun either. I'm with Mina Kimes on the whole "Buffalo should build a dome" thing. Bills fans would hate it because they love being miserable, but Josh Allen and that Bills offense would be darn near unstoppable. Ain't like Buffalo's ownership is lacking for money, right? Forbes (a trustworthy publication if I've ever heard of one) says that Terry Pegula's wealth has grown by $2 billion in the past two years. Why not use it to build a dome?
The Bills do seem to be getting things together, riding a four game winning streak into the playoffs. Three of those games were at home, the other one was in New England where they beat the Patriots by twelve. Doesn't bode particularly well for Coach Belichick, does it? The Patriots are ahead of schedule anyway, so there's no reason to worry about them. The Bills should be able to win by a touchdown.
Sunday, January 16
Philadelphia at Tampa Bay (-8.5)
Since #Eagles fans are obsessed with Tom Brady not shaking Nick Foles' hand after SB52, I finally asked him about it because the #Buccaneers host Philly on Sunday. "I have a lot of respect for Nick. I try to be a good sport as best I can…" Brady's full response 👇🏻 pic.twitter.com/ozB5A8kFeE

— Rob Maaddi (@RobMaaddi) January 13, 2022
I don't think I've seen an Eagles game this season. I can't name any Eagles other than Jalen Hurts & the Reagor wide receiver guy that Eagles fans spend all their time complaining about. Heck, since Doug Pederson left I can't even name Philly's head coach. This might be the quietest team to make the playoffs, which makes them dangerous when you think about it.
There isn't anything quiet about the Buccaneers. Everything they do is live & in public for the whole world to see. Theoretically, there are distractions out the yin yang. This would affect most NFL teams, but I don't think the Buccaneers are one of those teams that get easily distracted. They're either uber-focused like Tom Brady, or in that place where distractions don't matter, like Rob Gronkowski.
You know full well that we don't bet against Tom Brady, especially in the playoffs. However, if you're going to give me the Eagles at 8.5 points…we can make that work. Especially since Tampa's pretty banged up.
San Francisco at Dallas (-3)
49ers at Cowboys Sunday on CBS pic.twitter.com/y28La0y5JW

— Jon Machota (@jonmachota) January 10, 2022
Yep, this is the playoff football I grew up on. The early to mid 1990s NFC was all about 49ers vs. Cowboys. Steve Young, Jerry Rice, Deion Sanders, Troy Aikman, Emmitt Smith, Michael Irvin, the names went on and on. With the Bengals winning three games every year, the Cowboys were a fun team to watch as a bandwagon fan. It was also pretty easy to root against the 49ers, their defeating the Bengals in two Super Bowls during the 1980s was fresh in everybody's minds. Of course these teams had some notable meetings before I was born. Something about a catch? Even if these franchises haven't attained that success in recent years, this matchup still means something to people of a certain age.
It'll mean something to the kids too, since this is the Nickelodeon game and will have slime & Spongebob and all sorts of good times. As for who will have good times on the field, it's tough to bet against the 49ers right now. They're one of the hottest teams in the league with Deebo Samuel making big plays, the running game looking good & the defensive line shutting people down. Dallas hasn't looked as good of late, though they were pretty solid against the Eagles B team. At the end of the day, the Cowboys still strike me as a team that comes up short in big situations, and I think they'll come up short here.
Pittsburgh at Kansas City (-12.5)
Report: Sunday night's game between the Steelers and Chiefs has been postponed, will be a dance off between JuJu Smith-Schuster and Jackson Mahomes. Winner moves on.

— Jordan Cicchelli (@jordancicchelli) January 12, 2022
These teams just met in Week 16, and the Chiefs beat the Steelers 36-10 in a game that really wasn't that close. What's happened since then to make things different?
-The Steelers won their next two games over division rivals, making their way into the playoffs with some help from their friends in Jacksonville. They didn't look overly impressive in either game, but did enough to win.
-The Chiefs narrowly lost to the Bengals, then narrowly defeated the Broncos. Two games that could have easily gone either way with one or two plays going the opposite direction. They didn't look like the Chiefs we saw locked while they were blowing out the Raiders & Steelers.
Add in the fact this is a postseason game and there's no way the Steelers are getting blown out this time. Mind you, this is another one where I would love to be wrong. I'll be rooting for the Chiefs to send Pittsburgh out of the playoffs & Ben Roethlisberger home for good, and there's a better than 50% chance they'll do just that. It's gonna be closer than people think.
Monday, January 17
Arizona at LA Rams (-4)
Reminder: Cardinals play at Rams in Wild Card Game on *MONDAY* pic.twitter.com/xJYR4D2YIp

— Mark Dalton (@CardsMarkD) January 12, 2022
Two teams that have been on different trajectories of late. The Cardinals lost four out of their last five games while the Rams had been on a five game winning streak before losing to San Francisco. The road team has won each of these games, so either you think that's a trend or you think "well jeez, a home team has to win at some point". Most of us made that mistake last week with the idea of the Colts having to win in Jacksonville at some point.
I think the Rams are going to win this game with Cooper Kupp making some type of amazing play because that's what he does. However, it's the playoffs, it's prime time, and it has to be close. So take the Cardinals and the points.
Week 18 Results: 8-8
Regular Season Results: 127-141-4
Cook: Super Bowl LVI Final Thoughts
The Super Bowl worked for Cook's betting picks, but not his fandom. He unfurls some feelings and thoughts about the Super Bowl, and the season that was.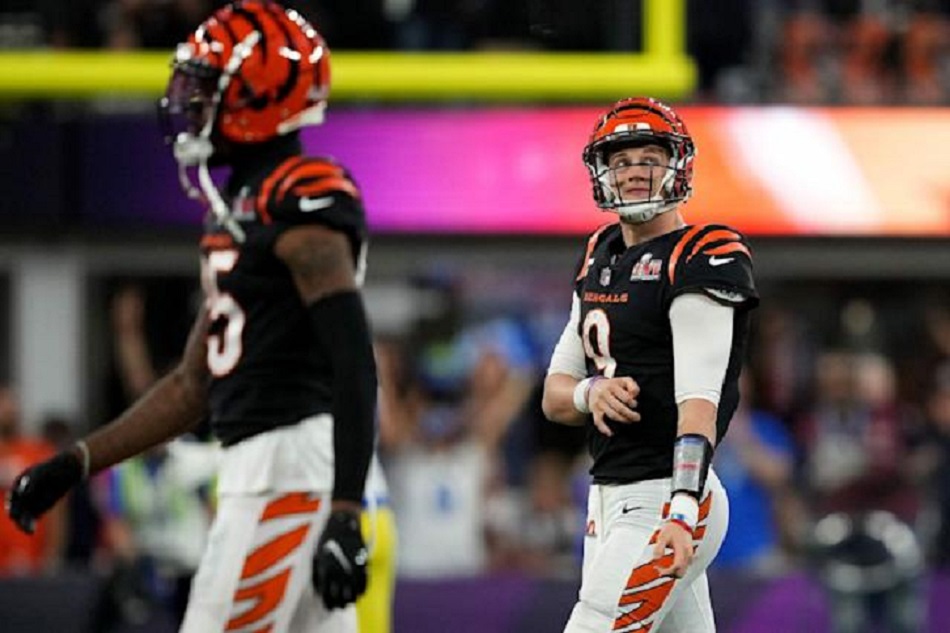 As a fan of the team that lost Super Bowl LVI, I should probably feel disappointed. Distressed. Discouraged. Disgruntled. Disenchanted. Despondent. Disconcerted. Dissatisfied. Depressed. Dejected. Despondent. Down. Downcast. Downhearted. Lots of D words, basically.
Don't get me wrong. A sports fan's favorite team losing any type of game comes with a bit of a sting. You want your team to win. Even those mid-September baseball games where your team has already been mathematically eliminated come with a little sting upon defeat. So yeah, I won't deny that the Bengals coming up a little short at the end of the game stung a bit. It wasn't the optimal result.
With that being said…I'm not disappointed or distressed or discouraged or disgruntled or disenchanted or any of those other D words I mentioned earlier. There were plenty of Bengals seasons that left me in that state of mind. Most of the pre-Marvin Lewis seasons. A lot of those Marvin Lewis seasons did, even the ones where they made the playoffs.
The 2021 version of the Cincinnati Bengals gave me nothing to be ashamed of. There were certainly some ups & downs in the regular season, but we all know that the postseason is what matters in football & every other sport. The postseason was the downfall of the Marvin Lewis Era of the Bengals. They could make it there. They just couldn't win a game. Against anybody. I'm pretty sure I could have found 22 people on the street and beat the Marvin Lewis Bengals in a postseason game.
These Bengals made us forget about the past. Three decades of not winning in the playoffs came to an end. They were favored against the Raiders, but not really favored because they were the Bengals. It was a big hump for fans to get over. I was more gobsmacked after that win than what followed.
FUUUUUUUUUUUUUUUUUUUUUUUUUUUUUUUUUUCCCCKKKKKKKKKKKKKKKKKKKKKK YYYEEEEEAAAHHHHH ORSDKDGLDRKKHOJSOGSGDHMKXHKHDLSDH

— Steve Cook (@stevecook84) January 16, 2022
I could barely even text people afterward. It was unreal. Once that happened, things got more real. There was this Tennessee Titans team that was the #1 seed but was doubted because of their quarterback and injuries that happened but still got the #1 seed. (Those fans are still very bitter towards Bengal folks, btw.) The Titans even sacked Joe Burrow 9 times and still managed to lose because their offense couldn't take advantage. But their coach won an award so everything's ok.
The Chiefs, now there's a beast I still can't believe the Bengals managed to beat twice somehow. They're cutthroat sumbitches just like Dustin James, and have the best quarterback of modern times in Patrick Mahomes. We know they'll be one of the top teams in the AFC for years to come. Beating them in Week 17 in Cincinnati was one thing. Beating them in the AFC Championship Game in Arrowhead Stadium? Another thing entirely. Crazy stuff, unimaginable before it happened.
The Super Bowl didn't end well, obviously. There were still moments that Bengals fans wouldn't have believed before they happened. Joe Mixon throwing a touchdown pass, for one. The experts expected the Rams to blow the Bengals out of the water, and that isn't quite what happened.
So what did happen?
The Rams' stars rose to the top, as cream always does eventually. The Bengals could keep Cooper Kupp & Aaron Donald down for so long. You can't keep the cream down forever. The Bengals' offensive line could hold the Rams back for 2.5 quarters. They hit a wall eventually. The Rams ran out of weapons other than Cooper Kupp. Odell Beckham had a good game early, got hurt. Kupp was their last option after that, and the Bengals could shut him down for a minute, but not forever. When it was the end of the game and time for stars to step up to the plate, Cooper Kupp got the ball. You have to tip your hat to him.
The Bengals didn't capitalize off of certain opportunities. As much as we love Evan McPherson, an extra touchdown instead of a field goal would have helped. That early 4th down call that led to a Rams touchdown didn't help. Why was Samaje Perine in & having the ball directed towards him during the last two Bengals offensive plays of the game instead of Joe Mixon?
Maybe we'll understand someday. Maybe we won't. At the end of the day, the result is the same. The loss hurts, but seasons have come to an end in much bitter fashion. The future is still bright. The Cincinnati Bengals may not have shed all of their stereotypes, but few can deny that this isn't a different team than previous versions. Joe Burrow is still with us, and doesn't seem to be going anywhere anytime soon. Ja'Marr Chase is pretty good, along with Tee Higgins. The main thing the Bengals need? Offensive line, which this upcoming draft seems to have a deep pool of.
No, I'm not any of those D words. I'm optimistic about the future of the Cincinnati Bengals. The main thing that worries me? Given how fleeting existence on this mortal coil seems to be these days, I just hope to be around to see that moment where the Bengals finally shut the mouths of those critics. If only for a moment. Critics will always critic, as I well know being one myself.
Who Dey.
Cook's 2021-22 NFL Gambling Picks: Super Bowl LVI
Get some of your Gambling Pick insights for the Super Bowl! Cook's heart may be with the Bengals, but where is his money?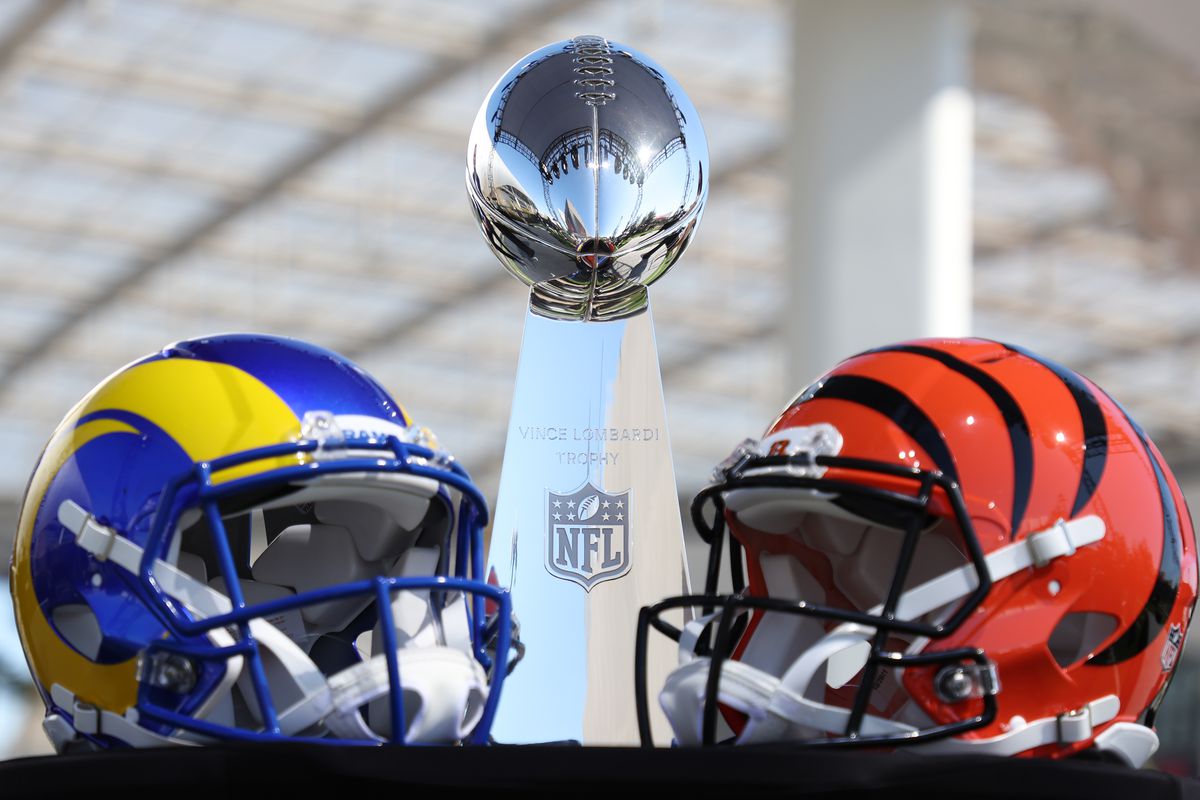 Hi, hello & welcome to Super Bowl LVI speculation! I'm Steve Cook, and I'm in a bit of an unfamiliar position here. In years past when I've done Super Bowl predictions & projections, I haven't had any skin in the game. My Cincinnati Bengals are typically done for the season long before early February hits. Usually, I'm watching the Super Bowl as an impartial observer that doesn't really care which team wins. This year, I have some interest.
Before we make the official Super Bowl LVI Against The Spread pick, we'll look at some of the prop bets. Nothing in the world has more prop bets than the Super Bowl. Most of them are pretty ridiculous. I mean, we're really betting on whether singers are going to show some cleavage? (Take "Yes" on that one, LA's going to have some record heat on Sunday.)
Odds via BetOnline & Vegas Insider!
Super Bowl MVP:
Matthew Stafford: +115
Joe Burrow: +225
Cooper Kupp: +600
Ja'Marr Chase: +1600
Aaron Donald: +1600
Joe Mixon: +2500
Odell Beckham Jr.: +2500
Cam Akers: +3000
Tee Higgins: +5000
Von Miller: +5000
Sony Michel: 6600
All others: +10000 or above
We all know that quarterbacks are the most likely Super Bowl MVPs, so Stafford & Burrow are the most likely to win it. As far as a less likely option goes? If Jalen Ramsey (+10000) shuts down Ja'Marr Chase and gets an INT in the process? He'd be my pick, and the best pick to get some money on. Von Miller might be a good pick at (+5000) since the voters know who he is.
Will the Super Bowl field goal record of 54 yards be broken?
Evan McPherson has made four field goals in each of the Bengals' playoff games. This includes three over fifty yards. His longest field goal during the regular season was 58 yards. It's definitely within the realm of possibility for him to get it done, so throw some money on Yes.
Largest Lead
Over 14.5 (+100)
Under 14.5 (-130)
You might think this will be a close game, and it could end up being one. But we've seen both the Bengals & Rams come back from double digit deficits during the playoffs. We've also seen the Bengals & the Rams have double digit leads, only for their opponents to manage to tie the game. So it wouldn't surprise me at all if one of these teams got out to a big lead, only to see their opponent come back. Take the over.
Overtime Odds
We've only had two overtime games in these playoffs, both involving the Kansas City Chiefs. One of them also involved the Bengals, so Yes might be worth throwing a few bucks on just in case it happens.
Over/Under: 48.5
I'm liking the under here. We're talking about two teams without a ton of Super Bowl experience. Will the moment get too big for some of these players? Maybe playing at home helps the Rams like it helped the Bucs last year, but it's still the Super Bowl.
Sunday, February 13
LA Rams (-4) vs. Cincinnati
Will the Bengals be able to slow down the Rams pass rush this Sunday?#SBLVI pic.twitter.com/U5jwhlUfh6

— FOX Sports: NFL (@NFLonFOX) February 9, 2022
Blank Park Zoo tiger Misha picks the LA Rams over the Bengals. Both team logos were scented with the same perfume so as not to influence the decision. Blank Park Zoo's animals have been correct in picking the winner 8 of the last 11 Big Games. PHOTOS:https://t.co/DdxBxNPEgU pic.twitter.com/mwKa0iCBCR

— Meg McLaughlin (@MegMcLaughlinDA) February 10, 2022
Per @betonline_ag
America rooting for #Bengals
State Breakdown
Bengals: 33 states
Rams: 17 states pic.twitter.com/rHu1NJqVHe

— Lance McAlister (@LanceMcAlister) February 8, 2022
The Rams (12-5) and Bengals (10-7) combined to go 22-12 (.647) during the regular season, the worst combined win pct in a Super Bowl matchup, ever.

It's the 7th matchup featuring teams with a combined win pct below .700. pic.twitter.com/oWzr3S1Vsh

— ESPN Stats & Info (@ESPNStatsInfo) February 9, 2022
The best argument for the Bengals just might be their inexperience. They're the youngest team on average in Super Bowl history. They don't know what they don't know, which can be an advantage in big situations. Of course, Joe Burrow has plenty of experience leading teams in big situations, as we saw him lead LSU to a National Championship just before the pandemic started. His coolness has been a large part of the Bengals' success so far, no matter what happens he doesn't seem to get rattled. Of course, if there's a time where something like that could happen, it might be one's first Super Bowl.
The Rams defense worries me, as a Bengals fan. They have a couple of top-notch pass rushers in Aaron Donald & Von Miller. Tough to find faults in their games, and everybody else can capitalize off of being unnoticed. Joe Burrow might not mind being blitzed, but we all know that the main Bengals weakness is their offensive line.
Then the Rams have Jalen Ramsey working the cornerback position. He'll have a lot of receivers to keep track of, but I feel like Ramsey Island is something for the Bengals offense to worry about, like Revis Island back in the day. If Ramsey can shut down Ja'Marr Chase, then Tee Higgins or Tyler Boyd need to take advantage. Maybe they can, but here's the difference: I don't doubt that Cooper Kupp or Odell Beckham can take advantage off of whoever's covered. The Bengals just don't have that secondary depth.
If the Rams can get the same pressure on Joe Burrow that the Titans did, there's no reason they shouldn't win this game by at least a touchdown.
Thanks for reading, and enjoy Super Bowl LVI!