POD is WAR & Peacemaker Review: Episode 4
WAR & Peace-maker continues to Episode 4! Who walks "The Choad Less Traveled"? Is it a long road? Dusty road? How would a duck put on a human costume?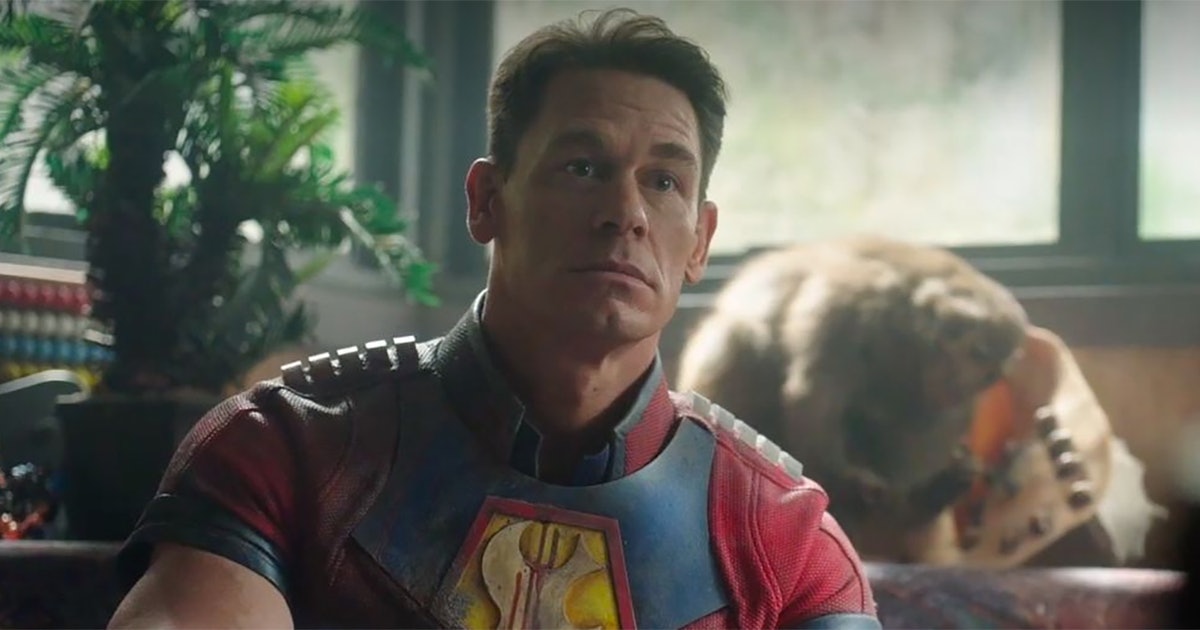 Well since the Bandwagon Nerds are buried in other shows, the tumultuous triple triad decided this show's title just goes too well with our show name. So as a cheap excuse for a literary reference, and to spread the good word of hair metal and John Cena, POD is WAR will be reviewing Peacemaker!
Show: Peacemaker
Streaming Service: HBO Max
IMDB: 8.6/10
Rotten Tomatoes: Critics – 94% / Audience – 84%
WAR & Peacemaker Review: The Choad Less Traveled
Adam: Y'know… we said hopefully there would be some depth to the next few episodes and my oh my, did episode four give us some depth so where do we begin? Well Peacemaker gives us a good point against Batman with the old neighbor for his Dad after getting some new helmets in the house, some tension between Vigilante and Peacemaker driving from the house to the jail that Peacemaker's dad is at and some more plot thickening. Peacemaker says that he has to rely on his dad since her is family which is fair but Leota puts the idea in Vigilante's head that maybe the world is better off without the White Dragon and Peacemaker can be at… well,… peace. Everyone actually gains some level of depth but Vigilante and Peacemaker have the most.
After being told that the world is better off without Peacemaker's dad, Vigilante makes sure he goes into prison to confront the Dragon and tries to beat him up but, on the side story, Judomaster escapes his restraints because he is not dead. He managed to wake up at the HQ, beat up Economos and have a rematch with Peacemaker. They seem even for a long amount of time but, Leota actually shoots him with her gun and might have, possibly gotten her first kill… ever! Some quick banter back and forth with her and Peacemaker until it goes back to Vigilante, confronting Peacemaker's Dad and his goons in prison with by far the greatest banter I have ever heard in my life that I require royalties from saying some of it in the past. He makes the mistake by telling him that the White Dragon is, "A Bad Dad" and he catches on, requiring that the detective speak to him and Vigilante is free to go and picked up from Harcourt that he might have made things worse. We get a big reveal at the end of the episode but why should I say? Go find out from yourself and go smoke with your Eagle and Butterfly Alien to remember your brother that you might have killed… possibly. I don't know. Speaking of Brothers!!!!
Adam's Rating: 4.8
PC Tunney: After a long week of living at the bottom of a pitcher or three of Margaritas…he forgot how to spell (yes even his own name). So as he recovers on reruns of Sesame Street to remember what letters look like, tune into the podcast for his thoughts!
PC Tunney Rating: 4.25
Andrew: Now my main concern after the first three episodes, was that this was going to be a dumb humor show with no nuance. My concerns were almost immediately absolved within the first few minutes of this episode. Peacemaker's conversations with Vigilante alone add a ton of depth to both of them. Even if there's passive aggressive tones about the torture scene, colorfully blunt ways to talk about Vigilante's dad and a dumb duck in a human suit conversation, there's a lot of layers.
Once Peacemaker makes a very salient point about being better than Batman to the nosy neighbor, he finds out his dad got arrested. We see both Vigilante and Peacemaker's tones toward each other change. Family loyalty and being honest to their own code or word is important to both of them. Peacemaker has to immediately come to terms with his dad being a racist piece of crap, but he's still his dad, and he loves him. So even though Leota tries to stop him from going to talk to his dad in jail, he feels obligated.
Leota and Vigilante get to talking, which gives Vigilante the idea to try and murder Peacemaker's dad in jail. So he goes out of his way to get arrested and his scene challenging the Aryan Nation is a work of art. Granted his emotions get the best of him, and he says just enough to tip off Peacemaker's dad that he's working with Peacemaker.
This continues the concept that Peacemaker is trying to be a good person, regardless of the fact that everything is working against him. The bumbling meat head approach to most of the conversations start to actual add a wholesome sincerity to his perspective instead of just seeming ignorant and stupid. Such a fantastic way evolve characters without feeling forced or like a ham-fisted revelation arc.
Andrew's Rating: 4.75/10
POD is WAR Consensus Rating on Peacemaker – The Choad Less Traveled: 4.6/5
Bandwagon Nerds #150: 150 Episodes of Nerdom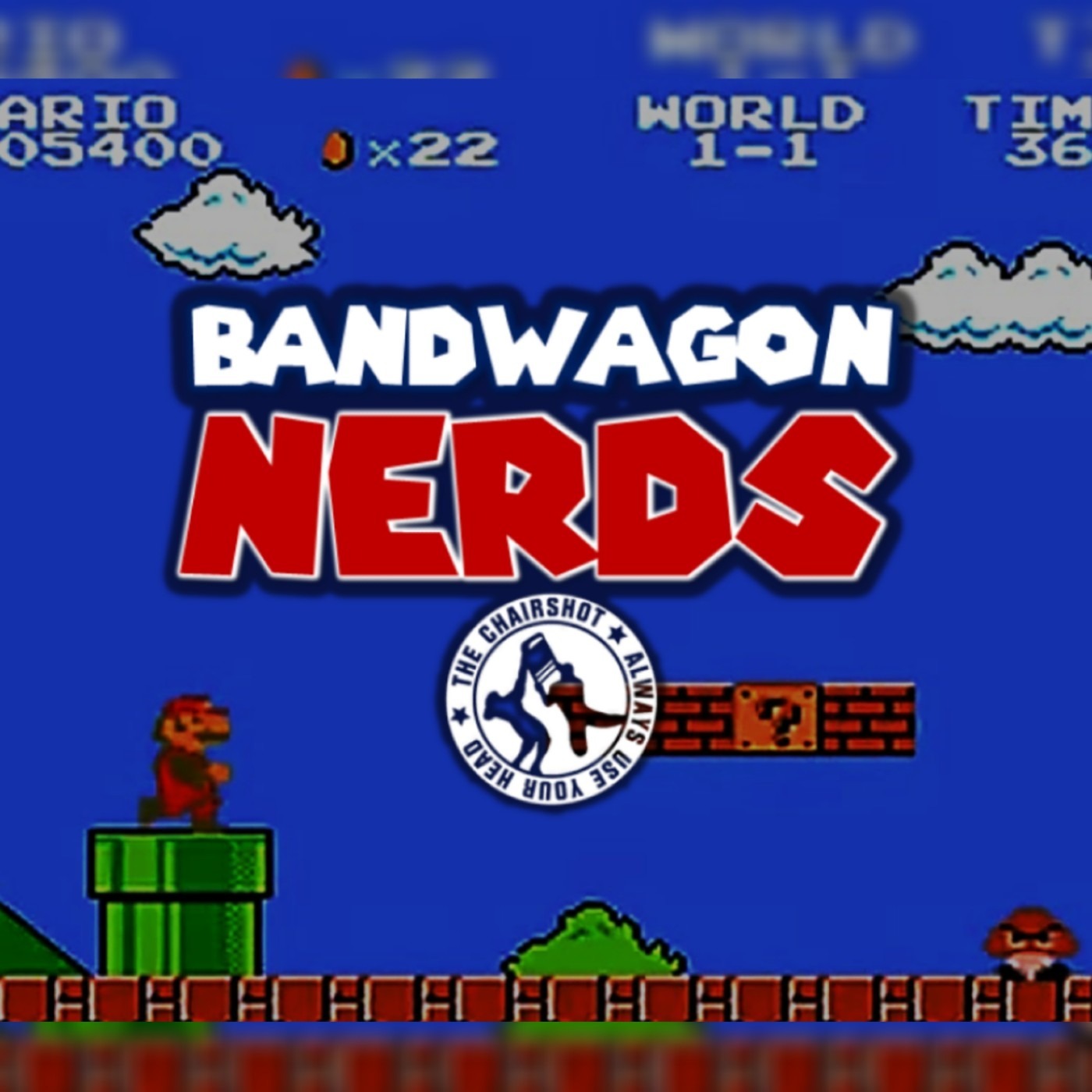 The Bandwagon celebrates 150 episodes of Nerdom this week with the OG Nerds celebrating with you!  Join Patrick O'Dowd, David Ungar, PC Tunney, and Rey Cash as they share their memories and give their thanks to you the listeners for 150 episodes of geeky greatness!  In between the memories, the Nerds finish their review of Umbrella Academy Season 3, visit the trailer park and discuss all kinds of news around the Nerdosphere.
@WrestlngRealist

@AttitudeAgg
@itsReyCash
@PCTunney
@ViolentAesop
@therealcplatt
@ChairshotMedia
About Bandwagon Nerds
Join Patrick O'Dowd, David Ungar, PC Tunney and Rey Cash as they keep everyone up on all things nerd, and maybe add some new nerds along the way. It's the Bandwagon Nerds Podcast!
About the Chairshot Radio Network
Created in 2017, the Chairshot Radio Network presents you with the best in wrestling and wrestling crossover podcasts, including POD is WAR, Women's Wrestling Talk, The #Miranda Show, Badlands' Wrestling Mount Rushmores, The Outsider's Edge, DWI Podcast, Bandwagon Nerds, the Greg DeMarco Show, 3 Man Weave, Five Rounds, Turnbuckle Talk, Suwama's Station, The Reaction and more! You can find these great shows each week at theChairshot.com and through our distribution partners, including podcasting's most popular platforms.
---
The Chairshot Radio Network
Your home for the hardest hitting podcasts and radio shows!
Listen on your favorite platform!
iTunes  |  iHeart Radio  |  Google Play  |  Spotify
Listen, like, subscribe, and share!
---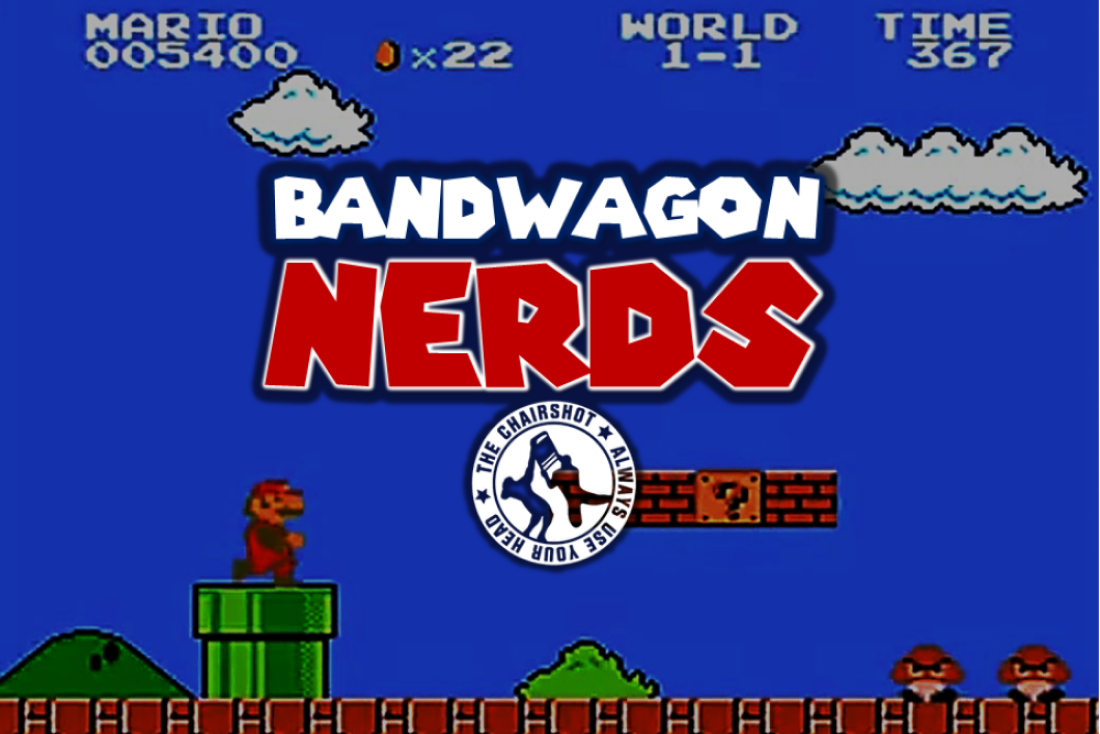 Andrew's Judgmental Album Reviews: Sonja – Loud Arriver (2022)
Gothic Hair Metal crawls into the JAR this week! Sonja's full-length debut! How does it fair?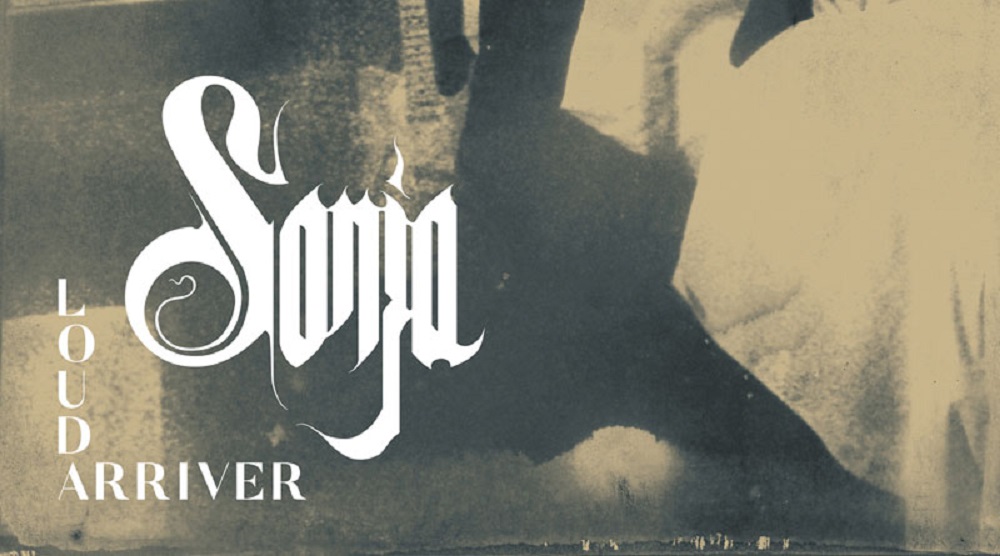 So while I don't have a large metal act to throw into the JAR this week; this popped up often this month as an album that had people's interest. I tried not to spoil myself, so I just listened to a snippet and I was intrigued. An interesting combination of Gothic Rock and 80s Hair Metal seem to be the formula for this band.
Now the current iteration of this band is born out of bigotry in a way. Melissa Moore (the lead vocalist and guitarist), was in Absu, came out to her bandmates as transgendered and they fired her. So she returned to Philly to resurrect an old side project she started in 2014. So after closed mindedness, anger and a pandemic; we finally get the full length debut of Sonja. Let's how they fuse some of the darker gothic elements with the bombastic hair metal ways.
Sonja is: Melissa Moore (Guitars & Vocals), Ben Brand (Bass & Keyboards), Gresiek Czapla (Drums & Percussion)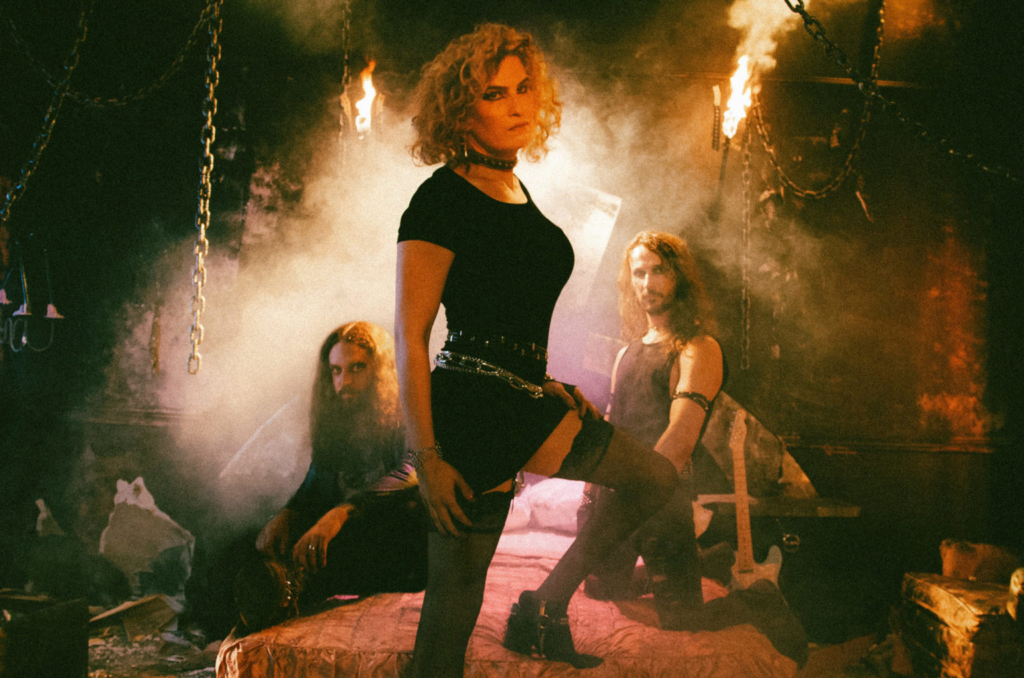 Artist: Sonja
Album: Loud Arriver (2022)
Label: Cruz del Sur Music
Total Track Time: 37:57
When the Candle Burns Low… starts off with some echoed vocals and a gentle guitar strum. Reminiscent a bit of Aerials from System of a Down. When the rhythm section kicks in, they've got a bit of an Iron Maiden gallop, but the echoed vocals remind me of old Candlemass. Even though the lyrics are fantasy draped with witches and flight, the "I'll Never Die" feels like it's probably directed towards the unceremonious exit from her former band. I do really enjoy the mix of musical flavors in this song. It's a very good opener to at least whet the appetite to see what else is to come. Nylon Nights well if you couldn't tell from the title, this starts off like the most 80s song ever. We can all infer the title is very much on the slinkier/risqué side of night time. Most likely a little diddy about being a Hooker, but I do really like the last few lines of the chorus; "Prowl in the night, Danger and desire keep me alive, Oh there's nothing inside, nothing inside at all". Pink Fog is an interesting little shift. The way Melissa's cadence adjusts through the song, gives me very big The Birthday Massacre vibes. It has the 80s Dokken rhythm to the drums and really does a interesting job at keeping everything in a similar vein, but bringing out the chase/surrounded feeling of the song.
Wanting Me Dead is one of those songs where I'm not going to comment much on the lyrics, because I can't relate to them; but I understand what they're getting across. "Priest and preacher wanting me dead, In the congregation's head, Got the doctor wanting me dead, The prescription that I get, Mother and father wanting me dead, Like brother and sister said, Even the mirror wanting me dead, My reflection burning red". Musically it is very basic hard rock, it has a few elements that remind me of Helloween and a touch of Bon Jovi, but generally it's more of a hard rock song with an important feeling to express. Fuck, Then Die I'm pretty sure this was the premise for one of the dorks in Grease 2 who was trying to hookup with his girl. But honestly, I enjoy irreverent concept of if we're gonna die, might as well fuck until Armageddon. " I just wanna fuck all day and all night, Anything else is a waste of our time, Gonna make sure you're feelin' alright, We'll be dead tomorrow" – the point is clear. However, critically, this is their weakest song so far. The instrumentation doesn't steer into either impending doom or "fuck the fear away", its just a bit on the generic side.
Daughter of the Morning Star returns to the rhythm guitar and bass have that Iron Maiden style gallop again, but when we get to the chorus it's a bit too open and anthemic. It really sounds more like a Blind Guardian B-side than the goth/hair metal they've done so far. Also I was really hoping for a play on Morning Star with a Lucifer reference, instead of like…a fading sun or whatever the fantastical lyrics are exactly about. So this is better than the last song, but still a noticeable step down from the first half of the album so far. Moans From the Chapel exactly the song all WWE fans wanted! The reverse Katie Vick! "Tonight she arrived, To where his body lied, For one last time, In his casket opened wide, Climbed inside, It was so cold between her thighs, She rides him tightly, And her moans from the chapel heard tonight" – in all seriousness, this song starts off great. Its faster tempo, the echoed vocals work well for being inside a chapel, and the darker imagery is very metal and cool. They finally are starting to give 80s Hair Metal vibes cleanly again, like Cinderella defiling a corpse. Good stuff here. Loud Arriver I get huge Judas Priest vibes off this song. Hell I also get Ninja Sex Party vibes because the first verse is corny as hell, but fits the 80s metal motif. Small issue really just being the rhyme scheme and general flow of the chorus, while not awful; it feels extremely forced when trying to punctuate the "Loud Arriver" part. Oh I do like the little Spanish guitar break down toward the end of the song though.
Now I'll admit it really bogged down in the middle. But we're looking at the full-length debut and a fairly unique mixture of musical elements. It's not often when I can reference Candlemass, Ninja Sex Party and Dokken for a band. Some of the biggest issues with different songs was not committing fully to a sound. If its supposed to be raunchy, go fast and dirty, if it's supposed to be looming; that's when Black Metal influences will shine.
All in all, it's a good first album. Even the songs I was disappointed were just generic and not like musical homicide. So there's a lot of potential, hopefully bigotry and already large political games in the music scene don't cause this band any unnecessary issues.
Final Judgment: 6.85/10