Andrew's IMPACT No Surrender Results & Match Ratings: 2.19.2022
Five Championship matches and the big 10 man main event for No Surrender! Does Honor No More stick around? Find out!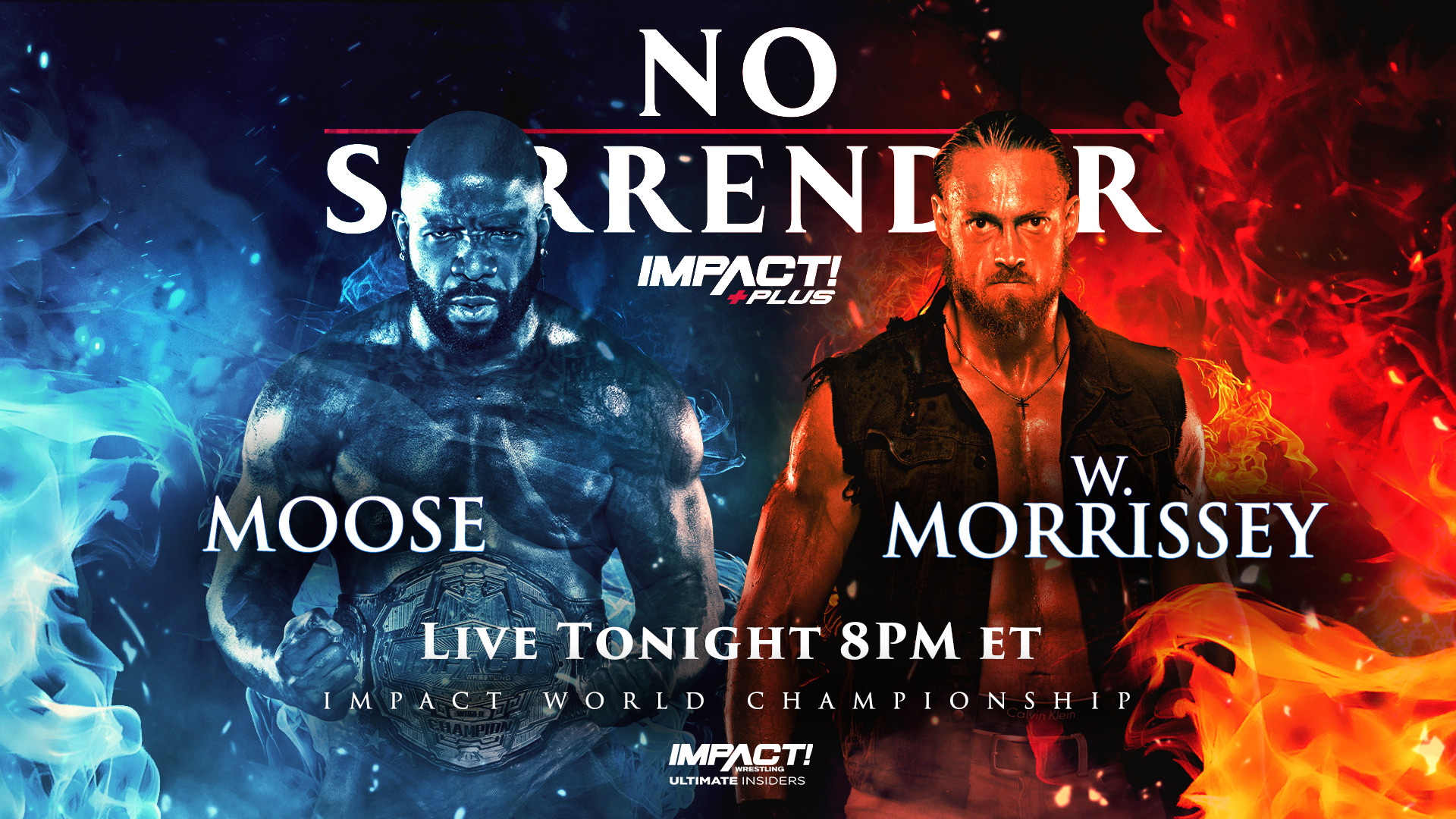 Five Championship matches and the big 10 man main event for No Surrender! Does Honor No More stick around? Find out!
So there's a lot going on in this show. Honor No More is trying to basically make a new home since ROH is closed for the time being. Jay White is trying to establish Bullet Club dominance in IMPACT. Tama Tonga wants to establish that the Good Brothers are out of Bullet Club. And Moose is trying to prove he's the one true wrestling God.
That's just some of the major points, but the rest of the card is all solid as well. Deonna's open challenge, Jonah trying to prove who the real monster is and Number 1 Contender for the X Division title. Let's just get to the show!
Ratings:
Number 1 Contender for X Division Championship: Chris Bey vs Ace Austin w/Madman Fulton vs Jake Something vs Speedball Mike Bailey: Jake wins via Into the Void – ***
Jonah vs Black Taurus w/Crazzy Steve: Jonah wins via Tsunami – ** ¾
Eric Young w/VBD vs Jay White: Jay wins via Blade Runner – ****
Champ/Champ Challenge: Deonna Purrazzo (c) vs Miranda Alize: Purrazzo retains via Fujiwara Armbar – *** ½
Digital Media Championship: Matt Cardona (c) vs Jordynne Grace: Cardona retains via DQ – ** ¾
IMPACT Tag Team Championships: The Good Brothers (c) vs Guerrillas of Destiny: Good Brothers retain via Magic Killer – *** ¾
Knockouts World Championship: Mickie James (c) vs Tasha Steelz w/Savannah Evans: Mickie retains via Double Leg Clutch – ***
IMPACT World Championship: Moose (c) vs Massive Cassidy: Moose wins via Lights Out – **** ¼
Team IMPACT (Chris Sabin, Willie Mack, Rich Swann, Steve Maclin & Rhino) vs Honor No More (Matt Taven, Mike Bennett, Kenny King, PCO & Vincent): Honor No More Win! – ***
Results:
Number 1 Contender for X Division Championship: Chris Bey vs Ace Austin w/Madman Fulton vs Jake Something vs Speedball Mike Bailey
Early on Bailey and Ace seem to be intending to work together, but Bey and Jake break that apart, and then Jake starts dominating a bit. Bailey does put a small brake on Jake, but Jake eventually hits a Thesz press to keep his advantage and then chucks Bailey into everyone else. A nice moment of constant motion. Bey grabs Jake, Ace flips, kicks, rolls and flows, but then Bey eventually catches Ace, Bailey gets a moment to shine in the perpetual motion machine.
Bailey hits the Tornado Corner Kick on Ace, goes for Ultima Weapon, but Jake grabs him. Bey breaks up a potential Jake stolen victory, Poison Rana, Splash onto Ace and Bailey breaks up the pinfall with a step off Shooting Star Press onto Bey. Just really solid action that never seems to stop. Into the Void attempt from Jake, Double Superkick from Bailey and Ace, they shake hands and then Ace pulls Bailey into the Art of Finesse from Chris Bey to save himself. Ace tries to take advantage of that, Bey counters him, rocks Ace, perches, then Ace gets the best of Bey, Ace tries to hit the Super Fold on Jake, but Jake just grabs him out of the air and hits Into the Void for the victory!
Jonah vs Black Taurus w/Crazzy Steve
Black Taurus realizes early that the power game is not on his side, so he decides to use his speed and athleticism to keep Jonah off balance. Sole Butt doubles the big man over, a few quick trips and strikes, a Dive and Tornillo on the outside gives Jonah things to think about. But once they get back in, Jonah manages to catch Taurus, literally, and throw him into the turnbuckle and then toss him around a bit.
So the power game is again playing a big role in the flow of this match. Taurus manages to dodge a corner charge, Uppercut, Enzuigiri, and Jonah is rocked, another charge for a Low Dropkick sending Jonah into the turnbuckle face first, Tiger Feint into a Corkscrew Senton, but only a 2 count! Taurus it's a few Headbutts and seems to maybe have the formula figured out. Perches Jonah on the turnbuckles, looks for a Super Rana, but Jonah grabs him and chucks him from the sky. Flying Thesz Press, Powerbomb, big boy Lariat and then a Tsunami for the win!
Not really a surprising outcome, but a solid showing for both men.
Eric Young w/VBD vs Jay White
We get a nice back and forth volley of chops and quick attacks as both men are looking for an opening. Jay's cool confidence is countered by EY's manic intensity and EY starts to rock Jay. EY even takes a page from Minoru Suzuki and climbs to the middle buckle and hangs Jay White in the Reverse DDT position.
Jay manages to snap off a quick DDT and take some momentum until EY returns the favor a minute or so later also transitioning with the Snap DDT. There are enough similar beats in the match to continue to play with the narrative points that Jay was saying that VBD was EY's version of Bullet Club. So their approach is different but the outcome is similar. Ric Flair chop off, but EY gets the early best of Jay to send him powdering to the floor before coming back in and continuing the Fighting Spirit.
Jay throws EY into the corner, Flair up and over, goes to the corner, but Jay crotches him. EY bites Jay and hits the Elbow Drop for 2. Things start to spill onto the apron and we get a lot of great back and forth. Jay hits a Flatliner on the apron, goes for the Death Valley Driver but EY rakes the eyes, EY goes for the same, and Jay responds in kind. So the similarities continue until EY stuffs him with a quick Piledriver. After a 9 count, EY rolls Jay in, tries to get the pinfall but only two. A few quick roll up exchanges, hell EY even tries to cheat with the feet on the ropes, but King Switch kicks, hits the Half and Half Suplex. Blade Runner connects, 1-2-3. Breathe everyone, breathe.
Champ/Champ Challenge: Deonna Purrazzo (c) vs Miranda Alize
Alize picks the ROH Women's World Title. Alize comes out of the blocks really quickly. Snapping takedowns, Headscissors, Mexican Arm Drags, a lot of fast Lucha inspired offense punctuated with e Lo-pe onto Deonna. It takes a second, but Deonna puts the brakes on the challenger and almost breaks her in half when she bends her in a Bow and Arrow.
We see Deonna counter a few of the flying takedown attempts until Alize catches her coming through the middle rope with a Spike Frankensteiner. Snapping offense, Alize finally hits her flying Naciente style Armbar Takedown to go into Miranda Rights, but Deonna counters that by turning it into a pinning attempt. Deonna dodges the Shining Wizard and then jumps on the challenger with a Fujiwara, rains down elbows and looks for Venus de Milo, but Alize taps before the de Milo is all the way in.
A damn good match, until the finish felt a little wonky and rushed.
Digital Media Championship: Matt Cardona (c) vs Jordynne Grace
Cardona was on the receiving end for most of this match, similarly to their first encounter. He just hesitated a little less when there was opportunity to land things like Reboot and other offensive maneuvers. Cardona absorbed a lot of punishment as we see Jordynne get progressively more frustrated. When Cardona powders out, he pulls up the chair too early and Jordynne rams her foot through chair and rocks Cardona.
Jordynne tries to use the chair, but the referee stops her, Cardona tries to win via Roll-up but Jordynne kicks out. SO Cardona decides he'll use the chair anyway, the referee is staring right at them and Jordynne counters the Chairshot with a nut shot! So Hebner disqualifies Jordynne. Pretty good match, but Cardona's comically bad over acting on "heel" spots and a lame DQ hurt an otherwise enjoyable match.
IMPACT Tag Team Championships: The Good Brothers (c) vs Guerrillas of Destiny
Tama and Karl kick things off and we get to see Tama making a fired up point. They trade hockey punches, then Stinger Splash as Tama rides the wave and takes it to Karl. Loa comes in and Karl finally gets a little space to get Gallows into the match.
The story of this match is great where everything is fairly even, they even trade tandem Neckbreakers. Loa takes out Gallows, Anderson Spinebusters Loa, Tama tries a Gun Stun, but it gets blocked, Karl tries Gun Stun but Tama counters it into a Tongan Twist.  As everyone is laid out we see the Tongans get to their feet first, and things look like they might be going G.o.D.'s way. But Chris Bey runs down to the ring as GoD is setting up Magic Killer.
Good Brothers fight off the Killer, Loa gets annoyed at Bey and then Gallows Chokeslams Loa on the outside. Cut back into the ring and Jay White is standing behind Tama. Tama turns, Blade Runner, Good Brothers hit Magic Killer and retain. Bey, Jay, Karl and LG Too Sweet, and walk out together. Is Bullet Club dead, or are the Guerrillas of Destiny the ones who got fired?
.@JayWhiteNZ just turned on @TangaloaNJPW and @Tama_Tonga at No Surrender!!!@njpwglobal pic.twitter.com/jbjQIUujCk

— IMPACT (@IMPACTWRESTLING) February 20, 2022
Knockouts World Championship: Mickie James (c) vs Tasha Steelz w/Savannah Evans
Early on we get a collar and elbow tie up that won't end. They just stay tied up and won't give the other an inch. This helps to get across a personal level of aggression, and take a little bit of the "typical wrestling' match stigma away from things. Which is beneficial to Tasha since she's been built well, but gives up a lot of size and experience so she's still a hard sell.
Mickie lands some flashy spots like a Running Boot that ends with a split, and just generally keeping that classic Mickie James offense going. It's not really until they go to the outside and Savannah Evan finally makes her presence felt, that Mickie starts losing some ground. Mickie puts a stop to Tasha by…kissing her/biting her lip. There's also a Manhattan Drop a little later in the match, so we see a little bit of crazy horny Mickie in this match. Mick Kick connects with Savannah, Chelsea tries to even things out and Mickie inadvertently rams Tasha into Chelsea and wins via Double Leg Clutch.
IMPACT World Championship: Moose (c) vs Massive Cassidy
Brian Myers joins commentary and it's great. Myers has such great chemistry with Rehwoldt and Tom.
HOLY HAYMAKERS BATMAN. Both men are just going to town, they get up slowly in opposite corner, TWO Lights Out from Moose, but Cassidy powders. Moose throws him in, Cassidy dodges the third, Big Boot, BQE and Moose powders. Then we see Cass just man handle Moose on the outside, throwing him into the guardrail.
Moose manages to counter and Uranage Cass through a table, BQE into the apron gives Cass the advantage now. Back inside, BQE attempt again, Frakensteiner counter from Moose and now we get some trades in the corner! We find a third Lights Out, but Cassidy rolls to the ropes and manages to break the plane with his hand to stop the pinfall. Moose looks for the fourth Lights Out, but Cass hits the BQE and we see Moose's foot break the plane before the 3 count. Great simple near falls, big haymakers from two big guys and it's awesome. Moose perches Cass, Cass fights back a little, Moose quickly scales the corner, Superplex and only a two. A big trade as both are down. Moose kips up, Cass dodges the normal Lights Out, but Moose bounces off the ropes and cuts Cass in half in the center of the ring. Moose retains!
Nothing fancy at all, just a straight up slobber knocker and it's amazing.
Team IMPACT (Chris Sabin, Willie Mack, Rich Swann, Steve Maclin & Rhino) vs Honor No More (Matt Taven, Mike Bennett, Kenny King, PCO & Vincent)
Team IMPACT is a weird microcosm of IMPACT itself. A lot of turnover, odd feelings, mistrust and insanity; this basically covers the perspective of IMPACT itself over the last 20 years. Can the IMPACT crew overcome all of the issues or does Honor No More stick around?
With 10 people there's a lot to go over here, so let's cover the basics, shall we? Chris Sabin, was more like Chris Savin since he did most of the pinfall break ups in this match. Maclin proved himself as a team player even if he isn't a likable guy. Rich Swann still has a good bit of the champion fire and ability to turn a match, while Willie is serviceable but can't really glue together an entire thing. Rhino was just there.
As for the Honor No More crew, Taven and Bennett were about equal on how much they were jawing and getting a few moves in. Kenny King looked like a complete stud. Vincent is quirky but looked good and PCO looks like a beast. Between the Deanimator, a complete crash and burn Suicida and his normal crazy bumps, PCO and Kenny King were the stars of this match. However, we all got the expected swerve, and even though expected it was executed decently.
Maclin gets rammed into the referee, Eddie Edwards hits the ring with Kenny the kendo stick and scares off OGK and grabs Maria. Rhino thinks he's gonna get an open shot at hitting the Gore on Maria, but Eddie clocks him. Then Eddie hits all of Team Impact with the kendo stick, drags in the ref, Kenny King gets the pinfall and Honor No More have added Eddie. So are they Honor NOAH More? Ehh? See what I did there?
Overall Score: 8.25/10
Pretty damn good night of wrestling and big turns! Even though Eddie was expected, maybe this allows for Davey to return and we can get some American Wolves reunion tour! But the big thing is Jay White. Tama Tonga and Tanga Loa…are out of Bullet Club? Do we see the story continue or was this the way to send G.o.D. back to Japan because NJPW didn't want to keep them on loan? Does the Firing Squad return?
Aside from that, Mickie tapping back into the crazy stalker/bisexual persona at different points in her last few matches is interesting. I don't remember her harkening back to that too often before, but it's not a terrible wrinkle since there's a precedent. Also Moose and Cass having one of the best old school big man matches in recent history was a pleasure to watch. Simple power, emotion built through story and suspense with the smallest of leg and hand placements. Great stuff all in all. Myers keeping himself around the main event is pretty fun as well since his personality adds a lot to that dynamic.
Jonah reestablishing himself while Jay ends up being the only Bullet Club member to get a win is interesting enough. There's a lot of directions things could go, I think the only think that felt weird to me is the Grace/Cardona finish. Felt extremely unnecessary.
Either way, damn good show with a lot of pieces to build off of for Sacrifice!
Mitchell's NJPW G1 Climax 32 Results & Report! (8/18/22)
We've reached the Climax!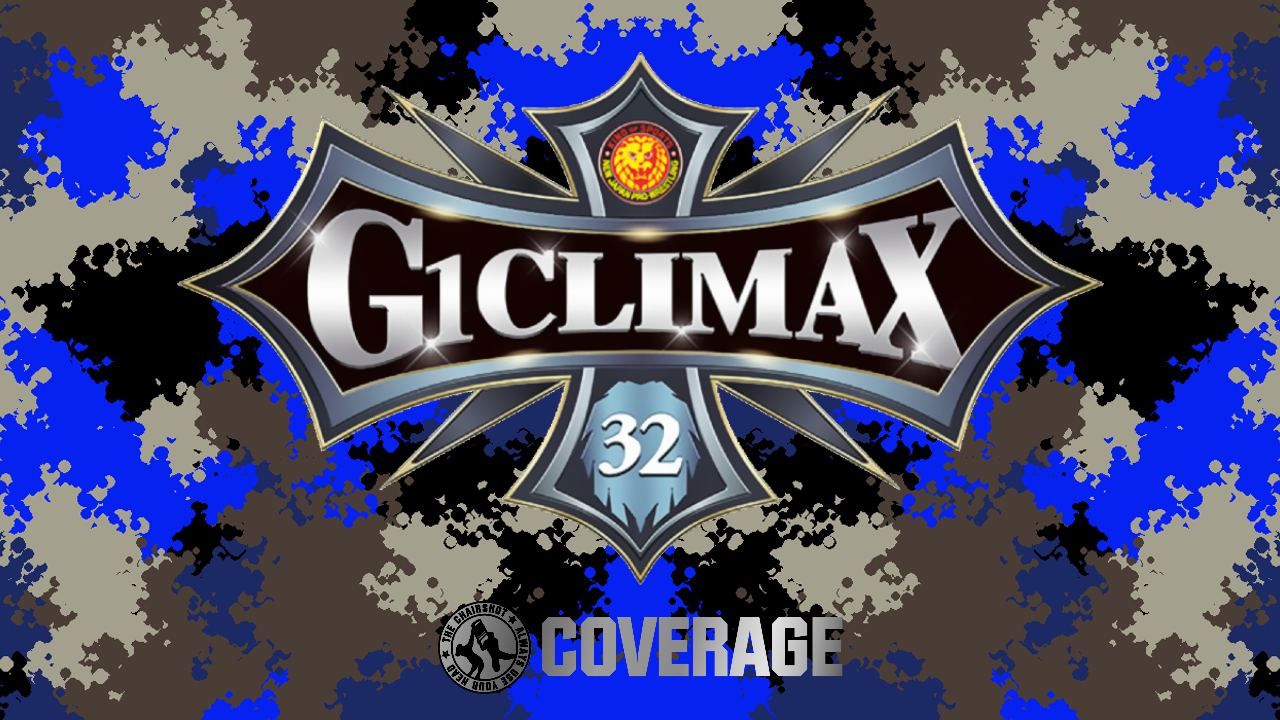 It all comes down to Rainmaker VS Kingpin!
The biggest G1 Climax in NJPW has perhaps the biggest final match-up possible! Will Will Ospreay finally defeat Kazuchika Okada once again?
OFFICIAL RESULTS
8 Man Tag: Chaos VS The House of Torture; Chaos wins.
Bad Dude Tito & JONAH VS Royce Isaacs & Tom Lawlor; Tito & Jonah win.
Six Man Tag: The United Empire VS Bullet Club; The United Empire wins.
Six Man Tag: Los Ingobernables de Japon VS Suzuki-Gun; Suzuki-Gun wins.
Shingo Takagi & Hiromu Takahashi VS KENTA & El Phantasmo; Kenta & ELP win.
Hiroshi Tanahashi & David Finlay VS The Good Brothers; Tanahashi & Finlay win.
KUSHIDA & Tama Tonga VS Taiji Ishimori & Jay White; Kushida & Tama win.
G1 Climax 32 Finals: Kazuchika Okada VS Will Ospreay; Okada wins and earns the Right to Challenge Contract.
PLAY BY PLAY
Shingo Takagi & Hiromu Takahashi VS KENTA & El Phantasmo!
The Rampaging Dragon missed out on being in the semifinals, all because the Headbanga was a spoiler! Will Takagi and the Ticking Timebomb get some payback for that? Or will the Fang Revived help ELP keep the momentum going?
LIJ attacks the moment they're in the ring! Takagi of course goes after ELP while Hiromu is after Kenta! The bell rings as Kenta CLUBS Hiromu down, and ELP returns fire on Takagi! Takagi and ELP go back and forth, fans rally up, but ELP BOOTS Takagi! Kenta RAMS Hiromu into railing while ELP CLUBS Takagi down. ELP goes after Takagi's neck and shoulders with elbows, then whips him to ropes. Takagi reverses but ELP RANAS, handsprings and dropkicks! But Takagi rebounds to run ELP over! Fans rally up while ELP flounders. Takagi drops an elbow, then he brings ELP up to bump off buckles.
Takagi fires off forearms then JABS, then a CHOP! ELP sits down and Takagi tags Hiromu. Fans rally for "L I J!" as they double whip ELP to ropes, to run him over with double shoulders! Hiromu whips ELP into an open corner and clotheslines, then snapmares and basement dropkicks! Cover, TWO! Hiromu fires up and the fans fire up with him as he fireman's carries. ELP fights free, CLAWS Hiromu's back, then CLAWS him again! And he CLAWS Hiromu's chest! ELP puts Hiromu in the corner to slowly CLAW Hiromu's back! The ref reprimands, but Kenta headlocks Hiromu against the corner, and SMACKS him with his book over and over!
ELP keeps the ref distracted with Takagi but the fans rally up for "HI-RO-MU!" ELP digs his knees in, tags Kenta, and then they both dig their boots in! The ref counts, both Kenta and ELP let off, and Kenta drags Hiromu up. Kenta whips Hiromu to ropes, elbows him down, then covers. TWO, but Kenta clamps onto Hiromu with a chinlock. Hiromu endures and fans continue to rally. Hiromu kicks his way around, stands up and throws elbows into Kenta's ribs. Kenta throws Hiromu by his hair! Tag to ELP and ELP climbs up. Kenta stands Hiromu up in a facelock, and ELP powers up, to then hop down and CLAW Hiromu's back!
Fans applaud as ELP flexes on Hiromu. "Who's your stepdaddy, Hiromu?" ELP snapmares and chinlocks to thrash Hiromu around, but then Takagi runs in to chinlock ELP! ELP CLAWS Takagi's face! ELP tells Takagi to get out, and he throws Takagi out! ELP steps over Hiromu to have a mounted armbar. Tag to Kenta, and ELP holds Hiromu's fingers open! Kenta gets his book, for a PAPERCUT!! Hiromu screams in pain as he clutches his hand! ELP and Kenta play dumb and Kenta drags Hiromu up. Fans rally as Hiromu CHOPS! And CHOPS! And CHOP! But Kenta knees low! Fans rally but Kenta dusts off his book.
The ref reprimands but Kenta aims. Hiromu blocks the book attack! Hiromu takes the book back and SMACKS Kenta with it! ELP fetches the book and says Hiromu bent it! Hiromu swings but into Kenta's DDT! Cover, TWO! Fans rally up for Hiromu but Kenta KICKS him! And KICKS him! And KICKS him! Hiromu blocks the next one, then blocks the haymaker, for a DRAGON SCREW! Fans rally up as Hiromu and Kenta are down! They crawl for their corners, hot tags to Takagi and ELP! Takagi swings but misses. ELP CHOPS, whips, but Takagi reverses. Takagi blocks the boot to LARIAT in the corner!
Takagi suplexes but ELP slips free to CLAW Takagi's back! ELP runs, but into Takagi's ELBOW! ELP MULE KICKS! Takagi JABS! ELP JABS! Takagi YUKON LARIATS! Fans fire up for that exchange and Takagi encourages them to keep going. They rally for "TA-KA-GI!" as he stalks ELP to a corner. Takagi throws a forearm, whips corner to corner, then runs in, but ELP goes up and over! ELP rolls, dodges, springboards and CROSSBODIES! Then LIONSAULTS FLOPS! SLIDING BOMBER! Cover, TWO! Hiromu swings on Kenta but Kenta dodges, so Hiromu WRECKS him with a dropkick! Fans fire up as LIJ regroups.
Hiromu brings ELP up, and he CHOPS ELP to a corner. LIJ double whip, Hiromu runs in to clothesline! Takagi runs in to clothesline! Feed to the SUPERKICK, then Takagi runs to PUMPING BOMBER! Cover, Kenta breaks it! Hiromu throws Kenta back out and FLYING JOHN WOO! Kenta is sent into railing hard! Fans fire up with Takagi's "OI! OI! OI!" Takagi fires off boxing elbows on ELP all the way to six and he DECKS ELP! Takagi then drags ELP back up, pump handle and torture racks, but ELP sunset flips and reels Takagi in! C R- NO, Takagi powers through to a jackknife! TWO and ELP has it, TWO! Takagi has it back, TWO!! ELP GHOST PIN, TWO!!!
Fans are thunderous and Takagi runs in but ELP sends him at the ref! Takagi just stops himself, but turns around into a NUT PUNCH!! Cradle, ELP & Kenta win!!
Winners: Kenta & El Phantasmo, by pinfall
Tonight, the Headbanga is the Nutcracker, and for him, it was just Too Sweet! Will ELP use this to go after Takagi's KOPW trophy? Will Takagi welcome it if it means getting revenge? But Hiromu gets some payback right here, by taking Kenta's copy of his autobiography! Takagi throws it back, but the cover comes off! So Takagi RIPS that cover up! Will Kenta want his own payback for that insult?
Hiroshi Tanahashi & David Finlay VS The Good Brothers!
The Ace & The Rebel faced of with Karl Anderson & Luke Gallows just yesterday as part of an 8 Man Tag, and thanks to some sneaky tactics by Toru Yano, Tanahashi's side won. Will Tanahashi & Finlay win again against the Impact World Tag Team Champions? Or will the Machinegun and Doc shoot down this rag tag tag team?
Tanahashi shows off the muscles and fans cheer. Karl tries to get the fans to clap for "AN-DER-SON!" but no, it's "Let's Go, Ace!" The teams sort out, the Good Brothers Too Sweet, and Anderson starts against Finlay. Fans rally up for "THE RE-BEL! THE RE-BEL!" as he and Anderson circle. They tie up, Anderson waistlocks but Finlay wrenches to a hammerlock. Finlay headlocks, Anderson pries free to a hammerlock and headlock, and hits a takeover. Finlay headscissors but Anderson kips free, and fans cheer the standoff. Anderson talks with Gallows real quick, then he circles with Finlay again.
The fans rally up more, and Anderson again pretends it's for him. But no, it's for "THE RE-BEL! THE RE-BEL!" Finlay and Anderson tie up, and Anderson pulls hair to put Finlay in a corner! Finlay grabs at Anderson's ears, the ref reprimands them both and Anderson pulls more hair! Anderson says he'll give a clean break, and he slowly lets off. Then he swings on Finlay! But Finlay dodges to stomp a mudhole into Anderson! Finlay ROCKS Anderson with a right, taunts him, then ROCKS him again! Finlay ROCKS Anderson again, but Anderson ROCKS Finlay back. Finlay forearms, Anderson forearms, and fans rally as they build up speed!
Anderson KNEES low, checks his ears, then pulls on Finlay's ears! Anderson whips, Finlay dodges, and wrenches the arm to a wristlock! Anderson drops to a knee, Finlay wrenches him again, to an ELBOW BREAKER! Tag to Tanahashi, and fans rally as #RebelAce double whip and double elbow Anderson down! They shake hands to then DOUBLE ELBOW DROP! Fans fire up as Tanahashi air guitars and Finlay air drums! Tanahashi then drags Anderson up, but Anderson grabs Tanahashi's nose! But Tanahashi grabs Anderson's beard! So Anderson pulls Tanahashi's hair! Anderson drags Tanahashi over to tag in Gallows.
Anderson and Gallows mug Tanahashi, then Gallows bumps him off buckles. Gallows whips Tanahashi corner to corner, runs in but Tanahashi dodges! Tanahashi fires off body shots, Anderson rushes over but Tanahashi DECKS him! But that allows Gallows to get away, and he BOOTS Tanahashi down! Gallows runs to drop a BIG elbow! And another! And another! Cover, TWO! Fans rally, but Gallows stomps Tanahashi's leg then rains down a fist! Fans rally for "Let's Go, Ace!" but Gallows tells them to shut up! Gallows throws up the Too Sweet, drops another fist, then clamps on a big chinlock! Gallows squeezes tight but fans rally up.
Tanahashi endures as Gallows leans all his weight on Tanahashi's head. Fans rally, Tanahashi fights up and throws elbows into Gallows. Gallows throws Tanahashi by his hair! Gallows stands on Tanahashi's head, then scrapes his sole off the face. Gallows puts Tanahashi in the corner, tags Anderson, and Anderson RAMS his shoulder in! Anderson brings Tanahashi out, scoops him and SLAMS him, then soaks up the applause before the "GOMENASAI" SENTON! Cover, TWO! Anderson drags Tanahashi into a chinlock of his own, and grinds Tanahashi down. Fans rally as Tanahashi endures and fights up again.
Tanahashi throws elbows into Anderson now, but Anderson pulls hair again! Tanahashi breaks free, Anderson ducks the shotei, but kicks right into the DRAGON SCREW! Fans fire up as both men are down! They crawl for their corners, hot tags to Gallows and Finlay! Finlay dodges, fires off forearms, and an uppercut! Finlay kicks away on Gallows' leg, then ROCKS him with a right! Gallows blocks the whip to whip Finlay to a corner! Finlay dodges to UPPERCUT! Finlay keeps moving, to UPPERCUT again! And then ANOTHER UPPERCUT! Finlay shoves Gallows out and goes up for a FLYING UPPERCUT! Cover, TWO!
Fans fire up with Finlay and he calls his shot! Finlay cravats and goes up the corner, but no Acid Drop! Gallows YAKUZA KICKS Finlay down! Tag to Anderson while fans rally again. Anderson drags Finlay up and EuroUppers. Anderson whips, Finlay ducks 'n' dodges to LEAPING UPPERCUT! Tag back to Tanahashi! Tanahashi runs to FLYING FOREARM Anderson! Tanahashi DECKS Gallows, then fires off on Anderson! Tanahashi scoops and SLAMS Anderson into a drop zone, then goes up the corner! Fans fire up for the SUNSET SENTON! Cover, TWO! Tanahashi stays fired up and the fans rally behind him!
Tanahashi runs, but Anderson turns slingblade into SPINEBUSTER! Gallows gets in to DECK Finlay! Tanahashi goes to a corner, Anderson hits the ROCKET KICK, Gallows hits the SPLASH! Then BACK SUPELX NECKBREAKER! Cover, TWO!! Tanahashi survives but Anderson is annoyed. Anderson calls Gallows back in and fans rally up. Gallows drags Tanahashi up, the Good Brothers combine, but TORU YANO sprays them with baby oil!  Gallows chases Yano off, and Anderson turns around into a PRIMA NOCTA from Finlay! Tanahashi is up, he runs, SLINGBLADE! Fans fire up as Tanahashi goes up top!
Tanahashi aims and leaps, HIGH FLY FLOW!! Cover, #RebelAce wins!!
Winners: Hiroshi Tanahashi & David Finlay, by pinfall
This rag tag duo just beat the Impact World Tag Team Champions! And Tanahashi just pinned the NEVER Openweight Champion! Granted, Yano had a factor in it again, but will Tanahashi & Finlay look to take the Good Brothers' gold?
KUSHIDA & Tama Tonga w/ Jado VS Taiji Ishimori & Jay White w/ Gedo!
The Timesplitter wants the IWGP Junior Heavyweight Championship while the Good Bad Guy wants the IWGP World Heavyweight Championship! Tama has a golden ticket from the G1, will he help Kushida get his? Or will they both breathe with the Switchblade and Bone Soldier Reborn?
Bullet Club Too Sweets and the teams sort out. Fans rally as Tama and White start, a rematch from the B Block's final round! White and Tama circle, Taiji distracts and White attacks! White CLUBS away on Tama, Tama swings back but misses. White knees low, fires off forearms, then whips Tama to ropes. Tama reverses but White bails out! Tama pursues, White slides back in and stomps Tama down! Gedo applauds but he's the only one. White drags Tama up, tags Taiji in, and Bullet Club mugs Tama with big clubbing forearms and stomps! The ref reprimands, White steps out and Taiji lets off.
Fans rally for Tama and he elbows Taiji. Tama swings on White but White gets away, and Taiji kicks Tama low. Taiji ROCKS Tama with haymakers, Jado coaches Tama on, and Kushida tags in! Tama reverses the whip and but he and Kushida hurdle Taiji, to then DOUBLE CHOP Taiji down! Fans fire up and Kushida drags Taiji up. Kushida wrenches an arm, snapmares and SLAMS the arm down! Kushida then ties up Taiji's legs in a DEATHLOCK KNEEBAR! Taiji endures, rolls, and gets the ROPEBREAK! Kushida lets off and talks trash on White. Kushida drags Taiji up and CHOPS him to a corner!
Fans rally, Kushida whips corner to corner, but Taiji BOOTS him back! Taiji goes up to headscissor and BOOT Kushida, then he hits a BUCKLE SHOT! Taiji throws Kushida out, tags White, and Taiji distracts the ref by talking trash on Tama. White whips Kushida into railing! White then grabs camera cable to CHOKE Kushida! The ref is still busy with Taiji and Tama but Jado points it out. White lets off and gets in the ring. White wants Kushida to be counted out! Fans rally up for "KU-SHI-DA!" as the ring count starts. White keeps shouting at Kushida but Kushida gets up. White goes out and whips Kushida into railing again!
White puts Kushida back in and covers, TWO! Fans rally up while Gedo complains. White keeps Kushida from Tama, knees him low, then whips him to ropes and ELBOWS him down! Cover, TWO! Fans rally but White tags Taiji. White stands on Kushida's head, then Taiji joins in. They scrape Kushida, then Taiji cravats to throw shoulder after shoulder into Kushida's head! Kushida hits back with body shots and CHOPS, and a KICK to the leg! Taiji avoids the leg sweep to claw Kushida's face! The ref reprimands but Taiji whips Kushida to ropes. Kushida handsprings to BACK ELBOW! Fans fire up again as both men are down!
Hot tags to White and Tama! Tama DROPKICKS White, and OFF COMES THE VEST! White gets to a corner and Tama runs corner to corner, but White dodges the splash! White clamps on the sleeper but Tama elbows free! White CHOPS, whips, but Tama reverses. White reverses back but swings into the dragon sleeper! White spins around to suplex but Tama slips out. White CHOPS again, then whips Tama to a corner. Tama comes back to CLOBBER White! Fans are thunderous and Tama runs in to STINGER SPLASH! Tama reels White in for a BIG back suplex! Tama pounds the mat and the fans clap along!
Gedo shouts to White as he stands up, Tama rushes in to GUN- NO, White reels Tama in, BLADE- NO! Tama slips out, but White dodges the superman punch! White has the sleeper, Tama elbows that away. White waistlocks, Tama throws another back elbow, but into the SAIDO! Fans fire up again while both men are down! White and Tama crawl, White tags in Taiji! Taiji runs at Tama in the corner to DOUBLE KNEE! Snapmare and NECK TWIST! Taiji rolls Tama into the omoplata and YES LOCK!! Tama endures and fans rally up! Taiji pulls back but Tama moves around, and Tama claws his way to the ROPEBREAK!
Fans applaud and Taiji lets Tama go. Taiji drags Tama up, wrenches and hits an ELBOW BREAKER! And then another! And another, but Tama turns that into a TONGAN TWIST! Fans rally up as Tama crawls over, hot tag to Kushida! Kushida goes up to top FLYING AX HANDLE, then he KICKS away on Taiji's arm! Kushida whips, Taiji reverses but Kushida CROSSOBDIES! Kushida ducks the haymaker to PELE! Kushida WRECKS White with a dropkick, too! Fans fire up and Kushida drags Taiji up for an ELBOW BREAKER! Taiji avoids the Penalty Kick and fans fire up as the forearms start flying!
Taiji gets the edge, whips Kushida, but Kushida reverses. Taiji handsprings but into a PENALTY KICK! Kushida gets the arm to wrench it! Taiji resists the Hoverboard and White gets in! BLADE- NO, Kushida feeds White to a SUPERMAN PUNCH! White bails out and Tama pursues. Tama whips but White reverses and Tama hits railing! Taiji scoops Kushida for CIPHER UTAKI! Taiji roars while Kushida writhes, and Taiji says BANG! Gedo is fired up as Taiji hauls Kushida up, BLOODY- CRADLE! KUSHIDA & TAMA WIN!!
Winners: Kushida & Tama Tonga, by pinfall
But White CLOBBERS Kushida to stop the celebration! Taiji throws Young Lions out of the ring, then clamps onto Kushida with the BONE LOCK! Tama gets in, GUN- NO, White slips away! And Kushida fights his way around to put the BONE LOCK on Taiji!! Taiji suffers now while Tama keeps White out of the ring! White and Gedo tell someone to get in there and save Taiji! Young Lions get in the ring while Jado brings the belts! Tama holds up the IWGP World Heavyweight Championship, could we see him become the GOLDEN Good Bad Guy? And is it only a matter of time before Kushida takes Taiji's title?
G1 Climax 32 Finals: Kazuchika Okada VS Will Ospreay w/ The United Empire!
The Rainmaker conquered the A Block while the Commonwealth Kingpin conquered the D Block. But as Ospreay admitted himself, Okada leads their rivalry 6-1! Will Will repeat that one time he defeated Okada here tonight? Or will Okada make it rain with back-to-back G1 Climax championship wins?
Fans are fired up already as the bell rings and the two stare down. The claps for "O-KA-DA!" "O-SU-PREAY!" are thunderous as the two circle. Then things calm down as the two feel out the grapple. They tie up, are in a deadlock, but Okada headlocks. Ospreay endures the grind, powers up, but can't power out as Okada holds tight. Okada grinds the hold, fans rally up and Ospreay throws body shots. Ospreay powers out, Okada stops himself and drops down to get the headlock back! Fans rally again as Ospreay endures and fights up. Ospreay back suplexes but Okada lands on his feet to headlock and takeover!
Ospreay headscissors, Okada kips free and headlocks for another takeover. Ospreay headscissors but Okada shrugs that off. Fans applaud the exchange while Ospreay keeps his shoulder up. Ospreay fights up, Okada grinds the headlock more, but Ospreay stands up. Fans rally and Ospreay powers Okada to ropes. Red Shoes counts the ropebreak and Okada lets go. Ospreay backs up slowly, but Okada avoids the chop! Okada headlocks, Ospreay powers out but Okada runs him over! Okada poses, things speed up, and Ospreay hurdles. Okada reels Ospreay into a wristlock ripcord but Ospreay ducks!
Ospreay springboards, but Okada denies the OsCutter! Fans fire up as the two stand off again! Okada and Ospreay stare down from opposite corners as the fans clap again, "O-KA-DA!" "O-SU-PREAY!" Okada and Ospreay circle, tie up, and are in a deadlock. Okada pushes Ospreay back to the ropes, Red Shoes calls the ropebreak, and Okada lets off slowly. Okada ROCKS Ospreay! No fake outs here! Okada CLUBS Ospreay while the Empire protests. Okada whips, Ospreay dodges and RANAS! Fans fire up and Okada bails out! Ospreay slingshots but Okada moves! Ospreay lands on the apron and Okada trips him up! Okada kicks Ospreay, to DDT to the floor!
Fans fire up while Red Shoes checks Ospreay. Ospreay's okay to continue, though he clutches his neck. Okada leaves Ospreay behind to get in the ring, and Red Shoes starts the ring count. Fans rally up while Okada watches Ospreay. Ospreay sits up at 7 of 20, so Okada goes out to fetch him. Okada kicks low, to DDT to the floor AGAIN! Khan protests but Okada leaves Ospreay behind again. Fans rally again while Ospreay checks his head and neck. The ring count returns and Ospreay leans against railing at 4. Ospreay stands up at 8 and hobbles into the ring at 9, which fans applaud. But Okada drags Ospreay up to hit a NECKBREAKER! Cover, TWO!
Fans rally as Ospreay is still in this. Okada drags Ospreay up with a chinlock. Okada grinds Ospreay and JAMS his knee in! Ospreay flails, pries at the hold, but Okada uses that to get a straitjacket stretch! Fans rally and Ospreay endures more. Okada shifts back to the chinlock but Ospreay scrambles forward to the ROPEBREAK! Okada lets go and Ospreay kicks at him. Okada drags Ospreay up to CLUB him on the back. Okada CLUBS Ospreay in the corner and Ospreay falls to his knees! Fans rally as Ospreay stands up, but Okada CLUBS him again! Okada clamps on with the chinlock again but Ospreay endures.
Ospreay fights up, throws back elbows, and then body shots. Okada CLUBS Ospreay's neck again, whips him to a corner, but Ospreay reverses. Ospreay runs in but Okada dodges! Okada comes back with a back elbow! And then a kick to a- SUPLEX from Ospreay! Ospreay wasn't gonna let Okada DDT him a third time! Fans fire up as Ospreay and Okada rise. Ospreay fires off a flurry of forearms then whips Okada to ropes. Okada reverses, Ospreay handsprings, NEURALIZER! Direct hit and Okada is down, but Ospreay goes to the apron! Okada stands, and Ospreay springboards for PIP PIP CHEERIO! Cover, TWO!
Fans rally up more as Ospreay stands back up. Ospreay shakes out his arms, drags Okada up and reels him in, but Okada fights the lift. Okada RAMS Ospreay into a corner, hoists him up top, but Ospreay BOOTS Okada away! Okada comes back but Ospreay puts him up top to DROPKICK him to the floor! Ospreay knows Okada well! Fans fire up and Ospreay goes up top! SUPER SKY TWISTER!!! Fans are thunderous as Ospreay takes Okada down! The Empire coaches Ospreay and he gives a thumbs up. Ospreay stands and fires himself up before fetching Okada. Okada is dead weight but Ospreay drags him up.
Fans rally and Okada gut wrenches! Ospreay slips off, and uses the railing to jump, OSCUTTER to the floor! Red Shoes checks on Okada now as the fans rally up. Ospreay stands up, hobbles over to Okada, and he drags Okada up and into the ring. High stack cover, TWO! Okada is still in this but Ospreay keeps his cool. Fans rally back up and Ospreay drops a knee on Okada's head! Ospreay KNEES and KICKS Okada in the back! Ospreay then drags Okada up, CLUBS him, and stalks Okada to a corner. Fans rally and Ospreay stands Okada up to ROCK in the back! Okada falls over and Ospreay paces around him.
Ospreay drags Okada up, snapmares him and clamps on a cravat for a neck wrench. Okada endures, fans rally up and Ospreay puts on the pressure. Okada fights his way back up, throws back elbows, but Ospreay ROCKS him with a forearm! Ospreay whips but Okada reverses, to back drop Ospreay HIGH! Fans fire up while Ospreay writhes on the mat. Okada and Ospreay stand, Ospreay rushes in but Okada FLAPJACKS him! Okada drags Ospreay back up and catches the haymaker! Ospreay resists, but Okada still puts on the MONEY CLIP! Ospreay endures and fans rally as Okada puts on the squeeze!
Ospreay fades, dropping to a knee, but he fights up to arm-drag free! Ospreay rushes in but into Okada's JAWBREAKER to BACK2BACKBREAKER! And then MONEY CLIP!! Ospreay endures while fans rally again. Okada leans on the hold but Ospreay moves around. Okada makes it a MONEY CLIP STRETCH! The Empire coaches Ospreay and he scoots back, ROPEBREAK! Okada lets go and both men are down on the mat. Fans rally again and Okada stands up. Okada drags Ospreay up, scoops him, and SLAMS him! Okada goes to the corner and climbs up, for the MACHO ELBOW! And of course, the Rainmaker Pose!
Okada drags Ospreay up, wristlocks, but Ospreay backs him to a corner! Okada uses that to throw Ospreay into the corner! Okada ROCKS Ospreay with a forearm, and fans rally up again. Ospreay stands up, Okada ROCKS him again. And EuroUppers! Okada wrenches and whips Ospreay corner to corner hard, and Ospreay bounces off buckles to hit the mat! The Empire looks worried while Okada eggs Ospreay on. Fans haven't stopped rallying and Okada kicks at Ospreay. Ospreay gets mad as Okada slaps him. Ospreay throws a forearm but Okada ROCKS him right back! Fans fire up and Ospreay fires off Kowada Kicks and CHOPS and more kicks and a CHOP, repeat!
Ospreay CHOPS and CHOPS and CHOPS! Okada falls over but stands right back up to SHOTGUN Ospreay into the corner! Only for Ospreay to come right back and LARIAT!! Both men are down and the fans are thunderous! Ospreay and Okada stir, and Ospreay crawls after Okada as Okada crawls to ropes. Ospreay pushes Okada to the apron then joins him out there. Okada sits up and Ospreay reels him in! Okada fights the piledriver, Ospreay keeps trying, and Okada back drops Ospreay to the apron! Fans rally as both men are on the edge. Okada drags Ospreay up now, gut wrenches him, but Ospreay fights free!
Ospreay HOOK KICKS Okada, then goes up the corner, APRON OSCUTTER!! Both men crash down and then fall tot he floor while fans are thunderous again! Red Shoes checks both men but they're okay to continue. The ring count starts and both men are still down at 5 of 20. Ospreay sits up at 6 and stands up at 10 to get in the ring. Okada is still down at 12, but starts to sit up at 13. Fans rally up and Okada sits all the way up at 16! Okada stands and staggers, and leans on the railing at 18! Okada turns around and slides in at 19, but Ospreay hits him with COAST2COAST! Cover, TWO!! Ospreay hurries right up top, to BLINDSIDE CHEERIO!
Fans fire up and Ospreay roars! Ospreay springboards, to OSCUTTER!! But his own neck slows him down on the cover, TWO!! Okada survives and fans are thunderous again! Okada and Ospreay crawl to opposite ends of the ring, and then drag themselves up the ropes. Ospreay aims to SUPERKICK Okada down! Ospreay then drags Okada up, reels him in and underhooks the arms, but Okada flips through the lift to short arm LARIAT! Ospreay stays up and roars, then BOOTS Okada! And again! And again! Okada short arm LARIATS again! Both men are down but Okada holds onto the wristlock! Fans rally up as Okada stirs.
Okada stands and he drags Ospreay back up, to short arm LARIAT again! Okada roars, drags Ospreay back up and wristlocks, but Ospreay fires back elbows! Okada CLUBS Ospreay on the back, EuroUppers, then runs, into the Tiger Wall Kick! But Okada DROPKICKS first! Okada whips, Ospreay avoids the dropkick! Ospreay springboards, OS- DROPKICK!! Okada knocks Ospreay out of the sky! The fans are thunderous and Okada gut wrenches Ospreay for the TOMBSTONE!! Then Okada stands Ospreay up, ROLLING- NO, Ospreay swats the lariat to ROLLING ELBOW! And HOOK KICK! And CHELSEY GRIN!!
Okada falls over from the blindside elbow and fans are electric! Ospreay aims from a corner, Okada rises and Ospreay runs in, into a DROPKICK! But Ospreay's right up! But he runs into a gut wrench! Ospreay turns that around onto Okada, and he ties up the legs! HOLY CROSS TOMBSTONE!! Cover, TWO!?!? Okada survives but Ospreay prepares his elbow pad! Ospreay aims as Okada sits up, HIDDEN BLADE!!! Cover, TWO!?!?! Okada survives and Ospreay can't believe it! Fans rally up and Ospreay goes to the corner. Ospreay goes up top, FROG SPLASH!! Cover, TWO!!! Okada is still alive!
Ospreay drags Okada up, reels him in, tucks him in, STYLES CLASH!! Cover, TWO!!!! Okada survives because Ospreay isn't quite phenomenal! Fans are electric again as Okada drags himself to ropes. Ospreay glares and stands up. Ospreay aims a finger gun and says BANG! Shoutout to the Cleaner, V-TRIGGER!! Ospreay Electric Chair Lifts?!? But Okada slips out to scoop and LANDSLIDE!! Okada ripcords for RAINMAKER!!! Cover, TWO!?!?!? Okada can't believe it, but neither can anyone else!! The Empire rallies and the fans are erupting while both men are down! Okada drags himself around to find Ospreay.
Okada grits his teeth, he grabs at Ospreay, but Ospreay tries to crawl away. Okada tells Ospreay it's not done yet! Ospreay resists as Okada goes for the wristlock. Ospreay throws elbows but Okada won't back off! Okada stands Ospreay up, but Ospreay throws more elbows! Okada GERMAN SUPLEXES! Okada holds on and he drags Ospreay up again! Ripcord, SPANISH FLY!! Ospreay turns it around on Okada and fans are electric again! They've been fighting for 30 minutes and they're still not done! Ospreay sits up first but Okada slowly follows. Okada reaches out but Ospreay pushes his hands away.
They're still on the mat but Ospreay ROCKS Okada with a forearm! Okada ROCKS Ospreay back! Ospreay ROCKS Okada back! Fans rally back up as Okada turns around and ROCKS Ospreay! Ospreay snarls and grits his teeth, then he ROCKS Okada! The forearms fly back and forth as the two stand up! Ospreay seethes then fires back! Fans fire up as the brawl continues, and Okada falls over! Okada stands back up as Ospreay glares at him. Okada fires a flurry, but Ospreay roars and ROCKS Okada! Okada EuroUppers, Ospreay HOOK KICKS! Ospreay and Okada fall over and the fans are thunderous again!
Ospreay crawls over to Okada, brings him around and underhooks the arms. Ospreay lifts but Okada fights it off! Alabama Lift, REVERSE NECKBREAKER! But Ospreay just gets right up! HIDDEN- NO, Okada ducks the Hidden Blade, then ducks the Buzzsaw, to ENZIGURI! Okada drags Ospreay up, pump handles and scoops, but Ospreay slips free! But Okada ducks the haymaker to ripcord, only for Ospreay to POP-UP ELBOW! Ospreay aims from a corner as fans are electric again! HIDDEN- SPIN-OUT POWERSLAM!! Ripcord and RAINMAKER!!! Okada falls on the cover, and Okada wins!!
Winner: Kazuchika Okada, by pinfall (G1 Climax 32 Champion)
Two years in a row, Kazuchika Okada wins the final of the G1 Climax!! Will Ospreay have to complete his G1 dream next year?
As for Okada, he stands up and catches his breath, he is presented with the G1 Climax trophy and banner by JAM Project, the band that sings the G1 Climax theme song. Okada and JAM Project stand together for the photo ops, then he has his own moment to hold both trophy and banner overhead. Trophy and banner are set in place and Okada gets the mic. "BUDOKAN! Once again, thank you for your hot and enthusiastic support! Ospreay, you're the best, man. You brought the heat. However, I'll rule this thing for as long as it takes for you to beat me, ya bastard!"
Okada continues to say thanks to the fans for all their support this last month. "Even though the world is still in a difficult place, so many of you came out here. And those who couldn't are watching right now on NJPW World. All of that support helped make this a hot G1 Climax!" Fans applaud that, and clap for "O-KA-DA!" Okada says this was his ELEVENTH G1 Climax, "and this year was as tough as ever. I won last year, too, making this a repeat victory. After winning last year, I challenged the meaning of winning the G1 Climax. Winning the G1 shouldn't be seen as a stepping stone to winning the IWGP World title.
"Today's match proved that the G1 means something other than winning a belt that changes hands. It's a once-a-year league to decide who is really the best! You don't win this just so you get an IWGP World Heavyweight title shot after. To me, that flies in the face of what winning the G1 really should be about. Therefore, I'll raise the value of what it means to win the G1! I'll raise the value of what it means to have earned that January 4th Tokyo Dome main event spot! It's the IWGP World Heavyweight Champion challenging the G1 Climax Champion, Kazuchika Okada!" Fans applaud the idea of turning the tables on the top title!
Okada continues to say that he knows every competitor gave it their all, so that makes him all the more confident he'll succeed! "NJPW, you know where I want to be on January 4th. Naito says you always give in to me, so don't let this time be any different! Kento-dono, if you would please!" Fans clap for "O-KA-DA!" again, and he says, "I want the Tokyo Dome packed on January 4th, 2023. We're eight months in to this 50th anniversary year, I'll spend the rest of the year enticing those who haven't yet discovered pro-wrestling! And I'll make pro-wrestling fans even more excited about it! NJPW and Kazuchika Okada will continue to light pro-wrestling up! Please, continue to support us!"
Fans applaud again and Okada says, "All I can do is thank you, so thank you very much." Fans clap for him again, and he says, "I hope pro-wrestling continues to be something you cherish. I'm not doing this just for me or NJPW, I'm doing this to fill a Tokyo Dome that we can all enjoy together! Please, stay with me! Thank you very much!" Okada tears up a bit, but he tells the fans that things got really heated up, so they should go home and cool off. "NJPW's 50th anniversary continues, Kazuchika Okada and NJPW will continue to excite you all! For the rest of this anniversary year, and all of the wrestling world, I will make it rain!"
Okada drops the mic, poses with the banner and trophy, and the silver streamers fly! Will Okada redefine the power structure between the G1 Climax winner and the IWGP World Heavyweight Champion? Who will he meet for that battle come Wrestle Kingdom?
---
My Thoughts:
A great event for the G1 Climax, and it of course set up a lot of upcoming matches for titles/prizes. Takagi & Hiromu VS Kenta & ELP was a lot of fun, but I figured ELP would cheat to beat Takagi. ELP is surely coming after the KOPW trophy, but I would love if Kenta wants a match with Hiromu over what happened to Kenta's book. Tanahashi & Finlay VS Good Brothers was really good, and what a great surprise from Yano showing up to squirt oil all over Gallows. Yano VS Gallows is probably going to be a match, and I would think Tanahashi challenges Anderson for the NEVER Openweight Championship, a title Tanahashi's only had the one time.
Great stuff out of Tama & Kushida VS White & Taiji. The IWGP World and Junior Heavyweight losing here is probably a sign that they win in their separate 1v1 matches. As awesome as it would be for Tama to take the title before Wrestle Kingdom, this makes me think he won't win it. Kushida VS Taiji could go either way, but Kushida getting the win on Taiji makes me think Taiji survives him to retain the title. And of course, we got just an awesome match between Okada and Ospreay. Quite a few times, I thought Ospreay was winning here, but in the end, it seems NJPW is sticking with old faithful, Kazuchika Okada. Okada VS White will be great for Wrestle Kingdom, but so would Okada against just about anyone.
My Score: 8.9/10
Mitchell's WWE NXT UK Results & Report! (8/18/22)
Big Strong Boy VS Scum of the Earth!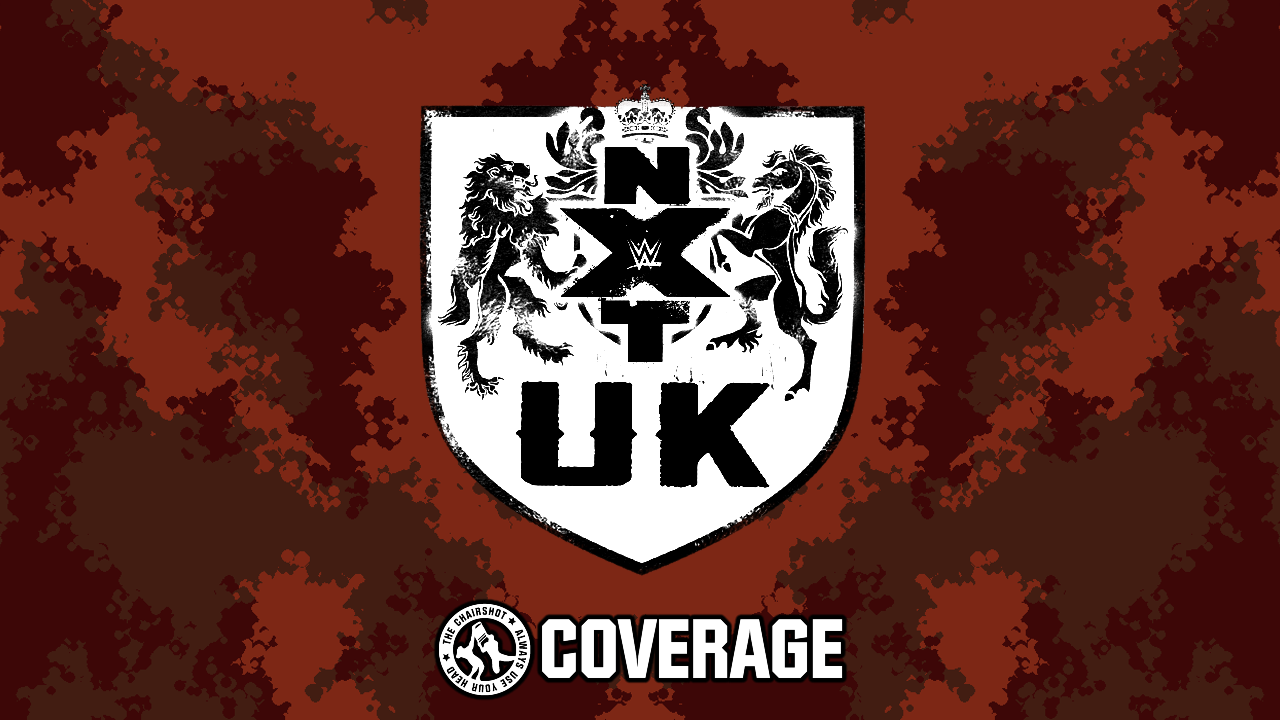 The NXT UK Championship Tournament rolls on!
It's a double shot of the NXT UK Championship Tournament, as Mark Andrews takes on Joe Coffey, and Tyler Bate faces Kenny Williams!
OFFICIAL RESULTS
Vacated NXT UK Championship Tournament, Opening Round: Mark Andrews VS Joe Coffey; Coffey wins and advances.
Amale VS Nina Samuels; Amale wins.
Andre Chase & Bodhi Hayward w/ Thea Hail VS Eddie Dennis & Saxon Huxley; Chase & Bodhi win.
Vacated NXT UK Championship Tournament, Opening Round: Tyler Bate VS Kenny Williams; Bate wins and advances.
PLAY BY PLAY
Vacated NXT UK Championship Tournament, Opening Round: Mark Andrews VS Joe Coffey!
South Wales Subculture and Gallus clash once again, but it'll be the High Fiving, Stage Diving, Skateboarding Rockstar taking on the Iron King! Will #MANDREWS head for singles gold? Or is this Joe's chance to finally strike gold?
The bell rings and the two circle. Fans rally as the two shake hands. They tie up, Joe arm-drags Andrews but Andrews gets right up. They tie up again, Joe whips Andrews to ropes but Andrews holds ropes to stop. Andrews comes back to headlock, and he holds on as Joe tries to power out. Joe back suplexes but Andrews lands on his feet! Andrews headlocks again but Joe powers out to run him over! Fans cheer as Joe speeds things up. Andrews hurdles an arm-drags, but Joe blocks it! Joe brings Andrews up to whip but Andrews RANAS, only for Joe to block it! Joe brings Andrews up, Andrews pops free but leaps into Joe's scoop SLAM!
Fans fire up for Joe as he stalks Andrews to a corner. Joe throws body shots, then whips Andrews. Andrews holds ropes to stop that, and he ELBOWS back hard! Andrews goes up, leaps, and RANAS! Fans fire up and Andrews keeps moving, but Joe pops Andrews up for a POWERSLAM! Cover, TWO! Joe keeps cool and he drags Andrews up. Fans rally as Joe whips Andrews hard into the corner, then doe sit again! Joe scoops Andrews for a BACKBREAKER! Andrews writhes but Joe brings him up. Andrews throws body shots and forearms and CHOPS, but Joe hits a heavy body shot! Joe suplexes high and hard! Cover, TWO!
Joe paces around Andrews and fans rally up. Joe half nelsons and even clamps onto the other shoulder. Andrews endures while fans rally up again. Joe thrashes Andrews around but Andrews throws body shots! Andrews tries to arm-drag but Joe holds on! Joe snapmares Andrews, covers, TWO! Joe drops an elbow but Andrews avoids it! Andrews throws heavy body shots in return but Joe throws them all back! Joe then clamps back onto the half nelson! Joe digs his knuckles into Andrews' shoulder, but the fans rally as he endures. Andrews fights up, Joe wants the full nelson, but Andrews clasps hands!
Joe spins Andrews to EuroUpper! And again! Joe EuroUppers but Andrews hooks the arms! Joe fights the backslide, but Andrews still brings him down! Joe powers back up! Joe swings Andrews around but Andrews rolls him up, TWO!! Joe gets up but Andrews DROPKICKS him! Andrews runs to dropkick the legs out! Andrews keeps moving but Joe HEADBUTTS! Andrews falls down and Joe yanks him up! Andrews dodges the lariat and pops up to SATELLITE DDT! Fans fire up while both men are down! Andrews and Joe stir, Andrews runs in and ROCKS Joe! Joes wings, misses, and Andrews ROCKS him again! Andrews runs to CLOBBER Joe!
Fans fire up with Andrews and he throws forearms and CHOPS on Joe! Joe throws a body shot, shoves Andrews to ropes, but Andrews slides under the lariat to PELE! Joe ends up tumbling out of the ring, and his feet hook the bottom rope! Joe dangles over the floor and Andrews goes out to WOE STOMP him down! Fans fire up as Joe sputters and writhes! Fans fire up for "NXT! NXT!" as Andrews brings Joe up. Joe shoves Andrews away, gets in the ring, and Andrews GAMANGIRIS him! Andrews springboards to CROSSBODY! Cover, TWO! Joe survives but fans fire up behind Andrews!
Joe goes to a corner, Andrews runs in and DOUBLE- NO! Joe blocks the knees! Andrews CLUBS Joe but Joe throw shim away, BOOTS him, and OVERHEAD Belly2Belly suplexes! Fans rally back up for Joe as he crawls to the cover, TWO! Joe snarls, he drags Andrews up and suplexes, STUN-DOG MILLIONAIRE! Andrews has Joe wobbling and he hurries to a corner! Andrews springboards again, but into an UPPERCUT! Joe runs corner to corner for the GLASGOW SENDOFF! Joe runs to give Andrews ALL THE BEST FOR THE BELLS! Cover, Joe wins!!
Winner: Joe Coffey, by pinfall (advances to the next round)
And with that, the Iron King is in the semifinals! Will he finally make NXT UK his kingdom by taking the top title?
NXT UK Media catches up with Joe Coffey backstage.
Joe is singing, "This is what it means to be Gallus~! We'll be champions again as you know~!" Joe stops singing to say that IS what it means to be Gallus. Did you see that match? Just like that, Joe's first time back since his long time off, and he is feeling MANIC. The UK Championship escaped him two times before, but at the end of this tournament, there will be one man standing! This will be Joe's kingdom! Gallus Boys On Top!! Coffey is all fired up, but will he finally be a golden Iron King?
Amale VS Nina Samuels!
The French Hope has wanted her own road back to the top title, but there are many obstacles in her way. There's Blair Davenport, Eliza Alexander and Isla Dawn for sure, but the Leading Lady isn't exactly helping things by trying to boost her ratings using Amale. Will Amale make sure the Nina Samuels Show is taken off the air once and for all?
The bell rings and fans rally behind the "FRENCH HOPE! FRENCH HOPE!" Amale and Nina circle, tie up, and are in a deadlock. Amale headlocks, grinds, but Nina powers up, only for Amale to hold tight. Nina fights up, lifts Amale, but Amale uses that for a flying takedown! Amale grinds the headlock but Nina rolls it to a cover, TWO! Fans duel, Amale rolls Nina with her arm to ghost pin, TWO! Nina kicks low, whips Amale to a corner, but Amale goes up and over! Amale headlocks for another takeover! Fans rally and sing for Amale but Nina fights up. Nina throws body shots, powers out, but Amale runs her over!
Amale runs, Nina stays low and then jumps. But Amale fakes her out to dropkick the legs out! Amale then runs, redirects and basement dropkicks Nina down! Nina staggers up into a SHOTGUN! Amale drags Nina to a cover, TWO! Amale keep son Nina but Nina hooks the ropes. Amale yanks her away but Nina uses that to RAM Amale into the corner! The ref counts, Nina lets off at 4, but Amale dodges the sucker punch! Nina uses the ropes as defenses, then she BOOTS Amale down! Nina stomps Amale down after the cheap shot, then she drags Amale to ropes. Nina bends Amale against the ropes, CLUBS her, then runs to dropkick Amale down! Cover, TWO!
Nina drags Amale around to dribble her off the mat! The ref reprimands, Nina sits Amale up for a chinlock. The fans taunt Nina but she shouts back at them. Nina digs her knee in but Amale endures. Amale fights up, pries at the chinlock, but Nina JAMS Amale in the back again. Amale still endures, fights her way up, but Nina JAMS her down again. Fans rally for the "FRENCH HOPE!" again and she fights up. Amale throws body shots but Nina scoops and SLAMS Amale down! Cover, TWO! Fans still sing for Amale but Nina talks trash. Nina slaps Amale around, sits her up and scuffs her with her boot!
Nina keeps kicking but Amale blocks the boot! Amale breaks free to ROCK Nina with forearms again and again! Nina shoves Amale, then scoops her for a BACKBREAKER! Cover, TWO! Amale survives but Nina is furious. Fans taunt Nina but Nina makes Amale smile! The ref counts, Nina lets off and pulls Amale up into the motorcycle stretch in the ropes! The ref counts again, Nina lets off again, but Amale dodges the straddle attack! Amale rallies on Nina with haymakers and forearms! Fans fire up for the ROLLING ELBOW! Nina falls and Amale fires up! Amale runs in to rally with big clotheslines and elbows!
Amale hauls Nina up, whips her to a corner and runs in to clothesline! Then BULLDOG! Cover, TWO! Fans still rally and Amale drags Nina up. Amale waistlocks but Nina fights! Nina drop toeholds Amale into ropes, but Amale elbows back! Nina runs in but Amale drop toeholds her into buckles! Amale runs side to side, for the BOOT WASH! Amale drags Nina up and fans chant "OUI! OUI! OUI!" for the HOPEBREAKER! High stack cover, Amale wins!
Winner: Amale, by pinfall
Another great win for Amale, but will it be enough to convince management she deserves a title opportunity? Amale tells Blair, Eliza and Isla that they better be watching, because they're next!
NXT UK Media catches up with Oliver Carter.
He gets another check up with the trainer, and he knows they want to know how his leg is doing. It's all good, but then Trent Seven walks over to say, "But is it, though? Because to me, Oliver Carter, that looks like a very, very heavily bandaged and braced left knee." What Seven suggests is Carter just gives up now and lets Seven go the finals. Go on, say it. Carter will say it. If Carter remembers last time, when Carter & Smith faced Seven & Bate, they made Moustache Mountain into ex-champions.
Seven says yes, that did happen. But it was also the most important and pivotal moment in Seven's career. Because now, the WWE Universe and Carter get to see the REAL Trent seven. And the real Trent Seven will break that leg!
Ilja Dragunov speaks.
"This is my message for every competitor in the NXT UK Championship Tournament. Impressive, inspiring, how every single one of you are willing to give everything they have for this prestigious prize. And I'm curious to know who will take my place as the champion. But pay attention to the wording: MY place. Whoever you will be, you better sleep well, fight hard, because the second, the very second I will be back, I will throw my entire existence in front of you in a way you haven't ever seen before. Long Live the Czar!"
Andre Chase & Bodhi Hayward w/ Thea Hail VS Eddie Dennis & Saxon Huxley!
The former headmaster crashed a lecture, and now Professor Chase and his star pupil are ready to give him a #TeachableMoment! But will the Welsh Dragon be able to guide the Divine Beast of the Astral Plane to victory? Or will they fail Chase U's test?
Dennis is already trying to teach Huxley some self control in his energy, but Huxley just runs the ropes like the wild man he is! The teams sort out and fans taunt Dennis as he starts against Chase. The teachers circle, tie up, and Chase wrenches the arm. Chase hits an ELBOW BREAKER, then wristlocks. Dennis spins through, wrenches and waistlocks then spins Chase for an arm-drag! Dennis tells Huxley to learn from that catch-as-catch-can! Chase and Dennis reset and circle again. They tie up, Dennis wrenches to a wristlock but Chase rolls, handsprings and lips through to a top wristlock and arm-drag!
Chase SLAPS Dennis on the head! That was a TEACHABLE MOMENT! Dennis rushes in, but into a RUSSIAN LEG SWEEP! The fans spell out Chase U as Chase stomps away on Dennis! Chase clinches Dennis, brings him over and tags in Bodhi. Feed into the shoulder then Bodhi slingshots to sunset flip! Cover, TWO! Bodhi stays on Dennis with a wrench and tag back to Chase. Chase CLUBS the arm, wrenches it, then hooks it. Tag back to Bodhi, and he CLUBS the arm! Bodhi wrenches and wristlocks and tags Chase back in. Chase goes up the corner for AX HANDLES! Chase wrenches but Dennis knees low!
Dennis wrenches and brings Chase over to tag in Huxley! Huxley goes up, but Chase pulls Dennis in, Huxley AX HANDLES Dennis! Huxley and Dennis argue about the miscommunication, and Dennis shoves Huxley, into a roll-up from Chase! TWO and Dennis realizes he almost made a mistake! Chase kicks Huxley, EuroUppers, but runs into a cheap shot from Dennis! Chase DECKS Dennis for it, then dodges Huxley, only for the THESZ PRESS to hit on the return! Huxley dribbles Chase and Bodhi protests! Huxley runs and drops the BIG elbow! Cover, ONE!! Huxley drags Chase up to bump him off buckles!
Tag to Dennis and Dennis stomps Chase. Fans rally for Chase and he fires body shots back! Dennis whips and CLOBBERS Chase! Cover, TWO! Dennis clamps onto Chase and gets an arm for a cording hold. Chase fights up, Huxley tags in and he KNEES Chase low. Huxley throws body shots but Chase JABS and JABS! Chase whips but Huxley blocks to reverse hard! Huxley then whips Chase and clotheslines in the other corner! Huxley whips again, then runs in to clothesline from behind! Huxley whips Chase again, and again, and Chase is being worn out by the buckles! Dennis shouts at Huxley, "What're you doing, ya moron?!"
Huxley stomps whipping Chase around and Dennis tells him to finish it off! But Chase avoids the elbow drop! Fans rally up and Chase crawls, as does Huxley! Hot tags to Bodhi and Dennis! Bodhi CLOBBERS Dennis over and over, then runs through him to run him over! Bodhi fires up and STANDING SPLASHES! Cover, Huxley breaks it! Huxley drags Bodhi up to whip but Bodhi reverses and sends Huxley out! Dennis JABS Bodhi, hoists him up, and hits a BIG back suplex! Tag to Huxley and Huxley goes right up top! FLYING LARIAT! Cover, TWO! Bodhi survives but Huxley fires up! Huxley double hand grips but Dennis tags in?
Huxley is confused, and not just because he's crazy. Huxley says Dennis is a horrible teacher but Dennis says he'll finish this off! Dennis drags Bodhi up but Huxley storms off! Dennis reels Bodhi in, but Bodhi back drops free! Tag to Chase! Bodhi spins Dennis around, Gory Especial, and Chase runs, ROLLING COMPLETE SHOT!! Cover, Chase U wins!!
Winners: Andre Chase & Bodhi Hayward, by pinfall
Dennis just learned that students only learn when teachers aren't complete jerks! Huxley gets back in the ring to say as much but Dennis says its Huxley's fault. So Huxley grabs Dennis for the TWO HAND CHOKE POWERBOMB! Huxley is running wild, and he chest bumps Bodhi! Chase shakes Huxley's hand instead, will we see the wild man in Chase U some day?
NXT UK takes a closer look at the coming Heritage Cup Championship rematch.
Noam Dar says that NXT UK isn't just here to watch the game, they're here to change the game. That's why they're the only brand to use the Heritage Cup Rounds style. Mark Coffey adds that no one else has this. No one else produces the toughness that the UK does. The physical toughness, and the mental toughness. Dar says there's nothing more competitive, and Mark says it's like having six matches in one go. Step up or step aside! If you think you can do this, then EFFING C'MON THEN! That is what this cup is all about!
Mark says the Heritage Cup represents the history of pro-wrestling in the UK, and it is his honor to be carrying that forward. Dar says heritage is about giving thanks and praise to the legacy of this sport. James Mason, Johnny Moss, Robbie Brookside, Johnny Saint. Without those men, this brand wouldn't be here. They do not let the past die. Mark is carrying their legacy while carving his own right next to theirs. Dar says to "all those old boys watching," pat yourselves on the back. But Dar is here now, and all the levels those legends have set, Dar will best them. They can start thanking Dar now.
Mark says Dar is perhaps the greatest Heritage Cup Champion there's ever been, but he also said he'd beat Dar without Sha in his corner, and look what happened. Dar isn't here to talk about Sha. It's never been about Sha, it's been about Dar. Mark says Dar is lost without his corner man. But Dar says he'll put away all the doubt and questions in the rematch. Fight IQ beats toughness, just like chess beats checkers, and like Dar beats Mark. Mark will bust through those rounds, those walls, and through Dar! Mark says the legacy is in his hands, because it is GALLUS' KINGDOM! Next week, who wins the epic rematch to prove they are THE Heritage Cup Champion?
Vacated NXT UK Championship Tournament, Opening Round: Tyler Bate VS Kenny Williams!
Oliver Carter beat Charlie Dempsey and Trent Seven beat Wolfgang, giving us one semifinal match. Joe Coffey beat Mark Andrews to start the night, and he waits for the winner of this main event! Will the Big Strong Boy start towards a second NXT UK Championship reign? Or will the Scum of the Earth ruin all of that right here?
The bell rings and the two circle. Fans sing, "We want our Tyler back! We want our Tyler back!" Bate and Kenny tie up, Bate hits a headlock takeover but Kenny headscissors. Bate kips free, and the two stand off. Fans now chant, "Squash the Cockroach!" as Bate and Kenny reset. They tie up again, go around, and Bate wrenches to a wristlock, Kenny hooks a leg, but Bate cranks the wrist and wrangles Kenny. Kenny keeps his shoulder up, kips up, and he wrenches through. Bate rolls, wrenches and wristlocks back! Kenny spins to back elbow Bate! Kenny whips Bate to a corner, Bate goes up and under then knuckle locks to hammerlock.
Bate baits Kenny, goes up and under, baits him again to roll Kenny up, TWO! Bate whips but Kenny goes up, only for Bate to snapmare! Bop up, and Kenny scrambles away! Fans rally and sing for Tyler again as Kenny resets. Kenny offers a handshake, but then he leaves Bate hanging. Oldest trick in the book! Kenny mocks the mustache tweeze, "just like your old pal Trent!" Bate slaps Kenny's hands away so Kenny SLAPS Bate! Bate DECKS Kenny! Bate fires off hands, Kenny gets in the ropes and the ref counts. Bate lets off, but just for a moment! Kenny pokes Bate in the eye! Kenny CLBOBERS Bate, covers, TWO!
Kenny knuckle locks and covers, TWO as Bate gets an arm up. Kenny puts that arm down, TWO as the other arm comes up! Kenny puts that down, TWO as Bate bridges! Kenny hops on but Bate stays up! Kenny is annoyed, but then Bate powers up more! Bate gets his arms up to do a full neck bridge! Kenny can't believe it as Bate sits up!! Bate breaks the locks to SLAP Kenny! Bate whips Kenny to a corner, Kenny bounces off buckles into the back drop! Kenny staggers up into a DROPKCIK! Fans rally as Kenny bails out, and Bate builds speed! Kenny gets in as Bate slides out, and Kenny triangle jumps to back elbow!
Bate goes down and fans boo, but Kenny builds speed! Bate dodges the wrecking ball dropkick, and he pops Kenny up to a fireman's carry! AIRPLANE SPIN! But Kenny grabs the post to stop that! Bate lets off, rushes in but Kenny sends him into the post! And then WRINGS him into the barriers! Kenny scurries into the ring and we're at 6 of 10 on the ring count! Bate is up and in at 8! Kenny stomps away on Bate, fans rally but Kenny paces around. Fans chant, "Let's Go, Tyler!" "Kenny Sucks!" so they're really all on the same page. Kenny stands Bate up to DECK him! Kenny mocks the Big Strong Boy and he stomps again! Kenny covers, TWO!
Kenny CLAWS Bate's back, then HIP DROPS him down! Kenny talks some trash, scuffs Bate's face, then covers again, TWO! Kenny drags Bate up, shove shim and RAMS into him! Fans rally, Kenny shoves and RAMS Bate again, then whips him to ropes. Bate sunset flips but Kenny stays up! Bate avoids the fist drop, then CHOSP Kenny! Bate ROCKS and CHOPS again, whips corner to corner hard, and Kenny bounces off buckles! Bate fires off on Kenny at the ropes, then whips him to ropes. Kenny catches Bate for a snap suplex! Cover, TWO! Kenny mockingly applauds Bate for surviving, and the fans rally up again.
Kenny rains down fists on Bate's head, then CLOBBERS Bate with a crossface forearm! Cover, TWO! Kenny is frustrated but fans rally up more. Kenny HIP DROPS again, then clamps on with a chinlock. Kenny throws more of those crossface forearms, then sits on the neck wrench. Bate endures and fans rally up. Bate powers up to Electric Chair Lift Kenny, for the DROP! Fans rally as the standing count starts. Bate sits up but Kenny follows. Bate EuroUppers Kenny, and again, and again! Kenny kicks low and whips Bate to a corner. Kenny runs in, blocks a boot but not the KNEE! Bate then goes up to FLYING UPPERCUT!
Fans fire up as Kenny flounders! Bate runs in at the corner to EuroUpper! Bate whips, Kenny reverses, but Bate catches Kenny for an EXPLODER! Bate kips up and fans fire up! STANDING SHOOTING STAR! Cover, TWO! Fans rally behind Bate and he hauls Kenny up. Kenny throws elbows to fight the fireman's carry. Bate EuroUppers, and again, but Kenny backslides! TWO, and Kenny CHOP BLOCKS! Kenny fireman's carries, to ROLLING DEATH VALLEY! Cover, TWO! Fans rally again as the standing count returns. Bate and Kenny sit up at 5m and Kenny yanks Bate in! BAD- NO! No Bad Luck here as Bate swings Kenny around!
Bate fireman's carries Kenny for the AIRPLANE SPIN! Fans count all the way to 11, but Kenny grabs the ropes! Bate pulls him away to keep going! The count is now 20, and Bate SLAMS Kenny down! Bate wobbles but the fans rally behind him! Kenny stands up, they both stagger, but Bate dodges, DOUBLE LARIATS take both men down! Fans fire up for the "UK! UK!" and another standing count begins. Kenny and Bate sit up at 6, Kenny throws wrist tape at Bate before throwing a sucker punch! Bate hits back, then ROCKS Kenny with more forearms! They both stand, Bate CHOPS and Kenny wobbles!
Bate ROCKS, CHOPS, repeat, but Kenny kicks the leg! Bop up, but Kenny BOOTS! Kenny boots but Bate blocks this one! Bate EuroUppers Kenny, and blocks the yoyo for BANG! Kenny tumbles out, Bate builds speed and FLIES! Direct hit into the barriers! Fans are thunderous as Bate puts Kenny in! Kenny crawls but Bate drags him back and deadlifts for the GERMAN SUPLEX! Bridging cover, TWO!! Fans rally behind Bate and he huffs and puffs while pacing around Kenny. Bate brings Kenny up, underhooks him, for the TYLER DRI- NO, Kenny slips out to BAD- NO! No Bad Luck, Bate deadlifts Kenny again!
But Kenny runs forward to HOTSHOT Bate on the ropes! Bate sputters, Kenny rolls him up! Feet on the ropes!! TWO!! Bate escapes on his own as the ref missed that! Kenny ELBOWS Bate away, goes up the corner, and leaps back, into a waistlock! GERMAN SUPLEX!! Fans fire up again and Bate runs, rebound LARIAT! Bate gets Kenny up again, for the TYLER DRIVER 97!! Cover, Bate wins!!
Winner: Tyler Bate, by pinfall (advances to the next round)
And the Big Strong Boy is a semifinalist! And those matches are both happening next week! Will Bate return to an NXT UK Championship Tournament Finals?
---
My Thoughts:
A great episode for NXT UK, but unfortunately so much of this is made meaningless by the massive spoilers on NXT Heatwave, and the news about WWE transforming NXT UK into NXT Europe. It seems Worlds Collide 2022 is happening, and on September 4th to A) follow up WWE Clash at the Castle on the 3rd, and B) counter program against AEW All Out. On top of that news, there is news that a handful of NXT UK wrestlers are let go as of today, some of which we just saw today. Joe Coffey and Mark Andrews had a very good opening match to move the NXT UK Championship tournament along. Joe moves on as Gallus is getting to look strong right about now, and the entirety of South Wales Subculture is moving on from the WWE.
Very good match from Amale and Nina, and with Amale being part of that NXT UK Women's Championship contender story, she wins and stays in the company while Nina Samuels is moving on from WWE. Good promo from Ilja Dragunov to remind everyone that he will be back, and he will definitely have a great match against the new NXT UK Champion *cough* Bate */cough* in the future. Great promo between Carter and Seven to hype up their match, that'll be a lot of fun but I fully expect Seven to win to meet Bate in the finals. Really fun match out of Chase U, Dennis and Huxley, but I had a feeling Chase U would win to make Dennis look like a doofus.
Great vignette for Dar VS Mark 3, but some of those lines already haven't aged well with the news we just got. This match could go either way because Gallus' appearance on NXT Heatwave didn't show Mark with the cup, but that doesn't mean he isn't still Heritage Cup Champion. We'll just have to wait and see, since Gallus is also going after the NXT UK Tag Team Championships next Tuesday. And we got a great main event match out of Bate VS Williams, the fans had a lot of fun having Bate back in action, and even without the spoilers, of course Bate wins to move on. Bate VS Coffey is going to be great, but of course Bate is going to win.
My Score: 8.4/10