Cook: When The Bengals Were The Worst Team In Sports
Easily the coolest thing you'll read all day, Steve Cook presents his 2000 speech on the lowly Cincinnati Bengals–what a long way they, and he, have come!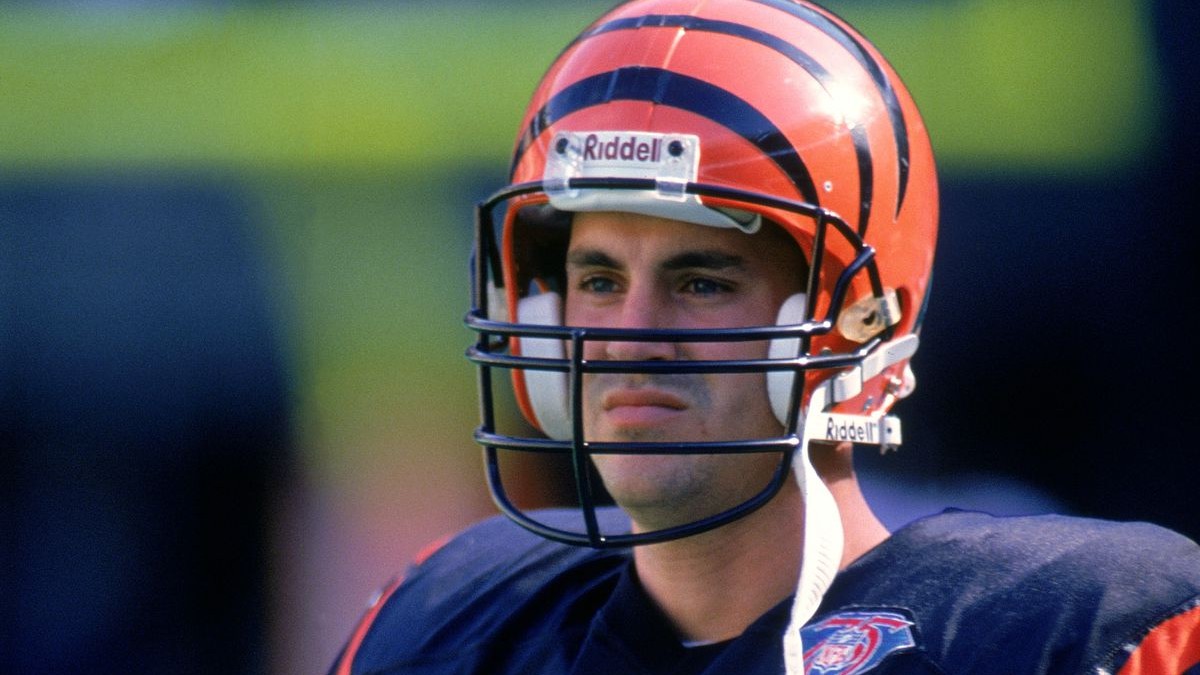 Easily the coolest thing you'll read all day, Steve Cook presents his July 2000 speech on the lowly Cincinnati Bengals–what a long way they, and he, have come!
I was going to write about NFL matters not involving the Super Bowl this week, and did a little something on Thursday night. A bit about the Washington Commanders, some on Tom Brady's retirement, things like that. As it turned out, when I woke up Friday morning I decided that I didn't really like what I'd written. This happens pretty often. Sometimes I post it anyway, other times I scrap the idea and come up with something else. Then there's times where I decide to revisit previous work that has become relevant again due to current events.
As I'm sure most of you know, the Cincinnati Bengals are playing in Super Bowl LVI. Those of you regular readers are aware of my fandom of the team, which goes back to just before the last time they'd won a playoff game prior to this postseason. I've been writing & talking about the Bengals just as long as I've been writing & talking about pro wrestling. It's debatable which topic I know more about, or whether I know anything about either topic or not.
Back in July 2000, I was at summer camp with my Boy Scout troop. Camp Crooked Creek was a glorious place indeed. One of the merit badge classes I was taking was Communications. One of the requirements for getting the badge was to write a five-minute speech and give it in front of an audience. I decided that it would be fun to give a speech about the Bengals, specifically about why they were the worst team in professional sports.
It was a rough time to be a Bengals fan. Bruce Coslet was the head coach, Dick LeBeau would become head coach during the 2000 season. Akili Smith was going to be the quarterback after being drafted third overall in the 1999 NFL Draft. The only players of note to non-diehard Bengals fans were running back Corey Dillon & offensive tackle Willie Anderson. The Bengals went 4-12 in 1999, and would go 4-12 in 2000. Hope was not a word associated with the Bengals at this time, and wouldn't be for a few more years.
The tricky part about doing the speech: I didn't have a cell phone. I didn't have access to my Bengals books or sports almanacs. I'm sure kids these days have cell phones at summer camp, and the camps are equipped with proper Wi-Fi, but this wasn't the case in 2000. So I had to write this thing off the top of my head. As you'll see, I didn't exactly have all the key stats memorized.
I found the speech five years ago and re-printed it for The Ultimate Sports Blog. Since it's been five years and I don't think that cutthroat sumbitch Dustin James will mind too much, it seems like a fine time to re-re-visit my Boy Scouts Communications speech from July 2000. I've included some notes from the present day, and made a couple of grammatical changes, otherwise this is Steve Cook from back in the day.
"Why The Cincinnati Bengals Are The Worst Team In Sports"
In the wide world of sports, you have teams that are known for their great accomplishments in the past, like the New York Yankees, the Dallas Cowboys & the Brazil soccer team. On the other side of the coin, though, are teams that are known for sucking year in and year out, like the L.A. Clippers, the Chicago Cubs, and any team from Canada. (Note: Not sure where the Canada shade came from.) But, is there any team worse than the Cincinnati Bengals?
The Bengals came into existence in 1968, as part of the AFL, which became the AFC plus Cleveland, Pittsburgh & Baltimore in 1970. They're won 2 of the last 15 Super Bowls. Anyway, the Bengals were founded by former Cleveland coach Paul Brown. He coached the team for the first few years until he got tired of it. The Bengals struggled the first couple of years until 1970, when they went 11-3 and made the playoffs.
The Bengals were mediocre until 1982, when they made their first Super Bowl. Against the San Francisco 49ers, they took a lead of 21-0 in the first half. (Note: Actually the Bengals were down 20-0 at the half. I was a little confused here.) The final score was 28-21, 49ers. (Note: 26-21, 49ers.) The 49ers quarterback, someone named Joe Montana, took control of the game and doomed the Bengals to defeat.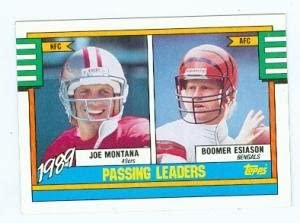 Throughout the mid 70s & early 80s, the Bengals quarterback was their current quarterbacks coach, Ken Anderson. (Note: Anderson was the club's offensive coordinator in 2000. Really nice guy.) He led them to their first Super Bowl, but another would lead them to their 2nd Super Bowl. Norman "Boomer" Esiason was the MVP of the NFL in 1988, and led the Bengals into their 2nd Super Bowl against the 49ers. The Bengals led 24-21 with a couple of minutes to go. (Note: 16-13) The final score was 28-24, 49ers. (Note: 20-16, 49ers.) That quarterback for the 49ers, Joe Montana did it again to the Bengals, engineering a length of the field drive in the last couple of minutes.
Although the Bengals had lost both times in the Super Bowl, the fans still stayed behind the Bengals. Through the next couple of years, the Bengals had their moments. They beat the Houston Oilers 61-7. Ickey Woods did the Ickey Shuffle. Anthony Munoz went to many Pro Bowls. Sam Wyche said "You don't live in Cleveland, you live in Cincinnati!"
The good times would soon end for the Bengals. At the 1992 NFL Draft, the Bengals drafted the man who they thought would be the man in Cincinnati, a quarterback from the University of Houston, David Klingler. He sucked. He led the Bengals to a couple of 3-13 seasons. Also, coach Sam Wyche was fired and replaced by coaching legend Don Shula's son Dave. Some said that Dave would follow in his dad's footsteps and win a lot of games. He didn't.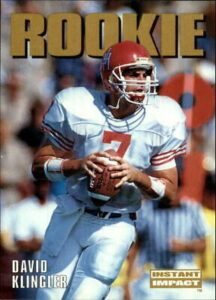 Klingler was the first of many sucky draft choices for the Bengals. In 1994, they drafted Dan "Big Daddy" Wilkinson. While Big Daddy was a pretty good player (Note: I'm being generous here.), he was not worth the amount of money they paid him.
But perhaps one of the worst draft choices the Bengals made was in 1995 when they picked Ki-Jana Carter. (Note: "perhaps"?) Carter had come out of Penn State as one of the best running backs ever in college. In his first exhibition game with the Bengals, Carter tore his ACL and missed his entire rookie year. He was never the same, and was eventually released.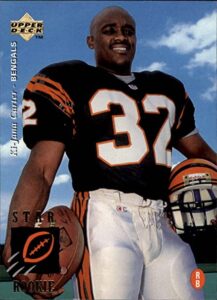 You can sum up the decade of the 90's for the Bengals with 2 numbers, 3 & 13. It was their record for most of the 90's. Whether it was Sam Wyche, Dave Shula or Bruce Coslet coaching, Boomer Esiason, David Klingler, Jeff Blake, Neil O'Donnell, or Akili Smith in the quarterback position, or another player in the Bengal stripes, they could do no good.
However, it is a new decade, with new possibilities. With a new stadium, the Bengals can compete on a level playing field with most other teams. (Note: Can't believe I bought that "new stadiums make teams more competitive" talking point. Young & dumb.) If the Bengals can trade in their bad luck for some really good luck, things will be different for the Bengals and their long suffering fans. I wouldn't bet on it, though.
———-
It took a couple of decades, but things are finally different for the Bengals and their long suffering fans. If I had a kid, they wouldn't be able to make a speech about how the Cincinnati Bengals are the worst team in all of sports. I would suggest the Browns or the Lions, and perhaps their fans will be in Bengals' fans spots in twenty years. Stranger things have happened.
Thanks for taking this trip down memory lane with me! Hit me up on the Twitter with your thoughts on the Bengals or anything else.
Cook: Super Bowl LVI Final Thoughts
The Super Bowl worked for Cook's betting picks, but not his fandom. He unfurls some feelings and thoughts about the Super Bowl, and the season that was.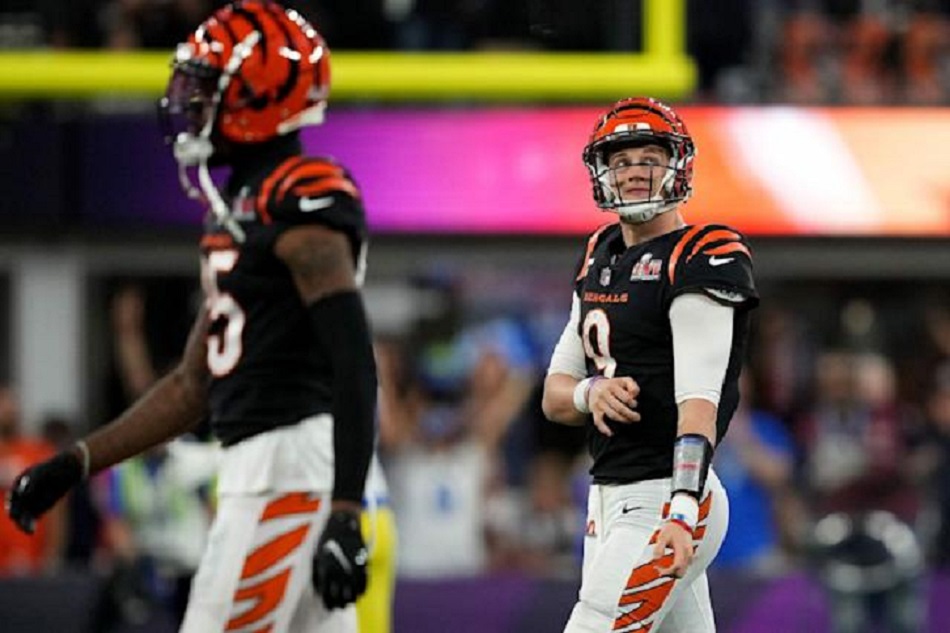 As a fan of the team that lost Super Bowl LVI, I should probably feel disappointed. Distressed. Discouraged. Disgruntled. Disenchanted. Despondent. Disconcerted. Dissatisfied. Depressed. Dejected. Despondent. Down. Downcast. Downhearted. Lots of D words, basically.
Don't get me wrong. A sports fan's favorite team losing any type of game comes with a bit of a sting. You want your team to win. Even those mid-September baseball games where your team has already been mathematically eliminated come with a little sting upon defeat. So yeah, I won't deny that the Bengals coming up a little short at the end of the game stung a bit. It wasn't the optimal result.
With that being said…I'm not disappointed or distressed or discouraged or disgruntled or disenchanted or any of those other D words I mentioned earlier. There were plenty of Bengals seasons that left me in that state of mind. Most of the pre-Marvin Lewis seasons. A lot of those Marvin Lewis seasons did, even the ones where they made the playoffs.
The 2021 version of the Cincinnati Bengals gave me nothing to be ashamed of. There were certainly some ups & downs in the regular season, but we all know that the postseason is what matters in football & every other sport. The postseason was the downfall of the Marvin Lewis Era of the Bengals. They could make it there. They just couldn't win a game. Against anybody. I'm pretty sure I could have found 22 people on the street and beat the Marvin Lewis Bengals in a postseason game.
These Bengals made us forget about the past. Three decades of not winning in the playoffs came to an end. They were favored against the Raiders, but not really favored because they were the Bengals. It was a big hump for fans to get over. I was more gobsmacked after that win than what followed.
FUUUUUUUUUUUUUUUUUUUUUUUUUUUUUUUUUUCCCCKKKKKKKKKKKKKKKKKKKKKK YYYEEEEEAAAHHHHH ORSDKDGLDRKKHOJSOGSGDHMKXHKHDLSDH

— Steve Cook (@stevecook84) January 16, 2022
I could barely even text people afterward. It was unreal. Once that happened, things got more real. There was this Tennessee Titans team that was the #1 seed but was doubted because of their quarterback and injuries that happened but still got the #1 seed. (Those fans are still very bitter towards Bengal folks, btw.) The Titans even sacked Joe Burrow 9 times and still managed to lose because their offense couldn't take advantage. But their coach won an award so everything's ok.
The Chiefs, now there's a beast I still can't believe the Bengals managed to beat twice somehow. They're cutthroat sumbitches just like Dustin James, and have the best quarterback of modern times in Patrick Mahomes. We know they'll be one of the top teams in the AFC for years to come. Beating them in Week 17 in Cincinnati was one thing. Beating them in the AFC Championship Game in Arrowhead Stadium? Another thing entirely. Crazy stuff, unimaginable before it happened.
The Super Bowl didn't end well, obviously. There were still moments that Bengals fans wouldn't have believed before they happened. Joe Mixon throwing a touchdown pass, for one. The experts expected the Rams to blow the Bengals out of the water, and that isn't quite what happened.
So what did happen?
The Rams' stars rose to the top, as cream always does eventually. The Bengals could keep Cooper Kupp & Aaron Donald down for so long. You can't keep the cream down forever. The Bengals' offensive line could hold the Rams back for 2.5 quarters. They hit a wall eventually. The Rams ran out of weapons other than Cooper Kupp. Odell Beckham had a good game early, got hurt. Kupp was their last option after that, and the Bengals could shut him down for a minute, but not forever. When it was the end of the game and time for stars to step up to the plate, Cooper Kupp got the ball. You have to tip your hat to him.
The Bengals didn't capitalize off of certain opportunities. As much as we love Evan McPherson, an extra touchdown instead of a field goal would have helped. That early 4th down call that led to a Rams touchdown didn't help. Why was Samaje Perine in & having the ball directed towards him during the last two Bengals offensive plays of the game instead of Joe Mixon?
Maybe we'll understand someday. Maybe we won't. At the end of the day, the result is the same. The loss hurts, but seasons have come to an end in much bitter fashion. The future is still bright. The Cincinnati Bengals may not have shed all of their stereotypes, but few can deny that this isn't a different team than previous versions. Joe Burrow is still with us, and doesn't seem to be going anywhere anytime soon. Ja'Marr Chase is pretty good, along with Tee Higgins. The main thing the Bengals need? Offensive line, which this upcoming draft seems to have a deep pool of.
No, I'm not any of those D words. I'm optimistic about the future of the Cincinnati Bengals. The main thing that worries me? Given how fleeting existence on this mortal coil seems to be these days, I just hope to be around to see that moment where the Bengals finally shut the mouths of those critics. If only for a moment. Critics will always critic, as I well know being one myself.
Who Dey.
Cook's 2021-22 NFL Gambling Picks: Super Bowl LVI
Get some of your Gambling Pick insights for the Super Bowl! Cook's heart may be with the Bengals, but where is his money?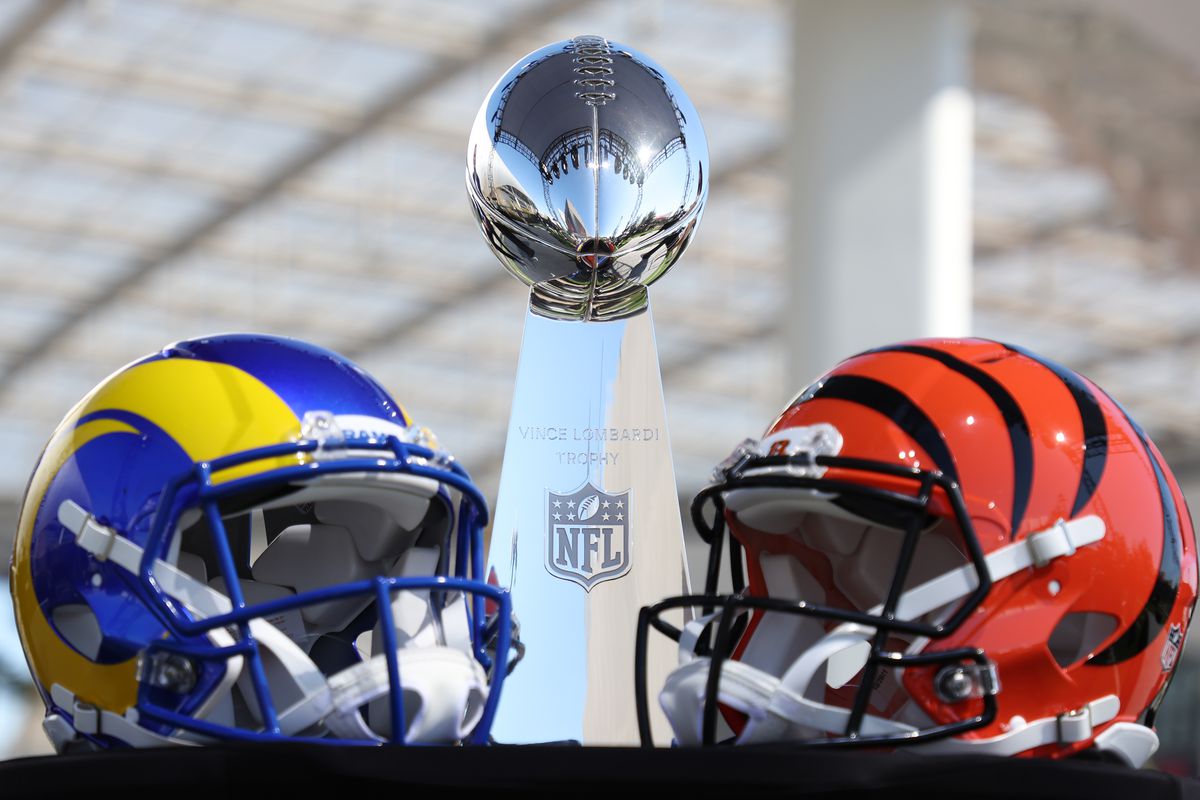 Hi, hello & welcome to Super Bowl LVI speculation! I'm Steve Cook, and I'm in a bit of an unfamiliar position here. In years past when I've done Super Bowl predictions & projections, I haven't had any skin in the game. My Cincinnati Bengals are typically done for the season long before early February hits. Usually, I'm watching the Super Bowl as an impartial observer that doesn't really care which team wins. This year, I have some interest.
Before we make the official Super Bowl LVI Against The Spread pick, we'll look at some of the prop bets. Nothing in the world has more prop bets than the Super Bowl. Most of them are pretty ridiculous. I mean, we're really betting on whether singers are going to show some cleavage? (Take "Yes" on that one, LA's going to have some record heat on Sunday.)
Odds via BetOnline & Vegas Insider!
Super Bowl MVP:
Matthew Stafford: +115
Joe Burrow: +225
Cooper Kupp: +600
Ja'Marr Chase: +1600
Aaron Donald: +1600
Joe Mixon: +2500
Odell Beckham Jr.: +2500
Cam Akers: +3000
Tee Higgins: +5000
Von Miller: +5000
Sony Michel: 6600
All others: +10000 or above
We all know that quarterbacks are the most likely Super Bowl MVPs, so Stafford & Burrow are the most likely to win it. As far as a less likely option goes? If Jalen Ramsey (+10000) shuts down Ja'Marr Chase and gets an INT in the process? He'd be my pick, and the best pick to get some money on. Von Miller might be a good pick at (+5000) since the voters know who he is.
Will the Super Bowl field goal record of 54 yards be broken?
Evan McPherson has made four field goals in each of the Bengals' playoff games. This includes three over fifty yards. His longest field goal during the regular season was 58 yards. It's definitely within the realm of possibility for him to get it done, so throw some money on Yes.
Largest Lead
Over 14.5 (+100)
Under 14.5 (-130)
You might think this will be a close game, and it could end up being one. But we've seen both the Bengals & Rams come back from double digit deficits during the playoffs. We've also seen the Bengals & the Rams have double digit leads, only for their opponents to manage to tie the game. So it wouldn't surprise me at all if one of these teams got out to a big lead, only to see their opponent come back. Take the over.
Overtime Odds
We've only had two overtime games in these playoffs, both involving the Kansas City Chiefs. One of them also involved the Bengals, so Yes might be worth throwing a few bucks on just in case it happens.
Over/Under: 48.5
I'm liking the under here. We're talking about two teams without a ton of Super Bowl experience. Will the moment get too big for some of these players? Maybe playing at home helps the Rams like it helped the Bucs last year, but it's still the Super Bowl.
Sunday, February 13
LA Rams (-4) vs. Cincinnati
Will the Bengals be able to slow down the Rams pass rush this Sunday?#SBLVI pic.twitter.com/U5jwhlUfh6

— FOX Sports: NFL (@NFLonFOX) February 9, 2022
Blank Park Zoo tiger Misha picks the LA Rams over the Bengals. Both team logos were scented with the same perfume so as not to influence the decision. Blank Park Zoo's animals have been correct in picking the winner 8 of the last 11 Big Games. PHOTOS:https://t.co/DdxBxNPEgU pic.twitter.com/mwKa0iCBCR

— Meg McLaughlin (@MegMcLaughlinDA) February 10, 2022
Per @betonline_ag
America rooting for #Bengals
State Breakdown
Bengals: 33 states
Rams: 17 states pic.twitter.com/rHu1NJqVHe

— Lance McAlister (@LanceMcAlister) February 8, 2022
The Rams (12-5) and Bengals (10-7) combined to go 22-12 (.647) during the regular season, the worst combined win pct in a Super Bowl matchup, ever.

It's the 7th matchup featuring teams with a combined win pct below .700. pic.twitter.com/oWzr3S1Vsh

— ESPN Stats & Info (@ESPNStatsInfo) February 9, 2022
The best argument for the Bengals just might be their inexperience. They're the youngest team on average in Super Bowl history. They don't know what they don't know, which can be an advantage in big situations. Of course, Joe Burrow has plenty of experience leading teams in big situations, as we saw him lead LSU to a National Championship just before the pandemic started. His coolness has been a large part of the Bengals' success so far, no matter what happens he doesn't seem to get rattled. Of course, if there's a time where something like that could happen, it might be one's first Super Bowl.
The Rams defense worries me, as a Bengals fan. They have a couple of top-notch pass rushers in Aaron Donald & Von Miller. Tough to find faults in their games, and everybody else can capitalize off of being unnoticed. Joe Burrow might not mind being blitzed, but we all know that the main Bengals weakness is their offensive line.
Then the Rams have Jalen Ramsey working the cornerback position. He'll have a lot of receivers to keep track of, but I feel like Ramsey Island is something for the Bengals offense to worry about, like Revis Island back in the day. If Ramsey can shut down Ja'Marr Chase, then Tee Higgins or Tyler Boyd need to take advantage. Maybe they can, but here's the difference: I don't doubt that Cooper Kupp or Odell Beckham can take advantage off of whoever's covered. The Bengals just don't have that secondary depth.
If the Rams can get the same pressure on Joe Burrow that the Titans did, there's no reason they shouldn't win this game by at least a touchdown.
Thanks for reading, and enjoy Super Bowl LVI!