Greg DeMarco's WWE WrestleMania 38 Night 2 Results & Reaction
WrestleMania is BACK for Sunday, and Greg DeMarco is back with his reactions and results! Follow along!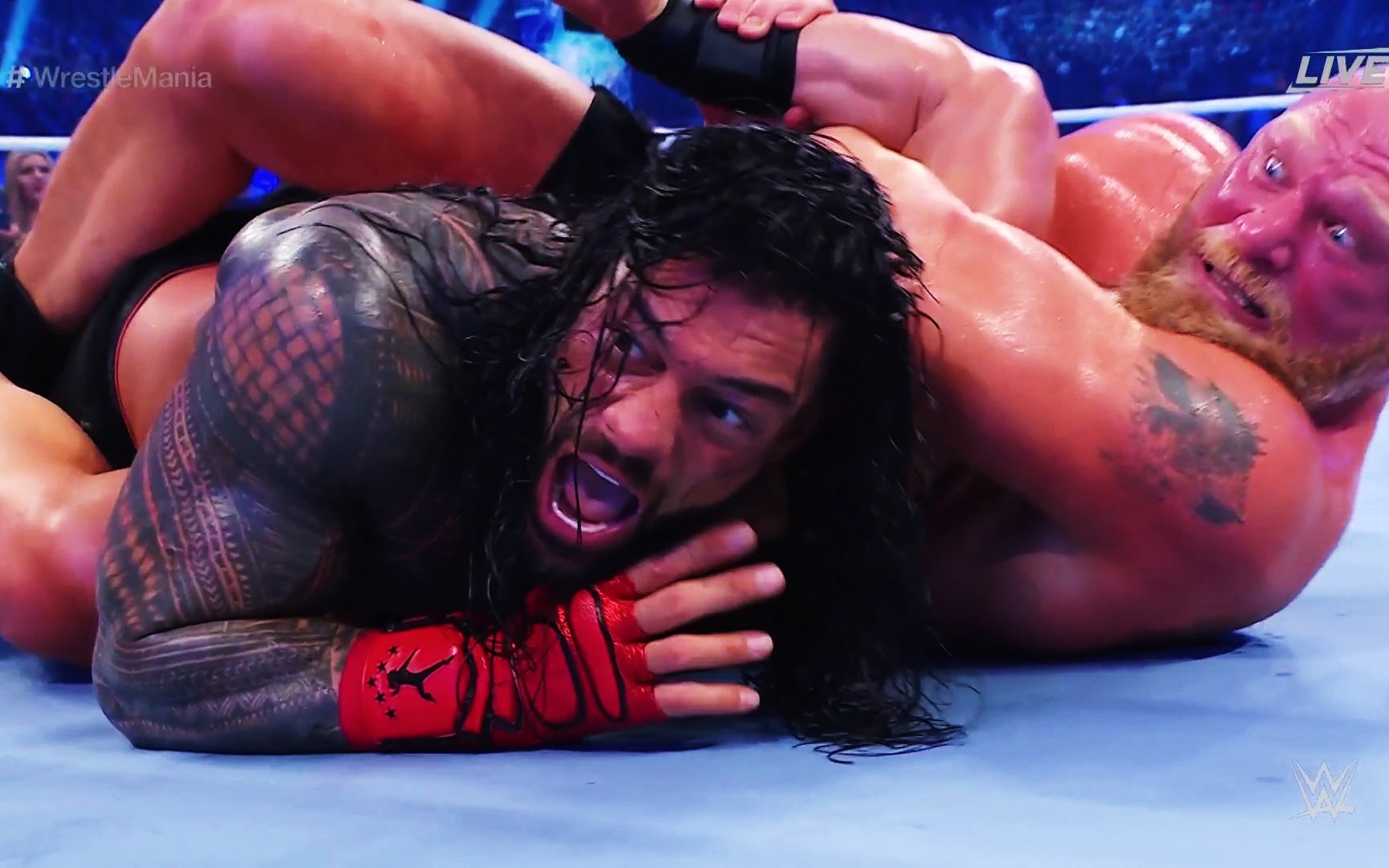 WrestleMania is BACK for Sunday, and Greg DeMarco is back with his reactions and results!
👏👏👏👏#WrestleMania @TripleH pic.twitter.com/9SeJ9kyhZR

— WWE (@WWE) April 4, 2022
We kick things off with Triple H! Wearing a suit, but carrying a water bottle. Now that he's done in the ring, and we haven't seen any of Adam Pearce and Sonya Deville this weekend, I do wonder if we are getting The Authority back in some form.
Let's give this the same treatment…
Nice embrace with the Daughters Helmsley before he gets in the ring.
The man truly deserved one last WrestleMania match, in which he knows it's his last match.
Props to the guy in the crowd with the old school WCW Monday Nitro shirt on.
I love this, but in the back of my head I really really really hope New Day vs. Sheamus & Ridge Holland w/Butch doesn't get bumped again.
No mic yet, I wonder if he's gonna even talk.
Ok -he has his boots, and a mic.
He simply wants to say thank you, and welcomes everyone to WrestleMania.
Leaves the boots–because THAT is how you retire.
Winner: I don't know about you, but I feel good.
One of the greatest of all time, in front of the camera, and behind the scenes.
And we get another Gable Steveson intro, not sure why. He seems to use the same beard guy as Drew McIntyre.
WWE RAW Tag Team Championships
RK Bro (Randy Orton & Matt Riddle, champions) vs. The Street Profits (Montez Ford & Angelo Dawkins) vs. Alpha Academy (Otis & Chad Gable)
Jimmy Smith said it best: The team who wasn't supposed to last is defending their titles at WrestleMania.  Really happy for Chad Gable, too.
We kicked off both nights with a tag team title match. This one, however, is bigger.
I really hope it rains solo cups for The Street Profits.
And it (briefly) rains solo cups!
Tonight's first ref…was last night's last ref.
Sadly, no walking promo for Chad Gable tonight.
'Tez with a Will Smith slap to Gable!
So we toss everyone out, and then we all fight? OKAY!
Montez Ford dives over the ring post–and lands ON HIS FEET.
Also a big moonsault from Chad Gable.
Montez took that monkey flip HARD on the knees
Love Tez's gold shoes–Dawkins needs a matching pair.
"No friends in there." Well, except your tag team partner.
I am a big Bro 2 Sleep fan.
VINTAGE RANDY ORTON!
Stereo draping DDTs, and and Orton is still the man.
DOOMSDAY BULLDOG!
DOOMSDAY BLOCKBUSTER!
We really need to finish this with a Doomsday RKO.
Springboard RKO by Riddle to Ford, from the top!
Gable dives–RKO–and we're outta here.
Post match toast, including Gable Steveson, interrupted by Chad Gable.
Gable gets the overhead Belly-To-Belly for his efforts, and now we know why Gable Steveson was intro'd.
Winners, and STILL Raw Tag Team Champions: RK Bro (Orton pin on Gable)
Fantastic opener, hit all the high spots, fans were totally into it. Great way to kick off WrestleMania Sunday.
OMOS vs. Bobby "Bob" Lashley
In a match just set up last week, The Almighty is back, as a babyface, against the undefeated giant. Can Bobby slay this dragon?
LOVE the babyface entrance for Bob. Just a few changes, but it's perfect.
T-BAR mention on commentary, and I really hope he can catch on this year.
Omos keeps knocking Lashley down, but he keeps getting up.
I wonder who is working with Omos, he is progressing so well as a giant.
Lashley's head HAMMERED that ring post.
That's a WrestleMania suplex right there, a great part of the story of the match.
Spear, spear, and LASHLEY WINS?!?!?
Winner: Bobby Lashley (pinfall)
Bob won??? Shocked, but very happy. Lashley always worries me, in that WWE could stop his push at any time. Maybe this is the opening for Omos to join up with MVP? I guess we'll find out tomorrow…on RAWAfterMania! (Cheap pop!)
Anything Goes: Sami Zayn vs. Johnny Knoxville
Starting with the build to the Royal Rumble, Johnny Knoxville vs. Sami Zayn continues to WrestleMania with a great spot going to Sami.
So Greg ran downstairs to get some food, and missed the entrances and who knows what else.
Love Sami's gear for this match.
Pat McAfee is the perfect commentator for this match, given his reactions to Knoxville.
Side note: I typically use "Anything Goes" over "No Disqualification"
"That rat bastard Austin Theory better be watching this."
Actually, kinda surprised Pat is on commentary still.
EXPLODER TO KNOXVILLE THROUGH THE TABLE!
"You're in my world, Jackass!"
The crowd is NOT into this. Probably because they've seen a mousetrap table, and it hasn't been used.
I don't know who Party Boy is, but I hate him.
WEE MAN! Now the crowd is into it.
After Sami basically Tornado DDTs himself, the crowd bites it on the near fall.
Sami just kicked the holy hell out of Wee Man and Dallas hates him for it.
Bowling Ball to the Balls!
Fake Leg Groin Kick!
(I can't believe I just typed that.)
And now we have a tazer.
This has overstayed it's welcome, time to go home.
Sami goes through the Mousetrap Table, and now we have a GIANT mousetrap in the ring.
Sami gets trapped, and we get the 1-2-3/
Winner : Johnny Knoxville (pinfall)
That match was way too long, but the fans did get into it in the end. It did what it was supposed to do, and I can't complain about that. Now we can get on with the rest of the show.
Fatal 4-Way Match for the WWE Women's Tag Team Championships
Naomi & Sasha Banks vs. Natalya & Shayna Baszler vs. Rhea Ripley & Liv Morgan vs. Queen Zelina Vega & Carmella (champions)
BOSS x GLOW#WrestleMania @SashaBanksWWE @NaomiWWE pic.twitter.com/2RPxA8eAJk

— WWE (@WWE) April 4, 2022
Great tandem entrance for Sasha and Naomi.
Liv and Rhea would win on matching gear alone.
If the titles change hands here, it'll be the only tag titles to change hands tonight.
I appreciate that we can get Shayna Baszler on the card, but she needs a 1 on 1 match here.
Double Tower of Doom spots!
Corey Graves is brilliant.
Sasha and Naomi win, and the finish was the most over part of the match.
Winners, and NEW WWE Women's Tag Team Champions: Sasha Banks & Naomi (Sasha pinfall on Carmella)
Went long, but I can't complain when the women get time. You could see on her face how much it meant for Sasha Banks to get a WrestleMania win.
AJ Styles vs. Edge
A dream match, only elevated by the reinvention of Edge. Can't wait for this one.
WrestleMania white gear for AJ Styles.
What an AMAZING entrance for Edge, combining the Mountain Of Omnipotence and The Brood.
Thank GOD Edge came back from retirement.
Just like I told you last night, Jessika Carr gets assigned to this match.
AJ Styles' shoulder LOOKS messed up
 Poor AJ, he enters the match already bleeding, and messes up his shoulder.
I am not typing a lot in this match–I know. It's fantastic, and I am watching for enjoyment. I hope you are too.
I am not alone–the crowd is as well, you can tell as they are engrossed in everything, then reacting. They are being taken on a great ride.
Amazing near fall after the Styles Clash.
DAMIAN PRIEST!
I mean, I kinda told you so.
Springboard into a Spear, and we're home.
Winner: Edge (pinfall)
Classic match, classic storytelling, definitely in the conversation for my favorite match of the weekend.
Sheamus & Ridge Holland (w/Pete "Butch" Dunne) vs. The New Day (Kofi Kingston & "King" Xavier Woods)
This should have been a six man tag team match, and this should have been last night. But here we finally are, and I have a feeling this will deliver.
Kofi & Woods wearing Big E gear? I'm not crying, you're crying!
Woods should stick with the singlet.
Well, that wasn't much of anything!
Butch is hilarious, though.
Winners: Sheamus & Ridge Holland (Ridge pin on Woods)
Reportedly, this was never gong to be a long match. Tonight has seemed a little bit rushed, but I am glad they got to work.
Austin Theory vs. Pat McAfee
Austin Theory gets the whole Vince McMahon Rub.
How much you wanna bet Pat McAfee paid for the rights to this song himself?
If Pat McAfee wins this, especially with Vince out there, then that tells me this program isn't nearly over.
Also, good for Austin Theory. Gave up on growing a beard, got hair plugs, and it's paying off.
McAfee's sparkly but casual gear is spot on.
Theory, to his credit, LOOKS like a star. Is he one? Time will tell.
Pat McAfee loves the European soccer environment, and you can tell why he would want that song. Fans are still singing it during the match.
Michael Cole's relationship with Pat McAfee is well chronicled. Him being so impartial is perfect.
Imagine if Adam Cole was still with the company, but hadn't been called up to the main roster yet? Would be the perfect place to have him debut.
McAfee with the same Superplex spot from NXT!
Bryon Saxton is delivering in this match–and I fully expected Corey Graves.
Crowd, by the way, is VERY into this match.
A-Town Down–reversed into a rollup.
MCAFEE WINS!
Winner: Pat McAfee (pinfall)
So, Vince McMahon isn't happy as McAfee is celebrating, and apparently the result is… A MATCH?
Pat McAfee vs. Mr. (Vince) McMahon
I have no words.
Vince starts off hot since Theory attacked McAfee from behind.
McAfee won't stay down, and is about to go one-on-one with the boss one, but Theory crotches him on the post.
Vince threatens to punt a football, and eventually punts it into McAfee's midsection
Winner: Mr. McMahon (pinfall)
Theory and McMahon celebrate, until GLASS SHATTERS and "Stone Cold" Steve Austin is out. Theory attacks, but eats a Stunner. Vince and Austin share beers, and McMahon of course eats a Stunner.
Pat McAfee enters to celebrate with Austin, but I have a bad feeling for him, too.
Beers shared, and STUNNER TO MCAFEE!
And I am sure Pat McAfee is in heaven. That was also one of the best Stunner sells ever.
A STUNNER FOR @PatMcAfeeShow!!! 🍻#WrestleMania @steveaustinBSR pic.twitter.com/omCC2cmvvl

— WWE (@WWE) April 4, 2022
Winner Takes All Unification Match
Roman Reigns (Universal Champion, w/Paul Heyman & The Usos) vs. Brock Lesnar (WWE Champion)
In a rivalry that dates back to 2015, seven years comes to a cross roads with the two most important prizes in the world of wrestling at stake. It's go time!
Roman Reigns enters for his sixth WrestleMania finale, and Michael Cole gives you the same list DWI Podcast tried to give you this weekend, Roman is the fifth longest reigning world champion in WWE/WWF/WWWF history.
And Roman has a mic.
Roman Reigns truly has grown into the company carrying superstar they believed he could be.
The pop for Brock is monstrous, might be bigger than Austin's. No question as to why these two are in this position, on this night.
No flannel for Cowboy Brock, but a Hero's Welcome.
Roman and Brock stand across the ring for the opening bell, and they could easily pull off the Japanese stare at each other for 30 minutes spot.
Thankfully, they do not.
HUGE Spear through the barricade (I expected one through one of those barricade screens).
Another one in ring, but we ain't done yet (I mean, we haven't seen an F5, silly).
Crowd is going GONZO for everything Brock does. This is definitely a crowd that is majority casual (aka, typical WWE) fans.
Spear into an F5, but Roman kicks out.
Guy in the crowd has Drew McIntyre's beard guy.
(Roman, btw, has a good beard guy. As does Brock.)
(Also, it could be a beard woman. I have one of those.)
Ref bump, belt shot (callback to the Royal Rumble), kickout.
Roman's Spear to the back is….odd.
Corey Graves on commentary was a good choice.
It's odd that they'd do a shoulder separation gimmick twice in one night, no?
F5 reversed into a Spear, and we're done.
Given how they're talking to each other, I think the separation was legit. We'll see…
Anyone else catch 2 seconds of Shield theme right  there?
Winner and STILL Universal Champion, and NEW WWE Champion: Roman Reigns 
One hell of a main event, and one hell of a WrestleMania. Hats off to everyone involved. The business is good. The talent is good.
And I don't know about you, but I feel good.
AJ's Thoughts: Five Potential Returns
With Trips in charge and already starting to bring back some people that didn't work in Vince's picture, AJ got an idea. Who else could we see on the horizon radar?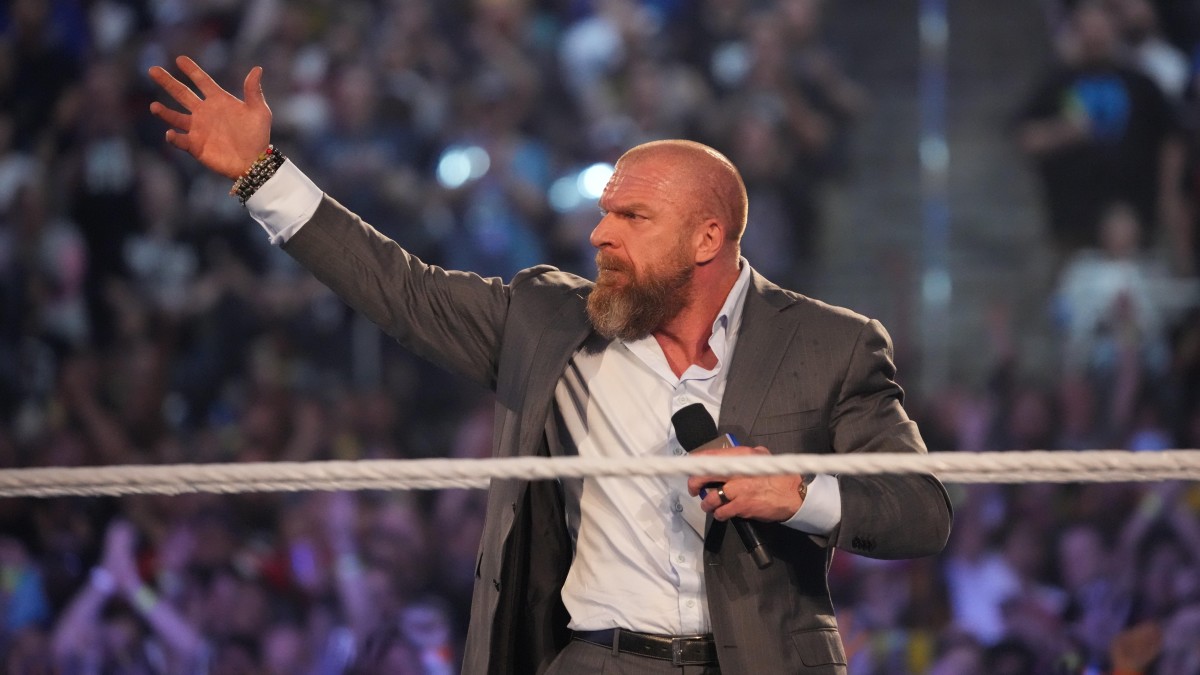 With Trips in charge and already starting to bring back some people that didn't work in Vince's picture, AJ got an idea. Who else could we see on the horizon radar?
With everything going on with WWE, the one thing we have all been hyped about are all of these returns. Dakota Kai made her return at SummerSlam alongside Io and Bayley and now on last SmackDown, Karrion Kross and Scarlett made their returns in a big way against Drew McIntyre and showed the Hourglass to The Bloodline.
With all of that, there have been things in the pipeline saying Triple H's foot isn't off the pedal so these are 5 returns from either NXT, main roster or even Try-Outs that I would love to see happen with the new regime.
1. Johnny Gargano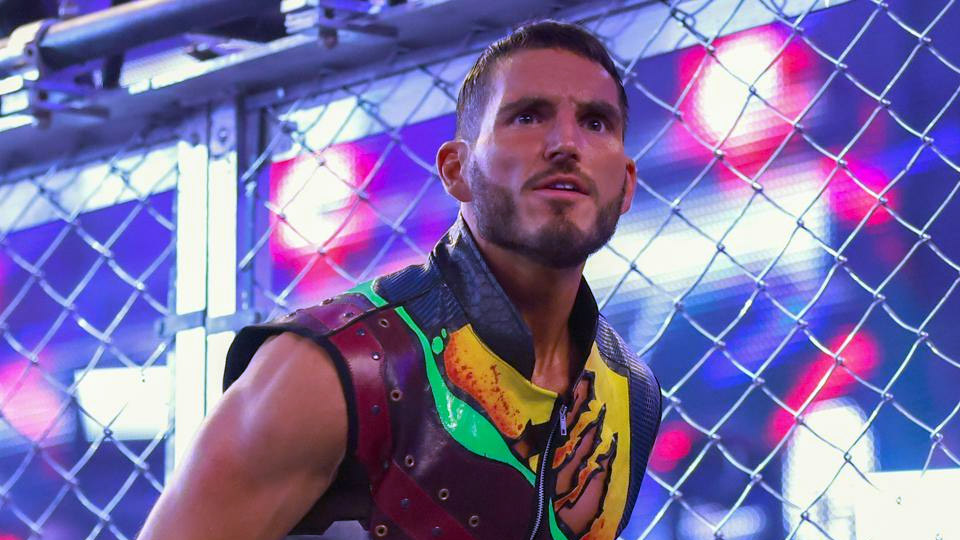 Now this is a name that people have been saying, "Maybe Impact or MLW" but, what about a return? Gargano didn't renew his contract, most likely to be with his family which is a valid and amazing reason, will never disrespect that. If he were to return, there would be a handful of great reasons. Maybe a singles run with the Intercontinental or United States but with Ciampa getting limelight in the main roster from RAW, what if we get a tag team reunion?
WWE is hurting for Tag Teams and what better than to scare off The Bloodline, loosen  the stranglehold of championships with some Do It Yourself action. DIY reunion could be amazing, especially with newer faces showing up to get championship aspirations like Kross and Ciampa. Want to break the hierarchy? Do It Yourself.
2. James Storm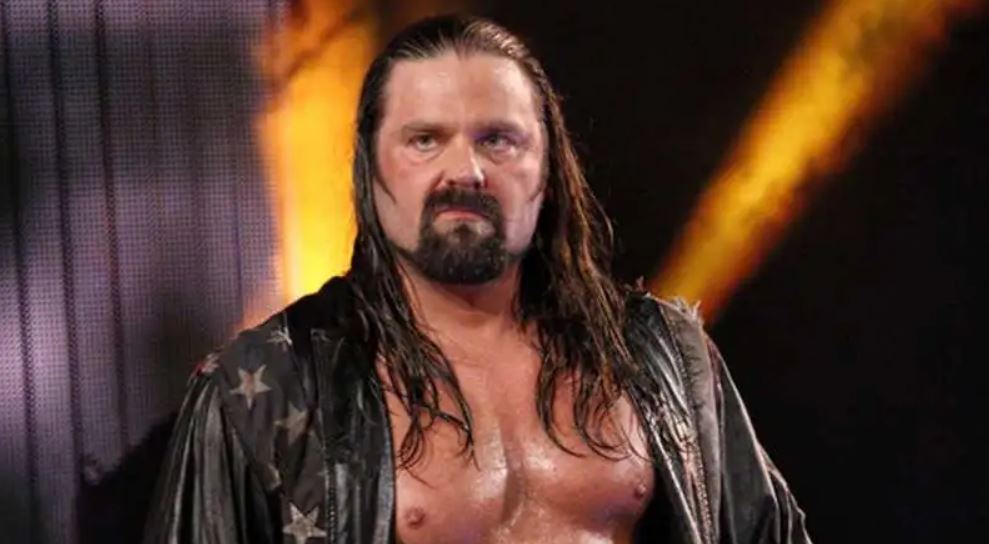 This one is a little bit weird and off. On one hand, who doesn't love the Tennessee Cowboy, Jimmy James Storm? On the other, he is 45 and getting some nagging injuries as of late. So why would I say Triple H should bring James Storm back and give him something for the main roster? One of the things I said for Gargano, we have a lack of something and The Usos might need to watch two things in the rearview.
Watch your Money and your Alcohol.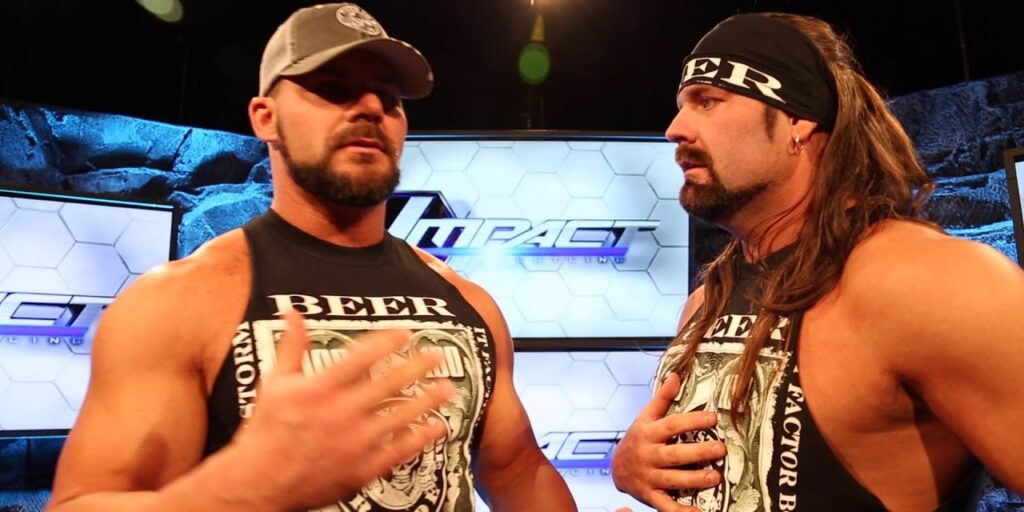 Beer Money showing up in WWE would be amazing in my personal opinion. The Bloodline jump Roode, someone in a hoodie or jacket comes up and jumps them to even the fight and as soon as one Uso remained in the ring, the figure goes down and the old stomping goes off and we hear "BEER…" and Roode looks around and gets hyped up and shouts, "…MONEY!"
3. Big Cass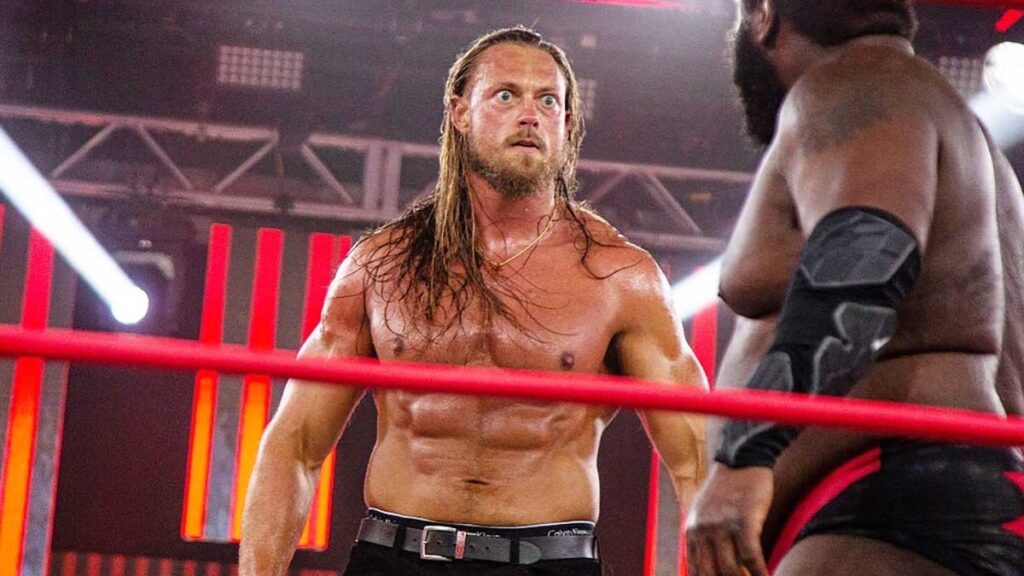 Since his departure from WWE, he has done something I have said since they split him off from Enzo. Take him through the Kevin Nash School of How To Big Man. ROH and Impact are great examples that he actually cleaned up and worked on what he has to do to be good in the ring. He can work the microphone, he can work the ring so we got a new big boy to take on the WWE once again.
Now I could have said Enzo and Cass to rejoin but, I'm sure the antics of Enzo will get Cass in deep water along with the fact that I already made two tag team predictions, we don't need another. Cass brings a lot to the table and was kind of unproven in WWE because he was just the big enforcer to the more charismatic Enzo. Give this man about six months in the ring and you have your next MASSIVE problem in the IC or US Championship scene or even more.
4. Bronson Reed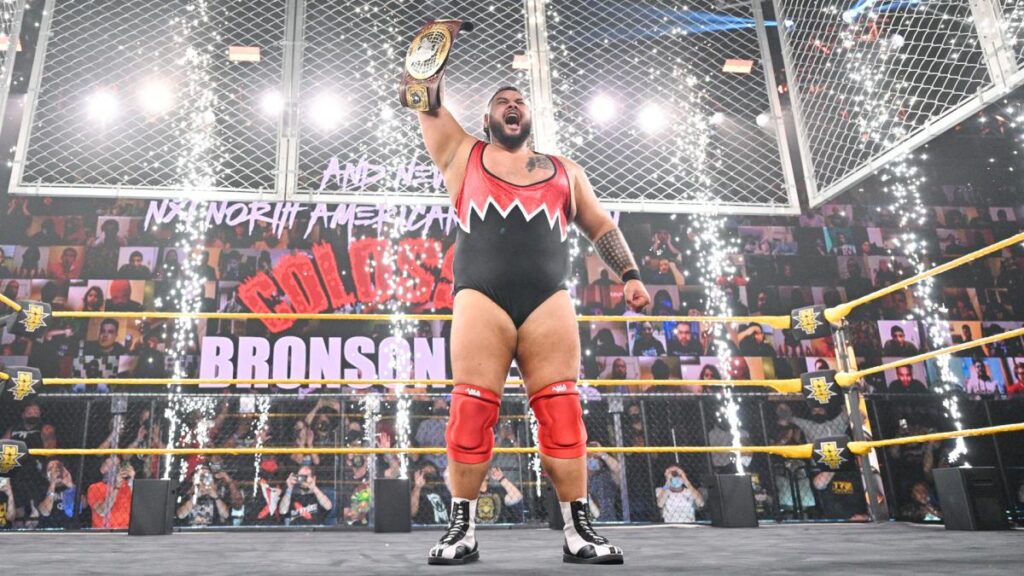 The big man from down under is a former NXT North American Champion. He looked to have a good push going with that championship but he got release. If you wonder where he went… he actually made a pit stop in Impact Wrestling as JONAH with the most fire theme song in recent history I swear… I will link the theme song and Trips… please. Get rights to this theme song. I will be a bigger Bronson Reed fan.
Bronson to me is the weird man in all of this but, I think with Triple H involved, he could get something going for him with a good singles champion run or a big threat to go through like a gatekeeper of sorts. Big boy with a great amount of athleticism? Can't really hate on that considering the last time we saw athletic bigger people were Keith Lee and… what was that one guy? Sherman Tank with a Ferrari Engine…?
5. Bray Wyatt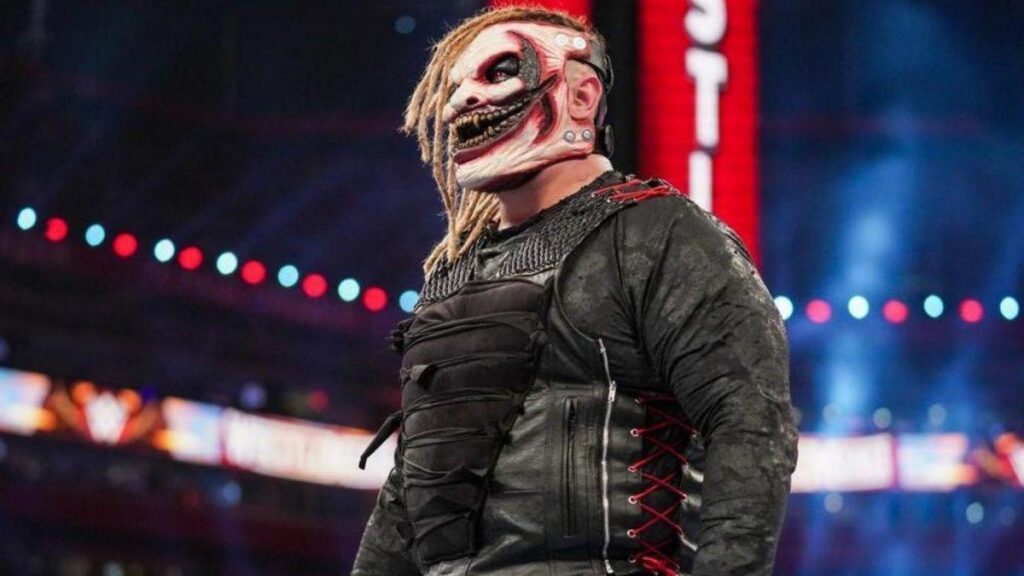 And the last one is the obvious one in all of this. Yes… we have Judgment Day as the somewhat supernatural dark group but we know the true successor of the supernatural and that is "The Eater of Worlds", "The Fiend" Bray Wyatt. This time around, I don't think we will get the Jekyl and Hyde, Mister Rogers gimmick. I believe this time around we get full darkness and mayhem. We get the darkness and the theory of reverting back to your prime.
To make a refresher… Miz went back to being the cocky narcissist after fighting The Fiend. Finn turned back to the Prince and much more. With guys like Edge returning, maybe we see the return of the Heel Ultimate Opportunist, maybe a Fiend fight with AJ Styles to get the TN-AJ perhaps. Possibilities are endless and with a great mind like Wyatt for character and execution, I think Hunter will pick up the phone and Let Him In.
– There are clearly others that I could say, or maybe even didn't think about, but hey, that's the Chairshot way of Always Using Your Head. Those are just five returns that could happen and hopefully you read this before RAW or SmackDown and who knows if I get any of these right, maybe I missed an obvious one or maybe we get a giant signing that nobody thought possible. Let me and all of Chairshot know!
King's Greatest Hits Of Jeff Hardy
As he battles his demons, Chris King looks at some more positive moments in Jeff Hardy's career!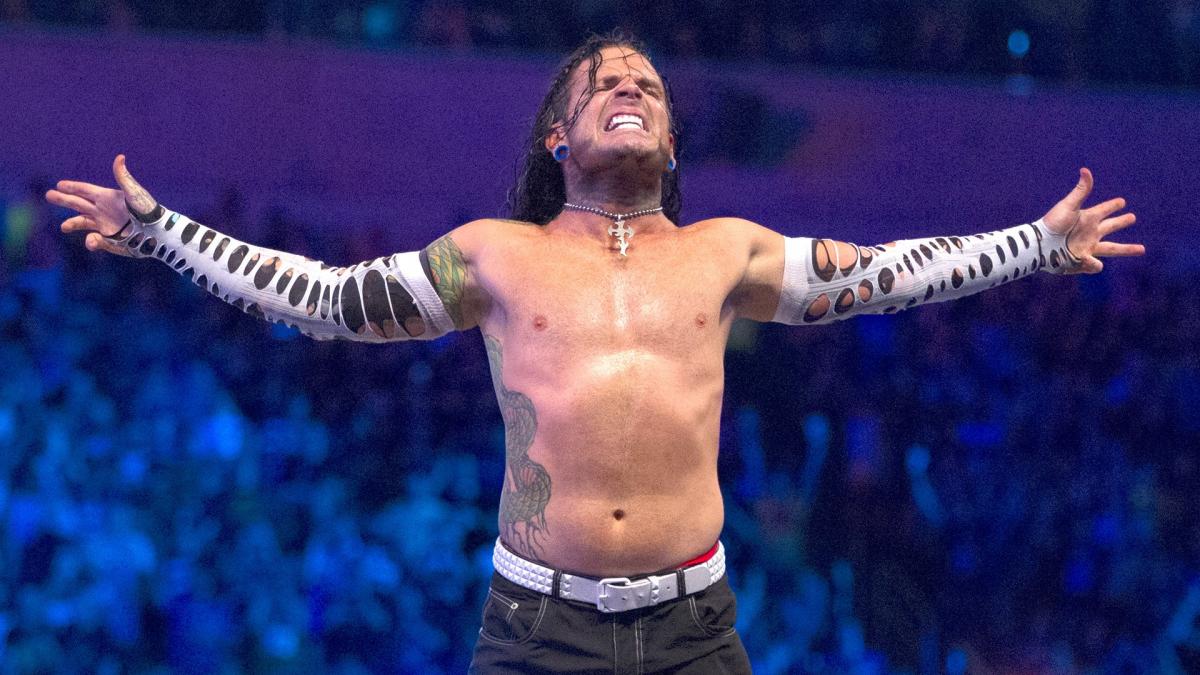 I'm sure by now you've heard the disturbing news that former WWE superstar and recent AEW signee Jeff Hardy, was arrested again for multiple charges including a DUI.  Hardy has had a hard and tragic road of recovery throughout the years in multiple wrestling promotions.
Not too long ago, Hardy walked out on WWE after they were rumored to have offered the former world champion to go to treatment for his substance abuse issues. Hardy refused and said that he was better but, as we saw the demons are still lurking and got the best of him again.
I have seen some nasty comments and even some distasteful memes about the AEW superstar and felt compelled to go against the grain. Instead of kicking a man when he's down, I'm going to put together a greatest hits for the "Charismatic Enigma."
Jeff Hardy & The TLC Match
Everyone can say that Shawn Michaels and Razor Ramon helped innovate the iconic ladder match and you are right, but Jeff Hardy and his death-defying stunts changed the concept of the match forever. The Hardy Boyz vs. The Dudley Boyz vs. Edge & Christian and their iconic TLC match should have their wing in the Hall of Fame. The risks all six superstars took for the adoration of the crowd could have ended all of their illustrious careers. In the words of Vince McMahon, It's such good shit!
Jeff Hardy Earns The Undertaker's Respect
On the July 1st, 2002 episode of Monday Night Raw, Hardy delivered the performance of a lifetime nearly winning the WWE Undisputed Championship from The Undertaker in an incredible ladder match. The young up-and-comer was faced with his greatest task yet, challenging for the most prestigious title in sports entertainment. Hardy showed that without a shadow of a doubt he deserved to be in the main event scene, but came within minutes of defeating Taker. At the time of the match, Hardy was still finding his footing as a singles competitor and earned the respect of the champion and legend.
Swanton Bomb From The Heavens
When I think of the daredevil Jeff Hardy, I can't help but think of this one crazy-as-hell stunt. At WWE One Night Stand 2008, Hardy faced off against the juggernaut Umaga in a falls count anywhere match. This match was so insane as both superstars fought into the parking lot. Hardy is one of the craziest and bravest superstars, hit a Swanton Bomb off a damn stage truck onto Umaga. It's one of the wildest things you'll ever see.
Hardy Wins The WWE Championship 
In 2008, Hardy finally made his way to the main event title picture alongside partner Triple H. HHH was Hardy's mentor in some sort of way which led to the daredevil achieving his lifelong dream of becoming WWE champion. At the 2008 Armageddon pay-per-view, Hardy would face HHH and longtime rival Edge in a triple-threat match for the title. In what was a great match between all three superstars, Hardy delivered a Swanton Bomb to Edge to win the illustrious championship.
Straight Edge Problems For Hardy
The following year, Hardy found himself in the way of young-up-and-comer CM Punk who is looking to make an example out of him. Punk had won the Money in the Bank briefcase for the second year in a row and took advantage of Hardy to win the world title. What started as mutual respect between both superstars changed drastically, when Punk started throwing jabs at Hardy for his drug and substance abuse real-life issues. Punk would form his infamous stable known as the Straight Edge Society. This is a very underrated feud and you should go back and watch it in its entirety. The promos are gold.
The Hardy Boyz Return To WWE
Both Matt and Jeff Hardy found success in multiple other wrestling promotions including Ring of Honor, and TNA during their time away from WWE. Both brothers were struggling with their vices and made poor life choices but straightened up their act over the years. In 2017, the Hardy Boyz would face longtime rivals The Young Bucks in ROH. The following night the adored tag team would make their incredible return to WWE at WrestleMania 33. Matt and Jeff would be named the final team in the Fatal 4-way ladder match for the Raw Tag Team Championships. The pop these two received was insane and very much deserved. They would go on to win the match and win the titles to capitalize on their momentum.
Jeffery Nero Hardy Makes AEW Debut
From 2017-to 2022 Jeff Hardy would find himself pigeonholed in the mid-card title picture. He would have feuds with a plethora of superstars including Samoa Joe, and Randy Orton. Orton and Hardy had a nasty Hell in a Cell match back in 2018. Earlier this year, Hardy was seen running around after the 24/7 Championship, which was disappointing to see. After being genuinely unhappy in WWE, Hardy would make his AEW debut on the March 9th episode of AEW Dynamite. Hardy would come to the aid of his brother and longtime partner.
This week news broke that Hardy had been arrested for multiple charges including a DUI. While it's easy to beat a man while he's down, how about we uplift and try to encourage him to get the help he needs.
As a longtime wrestling fan, I have the utmost respect for Hardy and wish him the best of luck in his battle with addiction.