King's Live In Person Reactions To WWE WrestleMania 38 Night 2
Chris King was live in Arlington, Texas for the most "stupendous" WrestleMania Night 2. These are the biggest takeaways and thoughts of the grand event. 
Chris King was live in Arlington, Texas for the most "stupendous" WrestleMania Night 2. These are the biggest takeaways and thoughts of the grand event. 
The Game Is Sadly Over
The moment Triple He's music hit the whole stadium came unglued. A huge roar came from the crowd myself included. It was an awesome and somber moment when he left his boots in the ring. I believe HHH will be inducted into next year's hall of fame.
RKBro Is Fantastic 
If anyone had told me two years ago that Randy Orton and Matt Riddle would be the Raw Tag Team Champions, I would have thought you were nuts. Somehow though this pairing works and it's a well-oiled machine. Both superstars delivered the goods including a perfectly-timed RKO from the top rope. Man, it was so cool to see. WWE should keep them together until SummerSlam or longer and then Randy can be Randy again.
Bobby Lashley Is A True Masterpiece
When Omos vs. Bobby Lashley was announced I wasn't interested at all, that was until I saw how freaking powerful he is. The Almighty truly impressed me and well my girlfriend too who I have to thank for this moment.
Celebrity Matches Are Fun Live
On paper or in an article everyone would give such a match as Johnny Knoxville vs. Sami Zayn a C grade, but when you're there live it's a whole other ballgame. The crowd erupts after every outrageous and hilarious stunt and it makes you think twice about WWE's logic. This was a really fun match.
Pat McAfee Gets His Spotlight
Pat Mcafee has been such a highlight for Friday Night SmackDown for months now, and I was stoked for his match. I fondly remember his amazing match with Adam Cole in NXT so I was excited. What nobody was expecting was this turning into a match with the boss and Stone Cold Steve Austin ending it with a stunner.
Stone Cold Is Still Money 
It could be in the 90s or the 2000s or any freaking era and Stone Cold still delivers. The moment that glass breaks everyone goes completely nuts.  I remember watching Austin raise hell when I was a kid and he still can sell out arenas! What the hell kind of a sell do you call that Vince? Austin Theory sold it amazing though!
A Dream Come True
In 1999 I attended my very first live event for WWE and got to relish in The Undertaker's Ministry of Darkness theme. The deadman took on Stone Cold and it was a great night of wrestling. Fast forward to the 2003 Survivor Series when Taker was buried alive by his brother Kane and Vince McMahon, but I always dreamed of seeing The Deadman's official Gong and pyro entrance. For the last time, I was there live to experience the grand entrance for one of if not the greatest to ever lace up the wrestling boots. Thank you, Taker.
Edge Is The King Of Trilogies 
I may be beginning to see a trend here when it comes to Edge, his greatness comes in threes. The first was with Orton although the third was halted due to an injury, The Rated-R Superstar did the same with Seth Rollins, and now it appears his next trilogy will include AJ Styles. While this dream match didn't set the pace as I thought it would, the main focus was on Edge playing his foe like a damn fiddle.
Adding Damian Priest into his fold will set up their next match for WrestleMania Backlash, and the finale at SummerSlam. I'm all for these two veterans continuing this story and adding layers of creativity. Edge should always play the heel, he's such a badass bad guy.
Brock And Roman's Greatest Hits
Right during the promo videos me and my crew went to a standing section to see both of these superstars' amazing entrances. I have never seen Roman Reigns or Brock Lesnar's entrance live and damn it was cool as hell. Whoever donned this the greatest main event ever was clearly on drugs. This match was more like both juggernauts delivering their greatest hits.
It honestly was more like Lesnar's previous matches with Reigns before becoming "The Head of The Table". Paul Heyman tricked "The Beast Incarnate" into eating a massive spear through the barricade. I was only rooting for Reigns for one reason only.
A Missed Opportunity 
There seemed to be a trend with Roman Reigns after defeating his challengers, to stand over them and chant "Acknowledge Me" but instead WWE decided he do this before the match began. The question heard around the world is who can stop "The Tribal Chief?" There's only one superstar and that's The Rock. Next year's Mania is in Hollywood and what better way to set up than to have "The Great One" come out and confront his cousin? Unfortunately, for whatever reason WWE didn't have The Rock come back. I felt this would have been the perfect time for him to come back but I guess we'll have to wait patiently for The Rock. Until then we have no choice but to acknowledge our WWE Undisputed Universal Champion!
This was my first WrestleMania and it was such an awesome experience. I never would have been able to make this dream a reality, if it wasn't for my girlfriend. If you've never gone I would encourage you to go and attend "The Showcase of the Immortals!"
King's WrestleMania Rewind: Charlotte Flair vs. Asuka from WrestleMania 34
Chris king is back with one of the most underrated matches in WrestleMania history–Charlotte Flair vs. Asuka!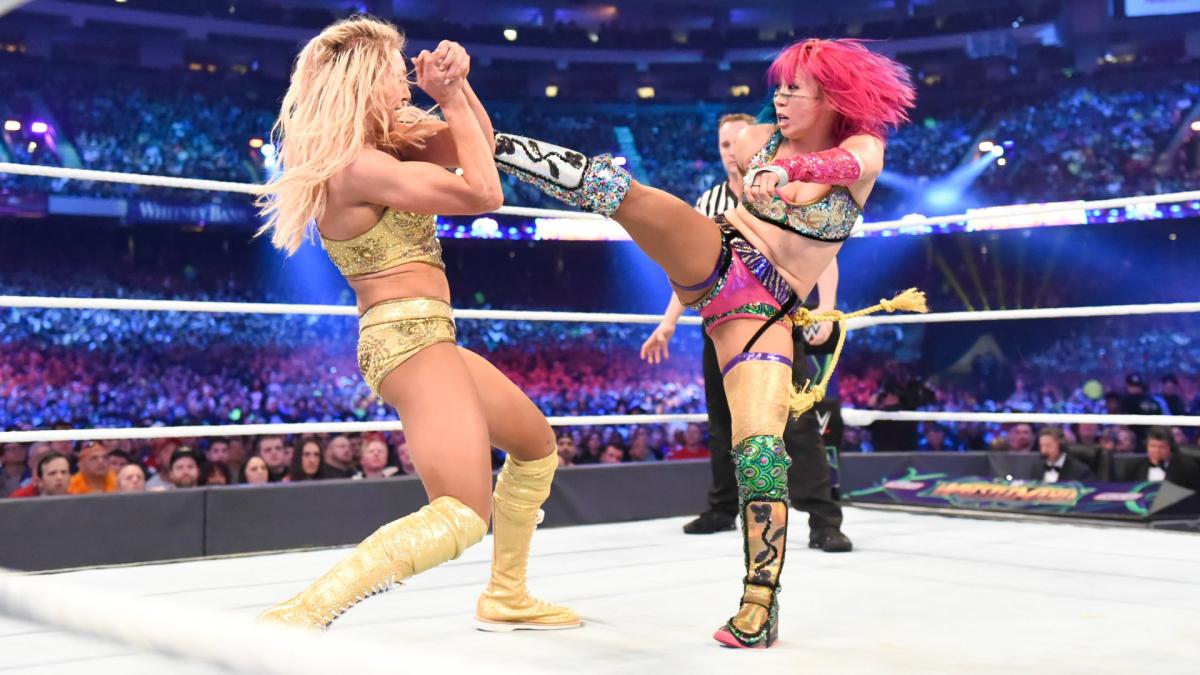 Chris king is back with one of the most underrated matches in WrestleMania history–Charlotte Flair vs. Asuka!
We look back at Charlotte Flair vs. Asuka at WWE WrestleMania 34. 'The Empress of Tomorrow' put her unprecedented and historic undefeated streak of 914 days on the line against 'The Queen's' SmackDown Women's Championship.
For years, this was considered a dream match while Asuka dominated the roster in NXT, while Flair won numerous championships on the main roster on both Raw and SmackDown. The Empress made her long-awaited debut on the September 11th episode of Raw and began to tear through the competition.
Asuka outlasted all twenty-nine other women in the historic first-ever Women's Royal Rumble match to challenge for the title of her choosing. At Fastlane, she made her choice.
The WWE Universe was so excited for this match myself included. Both superstars delivered a fantastic performance on the Grandest Stage of Them All executing counter after counter. Asuka showed off some nasty-looking kicks to her opponent, and Flair hit a thunderous Spanish Fly off the top rope. Flair was seconds away from defeat at the hands of The Empress but she locked in Figure Eight and Asuka was forced to tap out.
I can't even begin to explain how shocked I was at this outcome, as nearly everyone expected The Empress to continue her undefeated streak and walk away with the women's title. This controversial decision was the downfall of Asuka's momentum. She would ultimately win the SmackDown Women's Championship at the 2018 TLC pay-per-view in the triple-threat ladder match.
Fast forward to this year when Asuka has recently returned with her Japanese-inspired persona Kana. Kana is dangerous and ruthless and is heading into a championship with Bianca Belair at WrestleMania 39. The Empress has regained all her momentum and is highly favored to walk away with the Raw Women's Championship. Let's hope that Asuka and Belair can tear the house down and deliver an A+ grade match both women are fully capable of.
King: Dominik Mysterio Needs To Do This At WrestleMania
Chris King is here with what WWE should do with Dominik Mysterio at WrestleMania in his long-awaited match against his father Rey Mysterio Jr.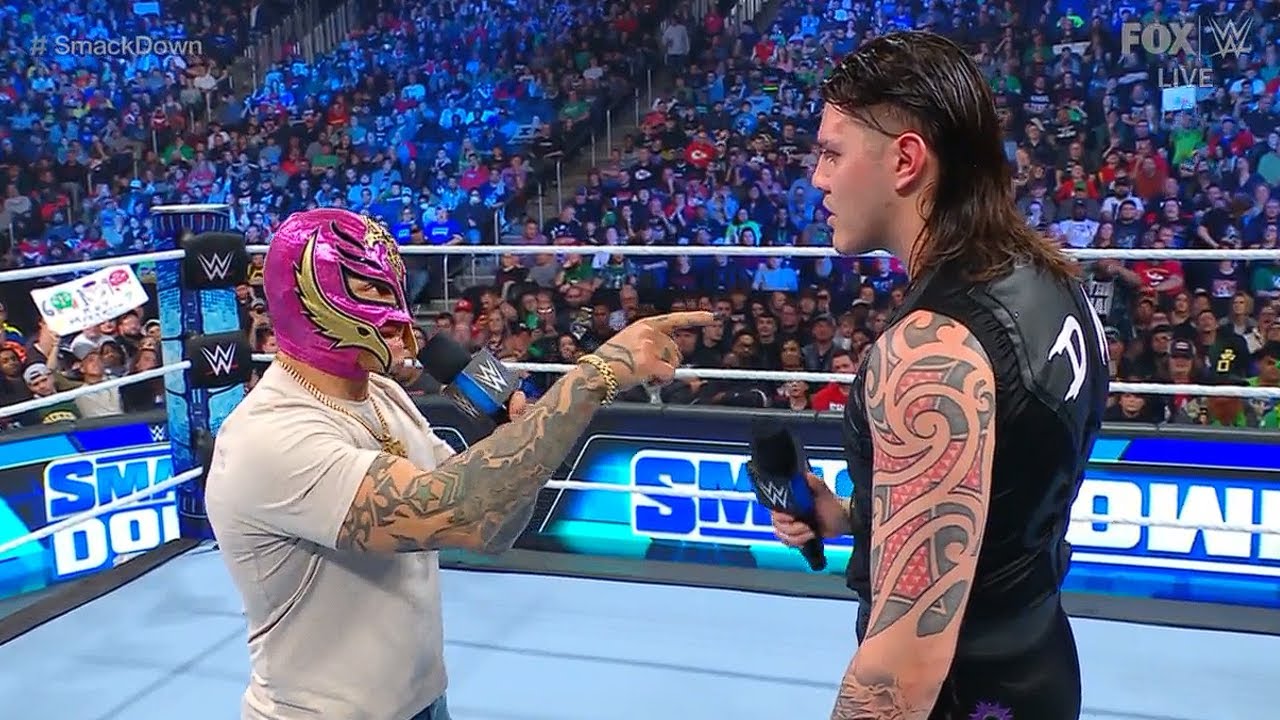 Chris King is here with what WWE should do with Dominik Mysterio at WrestleMania in his long-awaited match against his father Rey Mysterio Jr. 
On this week's episode of Friday Night SmackDown, Rey Mysterio finally snapped and beat some sense into his disrespectful punk-ass kid Dominik. The member of the Judgement Day came out to push his father again for a match on the Grandest Stage of Them All, this time with his mother and sister at ringside. The ungrateful punk told his mom to "Shut Up," as a father even I wanted to jump through the screen and whoop his ass.
Back in October of last year, Mysterio made the emotional decision to possibly quit the company but, instead, Triple H persuaded the Lucha libre superstar to move over to SmackDown to avoid his son. This came after Dominik shockingly turned on his father at Clash at the Castle. Mysterio did everything he could to refuse his despicable son's challenge for Mania but, a man can only be pushed so far. Mysterio will be inducted into the 2023 WWE Hall of Fame and I expect Dominik to embarrass his father during his speech to further this personal feud.
Yes, the WWE Universe hates Dominik and wants to see him get the ever-loving crap kicked out of him but, this feud is missing a special ingredient to capitalize on the biggest heat possible. Throughout this feud, Dominik has made mention of the legendary Eddie Guerrero on several occasions going back to the "iconic" 2005 feud.
I know WWE might not want to go this route but, Dominik MUST come out to Eddie Guerrero's theme at Mania. The disrespectful punk needs to come out in a lowrider to garner nuclear heat. It doesn't matter if The Judgement Day comes out and causes interference for Dominik to get the win, all that matters is that both superstars get the biggest payoff of this nearly year-long feud. Just imagine the Roman Reigns heat after he defeated The Undertaker and multiply that by ten. Dominik portrays the perfect heel and he truly is the missing ingredient that The Judgement Day needed to grow and evolve into a top faction.