Rob: Where Is MJF Going?
Work? Shoot? Babyface? Heel? WWE? AEW? Rob explores the future (and present?) of MJF!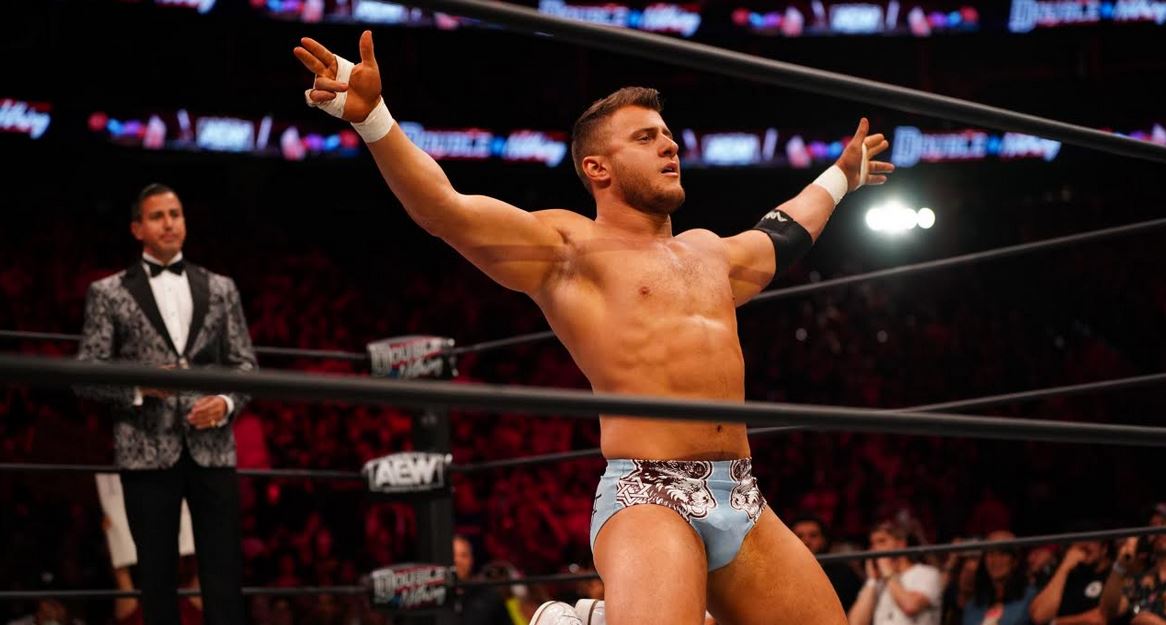 Work? Shoot? Babyface? Heel? WWE? AEW? Rob explores the future (and present?) of MJF!
No I'm not talking about which wrestling company.  We all know that either Tony Khan comes up with the money to make him never entertain going to WWE again, or he doesn't and Max ends up in Titan-land, if not in 2024 then at some later date.  I'm talking where this is going right now.  Because while his offscreen path had gotten much cloudier heading into Double or Nothing, that now seems to be pretty set while his onscreen path is now more of a mystery.  As for whether this is all a work or not, if it wasn't a work before it is now.  Giving an insubordinate employee with seemingly one foot out the door a live mic on television, and advertising it ahead of time, is not something one does if this is a shoot.  But I do have a few questions now that things have gone to where they are now.
Who's the babyface?  Who's the heel?
Yes it matters, even in 2022.  Wrestling stories are better with defined good guys and bad guys, period end of story.  MJF has been a heel for years and was garnering some genuine disdain going into the Premium Live Event due to his complaining about his contract and his overtures towards the great Satan of AEW fans, the WWE.  It's rare for heels to get that feeling nowadays because their acts have been neutered for a couple of reasons.  One is that the line crossing that old schools heels engaged in often ventured into racist, misogynistic, xenophobic, and homophobic territory and needed to be curtailed.  The other is that wrestling companies found it worth their while to try and sell things for everyone on the roster good or evil and have leaned into making more of their villains good looking and personable away from the show.
Ultimately that takes some of the punch away from things because seeing the bad guys take all the pictures with kids backstage and all and having it blasted all over social media makes them a lot less despicable in the ways that drew a lot of money back in the day.  Now there's a lot more 'that guy/gal does a good job' and lot less 'I hate that guy/gal'. Unlike TV and movie characters pro wrestling's more interactive presentation brings with it a need to generate some genuine disdain that may bleed over from the character towards the person playing them and that is in short supply in 2022.  MJF, by keeping kayfabe and being an obnoxious jerk every time he's seen out in public, has managed to get some of that for himself without making it about backstage stories and what not.  And it was ramping up pretty heavy going into last weekend.
But in 10 minutes on the post-Double or Nothing episode of Dynamite that may have all been squandered.  MJF came out to boos, with the perception of him being the sports radio stereotypical greedy, ungrateful athlete still sticking after all the rumors and real stories of the weekend.  But then whether intentional or not he delivered a fiery promo that made him out to be the babyface in this situation.  He'd been toiling from day one of the company's existence to make great things happen on TV while Tony Khan kept signing ex-WWE after ex-WWE guy (and eventually ex-WWE gals) and paying them more than the people who were there at the start and had built the place.  This of course is true and obvious to anyone paying attention, albeit a sore spot to mention to some fans.  (Let's be real for a minute; the value of everyone who made it to WWE television is in their ability to get some people who saw them there to watch them in AEW so for all intents and purposes they are ex-WWE people regardless of where else they worked).
In 10 minutes MJF painted himself as the beleaguered, underpaid, undervalued employee who has over performed at every chance only to be overlooked by the boss as he gazes at the next shiny new toy.  And again there is a lot of truth here from what we know.  This would have the makings of an Austin-McMahon type of feud, except for a few problems.  One is that Tony Khan has presented himself as the babyface wrestling company owner, the guy who is much more like us fans (he was a message board and e-fed guy, y'all!) than corporations like Sinclair Broadcasting or the evil Vince McMahon.  Tony Khan has portrayed himself to be the owner who gives the fans the matches they want, with the finishes they want, and pushes the people that they want.  He gives the wrestlers the freedom to use their own creativity and not be stifled by him or a bunch of TV writers.  And he lets the wrestlers do it their way in the ring without telling them what moves they can and can't do.
What about everyone else?
By pointing the finger at Khan and making him the antagonist they are potentially throwing away years of PR work on and offscreen by Khan to show us all that he's not a heartless bastard like Vincent Kennedy McMahon. Khan has shown in the past that he does not take too well to criticism; is he ready for what may come of the perception of him changes?  But Vince really is evil offscreen!!  Go ask Jacksonville Jaguar fans or Fullham Football fans how much they love the management of one Tony Khan and ownership of the Khan family.  Khan has done a masterful job of persuading AEW fans that the Tony Khan who runs AEW is not the Tony Khan who runs those two other franchises; showing that they indeed are the same guy could backfire in a major way.  Mr. McMahon the character is one of the great wrestling heels of all time but the favoritism he shows onscreen has often been taken as a shoot and applied to anyone who it becomes known was a personal choice of his to do big things, and it overshadows even the most basic and elementary of booking decisions every week on WWE television.  Is Khan deft enough to not let his own image get taken there?
And what of all the ex WWE men and women there?  They have largely been treated as heroes by the AEW faithful and have been seen either as brave escapees from the WWE prison or victims of Vince's inability to see what they brought to the table and Nick Khan's budget axe.  MJF is floating the idea that they really aren't that great after all and were just beneficiaries of Khan's starry eyed gaze, which runs contrary to everything we have been told about them in the story of AEW.  If they continue down this path and MJF gets over as a babyface while Khan becomes the de facto heel what happens to those people he ran out to sign as soon as they were available?  Those people did ultimately send some of the AEW originals, men and women who came in with MJF and were sold to us as the people the evil corporation would not give a chance, into unemployment. In a world where the man who signed them is now a heel and whose decisions have been cast in a negative light, what do you call the people who profited from said decisions?
They are walking a very fine line here and going into territory that could change the landscape of the company forever.  Is Tony Khan ready to have all of his booking decisions questioned?  Is he ready for people to see some of his choices for, say, Britt Baker not as responding to the real reactions of his customers but playing personal favorites?  Is he ready for every finish, even those in filler matches on TV, to be examined for signs of bias?  Are the wrestlers who came in just looking for a new place to work without all that drama ready to enter a new world that looks a lot more like the one they came from?  Those are the big questions that need to be answered.  Those who are talented and savvy enough to navigate will find a way but the people who just came there to work are gonna have a much harder road to travel now.
Regardless of what happens the big winner is MJF.  Either he spins this into a full babyface run and becomes the unquestioned number one guy there, or he plays it into an 18 month sendoff to Titan land.  Either way he can't lose here.  Tony Khan and his coworkers however, have to weigh much different possibilities and if they aren't ready or willing then this could take a bad turn for all of them.
King's WrestleMania Rewind: Charlotte Flair vs. Asuka from WrestleMania 34
Chris king is back with one of the most underrated matches in WrestleMania history–Charlotte Flair vs. Asuka!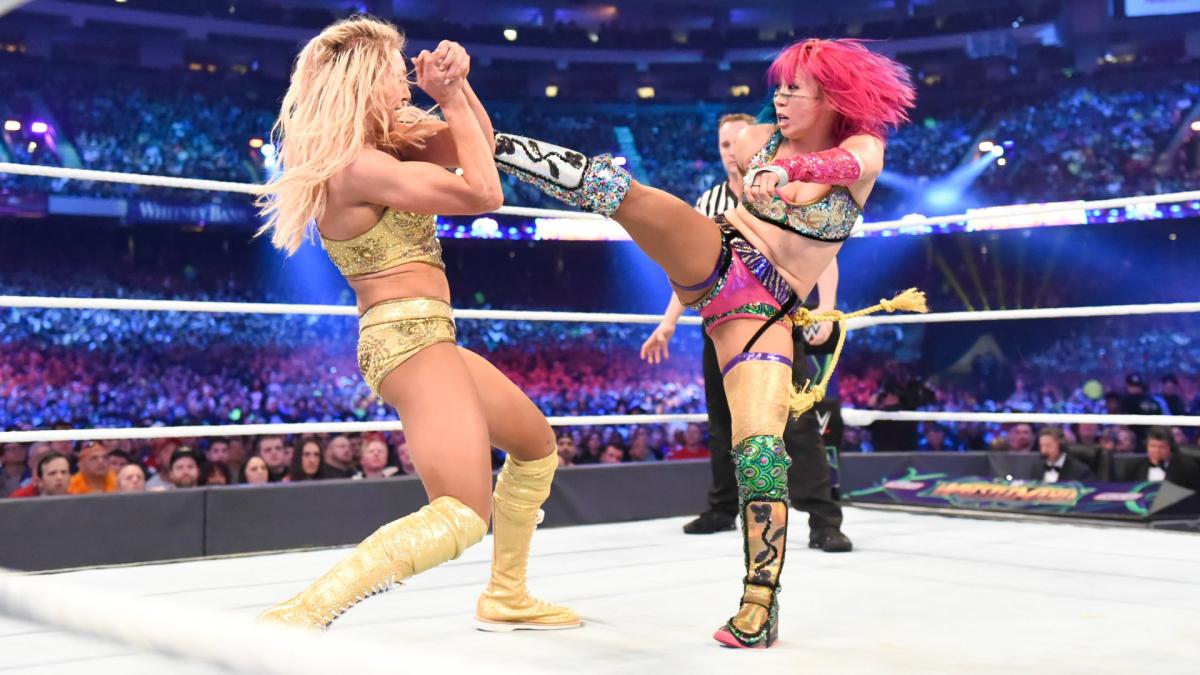 Chris king is back with one of the most underrated matches in WrestleMania history–Charlotte Flair vs. Asuka!
We look back at Charlotte Flair vs. Asuka at WWE WrestleMania 34. 'The Empress of Tomorrow' put her unprecedented and historic undefeated streak of 914 days on the line against 'The Queen's' SmackDown Women's Championship.
For years, this was considered a dream match while Asuka dominated the roster in NXT, while Flair won numerous championships on the main roster on both Raw and SmackDown. The Empress made her long-awaited debut on the September 11th episode of Raw and began to tear through the competition.
Asuka outlasted all twenty-nine other women in the historic first-ever Women's Royal Rumble match to challenge for the title of her choosing. At Fastlane, she made her choice.
The WWE Universe was so excited for this match myself included. Both superstars delivered a fantastic performance on the Grandest Stage of Them All executing counter after counter. Asuka showed off some nasty-looking kicks to her opponent, and Flair hit a thunderous Spanish Fly off the top rope. Flair was seconds away from defeat at the hands of The Empress but she locked in Figure Eight and Asuka was forced to tap out.
I can't even begin to explain how shocked I was at this outcome, as nearly everyone expected The Empress to continue her undefeated streak and walk away with the women's title. This controversial decision was the downfall of Asuka's momentum. She would ultimately win the SmackDown Women's Championship at the 2018 TLC pay-per-view in the triple-threat ladder match.
Fast forward to this year when Asuka has recently returned with her Japanese-inspired persona Kana. Kana is dangerous and ruthless and is heading into a championship with Bianca Belair at WrestleMania 39. The Empress has regained all her momentum and is highly favored to walk away with the Raw Women's Championship. Let's hope that Asuka and Belair can tear the house down and deliver an A+ grade match both women are fully capable of.
King: Dominik Mysterio Needs To Do This At WrestleMania
Chris King is here with what WWE should do with Dominik Mysterio at WrestleMania in his long-awaited match against his father Rey Mysterio Jr.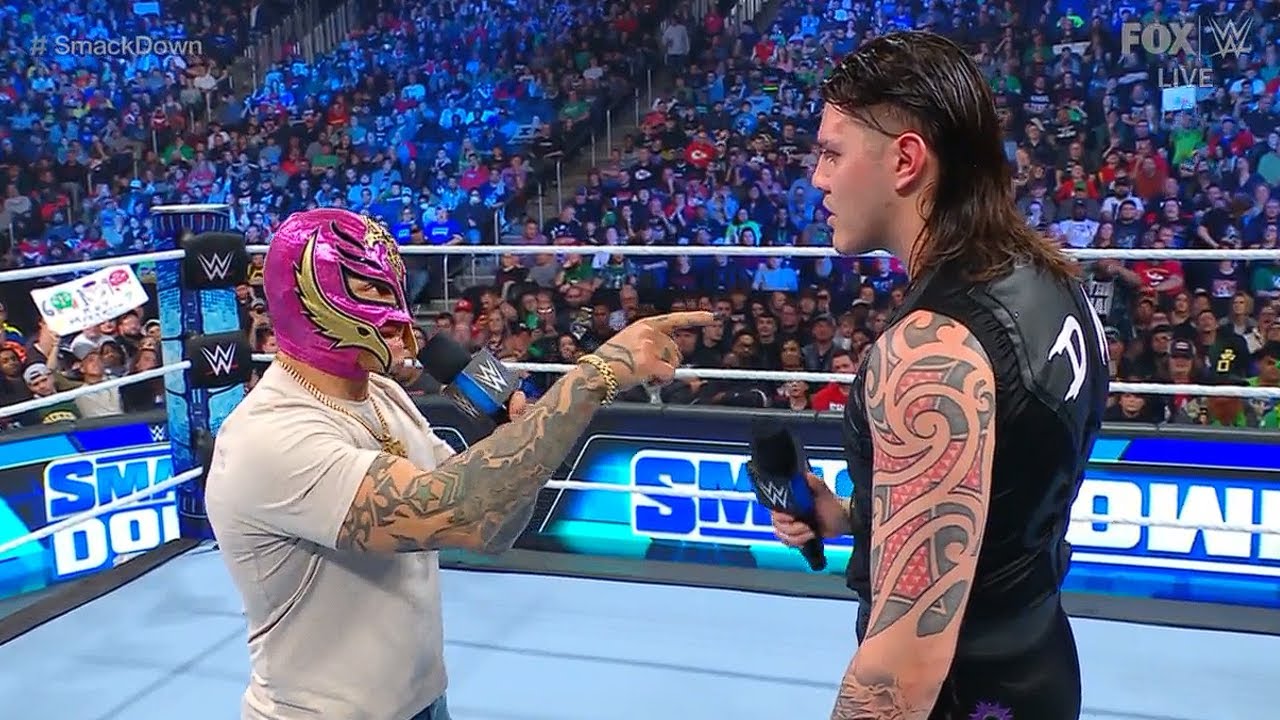 Chris King is here with what WWE should do with Dominik Mysterio at WrestleMania in his long-awaited match against his father Rey Mysterio Jr. 
On this week's episode of Friday Night SmackDown, Rey Mysterio finally snapped and beat some sense into his disrespectful punk-ass kid Dominik. The member of the Judgement Day came out to push his father again for a match on the Grandest Stage of Them All, this time with his mother and sister at ringside. The ungrateful punk told his mom to "Shut Up," as a father even I wanted to jump through the screen and whoop his ass.
Back in October of last year, Mysterio made the emotional decision to possibly quit the company but, instead, Triple H persuaded the Lucha libre superstar to move over to SmackDown to avoid his son. This came after Dominik shockingly turned on his father at Clash at the Castle. Mysterio did everything he could to refuse his despicable son's challenge for Mania but, a man can only be pushed so far. Mysterio will be inducted into the 2023 WWE Hall of Fame and I expect Dominik to embarrass his father during his speech to further this personal feud.
Yes, the WWE Universe hates Dominik and wants to see him get the ever-loving crap kicked out of him but, this feud is missing a special ingredient to capitalize on the biggest heat possible. Throughout this feud, Dominik has made mention of the legendary Eddie Guerrero on several occasions going back to the "iconic" 2005 feud.
I know WWE might not want to go this route but, Dominik MUST come out to Eddie Guerrero's theme at Mania. The disrespectful punk needs to come out in a lowrider to garner nuclear heat. It doesn't matter if The Judgement Day comes out and causes interference for Dominik to get the win, all that matters is that both superstars get the biggest payoff of this nearly year-long feud. Just imagine the Roman Reigns heat after he defeated The Undertaker and multiply that by ten. Dominik portrays the perfect heel and he truly is the missing ingredient that The Judgement Day needed to grow and evolve into a top faction.