AJ's Phenomenal Opinion: Bray Wyatt
So everyone loves Bray's return right? Right? Well the McDonald's Sprite spicy opinions of AJ…may feel differently.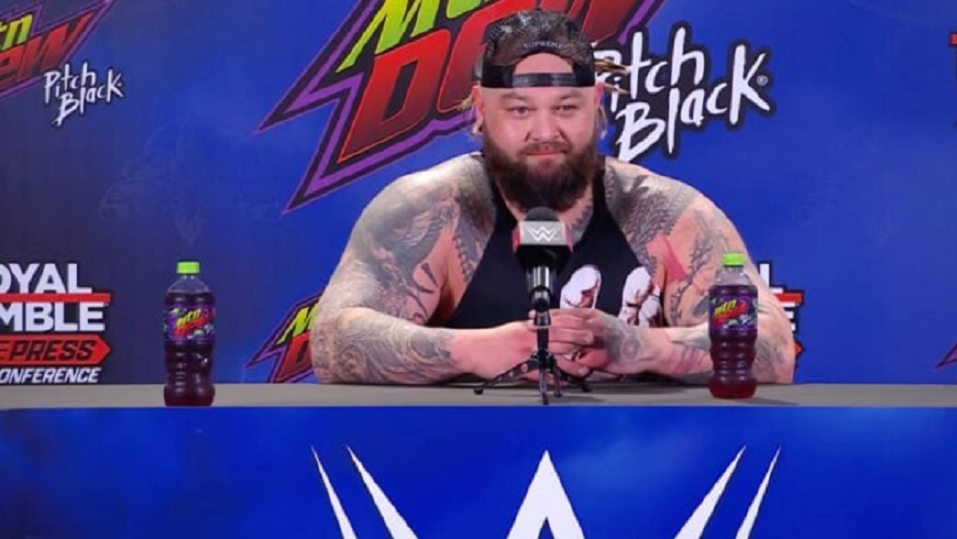 Well, just because my work schedule changed, doesn't mean I'm not going to drop some opinions of mine, of which, I haven't done too bad with. I got Three out of Five for my returns right a few months back and this is going to be about the last entry on that previous list. I knew for a fact that Bray Wyatt would return to the WWE in some way shape or form and time for some… controversy.
As my favorite ratings winner of 83 Weeks once said, Controversy Creates Cash and boy HOWDY… Do I have something to get off my chest here so sit back, order some Chairshot Merch and lets get on with Adam's… Rants for a bit.
Initial Thoughts
Bray coming in and making a return to the WWE was an inevitability. Death, Taxes and I guess WWE Returns are always guaranteed anymore and maybe we could get some new creativity with a supernatural gimmick. Bray has always had that supernatural to him ever since he had the Wyatt Family in Erik Rowan, the late Luke Harper and in the end, Braun Strowman. The Wyatt's had a control like no other and were beloved for a moment in the WWE.
Bray did a lot to make sure things were in motion but for some reason any massive feud he had, he failed. Following a bunch of injuries to the rest of his family and even releases later on, he seemed to at least get some traction going for him. WWE Champion, somehow got Randy Orton with him, Universal Championships and got those big match wins that eluded him in the Wyatt Family beginnings. Let me also say this as well, I actually liked the Firefly Funhouse Match with Cena as a "This is Your Life" match of sorts. I was tickled and entertained… Then much like Bray in character, something changed.
Dark and Terrible Lurk with Fiends
We had a lot to figure out during the Pandemic. Like A WHOLE HELL OF A LOT. Through it all though, WWE figured it out but the person that helped these types of ideas, soured them drastically. Lets go back to the WWE Championship run in 2017. Randy Orton won the Royal Rumble that year and he wouldn't betray Bray, right? Well he does and Mania for the two is set, Orton against Wyatt for the WWE Championship and it was… terrible. Random images of maggots and decay (Not the IMPACT Stable) popping up into the ring as the match goes on and Randy still wins. Through head game attempts, Bray comes up short in the big match moment. That's odd but maybe it will be a bigger pictu– and Jinder Mahal wins the Championship. Okay.
Wyatt returns as this Mister Rogers character and has a darkness inside of him with The Fiend. Now we had this amazing theory or maybe that's what happened but the story was, anyone The Fiend fought, they revert back to their best selves. The Miz returned to be the A Lister, the guy who grabs a microphone that you love to hate. Finn Balor doesn't have the Demon Gimmick anymore because after his loss, he's the Prince again. The cocky guy that walks around because he is the best, he gives no care in the world. Seth Rollins, who he took the WWE Universal Championship from, went from a dorky sweetheart back to the asshole taking every opportunity that he could get because he's that much of a weasel and when he lost… He lost to Goldberg. The one guy that has been the same since 1997. Drums, Pyro Bath, Spear, Jackhammer, "Who's Next?" and during that time, he sucked at points. One of those Rollins matches was in a Hell In A Cell match, the red cage with the red lighting. Match ending with a Stoppage from the referee… INSIDE OF A HELL IN A CELL (I think Sean Waltman said it best… Why did the match stop? It's supposed to be Hell?) and it's one of the rare times that I agreed with wrestling's favorite Uncle… That was Negative Stars for a match.
After Goldberg, he didn't have a commanding presence. He recruited Alexa Bliss who was already over whether she was a Heel or Face and made everything so unbelievably… boring. Alexa had to carry that idiotic demon gimmick and doll, not having anything really supernatural. Just some wrestling and Brock Lesnar cleaning up everything faster than a Chop Shop in main events and segments. He tried to return and make his grand return, beating the Universal Champion Braun Strowman at Summerslam just to falter a literal week later to Roman Reigns, who proceeded to never look back from that win. Bray gets fired after and no more supernatural ideas. Undertaker isn't around really and retires, Kane is a mayor. Paul Bearer is no longer with us and everything is just… normal.
Wyatt's Six (Reasons I Tune Out)
In 2022, Vince retires seemingly from everything and Triple H is at the helm, could he bring balance to everything? He makes a bunch of returns that people love seeing. Johnny Gargano, Dakota Kai, Tegan Nox, Bronson Reed, Dexter Lumus just to name a few and of course, the big one that everyone wanted. Bray Wyatt.
Bray makes this heartfelt return and everything seems great. We get him as him, he makes this weird build to a Wyatt 6, assuming we think it's the Firefly Funhouse and he's just talking, building. Alright well who is going to be these six figures because they are more than just puppets this time around. A masked man named Uncle Howdy that people think is Vincent Marseglia or maybe a bearded Bo Dallas who is Bray's real life brother and he……… pops in and out to confuse people. Okay… (1)
Alexa might return to the 6 because of all the segments and gets darker and a heel. Alright that is perfectly fine but, WHY IS VINCENT DALLAS HERE AGAIN TO JUST INTERFERE WITH RANDOM THINGS? Okay… fine. (2) Alexa has a Women's Championship match against Bianca Belair, that will make sense of thi– it's a clean finish… Why is it clean? No Howdy, No Wyatt just a random VHS tape like I'm watching The Ring about her being dark after the match. Okay…… (3)
Oh Wyatt finally gets a feud for his return. I almost forgot about that! Who will be this first victim? LA Knight.
…Okay…… (4)
Maybe this will be good. They are both great on the microphone, maybe Bray has new moves that he can do and I know all too well how good LA Knight is, I have been an Eli Drake/Shaun Ricker fan for years. This could be a great match that they have, they announced it for the Royal Rumble so it's going to be big and it's a… Pitch Black Match presented by Mountain Dew.
O…okay…… (5)
The Royal Rumble is upon us, the Men's Rumble starts the show and we all have adrenaline in our soul for it and now is this weird Pitch Black Match and it's not a cinematic match. It's in the ring, No Count Outs and No Disqualifications. LA Knight comes out in his iconic Yellow Attire and Wyatt is talking… with a mask on. The lights turn off and the ropes are glowing a neon greenish-yellow… with an announce table spot that… has Nickelodeon Slime inside of it when they break it? Okay fine… I knew the match was going to be dumb and gimmicky from the Mountain Dew Sponsorship. Bray wins, yay. LA Knight comes back with a Kendo Stick and… we get invulnerable Bray again… they don't hurt. Lets go to this crash pad and Bo Marseglia shows up from somewhere and just elbow drops him from maybe fifteen to twenty feet with pyro and the Firefly Funhouse Puppets appear at the top, to watch a fire… And there is number six…
Actual Thoughts on Current Bray Wyatt, Post Rumble
I absolutely hate it.

This was awful. You build whatever insignificant thought process of the Wyatt 6 has going for it when Uncle Howdy does the best Cap'n Shane O elbow drop for a hellfire effect. At least the pyro was better than the AEW Explosion Match I guess…
Regardless, how does LA Knight come out of all of this moving forward? He lost an idiotic gimmick match and looks presumed dead. This just makes me think that whoever in whatever interview said Bray Wyatt is a creative mastermind needs to put whatever they have down before we hear about their T.O.D. posted somewhere. This Pitch Black Match is somehow worse than that Rollins Hell in a Cell Match and that takes talent. At least a good amount of alcohol lulled that from my brain but this made me remember that and enjoy the thought of that match happening with its finish. The best way I can picture how this was pitched was Burnt Dogshit, wrapped in a Kerosine Blanket with… sorry had to look at what I wrote, not putting that on websites but… people saw a Creative Quesadilla and when we got the actual product, it gave Salmonella poisoning and E Coli at the same time.
I really don't want to see another Bray Wyatt match… again. Whoever gave him creative, take it away immediately. As much steam as Bray Wyatt gets in promos or possible matches in the past, the only steaming he gets at the end, is steaming piles of shit. You can say, he's getting paid millions where I'm a little troll on the internet with typing power and I really don't care but to me, Triple H… you finally got your first failing grade with something in your leadership role in WWE.
King's WrestleMania Rewind: Stone Cold VS. Scott Hall (WrestleMania X8)
Chris King is back with another WrestleMania Rewind, looking at the NWO's Scott Hall battling Stone Cold Steve Austin at WWE WrestleMania X8 from Toronto!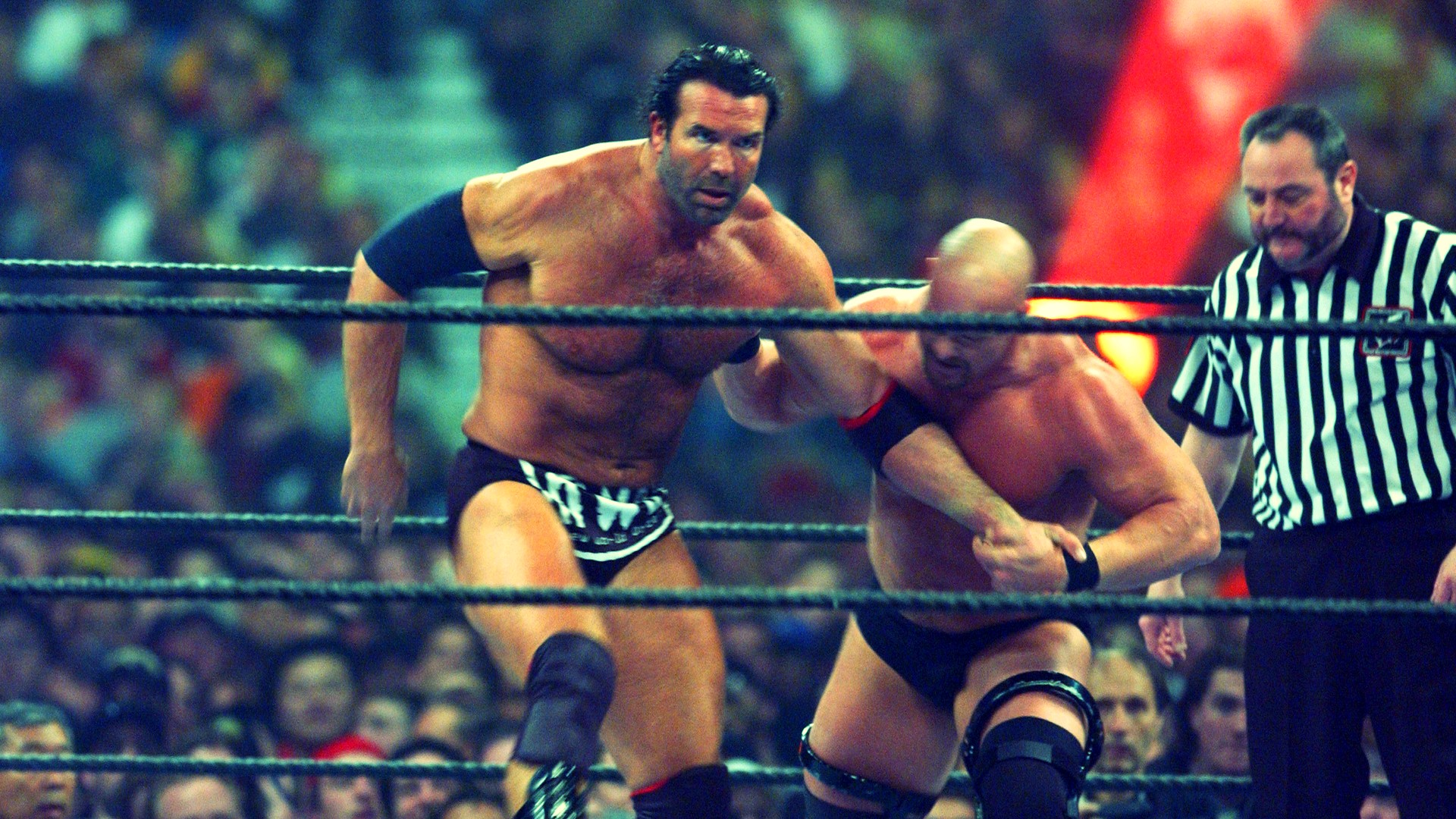 Chris King is back with another WrestleMania Rewind, looking at the NWO's Scott Hall battling Stone Cold Steve Austin at WWE WrestleMania X8 from Toronto!
Chris King is back this week with another edition of WrestleMania Rewind, where he is rewatching all the past Mania matches and feuds. This week you're in for a treat as we look back at 'Stone Cold' Steve Austin vs. Scott Hall at WrestleMania X8.
In late 2001, Vince McMahon bought out his competition WCW and acquired the rights to a plethora of talent including Booker T, Eddie Guerrero, Chris Benoit, and the iconic trio known as NWO. Hulk Hogan; Kevin Nash, and Scott Hall were hell raisers, and what better way to make a name for yourself than take out the two top superstars in the WWE The Rock, and Stone Cold?
The NWO cost Austin his chance at becoming the Undisputed Champion at No Way Out during his match with Chris Jericho. Adding insult to injury, the NWO spray-painted 'The Texas Rattlesnake' with their brand logo just like they did in WCW. As you can imagine, Austin was pissed and out for revenge against the group and primarily Scott Hall.
Hall would challenge Stone Cold to a match at WrestleMania 18. Both superstars beat the living hell out of each other leading up to this highly-anticipated match for who runs the WWE.
The glass broke and Stone Cold made his iconic entrance, and black and white NWO covered Halls' entrance alongside Kevin Nash. With the odds stacked against 'The Toughest S.O.B' could Austin or NWO prove their dominance? Sadly the NWO  broke up that very night when Hulk Hogan came to the aid of his adversary The Rock after their 'iconic' dream match. Stone Cold would ensure the victory with the Stunner. Hall would perform an Oscar-worthy sell over the finisher.
What a time to be a wrestling fan in the 2000s when nothing was impossible for WWE. Who would've thought WCW would go out of business and Hogan would make his long-awaited return to WWE?
King's WrestleMania Rewind: Seth Rollins vs. Kevin Owens (WWE WrestleMania 36)
Chris King takes a look at the most underrated WWE WrestleMania matches, and starts off with Seth Rollins battling Kevin Owens at WrestleMania 36!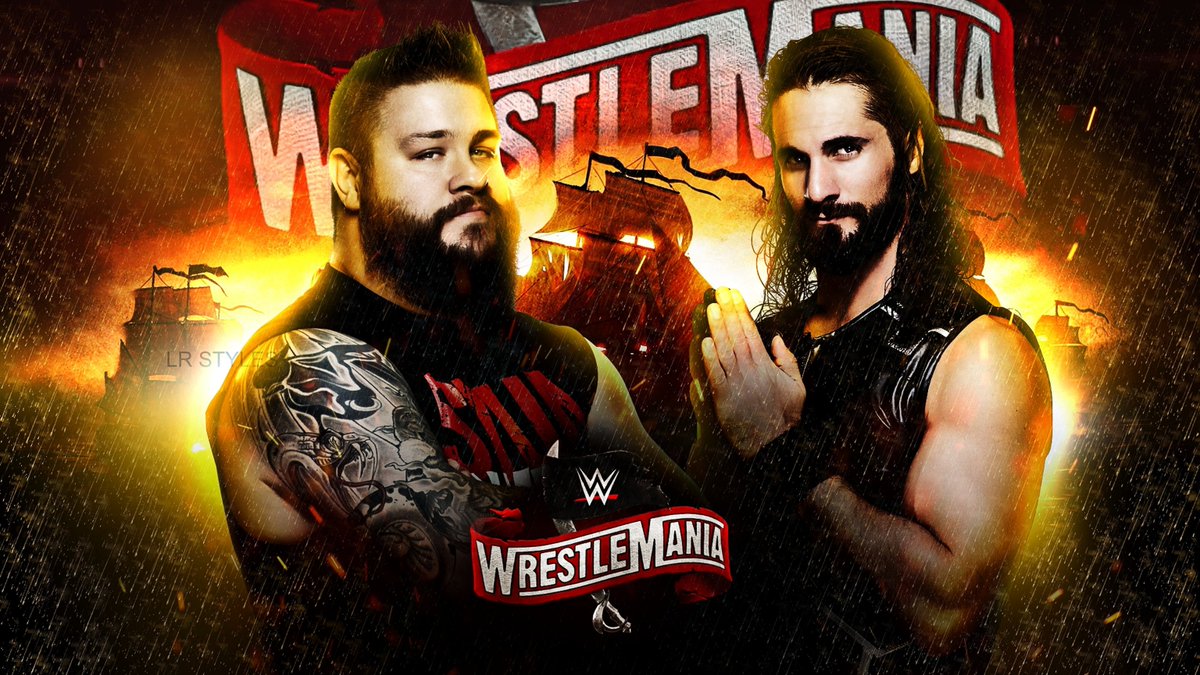 Chris King takes a look at the most underrated WWE WrestleMania matches, and starts off with Seth Rollins battling Kevin Owens in the WWE Performance Center at WrestleMania 36!
Chris King is starting a new series heading into WrestleMania season dubbed WrestleMania Rewind. Each week he'll be going back and sharing his insight over underrated matches at the Show of Shows. First up, is Kevin Owens vs. "The Monday Night Messiah" Seth Rollins at WrestleMania 36.
At the 2019 edition of Survivor Series, Rollins sacrificed himself during the men's traditional match allowing SmackDown to ultimately gain the victory. The following night the self-proclaimed Messiah, berated the whole roster but KO was not having any part of it. Owens quickly became a huge barrier in Rollins' cause for the greater good. The Authors of Pain attacked Owens with Rollins' character in question.
Owens finally had enough of his rival's mind games and torment and challenged Rollins to a match on the Grandest Stage Of Them All. Rollins mockingly accepted his challenge and the match was made official for night one of WrestleMania. Owens came out of the gate beating the holy hell out of the Monday Night Messiah trying to achieve his long-awaited moment at Mania but, Rollins tried to steal a disqualification victory by using the ring bell.
Owens hellbent on revenge provoked Rollins into turning their encounter into a no-disqualification contest where the fight could be taken all over the empty arena. The highlight of the match, was when KO used the WrestleMania sign to deliver a thunderous senton bomb through the announce table. Owens would secure the victory with a Stunner in an incredible match. Despite having no crowd during the pandemic era, both KO and Rollins put on an intense performance under the brightest lights.
In my personal opinion, this was a great feud that helped both superstars in their transformation as compelling characters for years to come.