Greg DeMarco's Top 5: WWE SmackDown On FOX 12/30/2022
Greg DeMarco takes a look at the final WWE SmackDown of the year, featuring Roman Reigns and the only 2022 match for John Cena!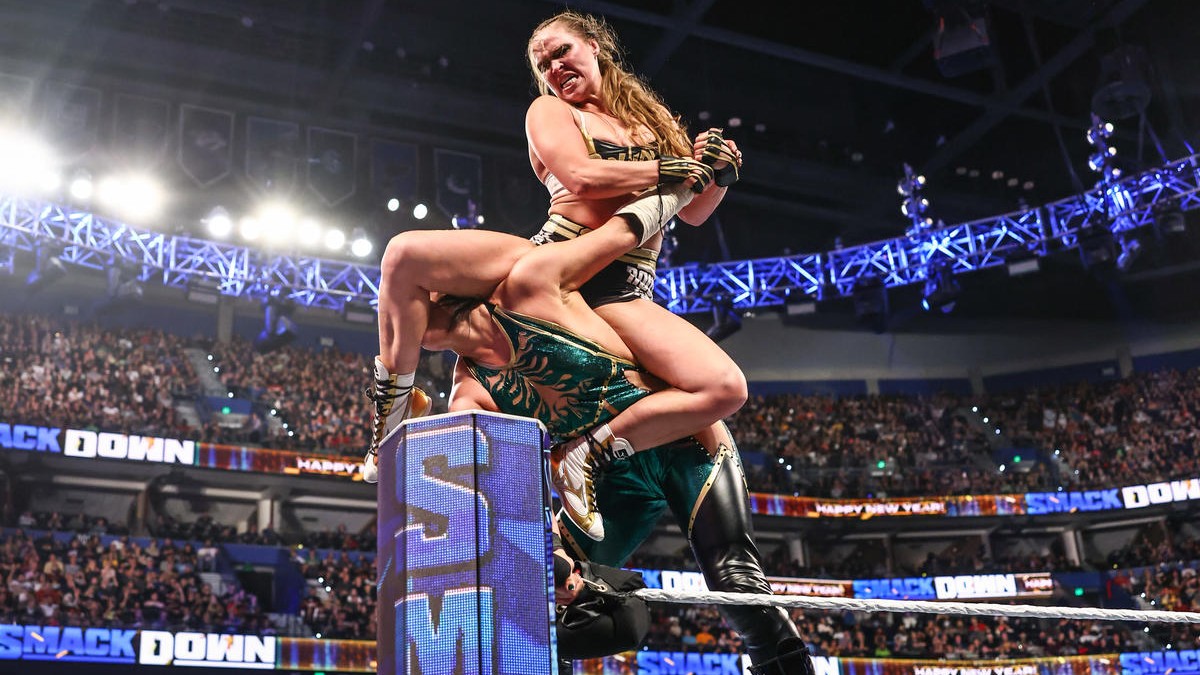 Greg DeMarco takes a look at the final WWE SmackDown of the year, featuring Roman Reigns and the only 2022 match for John Cena!
As you might know by now, I am testing out formats for potential analysis next year. So far, we've had:
Tonight we continue might be an easier format for me–but does it translate for you? We're looking at my Top 5 moments from the final WWE SmackDown On FOX for all of 2022! (And John Cena's only WWE match of the year!)
Honorable Mention
We are now to the point of having the Maximum Male Models chumming it up in backstage promos. Can we just kill off that gimmick?
In the same segment as MMM, Ricochet is wearing all tan. That's important for a later point in this article.
Even though we seemed to be heading down the road of Rey Mysterio vs. Karrion Kross, Dominik is still lurking around the Mysterio household, along wit Rhea Ripley. And that's fine–did anyone really want to see Kross vs. Rey?
And Now … Greg DeMarco's Top 5: WWE SmackDown on FOX, 12/30/2022
5. GUNTHER and Imperium Take The Ring, and Braun Strowman (plus Ricochet) Emerges
A very effective segment that continues to accelerate the legacy of GUNTHER as the Intercontinental Champion. It's obvious that Triple H wants to make both the Intercontinental and the United States Championships important. Braun Strowman showing up makes perfect sense, this has been building for weeks. But this time GUNTHER was willing to fight him, albeit briefly, and he paid the price.
Enter Ricochet, who obviously isn't done with Imperium (or his push, thankfully), is wearing all black after wearing tan backstage not too long ago (and he doesn't have a match, who would he change clothes?), and a steel chair that met GUNTHER's head a little too hard (obviously an accident). The whole thing was very effective, and sets up the future nicely.
4. Sheamus vs. Solo Sikoa
This match honestly felt more like it was opening a Premium Live Event than a TV show–but that's how important TV is these days. WWE's use of Solo Sikoa is so perfect, they hide any of his deficiencies as he's still new to wrestling on this large of a stage, but they make him out to be a killer at every turn.
Sheamus continues to be the MVP of 2022, He's helped so many others get over, get better, and elevate their game. Tonight was no different. If for some reason The Rock isn't able to work WrestleMania, Sheamus would be my pick to win the Royal Rumble and challenge Roman Reigns.
This match also saw very effective use of The Usos, Ridge Holland, Butch Pete Dunne, and of course the return of Drew McIntyre. In a theme that you'll see throughout this Top 5, perfectly written and executed.
3. Kevin Owens & John Cena vs. Undisputed WWE Universal Champion Roman Reigns & Sami Zayn
Much like the two things ahead of it, this was yet another masterful display, from booking to execution. It all started when Sami Zayn arrived (not with The Bloodline, mind you) and had to wait to enter Roman's locker room. What was Roman waiting for? Why was Heyman stalling?
Roman laughing off Sami's popularity, but then being visibly upset about it at the end of their backstage segment was once again brilliant. We know it's coming–and it's time for it to come–as Sami's usefulness to Roman is all but worn out. But it also adds another character flaw for Roman Reigns, his desire to always be in the spotlight.
Then we had the match itself, one that sold out this episode of Smackdown. John Cena returned to the ring to make it 20 straight years with at least one match in WWE, and helped lead Kevin Owens to victory. I saw reports that Cena was legal in the match for all of 36 seconds–yet it all worked!
If Vince McMahon were still in charge, it's highly likely that we see Cena score the winning pinfall. But he's not, Tripe H is, and we got Kevin Owens scoring the 1-2-3 to likely cement himself as Roman's challenger at the Royal Rumble, and also to likely put the final nail in the coffin of Sami's (honorary) run with The Bloodline.
And I am sure you noticed, but Jessika Carr and John Cena explicitly telling Kevin Owens to wait before making the hot tag, and then to go slowly into it. Obviously this is all communicated with the truck and overall TV production–remember this IS a television show–but it was blatant. I'm not pointing it out to complain or sound smarter than anyone else (tons of people have noticed and pointed it out), just want you to see inside the magic if you didn't notice it the first time.
2. Bray Wyatt, LA Knight, and (eventually) Uncle Howdy
Bray Wyatt is unlike anything in WWE. Sometimes I am unsure if that's even a good thing. But on this night, I think it was very effective.
Remember how long the tease was for Wyatt's return? Imagine if, back then, someone told you all that would be done for his first feud to be with LA Knight. But here we are, and it's working. LA Knight is crazy over, and it's a damn shame that it took Shaun Ricker 20 years and two different stints with the company (not to mention countless video game appearances) to make it to this point.
But again, here we are. LA Knight is feuding with Bray Wyatt, and everyone is buying it. He's completely holding his own, too. I mentioned that Bray Wyatt is unlike anything in WWE, and LA Knight's treatment of it is perfect. He doesn't buy a single thing that Bray is doing. Being a wrestling fan is all about suspension of disbelief, but LA Knight's character refuses to do just that–he lives in the tangible world.
They accepted the challenge of facing each other at the Royal Rumble, which was later revealed to be a Pitch Black Match in support of the Mountain Dew sponsorship. It remains to be seen what that is, I just hope the live crowd isn't literally left in the dark for Bray's first PPV/PLE match back.
We also saw Uncle Howdy once more, as he hit the ring, stood beside Bray, and eventually hit Sister Abigail on his supposed nephew. Great moment when Wade Barrett says they'd all assumed Uncle Howdy was a figment of Bray's imagination, yet here he is–in the flesh.
1. Ronda Rousey defends the WWE Smackdown Women's Championship Against Raquel Rodriguez; Charlotte Flair defeats Ronda Rousey to win the WWE Smackdown Women's Championship
A masterfully booked–and worked–segment that occupied a decent portion of the middle of the program. For anyone who loves to shit all over Ronda Rousey, this won't be the article for you. Her performance is what held the entire thing together, and did so to perfection.
First off, we had Raquel Rodriguez, who is still recovering from her arm injury, battling Ronda Rousey with Shayna Baszler also sticking her nose into the business of the initial title match. It took everything Ronda had, including an armbar off of the top rope, to finally get Raquel to tap.
And just as Ronda was getting ready to cut a promo, Charlotte Flair makes her return. The back and forth from both women is to be expected, as Ronda was Charlotte's final opponent before leaving in May. Ronda was treating herself as untouchable, which was the perfect opening for Charlotte's challenge. Ronda, all high any mighty, was keen to accept (even against the wishes of Shayna Baszler, who would know her better than anyone).
Of course, Charlotte was able to steal a victory, complete with the pulling of the tights, to become a 14-time World champion in WWE, this time being the SmackDown Women's Champion.
Look at all parties wrestling in these two matches, and how they came out:
Raquel Rodriguez was injured, and had to overcome two people. It was ultimately her injury that factored into her tapping out.
Ronda Rousey busted out new parts of her repertoire, and her finishing submission sequence was damn impressive. When she lost , it was only after wrestling a full and competitive match, and it still took cheating for her to lose.
Charlotte Flair came back, said what she was going to do, and did it. She is right back to where she was when she left–champion.
This, my friends, is how you do it.
Overall
This was one of the most well-written, -produced, and -executed episodes of WWE television in a long, long time. So many of the things we see between now and WrestleMania will have launched during this episode of Smackdown On FOX. Kudos to all involved, the Road To The Royal Rumble is looking bright and exciting.
---
Let me know what you thought of my analysis for this edition of WWE Smackdown On FOX, and if you want me to continue this format over the other option! As I said, I want to get to writing more often, and this could be a good way to make it happen.
Hit me up:
Until next time, remember: enjoying wrestling is a choice…make the right choice!
King's WrestleMania Rewind: Stone Cold VS. Scott Hall (WrestleMania X8)
Chris King is back with another WrestleMania Rewind, looking at the NWO's Scott Hall battling Stone Cold Steve Austin at WWE WrestleMania X8 from Toronto!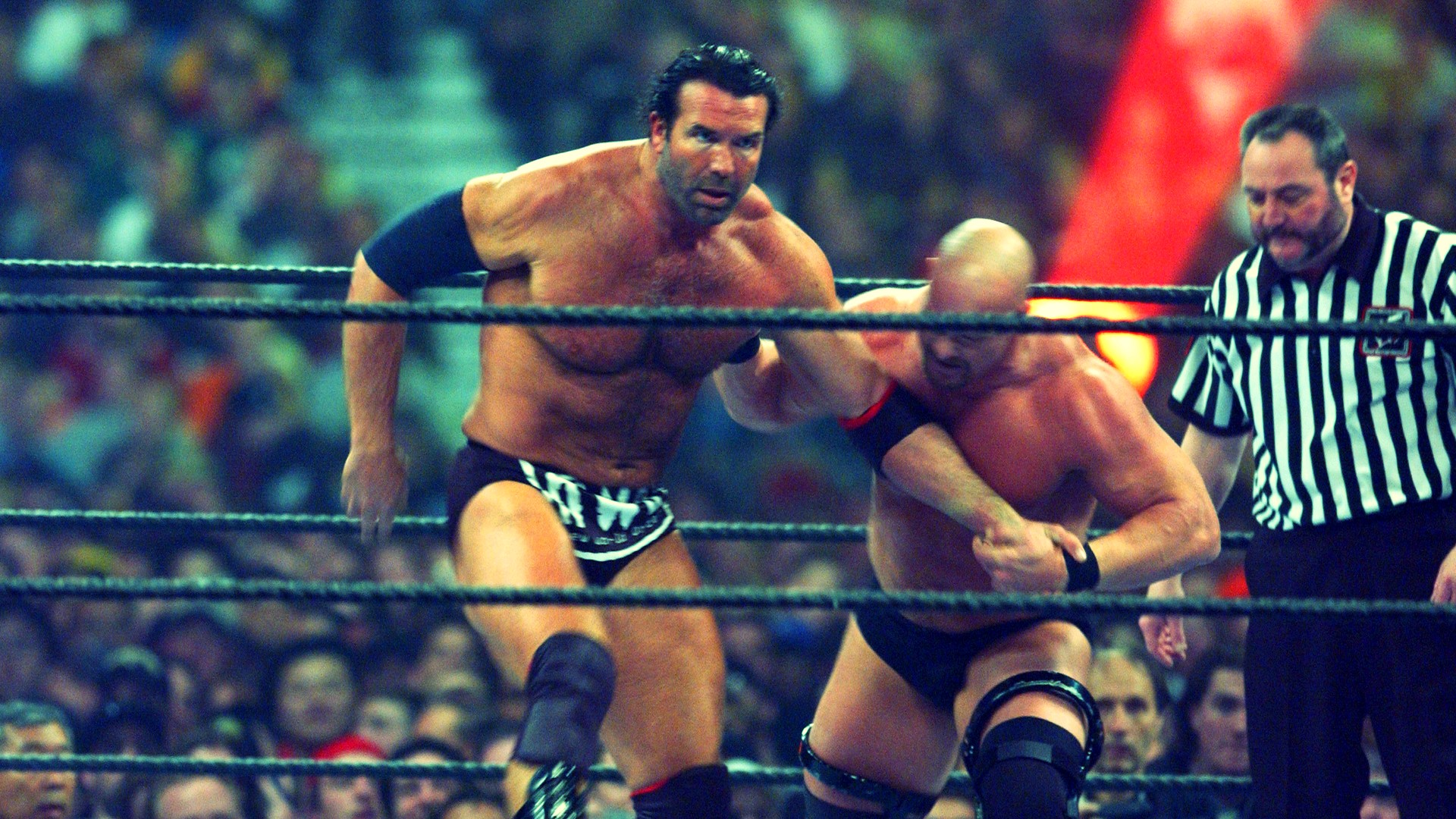 Chris King is back with another WrestleMania Rewind, looking at the NWO's Scott Hall battling Stone Cold Steve Austin at WWE WrestleMania X8 from Toronto!
Chris King is back this week with another edition of WrestleMania Rewind, where he is rewatching all the past Mania matches and feuds. This week you're in for a treat as we look back at 'Stone Cold' Steve Austin vs. Scott Hall at WrestleMania X8.
In late 2001, Vince McMahon bought out his competition WCW and acquired the rights to a plethora of talent including Booker T, Eddie Guerrero, Chris Benoit, and the iconic trio known as NWO. Hulk Hogan; Kevin Nash, and Scott Hall were hell raisers, and what better way to make a name for yourself than take out the two top superstars in the WWE The Rock, and Stone Cold?
The NWO cost Austin his chance at becoming the Undisputed Champion at No Way Out during his match with Chris Jericho. Adding insult to injury, the NWO spray-painted 'The Texas Rattlesnake' with their brand logo just like they did in WCW. As you can imagine, Austin was pissed and out for revenge against the group and primarily Scott Hall.
Hall would challenge Stone Cold to a match at WrestleMania 18. Both superstars beat the living hell out of each other leading up to this highly-anticipated match for who runs the WWE.
The glass broke and Stone Cold made his iconic entrance, and black and white NWO covered Halls' entrance alongside Kevin Nash. With the odds stacked against 'The Toughest S.O.B' could Austin or NWO prove their dominance? Sadly the NWO  broke up that very night when Hulk Hogan came to the aid of his adversary The Rock after their 'iconic' dream match. Stone Cold would ensure the victory with the Stunner. Hall would perform an Oscar-worthy sell over the finisher.
What a time to be a wrestling fan in the 2000s when nothing was impossible for WWE. Who would've thought WCW would go out of business and Hogan would make his long-awaited return to WWE?
King's WrestleMania Rewind: Seth Rollins vs. Kevin Owens (WWE WrestleMania 36)
Chris King takes a look at the most underrated WWE WrestleMania matches, and starts off with Seth Rollins battling Kevin Owens at WrestleMania 36!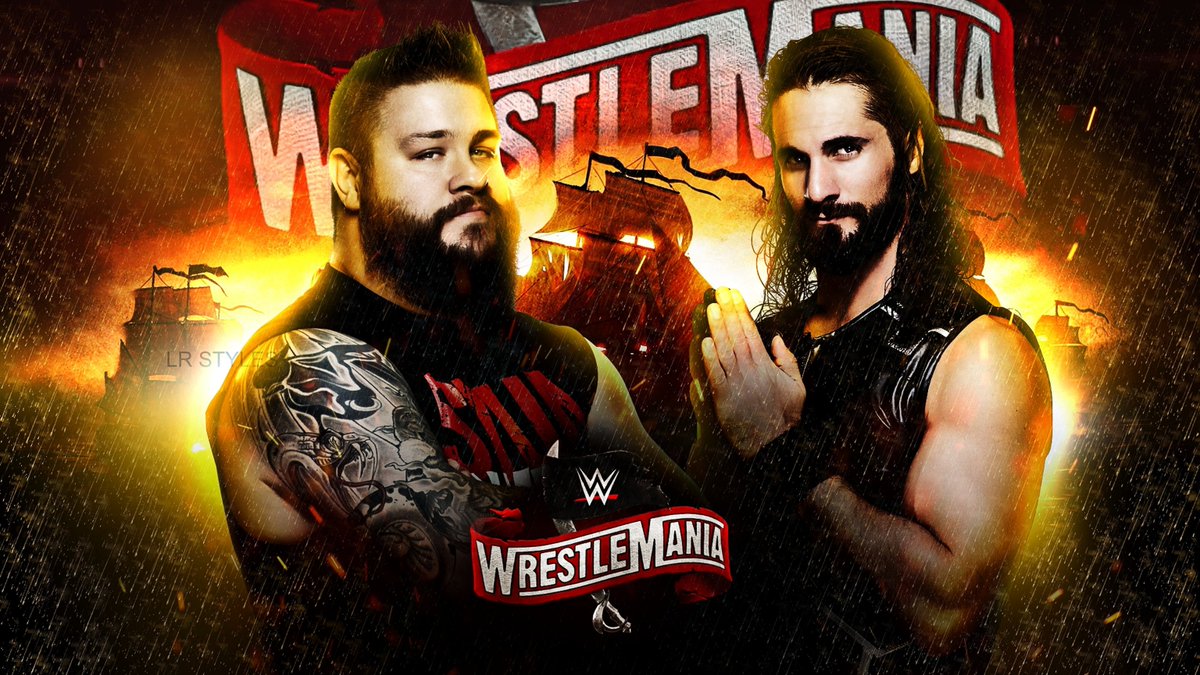 Chris King takes a look at the most underrated WWE WrestleMania matches, and starts off with Seth Rollins battling Kevin Owens in the WWE Performance Center at WrestleMania 36!
Chris King is starting a new series heading into WrestleMania season dubbed WrestleMania Rewind. Each week he'll be going back and sharing his insight over underrated matches at the Show of Shows. First up, is Kevin Owens vs. "The Monday Night Messiah" Seth Rollins at WrestleMania 36.
At the 2019 edition of Survivor Series, Rollins sacrificed himself during the men's traditional match allowing SmackDown to ultimately gain the victory. The following night the self-proclaimed Messiah, berated the whole roster but KO was not having any part of it. Owens quickly became a huge barrier in Rollins' cause for the greater good. The Authors of Pain attacked Owens with Rollins' character in question.
Owens finally had enough of his rival's mind games and torment and challenged Rollins to a match on the Grandest Stage Of Them All. Rollins mockingly accepted his challenge and the match was made official for night one of WrestleMania. Owens came out of the gate beating the holy hell out of the Monday Night Messiah trying to achieve his long-awaited moment at Mania but, Rollins tried to steal a disqualification victory by using the ring bell.
Owens hellbent on revenge provoked Rollins into turning their encounter into a no-disqualification contest where the fight could be taken all over the empty arena. The highlight of the match, was when KO used the WrestleMania sign to deliver a thunderous senton bomb through the announce table. Owens would secure the victory with a Stunner in an incredible match. Despite having no crowd during the pandemic era, both KO and Rollins put on an intense performance under the brightest lights.
In my personal opinion, this was a great feud that helped both superstars in their transformation as compelling characters for years to come.