King: Top 5 Championship Matches in WWE Royal Rumble History
Chris King looks at the best championship matches that have taken place at a WWE Royal Rumble event!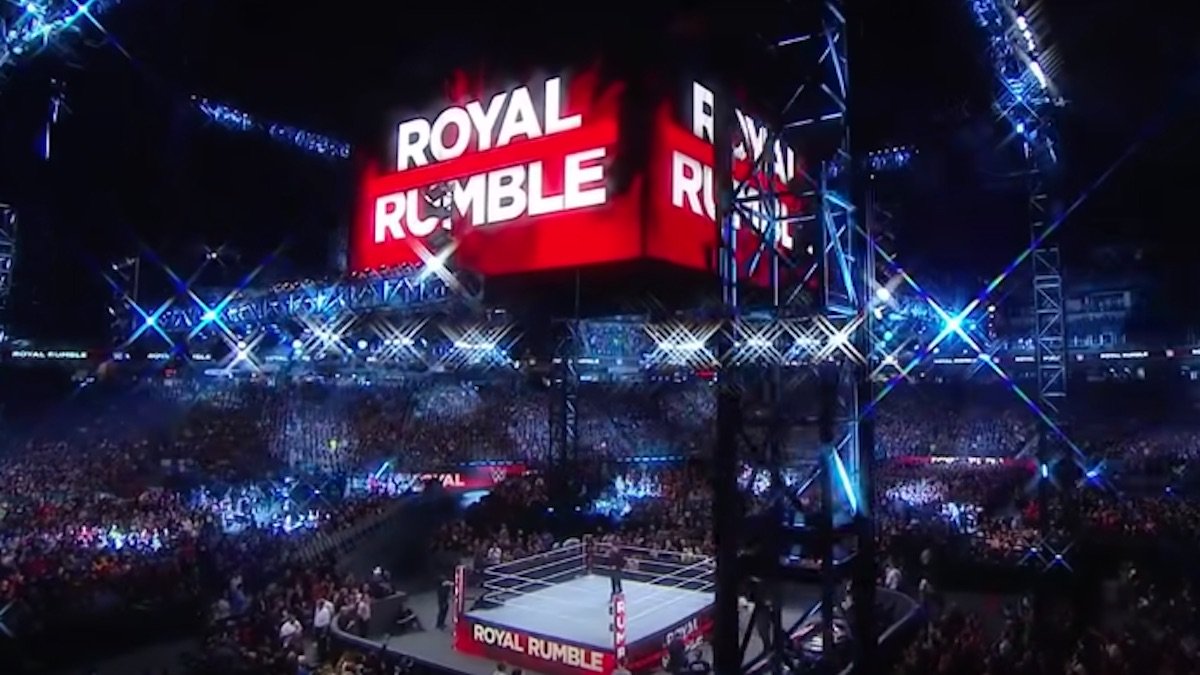 Chris King looks at the best championship matches that have taken place at a WWE Royal Rumble event!
I have gone back in time to reflect over Royal Rumble's over the last decade. From 2012 to 2022 the WWE Universe bared witness to some amazing matches including AJ Styles defending his WWE Championship against Kevin Owens & Sami Zayn, The Rock defeating CM Punk and ending his historic championship reign, and even the 'Beast Incarnate' Brock Lesnar successfully defending his WWE World Heavyweight Championship against John Cena & Mr. Money in the Bank Seth Rollins in a classic triple-threat match.
Here are the top five championship matches at the Royal Rumble over the last decade.
Honorable mentions:
Brock Lesnar VS. Finn Balor (Universal Championship): Royal Rumble 2019
Brock Lesnar VS. Kane VS. Braun Strowman (Universal Championship): Royal Rumble 2017
Randy Orton VS. John Cena WWE World Heavyweight Championship (Royal Rumble 2014)
Daniel Bryan VS. AJ Styles (WWE Championship): Royal Rumble 2019
Top 5 Royal Rumble Championship Matches 
5. Kevin Owens vs. Roman Reigns (Universal Championship): Royal Rumble 2017
In August of 2016, the WWE Universe was shocked when Triple H turned on his former protege Seth Rollins and essentially handed the Universal Championship to Kevin Owens in a crazy fatal-four-way match. Over the next few months, Owens and Chris Jericho would become best friends and true enemies of Rollins and former Shield-mate Roman Reigns. After Reigns was screwed out of the title at Roadblock they would deliver a Shield bomb through the announce table to Owens.
Reigns and Owens would battle again at the Royal Rumble this time, Jericho would be locked inside of a shark cage to prevent interference. Both superstars delivered an impressive performance and threw out everything to defeat one another. Reigns was minutes away from winning the Universal Championship until Braun Strowman obliterated him, which allowed Owens the conniving champion to keep his title.
4. CM Punk vs. The Rock (WWE Championship): Royal Rumble 2013
The self-proclaimed 'Best in the World' CM Punk was on a complete tear going through the roster successfully holding the title for a historic 434 days. At Raw 1000, The Rock came back and challenged whoever was the champion at the time to a WWE Championship match at Royal Rumble. Later in the night, Punk would turn heel attacking 'The People's Champion' and aligning himself with Paul Heyman shortly afterwards.
The Shield would work as mercenaries for Punk to retain his title since the 2012 Survivor Series where they debuted. Vince McMahon informed Punk that if The Shield got involved in the championship match he would be stripped of the title. After twenty minutes of back and forth action between champion and challenger, the lights went out and The Shield interfered yet again. McMahon came out to strip Punk of his championship but, The Rock had other plans and the match was restarted. The People's Champion would deliver the People's Elbow to end the historic reign of Punk.
3.  Roman Reigns vs. Seth Rollins (Universal Championship): Royal Rumble 2022
'The Head of the Table' Roman Reigns had conquered all of his challengers on Friday Night SmackDown, so a handpicked wild card was chosen from Monday Night Raw to challenge for the Universal Championship. Enter Seth 'Freakin' Rollins. The two former Shield-mates had faced each other in the past but, this time felt different. Reigns was the arrogant and cocky heel while Rollins portrayed more of a tweener character. Rollins mocked the champion's historic title reign and infuriated Reigns the go-home episode of SmackDown.
The Universal Championship match was the first match to open the show to a white-hot crowd. Reigns made his long grand entrance waiting for his challenger until a familiar theme erupted throughout the WWE Universe. Rollins not only mocked The Shield's old entrance through the crowd but, was also decked in full Shield attire which pissed off the champion.
I feel like it's impossible for these two superstars to have a bad match. They have incredible chemistry whether as partners or rivals. Reigns locked in his challenger with the Guillotine Choke but Rollins made it to the ropes. The Tribal Chief was relentless and would not break the hold so Rollins won by disqualification.
2. AJ Styles vs. John Cena (WWE Championship): Royal Rumble 2017
Let me start of by saying this was a very difficult choice to make because I went back and forth on making this number one. 'The Phenomenal' AJ Styles shocked the world in 2016 not only for turning heel on John Cena but, beating him at Money in the Bank via shenanigans and SummerSlam completely clean in the middle of the ring. Styles went on to have an incredible run as WWE Champion over on SmackDown Live.
Cena went off and did his own thing after a devastating loss to his rival but, came back returned in time to challenge for the title to not only become a sixteen-time champion but to tie the illustrious record held by Ric Flair. Both superstars used every maneuver in their arsenal to win the match, but it came down to the final sequence to understand where Cena's passion lies. Mr. Never Give Up hit the Attitude Adjustment and deadlifted Styles to deliver another thunderous AA to become the sixteen-time WWE Champion. What a freaking match!
1. Brock Lesnar vs. Seth Rollins vs. John Cena (WWE World Heavyweight Championship): Royal Rumble 2015
Even though the match before was tieing the legendary Ric Flair's championship record, I still can say with full confidence that this triple threat match is one of the best matches in Royal Rumble history. Brock Lesnar had an impressive 2014 starting off with ending The Undertaker's undefeated streak at WrestleMania, and then obliterating John Cena at SummerSlam to win the WWE World Heavyweight Championship.
At Night of Champions Cena was minutes away from winning the title and defeating 'The Beast Incarnate' until the arrogant Mr. Money in the Bank Seth Rollins caused a disqualification. Leading up to the Royal Rumble, Cena and Rollins would face off in a tables match at the TLC pay-per-view, while Lesnar vanished. A huge triple threat match was set for the 2015 Royal Rumble pitting all three superstars against each other. Rollins who was still holding the briefcase bragged about if he didn't win the title with Plan A, he would just cash-in and become the champion with Plan B.
From the moment the bell rang, the action began between Cena and Lesnar. Rollins played the manipulative cocky heel picking his moments to strike. Rollins and Cena took out The Beast on the outside to make it one-on-one. Lesnar was stretchered out of the match but miraculously came back and displayed his freakish strength taking anyone who moved to Suplex City. Rollins hit the champion twice with his briefcase and set up for the Curb Stomp. Lesnar bounced up and delivered a thunderous F5 to retain in a fantastic match.
I love this match so much because it was the first time that I believed Lesnar can deliver a great match and good story when he wants to. We've experienced this in his matches against AJ Styles, Daniel Bryan, and even Finn Balor. The Beast is a very smart performer and knows how to sell for his opponents to make them look like a megastar.
There you have it, those are my top five championship matches at Royal Rumble. Let me know what you think!
King's WrestleMania Rewind: Stone Cold VS. Scott Hall (WrestleMania X8)
Chris King is back with another WrestleMania Rewind, looking at the NWO's Scott Hall battling Stone Cold Steve Austin at WWE WrestleMania X8 from Toronto!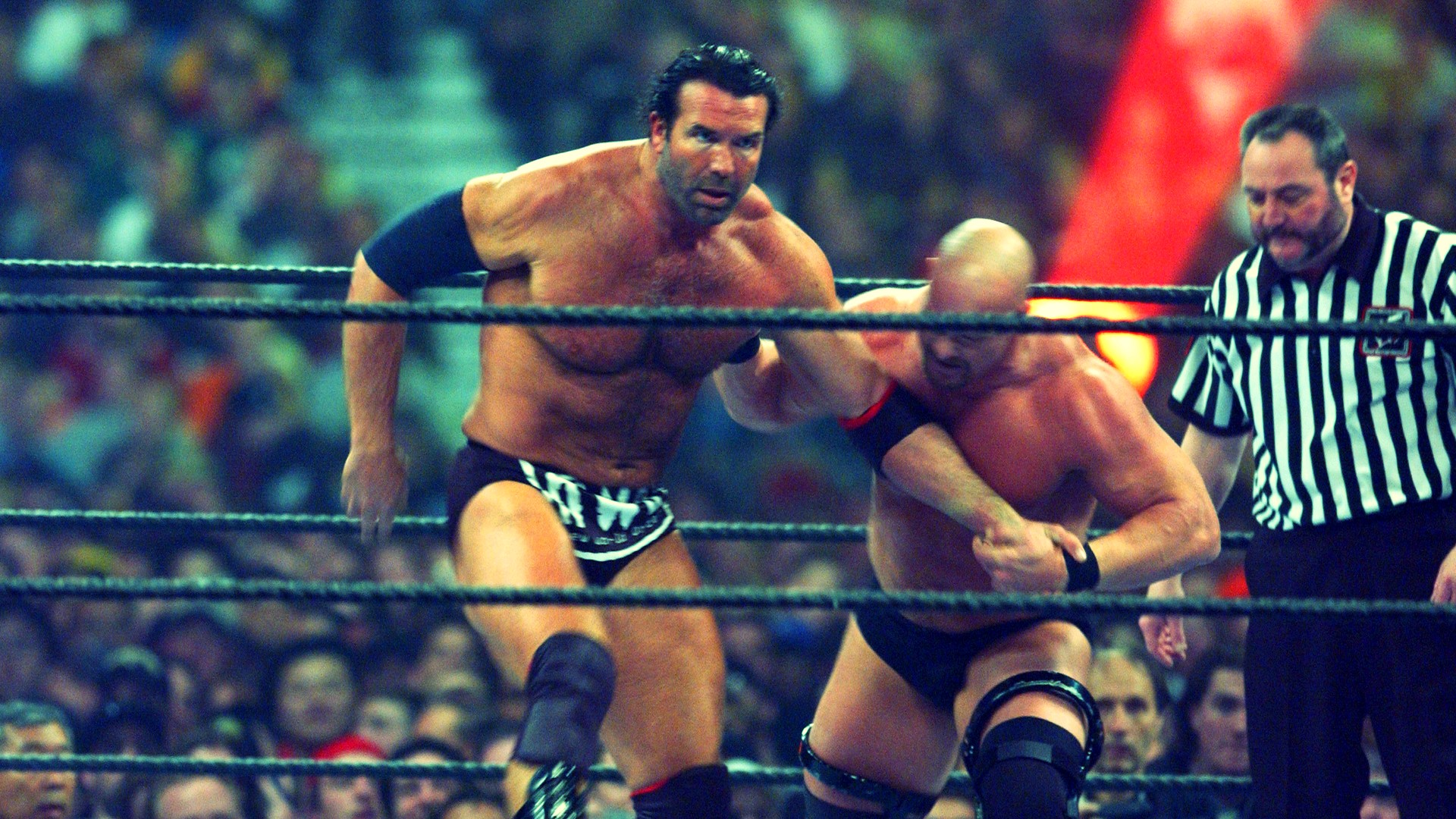 Chris King is back with another WrestleMania Rewind, looking at the NWO's Scott Hall battling Stone Cold Steve Austin at WWE WrestleMania X8 from Toronto!
Chris King is back this week with another edition of WrestleMania Rewind, where he is rewatching all the past Mania matches and feuds. This week you're in for a treat as we look back at 'Stone Cold' Steve Austin vs. Scott Hall at WrestleMania X8.
In late 2001, Vince McMahon bought out his competition WCW and acquired the rights to a plethora of talent including Booker T, Eddie Guerrero, Chris Benoit, and the iconic trio known as NWO. Hulk Hogan; Kevin Nash, and Scott Hall were hell raisers, and what better way to make a name for yourself than take out the two top superstars in the WWE The Rock, and Stone Cold?
The NWO cost Austin his chance at becoming the Undisputed Champion at No Way Out during his match with Chris Jericho. Adding insult to injury, the NWO spray-painted 'The Texas Rattlesnake' with their brand logo just like they did in WCW. As you can imagine, Austin was pissed and out for revenge against the group and primarily Scott Hall.
Hall would challenge Stone Cold to a match at WrestleMania 18. Both superstars beat the living hell out of each other leading up to this highly-anticipated match for who runs the WWE.
The glass broke and Stone Cold made his iconic entrance, and black and white NWO covered Halls' entrance alongside Kevin Nash. With the odds stacked against 'The Toughest S.O.B' could Austin or NWO prove their dominance? Sadly the NWO  broke up that very night when Hulk Hogan came to the aid of his adversary The Rock after their 'iconic' dream match. Stone Cold would ensure the victory with the Stunner. Hall would perform an Oscar-worthy sell over the finisher.
What a time to be a wrestling fan in the 2000s when nothing was impossible for WWE. Who would've thought WCW would go out of business and Hogan would make his long-awaited return to WWE?
King's WrestleMania Rewind: Seth Rollins vs. Kevin Owens (WWE WrestleMania 36)
Chris King takes a look at the most underrated WWE WrestleMania matches, and starts off with Seth Rollins battling Kevin Owens at WrestleMania 36!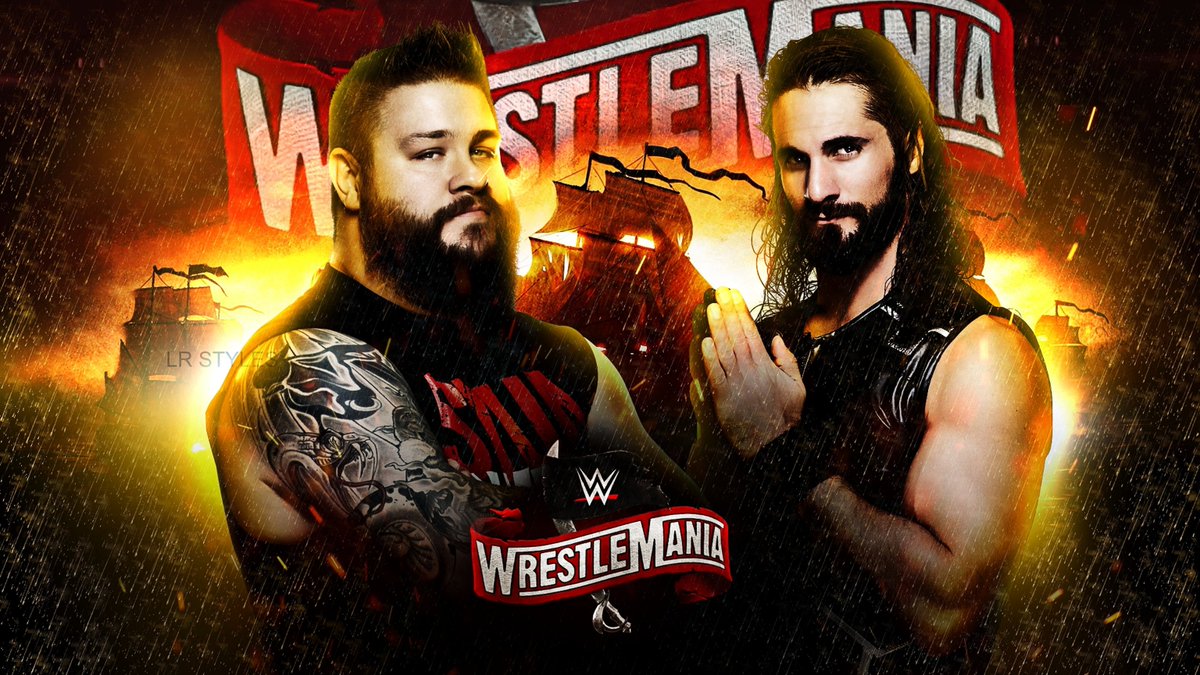 Chris King takes a look at the most underrated WWE WrestleMania matches, and starts off with Seth Rollins battling Kevin Owens in the WWE Performance Center at WrestleMania 36!
Chris King is starting a new series heading into WrestleMania season dubbed WrestleMania Rewind. Each week he'll be going back and sharing his insight over underrated matches at the Show of Shows. First up, is Kevin Owens vs. "The Monday Night Messiah" Seth Rollins at WrestleMania 36.
At the 2019 edition of Survivor Series, Rollins sacrificed himself during the men's traditional match allowing SmackDown to ultimately gain the victory. The following night the self-proclaimed Messiah, berated the whole roster but KO was not having any part of it. Owens quickly became a huge barrier in Rollins' cause for the greater good. The Authors of Pain attacked Owens with Rollins' character in question.
Owens finally had enough of his rival's mind games and torment and challenged Rollins to a match on the Grandest Stage Of Them All. Rollins mockingly accepted his challenge and the match was made official for night one of WrestleMania. Owens came out of the gate beating the holy hell out of the Monday Night Messiah trying to achieve his long-awaited moment at Mania but, Rollins tried to steal a disqualification victory by using the ring bell.
Owens hellbent on revenge provoked Rollins into turning their encounter into a no-disqualification contest where the fight could be taken all over the empty arena. The highlight of the match, was when KO used the WrestleMania sign to deliver a thunderous senton bomb through the announce table. Owens would secure the victory with a Stunner in an incredible match. Despite having no crowd during the pandemic era, both KO and Rollins put on an intense performance under the brightest lights.
In my personal opinion, this was a great feud that helped both superstars in their transformation as compelling characters for years to come.