Sendai Girls BIG SHOW in Sendai Results & Review (10/14/2018)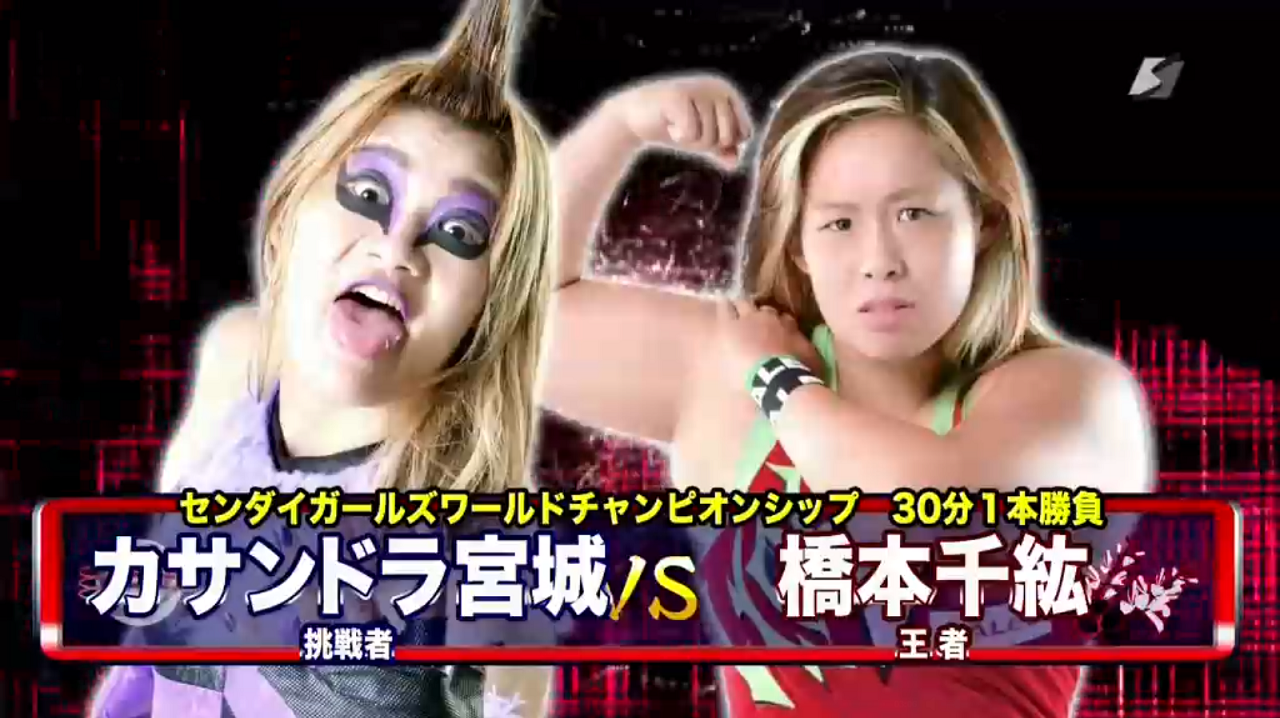 It's been a few months since I've done Sendai Girls and it looks like I have some stuff cleared up and it gives me time to cover their latest show, BIG SHOW in Sendai.
Last time we covered them, Hamada was stripped of the title due to drug possession and a match between DASH Chisako and Chihiro Hashimoto, and I was gonna cover that show but too much stuff happened and I was unable to watch it in time. Hashimoto would defeat DASH to win back the vacant title and it was like she never lost it. We got another stacked show and a new title added to the promotion, so expect something to happen.
Let's find out and…dive right in.
Tag Team Match
Ami Sato & Mei Suruga vs. Mikoto Shindo & Mio Momono
Review: Our opening bout is a tag team match with Ami Sato and Mei Suruga taking on Mikoto Shindo and Mio Momono. We got Mio and Mikoto from Marvelous while Mei is from Gatoh Move to give us a promising opening tag bout. Will the girls from Marvelous get the win or will it go to Ami and Mei?
The match went pretty much how you would expect it to go with a short but very standard tag match with all four of these women just showcasing what they can do. If I had to pick one that would stand out in the match, it would have to be Mio since she's the one that probably did the most in the match so it was easier to give her more of the credit than the others. Ami though has gotten better from the last couple of times I've seen her working and she still has a long way to go if she wants to be considered a future star, but the potential is there. Not a whole lot to talk about the match as Mio would try to get the win with a Diving Crossbody with Ami kicking out at two as Mio quickly turned it into a Fujiwara Armbar. Ami wouldn't tap out as Mio tried to pin her again with a Crucifix but Ami kicked out again and Mio turned it into another submission hold as Ami tapped out.
Rating: Tony Schiavone and a half
Six Man Tag Team Match
Aiger, Alex Lee & Sakura Hirota vs. Hikaru Shida, KAORU & Riho
Review: We now have a six-man tag match with most of the women being freelancers for this bout. Since Aiger is involved in the match, then there's no doubt that there will be mostly comedy involved in the match since that's what all of her matches on Sendai Girls have been so far. Which of these two teams will win?
I really don't know how to describe this match right here. It was a comedy like I expected it to be with Aiger being involved for the majority of the match with Riho and KAORU, but it did start out entertaining with Aiger holding onto KAORU's shoulders while behind like as if she was a ghost, even the referee was playing along with it but the whole comedy bit of the match dragged on a little bit longer than anticipated and ruined the momentum of it. We didn't get to see much of Hikaru, Alex, and Sakura in the match due to it being relatively short around six minutes. Anyway, Sakura would hold Hikaru in place for Aiger to spit her ghost magic but Hikaru ducked for Sakura to take the blows and KAORU would Big Boot Sakura down. Hikaru would hit a Running Knee Strike on Sakura to get the win for her team.
Rating: Tony Schiavone
Tag Team Match
DASH Chisako & Hiroyo Matsumoto vs. Millie McKenzie & Rhia O'Reilly
Review: We have another tag match here with DASH Chisako and Hiroyo Matsumoto teaming up this time as the two will take on Millie McKenzie and Rhia O'Reilly. Both Millie and Rhia are freelancers in the UK wrestling scene and they make their way over to Sendai to take on Sendai's crowd favorite and one of the top Japanese freelancers around. Will DASH and Hiroyo win or will the UK girls take the victory?
This match was much better than the previous two that were on the show. I'm sure people know of Millie due to her relationship with Pete Dunne, but this is my first time seeing her wrestle and I was fairly impressed with her ability and what she can do in the ring here. I liked the combination of both of these teams here since they both worked well with their styles and just had a nice flow in their match here. DASH is someone who I do hope one day wins the big one in Sendai Girls since she only won the tag titles in Sendai, so I think it'll be nice to see her win the world title at least once during her career and she actually is good in the ring while also being a favorite of the crowd. Not much to say about Hiroyo because most of us know how great she is in the ring and she still proved it here even when she wasn't in the match a lot. Rhia though I didn't see too much of here in the match, she's an interesting one and someone to possibly keep an eye on if you're into the UK women's scene. Around eight minutes of solid wrestling, DASH would go to the top rope after having Millie down on the mat as Rhia would climb to the top with DASH to try and Superplex her, but Hiroyo would sneak up behind Rhia to catch her into a Powerbomb while DASH hits her Frogsplash onto Millie as she picked up the win!
Rating: Eric Bischoff and a quarter
Sendai Girls Junior Title Match
Ayame Sasamura vs. Manami
Review: Sendai has introduced a new title into the promotion instead of just the Tag Team and World titles, this time we have the Junior Championship. From what I can gather, their Junior Championship is pretty much the equivalent version of Stardom's Future of Stardom Championship where it's for people for a younger age and/or little years of experience. They held a tournament for the title and our two finalists are Ayame Sasamura, representing K-DOJO and Manami. Who will become the first Junior Champion?
I think it's safe to say that Manami has improved from the times that I've seen her perform in the ring and she's only fourteen years old with about a years worth of experience under her belt, Meiko knows how to train her students and she could be her star pupil when she's eighteen. I haven't seen much of Ayame since I don't really follow K-DOJO, but she did pretty well here from how I've seen her perform in this match. This match was surprisingly more technical than I anticipated it to be and they did a great job giving us that type of match while making it interesting with the experience they have under their belt.
The match is about ten minutes and that's actually a pretty fair time length for the newbies since they're still growing and there's so much you could do in that short amount of time and most of the time, it can turn into a great story. While Ayame had probably the most control of the match, Manami would get the shine near the ending of the bout where you see her resiliency and never give up attitude as she would try to get the quick roll-up victory over Ayame but she kicked out. Ayame would catch Manami in for an STO but Manami would kick out of it in time and Ayame would try it again but would have Manami's arm around her neck when she slammed her down as she goes for the pin and we have our first champion crowned! Ayame is officially the first Junior Champion of Sendai Girls and she's earned this victory while Manami had a great showing in the match that she could potentially claim that title soon if she keeps it up. Solid work from both of these women.
Rating: Eric Bischoff and a half
Tag Team Match
Aja Kong & Meiko Satomura vs. Hana Kimura & Mika Iwata
Review: We got one more tag match before the main event as we have Meiko Satomura teaming up with Aja Kong to take on Hana Kimura and one half of the Sendai Girls Tag Team Champions, Mika Iwata. If you guys remember, Mika and Hana fought on the first show I covered for them on April 19th and they had a solid match with a mutual respect for each other, but now it looks like that they'll be teaming up this time to take on these two legends. How will Mika and Hana's partnership fair against Meiko and Aja?
I don't get what's going on in Hana Kimura's head right now and I say this because when I see her wrestle in Sendai or Wrestle-1 with her cheer leading gimmick, she does amazing work and gives us better performances but gives us the exact opposite of that whenever I see her in Stardom like she's not even trying there anymore. In Stardom, I think she only had one solid match against Hazuki but the rest is just forgettable and I just don't get why she just switches off there while she does better in the other two promotions, it's just annoying.
Can we call this a match? I mean, we could but it felt like it was just more of a beat down since that is what Mieko and Aja pretty much do in this match by destroying both Hana and Mika here while they get very little offense in the bout. It's not that it's a bad thing either since you have Hana and Mika getting sympathy from the crowd and whenever they do get to hit a big move like Hana being able to hit Aja with a Brainbuster, the crowd gets really into it right after and you need those types of reactions for fans to get behind you. Aja may be almost fifty years old, but she has proven that she can still beat the daylights out of you despite her age and still throws a mean punch when she wants to while also knowing to give her opponent that moment to get a shine in the match. For Hana and Mika teaming up here in the match, they had an interesting chemistry while Mika is also another one who I consider one of Sendai's best and a future World Champion down the road if she sticks around with the company. Mika would get momentum into the match with her Superkicks to both Meiko and Aja but it wouldn't last too long as Meiko had to give them a little history lesson as to why Meiko can still destroy you without a second thought as she hits Mika with the Death Valley Driver and pins her for the victory while both Hana and Mika put up a valiant effort. Solid story and great wrestling, nothing more you can ask for.
Rating: Bruce Prichard
Sendai Girls World Title Match
Chihiro Hashimoto (c) vs. Cassandra Miyagi
Review: We got our main event for the evening as we have Chihiro Hashimoto defending her championship against Cassandra Miyagi. On September 15th, Chihiro and Mika would defeat Cassandra and Heidi to win the Sendai Girls Tag Team Championships and now it looks like Cassandra is looking to get revenge by taking the World Championship away from her. Will Chihiro retain the title and solidify herself as the ace of the company or will Cassandra win the big one finally?
Cassandra is definitely a top heel of the company and she has proven that tonight in the main event. I'm used to seeing her in tag team matches since she is a former tag champ but I haven't seen her in one on one action until now and it showed me how great she actually is in the ring here. She was able to dominate the champion while making each other look strong at the same time and was even crisp with her moveset whenever she needed to do something from a strike or a power move, she knew when to hit it and execute it. Cassandra was able to generate enough heat in the match by making Chihiro feel vulnerable during the match as if Cassandra had her number in the match and would even spit black stuff into her face to get more of those heel tactics in there and even staying on top of her opponent to make sure she didn't have a single advantage into the match.
It's usually the main events of these Sendai Girls shows that make you enjoy the company a lot more like once you get past the weak undercard of the show and watch it all the way through to the end, the last 2 or so matches give you a very nice reward and it's worth it. I enjoyed this match from top to bottom with the level of intensity from Cassandra, Chihiro showing why she's the companies top star, the story and chemistry they shared in the ring. Cassandra looked like she had Chihiro beat when she lands the Tombstone for a two count and would quickly get up for the Swanton Bomb as she connects for another two count, Chihiro is not ready to quit just yet. Chihiro starts to finally get some momentum into the match with various Clotheslines and some German Suplexes to get the behemoth dazed until she was able to hit her German Suplex Hold and retains the title!
I was honestly kinda hoping for Cassandra to win the match here since her performance felt like it would be a great time to finally win the belt and have a nice dominating reign, but it looks like Chihiro is still at the top. However, that doesn't mean you should count Cassandra out because she's proven that she'll be a key player. While Chihiro was putting a promo in the ring, Sendai would get an unexpected visit by none other than the World of Stardom Champion and your glorious Prime Minister, Kagetsu! That's right, Kagetsu made a surprise return to Sendai Girls as she made her way to the ring and I don't know the exact translation, but it seems like Kagetsu has talked about how she's no longer the same Kagetsu that Sendai used to remember as she evolved during her time in Stardom while the Sendai roster appeared to be talking down on our Prime Minister. Meiko would have some words with Kagetsu and it appears as if she would challenge Kagetsu to a match here at Stardom at a later date. I hope the match happens before the end of the year and could be a classic way to close the year out. Get hyped!
Rating: Bruce Prichard and three quarters
Overall: While the first two matches were a bust, the show would slowly increase in quality with the last two matches stealing the show with a great main event and a surprise return to close it all off. I don't know when we'll get Kagetsu vs. Meiko, but I cannot wait.
Favorite Match: Chihiro Hashimoto vs. Cassandra Miyagi
Least Favorite Match: Aiger, Alex Lee & Sakura Hirota vs. Hikaru Shida, KAORU & Riho
Score: 7/10