STARDOM Grow Up Stars Day 2 Results/Review (3/4/2018)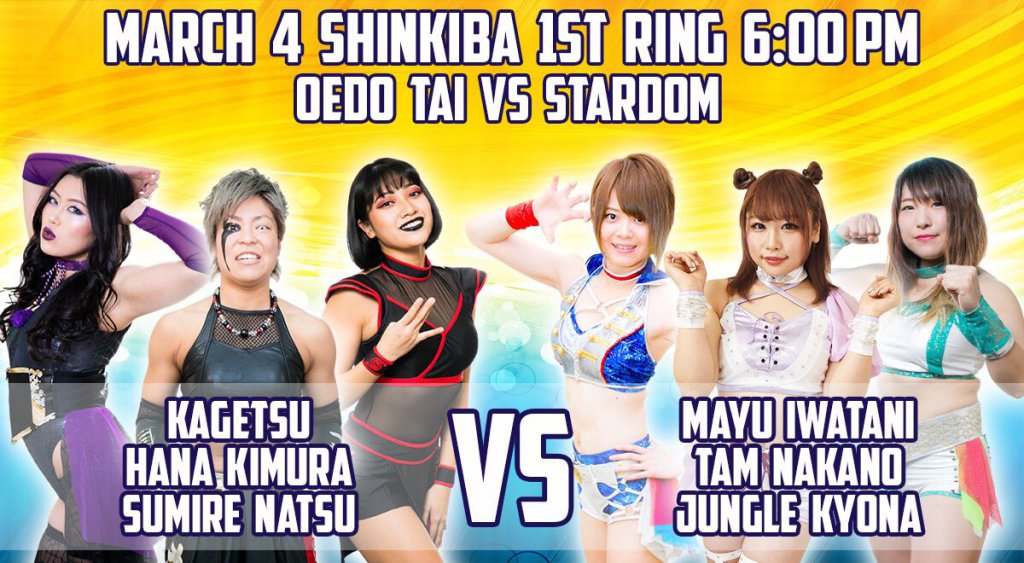 So I found out that their Grow Up Stars shows is actually a tour and not just a one day event, so I decided that why don't we just keep going and see how this tour ends, shall we? They're even introducing a new title called the Future of Stardom Championship, which is for their rookies and Joshi's under their twenties. It's not a bad idea to do in my opinion and could give us a chance to see who will actually grow. Let's get to it.
Future Of Stardom Title Tournament First Round Match
Hanan vs. Starlight Kid
Review:  Before the match, during their little interview promo, Starlight Kid announced that the winner of this one gets a bye straight to the finals, which is odd unless they didn't have enough to do another round. Starlight Kid definitely reminds me a lot of Spring Tiger from the anime Tiger Mask W and if you haven't seen it, check it out, it's amazing. Okay focus, Starlight Kid is my pick to win this tournament and I really do feel like this could be her year, she already main evented her first show the day before and shows how high they are on her. Hanan is still pretty green and you can see it with how she performs, but she is still showing signs of improvement at least. The match is a very basic five minute match and Starlight Kid is going to the finals as she picks up the win with a Rounding Moonsault.
Recommended:  I would watch it if you're curious as to who gets to win this tournament.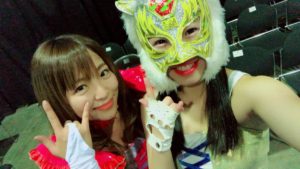 Future Of Stardom Title Tournament First Round Match
AZM vs. Ruaka
Review: So the winner of this bout is set to fight Shiki Shibusawa and according to Ruaka, she has never defeated AZM yet and she looks to do that tonight, will she do it? Let us see. I also wanna point out that AZM is not only fifteen years old, but already has four years of wrestling experience under her belt, so she's been wrestling since she was eleven while, most of us were just in middle school watching wrestling on TV. AZM is also someone I enjoy, shes got a nice look. good moveset, and can go in the ring like a natural. Ruaka, I feel like needs to be more fluent with her movement, like when she went for her Helluva Kick twice, she slowed down a lot before making contact with her and it just looked weak to me. The match was much better than the other one as we saw some aggression between these two and some nice spots despite some being sloppy, but they're young and they'll grow. AZM won with a nice Crossbody and she will now fight Shiki in the Semi-Finals where the winner will fight Starlight Kid.
Recommended:  I liked it for what it was.
Singles Match
Nao Yamaguchi vs. Shiki Shibusawa
Review:  Around August of 2017, it was announced that Nao would begin her training to become a wrestling and this match will be her debut, let's see what she brings to the table. Nao didn't do a whole lot in this match since she was mostly taking the moves, which she did well and the couple of moves that she did do, some were good and some were sloppy, but it's her first match so I'll give her small nit picks. Shiki did much better in this match than in the last match I covered from the day before. Shiki got the win with a Missle Dropkick and she needed it due to the fact that she's taking on AZM in the Semi-Finals. Congrats on your first match, Nao and I wish you well in your Joshi adventure.
Recommended:  The match was average, so I would skip it unless you wanna see a debut.
Tag Team Match
Hiromi Mimura & Konami vs. Kaori Yoneyama & Natsuko Tora
Review:  It was announced a month ago that Hiromi Mimura would be retiring from professional wrestling and I thought it was odd since she's only been wrestling for a few years, so I don't know the reasoning behind the retirement, but whenever her last match is, I wish her well in whatever she does next. The show before, Hiromi and Konami were fighting each other and now they're back in tag team action to fight Team Jungle. Started off with nice little comedic thing with Hiromi and Kaori as Kaori pretended to leave the ring after Hiromi was being cheered, but Hiromi got her back in to have her cheered and soon as they hugged, Kaori kicked her and threw her, what a heel. Referee just had enough of Team Jungle when their manager, Hiroyo came out to do a pose with them while holding Hiromi by her arms, laughed a little bit there. The match itself was average with decent tag team action, nice sequences, and Natsuko hitting a vicious Spear before hitting her finisher for the win.
Recommended:  Wasn't bad, but skippable.
Singles Match
Io Shirai vs. Xia Brookside
Review:  So this is the first time these two females step in the ring against each other one on one, can't wait to see how this goes. Aside from a sloppy Dropkick and slowed down Shining Wizard, Xia did well holding out her own against Io here and we get a really nice match out of it. Have I mentioned how good Io is in the ring? Because she's amazing in the ring for sure. The match lasts about eight minutes and Io picks up the win by making Xia tap out with a Cloverleaf. After the match, Xia would grab the microphone and say she wants to join the Stardom roster regularly and wants Io's support to make it happen. Io would shake her hand and huge her as she welcomes her to the Stardom family, good luck to you, Xia.
Recommended:  Short match, but still pretty good. Give it a watch.
Tag Team Match
Bea Priestley & Toni Storm vs. HZK & Momo Watanabe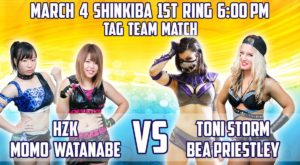 Review:  For those that don't know who Bea Priestley is, she's the girlfriend of current IWGP Junior Heavyweight Champion and our local cat, Will Ospreay. Also no streamers for Bea apparently. HZK and Momo worked pretty well here as a tag team as well as Bea and Toni. The match itself had a slow start along with a couple of messy spots, but it did pick up after around five minutes and the match itself gotten a bit better. We had some nice tag team moves between the both teams and some impressive submissions from Bea during the match. I figured Toni would have a match against Oedo Tai again due to their last one ending in a draw, but guess they're saving it for another time whenever that is. Bea got the win for her team after making Momo tap out to a modified Armbar in a pretty neat tag match.
Recommended:  If you have the time for it.
Six Man Tag Team Match
Jungle Kyona, Mayu Iwatani & Tam Nakano vs. Hana Kimura, Kagetsu & Natsu Sumire
Review:  There seems to be another feud going on with Tam Nakano getting involved with Oedo Tai, curious to see where this will lead. Speaking of Oedo Tai, I love their entrance and the robes they wear, also the toy truck has returned! The match ignores the introductions as Stardom Army attacks Oedo Tai right away before they even ring the bell. I'm liking the story behind this one with Oedo Tai practically bullying Tam throughout the match with how they're all ganging up on her with heelish antics and taunting her. The match itself however was very entertaining specially since we have a nice story to get behind to go with it. I miss seeing Mayu being in singles action and I hope she gets a rematch against Toni Storm very soon, and get her World of Stardom Championship back since she needs it badly. Natsu was vicious with Tam as she first starts whipping the crap out of her and then proceeds to grab a garbage can to pour the garbage on her, humiliating her right here. The carnage would eventually end with Natsu hitting her modified DDT on Tam to get the win for Oedo Tai.
But wait, there's more as Kagetsu would cut a promo on Tam after the match, mocking her saying that she doesn't belong in the Stardom ring. Natsu gets a turn next saying the ring smelt like garbage, but it was because Tam was in the ring, she even mocked her wrestling ability and how she'll try her best even if she loses. Tam has enough as she challenges Natsu to a single's match which Natsu agrees and even let's Tam pick the stipulation. First she suggests that if Natsu loses, she's kick out of Oedo Tai, but she changes her mind and instead wants an Explosion Death Match! Natsu attempts to make excuses to not o the match, but Kagetsu accepts the challenge on her behalf as it appears it'll be a tag team match instead of a one on one, meaning Tam must pick a partner. First she attempts to have Mayu be her partner, but she declines since she has a title match coming up, I guess she is fighting Toni Storm afterall? Hooray! Tam would then try Io Shirai of all people as she makes her way to the ring and then declines since she has no part in this feud, and then walks away. Kagetsu would call Io back out and say if she's the ace of Joshi wrestling, then she should put her name in on the match. Io would then reply saying she got to the top on her own and they should have a great match without the need of something stupid as a stipulation like this, and then the two brawl and got held back.
Recommended:  Great match and great story behind it, specially the after match.
Overall:  I think day two was a success and a much better show than the first one, got a tournament coming up nicely, a great main event, and something to look forward to on April 1st.
Favorite Match:  Jungle Kyona, Mayu Iwatani & Tam Nakano vs. Hana Kimura, Kagetsu & Natsu Sumire
Least Favorite Match: Nao Yamaguchi vs. Shiki Shibusawa
Score: 7/10
I'll see you all again for day three!