WRESTLE-1 Tour 2018 W-Impact Tag 1 Results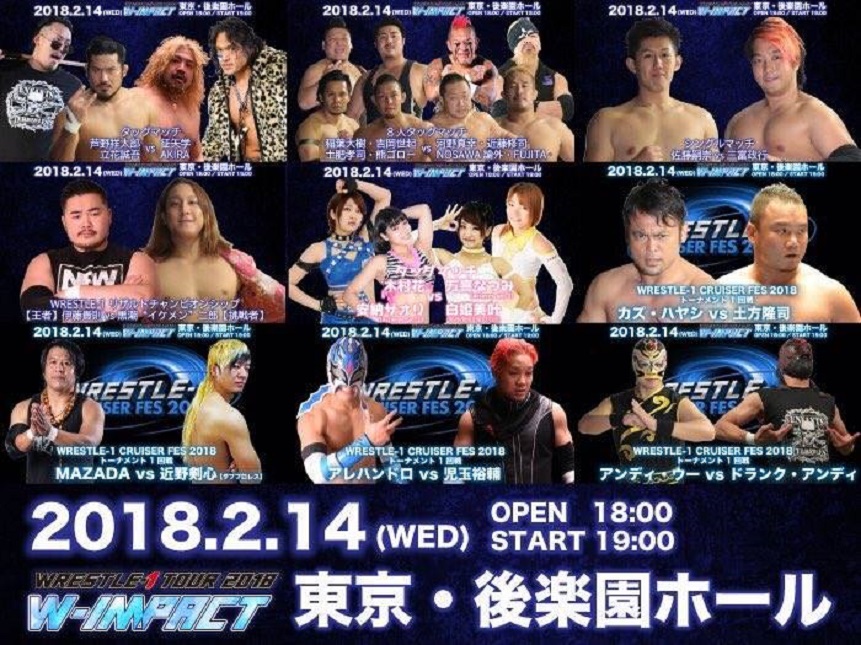 Today I will be covering a show from Wrestle-1 that just got uploaded recently called, 'WRESTLE-1 Tour 2018 W-Impact Tag 1', which happened on Valentine's Day. I'm gonna be honest, as to this is the first time I am watching a full Wrestle-1 show. Since I am fairly new the company, with the exception of maybe ten people on the roster, this can be a learning experience for all of us. I am aware of the history of the company, just one of those I never got around to it or where to watch it until recently. My first match was between Shotaro Ashino and Jiro Kuroshio, which was a phenomenal match and I will provide a link at the end of the show. So with these shows, I will cover whatever is available as soon as it gets uploaded and I will let you know what I think of each match, and tell if you if any of them are worth watch or the show as a whole. So let's dive right in.
WRESTLE-1 Cruiser Fes 2018 First Round Match
Alejandro vs. Yusuke Kodama
Review:  We start off the Cruiser Fes tournament with a bout between the masked wrestler named Alejandro and Yusuke Kodama. We get some nice back and forth action showcasing their talent and what they can do in the ring. Alejandro stood out for me a little bit more and I love his Tornado DDT and how he sets it up, it was a nice way for him to win and advance to the second round where the winner will face W-1 Cruiserweight Champion, Seiki Yoshioka. Solid match and a nice way to start us off.
Recommended:  I think it's worth at least a viewing and if you do plan on following Wrestle-1, it would be a good idea to get familiar with some of the roster since you never know who you might like.
WRESTLE-1 Cruiser Fes 2018 First Round Match
Kenshin Chikano vs. MAZADA
Review:  This one is probably my least favorite match in the first round tournament, due to the fact that majority of the match seemed to be a bit sloppy for my taste and just their styles not clicking well. MAZADA seemed to do the most in the match and what he can to save it, but unfortunately wasn't enough to carry the match. Chikano is also someone I'm not familiar with and while his look is decent, wasn't overly impressed with his performance in the match.
Recommended:  This is one I would skip over, so that's a no from me.
Eight Man Tag Team Match
Daiki Inaba, Koji Doi, Kumagoro & Seiki Yoshioka vs. FUJITA, Masayuki Kono, NOSAWA Rongai & Shuji Kondo
Review:  Not a whole lot to say about this match, due to it being under 7 minutes for a eight man tag with your vets taking on currently active members of the roster. Seiki, who is the current W-1 Cruiserweight Champion is honestly very impressive in the ring an I can see why he's their current champion as he has a good look and a nice ability on top of that. The vets would get the win as FUJITA would pin one of the W-1 Tag Champions, Kumagoro and maybe this will lead to a future match for the Tag Team Championships.
Recommended:  I would watch it just to see Seiki in action, otherwise nothing special about the match. So this one is a if you have the time to or curious enough.
WRESTLE-1 Cruiser Fes 2018 First Round Match
Andy Wu vs. Drunk Andy
Review:  We go back the the tournament as we have Drunk Andy relying on dirty tactics to try and take the masked wrestler, Andy Wu out of the picture. Sometimes the dirty tactics would become a bit too much, but that is apparently how the stable named Enfants Terribles works, which isn't a problem but sometimes can be a bit much even when Suzuki-Gun does it constantly. Andy Wu will pick up the win, not letting them steal his win away in a average match.
Recommended: Not missing a whole lot, but I would say at least view it once when you have the time.
WRESTLE-1 Cruiser Fes 2018 First Round Match
Kaz Hayashi vs. Ryuji Hijikata
Review: Kaz Hayashi is a familiar face that I haven't heard from in a while and it's good to see him still active. This is my favorite match of the first round, as we have two vets going on it showing that they can still go with 20+ years of experience. Nice technical action, nice spots when they were needed in the match, and a exciting conclusion to the match with Ryuji getting the win and moving on to fight Alejandro.
Recommended: Absolutely, be sure to keep an eye out for it once it's available online somewhere, match you don't wanna miss.
~ Hiroshi Yamato announced that he will be returning to competition on the March 14 show at Korakuen. Due to a neck injury he has not actively competed since August of 2016. I wish him the best of luck with his return match and hopefully the rest of his career stays healthy.
Tag Team Match
Hana Kimura & Saori Anou vs. Mika Shirahime & Natsumi Maki
Review: We get some joshi tag action and we see some female wrestlers that I am familiar with due to Ice Ribbon, Sendai Girls and Stardom. This was a nice tag match showcasing our four females and what they can do in the ring. All four of them are so young and talented, and they definitely have a future in wrestling. Hana Kimura is someone who shined the most to me in the match. It's amazing that she's only been wrestling for under two years, and has the potential to be one of the best in maybe five or six years. Kimura should be easier to find out of the others due to the fact that she's competing in the Women's of Honor tournament hosted by ROH. So be sure to check her out if you follow that promotion. Kimura got the win over Natsumi in a nice exhibition tag match.
Recommended: Definitely worth your time if you're into joshi wrestling.
Tag Team Match
Seigo Tachibana & Shotaro Ashino vs. AKIRA & Manabu Soya
Review:  Here we have Shotaro Ashino, who is the current W-1 Champion, and has been on a roll as their champion with seven title defenses to his name. Each match showcases his technical ability and have been stellar, with him and Jiro being my favorite in Wrestle-1.
We get a nice little video before the match with AKIRA tying to motivate his partner, Soya to show them why he's one of the best and to prove it in the tag match. We get some nice back and forth action between both teams showcasing their individual ability, as well as tag team wrestling. The Terribles were doing some of their antics during the match when the referee was knocked out. Soya would eventually get the win by pinning Seigo. After the match he would challenge Ashino for the W-1 Heavyweight Championship on March 14, where Ashino would accept the match. Definitely gonna be a good fight with another title defense in Ashino's reign.
Recommended:  Absolutely, nice solid tag team action and nice build-up to the upcoming title match to get you hyped up for it.
WRESTLE-1 Result Title Match
Takanori Ito (c) vs. Jiro "Ikemen" Kuroshio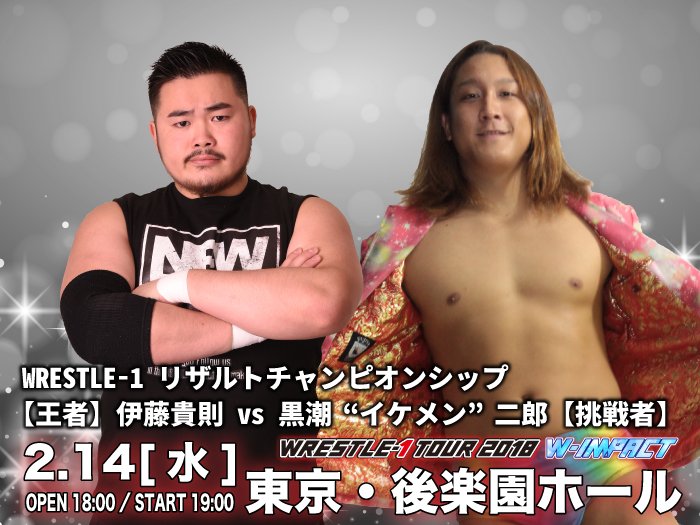 Review:  Before I talk about the match, I wanna explain a little bit about the WRESTLE-1 Result championship and what it means. The belt is apparently for people ages thirty and under, and I think it's a great idea to help showcase the young and upcoming talent to help them get ready for a possible future run at the main title.
This one is probably my favorite match of the show since both men are young and incredibly talented, as they put on an exciting match. Takanori Ito is only twenty years old and has been putting on impressive matches lately. I have no doubt that he will be a big time player in the upcoming years if he maintains this level of quality.
First off, I just wanna say that Jiro is kawaii as fuck. Secondly, that I think he could be the face of the company in about a year or two, the guy is so charismatic, the fans love him, just an overall entertaining guy with a lot of ability. After having the belt for 165 days and four successful title defenses, Jiro would win his first title with the company and here's to hoping it leads to the WRESTLE-1 Championship in the future.
Recommended:  This one is definitely a yes and I hope you guys do and enjoy it.
Overall show:  I would say the show was at least above average while some matches were enjoyable, the rest just felt a little lackluster to me. I would give it a watch if you wanna see how the tournament plays out or if you wanna check out the matches I recommended when they come out individually.
Best Match: Takanori Ito vs. Jiro "Ikemen" Kuroshio
Worst Match: Kenshin Chikano vs. MAZADA
Score: 6.5/10
And now as promised, I am providing you a link to the very first Wrestle-1 Match that I've watched and made me wanna follow the company as much as I can. I hope you give this one a watch since I think it's great and you might like it.