Stardom Grand Champion Carnival 2018 Night Show Results & Review (9/30/2018)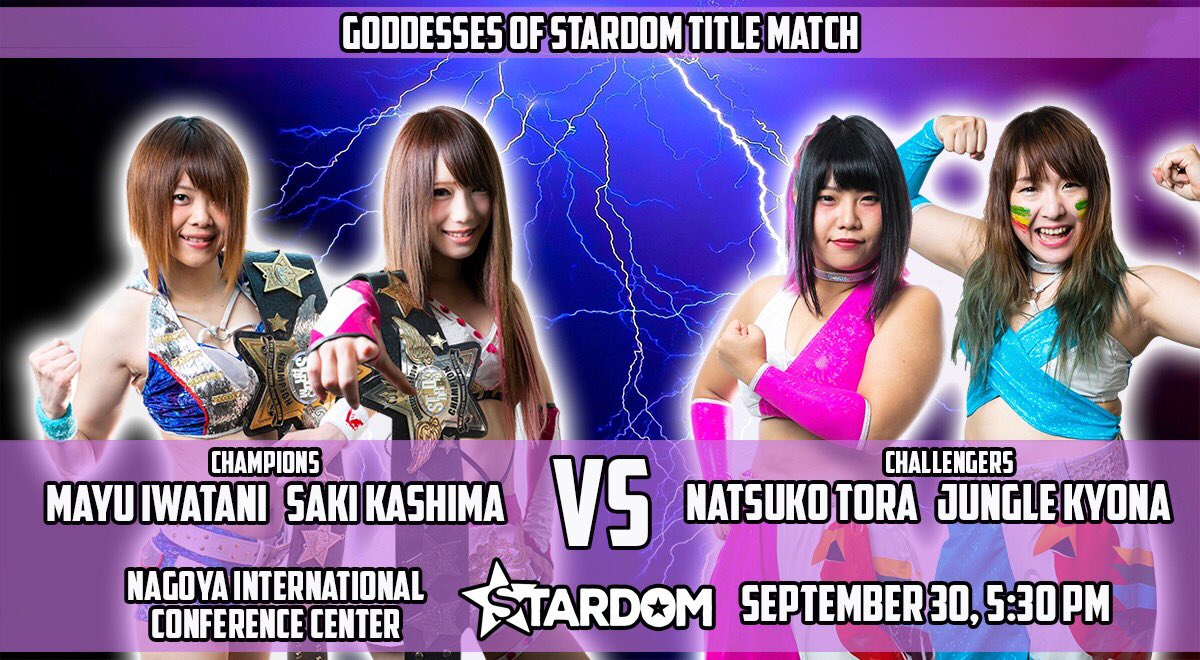 And we're back as we continue the Stardom Grand Champion Carnival with the night show now.
The afternoon show was pretty successful with a great main event and a title change with the Artist of Stardom Championship. We got another stacked card once again to end the day and let's see if they can go home strong.
Let's find out and…dive right in.
Tag Team Match
Hanan & Starlight Kid vs. Kaori Yoneyama & Leo Onozaki
Review: The majority of the show is tag matches and it looks like it has to do with getting their next tournament hyped up and I'll get to it at the end of the coverage. Our opening bout is Starlight Kid and Hanan teaming up this time instead of fighting each other as they take on Kaori Yoneyama and Leo Onozaki. Which one of these teams will come out on top?
I really don't know what happened at the beginning of the match and I'm actually afraid to ask myself, but what was up with Starlight's selling once the bell rang? Like she got hit once and just sold a different part of her body and even had her own arm wrapped around the rope by herself like someone did it that wasn't Kaori. Is John Cena secretly in Stardom as the invisible wrestler all along!? Luckily after that little episode, Starlight would wrestle normally like that little thing hasn't happened which is a good thing since you wanna keep the match rolling. The match was short and very basic with the four of them doing stuff to showcase their stuff in, but nothing memorable at all except for maybe Leo and Kaori doing a Double Cutter (I'm onto you, Leo!) Starlight and Hanan would get Kaori out of the ring as Starlight hits the Fisherman Buster on Leo and would do a Moonsault off the second rope as she gets the victory.
Rating: Tony Schiavone
Leo's Cutter Counter: 1 (You're making me look bad now.)
Tag Team Match
Kelly Klein & Rachael Ellering vs. Shiki Shibusawa & Tam Nakano
Review: First we had Kelly and Rachel fighting each other on opposite teams and now they're teaming up together this time and their opponents are STARS members, Shiki Shibusawa and one-third of the Artist of Stardom Champions, Tam Nakano. Will Kelly and Rachel get a victory or will STARS win?
I still don't know how to feel about Rachael Ellering just yet since you'll see her in different promotions where she'll be good and over here, you see her doing the exact opposite of that and don't like these mind games to decide how I feel about her. Kelly though did do pretty well in the team as she kept on showing how talented she is in the ring and how she works well with women of any size. As for the team of Tam and Shiki, I'm not sure if I can say it's a great team but they'll be teaming up for the Stardom tag tournament coming up and we might be able to see some progress with them as a tag team, hoping it goes well. The match though felt pretty underwhelming since it looks sloppy at some spots or just slow to make people lose interest in the match, which is a shame since most of them in the match are talented but it happens sadly. Shiki would hit Kelly with a Missile Dropkick from the top rope and then Tam kicks her in the gut for Shiki to roll her up and a two count. Rachael would get Tam out of the ring so it would be Kelly and Shiki alone as Kelly gives Shiki an Attitude Adjustment and pins her for the victory.
Rating: Tony Schiavone and a half
Queen's Quest Flag & Mask Tag Team Match
Hazuki & Natsu Sumire vs. AZM & Konami
Review: Natsu Sumire has been quite an annoyance to AZM and Queen's Quest lately ever since they had that match in September where they fought each other and Sumire won. Once she won, she would steal the Queen Quest Flag and she would later on also steal their mask. Now, AZM and Konami have a chance to get the mask and flag back from Oedo Tai as they take on Hazuki and Natsu Sumire. Will Queen's Quest get their stuff back or will Oedo Tai win?
Queen's Quest wasted no time attacking Oedo Tai as Hazuki is thrown to the outside as AZM and Konami beat down Sumire to while she was holding onto the flag to make Queen's Quest not steal it back from her as AZM slaps her in the face to make her go down. This has low-key been a guilty pleasure for me when it comes to rivalries of this year between AZM and Natsu Sumire since these two together has just been entertaining for the most part with them being childish to one another with the name calling and stealing stuff. While AZM and Sumire do the entertaining aspect of the match, Konami and Hazuki would deliver the wrestling part of the match to give us a good balance.
Hazuki would hit a Codebreaker to Konami while landing on AZM for a Senton at the same time and she would lay them on top of each other to apply the Crossface to the both of them and that looks awesome to see, love Hazuki. We still have a solid match with a mix of wrestling, entertainment, and storytelling which all four of these women delivered their part to give us something fun. AZM looked like she was about to get the win with the European Clutch but Hazuki would break it up just in time before the referee called for a three-count. AZM went to the top rope, but Sumire would grab the Queen's Quest flag and wrapped it around AZM to make her unable to see or move as she picked her up to hit the DDT and pins her for the victory, meaning Oedo Tai keeps the flag and mask.
Now on https://t.co/q8dHnF58vW, it's the Flag and Mask match! Natsu Sumire stole the Queen's Quest flag and AZM's mask, and they want revenge! pic.twitter.com/EWq9rag2Fk

— We Are Stardom (@we_are_stardom) October 6, 2018
Rating: Eric Bischoff and a quarter
Tag Team Match
Jamie Hayter & Kimber Lee vs. Momo Watanabe & Utami Hayashishita
Review: We got another tag match with Jamie Hayter given another chance to get revenge against Utami Hayashishita as she partners up with Kimber Lee to take on Utami and current Wonder of Stardom Champion, Momo Watanabe. As of right now, Utami still doesn't have a faction to align herself with but maybe she could join Queen's Quest if things go well here. Can Utami and Momo work well or will they fall short?
This match was another showcase for the Super Rookie since we all know what Momo Watanabe can do, we know about Kimber Lee, and Jamie Hayter does stuff, so this match was a good way for us to see more of Utami who will keep on progressing into the roster. Momo and Utami would do rather okay as a tag team here since it was mostly them doing stuff by themselves rather than working together in the match and that's kinda what Kimber and Jamie do as well since it didn't really feel like a tag team match, but it was still solid enough to get over. Utami had Kimber up for the Torture Rack and slams her down as Momo would quickly hit the Somato to get her down for a two count. Momo would hit another Somato and pick her up for the Package Driver and she would hit it and pin Kimber Lee for the victory.
After the match, Momo would grab the microphone and she would tell Utami that they worked well together and was wondering if she would like to team up with her for the Goddesses of Stardom Tag League which is coming up at their next show. Utami would accept her offer, but she lets her know that it doesn't mean she's apart of Queen' Quest and just wants to win with her. If it goes well and they do win the whole thing, then there's a good chance we might have Queen's Quest as her first home.
Rating: Eric Bischoff and a half
World Of Stardom Title Match
Kagetsu (c) vs. Nicole Savoy
Review: Our first title match of the night as Kagetsu defends her title against SHIMMER Champion, Nicole Savoy. Both of them have defended their titles at the afternoon show as Nicole retained against Konami and Kagetsu had a No Contest against Momo Watanabe. Nicole would challenge Kagetsu after her title match and Kagetsu wanted to give the people what they want and defend her title twice in one day. Is Kagetsu able to retain her title or will Nicole take advantage of the beating she took earlier?
Much like Nicole's last match that happened earlier on in the day, this one was just more technically sound and it worked to her favor since she would have the majority of the control in the match, despite Kagetsu getting some offense but not as technically superior to Nicole. I liked her match with Momo earlier on in the day better but this was still a very fun title defense and a great match for the style they did with this one to get people seemed interested in it. Kagetsu would make her little comeback in the match and hits a Suicide Dive to the outside. Kagetsu would get her back into the ring to hit a Springboard Dropkick and would start to work on her arms for a submission, but Nicole would turn it back around to out-wrestle her and even hits an Exploding Suplex. Nicole would apply the Rings of Saturn to try and make her tap but Kagetsu would fight out of it and Sunset Flips over her for a two count and Nicole would roll her back up as Kagetsu spits blue mist into her eyes to break the count. Kagetsu would slam her down and hits the Oedo Coaster to pin her down and retain the championship!
After the match, Kagetsu would grab the microphone to talk about Nicole and the match they just had had and soon as they were about to shake hands, Kagetsu would attack her and tell Nicole to get out of her ring. Now that she got that out of the way, she talked about her next prey and her next title defense due to Mayu Iwatani being busy with Momo Watanabe, meaning she'll be defending her title against former Oedo Tai member, Hana Kimura. October 23rd is gonna be an amazing show.
Now on https://t.co/q8dHnF58vW! Kagetsu puts the World of Stardom title on the line versus Nicole Savoy! pic.twitter.com/gqX3U33Pl5

— We Are Stardom (@we_are_stardom) October 7, 2018
Rating: Bruce Prichard
Goddesses Of Stardom Title Match
Mayu Iwatani & Saki Kashima (c) vs. Jungle Kyona & Natsuko Tora
Review: During the afternoon show, Mayu, Saki, and Tam would defeat Kyona, Natsuko, and Kaori for the Artists of Stardom Championships. For the night show, Kyona and Natsuko have a chance to get revenge as they take on Mayu and Saki for the Goddesses of Stardom Championship. Mayu right now has two belts with two more title matches coming soon, so she could be planning to go for any belt she can to be a multi-crown champion. Can Mayu pull that off with her and Saki or will JAN get revenge?
If we wanna go by out these units did as a whole during the year so far, I would actually have to put JAN up there for being pretty successful and I'm saying this because this team is normally seen as the butt of the group of units and not meant to be taken seriously over the years or even an official stable, but they really did turn themselves around after parting away from STARS during the draft. Kyona and Natsuko are the bread and butter of the group and took the negative into a positive with themselves and Kaori to recruit some of the newer wrestlers and they even won the Artists of Stardom titles together before losing it at the afternoon show and it's still progressed to show they could keep getting better if they stick to what it is they're doing.
I thought the match was very well done with both of these teams playing their strengths and acting like an actual tag team in these matches to show why they're that good as partners. Natsuko is someone who really stepped up her game in this match and while still not great, she can show some potential to have better matches like these and right now has to keep working with that. Mayu and Saki also showed why they were the Goddesses of Stardom Champions for as long as they were with them playing with each other's chemistry to make themselves show better as individuals and as a team. Jungle and Natsuko would go to the top rope to both hit a Splash onto their opponents as Saki kicked out of it while Natsuko would have Mayu outside of the ring, leaving Kyona and Saki in the ring so they could finish off this match. Kyona picked Saki up to go for the Jungle Bomb but Saki would reverse it into a Crucifix to get the pinfall on her but kicked out as well. Kyona would then grab Saki from behind to spin her around before dropping her and she falls on her for a Splash for the cover, and JAN wins the titles!
You can just see the tears and emotions from both Kyona and Natsuko when they hugged each other after winning the match. After the match, Kyona talked about how they lost the Artist titles earlier in the day and were able to win the Goddesses tonight as she thanked the fans for their support. Natsuko would talk about how the 5 Star Grand Prix was over and it was now time for the Goddesses of Stardom Tag Team League next as the winner will get a title shot against our new champions. Congrats to the both of you, hope you both have a good reign. It was time for Mayu to drop the belts anyway since she needs to get back into singles gold and I have no doubt Saki will have a new partner.
The Tag Team titles are on the line in Nagoya! Jungle Kyona & Natsuko Tora challenge Mayu Iwatani & Saki Kashima! Only on https://t.co/q8dHnF58vW! pic.twitter.com/wOXKnGckoD

— We Are Stardom (@we_are_stardom) October 8, 2018
Rating: Bruce Prichard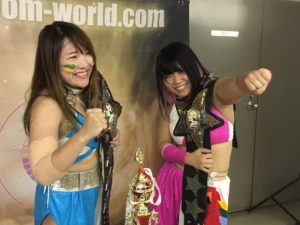 Overall: I thought the afternoon show was slightly better, but this one was still solid enough to get by with our last two matches being the better part of the show. As you're aware, Stardom is doing their Goddesses of Stardom Tag Team league coming up now actually and I decided that I will not be taking part of that one and give Stardom a little break except for the big titles matches like the October 23rd show and focus on AJPW for a little bit along with different shows until the tournament is over.
Favorite Match: Mayu Iwatani & Saki Kashima vs. Jungle Kyona & Natsuko Tora
Least Favorite Match: Hanan & Starlight Kid vs. Kaori Yoneyama & Leo Onozaki
Score: 7/10
Mitchell's NXT UK Results & Report! (4/24/19)
NXT UK is still in NYC!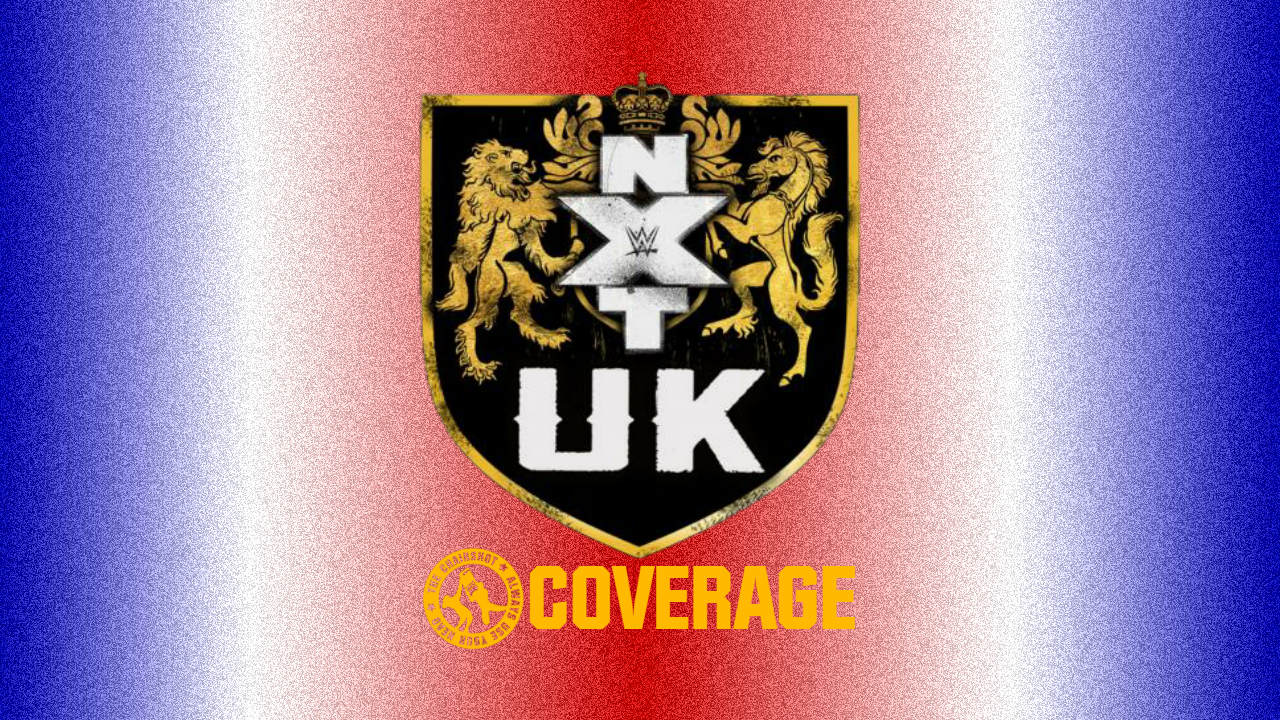 NXT UK continues to spend time in the States with plenty more action! What goes down when Moustache Mountain mixes it up with Andrews & Webster?
OFFICIAL RESULTS
Kassius Ohno VS Ligero; wins.
Kay Lee Ray VS Xia Li; wins.
Moustache Mountain VS Flash Morgan Webster & Mark Andrews; win(s).
PLAY BY PLAY
Kassius Ohno VS Ligero!
The Wrestling Genius called out the Luchador of Leeds as another fraud of British wrestling. Will Ligero make Ohno see the light? Or will Ohno get a KO in NYC?
Mathew's AJPW Champion Carnival B Block Results & Review: Part 4
Time for another part of the Champion Carnival B Block with Mathew!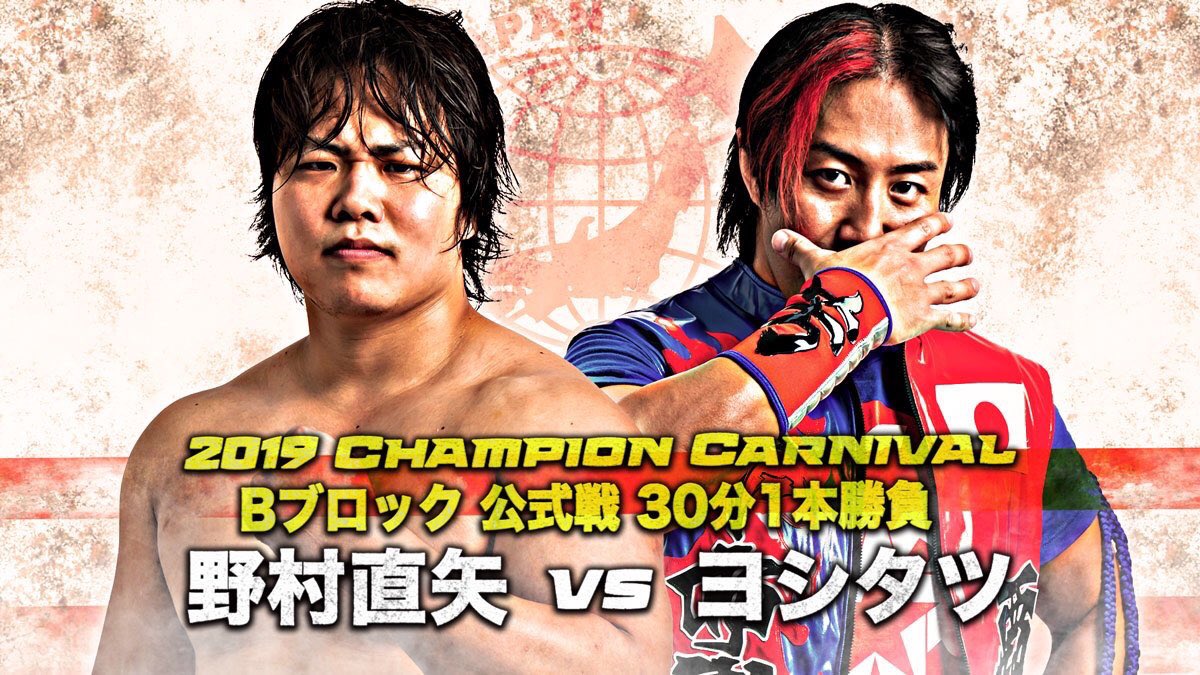 Time for another part of the Champion Carnival B Block with Mathew!
Last time we were here, we had the majority of the block tied up except for Naoya Nomura still in first place while Joe Doering is officially dead last.
We'll now talk about the next three shows with five matches in this one instead of six, meaning I'll be having more matches to cover in the next part.
Who will be advancing in our next series of matches? Let's find out as we…dive right in.
Rating System:
0 Stars: Dave Meltzer
1 Star: Vince Russo
2 Stars: Tony Schiavone
3 Stars: Eric Bischoff
4 Stars: Bruce Prichard
5 Stars: Jim Cornette
4/15/2019
Champion Carnival B Block Match
Sam Adonis vs. Takashi Yoshida
Review: Our first match for this show and article is Sam Adonis taking on Takashi Yoshida. Both men are not in a so great position, so neither one of them can fully afford a loss as of right now. If one of them does win though, they'll be in a position that they really can't lose their last set of matches going forward. Which one of these two will have that honor.
That moment when Takashi was the better one of a singles match…what is life anymore? Anyway, it's not a typo when I write this since he did perform a lot better than Sam did in this match and I wasn't expecting anything spectacular either but was enough for how they work. The first half of the much was rather slow as it was more taunting and trying to overpower the other but it just wasn't exciting or anything to keep people interested. Later on, they would be fighting outside of the ring when Sam failed to hit Yoshida with a chair and brought Sam back in the ring for Yoshida to hit an elbow drop for a two count. Sam would eventually put Yoshida in a Cattle Mutilation for a Yoshida to have his foot on the rope. Sam would go for the chair again as the referee would grab it as the two would tug until the referee let's go, having the chair hit Sam when he pulled back as it leads to Yoshida hitting the Kong Lariat to get the victory.
Rating: Tony Schiavone and a half
Champion Carnival B Block Match
Naoya Nomura vs. Yoshitatsu
Review: Our next match is Naoya Nomura taking on Yoshitatsu. Nomura is currently tied with Takashi Yoshida when it comes to the both of them having six points but Nomura is still in a great position that if he can win his next two matches, he'll be able to knock down most of his competition and still be in first place. Yoshi would need to beat him right here for the other competitors to have a better chance of winning. Will Nomura stay in first place or does Yoshitatsu ruin it?
I'm living in a world where Yoshitatsu has had the best matches on my block, first with Suwama and now against Naoya Nomura. I don't know what's going on here or who slipped what into my drink but I need to see this part of Yoshitatsu more often. Nomura did just as well in the match too as the both of them would deliver a great match in the ring with Nomura still shining a lot in these past couples of months, but Yoshitatsu doing as well here is a big surprise for me. Nice technical wrestling, random bursts of energy when they would go at it, and just a nice story for that little cherry on top.
After Yoshi delivered a DDT to Nomura onto the ring apron, they would slowly get back into the ring and it looked like Yoshi had him right where he wanted him as he would attempt to go for the Koji Clutch, but Nomura would hold his ground and hits him with a Spear and rolled him up for a two count. Nomura would attempt to go for another Spear as Yoshi would knee him in the face and the both of them would be down as the crowd cheered for them. When they would get up, they would hit each other with a series of German Suplexes until Nomura would be the one to hit the final German Suplex as the two were down again. Nomura made it to the top rope to attempt the Splash but Yoshi puts his knees up before he could land and not applies the Koji Clutch this time around. Nomura was unable to tap as Yoshi pinned him for a two count. Yoshi was able to get up and attempts to hit the Codebreaker of Jericho as Nomura caught him to push him off as he hits a forearm and then a Brainbuster. Nomura would get to the top rope once again as he hits the Splash for a two count and would pick him up for the Death Valley Driver to secure the pinfall victory and his position on top. Great match and a great showing by both of these men.
Rating: Bruce Prichard
4/16/2019
Champion Carnival B Block Match
Joe Doering vs. Takashi Yoshida
Review: Our first match on this show is Joe Doering taking on Takashi Yoshida. Joe is currently in last place with one win and three losses, so he really needs to start winning from now on or he'll be eliminated after this one. Takashi only has a couple more opponents left, so he's in a not so hot zone either and would need to win his last three or his chances will be slim to none. Will Joe get a chance to bounce back or will Takashi get him eliminated?
Takashi would attempt a test of strength on Joe and it seems like a bad idea because Joe is bigger than him and I was proven right when Joe just not only won the test of strength but was unable to be knocked down when Takashi tried to shoulder tackle him. A bit surprising to see Joe pretty much throw Takashi around like a rag doll for about more than half of the match and then again, Joe needs to be more aggressive here if he wants to even stay in the race. Takashi would finally get some offense in after distracting Joe when he begged him to stop, gave him a couple of throat thrusts, even lifted him up for a Brainbuster, and ended it with an Elbow Drop off the top rope for a two count. Takashi would start to knock him down with a couple of Lariats until the giant fell onto his knees and he would go for the Cyber Bomb but Joe flipped him over and hits a Lariat for a two count. Joe went for another one as Takashi ducked and Joe would hit him with a Diving Body Press and would get the pinfall victory to stay in the game a little bit longer!
Rating: Tony Schiavone and three quarters
Champion Carnival B Block Match
Daichi Hashimoto vs. Suwama
Review: Our main event for this show is Suwama taking on Daichi Hashimoto. It's been a few days since we've seen Daichi in any Carnival matches, so it's good to see him getting another match right here. Both of these men could use a win but Suwama needs it a little bit more since he has three more matches after this one while Daichi has four more. Will Suwama jump to second place or will that belong to Daichi?
Man, Daichi sure is a screamer, huh? He just screams a lot in this match and I hate to see how he is in the bedroom. Joking aside, while the wrestling aspect of the match was solid, the story of the match was told much better here at the end of things as Suwama was able to send Daichi to his limit in this match. Suwama would pretty much control a big majority of the match here while Daichi would try as hard as he can to fight back, but Suwama doesn't give him a fighting chance to do so here. Daichi does have a lot to prove due to being the son of Shinya Hashimoto, who was the longest reigning IWGP Heavyweight Champion until Kazuchika Okada broke that record, but still left a big legacy behind and Daichi wants to do his father proud.
There were a couple of times where you would see a spark of hope in Daichi's eyes while he took the Lariats, Belly-to-Belly Suplexes, chops, German Suplexes, Daichi would just keep finding a way to still fight whenever he could. Daichi was able to stop Suwama for a short period once he would catch him for a Falcon Arrow as it gives him time to recuperate. Daichi would hit a Shining Wizard into the corner and be able to land a couple of kicks in but Suwama would just meet him with a Lariat to knock him done once again. Suwama would hit the Backdrop and Daichi would kick out of it and while he went for a second one, Daichi would shift himself to land a Crossbody to get him down again. Daichi would hit Suwama in the back of the head with a Shining Wizard and it looks like he's going to win as he charges in to hit another one, but Suwama hits another Lariat to ruin his momentum once again. Suwama throws him around with a couple of German Suplexes and another Lariat or two, even a Dropkick for good measure before Suwama hits the Backdrop Driver with a bridge as Suwama puts Daichi away. A valiant effort by Daichi here and great underdog type performance to get him over even in defeat.
Rating: Bruce Prichard
4/17/2018
Champion Carnival B Block Match
Jake Lee vs. Takashi Yoshida
Review: Our first and final match for this set of matches is Jake Lee taking on Takashi Yoshida. Takashi has one more match after this one as he only has three wins and three losses, so he would need to win this match right here or he will be mathematically eliminated from the tournament. Jake still has a chance to rack up some points but he would need to win here so he could take out someone and ruin his chances from winning. Will Jake win and eliminate Takashi or does Takashi take it?
There's the Yoshida we all remember showing his shades of R.E.D here with the heel tactics in this match since he's gonna want to pull off all the stops he can get if he wants to win here since he cannot afford another loss at all. Takashi would give him a few throat thrusts and rip up some of his wrist tape to choke Jake a little bit here. Jake was able to give Yoshida one of his better matches here compared to the last two he had which were rather lackluster. Both were able to match each other with Jake getting someone bigger to work with.
Yoshida would try to go after his legs for a little bit to hopefully try and get him to tap out later on and Yoshida would mostly just cut him down with his throat thrusts, which he does quite well and then again, he should since he does them more than Kenny Omega does V-Triggers. Takashi would apply the Figure Four on him now as he would try to make him tap out but he would get to the ropes before he could tap. Yoshida would attempt the Cyber Bomb as Jake would flip him over to save himself some time. Yoshida would go for the Kong Lariat as Jake would knee him in the chest and rolls him down to hit the PK as Yoshida kicked out at two. Jake goes for the Backdrop as Takashi fights out of it and gets him off to attempt another Lariat as Jake knees him in the chest twice to knock him down for a two count. Jake would apply the Boston Crab as Takashi would go for the ropes until Jake dragged him in the middle, turning it into a Single Leg Crab as he used his free arm to grab Yoshida's arm to wrench it back into a weird Bow and Arrow type submission it looks like, I could be wrong as Yoshida would give up to give Jake the victory while Yoshida is eliminated.
Rating: Eric Bischoff and a half
Overall: I was able to get two four-star matches in this one, so I'm happy with that happening. Solid nights for this set as we already have one elimination while the rest are up in the air as of right now until the next series of matches. Looking forward to what happens next.
Favorite Match: Naoya Nomura vs. Yoshitatsu
Least Favorite Match: Sam Adonis vs. Takashi Yoshida
Score: 7.5/10
Current Standings:
Naoya Nomura: (4-2) (8 Points)
Suwama: (3-2) (6 Points)
Jake Lee: (3-2) (6 Points)
Takashi Yoshida: (3-4) (6 Points) (Eliminated)
Yoshitatsu: (2-2) (4 Points)
Daichi Hashimoto: (2-2) (4 Points)
Joel Redman: (2-3) (4 Points)
Sam Adonis: (2-3) (4 Points)
Joe Doering: (2-3) (4 Points)