Tale of the Tape – Steve Austin vs Becky Lynch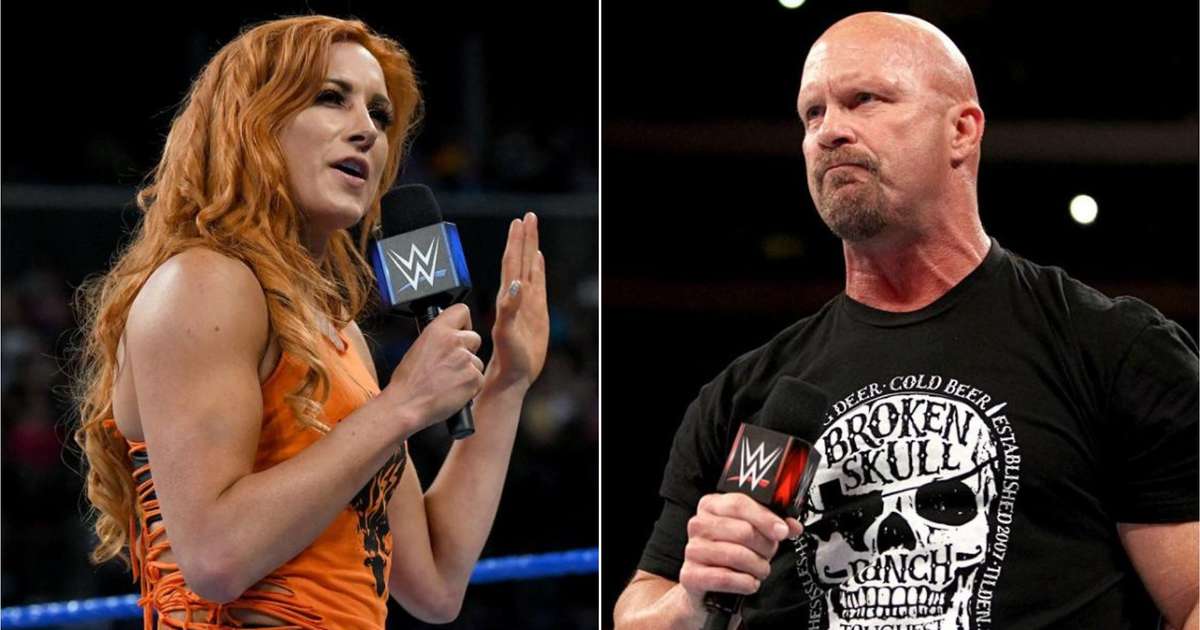 The comparisons between "Stone Cold" Steve Austin and "The Man" Becky Lynch are running wild, so Rob is here with the Tale Of The Tape!
Starting Points
We all know where things turned for Becky; it was at SummerSlam 2018 when she attacked Charlotte Flair after the Smackdown Women's Title Match.  For Austin however, there's been some revisionist history.  Contrary to what has written into WWE lore Austin's big bump did not come with the now legendary 'Austin 3:16' promo at King of the Ring 96.  In reality, that segment didn't do much to move the needle and Austin was back on the preshow at the next pay per view.  No what really did it for him was working with Bret Hart, who asked for him as his comeback match opponent.  The two men had great in ring chemistry and Austin's character was the antithesis to Bret's, the outlaw tough guy vs the straight laced good guy.
Austin got hot because it was 1996, the NWO was hot over in WCW, and the times were such that antiheroes were the preferred choice to traditional good guys.  It was the time where Wolverine was the hottest thing going at Marvel and not long after Batman became the preferred choice to Superman at DC.  In short, Austin's character represented a change in the times while Becky's turn was…….a revolt against high achieving people who don't try to make us all feel better by pretending to be ordinary.  Or against people that Vince has chosen to put in a high position because they've shown the should be there, because that's just so unfair!!  So yeah, apples and oranges.
The Intent
Austin spent over a year climbing the proverbial ladder to being World Champion and number one guy in the then-WWF.  He was certified in defeat, not victory, and the first iconic image we got of him was passing out in Bret's sharpshooter with blood streaming down his face.  He would go on to lose some more matches the next few months before he starting winning all the way through WrestleMania.  Despite his image as an anti authority figure Austin was pegged for the top spot almost a year before it happened and had an entire road mapped out to get there.  Becky on the other hand achieved her main goal a month after turning, winning the Smackdown Women's Title from Charlotte.  It's obvious that she and Charlotte were supposed to fight for a few months, and then Charlotte would be off to start gearing up to face Ronda Rousey at WrestleMania while Becky would maybe continue on as the Smackdown Women's Champion.  Now it looks like there's a chance Becky will be in that WrestleMania match as well (no way she gets Ronda one on one instead of Charlotte) instead of defending against Asuka or Naomi on the same show.
Circumstances matter here.  Austin came up at a time when Bret had failed to captivate or inspire most of the audience enough to draw real money and Shawn Michaels had proven unreliable; at the first hint of any kind of potential it made plenty of sense to give him a run to the top and see what happened.  Becky on the other hand has risen at a time when there are no shortage of superb talents on the roster and wasn't needed to rescue anyone from anything.  She was intended to be used as a plot device with the potential for some growth because quite frankly that's all she was needed for at the time.  Ronda Rousey is already a big star and a compelling figure while Charlotte is the best female in ring performer in the company (more like the best in ring performer period until Roman gets back in my opinion) and has developed an ability to win skeptics over with her in ring performances and make them believers in her.  Asuka and Naomi have dedicated fanbases and are pretty well liked overall.  Sasha Banks and Bayley are still around, Alexa Bliss has evolved into a captivating character, and there is a pipeline from NXT with more on the way.  There was no star gap waiting to be filled here at all, no dire straits that needed escaping for the survival of the company.
The Rebellion
Austin was a rebel for sure, but he didn't start out clashing with the powers that be.  For a while he was a miscreant who didn't follow the rules, but he went almost a year before starting to butt heads with Vince onscreen to set up the legendary Austin vs McMahon feud.  It wasn't until he was injured and kept showing up at RAW giving Stone Cold Stunners to whatever minion Vince sent out to tell him to go home that the real beef began and even then Vince didn't really try to thwart him until after he won the title.  Ultimately his rebellion was against a boss who was blatantly putting his thumb on the scale to make his career hell while continuing to employ him because he made money.  Becky on the other hand feels like she's been thwarted at every turn either by cheaters who took advantage of her or high ranking officials who constantly gave out favors to her supposed best friend while she had to earn everything, and lashed out against someone who at the time wasn't doing anything wrong to her.  With Austin Vince was the guy who screwed Bret Hart on his way out the door and was screwing him every day while he was still there, whereas in Becky's case Charlotte…………won a wrestling match fair and square.  Again, apples and oranges.
The Bottom Line
Austin of course jumpstarted interest in WWF programming and was the spearhead behind it regaining the lead in the Monday Night Wars from WCW.  RAW went from taping every other week to being live every week again, and WrestleMania went back to doing big stadiums instead of 15,000 seat arenas.  Today there is no competitor to overcome so you can only look at things like the WWE's own numbers vs what it was doing before she turned.  Well it sure doesn't look like she's affecting the bottom line much. As hot as her act has been Evolution didn't sell out until Nikki Bella was added to the main event.  Smackdown got under 2 million viewers two weeks in a row while she was champion and while I am anything but a ratings devotee you can't hold someone up as some kind of catalyst to the business, to the point where you want them to main event WrestleMania in four months, and have nothing to back it up with.  If anything this is more like CM Punk, mostly energizing a group of existing fans that needed something new to latch on to, than Austin who brought in people who never watched before and are still around today.  And Punk never main evented WrestleMania either before he took his ball and went home (sorry, couldn't resist).
As always the question is not what some fans are saying so much as it is what the fanbase as a whole is doing, and until we get evidence to the contrary we're getting more noise than action.  As a Roman Reigns fan I will say for the 100th time that tweets and chants don't matter if there's no concrete action behind them, so minus any emergence of proof that she's increasing business don't expect Vince and Co to move everything around a lot for her.  To her credit, her meet and greets have gone through the roof so that is something, and I'll bet she's selling more T-shirts than she did before.  But that still makes her net impact debatable whereas with Austin there was no discussion to be had.  Austin, even with an injured neck that was touch and go for a good while, made Bret Hart utterly disposable and helped paper over two years of TV and Pay Per Views so well that people genuinely do not remember how good or bad they truly were.  Shawn Michaels was out of action for over four years, and was originally thought to be done for good, and we all didn't even care much until he came back.  That's how much Austin's impact was over everything.  We watched him feud with Vince McMahon every week for two years for crying out loud.  As much as I've loved Becky and Charlotte's matches I don't think I'm up for another year and a half of them fighting each other.
The Longevity Question
This is the great unknown.  Austin was the unquestioned top man for two years, was out of action for a year, then shared that space with the Rock for another year and a half.  In that relatively short time he established himself as one of the top five stars in WWF/E history, and if there was any way he could work one more match today they'd put him on top of the card.  Becky has a long way to go in that regard. For one, her popularity has yet to endure any real storyline or real life  adversity.  Austin lost pay per view matches to further angles and went stretches without any titles.  For a month in 1999 we had Vince McMahon, Royal Rumble winner, and Austin on the outside looking in before WrestleMania XV.   Then he missed a whole year due to complications with his neck and back from previous injuries.  Right now the worst things Becky has dealt with on this run was missing a match with Rousey at Survivor Series (which she probably would have lost) due to injury, and the triple threat at TLC in which she did not retain her title but didn't take any kind of pin or submit.  When Austin went through some low points his fans did walk around scared that Vince would dump him for the Rock, they held firm.  By contrast Becky's most rabid fans have been on pins and needles since October waiting in a state of near paranoia for the inevitable moment when Vince is going to pull the rug out from under her, give everything back to Charlotte,and 'bury' her.
If this thing is going to be than a passing fad then her fans are going to have to sit through some stuff – losses, being put in a lower place on some cards, etc.  Us Roman Reigns fans did not waver while he went two years without either of the top titles and took a lot of losses to make other guys look good.  Auska's biggest fans stayed with her through several pay per view losses, including a submission at WrestleMania, before finally reveling in victory at TLC this year.  And 30 years ago fans of Dusty Rhodes like myself stayed with him even as he booked himself to lose over and over to Ric Flair in World Title matches. If your devotion is dependent on her being booked entirely to your liking then that devotion isn't very strong at all and this thing has no legs at all.  What if she doesn't get the match with Rousey at Wrestlemania?  Or what if she does get it and taps out in 10 minutes?  Will the whole thing die from disappointment or apathy?  Austin lost his first big WrestleMania match clean.  Roman lost his first singles match there clean as well, then got a rematch three years later to the same guy and lost clean again. Movements that last persevere through the results that piss off it's members.  We have yet to see if this one can.
And that's not all.  What happens when she has to work with someone other than Charlotte as a foil?  Once Bret was gone Austin faced down Vince on TV every week and had to make due with Mick Foley (when he was still considered a midcard guy) and Kane as opponents some months.  His earliest battles with the Rock were when the latter was still learning his way around the ring.  What happens when Becky is asked to carry someone like Lana through a month long program or match up with someone who is pretty popular in their own right like Asuka or Naomi or Sasha Banks?  Will the same energy be there as when she's facing the Queen, who a lot of people (of which I am not one) think 'gets too much'?  It's really hard to maintain an aggrieved stance when your opponent isn't someone you can convince people has gotten preferential treatment (remember in storyline Charlotte has won matches to achieve her status, she wasn't handed titles without fighting for them so a lot of the sentiment against is really against Ashley Fleihr and not Charlotte Flair).  Adapting to life after Charlotte and Ronda as opponents is going to be a crucial next step.  Austin did just that when his best opponents were literally taken off the board by release (Bret) or injury (Michaels).  We have no idea if Becky can do the same.
The Verdict
No they're not the same.  Not even close.  Other than wearing black T-Shirts and getting a big bump because of who they were facing, the two really don't have any parallels.  And that's fine! In fact you do a disservice to both of them by equating them so easily.  Both characters have their own unique stories as do the people behind them.  Both of them had their own struggles to get where they are, and the uncertainties they faced at similar points along the way are entirely different things.  Austin was tasked with carrying a company out of the wilderness while Becky's challenge is to remain a relevant and high positioned presence over the long haul in an ever growing pool of really talented female performers.   Those aren't even apples and oranges in terms of objectives.
Greg DeMarco's Good, Bad, & Ugly: WWE Smackdown On FOX (November 3, 2023)
It's the go-home show for WWE Crown Jewel, and Smackdown is in full force! As is Greg's Good, Bad, & Ugly review!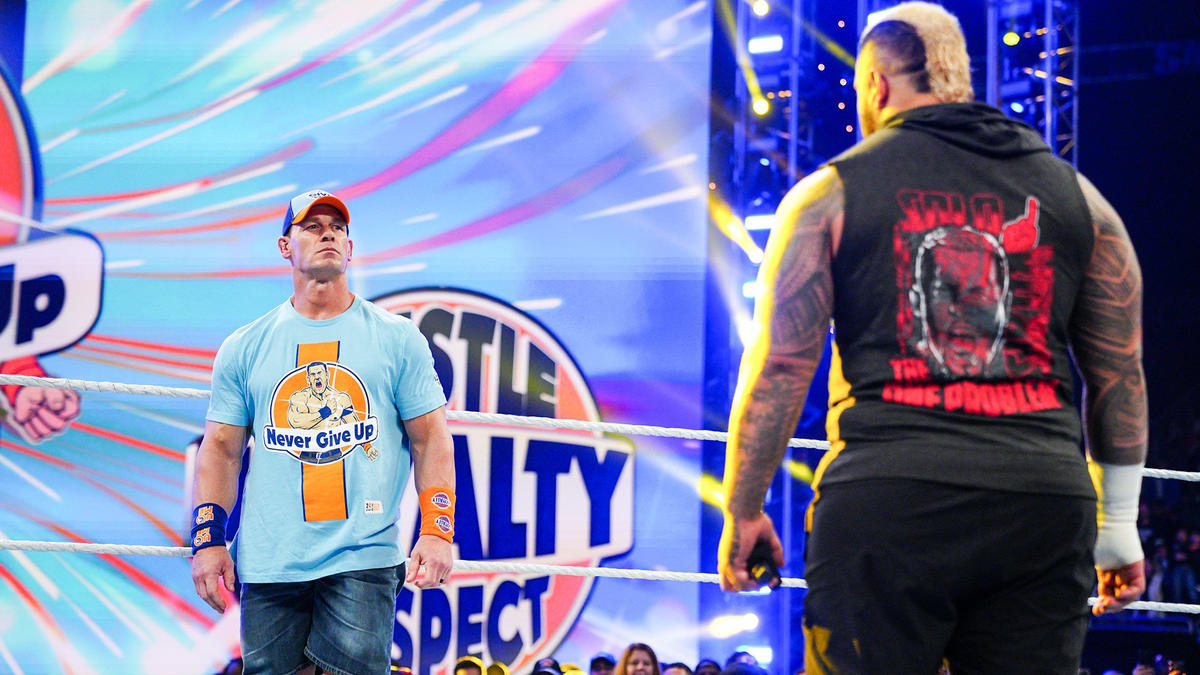 It's the go-home show for WWE Crown Jewel, and Smackdown is in full force! As is Greg's Good, Bad, & Ugly review!
WWE Smackdown On FOX sends us home for the Crown Jewel premium live event, so it has to be strong. But is it? Maybe it's Good. Possibly it's Bad? I sure hope it isn't Ugly.
Let's find out!
---
If you haven't checked out Mitchell's Results & Review for this episode of Smackdown, go and check it out now!
---
Good
Roman Reigns & LA Knight In Ring Promo – Last week LA Knight got the better of Roman, so it made sense for Roman to get it all back this week. And he did just that. "Redneck Cosplay of my cousin" was a fantastic line from Roman Reigns, but "I ain't here to finish something" from LA Knight got a bigger reaction from me. Roman calling himself the megastar was also a phenomenal line. Good stuff all around.
Kevin Owens vs. Austin Theory – Kevin Patrick keeping "The 150 million hit man" schtick going for Austin Theory is so great. Milk that for all it's worth! "What is your issue with Kevin Owens' face?" "LOOK AT IT, MAN!" Absolutely brilliant shit. "How's that feel, idiot?" Grayson Waller should be on commentary every week, for every match. And this match, by the way, was really good. Austin Theory has settled into his current role, showing he understands the WWE cycle. And Owens is Owens.
Backstage Series Of Events – We had the Bianca Belair interview where she was attacked by Damage Ctrl, followed by The Street Profits & Bobby Lashley running into Logan Paul and then B-Fab. Flowed well, no issues for me.
Chelsea Green & Piper Niven vs. Shotzi Blackheart & Charlotte Flair – No surprise that Charlotte Flair was the partner, and no surprise that Alba Fyre and Isla Dawn made an appearance. This was a perfectly fine TV match–didn't set the world on fire, but also wasn't Bad or Ugly. This was a step in this story, and an effective one.
The Brawling Brutes vs. Pretty Deadly in a Good Ol' Fashioned Donnybrook! – Shout out to Sheamus, whose return I look forward to seeing. With Ridge really coming into his own, we're to the point where all four of these guys range from good to great to fantastic on any given night. Putting Pretty Deadly into any "manly fight" is always guaranteed entertainment. Really, Pretty Deadly in anything is typically guaranteed entertainment. Pretty Deadly picking up the win was not a shock, although I'd have loved to see Butch and Ridge Holland pick up a win here. Given the rules (or lack thereof) of this match, Pretty Deadly basically won clean here.
Rey Mysterio vs. Logan Paul Crown Jewel Weigh-In – A very effective way to pretape something, which saves time as part of a double taping. It was essentially a go home promo, but done in a different way. I liked it. It also smoothly transitions into the rundown of the card by the commentary team, which I always appreciate.
Bianca Belair vs. Bayley – If you know me, you know that Bianca can be hit or miss for me. She can't "work with anyone," but she can definitely work with Bayley. Bayley, of course, is money with anything she does. Both women delivered a main event quality match, and no one should complain that Bianca Belair won. She's challenging for the Women's Championship in less than 24 canon hours, so she needs to win. Bayley is a made woman, losing here doesn't hurt her one bit.
"Just Enough Nick" Nick Aldis Usage – Triple H has done an amazing job of establishing Nick Aldis. Three weeks in and he already "belongs." Much of that is attributed to how Aldis carries himself. But they are also using him to the right degree. It's not too much, but it's also not too little. Adam Pearce could miss two weeks of Raw and when he shows back up, it all makes sense. For Aldis, he needs to be very present, but not overbearing or "shoved down our throats." They have the right balance.
BAD
Solo Sikoa & John Cena In Ring Promo – John Cena, lost voice and all, completely buries Solo Sikoa. He "cooks" Solo, as promised. And, as Cena does, he makes Solo look like crap. Bargain Basement Tazz Rip Off? C'mon man, you're better than that. But here's the real problem: what happens if Solo loses? Cena made him look like a loser, and then proves that he is? Solo has to win this match. If he doesn't, and Cena is gone, then Solo is left out in the cold. And you don't want to do that to Solo Sikoa at this point of his career.
UGLY
Misstep for Theory – Referencing Halloween as if it hadn't already happened. You can edit this episode–c'mon, man!
Kevin Owens' Crotch Chop – C'mon, man! We're better than crotch chops in 2023.
The Verdict
Good – 8
Bad – 1
Ugly – 2
In all honesty this was a damn good show. Milwaukee showed out considering they'd already seen 2 hours of Smackdown before this was taped. Good on them, and good on WWE for a great go home show for Crown Jewel.
Interesting of note – the pictures for this show that are posted to the WWE website are uploaded in the order the matches and segments were recorded, not the order in which they aired. Just a little tidbit that I found interesting.
Greg DeMarco's Wrestling Ratings Report: Monday Night Raw (10/30/2023) & WWE NXT (10/31/2023)
Greg DeMarco takes a look at your Monday and Tuesday night TV ratings. What do they mean? Do they matter?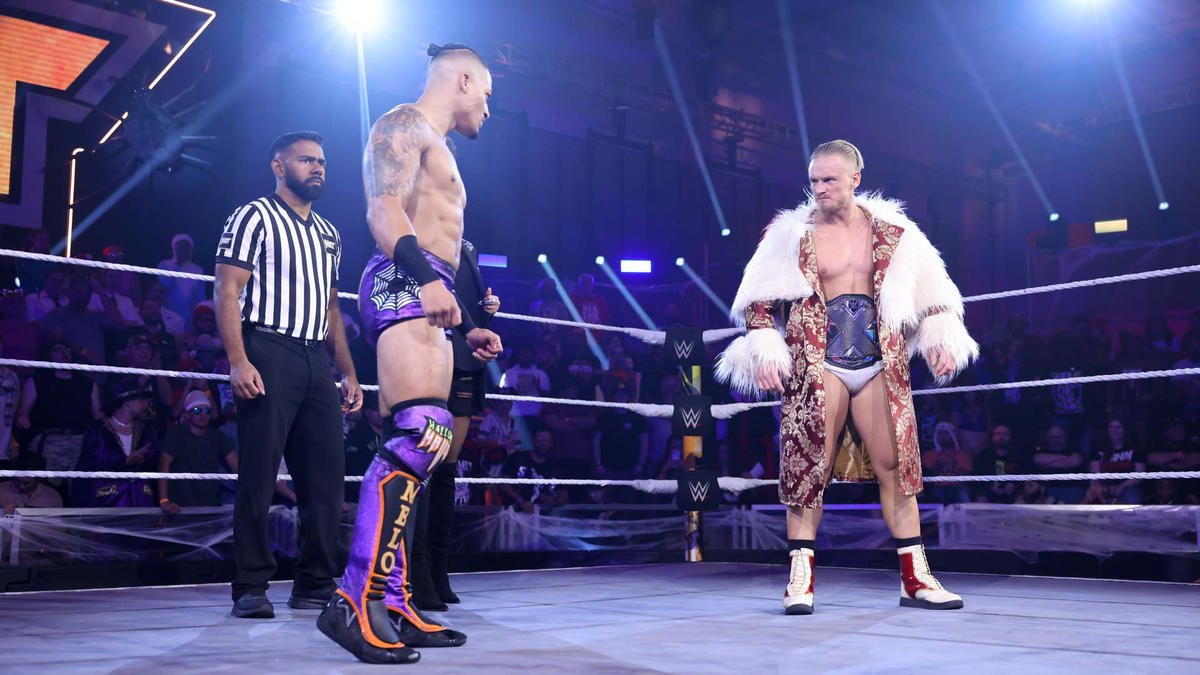 Greg DeMarco takes a look at your Monday and Tuesday night TV ratings. What do they mean? Do they matter?
Settle in for a look at this week's ratings for WWE Monday Night Raw and WWE NXT Halloween Havoc Night 2! Both were up against some stiff competition–let's see how they fared!
WWE Monday Night Raw (October 30, 2023)
Hour #1 – 1.466 million viewers, .44 demo rating, #6 for the night on cable
Hour #2 – 1.450 million viewers, .46 demo rating #5 for the night on cable
Hour #3 – 1.256 million viewers, .39 demo rating, #8 for the night on cable
WWE Monday Night Raw for October 30, 2023 faced some stiff competition on Monday night. You had Monday Night Football as normal–which aired on both ESPN and ABC–along with the usual peripheral shows (Monday Night Football Postgame, Monday Night Football Kickoff, SportsCenter, and the Monday Night Countdown, which factored into the Top 10). 6.851 million people watched Monday Night Football on ESPN, a number that more than doubles when you factor in ABC.
What does it all mean? It means that outside of Monday Night Football–on cable–WWE Monday Night Raw was the top rated show. If you take away all things NFL, Raw finishes #1, #2, and #3 for the night. Viewership did drop off for our 3, but that's the 10 PM hour that sees kids go to bed and people checking on the Monday Night Football and World Series games.
Speaking of which, that's another factor to consider–the World Series! 8.126 million people watched the World Series on FOX (not really that good), with another 8.356 million watching Monday Night Football on ABC (yes, more than the World Series) for a decent-at-best Lions vs Raiders match-up.
In summary, it was another successful night for WWE Monday Night Raw, which was the go-home edition of the program. You can check out my Good Bad & Ugly look at Monday's Raw, where I gave the show an overall "Good" rating. Haven't watched yet? Give Mitchell's live coverage a read.
---
Listen to this week's edition of Bandwagon Nerds!
---
WWE NXT Halloween Havoc Night 2 (October 31, 2023)
Entire Broadcast – 674 thousand viewers, .20 demo rating, #6 for the night on cable
WWE NXT (Halloween Havoc Night 2) for October 31, 2023, had to deal with a myriad of external factors this week. First is the most obvious–it was Halloween! Many people had plans, Trick-Or-Treat escapades and more. That right there will be a detriment to any ratings results. Add in two live NBA games, each drawing over a million viewers for TNT. Combine it all together and WWE NXT was the top rated program that wasn't sports programming on TNT or ESPN. Hell, the entire Top 12 consisted of ESPN and TNT sports programming, plus NXT.
It's easy to call this a failure since viewership was lost week over week. But that's very shortsighted. The fact remains that NXT was among the most watched programming for the night, holding its own against live sports and sports-peripheral programming.  If you're WWE and USA Network, you're nothing but happy with these results.
NXT, of course, featured the second week of Halloween Havoc, headlined by Ilja Dragunov defending the NXT Championship against Carmelo Hayes in the third match of their trilogy. Along with that you had The Creed Brothers in a Tables, Ladders, and Scares (Chairs) match with Angel Garza & Humberto Carrillo, Lola Vice vs. Kelani Jordan in the finals of the Women's Breakout Tournament, and much more.
I'd call the Tuesday program a ratings success. My Good, Bad, & Ugly review of NXT Halloween Havoc Night 2 is available here, where I called it "Good" overall. If you haven't seen the show yet, check out Mitchell's play-by-play.
As the weeks roll on, I will compile some historical data and look more about week-over-week (and beyond) patterns in all of my ratings reports.