The Good, Bad and Ugly: WrestleMania 35 (2019)
WrestleMania is here.  The Professional Wrestling Universe has been more than spoiled and now the main course. It is appreciated by many and should be by all, of the sacrifices made by all who worked and participated up to this point, as well as WWE's best of the best.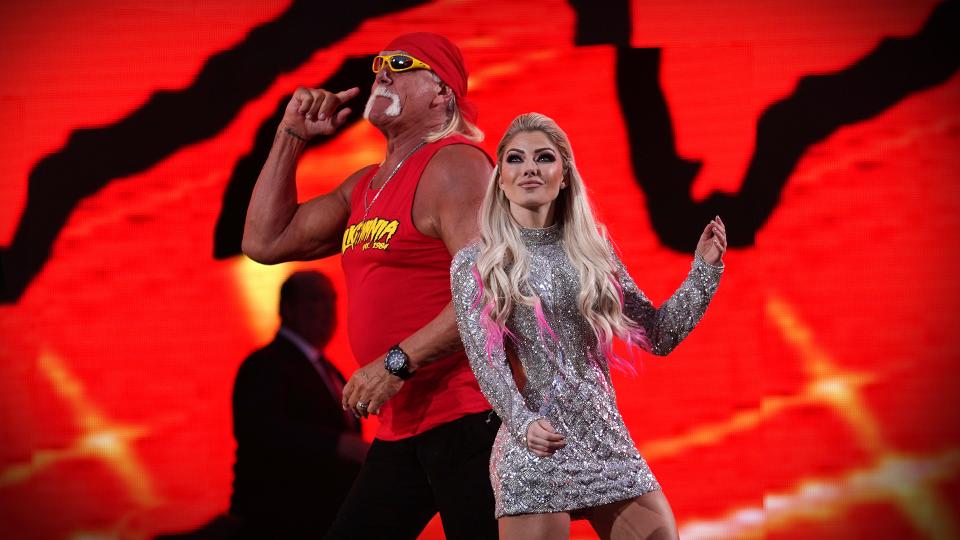 WrestleMania is here.  The Professional Wrestling Universe has been more than spoiled and now the main course. It is appreciated by many and should be by all, of the sacrifices made by all who worked and participated up to this point, as well as WWE's best of the best.  
As my friend Pat Masters said to me today, this is a special occasion to the Wrestling Community as a whole. 
For me it's bigger than the Superbowl.  The Food is served and the beer and wine are flowing. 
In the words of the Chairman Vince McMahon, Welcome to WrestleMania! 
GOOD
WWE Cruiserweight Championship- Buddy Murphy (C) vs. Tony Nese
Not wasting any time The Kickoff Show opened with a hell of a match.  Tony Nese is a perfect opponent against the unorthodox and effective move set of the Champion Buddy Murphy.  This was very physical, Murphy having a lot of the control.  Buddy Murphy has a lot more experience in big shows and was the ring general here.  Nese really took it to him when he got some breathing room.  Heavy strikes and some high impact moves that we always have were the spotlight.  205 Live does high risk best and on this scale nothing was held back.  The more we get of Buddy Murphy shows that he really is in another league and could better be utilized maybe against some high caliber NXT talent.  We saw a lot of really complex stuff here.  This was a Great Match!  It was over, Nese hit with a Murphy's Law, but Nese got a foot on the rope. Out of nowhere, Tony Nese got an edge, hitting Murphy with a head of steam with a devastating knee to the back of the head.  Tony Nese Wins the long held Cruiserweight Title from Buddy Murphy. 
Women's Battle Royal
Whoever wasn't watching already will be upset but obviously a lot of people are.  This was a draw to a lot of people and a vested part of the event.  My pick was Sonya Deville but I would be happy with a few options.  Opening strong Nikki Cross went crazy.  Maria didn't last long as she got destroyed and thrown out 1st.  Cross got axed by Asuka.  Then they just started falling like flies.  The crowd started weeding out but the action looked great.  It was nonstop and a ton of taunting and reaction.  Kairi Sane shut Lana up when was greatly appreciated and the Riott Squad led by Sarah Logan finished her off.  Everything was clicking and looked sharp.  The Riott Squad shined taking out some of the heavy favorites.  Dana Brooke emerged and just leveled the Riott Squad with two huge eliminations of Ruby and Liv.  Deville and Mandy Rose teamed up but Mandy was eliminated by Mickie James who then also got eliminated.  Deville, Asuka and Logan left, this was awesome action.  Some of the best, Deville and Asuka got whacked out and Logan stood last in the ring.  Carmella then rejoined but Logan destroyed Mella.  It was anyone's Match but Carmella hit a game changing Superkick to eliminate the Viking Princess of the Riott Squad.  Great showing by the Women's Division.  At WrestleMania 35 Mella was $.  I'm sure a lot of people were hoping for others to win but Mella got it and it will be fun to see where this goes. 
Raw Tag Team Championships- The Revival (C) vs. Zach Ryder and Curtis Hawkins
This will be fast paced and very physical.  The Revival and Ryder and Hawkins are amped for this match.  This is another treat for the KickOff Show but decent placement given the rest of the card.  As expected The Revival had frequent tags and were merciless with their stiff strikes and chops.  Zach Ryder took the brunt of the abuse and the Revival shined.  While it being WrestleMania you always have it in the back of your mind that anything can happen.  It looked over with Zach Ryder just not getting a break from the punishment.  Ryder hits a double neck breaker and still no break as Dawson took out Hawkins and made another quick tag.  The Revival would only make it harder, not letting up on the beaten Challenger.  Zach Ryder rallied for the much needed tag.  Hawkins was alive and full strength completely taking control of the match with the crowd loudly behind him.  Hawkins and Dawson went down but Ryder was up and waiting for the tag.  Zach Ryder again came out hard but it was short lived.  The Revival took control again but then it happened Hawkins got the surprise roll up and Won the Raw Tag Team Titles!  Anything can happen and Curtis Hawkins not only won for the first time but just beat one of the hardest hitting Tag Team Champions we have had.  Ryder and Hawkins Win the Titles! 
The Goddess Alexa Bliss presents, The Immortal Hulk Hogan
For me an original Hulkamaniac, you cannot get enough of Hulk Hogan and he is in his element on the grandest stage of them all WrestleMania.  It is just a treat and always Good for the show.  Hogan will always be magic to some of us. 
WWE Universal Championship- Brock Lesnar (C) w/ Paul Heyman vs. Seth Rollins
Before Hogan's music was even over, Paul Heyman begrudgingly walked to the ring and announced if the match isn't the Main Event we are getting it out of the way before Lesnar heads to Las Vegas where he belongs.  Lesnar marched out ready as ever.  Opening Match of WrestleMania is Main Even level for the Universal Championship.  Lesnar attacked Rollins before he even entered the ring and gave the Challenger tons of punishment including an F5 on the outside.  Lesnar brutally beat Rollins all around the ring, the match hasn't started yet.  Brock wouldn't let up not giving Rollins a second to recover.  The bell has rung officially as Rollins wasn't even standing yet.  Lesnar then took Rollins lifeless body to Suplex City.  Rollins hit Lesnar into the ref and got a low blow.  The ref back in Rollins hit the beast hard.  The Stomp gave Rollins time to regain himself again.  Another stomp but Rollins still not full steam.  A 3rd stomp Rollins Wins the Universal Championship!  Oh my God!  That was insanity!  Good stuff and a little bit shocking how it all went down!  This was a hell of a Good moment for Rollins and the wrestling audience. The Beast is Freakin' Conquered.
AJ Styles vs. Randy Orton
Orton and AJ are high pressure performers.  Orton got the upper hand and control early on and proceeded to methodically tear apart AJ Styles.  This was a well paced match with Good energy all around as both guys just work at such a high level.  Styles would come back and put on a fight gaining some momentum but Orton is always one step away from getting it back.  When Orton turns it on he is vicious but AJ Styles expertise makes him even more dangerous.  Both guys were beaten down and completely exhausted, it could have been either guy's match.  It looked like Orton had the win after a devastating Superplex but Styles kicked out and the match continued.  Orton had went for the RKO, Styles kicked Orton and got a full moon rollup, but ended up in an RKO.  AJ Styles kicked out!  Orton completely freaked out went to RKO off the top to Styles but got countered and Pele Kicked out of the ring.  Styles matched it by hitting a Phenomenal Forearm over the Top to the outside hitting Orton.  Orton countered almost hitting an RKO but Styles escaped hitting another Phenomenal Forearm this time getting the hard fought win!  Good Match for what it was!
SmackDown Tag Team Championships- The Usos (C) vs. Ricochet and Aleister Black vs. Shinsuke Nakamura and Rusev w/ Lana vs. The Bar
The Belts are on the line and it is anyone's match.  The Bar has tasted the Gold, Ricochet and Black are hungrier than ever after a legendary performance at Takeover this past Friday against the War Raiders.  Nakamura and Rusev have had their share of success and Gold as well.  All are big players on the big stage.  This is money.  This has to be surreal for Aleister Black and Ricochet after all they have done lately to be in a Tag Team Championship Match at WrestleMania is extraordinary.  There were lots of blind tags and tons of back and forth.  Every team got some time in control.  Highlight early on were some sick exchanges with Cesaro and Ricochet.  The Bar shined and got control momentarily.  Cesaro torqued back with a textbook Sharpshooter but it was broken up.  Again it was anyone's match.  Rusev destroyed Ricochet just manhandling him.  Somehow after a giant full on slam off the top involving everyone in the match, Ricochet from atop the group rolled out unscathed.  Ricochet hit a "630" on Sheamus but was broken up by everyone!  Everyone then took each other out with their respective kicks to the face.   Sheamus was standing tall until the Usos Superkicked the life out of him.  The Usos then hit a game changing Double Splash on Sheamus for the victory, retaining the SmackDown Live Tag Team Championships!  This was unexpected but what a strong Good match no matter your feelings of the Winning team.          
Falls Count Anywhere Match- The Miz vs. "The Greatest in the World" Shane McMahon
The Best in the World Shane McMahon no matter what happens is going to be doing some stunts that will make you question his sanity.  This heel Shane is playing is over the top here which is actually both effective and warranted.  The Miz who never is a babyface is has the crowd behind him.  His Father front and center, Miz is here to kill it.  There is some Good heat here and can and will happen.  Things started off shaky.  Shane throwing horrible strikes that rarely connected and looked cheap.  After the initial cat and mouse it went downhill.  Shane beat down Miz most of the beginning mostly kicks and strikes.  After Shane got going things looked a lot stiffer and a lot better.  Shane got Miz on an announce table and Shane got on the top.  Miz's Father blocked between them but Shane changed his mind.  Shane invited Miz's Father into the Match who then entered the ring.  Things went from Bad to Worse here as everything involving Miz's Father looked terrible and was just cringe worthy.  The Miz came in hot though and picked things up.  However Miz then tended to his Dad instead of continuing the fight.  This is just weird and awkward.  Miz then kicked it back up again taking the fight back into the audience right after Shane.  Miz wiped the floor with McMahon, using all the space he could find to punish Shane.  The action picked up as well as the overall feel of the match.  Shane and Miz were doing fantastic raising the bar.  They were warmed up and things went crazy.  Shane was taking huge bumps getting killed by the Miz.  Shane would manage to kick out though and continue to fight with the Miz.  Here we go, Shane climbing camera platforms and getting ready for chaos.  Shane was cornered with nowhere to go beaten down, begging.  Miz took it farther Superplexing Shane off a high up platform through a stage.  This was the big finale, as Shane was on top of Miz as a result of the Extreme Superplex, and Shane got the 3 count without even knowing it.  This was a strong finish with insane action that over came after a horrible start.  The ending was very Good though therefore, another one for the Good column.   
Women's Tag Team Championships- Sasha Banks and Bayley (C) vs. IIconics vs. Beth Phoenix and Natalya w/ Bret The Hitman Hart vs. Nia Jax and Tamina Snuka
The IIconics gear, Wow!  Besides that everyone looked ready!  This is a very big match and very important to the Women's Division.  Big shoutout to the genius work the Mikaze did on Banks and Bayley's gear also it looks fantastic.  The common enemies here were Tamina and Nia Jax which was a Good strategy as they are the powerful team of the group.  The IIconics were iconic and showed the world that they are game for the big show as much as anyone.  Both Royce and Kay did very well and showed a ton of poise on the grand stage.  With the Gold on the line, there were frequent tags and tons of combinations of talent going at it.  It was non-stop and plentiful action.  Natalya pulled off a Double Sharpshooter on the Tag Champs but got dropped by Tamina.  Jax and Snuka back in it pulverized their opponents.  The Glamazon was taken out quickly and the IIconics followed.  Last was the Tag Team Champions Boss N Hug.  Tamina and Nia Jax looked to finish the job but it was broken up by Beth Phoenix.  After resting a moment Banks and Bayley looked like they had the win but Phoenix kicked out and proved hard to beat.  Phoenix grabbed up Bayley and hit a Glam Slam off the top, but The IIconics jumped in, dropped out Beth Phoenix and stole the 3 count.  The IIconics Win the Tag Team Championships!  This was awesome!  Congrats to the IIconics on a great match and a huge achievement.  Your new Women's Tag Team Champions the IIconics!       
WWE Championship Match- Daniel Bryan (C) w/ Rowan vs. Kofi Kingston w/ New Day
New Day showed up correctly for the Big Night for their friend and brother Kofi Kingston.  Daniel Bryan at the ready to defend his Eco-Friendly Title.  Kofi had the whole world behind him and fully confident he was walking out the Champ.  This was a classic, well done technical match with a ton of action.  Both men showed their guts and strengths to achieve clinic like offense.  Kofi came out with some unique big moves to gain advantage but Daniel Bryan killed it as well.  Kofi took one to many risk crashing hard into an announce table opening the door for a painful beating by Daniel Bryan.  Bryan preyed on the hurt Kofi Kingston taking the dangerous Challenger down and out.  Kofi would not quit constantly fighting for his spot.  Daniel Bryan and Kofi Kingston fought to the point of exhaustion but still kept fighting.  Eventually strikes became a full on brawl then back and forth, with both guys almost scoring pinfalls.  It was constant counters the Challenger and Champion badly wanting to win.  Daniel Bryan calling for the Yes chant getting back full No's.  Kofi hit an SOS but got hit into the "LeBell Lock."  Kofi escaped but the damage was done.  Daniel Bryan did everything right but Kofi just was overwhelming.  Just as Rowan got involved New Day neutralized him.  Kofi had his chance but was smashed by the flying knee strike by Bryan but still managed to kick out.  Daniel Bryan viciously stomped Kofi's face into the mat.  Bryan locked in the LeBell Lock again but Kofi still managed to fight back.  Kofi hit the Trouble in Paradise and finally got the 3 count!  Kofi Kingston is your new WWE Champion at KofiMania!
United States Championship- Samoa Joe (C) vs. Rey Mysterio
This would be a nice touch to the career of Rey Mysterio but at what cost.  Samoa Joe will for sure be physically impossible to beat without taking a horrendous beating.  Mysterio has his hands for with Samoa Joe let alone at WrestleMania.  This is speed for brutal power.  Speaking of which after kicking the face right off Mysterio to start out, Mysterio didn't hold back and got him down quick. However Samoa Joe overpowered the smaller foe and locked in a match ending Coquina Clutch for the decisive, impressive victory absolutely squashing the Lucha legend.  Joe retains the US Title.  This was quick but no complaints, just kind of unnecessary and would have worked on the preshow.    
Roman Reigns vs. Drew McIntyre
Two guys skyrocketing to the top of the WWE food chain and absolutely similar in roles.  These two big guys have to go through each other first to get there.  McIntyre has been on a tear and strongly gaining favor for his tremendous presence.  Roman Reigns is now a solid fan favorite and hero for his courageous fight for his life.  He now can focus on gaining his spot at the top again.  Either way this will be big and physical.  We will see pure power and brutality.  WWE spared no expense on pyro welcoming back Roman to his ring.  Classic big guys match no surprises but everything coming out right.  It looked sharp, control going back and forth.  McIntyre got the edge and went with it for a while wearing down the already tired Reigns.  Again though both men jocked for position.  After a huge slap to the face, Reigns went off going on a tear on McIntrye hitting move after move ending the series with a huge Spear for the Victory! 
ELIAS
Elias had a wonderful set up doing some really cool things going crazy on his guitar.  That is when magic happened.  A sick Babe Ruth video overshadowed the event followed by a GOAT in his own right, as "Basic Thuganomics" blasted over the speakers and John Cena "Ruthless Aggression" took center stage and overtook the entire show!  This was awesome, period!  Cena just announced that Elias rap style that he is about to turn heel and dis-tracked Elias completely burying him.  Cena hit a 5-Knuckle Shuffle into an AA (FU) before heading out.  Cena stole it with some "Ruthless Aggression" it was a great WrestleMania moment! 
No Holds Bar (HHH's Career Match)- HHH vs. Batista
Batista looked right at home like he never left, which is hard to do, especially on a stage like WrestleMania.  It was Good to see him prowling like an animal.  HHH showed up like only he knows how too.  He is The Game, the King of Kings, the Boss, he demands respect and will beat the ever loving hell out of you if he has too.  This got crazy violent.  HHH went bat shit crazy on Batista straight torturing him at times.  This was old school Game, HHH absolutely savage, even ripping Batista's nose ring out with pliers.  Batista is an Animal though and had some bad intentions of his own.  Batista had HHH beat but still HHH kept going, fighting for his career.  HHH got under Batista and Powerbombed him onto the steps in the ring, followed it up with a Pedigree, but Batista kicked out at two!  Ric Flair made a special delivery to HHH with a sledge hammer then taunted Batista before HHH hit him with a the SledgeHammer and a Pedigree for the extremely hard fought victory!         
Kurt Angle's Final Match- The Olympic Champion Kurt Angle vs. Baron Corbin
This is it, the end of an era.  My wife is from his hometown and has met him many times.  Kurt Angle the class act from Pittsburgh is bidding farewell on the grandest stage.  Corbin beat Angle down, the crowd was silent at times.  Corbin managed to come back every time Angle got some momentum.  Corbin even hit a Deep 6 but only for a two count.  Corbin countered by kicking out of the Olympic Slam.  Angle then locked in the Ankle Lock but escaped before mocking John Cena and getting Germans again by Angle.  The crowd on their feet Angle climbed to the top but missed the Moonsault.  Corbin hit an End of Days and finished The Olympic Champion clean, ending his career with a loss.  Good Match, thank you Angle! 
Intercontinental Championship- Bobby Lashley (C) w/ Lio Rush vs. Demon Balor
Running low on time and the Demon in tow coming up for this, it is expected to be a short match.  Lashley has been so impressive since Lio Rush has been his hype man.  Lashley wasn't a mic man and it seems to have alleviated a ton of pressure letting him focus on dominating opponents.  However this isn't an opponent, it's a curse, The Demon has come for the Gold.  Lashley fought like a man possessed and didn't let the Demon control him.  The Demon however overpowered Lashley with a huge PowerBomb followed by a Coupe De Grace for the Victory!  The Demon Finn Balor is your 2 time Intercontinental Champion! 
"Winner Take All" WWE Women's SmackDown and Raw Championship- Ronda Rousey (C) vs. Becky Lynch vs. Charlotte Flair (C)
Here we go!  When the Man comes around you better be ready.  You bet the ladies brought the pain clubbing and slamming each other around.  Rousey took a sick bump to the outside from a slide by Becky Lynch.  Constant back and forth everyone trying to end the match quickly.  All three did everything they could do to win.  This was Rousey's best match by far.  She was focused and on point with her strikes and moves.  Charlotte and Becky teaming on here was a great touch.  Everyone was exhausted, out of breath, and beaten.  It didn't stop Charlotte from hitting a Spanish Fly on Becky Lynch for a two count.  Flair got the figure 8 on Rousey until Lynch missiled in breaking it up.  So many near falls here on out, Flair getting the most attempts and close calls.  They left it all out there.  With Charlotte knocked out of the ring, it was finally Lynch vs. Rousey.  Rousey destroyed Lynch but hurt and stumbled, Lynch rolled Rousey out of a Piper's Pit for the Win!  Becky Lynch is the Champion!  It is over!  What a WrestleMania, what an ending!  Great Show!    
BAD- No, almost flawless.  Clean, Good Show!  WrestleMania Worthy!
UGLY
Andre The Giant Memorial Battle Royal
This is a treat usually in a way because you see so much talent.  This time around however it was a mess.  Weak strikes, over the top literally, and a bit corny.  SNL Fame didn't help and in fact having them finally face off with Braun at the end was unforgiving.  This was just horribly ugly.  It's a shame.  It's not that Strowman won but some of the missed opportunities and rush job that this mess was overall.  A little early for the Ugly column already, the show hasn't even started yet. 
FINAL
Good- 17
Bad- 0
Ugly-1
OVERALL
WrestleMania was Good as hell!  This show delivered largely in part of the tremendous talent and momentum heading into the Biggest Night in Sports Entertainment.  The crowd was so hot and appreciated the tremendous spectacle that their favorite Superstars put on for them.  This was a spectacle and was tremendously successful.  What a WrestleMania.  This is such a special night and of course for all fans will always be a part of our lives and memories forever.  This was a Good WrestleMania and a Good night to be a Wrestling Fan!
There we have it and the World will move forward.  This was an historic night during an historic event.  So many big things and changes ahead.  Let the Good times roll!  Catch you on the next PPV for more Good, Bad and Ugly only on thechairshot.com. 
Greg DeMarco's Good, Bad, & Ugly: WWE Smackdown On FOX (November 3, 2023)
It's the go-home show for WWE Crown Jewel, and Smackdown is in full force! As is Greg's Good, Bad, & Ugly review!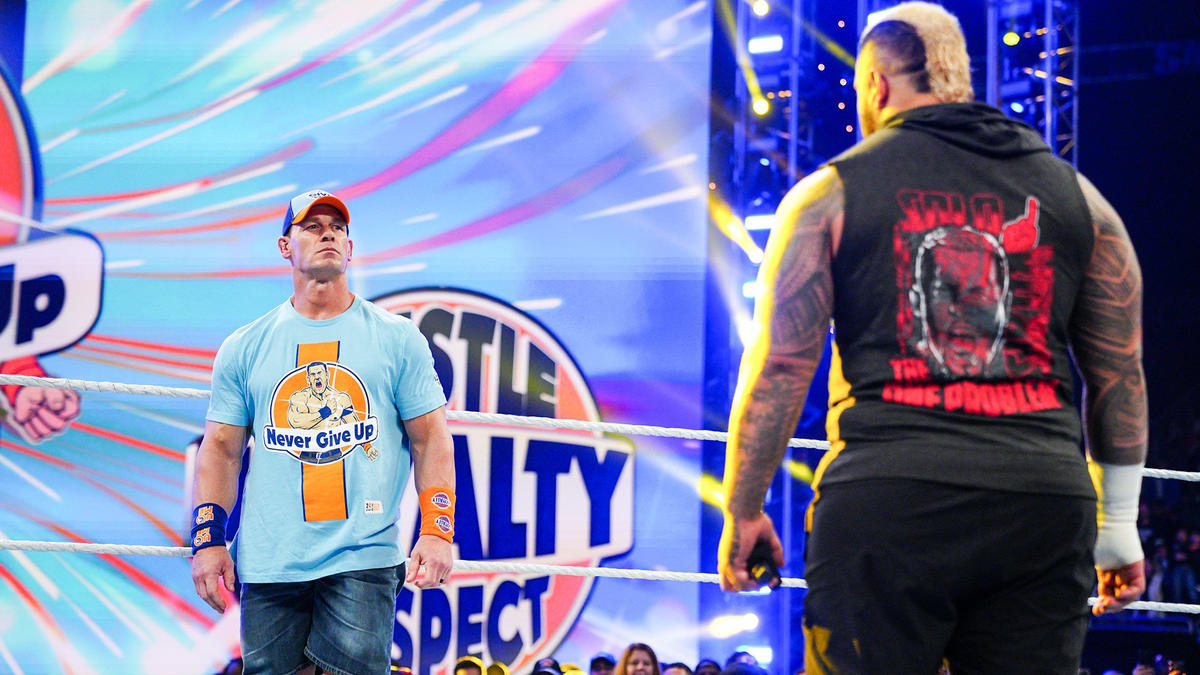 It's the go-home show for WWE Crown Jewel, and Smackdown is in full force! As is Greg's Good, Bad, & Ugly review!
WWE Smackdown On FOX sends us home for the Crown Jewel premium live event, so it has to be strong. But is it? Maybe it's Good. Possibly it's Bad? I sure hope it isn't Ugly.
Let's find out!
---
If you haven't checked out Mitchell's Results & Review for this episode of Smackdown, go and check it out now!
---
Good
Roman Reigns & LA Knight In Ring Promo – Last week LA Knight got the better of Roman, so it made sense for Roman to get it all back this week. And he did just that. "Redneck Cosplay of my cousin" was a fantastic line from Roman Reigns, but "I ain't here to finish something" from LA Knight got a bigger reaction from me. Roman calling himself the megastar was also a phenomenal line. Good stuff all around.
Kevin Owens vs. Austin Theory – Kevin Patrick keeping "The 150 million hit man" schtick going for Austin Theory is so great. Milk that for all it's worth! "What is your issue with Kevin Owens' face?" "LOOK AT IT, MAN!" Absolutely brilliant shit. "How's that feel, idiot?" Grayson Waller should be on commentary every week, for every match. And this match, by the way, was really good. Austin Theory has settled into his current role, showing he understands the WWE cycle. And Owens is Owens.
Backstage Series Of Events – We had the Bianca Belair interview where she was attacked by Damage Ctrl, followed by The Street Profits & Bobby Lashley running into Logan Paul and then B-Fab. Flowed well, no issues for me.
Chelsea Green & Piper Niven vs. Shotzi Blackheart & Charlotte Flair – No surprise that Charlotte Flair was the partner, and no surprise that Alba Fyre and Isla Dawn made an appearance. This was a perfectly fine TV match–didn't set the world on fire, but also wasn't Bad or Ugly. This was a step in this story, and an effective one.
The Brawling Brutes vs. Pretty Deadly in a Good Ol' Fashioned Donnybrook! – Shout out to Sheamus, whose return I look forward to seeing. With Ridge really coming into his own, we're to the point where all four of these guys range from good to great to fantastic on any given night. Putting Pretty Deadly into any "manly fight" is always guaranteed entertainment. Really, Pretty Deadly in anything is typically guaranteed entertainment. Pretty Deadly picking up the win was not a shock, although I'd have loved to see Butch and Ridge Holland pick up a win here. Given the rules (or lack thereof) of this match, Pretty Deadly basically won clean here.
Rey Mysterio vs. Logan Paul Crown Jewel Weigh-In – A very effective way to pretape something, which saves time as part of a double taping. It was essentially a go home promo, but done in a different way. I liked it. It also smoothly transitions into the rundown of the card by the commentary team, which I always appreciate.
Bianca Belair vs. Bayley – If you know me, you know that Bianca can be hit or miss for me. She can't "work with anyone," but she can definitely work with Bayley. Bayley, of course, is money with anything she does. Both women delivered a main event quality match, and no one should complain that Bianca Belair won. She's challenging for the Women's Championship in less than 24 canon hours, so she needs to win. Bayley is a made woman, losing here doesn't hurt her one bit.
"Just Enough Nick" Nick Aldis Usage – Triple H has done an amazing job of establishing Nick Aldis. Three weeks in and he already "belongs." Much of that is attributed to how Aldis carries himself. But they are also using him to the right degree. It's not too much, but it's also not too little. Adam Pearce could miss two weeks of Raw and when he shows back up, it all makes sense. For Aldis, he needs to be very present, but not overbearing or "shoved down our throats." They have the right balance.
BAD
Solo Sikoa & John Cena In Ring Promo – John Cena, lost voice and all, completely buries Solo Sikoa. He "cooks" Solo, as promised. And, as Cena does, he makes Solo look like crap. Bargain Basement Tazz Rip Off? C'mon man, you're better than that. But here's the real problem: what happens if Solo loses? Cena made him look like a loser, and then proves that he is? Solo has to win this match. If he doesn't, and Cena is gone, then Solo is left out in the cold. And you don't want to do that to Solo Sikoa at this point of his career.
UGLY
Misstep for Theory – Referencing Halloween as if it hadn't already happened. You can edit this episode–c'mon, man!
Kevin Owens' Crotch Chop – C'mon, man! We're better than crotch chops in 2023.
The Verdict
Good – 8
Bad – 1
Ugly – 2
In all honesty this was a damn good show. Milwaukee showed out considering they'd already seen 2 hours of Smackdown before this was taped. Good on them, and good on WWE for a great go home show for Crown Jewel.
Interesting of note – the pictures for this show that are posted to the WWE website are uploaded in the order the matches and segments were recorded, not the order in which they aired. Just a little tidbit that I found interesting.
Greg DeMarco's Wrestling Ratings Report: Monday Night Raw (10/30/2023) & WWE NXT (10/31/2023)
Greg DeMarco takes a look at your Monday and Tuesday night TV ratings. What do they mean? Do they matter?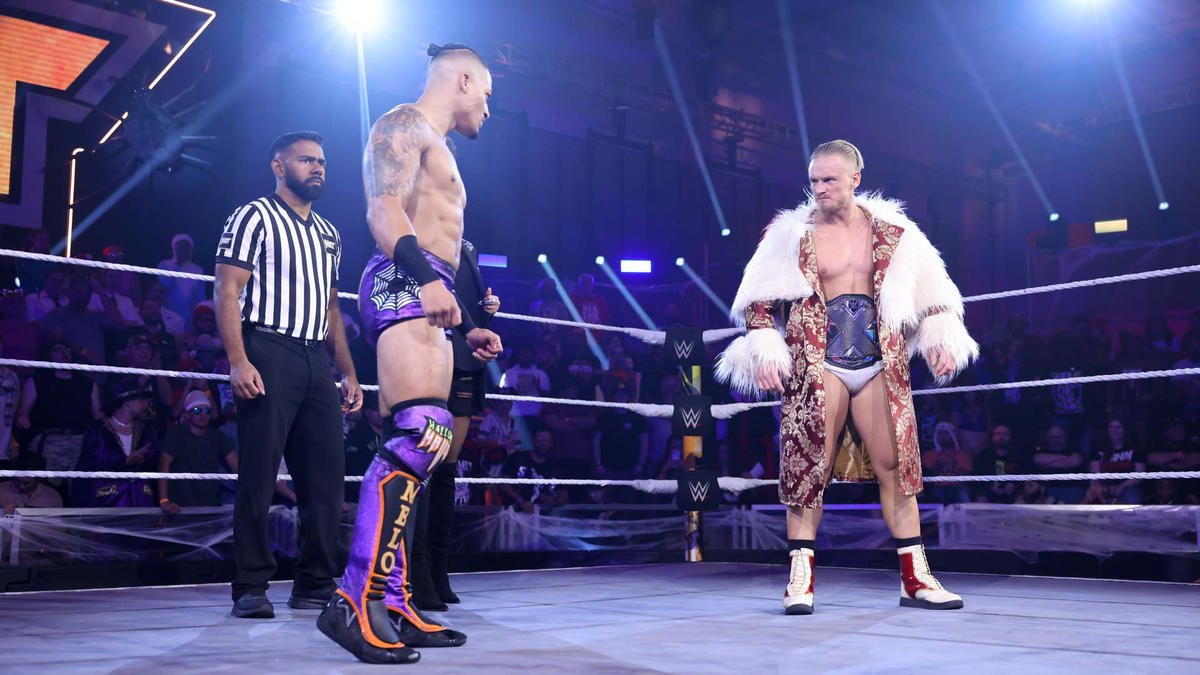 Greg DeMarco takes a look at your Monday and Tuesday night TV ratings. What do they mean? Do they matter?
Settle in for a look at this week's ratings for WWE Monday Night Raw and WWE NXT Halloween Havoc Night 2! Both were up against some stiff competition–let's see how they fared!
WWE Monday Night Raw (October 30, 2023)
Hour #1 – 1.466 million viewers, .44 demo rating, #6 for the night on cable
Hour #2 – 1.450 million viewers, .46 demo rating #5 for the night on cable
Hour #3 – 1.256 million viewers, .39 demo rating, #8 for the night on cable
WWE Monday Night Raw for October 30, 2023 faced some stiff competition on Monday night. You had Monday Night Football as normal–which aired on both ESPN and ABC–along with the usual peripheral shows (Monday Night Football Postgame, Monday Night Football Kickoff, SportsCenter, and the Monday Night Countdown, which factored into the Top 10). 6.851 million people watched Monday Night Football on ESPN, a number that more than doubles when you factor in ABC.
What does it all mean? It means that outside of Monday Night Football–on cable–WWE Monday Night Raw was the top rated show. If you take away all things NFL, Raw finishes #1, #2, and #3 for the night. Viewership did drop off for our 3, but that's the 10 PM hour that sees kids go to bed and people checking on the Monday Night Football and World Series games.
Speaking of which, that's another factor to consider–the World Series! 8.126 million people watched the World Series on FOX (not really that good), with another 8.356 million watching Monday Night Football on ABC (yes, more than the World Series) for a decent-at-best Lions vs Raiders match-up.
In summary, it was another successful night for WWE Monday Night Raw, which was the go-home edition of the program. You can check out my Good Bad & Ugly look at Monday's Raw, where I gave the show an overall "Good" rating. Haven't watched yet? Give Mitchell's live coverage a read.
---
Listen to this week's edition of Bandwagon Nerds!
---
WWE NXT Halloween Havoc Night 2 (October 31, 2023)
Entire Broadcast – 674 thousand viewers, .20 demo rating, #6 for the night on cable
WWE NXT (Halloween Havoc Night 2) for October 31, 2023, had to deal with a myriad of external factors this week. First is the most obvious–it was Halloween! Many people had plans, Trick-Or-Treat escapades and more. That right there will be a detriment to any ratings results. Add in two live NBA games, each drawing over a million viewers for TNT. Combine it all together and WWE NXT was the top rated program that wasn't sports programming on TNT or ESPN. Hell, the entire Top 12 consisted of ESPN and TNT sports programming, plus NXT.
It's easy to call this a failure since viewership was lost week over week. But that's very shortsighted. The fact remains that NXT was among the most watched programming for the night, holding its own against live sports and sports-peripheral programming.  If you're WWE and USA Network, you're nothing but happy with these results.
NXT, of course, featured the second week of Halloween Havoc, headlined by Ilja Dragunov defending the NXT Championship against Carmelo Hayes in the third match of their trilogy. Along with that you had The Creed Brothers in a Tables, Ladders, and Scares (Chairs) match with Angel Garza & Humberto Carrillo, Lola Vice vs. Kelani Jordan in the finals of the Women's Breakout Tournament, and much more.
I'd call the Tuesday program a ratings success. My Good, Bad, & Ugly review of NXT Halloween Havoc Night 2 is available here, where I called it "Good" overall. If you haven't seen the show yet, check out Mitchell's play-by-play.
As the weeks roll on, I will compile some historical data and look more about week-over-week (and beyond) patterns in all of my ratings reports.