Why WWE WrestleMania 34 Doesn't Need Shane McMahon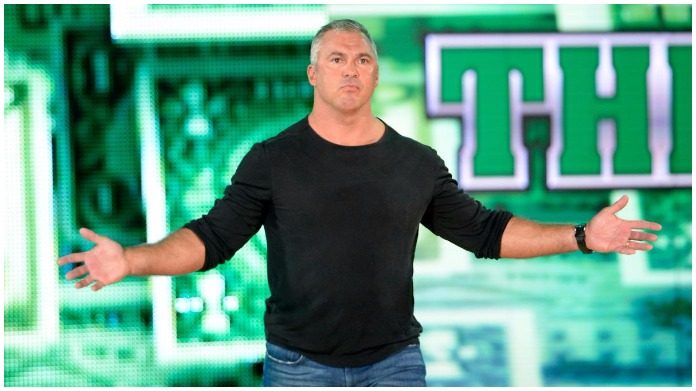 Cast your mind back to early 2016. Vince McMahon stood in the ring with daughter Stephanie as she went to receive the first ever Vince McMahon Legacy of Excellence award, when suddenly… HERE COMES THE MONEY! Shane O' Mac was back! The prodigal son had finally come home, and it was such a fantastic moment because it was a genuine surprise which we see very few of these days.  It became clear almost straight away it was pretty much a given that he would be competing at WrestleMania that year considering the storyline of RAW v SDLive, and it was widely accepted by the fans who remembered his great feuds from back in the day, but unfortunately the reality has been something very different altogether.
What we were given just a few short months into his return was a quite horrible Hell in A Cell match against The Undertaker. It was boring, largely uneventful and just plain uninteresting aside from Shane's inevitable trademark leap from the giant structure. It was an encounter which sadly failed to live up the substantial hype generated in the build-up, and it sadly just added even more fuel to the fire in terms of the 'when will they let Taker retire?' discussions. Taker deserved better than this.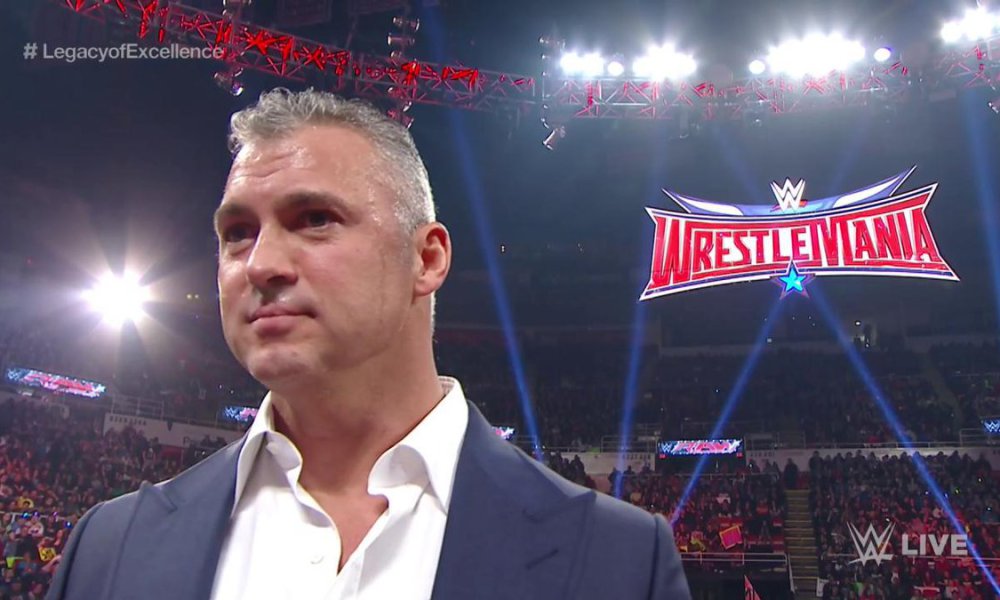 Shane then actually managed to redeem himself by having a great feud and incredible match against AJ Styles. That really should've been it, going out on a high and all that, but WWE have a long history of not knowing when to quit. We were given yet another unnecessary feud, this time against Kevin Owens as retribution for KO's disrespect for the McMahon family. Owens is one of the best performers in WWE today, but even he was unable to coax a good match out of Shane, and their Hell in A Cell encounter was average at best and once again saved by a predictable leap off the top of the cell, this time with Sami Zayn's unexpected heel turn adding to the drama. The clever thing to do would have been move KO to RAW and have HHH seek the revenge instead as that could've led to a half decent match. But no, not while Shane is around with an ego to stroke.
As much as I dislike Shane I must take time to admit that he has been worth his weight in gold to the company since returning. The WWE Universe love nothing more than nostalgia, so every time Shane finds himself in another feud the fans inevitably get fully behind him. The matches themselves were poor, except for the Styles clash (pun intended), but I'll give Shane credit where its due because he always has the other guy going over. He is the polar opposite of HHH, as much as he wants to be centre of attention he doesn't do it at the expense of more talented guys and will happily do the honours. This raises one question though… if he isn't going to win a major feud at some point, is his presence in the ring really needed at all? Styles, Owens, Zayn and Taker are all big enough to not need Shane to put them over, so we didn't really gain anything from these programs.
While he may not be overshadowing the talent in the ring, the thing which bothers me the most is how much more deserving guys are losing spots to him in the first place. We've only recently seen pushes for the likes of Zayn and Rusev who should've been in much more lucrative positions over the last two years but have missed out on opportunities despite being on a show which openly prides itself on handing those out to anyone deserving. We are getting to a point now where we quite literally see more of Shane and Daniel Bryan on TV than we do of the WWE Champion AJ Styles, which is an absolute catastrophe.
The worrying thing is we know exactly what WWE are aiming towards in the long game, and it just doesn't need to happen. The animosity between Shane and Bryan is quite clearly suggesting and teasing that a match will take place between them at Mania, and as much as we all want to see D-Bry back in action there are MUCH better opponents for him than Shane. A feud with KO makes sense considering the current storyline, as does the long-running rivalry with The Miz (hinted at again at RAW 25) coming full circle. Shane would do a huge disservice to Bryan, one of the most gifted technical wrestlers of his generation and would dampen the effect of the WWE Universe's hero returning. To put it simply there is absolutely no need for him to compete at this year's event.
That match is unfortunately the only one which makes sense for Shane to be a part of, but his feuds are having less and less appeal every time, so it would be hard to see how this would in any way deliver the fans expectations. The return of Bryan would be hands down the greatest WWE return of all time and should be treated as the most important match of the whole show, so a performer as talented as Bryan himself is the only way to go. The fact we have seen a lot less of Shane in recent weeks could be a good sign leading into Mania season and when you consider the potential strength of the card this time around it becomes even more clear that he just isn't required anymore.
We already have AJ v Shinsuke Nakamura confirmed, Brock Lesnar v Roman Reigns guaranteed, Ronda Rousey likely entered into a Women's Championship match, the potential for John Cena vs The Undertaker… does anyone really want to see a sad, ageing guy in a baseball jersey throwing poorly acted punches, getting tuckered out within 5 minutes and falling off tall things when we could have one more dream match on the card? With so many guys coming off the back of great 2017's and even better starts to 2018, Shane's spot could be going to a potential champion, a crowd favourite or someone capable of a 5 star match. We still have the likes of Braun Strowman, Elias, The Miz, Samoa Joe, Sami Zayn, Finn Balor, Baron Corbin and a whole host of amazing NXT talent who need something to do on The Grandest Stage of Them All.
Shane. We will forever be grateful for the memories and entertainment you have provided over the years, but its time to step aside. WrestleMania is bigger than you.
Greg DeMarco's 2023 WWE SummerSlam Review
The biggest party of the summer comes to Detroit, when WWE SummerSlam 2023 delivers an action packed event that easily exceeds expectations.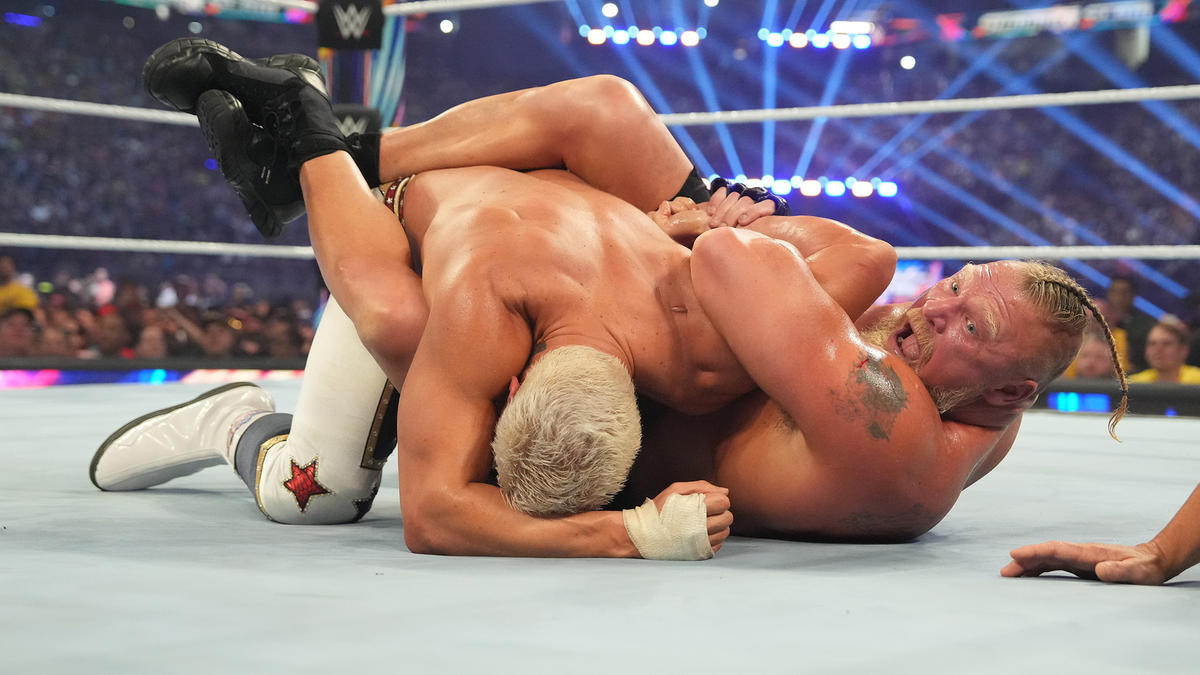 The biggest party of the summer comes to Detroit, when WWE SummerSlam 2023 delivers an action packed event that easily exceeds expectations.
WWE presents SummerSlam 2023 live from ford field in Detroit in front of over 59k fans–who provided an electric atmosphere. Overall the card featured either matches, many of them delivering at or above expectations.
Read on for my thoughts, and even some ratings!
How I am rating segments:
I am using "The Line of DeMarco-cation," which is for entertainment. the line is if I was entertained. You can have three main results:
ABOVE the Line of DeMarco-cation
AT the Line of DeMarco-cation
BELOW the Line of DeMarco-cation
If necessary, i reserve the right to go WAY ABOVE or WAY BELOW. Significant segments can be rated. individual and overall ratings are totally subjective.
It's simple: ENTERTAIN ME!
Logan Paul vs. Ricochet
Welcome to the biggest match of Ricochet's career.
Samantha Irvin's outfit matches Logan Paul, not Ricochet — SWERVE, BRO!
Ricochet is a star, and I love seeing him treated like one.
Rocket Mortgage is donating $5k for every move off the top rope? This match alone might accumulate half a million.
I know Logan Paul needs to catch a private jet to Dallas and that's why this is on first, but this is the perfect opener.
If you didn't know who Logan Paul was, you'd think he was just another member of the roster–and that's the biggest compliment you can give to him. He's a damn good heel, too.
Paul using Braun Strowman's powerslam–will we get Logan vs Braun?
LOGAN MUST POSE!
SPANISH FLY STICK THE LANDING.
This might be the best match either have had in a LONG time.
Logan Paul just hit a Buckshot Lariat over the top rope and to the floor. Sorry Hangman.
I love that refs continue to have names – like former Greg DeMarco Show guest Eddie Orengo (as El Bandido Jr).
I'd love to know Ricochet's powerlifting numbers. Dude is deceptively strong.
Logan Paul flew two-thirds of the way across the ring on the Springboard Froggy Splash
This match is spotty–yes–but watch and learn Young Bucks. They are strung together by psychology and it all makes sense,
LOVE that finish. Logan Paul wins (as expected), but Ricochet is protected.
Think about that – RICOCHET IS PROTECTED.
Hell of a match.
Winner: Logan Paul (pinfall brass knucks shot)
WAY ABOVE The Line Of DeMarco-cation.
Brock Lesnar vs. Cody Rhodes
That video package–amazing. It likely telegraphed Cody's win, but I don't think many expect Cody to lose.
I love when people question Brock's presence. Did you hear that pop?
Cody got a hell of a pop, too.
You can tell how much Brock Lesnar respects Cody Rhodes, as he opens up the arsenal for him.
I love that Brock simply stands center ring as the ref counts Cody out. Brock wants to win–doesn't care how. That's a little detail that shows how brilliant of a character Brock Lesnar is.
This is the fifth time Brock has gone for the count-out–and I love the psychology.
Now Brock does care how he wins–he wants to break Cody's will.
Wait, is this Cody Rhodes' mystery twin brother Cory Rhodes?
That top rope Cody Cutter was fantastic.
Not sure when Brock's shorts got ripped, but it adds to this fight.
That's what this is, a fight. And that is Brock Lesnar at his finest.
It might have been a happy accident, but Cody's hand bouncing off the bottom rope before he finally grabs it to break the Kimura is another amazing little thing.
Brock is so slow and methodical, but snatches people up for the F5 in a flash. So good.
Cody Rhodes wins, after THREE Cross Rhodes. Good shit.
Interesting that the show of respect from Brock to Cody is considered Cody's arrival.
Or maybe it's just the arrival of "The American Nightmare."
I will be very interested–as will all of you–to see what's next for both men.
Winner: Cody Rhodes (pinfall, three Cross Rhodes)
WAY ABOVE The Line Of DeMarco-cation.
NOTE: Very interesting that Roman Reigns was featured in the PayBack promo, as well as Logan Paul. I wouldn't expect either to be on that card.
Slim Jim SummerSlam Battle Royal
I have to admit, it just feels right to have Slim Jim back in my wrestling.
This better be good since it cost us Becky Lynch vs. Trish Stratus.
I hope Sheamus got a full entrance for the crowd.
Oh look, Omos still works here!
Chad Gable is so damn good.
Austin Theory is in this match? And didn't get an entrance?
At WrestleMania 30, Big E was in the Andre The Royal Giant Memorial Battle Rumble, didn't get an entrance, and didn't even get to carry his Intercontinental Champion. And I don't even think his elimination was mentioned by commentary (I'd have to go back and check).
Santos Escobar eliminating Austin Theory at least makes sense.
LA Knight barely breathes and the crowd gets ELECTRIC.
I haven't made as many bullet points because this has actually been a really good battle royal!
I'd love to know who the agent was–fantastically done.
Winner: LA Knight (last eliminates Sheamus)
AT The Line Of DeMarco-cation.
MMA Rules Match – Ronda Rousey vs. Shayna Baszler
Some of the shots during the entrance make me want WWE to get rid of stages altogether, and stick with this type of entrance.
Also, it's a reminder that I hate major wrestling events in daylight.
This being an MMA Rules Match seems to be a missed opportunity at having a special guest referee.
The fans DO NOT CARE About this match, and I see why.
I am all for Ronda being able to go out how she wants to go out, and the talent pushing their own idea forward. But sometimes, you gotta say no.
Some matches also play much better in an arena instead of a stadium (Ronda Rousey vs. Charlotte Flair from WrestleMania comes to mind). This is one of those matches.
Whenever NXT had an "unsanctioned match," the ref wore all black. That's what we should have done here.
Now we have doctors checking on Shayna? Really? I know we want to put over how tough she is, but…..
The crowd pops out of relief when it's over.
Do this on Raw, not here. Give Becky and Trish this spot.
Winner: Shayna Baszler (technical submission, Kirifuda Clutch)
BELOW The Line Of DeMarco-cation.
Intercontinental Championship: Drew McIntyre vs. GUNTHER (c) 
My Peacock membership doesn't let me see the video package here, and I am fine with that–it's been a while since I've seen that AFLAC Duck, though.
Ludwig Kaiser must love doing the entrance, but honestly the act might be getting stale?
Corey Graves very poetic in pointing out that "records are meant to be broken." That's one of the core values of WWE at this point.
It does appear GUNTHER will be going it alone tonight as Kaiser and Giovanni Vinci are headed to the back. Let's see if they stay there.
Interesting placement for this match, right after the ill-received MMA Rules Match.
Didn't the internet tell us Seth Rollins vs Finn Balor was going on fourth?
Btw, this match is brought to you by Rocket Mortgage. Money talks, BAYBAY!
GUNTHER truly lives the "Ring General" gimmick.
As the match progresses, I honestly can't see Drew winning here.
The simplicity of the finishing sequence really adds to GUNTHER: top rope slap fest, McIntyre crotched on the ropes, splash, lariat, powerbomb. Nothing fancy–trademark GUNTHER.
Winner, #ANDSTILL the Intercontinental Champion: GUNTHER (pinfall, powerbomb)
ABOVE The Line Of DeMarco-cation.
World Heavyweight Championship: Finn Balor vs. Seth "Freakin'" Rollins (c) 
I presume we will get a bunch of Judgment Day shenanigans here, but I really needed Seth to go on last to further establish his championship. Instead, we are smack in the middle of the event (according to the Peacock slider, anyways)
Seth Rollins' entrance + 58k people = a beautiful sight
The worst thing about this, to me, will be when Balor and Rollins are partners after Balor turns babyface.
Love Rollins tossing the vest at Balor.
Love the more unique start to the match.
Interesting that Rollins, with a win, moves to 5th all time for SummerSlam wins? I had no clue! Mr. SummerSlam anyone?
We keep naming refs, and I love it,
If you want an "inside look" at a match, start paying really close attention for a few minutes starting with the triplicate of dives from Seth Rollins. You'll see a few things that the cameras picked up.
LOVE LOVE LOVE the Buckle Bomb into the barrier from Balor to Rollins. Should have known they'd do that, but it never crossed my mind. Brilliant.
Decent amount of overlap in the offense of this match and the one prior–in hindsight, they may have wanted to put GUNTHER/McIntyre on before Rousey/Baszler.
Fans boo'd the crap out of Damian Priest when he came down–but popped like hell for Dominik Mysterio and Rhea Ripley.
I really enjoyed the story told with the Judgment Day. When Priest called for the briefcase to be used, it would have worked. When Balor called for it, it wasn't going to work, and Damian Priest knew it. But he let Finn Balor sink himself anyway. That will definitely play again later when they fully implode.
Winner AND STILL World Heavyweight Champion: Seth Freakin' Rollins (pinfall, Stomp on the Money In The Bank Briefcase)
WAY ABOVE The Line Of DeMarco-cation.
WWE Women's Championship: Charlotte Flair vs. Asuka (c) Bianca Belair
Very odd having Asuka enter second.
Charlotte Flair with the ode to Becky Lynch at WrestleMania 35 (IYKYK)
Did I miss the C4 ad read? I saw that Bianca Belair entered with some, which made me thing THAT was why she came in last, and now the C4 branding is around the ring, but no real mention? Or did I miss it? Was it only for Peacock Premium subscribers?
Very choppy match so far–and Charlotte has to basically stop the match to have Jessika Carr fix her outfit, leaving Belair and Asuka in the corner waiting until Asuka realized what was happening and tried to cover. The Double Natural Selection that followed was quite clunky.
Bianca nowhere near Charlotte Flair when the moonsault hit–is Bianca really that good? I seem to ask myself this during every big time Bianca match, dating back to WrestleMania 37 when I felt like Sasha Banks had to carry her.
I find myself wanting to fast forward to the finish, here. I'm not, but I kinda want to.
ANOTHER REF NAMED! Thank you, Michael Cole.
If IYO SKY cashes in here (which is easy to expect), I really hope it's not right after Charlotte wins, getting her to #15. Granted, she could cash in DURING the match and make it a 4-way. But of everyone, I think Charlotte needs to eat the pin tonight.
We have now had medical personnel tending to one of the participants in the middle of each women's match tonight–first Shayna Baszler, now Bianca Belair. Seems like a misstep on someone's part.
Bianca with the heroic comeback, and a beautiful 450 Splash on Charlotte during the Figure Eight.
Charlotte gets misted but Bianca gets the pin???
Makes sense if we do the cash in here. as Bianca is hurt.
Winner, AND NEW WWE Women's Champion: Bianca Belair (pinfall, small package)
Aaaaaaaand here comes IYO SKY.
I love Corey Graves telling Bianca to get the hell out of dodge.
IYO and Bayley take out everyone, and she is indeed cashing in.
Over The Moonsault, new champion, and the crowd goes nuts. Women's Money In The Bank briefcase is still undefeated.
Nice World Of Stardom reference by Michael Cole, too.
Winner, AND NEW WWE Women's Champion: IYO SKY (CMITB cash-in, pinfall, Over The Moonsault)
AT The Line Of DeMarco-cation.
There were some rough spots, but the cash in saved it for me.
Undisputed WWE Universal Championship Match: Jey Uso vs. Roman Reigns (c) with Paul Heyman
I am timing this from the second Jey Uso's theme hits through the end.
Man, Mike Rome is on one, and I am not sure if that's a good thing. He doesn't sound as fantastic as he usually does.
12:34 from Jey's music hitting to the bell ringing.
Roman is so slow and methodical, I don't know if he realized Jey was going to dive so soon. Jey connected with Roman's back, but that could have been really really bad.
I know this is Tribal Combat, but given the use of stairs earlier tonight, we might as well consider the stairs legal.
You know it's an important match when Roman Reigns hits The Drive By, as he did on Jey Uso.
Table, Kendo Stick, and more early.
Jey clotheslining Roman over the top rope (with the Kendo Stick) and hitting the dive makes me think Jey got slightly lost earlier when he did the dive to a kneeling Roman's back.
That was a MASSIVE powerbomb onto the chairs!
35 minutes in (remember, since the start of Jey's entrance, so 23 minutes into the match) and this is definitely just a touch slow. The story is amazing, so that's my only complaint so far.
I have to wonder if Roman knew he was bleeding when he hopped the barricade to go into the crowd.
Aaaaaaaaaaaand here's Solo Sikoa. That should surprise no one. We gotta get the whole family involved, right? At least the whole Bloodline.
Solo declining to help Roman up might be starting Solo's arc in the story, but it wasn't apparent enough and commentary had to fill in the blanks.
50:22 since Jey's entrance is the point where Jimmy shows up (pulling Jey out of the ring).
Jimmy hits the Superkick and leaves.
Spear through the table that was set-up about a week ago and Roman Reigns pins Jey Uso at 52:09 (from th estart of Jey's entrance).
Winner AND STILL Undisputed WWE Universal Champion: Roman Reigns (pinfall, spear through the table)
AT The Line Of DeMarco-cation.
"At" might surprise you, but this was WAY too slow. Bell-to-bell it was roughly 40 minutes, and that was about 10 minutes too long. But the story is worth it in the end.
WWE SummerSlam 2023
Total Matches: 8
ABOVE the Line of DeMarco-cation – 4 matches (3 WAY ABOVE)
AT the Line of DeMarco-cation – 3 matches
BELOW the Line of DeMarco-cation – 1 match
One "bad" match and seven "good ones, four of those I'd call "great." Three of the great ones I labeled as "WAY ABOVE" the line, which easily makes up for one match that was lacking. Hell, when even the Battle Royal is good, you know you watched a damn good show.
Overall Rating for WWE SummerSlam 2023: 9/10
Let me know your thoughts! Drop a comment and tell me your ratings, and what you think of the Line Of DeMarco-cation.
King's WrestleMania Rewind: Charlotte Flair vs. Asuka from WrestleMania 34
Chris king is back with one of the most underrated matches in WrestleMania history–Charlotte Flair vs. Asuka!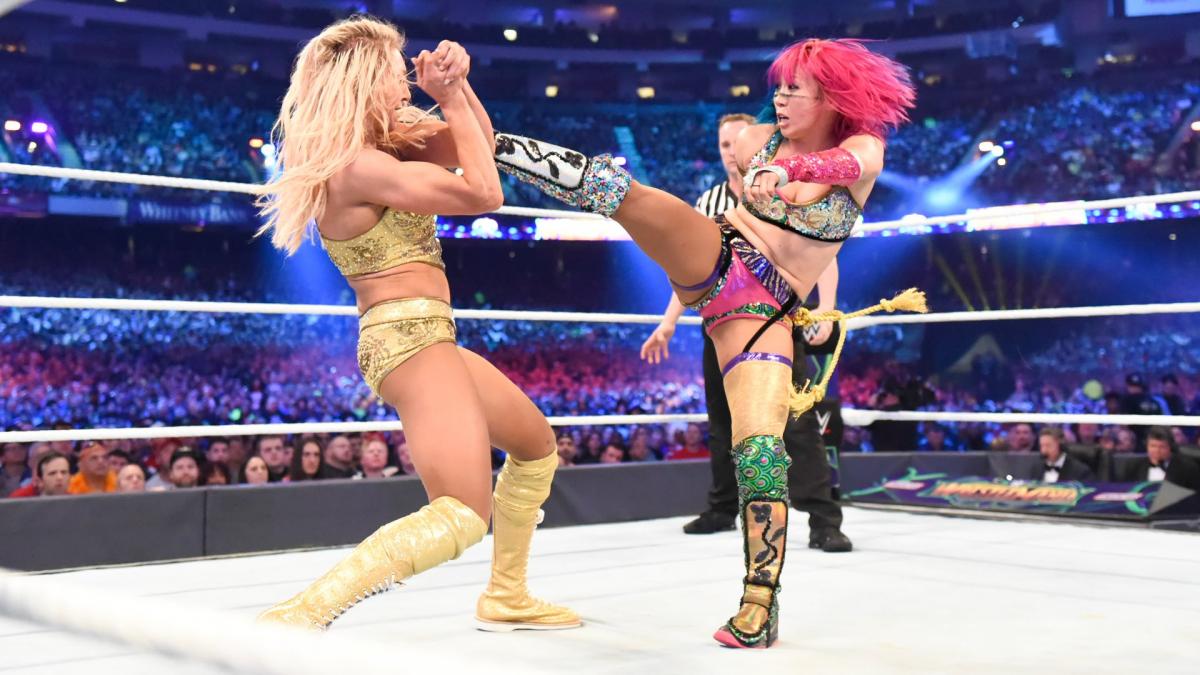 Chris king is back with one of the most underrated matches in WrestleMania history–Charlotte Flair vs. Asuka!
We look back at Charlotte Flair vs. Asuka at WWE WrestleMania 34. 'The Empress of Tomorrow' put her unprecedented and historic undefeated streak of 914 days on the line against 'The Queen's' SmackDown Women's Championship.
For years, this was considered a dream match while Asuka dominated the roster in NXT, while Flair won numerous championships on the main roster on both Raw and SmackDown. The Empress made her long-awaited debut on the September 11th episode of Raw and began to tear through the competition.
Asuka outlasted all twenty-nine other women in the historic first-ever Women's Royal Rumble match to challenge for the title of her choosing. At Fastlane, she made her choice.
The WWE Universe was so excited for this match myself included. Both superstars delivered a fantastic performance on the Grandest Stage of Them All executing counter after counter. Asuka showed off some nasty-looking kicks to her opponent, and Flair hit a thunderous Spanish Fly off the top rope. Flair was seconds away from defeat at the hands of The Empress but she locked in Figure Eight and Asuka was forced to tap out.
I can't even begin to explain how shocked I was at this outcome, as nearly everyone expected The Empress to continue her undefeated streak and walk away with the women's title. This controversial decision was the downfall of Asuka's momentum. She would ultimately win the SmackDown Women's Championship at the 2018 TLC pay-per-view in the triple-threat ladder match.
Fast forward to this year when Asuka has recently returned with her Japanese-inspired persona Kana. Kana is dangerous and ruthless and is heading into a championship with Bianca Belair at WrestleMania 39. The Empress has regained all her momentum and is highly favored to walk away with the Raw Women's Championship. Let's hope that Asuka and Belair can tear the house down and deliver an A+ grade match both women are fully capable of.