AAA's Review & Results 6/16/2019
Joe brings us AAA updates! Big matches! The Young Bucks defend the Tag Titles!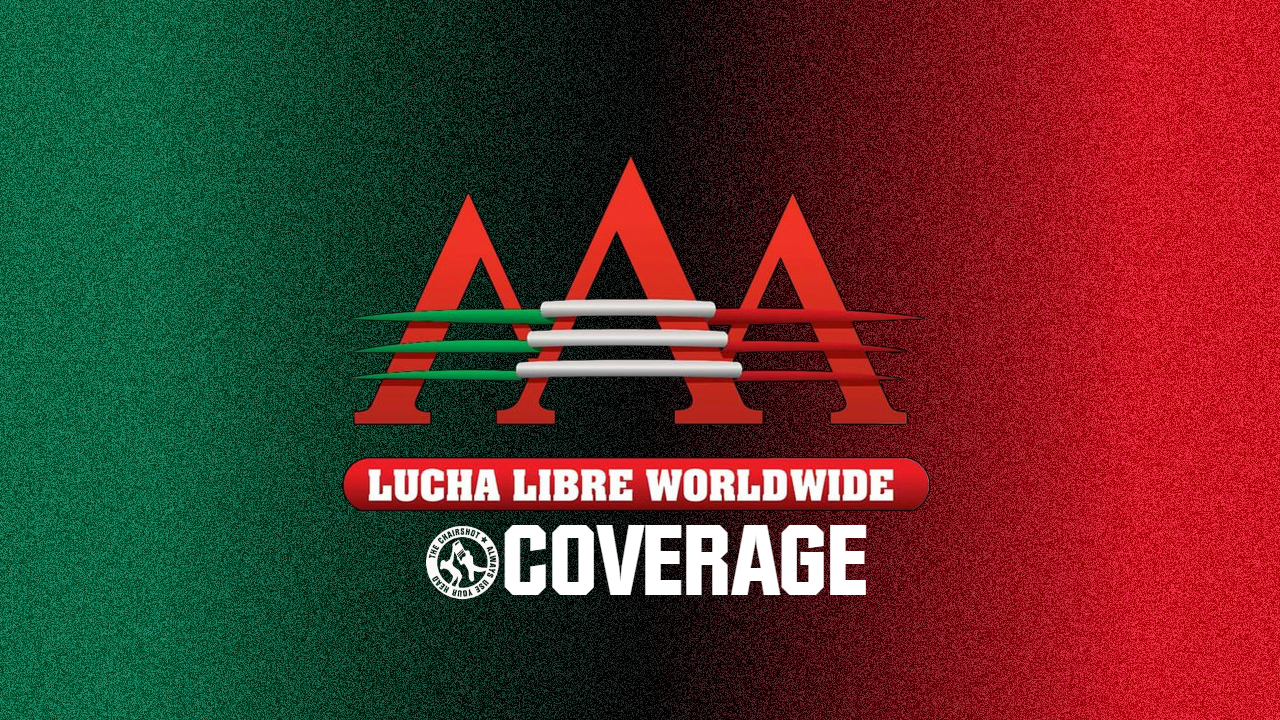 Joe brings us AAA updates! Big matches! The Young Bucks defend the Tag Titles!
Live on Twitch 6/15
Keyra and Hijo Del Tirantes vs Mamba and Maximo
This match wasn't even remotely advertised. Well a cookie sheet gets introduced really quickly by Tirantes. After getting beat on some Maximo hits a dive through the middle rope. Nothing really happens for a few minutes. This is a really slow paced match. Mamba hits a power bomb on Keyra, reversing her hurricanrana. Tirantes tries to pretend he was fouled. Ref ain't having it. Tirantes argues with the ref, Maximo kisses him and then rolls him up for the win. Maximo pins Tirantes with a roll up
Winners: Mamba and Maximo
Dr. Wagner comes out for a promo talking about Silver King. Rey Escorpion comes out saying he doesn't care. Wagner pushes Rey and folks come out to beat him up but Pagano helps Wagner out.
Taya Valkyrie, Lady Shani, and Scarlett Bordeaux vs La Hiedra, Chik Tormenta, and Tessa Blanchard
Match starts out much quicker than the first thankfully. An array of trading moves. We get some normal back and forth action before it becomes a brawl again. Taya gets hit with a super kick, stunner, then a german suplex. Scarlett does a canadian destroyer on Tessa. Boy has that move been bastardized. Scarlett power bombs Tormenta but the pin gets broken up. Shani has a flurry on Hiedra and Tormenta and Scarlett hits a dive off of the top to the outside. Daga comes down and super kicks Taya and Tessa hook DDTs her for the win. Tessa pins Taya with a hook DDT
Winners: La Hiedra, Chik Tormenta, and Tessa Blanchard
Myzteziz Jr vs Puma King vs Sammy Guevara
A make shift triple threat match. Puma and Myzteziz tried to work on Sammy to start. This match is going at a crazy pace. Myzteziz hits a tornillo splash. Guevara hits one of his own. Myzteziz messes up a hurricanrana spot with Puma. There's some double team offense with Sammy and Puma. Puma hits an over the top rope dive. Puma counters Myzteziz on the top rope for a power bomb. Sammy comes and hits a shooting star press during the pin to break it up and pin Myzteziz. Sammy Guevara pins Myzteziz Jr with a shooting star press.
Killer Kross comes out. Kross kills Puma King with a kick. He hits a modified F5 on Myzteziz
Winner: Sammy Guevera
Daga vs Laredo Kid
There is a feel out process and then each postures to the crowd. They have some back and forth pinning exchanges and then Daga starts to work him over. Laredo Kid hits a middle rope dive but it hurts him more. Daga takes advantage. It's really a long casual back and forth. Tessa interferes when Laredo Kid has Daga beat. Laredo Kid goes for a top rope move and Daga low blows him and then double stomps the back of his head for the victory. There was a lot of posturing in this match. They try to remove Laredo Kid's mask and Taya comes to make the save. Daga pins Laredo Kid with a double stomp to the back of the head.
Winner: Daga
La Parka, Aerostar, and Hijo del Vikingo vs Chessman, Australian Suicide, and Monster Clown
The rudos quickly beat up on the tecnicos. This is pretty much a hardcore match. A trashcan gets introduced fairly early. Chessman brings a chair in. Vikingo uses his agility to gain the advantage on Chessman. Aerostar hits a tornillo splash and then makes Chessman miss an attack and hit Monster Clown. Aerostar climbs a structure which is legit like 25 feet off of the ground. Aerostar cannon balls off of it. What the hell. Suicide hits a piledriver on Vikingo for a close count. They go to the top rope and over rotate on a spanish fly. Vikingo gets crotched and dropped by Suicide. Suicide goes for a sideways shooting star but Vikingo gets the knees up. Vikingo hits an imploder 450 for the win. Hijo del Vikingo pins Australian Suicide with an imploder 450.
Winners: La Parka, Aerostar, and Hijo del Vikingo
Dr. Wagner Jr, Psycho Clown, and Pagano vs Rey Escorpion, Taurus, and Killer Kross
Scarlett was a baby face earlier in the night and now she's heel because she's with Kevin Kross. They all start brawling on the outside. Dr. Wagner clearly has hair extensions in. It's hilarious. This is really like 5 on 3 with Scarlett and Hiedra out there. We got cookie sheets and other weapons. Psycho Clown gets his trusty broomstick. Kross is selling on the outside and Scarlett is shielding him. Clown gets his strap and hits everyone with it. Wagner and Escorpion go at it. Kross goes to the top and hits a sloppy frog splash. He goes up to the top again but Puma King comes out and head scissors him. He drops kicks a chair into him then hits a plauncha. Pagano then hits a dive through the middle rope. Wagner hits a flip dive off of the apron on Taurus. Clown gets Rey in a pinning combo and Hiedra stops it. Clown makes Rey attack Hiedra and then Rey takes his mask off for the DQ. Escorpion attacks the ref with a cookie sheet. The rudos stand tall at the end. Which is usual for AAA. Psycho Clown wins via mask removal
Winners: Dr. Wagner Jr, Psycho Clown, and Pagano
Live on Twitch 6/16 Verano de Escandalo
(Reina de Reinas) Keyra vs Lady Shani (Champ) vs Chik Tormenta
Just as the match was gonna start AAA has technical difficulties. Never change AAA. We finally come back to Keyra having Shani in a pinning combo. They apologize for the technical difficulties. Hey don't apologize to us, you guys probably have a lot of casual viewers for this show. Lol. Keyra hits a nice hurricanrana and split leg moonsault on Shani. She hits a face buster on Tormenta but Shani breaks up the pin. Tormenta does a running death valley on Keyra into Shani. We are a little sloppy in this match but it's okay, they're working hard. Shani does a back stabber on Keyra on the apron. I think that hurts Shani more. Tormenta kicks her and does a knee dive off of the apron. Back in the room they do a tower of doom spot. Keyra kicks out of the power bomb by Shani. Shani hits a northern lights suplex on Keyra but she kicks out. Keyra rolls out of a victory roll and stomps on Shani and then pins her. Interesting finish. Keyra pins Shani with a double stomp into a pinning combo.
Winner: Keyra
The Young Bucks come out for a promo. Fenix comes out with that belt he'll never defend. Pentagon alerts us Los Lucha Bros have 0 fear. Konnan comes out in a D Wade Jersey and a chair. Looking in the best shape he's looked in years probably. So basically Lucha Bros turned on Konnan so he brings the Bucks in. Konnan slaps Pentagon and the Bucks come running out. The beat down is on. Definitely got better heat this time than last time they were here. Now the crowd knows to boo them later.
Faby Apache vs Hijo del Tirantes
Time to follow up that segment with this match. Tirantes beats up on Faby to start. Tormenta is at ring side with Tirantes so it's basically a handicap match. Tirantes smashes Faby with a cookie sheet. Faby dodges the attacks finally and gets the cookie sheet and hits Tirantes and Tormenta. They keep starting up someone's theme by accident I presume. Sounds like Scarlett's. Faby is now beating down Tirantes. Crowd's going crazy for this. I imagine the casual viewers on twitch aren't. Faby gets a conveniently placed trash can and lid. She goes to put Tirantes in a surfboard stretch but Tormenta comes from behind. Faby hits a face buster on her. Tirantes hits one on her and nearly kills her but she kicks out. Tormenta throws a trash can to Tirantes. Faby drop kicks it and pins him. Faby Apache pins Tirantes with a top rope drop kick into a trash can.
Post match he goes to shake her hand but he beats her down with Tormenta.
Winner: Faby Apache
Maximo and Mamba vs Sammy Guevara and Australian Suicide
Sammy gets on commentary during the Exoticos entrance to tell everyone to check out his youtube page. There's a ridiculous amount of posturing to start this match. Mamba slaps Sammy and drop kicks him out. And that's like all that's happened for 5 minutes. Maximo knocks them out of the ring, and then Mamba comes in to go for dives but Suicide and Guevara enter and super kick them. Sammy and Suicide pretty much just beat them down. They miss spots and Maximo and Mamba kiss them then make them kiss each other. Then they hit middle rope dives. Back in the ring they both hit swanton bombs that get kicked out of. Suicide and Guevara get Maximo and Mamba to the outside. Suicide hits a back flip dive and Guevara hits a tornillo. Guevara hits a swanton bomb. Suicide hits a 450 then hits a middle rope dive on Maximo. Guevara then hits a shooting star press for the win. Sammy Guevara pins Mamba with a shooting star press
Winners: Sammy Guevara and Australian Suicide
Laredo Kid and Taya Valkyrie vs Daga and Tessa Blanchard
Taya and Tessa start fighting to start. Laredo Kid hits a hurricanrana on Daga and Taya kicks Tessa to the outside. They go for dives but Tessa and Daga get back in. Tessa is clearly jawing at someone in the crowd. Tessa spent time working on Taya. Taya gets the hot tag to Laredo and he hits a michinoku driver on Laredo followed by two moonsaults. Daga catches him and hits a neck breaker. Tessa hits a cutter on Laredo. Taya attacks her. She hits her of of the apron and Daga catches her. Taya hits a dive onto them, then Laredo Kid hits a moonsault to the outside. Back in the ring Daga hits a kicking combo on Taya. Daga hits a back stabber but Laredo breaks up the pin. Laredo hits a 450 on Daga but Tessa breaks it up. Daga pulls out brass knuckles and goes to punch Laredo but he ducks and Daga hits Tessa. They go to the top and fight and Laredo Kid hits a Laredo Fly on Daga for the win. Laredo Kid pins Daga with a Laredo Fly
Winners: Laredo Kid and Taya
Pagano, Aerostar, and Puma King vs Chessman, Monster Clown, and Killer Kross
Kross coming out with Scarlett. Monster Clown grabs a kid out of the crowd because why not. We are wasting no time and it's time for some brawling. They're beating down the tecnicos with weapons. Scarlett is getting involved so it's like a 4 on 3. Pagano tries a handspring attack and it goes very bad. Kross choke slams him. Scarlett seduces Aerostar then hits a Canadian Destroyer. Aerostar gets launched and hits a hurricanrana on Monster Clown. Scarlett hits Kross by accident. Aerostar hits a fast paced dive on Monster. Pagano hits a middle rope dive on Chessman. Puma hits one on Kross. Dives everywhere. Pagano completely misses a leg drop on Chessman. Pagano completely fucks up a middle rope dive by bouncing off the ropes. Aerostar climbs the structure and dives off of it. And he bounces off the floor. What's wrong him. A ladder gets set up and Puma power bombs Chessman through it for the win. Puma King power bombs Chessman through a ladder for the pin.
Kross beats up Puma post match. He hits an F5 and a power bomb and takes Puma's mask.
Winners: Pagano, Aerostar, and Puma King
La Parka, Myzteziz Jr, and Hijo del Vikingo vs Texano Jr, Rey Escorpion, and La Hiedra
Match starts with a beat down. Naturally. Rudos beating down tecnicos. They throw Vikingo with a rope by the balls and then Hiedra drop kicks him. Hugo asks if that's a foul as La Parka comes in with a chair. Myzteziz almost breaks him neck on a failed shooting star attempt. Vikingo shows him how to do it. Back in the ring Myzteziz does a few spots redeeming himself. Vikingo gets offense in on Escorpion. Tries a springboard dragonranna but messes up. Eventually he hits a hurricanrana to the outside. La Parka does a plethora of goofy spots. Myzteziz goes for a dragonranna on Escorpion but he counters with a power bomb through chairs. Vikingo slams Hiedra and hits an imploder 450 for the win. Hijo del Vikingo pins Hiedra with an imploder 450.
They beat down Vikingo post match.
Winners: La Parka, Myzteziz Jr, and Hijo del Vikingo
(AAA Tag team titles) Pentagon Jr and Fenix vs Nick Jackson and Matt Jackson (Champs)
Lucha Bros jump the Bucks. Matt Jackson does 3 northern lights suplexes to Fenix then does one to Fenix and Pentagon at the same time. Matt does a baseball slide and then Nick does a dive over him. Matt unties Pentagon's mask and then beats him up in the crowd. Back in the ring they hit double super kicks. Pentagon hits sling blades on both Bucks. Fenix does a double cutter. They roll out and Fenix hits a huge dive and goes flying into the crowd while Pentagon hits Matt with the Pentagon driver. Matt hits a Canadian destroyer then a spear and Fenix breaks it up. Lucha bros go for super kicks but the Bucks reverse it into sharptshooters. Lucha bros break out and a ton of super kicks get hit. Nick hits a frog splash on Fenix and Penta runs up his back and hits a Canadian destroyer on Matt. Fenix then hits a stomp on the apron on Nick. Pentagon hits the package piledriver on Matt. He kicks out. Then Fenix and Pentagon do the combo package piledriver. Nick pulls the ref out. Nick does an asai moonsault to the ref and Fenix. Matt pulls off Pentagon's mask and kicks him in the groin and then they hit a Meltzer driver. Fenix pulls the ref out now. Fenix kicks Matt in the groin and then hits a cutter for a two. A new ref is out here now. They do the combo package piledriver again and Fenix hits a middle rope splash on Nick. Penta pins Matt. Pentagon pins Matt Jackson with a package piledriver combo.
Winners: Pentagon and Fenix
Dr. Wagner Jr and Psycho Clown vs Blue Demon Jr and Taurus
There's some posturing and now the match is on. Wagner and Demon quickly brawl into the crowd. Actually all 4 of them are brawling. Wagner is bleeding already. Finally after a long beat down Wagner and Psycho make a come back. Wagner back drops Taurus to the outside and Clown hits a dive through the middle turnbuckle. Wagner hits a senton splash on Demon. Wagner rips Demon's mask and bites him. Clown breaks a broom over Taurus' back. Blue Demon is bleeding badly now. Taurus sets up a table. Clown hits the double stomp in the corner for a two count. Taurus misses a corner attack and then Clown hits a dive through the middle rope. Wagner back drops Demon onto a table. Wagner then hits a michinoku driver for the win. Dr. Wagner pins Blue Demon with a Michinoku driver
Winners: Pscyho Clown and Dr. Wagner Jr
Mitchell's NXT No Mercy Results & Report! (9/30/23)
There's No Mercy in Bakersfield!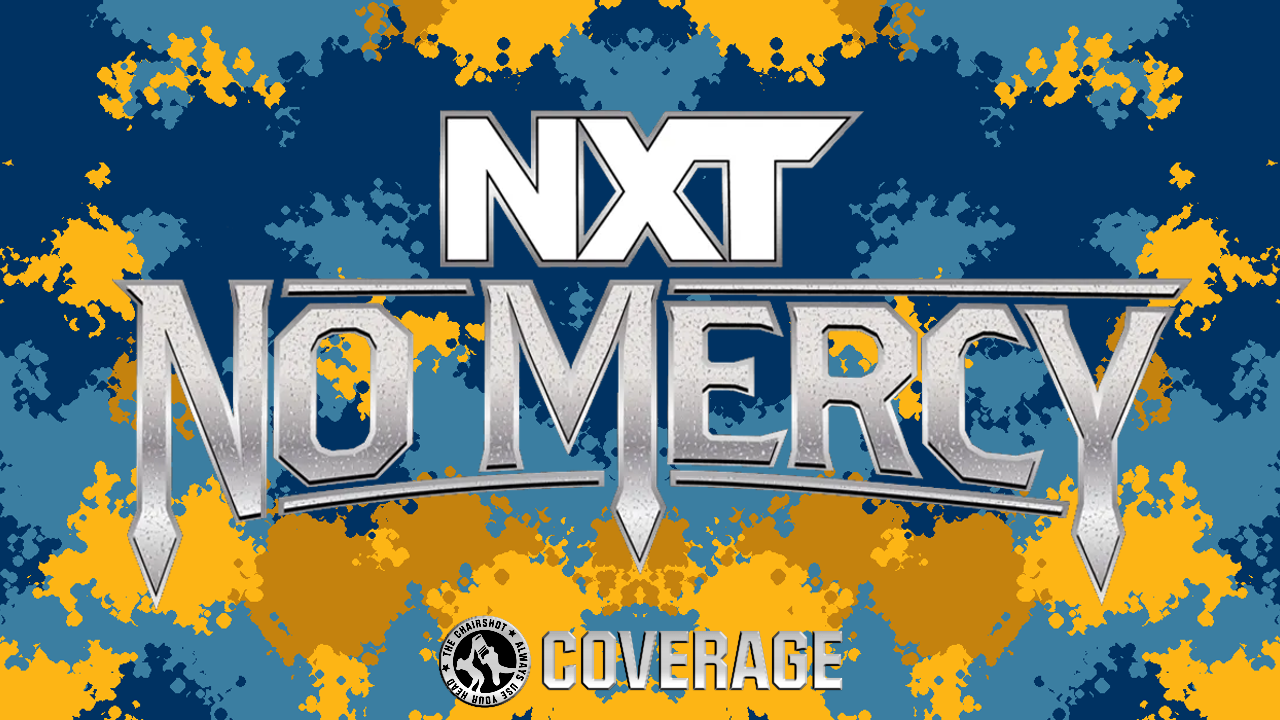 Will the Mad Dragon slay… HIM?
In a rematch from The Great American Bash, Carmelo Hayes and Ilja Dragunov once again battle over the NXT Championship! But will history repeat itself? Or will history be made?
OFFICIAL RESULTS
NXT Heritage Cup Championship: Noam Dar w/ The Meta Four VS Pete Dunne; wins and
Blair Davenport VS Kelani Jordan; wins.
NXT Tag Team Championships Fatal 4 Way Tag: Tony D'Angelo & Channing Lorenzo VS The Creed Brothers VS Angel Garza & Humberto Carrillo VS #OutTheMud w/ SCRYPTS; win(s) and
Bron Breakker VS Baron Corbin; wins.
NXT North American Championship, Special Guest Referee Dragon Lee: Dominik Mysterio VS Trick Williams; wins and
NXT Championship: Carmelo Hayes VS Ilja Dragunov; wins and
NXT Women's Championship Extreme Rules Match: Becky Lynch VS Tiffany Stratton; wins and
PLAY BY PLAY
It's the No Mercy Kickoff Show!
Join Megan Morant, Matt Camp & Sam Roberts in discussing, analyzing and predicting all the action about to go down in Bakersfield!
Time to play the game.
Plug in the cartridge and load up the brand new NXT edition of No Mercy! Press start and make the match! Will there be no asterisk next to tonight's NXT Championship match? Will the Bruiserweight snap Noam Dar's reign? Or just his fingers? Who will truly be #MeanerThanEvil? Is karma going to bite Dirty Dom right on the ass? Or will he still #WhoopDatTrick? And in the biggest and most violent match of her career, will Tiffany Stratton take back the title? Or will the Big Time still be too much for Wrestling Barbie?
Mitchell's AEW Rampage Results & Report! (9/29/23)
Eddie Kingston is on a Rampage!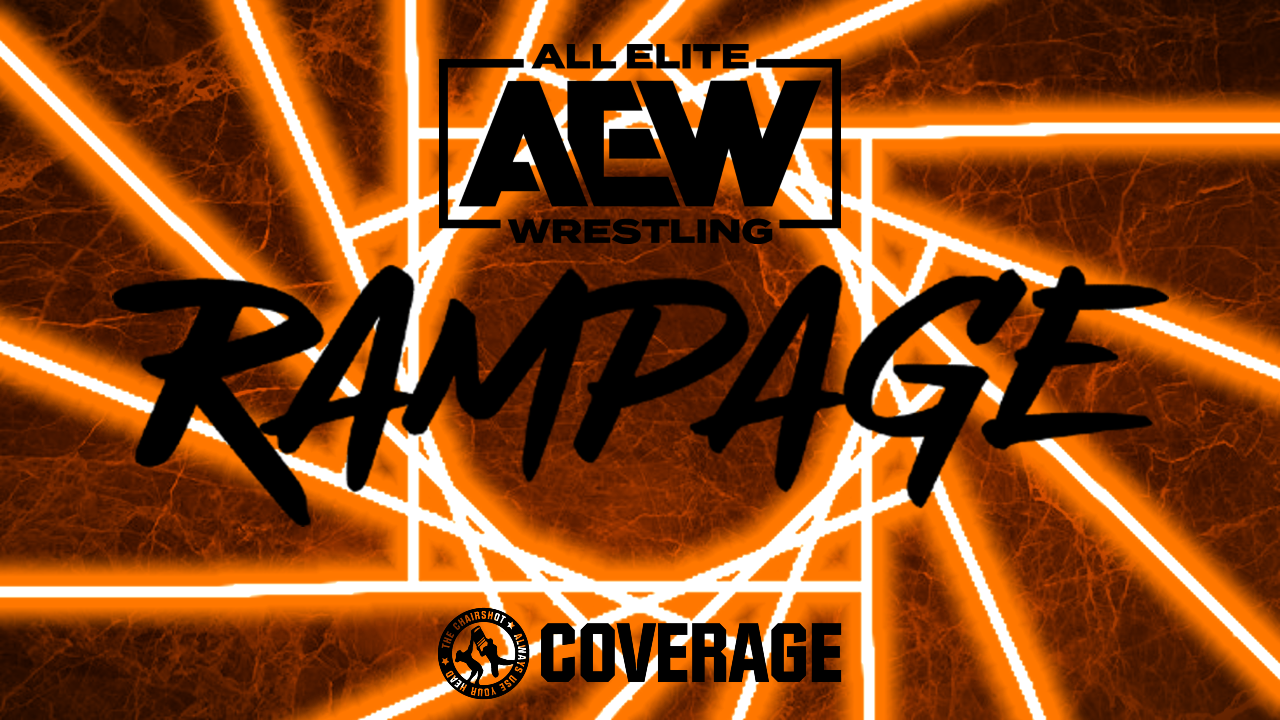 Will the Mad King regret this gamble?
Before putting both belts on the line against Katsuyori Shibata at AEW WrestleDream, Eddie Kingston defends his NJPW Strong title against Rocky Romero! Will plans have to change all thanks to Azucar?
OFFICIAL RESULTS
AEW World Trios Championships: The Acclaimed & Billy Gunn VS The Hardy Party; The Acclaimed & Billy win and retain the titles.
NJPW Strong Openweight Championship: Eddie Kingston VS Rocky Romero; Eddie wins and retains the title.
The Righteous VS Caleb Crush & Gunnar; The Righteous win.
AEW Women's World Championship #1 Contender's match: Ruby Soho VS Hikaru Shida; Shida wins and will challenge Saraya for the title on Title Tuesday, October 10th.
PLAY BY PLAY
AEW World Trios Championships: The Acclaimed & Billy Gunn VS The Hardy Party!
The open challenge was put forth, and it was answered very quickly! Will Matt, Jeff & Brother Zay DELETE the Scissor World Tour? Or will Max Caster, Anthony Bowens & Daddy Ass keep the party going?
But of course, Platinum Max has a diss track! "Acclaimed on the mic, 'bout to leave these dudes up in smoke! Y'know we comin' like the Colorado Buffalos! Matt, I don't want any heat! I don't need your crazy ass wife sendin' me tweets! It's the one guy in Private Party! Nowadays, he gets tag teamed by the Hardys! Jeff, I'm a leave you black in both eyes! You gonna need these sunglasses like Coach Prime." Bowens takes the mic to say "COLORADOOOO~! The Acclaimed have arrived! Scissor Me, Daddy Ass~!" And he does! The belts are raised, and we see who survives WrestleDream weekend!
The trios sort out and Bowens starts against Kassidy. They shake hands, tie up, and Bowens waistlocks. Kassidy drop toeholds, facelocks but Bowens slips free to wrench. Kassidy rolls, handsprings, wrenches and hammerlocks to a headlock. Bowens powers out to headlock but Kassidy powers out, only for Bowens to run him over! Bowens self-scissors, then things speed up. Kassidy hurdles, Bowens shoves then follows but Kassidy arm-drags! Bowens arm-drags! Bowens blocks Kassidy's arm-drag to whip, but Kassidy wheelbarrows and arm-drags! Bowens stands, into a RANA! Kassidy then pounds the mat and fans fire up.
Bowens kicks but Kassidy blocks to spin him. Kassidy kicks but Bowens blocks to flip him! Bowens then kicks, kicks and KOTARO KRUSHER! Fans fire up, "EVERYONE Loves The Acclaimed!" Bowens drags Kassidy up, tags in Caster, and they double whip. Kassidy holds ropes, TOSSES Bowens then BOOTS Caster! Tag to Matt and Matt BOOTS Caster! Kassidy hits a NECKBREAKER, Jeff tags in to go up, for the SPLASH! Cover, TWO! Jeff snapmares Caster to then NECK SNAPPER! Fans fire up with Jeff and he waits on Caster to stand. Kick but no Twist as Caster slips free! Jeff ducks the backhand to SPIN KICK!
Jeff CLUBS Caster, Caster scrambles away, tags to Billy and Matt! Fans fire up as Matt says "DELETE! DELETE!" Billy says "SUCK IT!" "DELETE!" "SUCK IT!" "DELETE!" "SUCK IT!" And repeat! Then Billy headlocks! Matt throws body shots, powers out, but Billy runs Matt over! Billy flexes and does a dance, and then he runs in. Matt ELBOWS Billy, BOOTS him, then bumps him off buckles! "DELETE! DELETE! DELETE!" Billy gets all three layers, and Matt tags Jeff. Jeff tags Kassidy, and the Hardys set up fort he classic POETRY IN MOTION! Then Kassidy adds PARTY IN MOTION! But The Acclaimed CLOBBER Kassidy & The Hardys!
Fans fire up as Caster has Kassidy up to scoop and SLAM! Billy helps get the legs, and Bowens goes up to SCISSOR ME TIMBERS! Kassidy squeals before impact! Cover, TWO! Kassidy survives but The Acclaimed have control as Rampage goes picture in picture.
Billy brings Kassidy up, bumps him off buckles, and he hears the fans singing. Billy ROCKS Kassidy with a right, apologizes to the ref, then tags to Bowens. Bowens drags Kassidy up to ROCK him with haymaker after haymaker! Bowens then brings Kassidy up to tag in Caster. They double suplex Kassidy, Caster covers, TWO! Another cover, TWO! Caster keeps Kassidy down with a chinlock while fans rally up. Kassidy fights to his feet, throws body shots, and he fires forearms as Rampage returns to single picture. Kassidy runs but Caster CLOBBERS him! Tag to Billy and they mug Kassidy.
Billy brings Kassidy to an open corner, stomps and ROCKS him on repeat, then lets off to smirk at the Hardys. He dares them to do something, but Matt tells Billy to suck it! So Billy DECKS Matt! Billy runs corner to corner but Kassidy dodges! The splash hits buckles and Billy falls back! Fans rally up as both men crawl, but Billy gets Kassidy's leg! Kassidy stands up to ENZIGURI! Hot tag to Jeff! Jeff rallies on Billy, on Bowens, and on Caster! Fans fire up and Jeff clotheslines Billy up and out! Jeff CLOBBS Bowens, then catches him for a RUSSIAN LEG SWEEP! Leg hook cradle! Cover, Caster breaks it!
Caster helps Bowens up, then runs in, but Jeff ELBOWS caster and ROCKS Bowens! Jeff goes up, WHISPER IN THE WIND! Jeff gets both Caster and Bowens but everyone is down! Billy returns, kicks low, says 'SUCK IT!" and runs, but Jeff dodges! Matt kicks Billy for a TWIST OF FATE! Jeff hurries up top, fans fire up, SWANTON BOMB! Cover, Bowens breaks it in time! Matt CLUBS Bowens, Bowens hits back, and Bowens calls to Caster. They whip Matt to a corner, forearm then ELBOW then forearm again! And a feed to the POWERSLAM! ROLLING ELBOW for Jeff! The Acclaimed regroup, and Billy crawls to the corner.
Fans fire up as Billy drags Jeff over. Jeff gets loose, hot tags to Kassidy and Bowens! Kassidy dodges Bowens to DROPKICK Caster! "This is Awesome!" as Kassidy BOOTS Bowens! Kassidy goes up, leaps, FLYING FLATLINER! Billy stands, runs in, but Kassidy dumps him out! Kassidy slingshots out then QUEBRADAS to take Billy down! Kassidy mocks the scissoring, then tells Bowens to get up. Kassidy springboards in, but Bowens dodges and Caster BACKHANDS Kassidy! Then Bowens BACKHANDS Kassidy! Bowens fires off the Five Tool Strike Fest! Caster hoists Kassidy up and Bowens helps, to give Kassidy the PLATINUM BOMB! Cover, The Acclaimed win!
Winners: The Acclaimed & Billy Gunn, by pinfall (still AEW World Trios Championships)
A huge win for the champions, and the Scissor World Tour continues! In fact, it is heading to Seattle for WrestleDream's Zero Hour! TMDK's Shane Haste, Mikey Nicholls & Bad Dude Tito are waiting, will they show The Acclaimed that The Mighty Don't Kneel?
Eddie Kingston speaks.
"Well folks, tonight, it's me and Big Rock, Rocky Romero, for the NJPW Strong Openweight Championship. Rock, I got nothing but respect for you, dawg, so it's gonna be an honor and a pleasure to defend this against you. You're the man that got me into the G1. You're the man that got me-" Wait, Team Triple J is interrupting. Jay Lethal says that if we're talking honor and respect, Eddie is standing here with two titles on his shoulders, and that is worth respecting. But Lethal can't get behind how Eddie is the ROH World Champion. Lethal dedicated his life to that title! His blood, sweat, tears, all to honor a tradition that meant that every person to hold that title would be a pure athlete!
And Eddie, you are no pure athlete! Now as for this NJPW Strong Openweight title, Lethal doesn't care if Eddie wins it or loses it here tonight. He really doesn't. But he just cares that Eddie is unfit to be ROH World Champion! Eddie says okay, he's got Lethal. But excuse his back, he's gotta go beat up Romero. The Mad King leaves, but will he still have both crowns going into WrestleDream?
AEW shares an interview from after last week's Collision.
Lexi Nair was with Andrade El Idolo after he was bandaged up from the beating Bullet Club Gold gave him. He almost won, but Juice Robinson interfered. What was that about? Andrade says everyone saw that Andrade had White beat. But the question for Juice is… "Do you have a problem with me? With Andrade El Idolo? Lemme tell you something. See you Saturday in Seattle!" Andrade wants his revenge on Rock Hard, will he get it on WrestleDream Eve?
NJPW Strong Openweight Championship: Eddie Kingston VS Rocky Romero!
The Mad King beat Kenta at NJPW Independence Day back in July to have his first singles title under the NJPW banner. And now he defends it against Azucar as a favor for getting him in the door. Will Rocky repay this favor by taking this title from Eddie? Or will Eddie still head to Seattle as a double champion?
The introductions are made, the NJPW belt is raised, and we see who is truly NJPW Strong!
The bell rings and fans rally up for "EDDIE! EDDIE!" The two circle, Rocky tests things with a kick but Eddie stays back. They feel things out, tie up, and are in a deadlock. Eddie waistlocks, Rocky wrenches, wristlocks, but Eddie clinches. Fans rally, Rocky keeps on the wristlock but Eddie powers through to wrench and wristlock back. Rocky rolls, breaks free and DROPKICKS! Fans are torn as Rocky swaggers, but he and Eddie reset. They feel things out, knuckle lock, and Rocky knees low. Rocky headlocks, grinds the hold, but Eddie powers up and out. They RAM shoulders, but Eddie stays up with a smirk.
Fans fire up as Rocky smirks back, but then pie faces Eddie! Rocky runs, ducks 'n' dodges, and RANAS! Eddie bails out, Rocky builds speed and DIVES! Direct hit but Eddie stays up, so Rocky goes again! DIVE and Eddie drops to his knees! Rocky keeps going, and he DIVES for the hattrick, only for Eddie to catch him! Stalling suplex, to the floor! Fans rally behind Eddie while Rampage goes picture in picture.
Eddie stands, stretches out his back, and then he gets Rocky up and into the ring. Cover, TWO! Eddie keeps cool, and also chooses not to rain down fists, instead clamping on a chinlock. Rocky endures as Eddie grinds him down, and fans rally up. Eddie cranks the headlock but Rocky refuses to give up. Rocky fights up, throws elbows, but Eddie knees him low! Eddie whips to knee low again, then whips for another knee! Eddie whips but Rocky rolls him up, TWO! Rocky BUZZSAWS Eddie, then TORNADO DDTS! Both men are down and a standing count begins. Rocky stirs at 3, crawls over, and he brings Eddie up.
Eddie pushes Rocky, runs, but into an IRON OCTOPUS! Eddie endures, pries at the hold, and pops free, only for Rocky to wrangle him with a ghost pin! TWO, and Eddie goes to ropes. Rocky storms up, KICKS Eddie in the back, but Eddie just grimaces. Eddie eggs Rocky on so Rocky KICKS him again! Eddie growls and eggs Rocky on more as Rampage goes picture in picture.
Rampage returns and Eddie suplexes, but Rocky knees free! Rocky knees low, Eddie rebounds, but into a JUMP KNEE! Eddie goes to ropes, Rocky storms over and brings him up through the ropes, to KICK! Eddie eggs Rocky on even though he's stuck, so Rocky SLAPS Eddie! Eddie SLAPS Rocky! Rocky SOBATS! Then Rocky goes up a corner to MISSILE DROPKICK! Cover, TWO! Eddie is still in this and Rocky argues the count but the ref says it was fair. Rocky drags Eddie up, cravats, but no Sliced Bread! Eddie runs in to clothesline in the corner! And MACHINE GUN CHOPS! Fans fire up and Eddie hoists Rocky up top!
Eddie climbs up behind Rocky, stands him up, but Rocky throws hands! Rocky CLUBS Eddie, cravats, and hits SUPER SLICED BREAD! Cover, TWO!! Fans fire up as Eddie survives, and Rocky grits his teeth. Rocky pumps up and fans rally. Rocky runs in to clothesline! That's one-ever! Two-ever! But URAKEN stops that! URAKEN again!! Eddie drags Rocky into the STRETCH PLUM!! Rocky taps, Eddie wins!!
Winner: Eddie Kingston, by submission (still NJPW Strong Openweight Champion)
Azucar could not dethrone The Mad King, but he still shows Eddie respect with a handshake and hug. Eddie is still NJWP Strong, but will he have to fight even harder to survive The Wrestler, Katsuyori Shibata?
Wait! That's Shibata's music! Shibata is HERE! He goes into the ring and shakes hands with Eddie. These two respect each other, and that means they will give it everything they've got! Will Eddie still be a two belt king? Or will Shibata become a TRIPLE CROWN Champion?
Aussie Open speaks.
Mark Davis says he is so tired. So tired of hearing the "top blokes" walk around here the last year, hubris unchecked, lying to the people that they are the best in the world. Kyle Fletcher says that for the last 365 days, everything Aussie Open has done has been to get back to FTR. When FTR beat them a year ago, it broke Fletcher. Fletcher felt like a failure and felt lost. So what he wants more than anything is to make FTR feel that pain. This Sunday, Aussie Open takes the AEW World Tag Team Championships, burns down the legacy of #7StarFTR, and from the ashes, rebuild a new empire that they will stand atop of to proclaim that THEY are the best tag team in the world!
The Aussie Arrow and Dunkzilla are ready to bring down Dax Harwood & Cash Wheeler, will they fulfill that WrestleDream?
The Righteous VS Caleb Crush & Gunnar!
Speaking of tag titles, Dutch & Vincent are aimed at the ROH World Tag Team Championships! However, Adam Cole will be out with injury so it'll just be Maxwell Jacob Friedman meeting them in Seattle. Will this tune-up prove to be more than enough going into that tag title handicap match?
The teams sort out, but then Dutch just CLOBBERS Crush & Gunnar! Fans boo as Dutch says just a few more days and those titles will be theirs! Vincent rains down fists on Crush, then drags him up to UPPERCUT! Vincent bumps Crush off buckles, tags in Dutch, and the Righteous mugs Crush before the BOSS MAN SLAM! Gunnar staggers up but Dutch feeds him to Vinnie's KNEE! Then Vinnie feeds him to a BOSS MAN SLAM! Tag to Vinnie, fans are torn as the Righteous pace around Crush. Vinnie snaps his fingers, then cravats, AUTUMN SUNSET! Cover, Righteous win!
Winners: The Righteous, by pinfall
A swift and dominant win, these are the two men coming for the tag titles! Will The Righteous purge ROH of the "false friendship" that is the brochachos? Or are even two Righteous men combined not on the level of the Devil?
Ortiz sits alone in a room.
He looks back on his career alongside Mike Santana. They were at the top of their game coming into AEW, but then it ended up going downhill. There's even audio from Konnan touching on how Ortiz and Santana stopped talking to each other and how Konnan was saddened by that. Ortiz has the footage stop there. What will it take for him to get Santana to talk to him?
Darby Allin speaks.
After replaying what Christian Cage said just last Wednesday on Dynamite, the Relentless One reiterates that he is NOT losing in Seattle, Washington! Will Darby defend home turf against Captain Charisma?
Nick Wayne speaks.
He knows Darby has a lot to say about Christian Cage, and all of that will be part of the Countdown special. But Nick also knows Darby's actions will speak louder than his words at WrestleDream. And although Darby told Nick not to be there ringside, Nick doesn't really want to anyway because of what Christian & Luchasaurus are capable of. So, while they let Christian and Darby settle their business, how about Nick and Luchasaurus settle theirs? For months and months, Luchasaurus walked around here while another man held his title. And Luchasaurus followed Christian around like he was some kind of father figure.
And Nick isn't sure what it is about Christian where he thinks he can even be such a figure to "us Lost Boys," but Nick had a father. And he told Nick at a young age "to never leave your debts unpaid." Nick owes Luchasaurus. At Wembley Stadium, Luchasaurus choke slammed Nick onto a skateboard and Nick never forgot it. Nick will repay Luchasaurus this Sunday during Zero Hour. And Nick will even hand Luchasaurus a receipt. Nick brings his own skateboard, will he grind it right into the Right Hand of Destruction?
BREAKING NEWS for Collision!
AEW is going to do it big for WrestleDream Eve as, with Zack Sabre Jr. on commentary, we see an 8 Man Tag! FTR teams with Bryan Danielson & Wheeler Yuta to take on Aussie Open, Ricky Starks & "Big Bill" Morrissey! Plus, Chris Jericho & Kenny Omega test their tag team chemistry against The Gates of Agony! Will The Ocho & The Cleaner survive Toa Liona & Bishop Kaun to take on the Don Callis Family? And Julia Hart gets in action to build some last minute momentum, will she be ready for Kris Statlander and their TBS Championship match set for Sunday?
Backstage interview with Zack Sabre Jr.
Renee Paquette is with The Front Man of TMDK, and says we're just days away from WrestleDream, where ZSJ takes on The American Dragon, Bryan Danielson. ZSJ just came off a three week tour in NJPW and just got here to the States, is he worried at all about acclimating? ZSJ asks Bryan "Dragon Bullocks" Danielson, "Where are you, darling?" As Renee just said, ZSJ got off a 16 hour flight from Tokyo and is feeling fresh as a daisy. But perhaps this company's keeping Bryan wrapped head to toe in bubble wrap, or keeps him in a giant Zorb ball. At this point, a strong gust of wind will knock Bryan over.
And is ZSJ supposed to be honored that Bryan chose him as part of the year long retirement tour? Newsflash: Bryan barely has a weekend. This Sunday isn't just about finding out who the best technical wrestler is, no no. Bryan has retired once in Seattle, so ZSJ will make it final. Ya like that? The final retirement~! Submissions in Seattle, see you on Sunday. The NJPW World Television Champion has put Bryan on notice, but will he be able to slay the American Dragon?
AEW Women's World Championship #1 Contender's match: Ruby Soho VS Hikaru Shida!
While the Outcasts stand at two members, Saraya is looking forward to a friendly showdown with the Runaway in a little under two weeks! But will Ruby make sure there is No Future for the Shining Samurai? Or will Shida take down one Outcast to go after another?
The bell rings and the two circle. Fans fire up as Ruby and Shida step up, and they're on Shida's side. Ruby shoves, runs, and RAMS Shida, but Shida just fires up! Ruby headlocks, Shida throws body shots, and then she powers out. Shida then runs past Ruby to run Ruby over! Fans duel, Shida has the majority, and she goes to the corner. Shida climbs up but Ruby slips away before any fists can rain down! Shida is annoyed but she waits on Ruby to return. Ruby takes her time going to the apron, steps in at 6 of 10 but wants Shida to stay back. Shida gets annoyed as the ref keeps her back, but then Ruby pulls Shida's hair to throw her down!
Ruby throws hands, puts Shida in the corner, then RAMS into her again and again! Fans boo but Ruby runs, only to miss! Shida ROCKS Ruby, then climbs up to rain down fists! Ruby gets away before three, runs back in but into a BOOT! Shida bumps Ruby off buckles, climbs up and rains down those fists! Ruby slips out at five to YANK Shida down! Ruby whips, Shida goes up and CROSSBODIES! Shida then drags Ruby up, puts her in yet another corner, and tries one more time! Shida rains down fists, and goes all the way to TEN! Fans fire up with Shida and she kicks Ruby out, to then MISSILE DROPKICK!
Fans fire up as Shida drags Ruby up, and Rampage goes picture in picture.
Ruby CLUBS away on Shida to stop the lift, then shoves her to a corner. Ruby runs in, Shida dodges, but Ruby ELBOWS her! Ruby goes up to hit DEADLY NIGHTSHADE! Ruby digs Shida into the buckles, lets off as the ref counts, and then brings Shida up to snapmare. Ruby covers, TWO! Ruby throws down fists now, but lets off with a smug smirk. Ruby puts Shida on ropes to CHOKE! The ref counts, Ruby lets off, and then Ruby has Shida in the ropes to throw knees! A shoutout to Saraya, and Ruby lets off at 4. Ruby stalks Shida, looms over her, and pushes her around. Shida pushes back but Ruby eggs her on.
Shida ROCKS Ruby, then fires again! Ruby claws Shida's face! And throws her down by her hair again! The ref reprimands, but Ruby clamps on a straitjacket stretch! Shida endures, but Ruby grinds her into the mat! Fans rally, Shida fights up, and she arm-drags free! Ruby returns to CLOBBER Shida! Cover, TWO! Ruby is annoyed but Shida grabs at Ruby's hair! Ruby CLUBS Shida, drags her up, and stomps a hand! Shida scrambles to a corner while the ref reprimands but Ruby stomps a mudhole in. Ruby lets off as the ref counts, and Ruby storms around. Shida drags herself up, but Ruby CHOKES her on the ropes!
The ref counts while Ruby BITES Shida's ear! Ruby lets off at 4, drags Shida up, but Shida ROCKS her! And again! And again! And again! But Ruby knees low! Ruby talks trash, whips Shida to ropes, but Shida ducks 'n' dodges, and DOUBLE LARIATS knock both women down! Rampage returns to single picture as the standing count climbs. Fans rally, both women are down at 5 of 10 but Shida goes to ropes. Shida snarls, she and Ruby stand at 7, and they storm up. Shida fires a forearm, Ruby gives it back! Shida throws another, so Ruby gives it back! They go back and forth, harder and harder, faster and faster!
Ruby gets the edge, but Shida ROCKS her! And ROCKS her! And ROCKS her again! Shida whips to JUMP KNEE! Shida then suplexes high and hard! Cover, TWO! Shida fires up again and the fans are with her! Shida aims, KATA- NO, Ruby ducks and bails out! Fans boo but Shida goes out to pursue! Shida runs in, jumps off the steps, and DROPKICKS Ruby down! Fans fire up again and Shida stands Ruby up. Shida torture racks Ruby, then goes to the ramp!? Fans are thunderous but Ruby fights free! They throw forearms, and CHOPS! Shida CLUBS Ruby, Ruby throws body shots, but the count is climbing!
They both hear it's 8 of 10 and start sprinting! They both slide in at 9.5!! Fans are thunderous and then Ruby swings, but Shida blocks! Ruby HEADBUTTS, blocks a kick, then KICKS back! SAIDO! Cover, TWO! Shida survives and Ruby grows frustrated. Ruby goes to a corner, and she takes Shida's kendo stick for her own! The ref stops Ruby, takes the kendo stick, but then Ruby brings out the spray paint! Shida and the ref both block that and they're all fighting over it! Down goes the ref!! Shida and Ruby are both stunned, but then Ruby HEADBUTTS! DESTINATION UNKNOWN! But no ref to count the cover!
Ruby is furious, she would've had this! But then she sees the kendo stick! Ruby grins as she wields Shida's weapon! Fans boo, but Shida blocks the strike to kick and HEADSHOT! Then KATANA KICK!! Cover, but still no ref! Wait, here comes Aubrey! Aubrey slides in, counts the cover, TWO!! Ruby survives but Shida fires up! Shida puts Ruby in a drop zone, goes up the corner, and she METE- NO! Ruby dodges to then STO! Ruby drags herself up the corner, goes to the very top, and STAGE DIVE SENTONS onto knees! And then FALCON ARROW! Cover, TWO!! Ruby survives but Shida won't stop there!
Shida hauls Ruby up but Ruby wrenches to NO FUTURE KICK! But Shida rebounds to KATANA!! Cover, Shida wins!!
Winner: Hikaru Shida, by pinfall (NEW #1 Contender to the AEW Women's World Champion)
The Shining Samurai takes down The Runaway, but wait! Here comes Saraya! #TitleTuesday is coming, will that be a good Knight for the champ? Or will Shida take this belt back to become a historic THREE-TIME champion?
---
My Thoughts:
A great Rampage, especially as the go-home to WrestleDream. I figured the title matches would end with the champions retaining, but we got really good stuff out of Acclaimed VS Hardy Party and Eddie VS Rocky. As for their title defenses on WrestleDream, I don't see TMDK taking the trios titles as this will be their AEW debuts. And as I've said a few times already, Eddie isn't losing both belts he worked so hard to have so soon. Plus, it feels like there's some tension between NJPW the company and Shibata, or else Shibata would already be NJPW Strong Openweight Champion and not one of ROH's champs.
Speaking of Eddie, good promo from him before his match with Rocky, and good interaction with Team Triple J. I wasn't exactly expecting Jay Lethal to be Eddie's first actual feud for the ROH World Championship, but I suppose it does make sense as Lethal was a major player in ROH. I hope these guys actually show up on ROH programming, but also, Tony Khan wants this feud to be seen so it'll end up on AEW programming instead. Y'know, just like all these other ROH title stories outside of the AEW Women's title.
Good squash from The Righteous, and I'm really curious as to how the tag title match goes on Sunday. There's a lot of stuff MJF still has to do with Cole, Roddy and The Kingdom, and now this intrigue with Jay White, Bullet Club Gold and the backstage attack at the end of Dynamite. I still feel it should've been The Kingdom in the PPV match anyway, but it seems they were going to drag this story out even before Cole hurt his foot. Good promo from Nick Wayne to call out Luchasaurus, but I feel like Luchasaurus ends up winning that match just to make a point of Nick not being able to show up ringside for Darby.
Good promo from Andrade to call out Juice for this week's Collision, and I'm still wondering if/when La Faccion Ingobernable helps Andrade against Bullet Club Gold. For that matter, why can't MJF be paying LFI to beat up on White and the BCG? He's had business dealings with Andrade & Rush before, let's strike that up again for some continuity. Really good promo from Aussie Open ahead of their tag title match, and from ZSJ to call out Bryan. That 8 Man Tag tomorrow night is going to be good stuff, and perhaps rather telling about where the PPV matches go. The only reason I don't see Aussie Open winning against FTR is because of that big Fatal 4 Way tag contenders match, but who knows, maybe Aussie Open wins to bring the AEW belts to NJPW events as they take on like Goto & Hashi.
And of course, a great main event from Shida and Ruby. Seems a little silly to set up Ruby as a contender, wouldn't that just end up in a Finger Poke of Doom situation with Saraya? Which therefore meant Shida was winning. Saraya VS Shida for this Title Tuesday Dynamite is going to be good stuff, but something makes me feel like Ruby is just gonna help Saraya retain. And not to be mean to Shida, but if she's already a two-time champ, I don't see her becoming three-time so soon. Why not get Shida in on the TBS Championship story? Britt Baker wants to be the first to have held both titles in AEW, but Shida should want that distinction, too. Then that lets us have Britt VS Shida as we should've gotten by now given everything else we've been seeing lately.
My Score: 8.7/10