Andrew's Impact Wrestling Ratings & Analysis: 11/12/2019
Can Sami Callihan become any more despicable? Have The North bitten off more than they can chew? Find out, on IMPACT!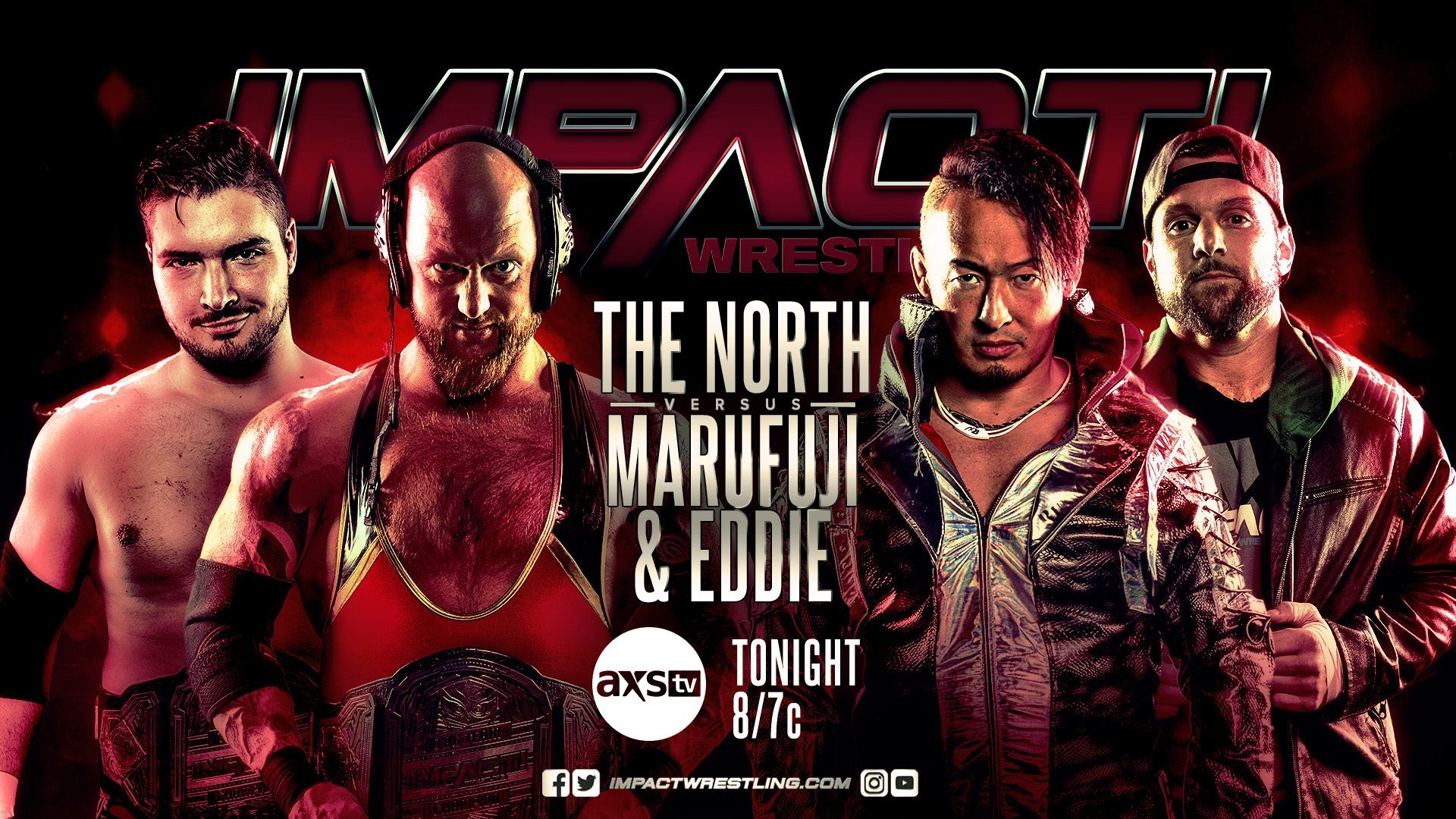 Can Sami Callihan become any more despicable? Have The North bitten off more than they can chew? Find out, on IMPACT!
Well the tag line set up most of the bigger storylines going on tonight.
Our main event has the most build and it's even received praise from other Impact wrestlers as a way to hype the match. So let's get to that match!
But before, remember boys and girls, RVD hasn't changed…you changed.
When you're the Whole F'N Show like @TherealRVD, you have a lot of important responsibilities.

That is abundantly clear in his latest update from vacation… #IMPACTonAXSTV @TheKatieForbes pic.twitter.com/IMxEXIko4g

— IMPACT (@IMPACTWRESTLING) November 13, 2019
Ratings:
X Division #1 Contender: Brent Banks vs Trey vs Rohit Raju vs Willie Mack vs Aiden Prince vs Petey Williams: Trey wins via Jacknife Pinfall – ** 1/2
Madison Rayne (w/ Kiera Hogan) vs Alexia Nicole: Madison wins via CrossRayne – **
Daga vs Jake Crist: Daga wins via Double Underhook Codebreaker – *** 
Sami Callihan & Madman Fulton vs Rich Swann & Tessa Blanchard: Callihan wins via Title to the Head – *** 1/4
Crystal Moon vs Havok: Havok via Tombstone Piledriver – N/A (Squash)
Impact Tag Team Championship: Eddie Edwards & Naomichi Marufuji vs The North (Ethan Page & Josh Alexander) (c): The North retain via Argentine Spinebuster Combo – **** 1/4 
Analysis:
X Division #1 Contender: Brent Banks vs Trey vs Rohit Raju vs Willie Mack vs Aiden Prince vs Petey Williams – Much like we've expected, multiman X Division matches are spotfests but normally kinda fun. This however, was a little too much crap and no real story. Banks and Prince had a bad exchange that turned into both of them doing a timed stereo dive that was just corny. So the match didn't quite have the fire that X Division matches usually do, spam finishers towards the end, and someone wins with an opportunistic pinfall. The match was fine, but nothing close to special.
-Rich Homie Swann (as Chris Platt puts it) has a decent interview about the potential of getting a title shot. Solid promo, nice to see a bit of Swann's personality.
-After the commercial break, Big Mike also has an interview in the 5 Way Elimination Match. Praising Rich Swann's heart but will be the next challenger from Callihan's Title. Solid promo from Elgin hyping himself up.
Madison Rayne (w/ Kiera Hogan) vs Alexia Nicole – Alexia didn't get in much offense during this match. As soon as she started to put stuff together, Madison powdered for the heel tactics of just walking away. Alexia went to go get her, threw her back in, but Madison took advantage and the match was over. Not much of a match, but it wasn't offensive either.
-Johnny Swinger gonna die.
Johnny Swinger just took a dump in @ShamrockKen's bag.

Pretty sure he's going to die now. #IMPACTonAXSTV pic.twitter.com/ayRGcvJE5J

— IMPACT (@IMPACTWRESTLING) November 13, 2019
Daga vs Jake Crist – Aside from an awkward exchange on the floor before the commercial break, this was a pretty solid, hard striking affair. Both men caught each other mid leap frog into Death Valley Drivers. Jake's kick combinations nearly earned him the victory, but Daga being tough as hell, he cut him off in the corner, hits the Super Frankensteiner followed up by a Double Underhook Codebreaker. Pretty solid match.
.@OfficialEGO and @Walking_Weapon will be doing their talking in the ring in our main event. #IMPACTonAXSTV pic.twitter.com/56NQJX5EGd

— IMPACT (@IMPACTWRESTLING) November 13, 2019
Sami Callihan & Madman Fulton vs Rich Swann & Tessa Blanchard – Tessa runs in and the match starts off hot. We get Swann and Tessa working together to wipe out Fulton, and then some back and forth with Swann, Tessa and Sami. Fulton's size and Sami's lack of a conscience caught up to Swann and Tessa though. Tessa tried to dive out onto Fulton to take him out, but he caught her and eventually got the best of her on the outside. Swann had a glimmer of hope until Sami clocks him in the head with the title belt and he was down for like a 9 count.
-oVe continue to be jerks and Brian Cage comes out for the save. So Sami's got a few people chomping at the bit for his title. 
-Moose thinks he's Mr. Perfect, but damn if it isn't amusing. 
Roger Federer, Steffi Graf, Pete Sampras, Serena Williams, Björn Borg – @TheMooseNation.

Moose now joins the ranks of the world's best tennis players having instantly mastered the sport. #IMPACTonAXSTV pic.twitter.com/JTXuc5MWLb

— IMPACT (@IMPACTWRESTLING) November 13, 2019
Crystal Moon vs Havok – I mean…come on now. This was a squash match that lasted longer than it should've. Poor Moon girl didn't have a chance. Callis summed up her chances beautifully on commentary with, "She will die soon".
Impact Tag Team Championship: Eddie Edwards & Naomichi Marufuji vs The North (Ethan Page & Josh Alexander) (c) – This was an impressive match, and not just for TV, just a damn good match. Things built slowly as Marufuji and Edwards showed off a little familiarity and even interesting cues from Marufuji that you don't see often. Anyone who was unaware, Eddie was trained in the NOAH Dojo, so he knows Marufuji well since Marufuji did help out the Dojo wrestlers. There was a great exchange where Eddie hooks Alexander in a Tiger Driver, Marufuji 5 Hole Kicks Alexander before the Tiger Driver goes off, but Eddie lands on his knees, so Marufuji launches himself off Eddie's back and lands a KO-OH on Page, while Eddie hits a classic Tiger Driver for only a 2 count. The NOAH team showed a bit more fluidity than I think The North expected, and Eddie showed he was hard to kill after kicking out of the Tandem Inverted Mat Slam. Page looked out of ideas when they were setting up the Argentine Spinebuster. Just a really entertaining watch.
Overall Score: 8/10
A lot of great story movement capped off with an awesome match. Brian Cage inserted himself into the Elimination Match, Suzie's resurrection got..different, Tessa is still the most over in the company and Johnny Swinger will die. Much like I say with most episodes, there's a good range of main event and undercard stories that keep moving, and that's great to see basically the entire cast.
One of the best IMPACT! main events of the year even got the fairly docile crowd to make noise. Hopefully this does well in maintaining interest for the coming weeks. I'm pretty sure the elimination match is next week, then we get their Throwback episode, so next few weeks should be good fun.
Really enjoyable show tonight, from all fronts.
Andrew's IMPACT #1000 Results & Match Ratings: 9.14.2023
Team 3D returns! Traci Brooks in action! Beautiful People letting the pigeons lose! Is it 2005 again? No – it's IMPACT! 1000!!!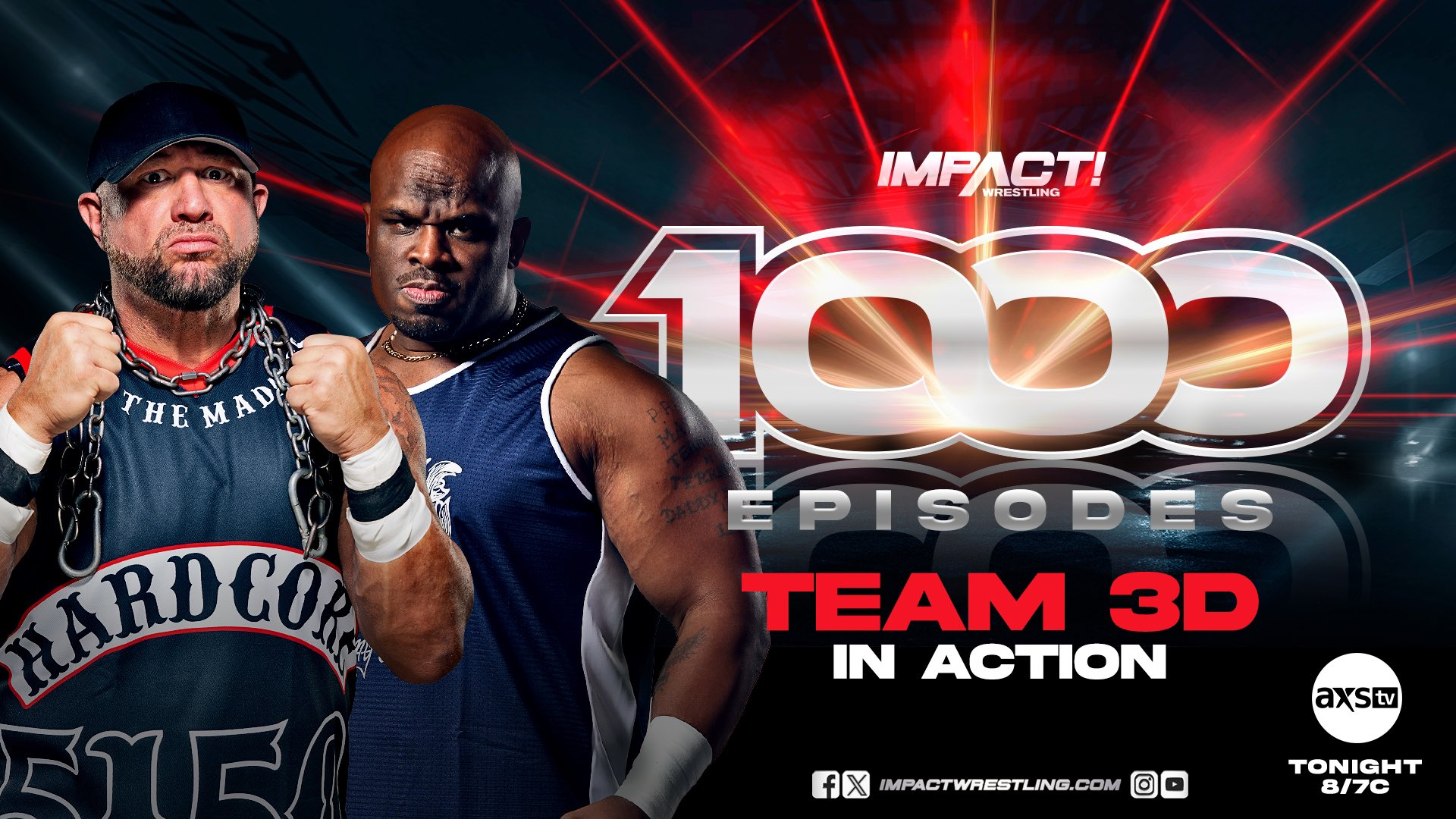 With the very first episode of IMPACT! posted earlier, it's time we get to one of the main attractions of the year for Impact Wrestling! The 1000th episode of their flagship show, we get a return of Feast or Fired, Team 3D will be doing something, and Traci Brooks will be in action for the first time since 2012 (2011 for TNA/Impact).
They have to have other things planned, and it should be fun to see who shows up for the celebration. We know it won't be AJ Styles or Petey Williams or Abyss, but you never know if there will be a wink to someone or something from the 20+ years of TNA/Impact action. Maybe Hermie Sadler returns? Pacman Jones? DeAngelo Williams?
Only one way to find out!
Ratings:
FEAST or FIRED: Crazzy Steve case 1 – Moose case 2 – Chris Bey case 3 and Yuya Uemura case 4 – ***
Team 3D vs Desi Hit Squad: Team 3D wins via Dudley Death Dorp – ** 1/2
Eddie & Alisha Edwards vs Frankie Kazarian & Traci Brooks: Traci wins via Fade to Black – ** 3/4
X Division Championship: Lio Rush (c) vs Chris Sabin: Sabin wins via Cradle Shock – *** 3/4 – TITLE CHANGE!!!
Results:
They do a modified classic intro with a combination of the new roster and classic highlights. Scott D'Amore kicks things off in the ring. Nice symmetry with D'Amore starting off episode 1 and 1000. Gail Kim gets a nice intro and as I've said, she is the only North American women's wrestler in my personal Top 5  for female wrestlers. People don't give Gail enough credit. 
They do a little Knockouts highlights reel, Beautiful People, Ms, Jackie, Christy Hemme, ODB, the new roster as well, but its nice to see the classics,  including a little highlight for Daffney. Beautiful People music hits! Velvel and Angelina come out and Rehwoldt echoes what Don West used to say about the entrance. Angelina and Velvel cut a classic BP promo calling people ugly or all before pictures. Gisele Shaw's music hits along with the SHAWntourage, and we know she's not here to backup Gail. The new mean girl gets to butter up the classic mean girls. Gisele thinks she's improved on the BP schtick and that's where she loses Love and Velvel. Velvel asks "who's so great from your generation" and Jordynne Grace's music kicks in. 
Jordynne with the classic face stuff, talking about the greats from the BP generation of Tara, ODB, Traci and Gail Kim. And then runs down annoying vapid bitches, and Deonna answers that call. Deonna does get a babyface pop though, so not sure what position she's playing in this opening promo. Trinity decides to show up once championships are mentioned. She's got a cute fringe leather jacket over her usual gear, and the fringe is glow in the dark, which is kinda cool…can't hate on it. After a little bit of chirping, AWSOME KONG'S MUSIC HITS and she has Raisha Saeed! Raisha does her classic "who will challenge" manager line and Tasha Steelz music hits. I was kinda curious where she's been when she sorta came back a few months ago. 
Tasha wants a piece of Kong apparently and Mickie's music hits after Tasha does her "Greatest that beat the Greatest" spiel. So we're gonna get some 5v5 Knockout generations battle. Mickie, Trinity, Kong, Jordynne and Gail vs Gisele, Savannah, Tasha, Deonna and one of the Beautiful People next week!
.@SharkBoy24_7 has been appointed Deputy Director of Authority by @milanmiracle. #IMPACT1000 @AMWwildcat @JamesStormBrand @TheEricYoung pic.twitter.com/kWAph9XQuQ

— IMPACT (@IMPACTWRESTLING) September 15, 2023
FEAST or FIRED
Tons of people in this match, not everyone got an intro so consider this more like a Battle Royal. I'll just call a few spots and who get briefcases. Kevin Knight and Kushida take out Brian Myers, but Laredo Kid and Black Taurus cut off the NJPW tag team from getting any briefcases. Taurus and Laredo turn on each other, Laredo with a Poison Rana, then they try to go up the ropes, but John Skyler throws the luchadors to the floor, Chris Bey tries to slow down Skyler. Bey crotches Skyler and then grabs the number 3 brief case. jump over a few people and he walks off with his spoils. Maclin getting ganged up on, Gresham and Gujjar are in the ring looking for  an opening to grab a brief case. Laredo cuts off Gujjar, Jai Vidal also shows up, Kevin Knight and Kushida start a Tower of Doom, Sami Callihan and Heath consider not playing into it, but say screw it and pull off the Tower spot. Sami and Heath trade blows, Crazzy Steve claws both men's faces, go up the ropes and grabs case number 1, but now he has to land with it. Crazzy Steve pulls out a fork from his boot, stabs Brian Myers in the stomach, and Moose just lets Steve walk by. Smart move by Moose.
Moose tries for a case, Maclin hits the Crosshairs and a KIA, but Gresham stops Maclin. Gujjar takes out Gresham and then Jai Vidal pulls Gujjar into the corner with his legs and gets a little close to throw off Gujjar, SLAY-More Kick from Vidal…but Alpha Bravo and Swinger stop Vidal's offense. Skyler Slingshot Spear, Skyler tries to fight them off, but Kushida gives Knight the assisted Springboard Crossbody. PCO eats the two junior heavyweights until Black Taurus Spinebusters PCO. Taurus looks for a Powerbomb but Laredo turns it into a Canadian Destoryer. JOYA hits the One Hit Wonder on Laredo and Hendry tries to protect Yuya. Hendry and Yuya play monkey in the middle with Sami Callihan, and steal away with case number 4!
PCO and Maclin doing the heavy shots, people decide to run into PCO  one at a time, but Jai Vidal tries to seduce PCO. PCO lets the kid try, but then Chokeslams him (Jai prolly liked it). Sami with an Iconoclasm from the corner to the apron onto the floor for PCO. Kushida and Knight work together to Avalanche Frankensteiner Taurus from the corner. Maclin sabotages Knight, HEATH slows down Maclin. Scoop Powerslam from Heath gives him a small opening, him and Maclin fight on the rope, Maclin picks the legs, tries his own luck and grabs case 2 and uses it as a weapon, but has to get to the floor. Slowly being surrounded, Maclin has to find a way. RHYNO shows up, GORE for Maclin and Moose scoops case 2 after it goes flying post Gore! Gore! Gore!
Rohit Raju is back! Champagne Singh may suck, but Rohit is the fantastic. He says name a tag team that has done more than the Desi Hit Squad…Team 3D music hits. 
Team 3D vs Desi Hit Squad
Bully and Singh start, Bully calls for a Devon chant and he comes in with the simple Double Axe Handle Armbreaker tandem move. Desi Hit Squad tries the Double Lariat, and Devon says no. Assisted Back Body Drop, Ray gets thrown from the top rope by Singh and the Hit Squad are starting to put together something. I'm a big fan of the Mocha Skinned Manimal, but you knew as soon as he got a little cocky…yup Spear from Ray. Simultaneous tags, Devon rocks Singh, Diving Shoulder Tackle, Neck Breaker, Pop-Up Single Hand Spinebuster for a near fall.
Scoop Slam from Bully on Rohit, WAZZZZUPPP!!! DEVON! 1-2-3 GET THE TABLES! The referee is letting it happen, and its nice he can read the room. Fling the Singh into a 3D, and the Dudley Death Drop picks up another win. But the table is still standing. So time to put him through a table…Bubba Bomb from the top rope style.
Josh Alexander has a small interaction with the Rascalz in the back, he's goading them while they're just being stoned sloppy assholes eating pizza and being somewhat rude. Commercial break hits and Josh is walking out to speak. 
Josh's promo sounds far too similar to what he said when him and Alex Shelley faced each other at Emergence 2022. So I'm a little tired of Josh's "I've been a fan for 15 years" or whatever. Shelley comes out taking offense to Josh's terminology about still calling it his title since he "never lost it". Alex Shelley plays up the heel side hard here, with the "You're Welcome for having a place to have a job", Josh tries to say he's been his fan, Alex Shelley asks fan or Mark? Okay, Shelley says he's the main character and Josh is the side quest, and honestly that popped me. 
The Rascalz hit the ring and attack both Shelley and Alexander, they throw Shelley into the ropes, he stops himself, Josh clocks both Rascalz and Shelley walks away. So The Rascalz double team Alexander as Shelley just walks off slowly. 
There is absolutely no reason to lie @ZacharyWentz. #IMPACT1000 @TheTreyMiguel @SharkBoy24_7 pic.twitter.com/cnGFc5JHVv

— IMPACT (@IMPACTWRESTLING) September 15, 2023
Eddie & Alisha Edwards vs Frankie Kazarian & Traci Brooks
Traci coming out in her Ms. Brooks gimmick and still looks pretty good. Alisha and Eddie start talking shit to Kaz and Traci's son who's in the crowd; that's good heel work.
Slap from Traci, ragdoll Cat Fight style wrestling as Frankie goes after Eddie and this just spills out into more tornado style. Eventually the Edwards get the upper hand and Lish starts paint brushing Traci and pushing her around. Lish tags in Eddie and goes after Traci, but Traci slaps him and crawls through his legs to tag Frankie. Lish kicks Kaz while he's rope running which distracts him enough to run into a Blue Thunder Bomb. Commercial happens and we're back with Lish smacking Frankie. Frankie is about to snap but she runs back to tag in Eddie real fast
Eddie taking a methodical pace, but Frankie floats over and turns it into a Back Stabber to maybe find some space. But Lish pulls Traci off the apron and Frankie is grabbed by Eddie. Lish hits a Tornado DDT on from the apron to the floor on Kaz. Celebratory kiss from the Edwards, and Eddie throws Kaz back in. Kaz hits a few chops but Eddie fires back with a big Lariat and then chokes Kaz with the middle rope and Lish gets involved as well. Kaz has been eating offense from everyone, which makes sense since, well, Traci was never known for wrestling. Lish tags in, Kaz moves so Eddie catches Lish, tries to Victory Roll Eddie but is told he's not legal. Lish runs at him, Kaz calls her a "stupid bitch" hits the Northern Lights combo for a near fall. Traci gets tagged in, starts rocking Alisha, but Eddie gets involved, tries to Backpack Stunner her, but she claws his face and hits an Avalanche X Factor while Kaz hits a Running Knee Lift into Eddie's face. Fade to Black from Traci to win!
After the win, Frankie says they have more and points to the screen. Traci Brooks is also going into the Impact Hall of Fame this year! She looks genuinely surprised and gets "you deserve it" chants from the crowd. So a very nice moment and their son is in the ring with them. So a nice moment. 
X Division Championship: Lio Rush (c) vs Chris Sabin
Boo, I wanted Sabin to come out to his old "HAIL SABIN" music instead of the generic one. Also still a little annoyed I'm enjoying this new version of Lio Rush, but hey, people eventually smarten up and it looks like he finally figured it out.
Lio still uses his slippery speed early to mess with Sabin and just out quick the X Division Icon. Oki-doke along the ropes, Sabin eats another Handspring and Suicide Dive as complete Deja Vu for the Slammiversary sneak attack. So Final Hour attempt, eerie shades, but the official isn't getting out of the way. Lio gets annoyed, goes for Sabin, Small Package near fall, Cradle Shock gets slipped and a few quick flash moves and cradle attempts from Sabin. Sabin played possum like a pro.
Corner 10 Count Punches, stop at 9, and goes for a big Wind-Up Chop for 10. Lio tries to retreat to the ropes, but Sabin pulls him back into the center, feigns a crotch shot but turns it into the classic Liger Surfboard. Lio puts the breaks on the Irish Whip, Springboard Frankensteiner gives Lio some life. Rush tries to tie up Sabin in a Sleeper but Sabin keeps fighting through. Drive to the corner, but Lio fires back with a Lariat into a Side Suplex for 2. Grounded Sleeper with the Body Scissors from Rush, and Sabin is back to gasping for air. Jaw Jacker makes some space as Sabin tries to remember how to breathe.
Sabin pops Rush and then connects with a Missile Dropkick sending Lio reeling. Cradle Shock attempt but Rush claws the eyes and keeps his fingers there until the referee starts to count. Asai Moonsault from Rush and Sabin is still dazed. Rush resets the 10 count instead because he's trying to make a statement, Snap Suplex onto the ramp and Rush is selling a bit as well. Rush ain't sitting pretty, but that's probably also fueling his desire to make an example of Sabin.
Lio goes for Cradle Shock, but Sabin slips and doesn't take the insult, but a counter slip into the Sweeping Spin Kick of Lio for 2! Rush to the top rope but Sabin grabs him to stop him. Fighting back and forth, Sabin with the Superplex as both guys play dead for a few seconds. Stacked Powerbomb from Sabin when Lio ducked to early, but only 2! YAKUZA KICK from Sabin! Cradle Shock…nope slipped, Super Kick, slide through the legs transition into the STF. Lio starts struggling, Sabin picks him up for the Die Hard Driver. Clothesline from Hell,Michigan, Cradle Shock – KICK OUT! Avalanche Cradle Shock attempt, but Lio fights off, claws the face again, FINAL HOUR! But Lio can't cover right away and Sabin kicks at 2!
You can see Lio is annoyed so he just started peppering forearms, but Sabin fires and returns punches in kind. Lio with his quick hit combination, Tanaka Punch, into Shell Shock into Cradle Shock! 10 TIME CHAMPION! CHRIS SABIN! With the power of all his friends!
Overall Score: 7.5/10
Admittedly, a lot of talking. So if you aren't an invested fan, I can see some of this show feeling slow. But they definitely did right by the history, the lineage and the originals still on the roster. Awesome Kong and Gail Kim in action next week with the Beautiful People and even Raisha Saeed being back! Rhino returns. America's Most Wanted sighting! Chris Sabin main evented episode 1 and 1000. But the different here is he actually won.
So that's a fun game I guess, Kaz, Eric Young, Shark Boy, Scott D'Amore, AMW and Chris Sabin are the people who were on episode 1 and 1000.
Traci getting the surprise induction package as well was a nice way to cap her career. Team 3D running it back 1 more time was great. Next week we will find out who got what briefcase. Unless they change the gimmick, it used to be; World Title Shot, X Division Title Shot, Tag Team Title Shot and a pink slip. I would like the results to be:
Crazzy Steve – X Division
Moose – World Heavyweight
Yuya – Tag Team
Chris Bey – Fired
Not because I dislike Bey, quite the opposite. But it would be an easy way to let him go in case there's contract issues or he has chances in other companies. Because they just named JOYA a few weeks ago, I think Moose signed a decent extension and Steve just had all those promos to get over his new motivation…so Bey is the only one who seems to be treading water a little.
We'll find out though, but all in all, it was a good celebration of 1000 episodes of IMPACT!
Andrew's TNA IMPACT! Episode 1 Results & Match Ratings: 6.4.2004
IMPACT! 1000 is later tonight, so lets stir up some hype with IMPACT! number 1!!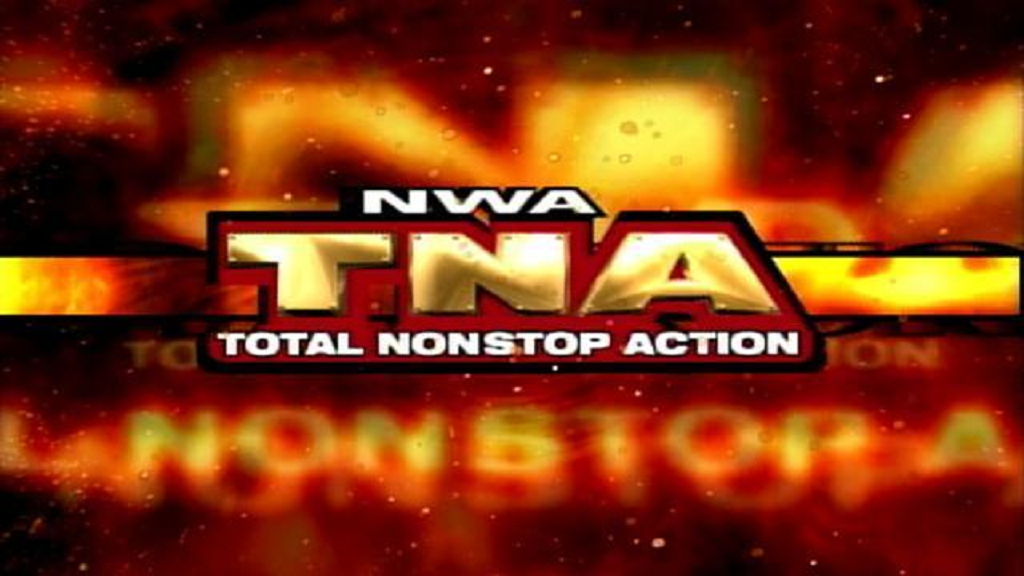 With the 1000th's episode airing later tonight, I figured a fun way to hype things up could be hoping in the time machine to the first IMPACT! episode. The Impact Wrestling YouTube channel uploaded it in its entirety a few days ago, and it seems like the perfect springboard for a momentous occasion!
People have been decrying that TNA/Impact will die in no time. Well 19 years of IMPACT! and 21 years of TNA seem to have proven most of the detractors wrong. Were there dark times? Sure. Are their Claire Lynch storylines that I wish were fever dreams? Extra yes! But lets enjoy the throwback episode for the Little Engine That Could, Total Nonstop Action Wrestling!
Ratings:
Team Canada (Bobby Roode, Petey Williams & Eric Young w/Coach D'Amore) vs Amazing Red, Sonjay Dutt & Hector Garza: Hector Garza wins via Tornillo – ***
Shark Boy vs Abyss: Abyss wins via Blackhole Slam – N/A
NWA Tag Team Championship: America's Most Wanted (Chris Harris & James Storm) vs Kid Kash & Dallas (c):  Wildcat wins via School Boy – *** – TITLE CHANGE!!!
X Division #1 Contender: Chris Sabin vs Michael Shane vs Elix Skipper vs AJ Styles: Styles wins via Styles Clash – *** 1/4
Results:
Team Canada (Bobby Roode, Petey Williams & Eric Young w/Coach D'Amore) vs Amazing Red, Sonjay Dutt & Hector Garza
Ahh the six sided ring is nice to see again, and the international team Dives right on Team Canada and starts things off fast and sexy. EY and Sonjay get in the ring, Spinning Headscissors from Sonjay gives the time for Sonjay to tag in Red; and we see a little tandem work. Team Canada mobs Red though and helps EY tag out to Bobby, and Roode showing all those classic Triple H moves that we loved him for. Roode tags to Petey for an Electric Chair Bulldog combination, and a 2 count.
Petey places Red on the ropes, goads the babyface international squad and Coach D'Amore takes a cheap shot. Garza gets annoyed at all of the heel stuff and forces himself in to break up the pinfall. Red finally counters EY and Red, hot tag to Hector Garza, he takes out Petey and EY, but Bobby stops him with a Sitout Powerbomb. Sonjay takes out Bobby, EY with the Wheelbarrow Suplex to lay out Sonjay, Code Red from Amazing Red on EY and then a Canadian Destroyer from Petey! The signature spam leads to a big avalanche Frankensteiner from Sonjay into a Tornillo from Hector Garza for the win!
Classic TNA flashback to Toby Keith getting his revenge on Jeff Jarrett. 
Shark Boy vs Abyss
Ahh Greg Demarco's favorite wrestler, Abyss. I have missed his twisted circus music though.
Abyss goozles Shark Boy immediately, but he bites the hand, tries to use his speed to rock Abyss…but then he pulls a stupid. Shark Boy goes for the Crossbody, Abyss catches him, eats him, Shock Therapy attempt but catches him in a Blackhole Slam and Abyss wins easily.
Popeye consoles Shark Boy, because remember they film in Orlando. 
NWA Tag Team Championship: America's Most Wanted (Chris Harris & James Storm) vs Kid Kash & Dallas (c)
For anyone who doesn't know, Dallas thinks EVERYBODY DIES! Always fun to see old school Lance Archer gimmicks. And its very weird to see James Storm win no beard.
Tennessee Cowboy and Kid Kash start, a stall into rope run and then Storm catches Kash with the Monkey Flip. Chris Harris tags in, a little tandem corner moves into a Space Jam, and Dallas has to break up the pin. Kash finally grabs the ropes to slow down Storm, Storm charges, Stun Gun and Dallas gets tagged in; tandem action and a 2 count.
Commercial break and Tenay said the "keep the tape machines rolling" line, so I popped for dumb reasons. Kash is legal and working over the Cowboy. Kash and Dallas go for a tandem move where Dallas is perched, Kash climbs Dallas and goes for a Sky High Moonsault, but misses! Tags happen and Wildcat throwing haymakers and his body at the big man, keeping the offense rolling. Kash breaks up the pin, signature spam moment. Blackout/Frog Splash tandem on Roode but the Wildcat hits a Spear from out of frame on Kash to stop a pinfall. Dallas gets crotched then rolled up by Harris…AMW wins!
The American Dream daddy, is introduced as the special judge! For clarification, because they did time limits on Fox Sports Net, anything that went to time would be voted on by Judges like a boxing match. Dream gets cut off by the King of Mountain, Jeff Jarrett! My World is still one of the best wrestling themes, period. Dusty gets an "elbow" chant from the fans. The drawing power of dream is relevant in Florida even in 2004. 
Jarrett runs down Dusty as a has been, asks him if he needs money, and its decent heel work. Jeff equates it to High Noon, takes 5 paces in the Jackie Fargo strut style that Dusty shadows in a mock way, then paintbrushes Jarrett with his cowboy hat when Jarrett turns. Ron "The Truth" Killings makes the save for Dusty when Jarrett turns it around and the rest of the 3 Live Kru (Konnan and BG James) shows up to run Jarrett up the ramp.
Chris Sabin vs Michael Shane vs Elix Skipper vs AJ Styles
YOU ARE, YOU ARE, I AM, I AM! 
A few early strikes, early high spot is Skipper flying over Sabin and Shane to grab AJ before Sabin and Skipper wipe each other out. Shane tries to get something rolling but the classic Styles Dropkick into the I AM pose pops the crowd hard. Skipper and Sabin land a few shots, Sabin Crossbody into a pin, but Skipper Matrix escape and kicks Sabin in the teeth. Shane connects on the Wheelbarrow Suplex making him look like King of the Hill.
AJ picks the foot and drags Shane out but Shane reverses the Vertical Suplex. Elix hits the snap STO on the inside but Shane breaks it up, Implant DDT from Shane, broken up by AJ. Ins, outs, Springboards, PHENOMENON from AJ for 2 because Sabin breaks it up. Springboard Tornado DDT from Sabin but AJ kicks out. Tiger Wall Kick from Sabin on Elix, Low Dropkick and then Shane lays out Sabin with a Butterfly Suplex. Shane goes to the top, AJ crotches him, Elix walks the ropes and Frankensteiner to the outside where both crash and are out for a while. AJ ole's Sabin so he crashes in Elix, FOSBURY FLOP from AJ!
Sabin and Shane are inside somehow, Sabin gets posted, AJ springboards in with the sunset on Shane, rolls it into the Styles Clash and wins! Number 1 contender, AJ Styles.
X Division champion Frankie Kazarian comes down to talk smack with AJ as the show fades out.
Overall Score: 8/10
Given the fact it was their first chance at a larger audience than just the Weekly PPV gimmick, this had everything. Fast action, old names that people could sink their teeth into (Shane Douglas, Dusty Rhodes, Vince Russo, Jeff Jarrett, Hector Garza, Mike Tenay, Kid Kash) and the younger wrestlers looked interesting. Sure there wasn't any real personality work, but when Fox Sports Net only gave them an hour, I think they threw enough at the fans to entice a few back.
Also in retrospect its fun to see some of the names that are still active, still in TNA/Impact and even some no longer around. Hearing Don West and Mike Tenay again was really refreshing. Never understood the hate on Don West's style, and I'm very happy that Tenay and West are getting recognized in this year's Impact Hall of Fame.
ICYMI: At #BoundForGlory we will honor the iconic, incomparable announce team of @RealMikeTenay and Don West as they will be inducted into the IMPACT Hall of Fame on October 21 in Chicago. pic.twitter.com/y16MncbkWB

— IMPACT (@IMPACTWRESTLING) September 10, 2023