AJ's Elimination Chamber Results & Review: 2.21.21
AJ's back at it again with the WWE coverage! Chamber matches? Drews versus AJs? Lets see if art imitates life!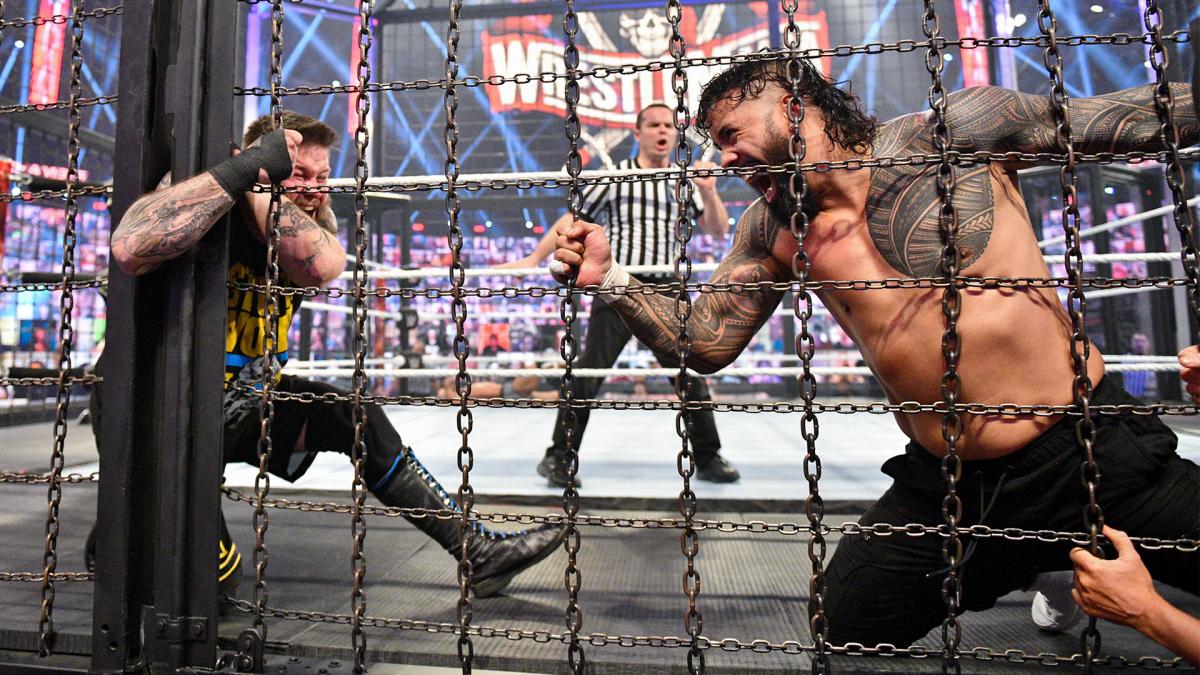 Well the Road to WrestleMania is still rolling for the last PPV on the WWE Network until it's part of Peacock. Two Elimination Chamber Matches, United States title has a change to it's participants, the Women's Tag Titles are on the line and Roman gets to pick the bones of the Universal Championship Contender Chamber winner.
Let's see how they deliver in No Way O—Sorry; No Escape 2021.
Results:
SmackDown EC Match: Jey Uso, Kevin Owens, Cesaro, Daniel Bryan, Sami Zayn & King Corbin:  Daniel Bryan wins by last eliminating Jey Uso – *** ¾
Daniel Bryan vs Roman Reigns (c) for the Universal Championship:  Roman wins via Guillotine Choke – N/A – TITLE DEFENSE!!
Matt Riddle vs John Morrison vs Bobby Lashley (c) for the United States Championship: Riddle wins via Bro-derick – *** – TITLE CHANGE!!!
Bianca Belair and Sasha Banks vs Nia Jax and Shayna Baszler (c) for the Women's Tag Team Championship:  Nia wins via Samoan Drop – ** ¼ – TITLE DEFENSE!!
Elimination Chamber Match for the WWE Championship: AJ Styles, Kofi Kingston, Sheamus, Randy Orton, Jeff Hardy & Drew McIntyre (c) – *** ¾  – TITLE DEFENSE!!
The Miz vs Drew McIntyre (c) for the WWE Championship- The Miz wins via Skullcrushing Finale – TITLE CHANGE!!!!
Review:
SmackDown Elimination Chamber Match
We start the match up with Daniel Bryan and Cesaro start things off in the match-up and I swear watching this match, they read all of Andrew's hatred for Ring of Honor because four of the competitors are form champions in ROH. Anyway, Cesaro is taking it to Bryan very early with three quick covers  early on. Daniel gets more of the pace started and the first toss out of the ring on the padding and chains happens to Cesaro. With more wrestling and back and forth going on, we finally get our first pod open with Corbin who comes in and dismantles the other two into the chainlink fencing, taking control of the match. Corbin makes a quick slip and Daniel Bryan reverses by doing the running dropkick in the corners until Cesaro counters over time and does the running European Uppercuts. Corbin has enough and does a Deep Six to both to weaken the starting two. The next one into the ring is Sami Zayn and he instantly closes he pod from Corbin, taunting him and Bryan does a running knee to Corbin into the pod. Sami proceeds to talk some smack (doesn't he know that's after SmackDowns, not in PPVs) and Cesaro shows up on the other side and takes him to town in his pod and each men in the ring are drastically weakened. After everyone gets beaten around, we have our first high spot of the chamber as Sami and Cesaro are on the wall, trying to get the upper hand on things but Sami gets stomped off of the chains and to the padding below.  Cesaro gets to attack Corbin now as Corbin catches him and we get our first elimination.
Corbin taps out to the Sharpshooter by Cesaro.
We get our 5th entrant with Kevin Owens and Sami begin to plea and get Owens on his side but we know how that song and dance goes. All men come in to beach each other up and I'm pretty sure if there was a real crowd, we would have and ROH chant. I say that only because is it 2008 Ring of Honor? Kill Steen Kill. Break people over his knee and destroy them all. Oh look Jey Uso is next up and did I say Kill Steen Kill? Because Kevin is incensed and doesn't care about the others in the ring.As the 4 others are going the normal brawling, Owens gets a case of the screw it's and does a Moonsault off the pod and does a good amount of stunners. The last one being Sami Zayn and just like the past twenty years…
Sami Zayn is eliminated Kevin Owens.

As Sami leaves, Jey goes and slams the chamber door into Owens' arm and holds it still, superkicking him over and over…
Kevin Owens is eliminated by Jey Uso.
Jey goes over to a weakened Daniel Bryan, striking his knee and tries to attack Cesaro. Cesaro catches him with a Uppercut and swings Jey into the walls before Daniel Bryan and Cesaro go back and forth again. Yes Kicks, backslides, Bryan is doing everything he can to take Cesaro out of the equation. As Bryan goes for a knee, Cesaro tries to change the momentum in his favor but finally gets it, after Daniel Bryan goes to the top rope. Cesaro outpowers Daniel Bryan with a gut buster from the top and starts to swing Daniel Bryan. Jey catches him with a superkick and splash…
Cesaro is eliminated by Jey Uso.
Daniel Bryan gets caught with a splash as well after but DB kicks out and Jey is in disbelief. Bryan favoriting his knee as Jey goes to the top of the pod and goes for another splash. Bryan gets his knees up, hurting himself but we all know, adrenaline is a hell of a drug and takes out Jey win a Running Knee.
The pod begins to raise we get match number two as the music plays…
Daniel Bryan vs Roman Reigns
The ref asks if Daniel can go, who says yes and actually catches Roman's spear into a Labell Lock. Roman breaks out and starts beating the hell out of Daniel Bryan until he's knocked out and goes for the Guillotine for the win.
Roman, in his cocky grandeur, holds the belt up and celebrates. Tell me. The person with a Spear comes in after an Elimination Chamber. Can we get the man that did that first in 2006? Oh thank you Edge. Edge comes out, Spears Reigns then points at the Mania sign. Main Event for Mania confirmed. Edge vs Roman.
Matt Riddle vs John Morrison vs Bobby Lashley
So to clarify, the pre show had a fatal four way to replace an injured Keith Lee which Johnny Drip-Drip won.
Well Lashley dominates early on, taking it to both Morrison and Riddle with easily and stands alone in the ring after taking out the other two to the floor. Every time Riddle or Morrison try to get a head of steam, Lashley shrugs it off and takes them out. Riddle and Morrison now team up to take out Lashley and get it for a brief moment of time but, Lashley is still dismantling them both, treating them like ragdolls. Once more, Riddle and Morrison go to take it to Lashley and this time it works. Morrison goes to take out Riddle now and they take it back to the ring as they start to go back and forth with the match. Lashley comes in and gets caught to Riddle's Floating Bro. Morrison pulls Riddle off, does a Starship Pain. After kicking out of it, MVP starts to talk more smack on Morrison and Morrison takes MVP's crutch and is going to use it on Lashley but drops it and goes into a Hurt Locker. Riddle actually does the intelligent thing for once, takes the crutch and takes out Lashley with it and does the Broderic to win the US Championship.
Bianca Belair and Sasha Banks vs Nia Jax and Shayna Baszler-
Nia and Bianca start and the hole jokes begin again to Nia, frequent tags to take Nia out until Shayna tags in. Bianca doing a lot of good and going back and forth before Sasha gets in. The champs take advantage and starts taking control of the match with tags to each other. After some misfunction going on to knock Bianca out, Sasha actually get the advantage back against Shayna and look so close to winning the belts until Nia gets in and dominates Bianca. The two challenges actually looking impressive and making good and frequent tags with strength and speed to boot but multiple near falls but, Reginald comes out and brings a little bit of bub… ahem Champagne for celebration. Reggie tells Sasha to use the bottle to beat Nia but the ref sees the bottle, tells Sasha to not use the bottle to win and Nia capitalizes to get the win and retain.
WWE Championship Elimination Chamber-
Jeff Hardy and Randy Orton start the match off here and are we surprised? Randy methodically taking our Hardy, inside and out of the ring. After taking a good five minute beating, Jeff finally comes back with his offense we are so familiar with over the years, hitting the mule kick and aerial offense but Orton keeps kicking out before we get our first entry from a pod being Drew McIntyre himself. Instinctively going to fight Orton before Hardy gets some punishment too from the champion. As Drew cleans up against Hardy in the outside, Randy catches McIntyre and does the Hangman DDT to slow Drew down and goes to do some back and forths until number four comes into the ring. Kofi comes out to even some of the odds as Kofi comes out and fights Orton, and catches Randy for a pinfall.
Randy Orton is eliminated by Kofi Kingston.
AJ tells Omos to pull the paneling off the pod wall and come in as Randy RKO's the world. Adam Pierce kicks Omos out of the ring and is part of the match now as AJ takes out anyone he can find. After Kofi takes out AJ on the outside, Drew and Kofi go to blows in the ring now. After Kofi gets a beat down, AJ is next… (No… no flashbacks. God no) and now taking care of Jeff Hardy before looking at Sheamus and the timer comes up for Sheamus. The two beating the hell out of each other, going to the corner and middl of the ring. Kofi and Hardy turn into fodder and take the wrath of Drew and Sheamus for interfering before they go back to fighting each other. Sheamus and Kofi get the next big pod spot but Drew gets in the middle of it and pulls Sheamus down, making sure the post for the turnbuckles hits him in his Bangers and Mash. Whenever Sheamus and Drew get together, whoever gets in the middle of it. We get a Tower of Doom spot with AJ, Jeff, Drew and Sheamus and Kofi is on the pod still. Kofi does to do a Trust Fall from the pod and attempts pins but… everyone he pins, kicks out. Kofi and Sheamus start to fight and after a quick back and forth, hit him with the Boot Kick.
Kofi eliminated by Sheamus.
Sheamus now, looks at Jeff Hardy and Hardy gets a head of stream going, giving everyone in the ring Twists of Fate and lastly tries to Swanton AJ rolls out of the way. Jeff says screw it, Whisper in the Wind to Sheamus and Drew. Swanton Bombs AJ perfectly afterward on the other side and McIntyre Claymore Kicks Jeff out of his boots and match.
Jeff Hardy eliminated by Drew McIntrye
Sheamus now determined to beat Drew and afte another back and forth, a Glasgow Kiss from McIntyre and a White Noise in return to Drew as AJ tries to take down Drew with a Springboard Senton and 450 and gets two nearfalls for it before Sheamus starts take out AJ for not finishing off Drew. Sheamus goes to the top and takes AJ out with a clothesline. Drew cuts off Sheamus doing a Brogue Kick and does the Futureshock DDT and crawling to the opposite side for the Claymore onto Sheamus. Sheamus hits the Brouge Kick but AJ hits the Phenomenal Forearm to Sheamus and goes for the pin.
Sheamus eliminated by AJ Styles.
Ah shit… I mean AJ and Drew are the final two. Styles goes for another forearm but Drew hits the Claymore in midair. Ya-da, Ya-da, Ya-da. Song and dance. My life…
AJ Styles eliminated by Drew McIntyre.
As Drew celebrates and the chamber raises, Bobby Lashley comes out and takes it to Drew McIntyre after the match. Lashley applying the Hurt Lock, spearing Drew, bashing him against the announce table and once the brutality ends, we hear the Miz's music hit.
Drew McIntyre vs The Miz
"THE MIZ IS CASHING IN HIS MONEY IN THE BANK BRIEFCASE!"
Miz goes on to DDT and attempt one pinfall against Drew but Drew kicks out at 2 when it's all said and done. Miz making sure he wastes no time, picks up Drew and hits him with the Skullcrushing Finale and we have a new WWE Champion.
Overall Score & Thoughts: 7/10
It was… alright. I like that it was five matches and not the cluster of like eight or nine we usually get but, it was well paced and worked beautifully. The tag match was going to end sloppy like because we all knew that they wouldn't drop the titles from Shayna and Nia again after just getting them back then the stupid finish kind of soured me on the match in general even though it was great tag team action. Both Chamber matches ended the way we all thought and the aftermath was also… somewhat predictable. The Roman match coming afterward and then the cash in too after Lashley attacked. Not saying it's bad but, predictability was on high alert for this one except the United States title match. I'm more surprised that they had Riddle win but hey. Maybe he can do something with it and show of his skills as United States Champion.
Lets see what Fastlane has to bring since it's next before WrestleMania.
Mitchell's AEW Collision Results & Report! (9/30/23)
It's WrestleDream Eve!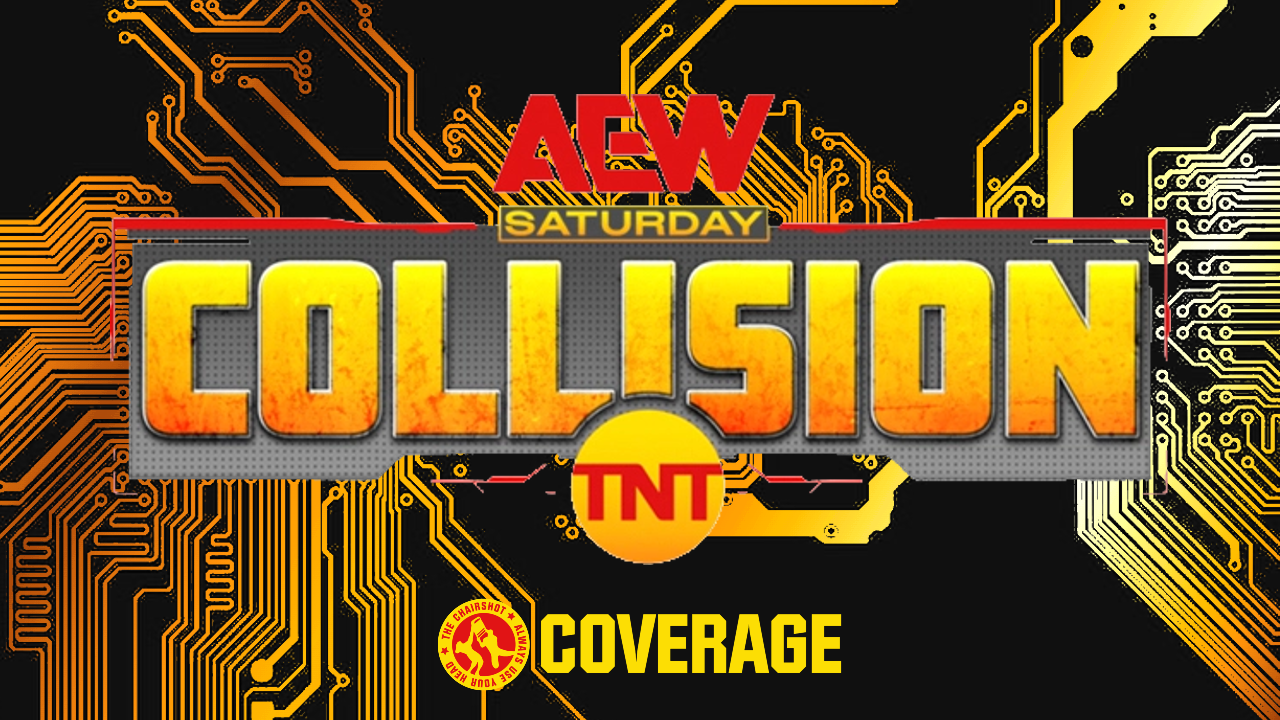 There's a Collision in Seattle!
Before AEW starts a "new chapter" with WrestleDream, it is an All-Star Collision 8 Man Tag! Will FTR and BCC work together to take down their enemies?
OFFICIAL RESULTS
Andrade El Idolo VS Juice Robinson; wins.
Julia Hart w/ Brody King VS ???
Chris Jericho & Kenny Omega VS The Gates of Agony w/ Prince Nana; win.
The Kingdom VS Best Friends; win(s).
WrestleDream All-Star 8 Man Tag: Bryan Danielson, Wheeler Yuta & FTR VS Ricky Starks, "Big Bill" Morrissey & Aussie Open; win.
PLAY BY PLAY
[Due to scheduling conflicts, coverage of AEW Collision will begin later tonight]
Mitchell's NXT No Mercy Results & Report! (9/30/23)
There's No Mercy in Bakersfield!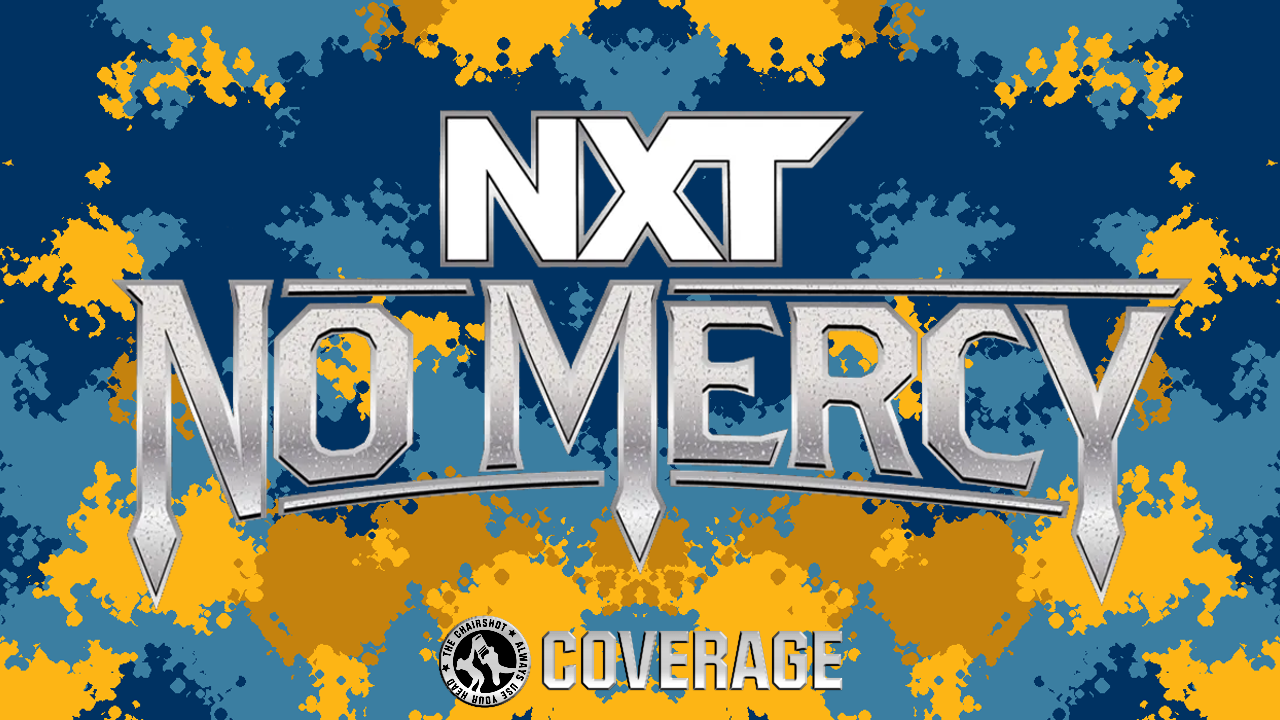 Will the Mad Dragon slay… HIM?
In a rematch from The Great American Bash, Carmelo Hayes and Ilja Dragunov once again battle over the NXT Championship! But will history repeat itself? Or will history be made?
OFFICIAL RESULTS
Kickoff Show – Blair Davenport VS Kelani Jordan; Blair wins.
Bron Breakker VS Baron Corbin; Corbin wins.
NXT North American Championship, Special Guest Referee Dragon Lee: Dominik Mysterio VS Trick Williams; Trick wins and becomes the new NXT North American Champion.
NXT Tag Team Championships Fatal 4 Way Tag: Tony D'Angelo & Channing Lorenzo VS The Creed Brothers VS Angel Garza & Humberto Carrillo VS #OutTheMud w/ SCRYPTS; Tony & Stacks win and retain the titles.
NXT Heritage Cup Championship: Noam Dar w/ The Meta Four VS Pete Dunne w/ Tyler Bate; Dar wins and retains the cup.
NXT Championship: Carmelo Hayes VS Ilja Dragunov; Dragunov wins and becomes the new NXT Champion.
NXT Women's Championship Extreme Rules Match: Becky Lynch VS Tiffany Stratton; Becky wins and retains the title.
PLAY BY PLAY
It's the No Mercy Kickoff Show!
Join Megan Morant, Matt Camp & Sam Roberts in discussing, analyzing and predicting all the action about to go down in Bakersfield!
Kickoff Show – Blair Davenport VS Kelani Jordan!
The Ichiban Gaijin made sure Gigi Dolin had no chance against her on Tuesday by attacking her long before their match! Will she add another name to the list of victims? Or will Kelani show what she can do all on her own?
The bell rings and fans rally up as these two stare down. They tie up, Blair throws Kelani down then she headlocks. Kelani endures, fights up, and powers out, only for Blair to run her over. Fans rally as things speed up, Kelani splits, hurdles then slingshot arm0-drags! Then springboards to RANA, and then DROPKICK! Fans fire up with Kelani as she shows off her #FlexAppeal! Handspring back elbow, then the- NO, Blair blocks the flip to put Kelani up top and SWAT her down! Kelani tumbles to the floor, Blair goes out and RAMS her into the apron! Blair talks trash and fans are torn as she storms around.
Blair drags Kelani up and into the ring, then storms up on her. Blair whips Kelani to a corner, hits a hip toss, then brings Kelani up to scoop and SLAM! Cover, TWO! Blair keeps on Kelani with a chinlock stretch! Kelani endures, fans rally up, and Kelani fights up. Kelani elbows free, then DROP- NO, Blair blocks the kick to have the legs! BOSTON CRAB! Kelani endures, reaches out, crawls forward, but Blair drags her away! Blair sits deep on the hold, but Kelani continues to fight forward! Kelani rolls and sends Blair into buckles! Fans fire up, Kelani ROCKS Blair, CHOPS Blair, then ROCKS her again!
Kelani swings again but Blair gets under. Waistlock, but Kelani victory rolls! TWO, and Blair swings, but Kelani counter punches! Blair ROCKS Kelani, Kelani snarls and ROCKS her back! Blair snarls and she ROCKS Kelani! Kelani ROCKS Blair! Blair hits back, Kelani hits again, and fans rally up behind Kelani, only for Blair to DECK her! Blair BOOTS Kelani, talks trash, calls her a child, and says she's nothing! Kelani gets mad and blocks a kick! Kelani shakes her head, throws the foot away and ROCKS Blair again! Then slingshot CUTTER! Fans fire up while both women are down!
Kelani and Blair stir, the fans rally up, and Blair goes to ropes. Blair and Kelani stand, and Kelani rallies on Blair with big forearms and elbows! Fans fire up with Kelani, she handsprings into the BACK ELBOW! Kelani kips up and the fans are with her! Kelani shouts at Blair to get up, then kicks her low! OVERDRIVE! Cover, TWO! Blair survives and Kelani is fuming, but the fans still rally! Kelani gets Blair up but Blair wrenches and WRINGS the arm! Then DOUBLE STOMPS Kelani's back! Blair drags Kelani up, suplexes, but Kelani slips free to hop on! SLEEPER!! Kelani has the body scissors, too!
Blair endures, RAMS Kelani back into buckles and is free. But Kelani goes up to AX KICK! And then up and up and SPLIT LEG MOONSAULT onto knees! Blair goes up and up and FLYING DOUBLE STOMPS! Fans fire up again and Blair drags Kelani up. Blair reels Kelani in, suplexes, FALCON DRIVER! Cover, Blair wins!
Winner: Blair Davenport, by pinfall
Enemies of the heir beware! But wait, GIGI DOLIN IS HERE! And she CLOBBERS Blair, gives her Kawada Kicks, then rains down furious fists! Refs rush out to stop this but Blair gets up and scraps with Gigi! Fans want to "LET THEM FIGHT!" but when and where will these two settle the score?
Time to play the game.
Plug in the cartridge and load up the brand new NXT edition of No Mercy! Press start and make the match! Will there be no asterisk next to tonight's NXT Championship match? Will the Bruiserweight snap Noam Dar's reign? Or just his fingers? Who will truly be #MeanerThanEvil? Is karma going to bite Dirty Dom right on the ass? Or will he still #WhoopDatTrick? And in the biggest and most violent match of her career, will Tiffany Stratton take back the title? Or will the Big Time still be too much for Wrestling Barbie?
Bron Breakker VS Baron Corbin!
What a way to open No Mercy! These two definitely show no mercy to their opponents, or even their surroundings, having smashed their way all around NXT Arena in Orlando, and even into HBK's office! Will things somehow get even more destructive than that here in Bakersfield? Who wins, let alone survives, this match?
While Bron has a new dog headdress, Corbin pulls up on his Harley Davidson. Corbin talks trash, and Bron FLIES out onto him! Fans bark for Bron as he throws hands on Corbin! Bron tells security to back off, then he throws more hands! Corbin tries to get away into the crowd but Bron follows! Fans fire up as they get an even closer experience! But Corbin sends Bron into trash cans! Corbin throws hands and he follows Bron along the barriers to throw even more hands! Fans fire up as Bron hits the Lone Wolf back! Bron ROCKS Corbin with haymakers and sends him back to ringside, to then knee low and TOSS over barriers!
Fans fire up and Bron stares security down. Bron DECKS the security! But then Corbin CLOBBERS Bron back into the front row! Corbin grins and fans are all fired up! Corbin drags Bron up and over the barriers, puts him against the desk, and he ROCKS Bron with hands! Corbin pushes Bron onto the desk, goes up the steel steps, and SENTONS onto the desk! But Bron got outta the way, Corbin crashes 'n' burns all on his own! Fans are thunderous for "NXT! NXT!" as Bron puts Corbin in the ring. Bron tells the ref to do his job, so the bell rings! Bron RAMS into Corbin in the corner, whips him corner to corner, then clinches for a back drop!
Fans bark as Bron storms around, and he drags Corbin up to fire hands. Bron RAMS into Corbin again and again as fans duel. Bron whips corner to corner, but Corbin BOOTS back, goes up, and FLYING LARIATS! Cover, TWO! Corbin throws off his shirt, CLUBS Bron to a corner, then throws body shots! Fans duel, the ref counts, and Corbin tells the ref to back off. Corbin bumps Bron off buckles, whips him corner to corner, then suplexes high and hard! Cover, TWO! Bron is tougher than that, and is on his feet! Fans bark, but Corbin DECKS Bron! Corbin rains down forearms, then some elbows!
Corbin lets off to soak up the cheers and jeers from Bakersfield. And yes, there are cheers! Corbin fireman's carries but Bron slips off to fireman's carry and GUT BUSTER DROP! Corbin sputters, Bron pushes him down and rains down forearms of his own! Fans fire up as Bron looms over Corbin. Corbin goes to a corner, Bron grinds his knees into him, but lets off as the ref counts. Fans rally, Bron runs side to side and KNEE WASHES Corbin! Corbin is dazed and the fans fire up and duel again. Bron paces, drags Corbin up, and puts him on the top rope. Bron climbs up after Corbin, throws more hands, but Corbin hits back!
Corbin shoves Bron down, adjusts, but Bron is right back, to SUPER STEINER! Not the smoothest but Bron is still fired up! Trophy lift, BREAKKER SLAM!! Cover, TWO?!? Corbin survives and Bron is furious! Corbin flounders to a corner, and he eggs Bron on! Bron runs up to fire haymakers! The ref counts, Bron lets off at 4, and Corbin still eggs Bron on?! Bron runs in to BOOT Corbin! Bron drags Corbin up, but Corbin wrenches and ROCKS Bron! And ROCKS him again! And again! Corbin fireman's carries to DEATH VALLEY DRIVER! Cover, TWO! Corbin fumes, drags Bron up, and half nelsons, for the- NO, Bron slips free and trips Corbin!
STEINER RECLINER! Corbin scrambles to the ROPEBREAK! Bron lets go, to stomp away on Corbin! Bron throws hands, runs, then dodges, but runs into a DEEP SIX! Maybe even a deep twelve! Cover, TWO!! Bron survives and Corbin goes to ropes. Bron goes to the opposite side as fans fire up more. Corbin and Bron rise, storm up, and they throw hands! Fans rally and duel, the shots keep going but Bron gets the edge! Corbin ROCKS Bron, then kicks the bad leg! But Bron kicks back! Bron runs in to RAM Corbin int he corner! Bron keeps moving, but runs into a KNEE! Corbin reels Bron in but Bron slips free!
Corbin picks Bron up, but Bron rolls to drag Corbin down, cradle! TWO!! Corbin survives a cradle for once! But Bron CLOBBERS him! Bron stands, fans bark and boo but Bron feeds off it all. Bron CLOBBERS Corbin, clotheslines him up and out of the ring, and he shakes the ropes! Bron then goes out after Corbin, runs in, but Corbin SPINEBUSTERS Bron through the desk!! Fans lose their minds and cheer "NXT! NXT!" for giving us this as the opener! But then Bron just sits up like the Deadman!! Bron rises up, runs in, and he SPEARS Corbin down!! Bron hauls Corbin up and into the ring, and he says "IT'S OVER!"
The straps come down, fans are thunderous as Bron says he's gonna break- WAIT! Robert Stone!? Stone leaps in, but Bron catches him! And TOSSES him out onto security! But then Corbin hits END OF DAYS!! Cover, Corbin wins!!
Winner: Baron Corbin, by pinfall
Suit Man Stone may not have gotten revenge himself, but he made sure Bron still lost! Corbin survives being broken by Breakker, will he continue to #BurnTheShips and move towards former glory?
NXT North American Championship, Special Guest Referee Dragon Lee: Dominik Mysterio VS Trick Williams!
Dirty Dom has piled up the enemies and now it might be coming back to bite him! Will the Prodigal Son be able to survive all the payback coming for him? Or will the Boy Wonder help Williams #WhoopDatTrick?
The introductions are made, the belt is raised, and we see if the Trick Melo Gang Power Trip begins in Bakersfield!
The bell rings and Dom DROPKICKS Trick right away! Cover, TWO! Dom argues with Dragon but Dragon says he is the ref. Trick rolls Dom up, TWO! Dom is now upset that the count was fast. Dragon says he is the ref, Dom has to accept whatever the count is! Trick fires off hands, whips but Dom reverses. Trick whips Dom again, then follows to CLOBBER Dom! And DROPKICKS him! Fans fire up as Trick scoops but Dom slips free. Dom bails out and fans boo but Dom says he doesn't care. Dom is gonna take his belt and leave, using Champion's Advantage! But Trick goes out to CLOBBER Dom again!
Fans fire up as Trick puts Dom in. Trick runs up, blocks a kick, and spins Dom to scoop and SLAM! Fans chant "WE WANT MAMI!" but Trick UPPERCUTS Dom, then runs to LARIAT! Dom flounders out of the ring and fans boo more. Dom wants a timeout but Trick runs out to ROCK Dom and put him back in the ring. Trick fires up and the fans fire up with him! Trick steps in but Dom kicks the ropes to jam him up! Dom DROPKICKS Trick out of the ring, and soaks up the heat. Dom goes to the apron, gives us some Latino Heat, then he brings Trick up to SMACK off the desk! Dom then CHOPS Trick against barriers!
Trick staggers, Dom puts him in the ring, and then Dom swaggers. Fans boo but Dom looms over Trick. Dom drags Trick up, ROCKS him, then stands him up again. Dom ROCKS Trick again, whips him to ropes, then JUMP KNEES! Cover, TWO! Dom clamps onto Trick with a chinlock and he grinds Trick down. Trick endures, reaches out, and fans rally up. Trick fights up, pries the hold open, and Trick throws elbows! Dom CLUBS Trick and says HE is the champion! Fans boo but Dom drags Trick up to whip him to a corner. Trick reverses, runs in but Dom dodges! Trick hits buckles and Dom HOTSHOTS him down!
Dom goes up the steps, gives some more Latino Heat, then slingshots to SENTON! Cover, TWO! Dom is annoyed and argues with Dragon but Dragon says it's all fair. So Dom flicks sweat at Dragon! Dom DECKS Trick, taunts him, then drags him around. Dom throws down fists, lets off to drop an elbow, but he misses as Trick moves! Trick goes to a corner, BOOTS Dom, then ROCKS him! And ROCKS him again! Dom swings, misses, and Trick fires fast hands! Trick whips and LEG LARIATS! Dom staggers up into a DROPKICK! Trick covers, TWO! Trick roars and whips but Dom turns pop-up into backslide! TWO!
Trick swings, Dom dodges, and DOUBLE LARIATS take both men down! Fans fire up and Dragon checks both men. They're okay to continue so Dragon waits on them. Dom and Trick go to opposite ends, Dom runs in and 619s Trick in the back! Trick flounders, Dom stalks him, and Dom runs in, but Trick dodge! The SUPERKICK takes out Dragon!! Dom can't believe it, now there's NO ref to call this! Dom fires hands on Trick, whips him to a corner, and runs in, but only gets buckles! NECKBREAKER for Trick! Cover, but there's no ref! A back-up ref appears, but ONE!! Trick covers again, TWO! Trick is furious while he storms up on Dom.
Trick CHOPS again and again and again in the corner! Then he whips Dom to ropes, to FLAPJACK! Trick kips up and fans fire up again! Dom staggers up, Trick spins, ROLLING BOOT! Cover, TWO!! Trick is frustrated but he drags Dom up. Trick whips Dom to a corner, Dom stops himself but heads collide! Both men are down, the ref checks Trick first. Trick rises, as does Dom. The ref says both men are okay, and Dom stands. Dom runs, but into the ref!? What happened there? Dom is upset, he runs in, and CROSSBODIES Trick and himself out of the ring! Dom hurries to get Trick up, and DECKS him! And then throws Trick into the ring!
Dom goes up the corner, fans boo as hard as they can, but Dom FROG SPLASH FLOPS!! Cover, but there's no ref again! Trick is furious! Where is a ref!? Any ref! Trick goes out and gets Dragon up so he can finish his guest role. But Dom has the belt! Trick dodges the belt shot to BOOT the belt into Dom!! Cover, Dragon's there, TRICK WINS!!
Winner: Trick Williams, by pinfall (NEW NXT North American Champion)
He whooped Dom just like he said he would, and now Trick Willy is a champion! But for Trick Melo Gang to be dripping in gold, Carmelo Hayes has to slay the Mad Dragon! Will Melo not miss? Or will Ilja Dragunov prove he can defeat… HIM?
NXT shares footage from after last Tuesday's episode.
After his quick defeat at the hands of Trick Williams, Joe Gacy was walking around backstage. Everything he's worked for, it's all gone. Ava Raine caught up to him as he felt hope was lost. Maybe his teachings were wrong. That's not true, she's still here and still believes in her. No one said it would be easy. NO! All hope is gone! The Schism is dead! So go! Ava leaves, and Gacy says he has to find his new purpose. Just what happens as Gacy works to rise from the ashes of his learning tree?
NXT Tag Team Championships Fatal 4 Way Tag: Tony D'Angelo & Channing Lorenzo VS The Creed Brothers w/ Ivy Nile VS Angel Garza & Humberto Carrillo VS #OutTheMud w/ SCRYPTS!
Unlike Gacy's "family," The D'Angelo Family is still standing! At least, for now. Will The Don & Underboss hold onto the gold they worked so hard to win? Will Julius & Brutus once again stand atop the Tag Division? Will the former Lotharios use their new attitudes to become new champions? Or are Lucien Price & Bronco Nima getting #OutTheMud with this one?
The introductions are made, the belts are raised, and we see who really runs this!
In this type of Fatal 4 Way, only two teams can be legal at any time. Things sort out, and Julius starts against Garza. They tie up, go around, and Garza whips. Julius ducks 'n' dodges and RAMS Garza, but neither falls. Garza CHOPS and Julius plays like it stings. Julius just tags Brutus and then TACKLES Garza! Humberto runs in, brawls with Brutus, and these four start shoving. The champs and OTM storm in, start talking trash, and then the brawl is on! Fans fire up as all eight men throw hands! The Creeds get tossed out, as do the D'Angelos. Then OTM lift Julius! Julius slips free, dodges and FLIES out onto Garza & Carrillo!
Fans fire up but Brutus gets mugged by OTM. OTM double whip, double ELBOW, then DOUBLE STOMP! They mug Brutus, Price wrenches to HOOK KICK, then he tags Nima. They whip Brutus to KNEE low and JUMP STOMP! Fans rally as Nima talks trash and looms over Brutus. Nima talks trash to Carrillo but Carrillo tags in off him! Nima got played, but then Brutus tags Stacks. Carrillo KNEES Stacks, whips Stacks, but Stacks arm-drags and trips Carrillo! Carrillo kicks back, dodges and springboards to CROSSBODY! Carrillo headlocks, Stacks powers out and then follows, to atomic drop! And trip to stomps in the gut!
Stacks stomps Carrillo, tags Tony D, and the fans fire up as the D'Angelos whip, body shot and KNEE Carrillo down! Tony drags Carrillo up, Stacks intercepts Garza, and they fire off some hockey scrum fists! HALF HATCH for Carrillo, whip and UPPERCUT for Garza! Then Stacks CANNONBALLS Carrillo and CANNONBALLS Garza! Fans fire up as Tony storms up, but Carrillo sends him into buckles! Tag to Garza, the cousins bring Tony up but Tony picks them up! But Tony's leg gives up! The ref checks The Don, and he calls in medical! Tony was out of action with a bad knee, is he gonna be out of action again?
Garza tags Carrillo but then Julius storms up on them. He won't let them pick the bones, and neither will Brutus. Stacks storms up on Carrillo, throws hands and headlocks, but Carrillo powers out. Stacks KICKS Carrillo away, then UPPERCUTS! Stacks checks The Don but Garza sneaks a tag. Stacks runs in, into a KNEE! Carrillo & Garza hoist Stacks up to rock-a-bye TORTURE RACK- NO, Stacks slips free, but the cousins CLOBBER him! Tony is taken to the back, Stacks is all alone in this title defense now. Garza CHOPS Stacks against ropes, but Stacks fires off hands! Garza blocks a kick and spins to a GORY ESPECIAL!
Tag to Carrillo, GORY BOMB CUTTER, to a BASEMENT DROPKICK! Cover, TWO!! Stacks survives and Nima tags in off Carrillo! Nima brings Stacks up but Stacks fires off hands! Nima shoves Stacks to a corner then SPLASHES, tag to Price! Price hits a HOTSHOT, then Nima STRADDLE ATTACKS! They bounce on Stacks, then Price gets a cheap shot! Price slithers around, runs in and CLOBBERS Stacks! Price says he could do this all day! Price clamps on a chinlock, grinds Stacks down, but fans rally behind The Underboss. Stacks fights up, reaches out for anyone, but has to throw body shots first. Price holds Stacks back!
Price DECKS Stacks, Scrypts trips up Julius! Nima tags in, but Ivy WRECKS Scrypts! OTM is stunned! They TOSS Stacks, storm up to the ropes, but Brutus tags in! DOUBLE AX HANDLES! Brutus SMASH Nima, POUNCE Price, POUNCE Garza and POUNCE Carrillo! FLAPJACK for Garza! The straps come down and fans fire up with Big Brute! ANKLE LOCK on Garza!! Carrillo runs in to SUPERKICK! Julius returns to OVERHEAD SUPLEX! Price runs up, OVERHEAD SUPLEX for him! Nima runs up, OVERHEAD SUPLEX for him! OVERHEAD SUPLEX for Carrillo! DOUBLE OVERHEAD SUPLEX for OTM!!
Brutus STILL has the ankle lock on Garza!! Bakersfield is going wild as Garza endures, but Carrillo CLOBBERS Brutus! Nima & Price mug Julius, Carrillo stomps Brutus, but Stacks is back! Stacks gets mugged, but he fights back! Carrillo SUPERKICKS Stacks, and tells him he's alone! But wait! TON D wants back in!! One leg or not, The Don ain't going out like this! He DECKS Oney Lorcan!! Tony storms his way up, Carrillo runs out after him but Tony DECKS him, too! Tag in off Garza and Tony just fires off on OTM! He hops around, but he sends Nima into Price hard! Carrillo runs in, springboards, but into a SPINEBUSTER!!
The fans are thunderous for Tony as he and the Creeds work together on OTM and the cousins! They all pair off and all get a corner, and they all go up! Fans are thunderous as we get QUADRUPLE SUPERPLEXES!! All eight men are down and "This is Awesome!" "NXT! NXT!" The Creeds clear the ring, and they stand alone with Stacks & Tony. There's respect here, so the four of them throw hands! Brutus CLOBBERS Stacks, Julius LARIATS Tony! Carrillo & Garza DROPKICK The Creeds! But then OTM BOOT Carrillo & Garza! OTM regroup, tag in off Brutus and they whip Tony. POP-UP POWERSLAM! Cover, TWO!!
Fans fire up as The Don proves his toughness! Julius KNEES Price, ROCKS Nima, and then Electric Chair Lifts! Brutus climbs, but Garza HEADBUTTS him first! Carrillo is up to MISSILE DROPKICK DOOMSDAY with Julius! Then Carrillo gives Garza a boost to DROPKICK Julius! Brutus is up, he CLOTHESLINES them both out! Fans fire up again as Brutus aims, slingshots, and SPRINGBOARD BRUTUS BALLS!! Fans lose their minds again as everyone is down on the outside! Stacks gets in the ring to BOOT Price! Stacks & Tony hit BADA BOOM! Cover, TONY & STACKS WIN!!
Winners: Tony D'Angelo & Channing Lorenzo, by pinfall (still NXT Tag Team Champions)
It was chaotic in the end, but The D'Angelos take advantage of the chaos! If they can survive something like this, will there be no stopping The Don & Underboss?
NXT Heritage Cup Championship: Noam Dar w/ The Meta Four VS Pete Dunne w/ Tyler Bate!
The Scottish Supernova and British Bruiserweight made their names in the UK, including NXT UK, but where one has needed sidekicks to stay on top, the other has friends who keep him ready for FIGHT NIGHT! Will having The Big Strong Boi in his corner help Butch break Dar? Or will British Strong Style's one night only reunion not be enough to take the cup?
The introductions are made, the cup is raised, and we see who wins with these four-to-two odds!
The first round begins, Dar and Dunne circle, and fans rally up. The two tie up, are in a deadlock, and Dunne chinbars to wrangle Dar! Dunne then wrenches, wristlocks, but Dar rolls and waistlocks to drag Dunne down. Dar facelocks but Dunne wrenches out to clamp onto the arm. Dunne bends the elbow, Dar fights to his feet, and Dar pulls hair. The ref reprimands but Dar lets off. Dunne ducks the cheap shot to facelock back! Dar wrenches out but Dunne facelocks again! Dar wrenches, Dunne facelocks. Dar wrenches, Dunne avoids the sweep! Dunne fights the waistlock and Dar avoids getting his fingers stomped!
Fans fire up while Dar is frustrated. The two reset, tie up, and Dar headlocks. Dunne powers out, Dar RAMS him but neither falls. Dunne CHOPS! Dar KICKS! And ROUNDHOUSES! Dunne is down and Dar swaggers around while fans boo. Dar drags Dunne up, headlocks, but Dunne powers up and out. Dunne drops down, hurdles over, then drops again to BLAST Dar! Fans fire up as we reach the last minute of this round, and Dunne just shrugs. Dunne drags Dar around, has his arm, and stands on Dar's head! Dunne pulls on Dar's arm and bends the fingers! The Meta Four freaks out while Dar shouts in pain, and Dunne STOMPS that arm!
We're at 30 seconds and Dunne stands Dar up. Dunne tortures Dar's arm, bends the fingers more, and then SLAPS the hand! We're under 10 seconds, Dar just endures the rest of the way, and the round is over! But then Dar ELBOWS Dunne!!
Dar: 0; Dunne: 0
Fans boo Dar's cheap shot and Bate helps Dunne to his corner for the rest period. Meta Four fans Dar off and refreshes him while Dunne shakes out the stars. The second round begins, Dar runs in to CLOBBER Dunne! And EXPLODER! Dar aims, runs in, and SLIDING LARIATS! Cover, TWO! Dunne hangs tough but Dar stalks him to the apron. Dar drags Dunne up, fans boo, but Dar pulls Dunne through ropes. Dar drops Dunne to KCIK him in the face! Cover, TWO! Dar tells Bate to watch his boy get beat, and then he has Dunne in a corner. Dar goes up, brings Dunne in and throws down elbows!
The ref counts, Dar throws another shot but Dunne grabs thar arm! Dunne hits an ELBOW BREAKER! Dar KICKS, but Dunne comes back to DECK Dar! Dar flounders, Dunne runs in to GAMANGIRI! And GAMANGIRI! And GAMANGIRI! Dunne snapmares and runs to drop a knee on the arm! Dar writhes and fans rally up as Dunne SHINING WIZARDS! Dar bails out, Bate stays back, and Dunne drags Dar up. Shoutout to The Fella with BEATS OF THE BODHRAIN! Fans count all the way to TEN, then past it as Dunne goes to like TWENTY! We're under a minute, Jakara & Lash distract!
Bate hurries over to stop them, but Oro GAMANGIRIS Dunne! Another cheap shot and Dar runs in, NOVA ROLLA!! Cover, Dar scores!
Dar: 1; Dunne: 0
The Meta Four pays off already, and they help Dar refresh. Will Dunne be able to recover? Or will it be a sweep at this rate?
Round three begins and Dar rushes in, but Dunne dodges! Dunne comes back to JUMP KNEE! But Dar BOOTS in return! Dunne swings, Dar blocks to knee and shove, but Dunne dodges! Both men run, DOUBLE FOREARMS take both men down! The fans fire up and the clock is ticking. Dar drags Dunne up, waistlocks, and GERMAN SUPLEXES, but Dunne lands on his feet! BUZZSAW! Dunne aims from a corner, but Dar bails out. So Dunne goes up and up, to MOONSAULT Dar down! Meta Four can only watch as Dunne puts Dar in. But then they crowd Dunne and Bate backs him up.
Dunne gets in, drags Dar up but Dar drops to victory roll! TWO, and Dunne SUPERKICKS! Dar wobbles, Dunne goes up, and QUEBRADAS into a KICK! Dar takes Dunne outta the air! Dar gloats, aims, NOVA- FOREARM! Dunne hauls Dar into the pump handle, BITTER END! Cover, Dunne scores!!
Dar: 1; Dunne: 1
And we're all tied up going into the fourth! Meta Four drags Dar back so he can regain some consciousness while Bate gives Dunne some props. Dunne is ready and he rushes in to CLOBBER Dar to start the new round! Dunne rains down forearms and Meta Four is worried. Dunne might be going for a knockout here! Dar can barely get a guard up, what's the ref's decision? Dunne just won't stop hitting Dar! But then he does at two and a half minutes left. Dar reaches up for the kneebar! But Dunne blocks with an ANKLE LOCK! Dar endures, rolls, trips Dunne into the SLEEPER! Dar also has the body scissors!
But Dunne pries the hold open, and he has the fingers! But Dar lets go to pop Dunne up, into an ARMBAR! Dunne moves around at the two minute spot, to get an ARMBAR! Dar endures, even as Dunne bends fingers! Dar rolls back, mounts, and shifts to a TRIANGLE HOLD! Dunne stays on his feet, stacks Dar, TWO! Dar holds onto the hold, but Dunne STOMPS a hand! Dar lets go, Dunne hauls him up! X PLEX! Cover, TWO! Dar survives and Dunne grows frustrated but Bate coaches him up. We're at one minute in this round as Dunne drags Dar up. Dunne CHOPS, then CHOPS again! And whips, but Dar reverses.
Dunne goes up but Dar KICKS the legs out! Dunne lands hard, Dar hauls him up, FISHERMAN BUSTER! Cover, TWO!! We're at 30 seconds and Dar is freaking out. Dar drags Dunne to ropes, taunts Bate, and then he goes up the corner. But Dunne catches Dar's leap into a TRIANGLE HOLD of his own!! We're under 15, then the ten second warning! Dar endures, even as Dunne pulls on his arm! Dar is out, but the bell rings first!!
Dar: 1; Dunne: 1
Lash has to drag Dar's ragdoll body to the corner, he was truly saved by the bell! But that means we're in the fifth, there's still time to fight! Dar is dazed as he sits up, but he shakes his head. Dunne storms up to CHOP! Dar staggers, but he ROCKS Dunne! Dunne CHOPS Dar! Dar KICKS! Dunne CHOPS! Dar JABS! Dunne CHOPS! Dar KICKS, KICKS and wobbles, but Dunne CHOPS him again! And again! And again! MACHINE GUN CHOPS!! The fans are thunderous, Meta Four is furious, but Dunne lets off. Dunne hauls Dar up to reel him in, pump handle and- KNEE from Dar! And another knee! And another!
Dunne falls at the two minute mark but he rises again. Dar blocks a kick to BACK ELBOW! Cover, TWO!! Dunne is still in this and Dar is speechless! That's a first. Dar talks it out with Meta Four, there's 90 seconds left. Dar goes to a corner, he mocks the fans who rally for Dunne, and Dar goes up a corner. But Dunne GAMANGIRIS first! Dunne then climbs up after Dar, for a SUPER BUTTERFLY SUPLEX!! Cover, TWO!! We're under a minute as Dar holds on! Meta Four calms down as Dar crawls to the apron. Fans rally for the Bruiserweight as he goes out after Dar. Dunne runs up to boot, but Dar blocks to QUESTION MARK KICK!
Dar reels Dunne in, APRON BRAINBUSTER!! Lash helps Dar back into the ring to cover, TWO!!! Dunne is still in this and we're at the ten second warning! Dunne gets Dar's fingers!! The clock hits zero first, but Dunne STOMPS Dar's hand!! That's karma for Dar! We got into the sixth round, will this end in regulation? Or will we need overtime?
Dar: 1; Dunne: 1
Lash bandages Dar's fingers, those might be broken after what Dunne did to them. No pinkies out after this, though. The round starts, Dunne gets that arm but Dar fires shots! He and Dunne go forearm for forearm and the fans are thunderous! Dunne fires off fast hands from all sides! But Dar guards to BACK ELBOW! And BACKHAND! And- NO, Dunne dodges to SNAP GERMAN! And STOMP the hands! And BUZZSAW! Fans fire up but Dar distracts the ref and Oro CHEAP SHOT ENZIGURIS Dunne!! How'd the ref miss that?! Dar runs up to take the mouthpiece away! Dar runs, to NOVA ROLLA!!! Cover, TWO?!?!
Fans are thunderous and even Bate is surprised that Dunne survives! Bate CLOBBERS Oro!! Bate fires off on Main Man Mensah, Dunne puts Bop up to BANG! TYELR DRIVER!!! Cover, TWO!?!? Dar survives but Dunne won't stop! BITTER- NO, Dar shifts to takedown into CHAMPAGNE SUPER KNEEBAR IN THE SKY! But Dunne slips out, to have the arm! And fingers! SNAP!!! Then BITTER END!!! Cover, TWO!??!? HOW?! But then ARMBAR!!! We hit the one minute mark! Dar has to endure, but wait! GALLUS JUMPS BATE!! They hate Bate and Dunne for making it here over Joe Coffey!
But then Dunne PLANCHAS to take out Gallus!! Fans are thunderous as Dunne hurries in! Dar runs up but into a BOOT! Jakara & Lash distract! ALL THE BEST FOR THE BELLS!! The Iron King screws the man who beat him, and Dar covers! Dar wins!!
Winner: Noam Dar, by pinfall (still NXT Heritage Cup Champion)
With 30 seconds in regulation, Dar wins, but not even because of Meta Four! It was the Gallus Boys who helped Dar stay on top! That's a 7v2 fight, who COULD win that? Will there be justice for the Bruiserweight? Or is the Scottish Supernova moving on to screw over someone else?
NXT brings back some holiday specials!
Firstly, Halloween Havoc will be a TWO WEEK SPECIAL! Tuesday, October 24th, and of course Tuesday, October 31st, will be spooky scary sports entertainment! Then NXT Deadline returns December 9th to be the final Premium Live Event of WWE's 2023! Will you be ready for the holiday season?
NXT Championship: Carmelo Hayes VS Ilja Dragunov!
Whether or not there was controversy at The Great American Bash is really a matter of opinion. If you ask HIM, there is none, but he's willing to take on the Mad Dragon again to clear the air. Will Melo still not miss? Or will the NXT Champion finally be UNBESIEGBAR?
The introductions are made, the belt is raised, and tonight, we witness the truth!
The bell rings and fans rally for "MEL~O! MEL~O!" The two rush in and Dragunov BOOTS Melo down! Dragunov stand Melo up to put him in a corner and CHOP! Fans fire up, Dragunov BOOTS Melo again! Melo fires a forearm but Dragunov KNEES low and CLUBS him down! And then KNEES him down! Fans fire up as Dragunov eggs Melo on. Dragunov stomps away at the ropes, then drags Melo up to CHOP down! Dragunov grins as he shakes out his hand. Melo sputters and sits up but Dragunov brings him up. Dragunov CHOPS Melo to a corner, stomps him and CLUBS him, and CHOPS him again!
Fans fire up as Dragunov brings Melo around and waistlocks. Melo fights the lift, throws elbows, but Dragunov CLUBS him again! Dragunov TOSSES Melo to the apron, then runs in to BOOT him down! Fans fire up with Dragunov while Melo checks his chin. Melo rises up, slides in, and he TACKLES Dragunov! Fans fire up as Melo rains down fists! Melo lets off to KICK Dragunov, CLUB him and CHOP him! Melo has Dragunov in a corner to CHOP! Melo brings Dragunov around, CLUBS him again, then storms up in another corner. Melo RAMS into Dragunov and fires off shots!
The ref counts, Melo lets off, but he brings Dragunov up to whip corner to corner. Melo runs in to forearm smash, then he runs, but Dragunov avoids the Fade Away to CONSTANTINE SPECIAL! Fans fire up with Dragunov, he covers, TWO! Melo hangs tough but Dragunov SENTONS! Dragunov puts Melo in a corner, and MACHINE GUN CHOPS! Fans fire up and Melo sits down, but Dragunov won't let off! Dragunov runs side to side to BLINDSIDE BOOT WASH! Melo flops down and Dragunov covers, TWO! Dragunov drags Melo up, facelocks, and he grinds Melo down. Fans rally but Dragunov KNEES Melo!
Dragunov looms over Melo while fans fire up. Dragunov kicks Melo, almost taunting him. Dragunov stands Melo up to CLUB him, then CHOPS him down! Then BOOTS him against ropes! Dragunov says Melo needs to bring more to this fight. Dragunov CLUBS Melo again and again, then CHOPS! Fans rally and Melo fires back on Dragunov! But Dragunov BACKHANDS Melo down! Melo is dazed and Dragunov shakes his head. Dragunov stands, paces around, and then drops a knee on Melo's head! Melo sits up, and Dragunov SLAPS him! And CHOPS him! And SLAPS him again! Melo leans against ropes as Dragunov eggs him on.
Dragunov CLUBS Melo against the ropes! Dragunov puts some stank on the CHOP to the back! Melo writhes but Dragunov storms around him. Fans fire up, Dragunov stands Melo up in a corner, and Dragunov MACHINE GUN CHOPS again! Melo sits down but Dragunov stands him up, to MACHINE GUN CHOP again! The ref counts but Dragunov spins, but Melo blocks the backhand! Melo glares at Dragunov and fans fire up! Melo CHOPS and CHOPS and CHOPS! Melo backs Dragunov down and gives him even more CHOPS! Melo lets off, then SLAPS Dragunov! Melo brings Dragunov up but Dragunov ROCKS Melo!
Dragunov fires boxing elbows, then a SLAP! Melo wobbles, rebounds, and SLAPS Dragunov! Both men are down and fans are thunderous! Fans love "NXT! NXT!" for this one! Dragunov and Melo rise, and Melo kicks Dragunov! And kicks him again! Dragunov kicks back, they kick each other, and the fans are dueling! Dragunov shakes his head as he rises up, and he CLUBS Melo down! And again! Melo hits back! They're just throwing wild shots! Dragunov CHOPS, Melo forearms, they just keep going! UPPERCUT! ROUNDHOUSE! CHOP! Melo fires forearm after forearm but Dragunov JUMP KICKS!
But Melo tilt-o-whirls! Dragunov slips free but Melo ENZIGURIS! Melo runs, springboards, FADE AWAY DDT!! Cover, TWO!! Dragunov is still in this but Melo still has shots to give. Melo watches Dragunov rise, "This is Awesome!" as Melo lines up another shot. Melo runs in but Dragunov denies the tilt-o-whirl! DEADLIFT GERMAN SUPLEX! And Dragunov holds on! ANOTHER GERMAN SUPLEX! Dragunov still holds on! Fans are thunderous as Dragunov drags Melo up, but Melo pries at the waistlock! Melo breaks the grip, switches, but Dragunov shifts around to throw down elbows! Dragunov runs, but Melo dodges the Constantine to LA MYSTICA! Cover, TWO!!
Dragunov survives and Melo is beside himself! Fans are losing their minds over how close that was, and Melo pounds the mat. Fans rally, Dragunov stirs and reaches out at Melo. Melo CLUBS Dragunov, drags him by an arm, and stomps away on Dragunov's face! Fans fire up as Melo shows that intensity! Melo goes to a corner, aims as Dragunov rises, and runs in, but Dragunov blocks the boot! Melo SLAPS Dragunov but Dragunov KNEES low, KNEES him again, and then backs up. Dragunov runs in to KNEE Melo down! Then he hauls Melo up, reels him in, and hits a POWERBOMB! Fans fire up while both men are down!
Melo and Dragunov end up in opposite corners, and fans again chant for "NXT! NXT!" Dragunov drags himself up, but on the outside of the corner. Dragunov goes up, blows a kiss to Melo, and goes COAST- NO, First 48! But wait, Dragunov blocks that to haul Melo up! Fireman's carry and CORNER DEATH VALLEY!! The ref checks Melo while fans lose their minds all over again! Dragunov resets, goes up again, and goes COAST2COAST!! Direct hit this time! Cover, TWO?!? Melo survives and Dragunov is shocked! "This is Awesome!" as both men slowly rise up. Dragunov drags Melo up, puts him in a corner, and then hauls him to the top rope.
Melo throws a forearm! And a HEADBUTT! And another HEADBUTT! Dragunov falls down, and Melo shakes out the stars. Melo adjusts, but Dragunov stands to SLAP him down! Melo is on the apron now, and Dragunov drags him back up. Dragunov climbs the corner, brings Melo up, and he deadlift SUPERPLEXES!! And a roll through!? To go to the corner and take aim again! But the FIRST 48 get him! BUT FALLING FOREARM ON THE RETURN!! Cover, TWO!! Melo survives the hammering but Dragunov drags him to a drop zone. The fans are dueling as hard as they can as Dragunov goes up the corner!
Dragunov powers up, for the SUPER FALLING FOREARM!!! Cover, TWO?!?!? Melo survives and no one can believe it!! Dragunov is pulling at his hair, the fans are losing their minds, how is Melo doing this? Dragunov shakes his head, goes back to the corner, and fans hope they "FIGHT FOREVER!" but this has to end. "UN! BE! SIEG! BAR!" SUPERKICK!! Cover, TWO!!! Dragunov survives the counter and now Melo can't believe it! But the fans are loving "NXT! NXT!" Dragunov goes to ropes, Melo flounders after him. Melo follows Dragunov to the apron, and Dragunov kicks him for it! So Melo kicks back!
Fans rally as both men sit up on the edge, and Dragunov SLAPS! And SLAPS! Melo forearms, Dragunov forearms, they brawl on the edge! Melo hammers away, then he facelocks! Melo drags Dragunov up, to SUPLEX CUTTER to the floor!! The ref checks both men as they writhe at the ramp! "This is Awesome!" as both men are able to continue. The ring count begins as Melo drags Dragunov up, and Melo puts Dragunov in at 4 of 10. Melo drags himself in at 7 and then goes up the corner. Melo aims, NOTHING BUT- LARIAT!!! Dragunov may've hurt his own arm swatting that three pointer, but he goes to the corner anyway!
Fans rally up as Dragunov climbs. SUPER FALLING FOREARM!!! Cover, DRAGUNOV WINS!!!
Winner: Ilja Dragunov, by pinfall (NEW NXT Champion)
Melo didn't miss, he just got blocked, countered, and dunked on! Even Dragunov needs the ref to tell him it's real! The Mad Dragon is finally the Czar of NXT!! Will this truly be the Era of UNBESIEGBAR? But he does show respect to Melo by helping him stand up. They shake hands and even hug! But now that he has lost the title, what is next for HIM?
The 2023 NXT Women's Breakout Tournament is set!
Jakara Jackson, Karmen Petrovic, Lola Vice, Jaida Parker, Izzi Dame, Dani Palmer, Kelani Jordan and Arianna Grace are ready for a fight, but who will break out and break through to a title opportunity? The tournament starts this Tuesday! Speaking of Tuesday…
BREAKING NEWS!
Gigi Dolin and Blair Davenport WILL have their grudge match! Will the Toxic Avenger bring down the Ichiban Gaijin? And after Gallus screwed Dunne over, we get even more British Strong Style back together as Dunne & Bate take on Wolfgang & Mark Coffey!
NXT Women's Championship Extreme Rules Match: Becky Lynch VS Tiffany Stratton!
The Man only came back to NXT because a certain someone couldn't help but put her foot in her mouth. Big Time Becks took Tiffany to task and took this title, and now she's the Grand Slam Man! However, Tiffy says her time isn't up, and she demanded this rematch. Will Tiffany use anything and everything to become a two-time champion? Or will she regret picking this fight even more than she did the first time?
Becky sees Tiffany has brass knuckles on her fist (incorrectly, by the way), so she says hold on, she's got something. Becky goes and gets a shopping cart full of hardcore goodies! Tiffy runs up, Becky SMACKS her with a kendo stick, and the match is on! Becky uses a trash can lid to JAM Tiff, SMACK Tiff, then she gets a chair to do the same! JAM! SMACK! Tiff writhes and fans fire up as Becky gets… a hardhat? HARDHAT HEADBUTT! And another! Fans cheer as Becky gets the kendo stick again to SMACK Tiff on the hips! And SMACK again and again and again! Tiff hops the barriers but Becky chases her down!
Becky goes after Tiff up the bleachers, and fans fire up even more! Becky SMACKS Tiff off the handrail! They keep going higher and higher, Tiff hits more railing, and Becky even high-fives fans along the way. Becky pulls Tiff's arm through railing, but Tiff ROCKS Becky with the other! Tiff pulls Becky through railing, but a fan lets Becky borrow his chain necklace to SMACK Tiff with! Becky SPANKS Tiff with it, too! Becky CLUBS Tiff, they go to the very top, and Becky hits a GOLD CHAIN FIST DROP! Tiff staggers her way back down the steps and Becky SMACKS her around with the chain some more!
Tiff hits back with forearms, busted open on an eyebrow. Becky SMACKS Tiff again, fans behind her the whole way! Becky CLUBS Tiff back to ground level, keeps her moving, and SMACKS her off more railing! Becky then SMACKS Tiff off barriers, DUMPS her over, and fans fire up as Becky goes up. AX- NO, Tiffy strikes back with a kendo stick! Tiff RAMS Becky into steel steps! Tiff pulls the steps apart, to RAM Becky down! Becky leans against barriers, Tiffy wipes the blood from her forehead, and then she snap suplexes Becky to the floor! Tiffy dusts herself off but fans rally for Becky. Tiff drags Becky into the ring and stalks her to ropes.
Tiff runs in to HIP ATTACK! Fans chant "WE WANT TABLES!" but Tiff DOUBLE STOMPS! Cover, TWO! Tiff says if the fans want tables, then okay. Tiff goes out, looks under the ring, and she brings out a table! Just to put it back in! Fans boo but Tiff stomps Becky. Tiff CHOKES Becky on the ropes, then YANKS the ropes to jam her up! Tiff goes out, looks under the ring, and she brings out a toolbox! Tiff JAMS Becky with the box! And then she opens the box to bring out a WRENCH! Tiff JAMS Becky again!! Then Tiff gets a crowbar, to CLUB Becky with it! Tiff keeps going, and now she has a steel chain of her own!
Tiff wraps her fist up to STEEL CHAIN PUNCH Becky down! Becky sputters, Tiffy gets a hammer! But Becky dodges, kicks low, and she has the hammer! Tiff dodges, kicks low and then whips. Tiff scoops but Becky slips through, only for Tiff to SIDEWALK SLAM! Cover, TWO! Tiff snarls and she dumps the toolbox out. Tiff isn't interested in what is left, nor in tables like the fans want. Tiff gets a chair instead, storms in the ring, and she SMACKS Becky! Tiff wedges the chair into the corner, gives it a kiss for luck, but Becky ROCKS her! And ROCKS her again! And then whips, but Tiff reverses! Becky stops herself to ELBOW Tiff!
Becky goes up and up and CROSSBODIES, but Tiff rolls through! Tiff picks Becky up to pop her up, but Becky slips free! Becky RAMS Tiff into the chair! Then hits a BECKSPLODER! Becky runs in at the corner, Tiffy puts her on the apron but Becky ROCKS Tiff first! Becky climbs to MISSILE DROPKICK! Tiff flounders out of the ring so Becky WRECKS her with a dropkick! Becky goes out, aims from the apron, and AX HANDLES Tiff down! Becky goes back to her shopping cart, to RAM Tiff with the shopping cart! Then Becky pushes Tiff into the cart to take her for a ride! They RAM right into the steel steps!
Becky dumps Tiff out of the cart, puts her in the ring, and she fetches that little black bag she left behind. Fans fire up, having an idea what's in that! Becky dumps the bag out to reveal… BARBIE DOLLS!? Well, not what anyone expected but this is Becky sending a message to Tiff. MAN- NO, Tiff slips free, shoves and scoops, but Becky slips out! REVERSE DDT onto the dolls! Cover, TWO! Becky CLUBS away on Tiff, SMACKS her with dolls, then pushes her out of the ring. Tiff hurries away but Becky throws doll parts at her! Tiff uses the trash can lid as a shield! Becky keeps throwing heat, though!
Tiff says what the hecc! She then SMACKS Becky with the lid! Tiff hurries to look under the ring, and she brings out the trash can itself! Tiff CHUCKS that, Becky dodges, and then ROCKS Tiff! Becky fires off on Tiff in the ropes, then gets the can to put it around Tiff! Fans fire up as Becky goes up a corner, to GUILLOTINE LEG DROP on the can! Becky then goes up top, to- NO, Becky dodges the leg drop! Tiff JAMS Becky, JAMS her again, then SPIENBUSTERS on the trash can! Cover, TWO!! Becky is still in this and fans rally up. Becky clutches her arm while Tiff bails out. Tiff looks under the ring, and she brings out another chair!
Tiff keeps looking, she brings out more chairs! Fans boo as Tiff has about half a dozen chairs now, all in a pile. Tiff drags Becky up and over, but Becky fights the bomb! Becky slips free to BUTTERFLY PLEX onto the chairs! And then an ARMBAR!! Tiff endures, flails, kicks around, rolls under the ropes and to the floor, to then drag Becky out! POWERBOMB on the steel steps!! Becky writhes but Tiff hauls her up. Tiff puts Becky in, covers, TWO!! Becky is still in this and Tiffy grows frustrated. Tiff gets that chair she wedged in the corner, sets it aside, and then goes up, but Becky follows! They brawl up top!
Tiff SMACKS Becky off buckles, DECKS her to the floor, then goes out after her. Tiff storms up to swing, but into a BECKSPLODER into barriers! Fans fire up as Becky snarls and storms around. Becky looks under the ring, and she brings out a TABLE! Fans are loving this now! The Man sets the table, but Tiff SMACKS her with a kendo stick! And sends her into barriers! Tiffy takes the table for her own, but not for the fans but for herself. Tiff then looks for Becky, but where'd Becky go? Becky has a fire extinguisher! And she BLASTS Tiff with it!! And then she has a barbed wire bat!! That's a different kind of Barbie!
Becky SMACKS Tiff with the bat! Tiff dodges and the bat hits post! Tiff kicks Becks, then ROLLING SENTONS! Tiff goes up the apron, to PRETTIEST- NO, Becky catches Tiff, but Tiff RANAS! And DISCUS LARIATS! Tiff snarls, handsprings, and ELBOWS Becky through barriers! Fans lose their minds as these two crash into the timekeeper's area! Tiff drags Becky up, but Becky POSTS her! And then TOSSES her onto the desk! Fans fire up as Becky makes sure Tiff is in the right place, and she even joins Tiff! Becky hauls Tiff up, but Tiff fights the slam! Tiff HEADBUTTS Becky into sitting in an armchair! Tiff CANNONBALLS and bowls Becky over through more barriers!
Tiff hauls Becky up, brings her to the table and puts her on the wood! Fans are torn as Tiff goes up the corner! Tiff aims, for a SUPER TIFFY SWANTON!!! The table barely breaks, but fans lose their minds all the same! Tiff puts Becky in the ring, goes to another corner, and she TIFFY SWANTONS again!! Cover, TWO?!?! Becky survives and Tiffy can't believe it! "This is Awesome!" as both women are down! Becky crawls around the way, Tiff pursues, and then goes up the corner again!? ARIHARA MOONSAULT!! But Becky dodges! MANHANDLE SLAM to the floor!! Becky pushes Tiff back in, covers, TWO?!?!?
Fans are thunderous and Becky is shocked, but Tiff is showing that toughness! Becky says okay, DISARM-HER!! Tiff fights around, rolls Becky up, TWO!! Tiff fireman's carries, FULL METAL ROLLING SENTON!! PRETTIEST MOONSAULT FLOPS!!! Becky hauls Tiff in, FULL METAL MANHANDLE SLAM!!! Cover, Becky wins!!!
Winner: Becky Lynch, by pinfall (still NXT Women's Champion)
That Extreme Rules match was one for the ages! But in the end, this is still N-BEX-T!! Tiffy still needs time to get ready for The Big Time, but Becky's got little time to rest! Tegan Nox gets her shot this Monday Night Raw, will The Man be ready for the Girl with the Shiniest Wizard?
Trick Melo Gang regroups backstage.
Melo apologizes, he really thought he had Dragunov. Trick says it's nothing to apologize for. Melo fought his heart out, that was incredible! It doesn't matter what anyone says, Melo is still HIM. They hug it out, and Melo thanks Trick for the support. But now with Trick as a champion and Melo out in the cold, will that affect their friendship dynamic? Or will Trick Melo Gang always be here?
---
My Thoughts:
What an amazing night for NXT! A little upset they threw a kickoff match in outta nowhere, but of course Blair won. And of course Gigi rushed out to go after Blair as payback for Tuesday, but it didn't really add much to their build as far as I'm concerned. But I suppose it is still good of them to give Blair and Kelani this match so they can get that PLE money. Great reference to WWF No Mercy for the N64 in the cold open video, and then great opener from Bron VS Corbin. Von didn't make a triumphant return but Robert Stone getting involved was a great move. This surely shifts things back to Bron VS Von going towards Halloween Havoc now.
Dom VS Trick with Dragon Lee was really good stuff, and I didn't think they'd do two ref bumps in one match. Still a shame Ali didn't get to be in this match as intended, but I feel like this ended up an easy plug 'n' play where Trick was in the same position. So on one hand, Ali would've gotten his first title in WWE but WWE/TKO didn't give a crap and cut him. But on the other, this is going to be great for Trick's story with Melo. And something tells me Gacy will want after Trick now that Trick is champion since Trick's win got him to this position. Gacy disbanding The Schism once and for all was quite a surprise, guess they don't wanna bring in new members to replace The Dyad.
Awesome Fatal 4 Way Tag, it really brought things back to the Black 'n' Gold Era of NXT. Gotta love Ivy Nile clobbering Reggie and that quadruple superplex. Pleasantly surprised Tony & Stacks retained, but I would think we see plenty of feuding between the other teams to determine contenders for Halloween Havoc and beyond. Speaking of which, a two week special of Halloween Havoc is awesome, can't wait to see how they raise the bar on that. Tyler Bate backing Dunne up against Dar was great, mostly because it was what I wanted to see. Too bad Trent Seven isn't with WWE because they could've used him out there. And also could use him against Gallus, but oh well. Dar retains because more Heels help him, maybe he's destined to face Nathan Frazer one last time to settle things.
Melo VS Dragunov was a great revisit from Great American Bash, but what a great move for Dragunov to win out. Personally, Dragunov should've been NXT Champion as early as Worlds Collide when the NXT brands and titles unified. But now he is champion, he is going to have an awesome reign, and we can see how Trick Melo Gang reacts to Trick being the champion when Melo isn't. And then that NXT Women's Championship Extreme Rules match proved itself worthy of being the main event. Becky had a great career retrospective entrance, referenced a lot of that on her shirt, even sneaking "Bray" on the side as tribute to Windham Rotunda, and then brought out a barbed wire bat to shout out Mick Foley.
And then, with all that given to Becky, I'm a little surprised she still won! But now Becky VS Tegan is set for Monday to help elevate Tegan and the NXT Women's title. Feels like possibilities are still pretty open for Becky, and who knows what comes out of this year's Women's Breakout Tournament. There's some intrigue back in NXT, hopefully it gets eyes on the product like was going on before that NXT 2.0 as written by Vince debacle.
My Score: 9.2/10