Seth Rollins, Will Ospreay, Jon Moxley and the Best in the World Debate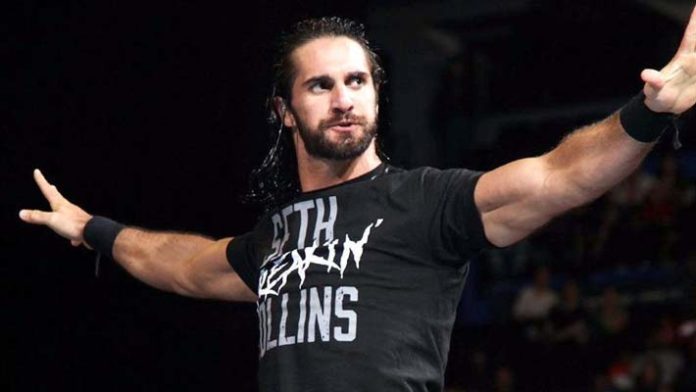 Seth Rollins is standing up for his company. The current Universal champion took to Twitter recently, where he defended WWE, as well as the Superstars. Seth is more than a little tired of sitting back and watching the pro wrestling world criticize the place that he loves.
But it's about much more than that, as he and IWGP Junior Heavyweight champion Will Ospreay also traded some shots back and forth on Twitter. For Rollins, the debate about who's the best in the world isn't a debate at all. He believes that he is the man. But what's really going on here?
At first glance, it seems like a top guy just being a top guy. Seth's days as Tyler Black in Ring of Honor are long behind him and he's now in the upper echelon of Vince McMahon's company. If anyone on the roster is going to fire back at critics, why not The Beastslayer? It makes sense and even the most anti-WWE fan can understand his position.
However once statements are made, fans run with them. Even the simplest reply on social media can cause a firestorm of endless comments and hate being leveled at the Superstar that initially sent the Tweet. Seth surely knew this, just as he knew that taking shots at Ospreay would stir things up among New Japan fans.
Of course, Rollins is entitled to his opinion. If he wants to defend his company, then he should be able to do so. Plenty of fans attack WWE on a daily basis and their voices are always heard. Why shouldn't the champ be able to speak up and draw a line in the sand between himself and WWE's haters?
Nah dawg, let me dial it up. I've sat back and watched idiots with no clue talk poorly about the place I dedicate my life to EVERY HOUR OF EVERY DAY. The level I perform at on constant is untouchable. Time to let em know. https://t.co/9wISLrevCr

— Seth Rollins (@WWERollins) June 24, 2019
But many of those haters don't necessarily hate the talent in the company. Their problems lie with the way the talent is booked. Poorly conceived storylines and wasted opportunities are more than enough to fuel the vitriol that comes from outside the company. A good number of fans genuinely want the best for the men and women in the ring and are upset when those men and women are not given a real chance to succeed. Is Seth firing at those fans as well?
Perhaps that's a bit unfair to Rollins, who may simply be calling out WWE's diehard critics. Some of those critics get a bit too carried away with their obsession over Vince McMahon's company. But for every pro wrestling fan that hates WWE, there are just as many that will support WWE through good times and bad. 
Those supporters can be just as bitter and arrogant as WWE's critics. Anyone that criticizes WWE for anything, whether it's a promo, match, or in-ring interview, is immediately slammed for voicing their opinions. "What do you fans want? Seriously? There's just no making you happy!" It's as if the pro wrestling audience is to sit reverently during a WWE broadcast and worship every element with undying devotion. 
But WWE is not a religion and Twitter is not a church. Fans can speak whenever they want, about whatever they want and the same is true for Seth Rollins. But it's what the champ had to say about Jon Moxley in a recent interview on Sports Illustrated's Media Podcast that has everyone buzzing. 
You love adding stuff don't ya. I mean the original question was

"Find anyone else alive who does what I do as well as I do it as often as I do it"

No talk of money. No talk of Ricochet. You said anyone.

Here I am.

Just as consistent, just as good.
Hope the back heals up. https://t.co/dfwkKVlyR4

— ᵂⁱˡˡ ᴼˢᵖʳᵉᵃʸ • ウィル・オスプレイ (@WillOspreay) June 25, 2019
Moxley left WWE and joined AEW, where he immediately made waves at Double or Nothing. But along the way, Mox voiced his own opinion on WWE, including his displeasure with the way his character was being handled. It's the same complaint that many fans have had for years, especially about Moxley, who was known in WWE as Dean Ambrose. But Seth Rollins, one of Jon's closest friends, had his own take on the situation.
"I hope he does well, I've kept enough tabs on him to know he's doing super well for himself right now and I'm happy for that, but I don't think there's any reason to hop on a soapbox and complain after the fact. You need to take the first step and that's looking in the mirror and asking yourself, did you do every single thing you possibly could to make yourself and your situation what you want it to be. If the answer is yes you did, then you can go elsewhere and complain, and if you feel good about it if that's where he's at mentally, then go right ahead, but if he hasn't done that and looked in the mirror and made that decision, maybe he should look, think about that and that goes for any other disgruntled talent, past or present."
Seth did make a point to say that he loved Moxley and that Jon is one of his "favorite people in the entire world." But Rollins' insinuation that Jon perhaps wasn't cut out for WWE, seemed like a cheapshot to many fans. Are Seth's words a direct shot at Moxley and if so, does Jon now need to step up and defend himself? Just how far will all of this go and how many other stars will get involved before it ends?
For some, this is about who's the best in the business right now. That's where Seth took the conversation on Twitter and it's not a bad thing. Fans have their favorites when it comes to this debate and there's no doubt that Rollins is indeed among the top of the industry today. But when the conversation steers toward a more personal direction, that's when many fans begin to wonder why it's happening in the first place. 
Maybe there's more going on behind the scenes than anyone knows about. Or maybe it's simply a case of pro wrestlers being pro wrestlers. Either way, the fans are talking. More importantly, they're fired up about their favorite companies and maybe that's the most important thing.