Mitchell's Talking Smack Report! (9/26/20)
Talking Smack gets Phenomenal!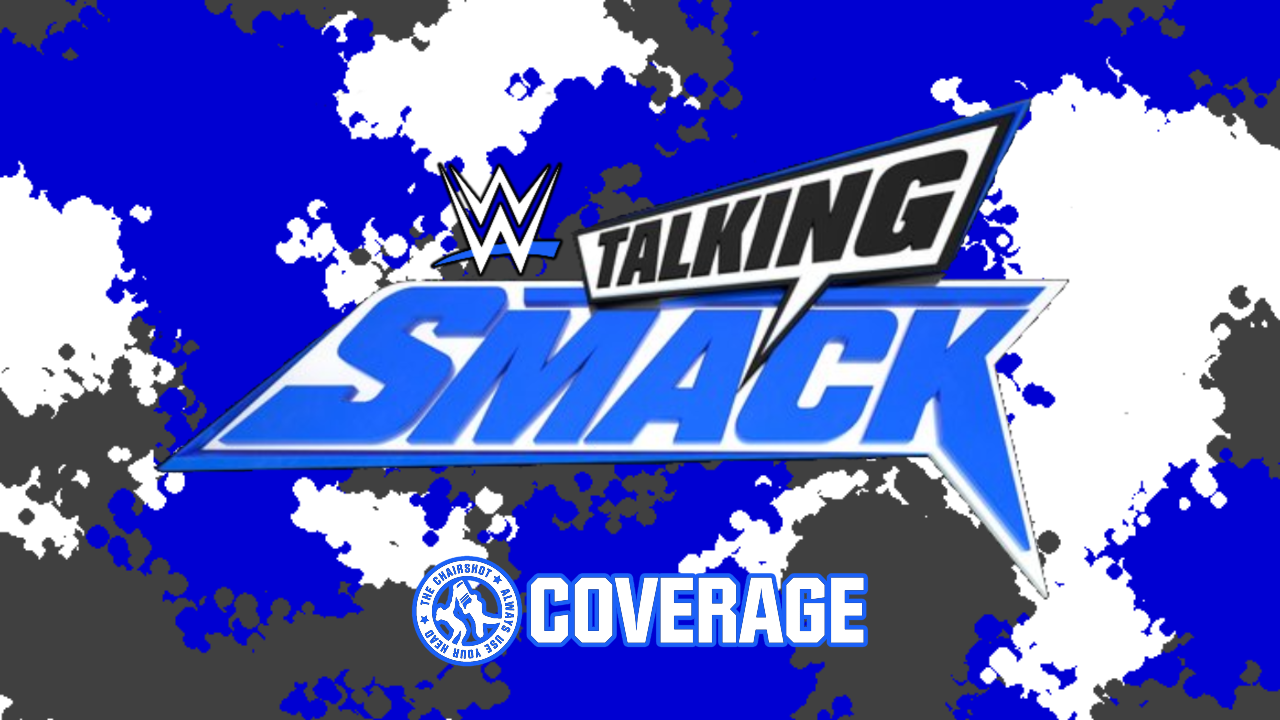 Who has something more to say before Clash of Champions?
Talking Smack prepares for Clash of Champions by having the SmackDown Women's Champion, Bayley, as well as the SmackDown Tag Team Championship contenders, Lucha House Party, and the Phenomenal AJ Styles!
Kayla Braxton and Xavier Woods welcome us back to the show!
The morning before Clash of Champions, and they're ready for the gold rush! Xavier's got a shiny jacket for the occasion, too. But what an intense ending to Friday Night SmackDown to set up for intense action between Roman Reigns and Jey Uso. Woods was waiting for that moment. He knew it was there in Roman's mind, and Woods has been in the ring with Jey time and again. Everything Jey is saying, Roman doesn't like because Roman might feel Jey can actually win.
And what a way for Roman to put it, framing it within the family, and the food on the family table and who sits at the head. Roman assumes he's the alpha, and sure he has the resume to say so. But you can't sleep on Uso. Woods says tag team wrestling is even more challenging than singles wrestling because it's about knowing your partner, knowing your opponents, knowing who is where and what's going on. Going for a singles title could be Jey's time and that scares and angers Roman.
But speaking of scary, there's another singles title on the line, and this first guest has gone on about not being scared of heights.
AJ Styles (and Joseph Park) joins Talking Smack!
Joseph is excited to be here but Styles has him calm down. Right, sorry, sir. At least you got his name right, right? But Styles should be just as excited, right? Tomorrow is the big day so Styles means business. And Joseph is here for analytics. Kayla brings up Styles tweeting "See you Sunday, boys." Clearly he's more than confident. Yes, he was joking about the heights stuff. Styles is naturally in the air, for 24 years and making it look easy. Woods has to admit he's not wrong. Joseph says Styles is poetry in the air. Woods wants to go into detail about the analytics. What exactly is the process?
Well, Woodsy- Wait, is it okay to call him that? Woods is fine with it, Joseph's "one of the boys." Styles says Joseph is not "one of the boys," but Joseph says Styles told him he was earlier. Grandma Jenny's- No, let's not talk about Grandma, she makes the best gravy 'n' biscuits but he can't carb load right now. Just calm down. They'll try for Thanksgiving instead, then.
But yes, the analytics. Joseph has a fool-proof program that you only need to enter the numbers. And right here live, on Talking Smack, it will perfectly predict the winner of the WWE Intercontinental Championship match. What numbers is Joseph putting in, exactly? There are a lot of numbers. Well, it is a Triple Threat, so that is a 33 and one-third chance. Now you put in Styles' intellectual advantage, which is itself 33 and one-third. Take that 33, divide it by 2, and add Styles' current age in, the answer is… Tito Santana? He's not even…
Hold on, there are some bugs to work out. Well there's not a lot of time for that, but Joseph knows deep down, it'll be Styles! And they'll celebrate at Grandma Jenny's! No, Styles just told you no! Woods'll go. Oh that'd be great! Kayla, would you like to visit Grandma? Kayla would love to! Get ready, Grandma! Styles says no! It'd be too late, she goes to bed at 6 PM, so it'd have to be Monday.
Well let's still talk the match. Is there one man over the other Styles is more concerned about? Well it is Hardy. Hardy has been in epic ladder matches, to say the least. He's not afraid to do anything and everything to retain. But of course, there's Sami. He is not legitimate to Styles. Sami looks out of shape. But Woods says Sami has had all this time to recover. Styles points out that Sami is a new daddy, and we all know that you end up with dad bod. "You eat right with her because you don't want her to feel bad." That's what happens. He has only been rubbing feet and eating food! But maybe Sami will be motivated to provide for his coming child.
No, Woods admits Styles has a point. Woods also blew up, rubbed feet, all of that. Joseph says he did that for his wife and he turned out okay. Styles can't help but laugh. Let's just drop this issue and get to the business. Winner Take All Ladder match. Styles and Hardy seemed on the same page against Sami. Because Sami's ridiculous. And Kayla suggesting them working together. Styles says ABSOLUTELY NOT. Hardy will do whatever it takes, so Styles will take him out. Sami gets tired, gassed, and Styles climbs the ladder. That simple. Is that from the numbers? No, Styles just figured that's what going on. Some things aren't from numbers but heart.
Joseph promises to fix those numbers, by the way. Maybe next time, if there is a next time for him, he'll come by. Woods and Kayla says he's always invited, but Joseph has to do what boss Styles says. But he's living the good life thanks to Styles! Don't bite the hand that feeds. Grandma Jenny, be ready for their visit on Monday!
Before moving on to the next guests, Woods wants to "paint a picture." They're in the ThunderDome, with all the magic and energy. All the faces on screen chanting, "Lucha! Lucha!"
Lucha House Party joins Talking Smack!
The #1 contenders to the SmackDown Tag Team Championships are all here, from Kalisto to Lince Dorado to Gran Metalik. They try to figure out who sits where, clearly there is still tension. But LHP sit and Woods brings up the tag title match. A big match, because if they become champions- No, when. When they become champions, they'll be in that upper echelon. That said, Kalisto's return has brought some tension, some dysfunction. What' sbeen going on? What tension? It's just miscommunication. Kalisto is back but Lince and Metalik have been killing it without them. But with him, he wants to lead them to victory! But that's the problem, "leading." He's the leader? Lince knows even Metalik doesn't really like Kalisto suddenly acting like the leader.
Kayla says Woods knows being in a trio, having the best tag team cohesion, he has the most experience. Maybe they can talk. Woods says the interesting thing about LHP, which they've talked before, this energy from being good friends is here. But this sudden rift, the chemistry fading, it's concerning. Lince talks over Kalisto and that upsets Kalisto but Metalik says they need to relax. Kalisto wants to make sure there's time for them to speak. Then go ahead. Well now he forgot what he was going to say. Kayla tells them the match is tomorrow. They need to get on page fast, can they do it? Kalisto says they have this. Metalik agrees, they gotta be on the same page. Kalisto and Lince bicker so Kalisto sets his mic down.
Lince says that in the end, they're hungry, they want gold, and they will put pride aside to do whatever it takes to win. And Kalisto will be the one to make sure they do that! Lince can't believe this. Kalisto admits this is some Latino heat, y'know? Passion! That's what Kalisto was going to say. But Woods wishes to interject. How are they deciding which two will step up? Lince asks "the leader" that, too. Kalisto decides he'll let Metalik answer that. Metalik says that it doesn't matter, just as long as they can win. A great, unified response. But before they go, Kayla asks that when they win and become new SmackDown Tag Team Champions, are they going to take over that Champions' Lounge? Nakamura and Cesaro are a little stingy with furnishing that place.
Lince suggests a hot tub. Kalisto figured why stop at the lounge? They should take over the world. That's even better. Woods wants an invite to that party! He and Kayla will be VIP's! Gracias, and good luck! ORALE! LUCHA! LUCHA! LHP takes their leave, and Kayla feels she and Woods could make good tag team counselors and mediators. Make it a side business, even.
Bayley joins Talking Smack!
The SmackDown Women's Champion is here, preparing for a hat trick of defenses against Nikki Cross. And she sets "that" chair down on the desk. Woods asks why, but she doesn't understand the confusion. It's her chair. This chair stool thing sucks anyway, and LHP left this one backwards. "You never know when you might need your chair. Right, Kayla?" Right? Right? Yes… But Bayley had strong words, and said a champion's time is precious. They'll try not to keep her too long. Oh don't worry, Bayley will send them the bill. But her first title defense post Golden Role Models break-up. Is Bayley on a mission to prove herself without Sasha?
Blah-blah-blah FIRST OF ALL, that wasn't their official team name. Blame Michael Cole for that crap. Text whoever first put that tweet out. That was never their name! They never had a team name because they were never really a team! DING DONG! Hello! Shirt plug, by the way. But Bayley feels great going into Clash of Champions. She's beaten Nikki Cross for how many times? One, two, three, uh, ALL the times. But with Sasha… Bayley pats the chair. Kayla says it's not that Bayley can't win on her own, it's just, what are her strategies this time? Woods says it is the interest of the people.
Oh, the interest of the WWE Sheeple? Are they not as smart as Woods or Kayla? Because Bayley has done "pretty dang good" without Sasha before. She did it as NXT Women's Champion and Raw Women's Champion. Tag Team, sometimes. But in the history of WWE, perhaps the most decorated performers, male or female. Bayley wants Woods to repeat that into the mic. Bayley is one of the most decorated performers ever. YEAH! First ever Women's Grand Slam, so that itself is an accomplishment. But with Nikki and Alexa having dysfunction, Alexa might be ringside. Will that factor in? Is Woods asking if Nikki will use Alexa to cheat? Bayley wouldn't put it past the "slimy little goofballs."
Well, Alexa has been using the Sister Abigail lately because of The Fiend. Is that in Bayley's mind? Yeah, we just saw it happen. If Alexa does it to Bayley, Champion's Advantage! Whoever or whatever, OoOoo~! So scary! It's all a lie. When Alexa hits Nikki with it, Alexa knows what she's doing. Woods says that's very smart. Disqualification, champion's advantage, all sound logic. This weirdly sounds like Sasha Banks. But enough about her, more about Bayley.
Kayla brings up Nikki. Lacey claims Nikki is "too nice." Or is Bayley concerned we'll see the mean side of Nikki? Given the fact Nikki has lost so many times, she might be sick of it. What was the first part? Nikki has lost to Bayley many times. How many? A few. No, SO many times. But is she not concerned? It doesn't matter if Nikki's nice, mean, bad, short, tall, or has a thick accent. Bayley doesn't care, she is the longest reigning SmackDown Women's Champion for, what was it again? Michael Cole probably knows. Oh yeah, one year! That is a long time and no one is taking that from her.
Woods can't argue against Bayley, she just makes nothing but sense. And she's about to make DOLLARS when she whoops Nikki. And Sasha better be watching. From her hospital bed with the neck and knee brace day! 338 days. Sasha's recovery time? No, Bayley's reign. Anyone gonna say anything else? Bayley's ready to go. Champion's time is valuable, and they're getting the bell. Bayley and Woods dap, but Bayley scowls and leaves Kayla hanging. Bayley leaves with belt and chair, but will she only have one of those after Clash of Champions? But with that, Talking Smack is over for now, see you on Sunday!
---
My Thoughts:
A real fun round from everyone on this episode. I really thought Joseph Park was going to do Steiner Math there but not quite. It was almost it, though, with how they were talking about Sami not even being a factor and multiple instances of 33%. LHP had good banter but I almost expected them making reference that Metalik might not be in good shape enough for the match that Kalisto and Lince will have to team together. Maybe something happens on PPV Sunday, like a backstage blindside attack, or maybe even Kalisto taking Metalik out in secret for an "It was ME, Austin!" moment. That latter one might actually be even better for the turn and departure of Kalisto from the group.
And Bayley was good, and she had a good point, literally everyone, including myself, was unofficially calling them the Golden Role Models, but they were always just Bayley & Sasha. Bringing up Alexa might mean we are getting progress in that story with her, Nikki and The Fiend on the side of this SmackDown Women's Championship, all the more reason Bayley retains.