Leaping Through The Network: Wrestling Superheroes (1990)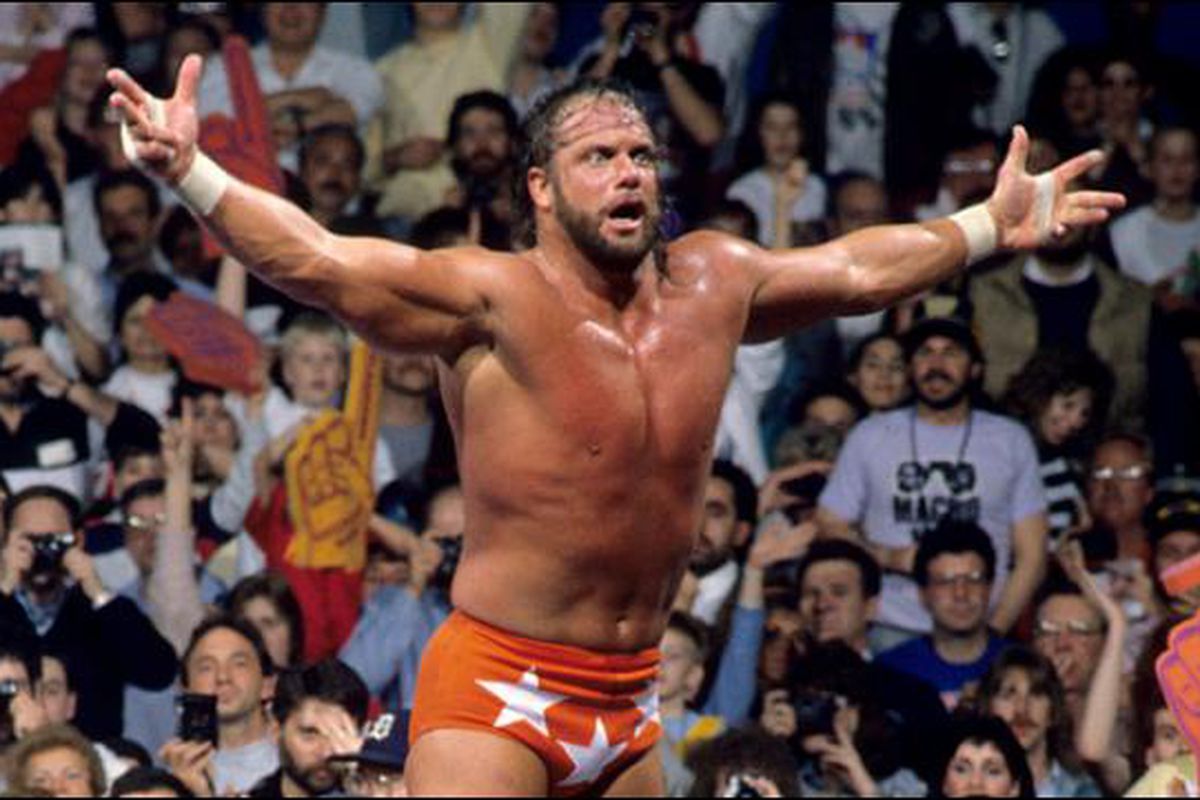 Putting the 'Flashback Friday' into Flashback Friday, welcome to a review series with a twist. See, every review series be it typed up or a talking podcast lays out their timeline from start to finish and they go forward in a straight line.
My twist is that I took my timeline that I wanted to do (and damn is it a long one) and I rolled it up into a ball. When you do that the timeline gets jumbled up and the bits of timeline all touch each other allowing me to move seamlessly from one to the other.
In scientific terms (shamelessly borrowing the plot of a TV show I used to watch) that is called quantum leaping. And that, dear reader, is what we are going to do. We are going to quantum leap through the timeline. One week we might be covering the Attitude Era the next it's the New Generation Era. It could be the Old School Era, it might be the Ruthless Aggression Era. Could be ECW. Could be WCW. Could be meat, could be peaches.
All except the first one. All journeys have a start point. Even if you decide to spend the next year randomly getting on a train and seeing where it takes you, the start point is when you leave your house and go to the first train station. Sorry rambling, point is we have to start somewhere. I have seen a ton of wrestling. Anything we review here I've probably already seen. But years ago a nine year old boy got a VHS tape for his Christmas. It was the first time he had ever saw wrestling as a moving picture and not on a trading card. So we are starting there. All the way back at……
---
WWF Wrestling Superheroes – March 21 1990
We start with Sean Mooney welcoming us and introducing us to all the competitors we'll see. Nothing else of any importance, moving on.
Axe & Smash vs The Warlord, The Barbarian & Mr Fuji
Handicap Match for the WWF Tag Team Championships
To someone who had never seen wrestling before, a Handicap Match must have seemed odd. To someone who has seen wrestling, I find the idea that two guys the size of The Warlord and The Barbarian need a third, comparatively smaller, tag team partner odd.
I'll get this out my system now. What in hell are Axe and Smash wearing? Maybe at the time they looked like bad asses but time has passed and they look like they have been engaging in a spot of S&M which in the kid friendly days of the late 1980's is an odd gimmick to run with so more power too them.
Warlord starts by clubbing Axe with some forearms to the shoulder blades before Axe reverses an Irish Whip and hits Warlord with forearms of his own battering Warlord to the ground. Tag to Smash and they both batter Warlord with punches. Odd start to the contest with the champions battering the challenger down thirty seconds into the match, imagine the Tweets if that happened these days. Right hand, Snapmare, Rest Hold. Hang on a rest hold? Now? On the plus side he's bac up in mere seconds and Smash Facelock Drags him into the corner to tag Axe who hits a Snapmare and…. for the love of…. a rest hold!
Smash is back in and they beat Warlord down again before he finally carries Smash to his corner and tags Barbarian who gets a couple of punches in before Smash via a boot takes back control. Tag to Axe who knocks Barbarian down with a Clothesline. It goes like this for a few minutes. Punches, kicks. frequent tags. All by Axe and Smash. There's nothing really happening but the odd looking guy with the red tie sat in the front row seems interested.
Warlord and Barbarian have finally worked out what 'being on the offence' means and like their opponents, it's punches, kicks and (because they're the bad guys) foot on the throat choking. Fuji is in and he hits a chop and a headbutt to Axe's gut where Fuji's shoulder catches Axe low. More of the same punches and kicks by Warlord and Barbarian before a Barbarian Powerslam. Fuji tags in and attempts a top rope Elbow Drop and misses. Axe and Smash hit Warlord with some sort of double team Stun Gun which gets a two count.
All five are in the ring now until Axe Clotheslines Barbarian out of the ring and goes out to get him. Warlord grabs Smash's arms as Fuji digs for some salt (doubt you'll see Japanese wrestlers do that anymore) Smash ducks and the salt goes into Warlord's eyes. Fuji is all alone with Axe and Smash and Axe pins Fuji after The Decapitator (a second rope elbow drop). Nostalgia tells me this was a better match but it really wasn't. Not going to give it a star rating though, my name isn't Meltzer.
Winners: Axe & Smash (Still Tag Team Champions)
Jimmy Snuka vs Greg Valentine
Valentine attacks Snuka from behind to start this one continuing his attack with chops and a couple of Elbows. Already this looks a better match than the last one. A chop gets Snuka back into the match before knocking Valentine down with a running Headbutt but a second rope diving Headbutt is met by Valentine's knees (or shin guard to be more exact) and a series of Elbow Drops wins Valentine a two count.
Valentine kicks Snuka out of the ring and repeats this to break/restart the count anytime Snuka looks to be getting back into the ring. This angers the referee who gets into an argument with Valentine. In a move that confused the nine year old me and probably anyone watching this without context, the referee then punched Valentine in the head.
Context: the ref is a wrestler called Ronnie Garvin. He lost a retirement match to someone I think might have been Greg Valentine. No longer a wrestler, he's now a ref. Everyone following? Cracking.
Said punch to the head by the ref has dazed Valentine. The argument has allowed Snuka to climb to the top turnbuckle and he flies of at the dazed Valentine with a High Cross Body. The pin, the win. Rather a short match.
Winner: Jimmy Snuka
Roddy Piper vs Rick Rude
Cage Match
Fun fact: I have watched this so many times that I know Rick Rude's opening "What I'd like to have right now…" speech word for word. Also: this entire Piper vs Rude feud (hey that rhymed) started when Piper mooned Rude during a match. Wrestling was a bit odd in the late 80's.
Rude starts this by attacking Piper as he gets into the cage with a series of Right hands. An Irish Whip is reversed by Piper and Rude goes careering back first into the cage. Piper takes this time to remove his shirt and kilt. Rude tries to climb out so Piper takes his belt and whips Rude in the back with it. Looks painful. Piper wraps the belt around his fist punching Rude before biting him. Rude is bleeding. Rude decides escape is a good idea. Piper grabs Rude's tights exposing a corner of Rude's ass to a feminine pop before biting Rude on the leg. Rude is down but Piper grabs him and throws him head first into the cage wall. Piper tries escaping but Rude pulls him down and crotches him on the ropes. Men around the world exclaim "Jeez" and feel Piper's pain as he rolls around the canvas clutching the affected area. Rude hits Piper with a low knee to the groin.
Rude goes for the door but Piper grabs his ankle in an attempt to stop him. It works but Piper receives some Stomps and Forearms for his trouble. He goes for the door again but piper literally drags Rude back into the ring. Rude hits a Rude Awakening (Neckbreaker) to Piper but has no strength to make the cover. Nor can he climb out because he can't see due to the blood in his eyes, so his manager at ringside, Bobby Heenan, reaches through the bars and leads him to the door. Piper spies the open door and clambers over Rude to escape but Rude has to grab Piper to stop him. Rude sends Piper off the ropes and the clatter into each other knocking each other down.
Both men start climbing the same side of the cage and even exchange punches at the top. The both then climb down the outside of the cage. They both ram each other's head into the cage and the both get to the floor at the same time.
Winner: Draw
The ring announcer tells us the match must continue so back in the ring we go. Rude climbs to the tippy top of the cage and instead of escaping, which would have been a really good idea, dives off hitting piper with a Fist Drop. Piper makes some strange noise like a horse snoring as Rude makes a cover but he only gets two as Piper kicks out. A Piledriver gives Rude time to climb the cage again but while he decides to leave or hit another Fist Drop, Piper shakes the cage and Rude drops onto the cage grapefruits first. A couple of Right Hands and Rude is hanging upside down from the top of the cage. Nothing can stop Piper as he heads for the door. Well, nothing except the cage door that Bobby Heenan slammed into his head anyway. Rude's back down and makes the cover, gets another two. Bobby Heenan passes Rude some brass knuckles through the bars. A Right Hand by piper and Rude drops the knuckles. Piper finds them and well….. Rude is out. Piper is out of the cage.
Winner: Roddy Piper
Hulk Hogan vs Hercules
WWF Championship
We start with a Test Of Strength. Hercules wins as Hogan drops to a knee. Hogan makes faces and Hulks up and powers his way back to his feet. Hercules is on his way down but he Headbutts Hogan in the gut before lifting him and slamming him into the corner. Hercules peppers Hogan with Elbows and Right Hands before Hogan reverses an Irish Whip and follows Hercules with a Clothesline. Hogan shoots Hercules off the rope and Hercules ducks a Clothesline but is met with a High Knee. Bobby Heenan (him again) tries interfering but Hogan gives chase. Heenan slides into the ring allowing Hercules to ambush Hogan. It doesn't last and a Big Boot knocks Hercules down. Hogan then Bodyslams Hercules before going for an ELBOW Drop? Hercules moves though and Hogan elbows the canvas. An Irish Whip drops Hogan to the ground where Hercules works over him with shins to Hogan's lower back.
A big Man Cuddle… sorry Bear Hug slows the pace down but keeps the pressure on Hogan's lower back before Hercules drops Hogan back first over his knee. Hercules lifts Hogan for a Torture Rack. After a few minutes, Hercules dumps a limp Hogan to the canvas thinking he's won the match and the title (he hasn't). Hercules and the ref argue about this (although Dave Hebner doesn't do a Garvin and punch Hercules) as do commentary. Accepting it, Hercules makes the cover. Hogan kicks out and it's time for the familiar (or it will be the more of these I do) 'Hulk Up' routine. Hercules' punches have no effect on Hogan but Hogan's stagger Hercules. Same when Hogan rams Hercules into the top turnbuckle pad. Boot. Legdrop Of Doom.
Winner: Hulk Hogan (Still WWE Champion)
Randy Savage vs The Ultimate Warrior
Savage attacks Warrior as he enters the ring but Warrior blocks Savage's attempt to ram Warrior's head into the turnbuckles and hits Savage's head into them instead and a running Shoulder Block knocks Savage out of the ring. Warrior goes out after him and Gorilla Presses Savage back into the ring. Savage goes back outside the ring, Warrior gives chase. Savage back in the ring and ambushes Warrior as he gets in. Think Hogan fell for something similar in the last match. Warrior catches Savage as he attempts a High Cross Body and dumps him Tree of Woe style in the corner and stomps him. The ref tries to break it up but Warrior grabs the ref and sits him on the turnbuckles in the opposite corner.
That's a DQ for manhandling the ref, or at least it SHOULD have been. Savage is back up but Warrior Chops him back into the corner before a 10 Punch Spot. A knee to the back sends Warrior to the outside before Savage climbs to the top turnbuckle and comes down at Warrior with an Axe Handle to the back. Back in the ring Savage grabs Warrior and hits a modified Stun Gun where, instead of lifting Warrior and dropping him over the rope, Savage grabs warriors head and leaps over the top rope dropping Warrior throat first over the rope.
Blatant choking gets Savage a two count. As does a knee to the skull and a kick and a short Elbow Drop. A Chinlock allows both men to get their breath back before they Clothesline each other knocking both men down. Savage crawls over and gets a two count before climbing to the top and hitting Warrior with an Axe Handle to the skull which only gets a one count. Warrior counters a Suplex with one of his own for a two and Rick Rude is here to pose for some reason. Warrior whips, kicks and Clotheslines Savage before an Atomic Drop gets a two when Savage drapes a foot over the rope. A School Boy by Savage gets a two count and a pose from Rude. A Big Splash is blocked when Savage gets his knees up.
It's time for Warrior's 'Hulk Up' routine which is shaking the ropes as he gets his second wind. A couple of Clotheslines has Savage dazed and a Running Powerslam probably has him finished. Warrior however is distracted and exits the ring to confront Rude. A short chase ends with Warrior brawling with Rude at ringside. Count Out. Post match Rude takes a clobbering culminating in a Gorilla Press Slam. Doesn't matter though.
Winner: Randy Savage.
Sean Mooney tells us to keep an eye out for more events (way ahead of you there Sean) and we're done. Fade to black, Trademark Titan Sports.
Post show: Because this was the first wrestling I ever watched, I probably think of this differently from others. That said I'm aware that to others this is just another bog standard release. It's decent but nothing more. However it is good as an introduction to wrestling, we saw Hogan, Warrior and Savage who were probably the three biggest stars of WWE at the time. We saw Singles matches, a tag match and a cage match. Wrestling Superheroes is good in that respect.
Match Of The Night: Rude vs Piper. Yes this is a random VHS tape but this is a match that probably should have been on a PPV as it may be one of the best cage matches I've seen. If nothing else it's a heated standard that I have probably based other cage matches on. I strongly advise going out of your way to see this. Plus this, like everything else I'll cover in this timeline, is available on the WWE Network. We know how much it is, we know the first month is free, go and watch this cage match.
MVP: As this is a mixtape and not a proper show, I'll miss this one out.
---
And that is me. I've been Stevie C and I can be found on Twitter @Callaweasy2220 for anyone who wants to talk wrestling.
My hands are going blue. I feel I'm about to leap. Hope it's a good one…….
"He wants me to rub the moons on his belly? Are you bloody mad?"
Oh boy.
Chairshot Classics: PROGRESS Chapter 2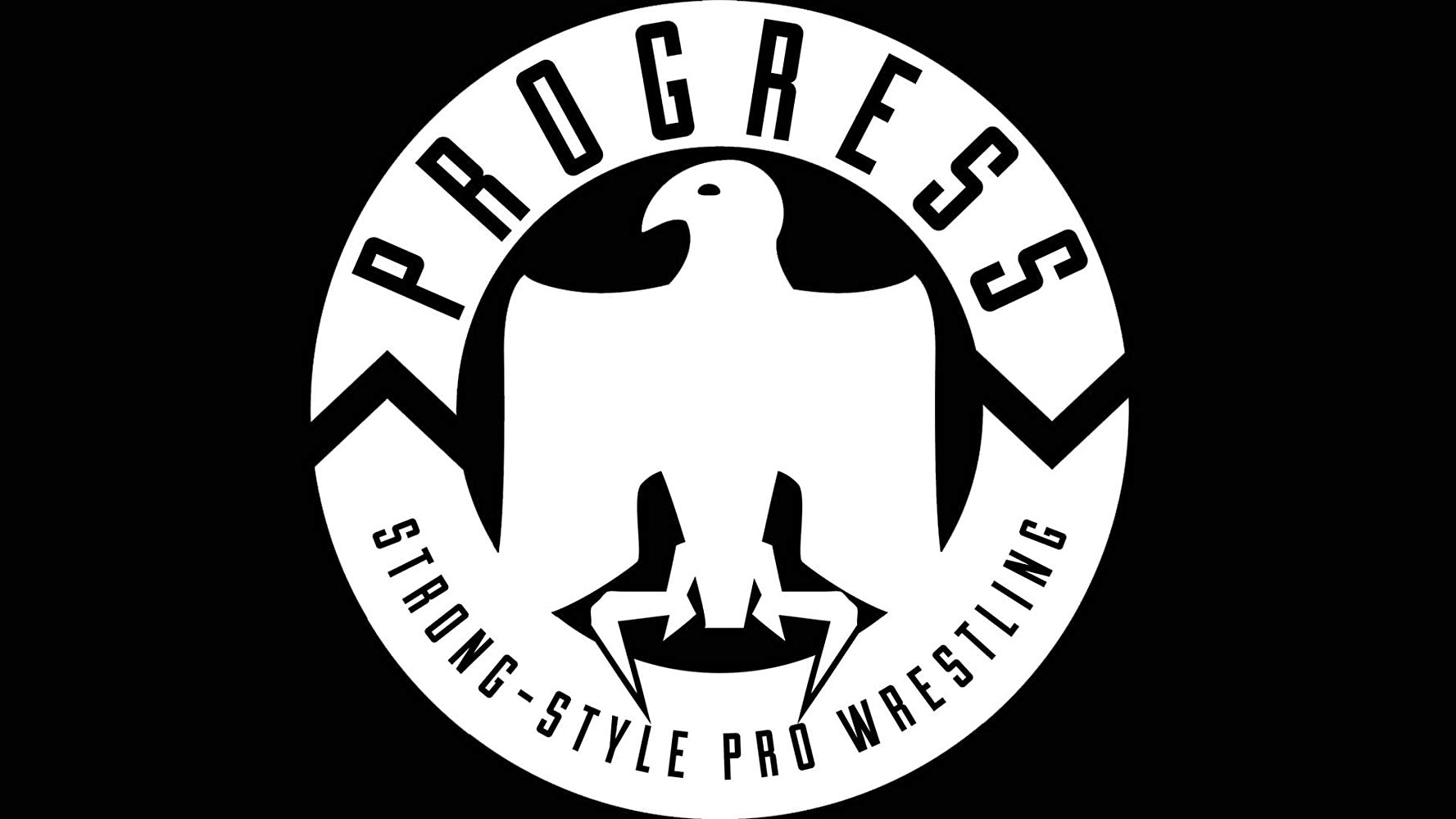 Chairshot Classics continues to it's foray across the pond thanks to Harry's dedication. Let's see what Harry thought about Chapter 2!
PROGRESS Wrestling Chapter 2
'The March of PROGRESS'
From: 'The Garage' in Islington, London, England
Date: June 24th, 2012
Run Time: 2:16:19
WITH SPECIAL THANKS: Ian Hamilton for some of the research that I did while working on this review. (http://www.backbodydrop.com)
Well, would you look at that? They are actually letting me continue doing these. Chapter 1 was a fun way to get back into reviewing, but man, I realized real quick just how rusty I was. I used to do two or three full length reviews a week for 'Smash' and it took me dang near three weeks to get 'In The Beginning' finished. Hopefully, you all enjoyed it. But even if you think I suck, thanks for reading all the same.
That brings me to why I'm here today. PROGRESS itself is coming off a critically acclaimed debut. They then proceeded to take off three months as the March debut was not followed up on until this show, all the way in the month of June. But we do return to the scene of the first chapter. Once again, we go into the way back machine with our date set at June 24th, 2012 as "What I Watched" presents 'The March of PROGRESS' or PROGRESS Chapter 2
*General Notes: the setup looks a lot cleaner this time. The hard cam is still set up by the sound table, but there is only one computer monitor visible with it being used for music. The angle towards the ring is a lot cleaner. The lighting on the ring is a lot better as well…
*Immediately, you can see them moving forward with storylines as the hype video package to open the show is to build to the main event, as 'Show-Stealer' Nathan Cruz defends the title in two-out-of-three falls against 'Party' Marty Scurll with promos from both to set it up. Sort of assumed this is where they were going for the second chapter, but the two out of three falls was not something I saw coming.
*Smallman does do his opening promo here, so all feels right into the PROGRESS world…not only does Smallman do his full opening interaction, but they actually use it to bring in a new talent in Stixx (or so I find out by the splash graphic before the first match). Stixx quickly establishes himself as a heel by running down Smallman, the crowd at the 'Garage' and the city of London in general. I'll also take this opportunity to point out that Stixx is what would have happened if the Pitbulls from ECW would have still been in wrestling in 2012. Gary Wolfe, Anthony Durante and Stixx apparently (let's all do Jaime Noble and Kid Kash a favor and let the WWE Pitbulls thing go)…the segment with Smallman and Stixx doesn't really go anywhere, but does take us to our opening contest.
*Match #1: Lion Kid vs. Stixx
The Who: Well, let's see. Lion Kid is a guy in what looks like a Halloween costume. Stixx, as I mentioned earlier, is a guy who looks he'd fit in better with the Pitbulls then in the current British independent wrestling scene. Upon looking for information (again, highly recommend Ian Hamilton's work at BackBodyDrop): Lion Kid is apparently Wade Fitzgerald, who I believe I have previously seen in wXw in a team with Marc Redman. Stixx, well, looks like he's just going to continue his cosplay.
The Why: I can't say I have a viable reason for this one. I guess I'll go with Stixx being an ass hat to Smallman and Lion Kid is sticking up for him. Sounds as good as anything at this point.
The Match: There was an attempt at a 'Let's Go Simba' chant at the start of the match. Not so great attempt at humor. Now I gave the fans grief during my review of Chapter 1, but if whomever quoted Pride Rock scene from 'Lion King' afterwards right after the intros is reading this: good on you, mate. That was wonderful…Lion Kid gets a inset interview, Stixx doesn't. But he did get the opening interruption…it's once again *cough cough* Jimmy Barnett *cough cough* on commentary and he sounds a lot clearer this time…they cut the entrances, but what are the odds that Lion Kid comes out to 'Lion Sleeps Tonight'?…noticeable size disparity here which will probably tell the story of the match…impressive springboard hurricanrana by Lion Kid early…and our first participant out of the ring happens at 1:48 into the first match…powerbomb into a ring post on the floor. Seems a bit excessive for the opening match, no?…fans quickly on Stixx's case…will say for two guys making their debuts here to me, they have very good chemistry. Lucha spots from the big guy as well…and now the 'Let's Go Simba' chant catches on. Sigh…cross body in the corner by Stixx. That's a big dude to be doing that move…unique take on a grounded chin lock by Stixx. Still ultimately a rest hold, but at least it looks better…'you wrestle, we shout things'. And that's the PROGRESS fans in a nutshell…corkscrew enzugiri and then they badly blow a catch spot on a plancha attempt. I'm not sure who I'd put that one on…Lion Kid does mess a double springboard attempt but gets it on the second attempt…huge Black Hole Slam by Stixx…little later, a Splash Mountain attempt by Stixx is countered into a top-rope head scissors. Lion Kid goes for the Lionsault-DDT that AJ Styles likes to use but gets countered. Lion Kid reverses out and into a rolling prawn hold and that's a three count at 10:24…they had a few rough spots, but managed to recover nicely from them. I wouldn't call this a blow away start to the show, but it's worth the ten minute run time and the crowd was pretty much into it. That's ultimately what matters for an opener. After all, as Jimmy Barnett said: "You don't have to be a kid to enjoy saying rawr". (AVERAGE)
*Match #2: BWC Scarlo Scholarship Title- Mark Andrews © vs. 'Wild Boar' Mike Hitchman
The Who: Mark Andrews is a pretty well known name, I feel. He's not only had this run in PROGRESS, but he was in TNA as 'Mandrews' where I believe he won 'British Boot Camp (have to look into that) and he now works for the WWE as part of their UK Division. Mike Hitchman is brand new to me and looks like Larry D from IWA-MS got shrunk in a dryer.
The Why: For the BWC Scarlo Scholarship. This same belt was defended on the first show back in February of 2012 and Barnett said the BWC belt would appear on all PROGRESS shows going forward. Two for two at this point. It was a triple threat on the first show that I thought was pretty good which involved then champion Xander Cooper, Zack Gibson and Darrell Allen.
The Match: I have always enjoyed what I've seen from Andrews, so my expectations of this are a little higher then they were of the triple threat from Chapter 1…both guys get inset promos. Neither one of them is anything to write home about, however…the snap amateur takedown by Hitchman early impressed me. That's a move we see all the time in wrestling, but I've never seen someone do it as aggressively as Hitchman did. It made it look awesome, sound awesome and put over the aggression of Hitchman for his desire to win the title. Sometimes it's the little stuff…nice bridge out of an attempted float over by Andrews. Like I said, it's the little things…Barnett compares Hitchman to Tazz. 'Not the fat annoying commentator in TNA either'. Big fish in a small pond still, Jim…don't usually see a lot of mat wrestling on the Indies. It's a nice change of pace from the opener which had the first dive attempt less then two minutes in…and the mat based crucifix gets two. Drago calls it 'Tail of the Dragon'…and the first dive to the outside is a moonsault off the apron for the first 'This Is PROGRESS' chant…don't know why everyone teases the German suplex off the apron. It's not like any one every hits it…Hitchman with a DDT on the apron for the first fecal chant of the show…Hitchman is built like Bull Dempsey if that helps anyone…someone's got a dirty face (TM Dave Prazak)…for the first time seeing him, Hitchman has impressed me. He's very smooth in the ring and seems to have a good grasp of the what to do and when…counter sequence leads to a half nelson suplex and Andrews lands clean on his dome. Not wise, young Mark…you can't powerbomb Andrews!!…standing sky twister gets two for Andrews. PAC (Neville) hits it cleaner, but still nice…Hitchman has Andrews in the tree of Joey Lawrence (WHOA) and hits a spear. I guess he kinda does look like a smaller Rhyno…back body drop into the turnbuckle by Andrews! Why? Like, why?…and Hitchman returns the favor with an exploder into the buckles…and now the fans are calling Hitchman Rhyno. So it wasn't just me…and Mike Hitchman just Kevin Steen'd a bitch! Package Piledriver! And it only gets two! Strongly disagree with that…Hitchman looking for a top rope PPD. Andrews pushes him off and the Shooting Star misses!…another attempt at the Package PD is escaped by Andrews and into a small package for the three count at 14:05…and the BWC Scarlo lives up to expectations once again. Other then the Package Piledriver kick out (a move I strongly disagree with anyone kicking out of), these two put together a very good match that started heavily focused on the ground and then quickly picked up the pace at the mid point into a nice closing sequence. Andrews retains, but Hitchman definitely impresses and I'd like to see both of them back in PROGRESS sooner then later. (VERY GOOD)
*Post match, Mark Andrews is celebrating with the fans when a man in a suit and a t-shirt attacks him! That man is the former champion Xander Cooper. Well, that explains where he was and how Andrews got the belt. Cooper tries to belt shot Andrews, but Andrews ducks, gets in a dropkick to send Cooper to the floor and then chases him to the back.
*Match #3: Noam Dar (0-1) vs. Darrell Allen (0-0-1)
The Who: And for those wondering, this answers the question of the first guys to have matches on back to back PROGRESS chapters. Noam Dar was defeated by El Ligero in a PROGRESS Wrestling Staff' qualifying match. 'Dazzling' Darrell Allen was part of the BWC Scarlo three way, where he ended up with a no decision as champion Xander Cooper pinned Zack Gibson.
The Why: To build some momentum going forward for one of them would be my guess. Dar got a pretty strong heel reaction on the first show. Allen's high flying antics made him a crowd favorite, so it seems like a viable contest to me.
The Match: Both men get inset promos. Noam Dar doesn't have a lot to say in his. Darrell Allen finds his inner Booker T. Yes, that Booker T promo. The less said the better, so let's move on…apparently Allen dislocated his shoulder in the triple threat at Chapter 1 and finished the match. Having dislocated a shoulder before, that's pretty impressive…little bit of miscommunication between the two early, but nothing that will greatly hurt the match…Dar is apparently a student of the Tracy Smothers school of wrestling as he tries to call a timeout…Dar with a dropkick while Allen tries to climb the ropes, catching Allen right in the injured shoulder. Spot on precision…Dar threatens to throw his gum at a fan before chomping back down on it. Good. Bodily fluids should never be a way to get heat from the crowd…airplane spin into a NLS as Barnett laments the lack of airplane spins in wrestling. I can agree with that. Very underutilized move…and now Dar shares his gum with Allen before chowing down again. That's freaking gross…strike exchange see Dar get the better, but a superkick by Allen turns the tide…and another corkscrew enzugiri causes the double down for an eventual two…for all the people who complain about the overuse of superkick's, I'd argue the enzugiri is just as overused…northern superkick into a rolling prawn for two by Allen…leg capture head kick by Dar. That's new…crucifix knee bar is applied. Allen tries to fight out, but Dar pushes him back to the mat and starts kicking him in the face with Dar's free leg. That gets a tap out from Allen at 11:04…Good, but not great. Don't think the crowd was as invested in this match as they were in the first two and it kinda hurt the competitors. I know Dar is capable of much more. Allen was honestly just another guy here. The story telling of Dar being a dirty little prick works, but Allen doesn't have the kind of following needed to get the emotional investment that a story like that needs. (ABOVE AVERAGE)
*Match #4: Danny Garnell vs. Jimmy Havoc
The Who: Up until watching this show right now, I would not have been able to pick Danny Garnell out of a lineup. I know nothing about him. Jimmy Havoc however, I'm very well aware of. As a follower of death match wrestling, the name Jimmy Havoc carries a lot of weight these days. He'd eventually go on to be a marquee player for this very company as well. How does he get there? Let's find out…
The Why: So, this is where Ian Hamilton of BackBodyDrop helped. PROGRESS apparently sent out a tweet to its fans, asking them who they would want to see. Jimmy Havoc's name came up a ton, so he's being given the shot here. Ian also points out that Danny Garnell is Jimmy Havoc's original trainer as well.
The Match: Smallman telling Havoc to 'fucking behave himself' before the match is a nice touch and a bit of a nod and a wink as to how the behind the scenes workings are at PROGRESS as well…during pre-match inspections, the referee finds a spoon on Jimmy. At least it wasn't a fork, Abdullah the Butcher style…the spoon then gets a series of crowd chants…Danny's inset promo is where he admits he was Havoc's trainer. Not sure if that's something to be proud of or not…it's the basic promo from Danny else wise. 'I taught you all you know but not all I know'…Barnett is lamenting Havoc's involvement in the show. Yeah, not suspicious at all…Havoc surprising people by holding his own on the mat. Similar to his American namesake, Danny…Havoc gets an inset promo as well. I'd like to see them do some post match interviews in the future…and a spoon happens. An actual spooning…fans chant for the ref to get some spooning too but he's having none of it…dropkick takes Garnell to the floor and Havoc follows out with a plancha at about the four minute mark…and Garnell lariats the shit out of him as they come back into the ring. Jesus…body slam and a variation of the surfboard applied. Five minutes in and they go a rest hold. But Havoc able to surprise people with a spinning head scissors to escape…Garnell goes for another clothesline but Havoc is able to duck and take Garnell down into a Crossface. Garnell gets to the ropes as a 'We Miss Benoit' chant starts. Remember what I said about PROGRESS fans going too far sometimes? Yeah, this is one of those…Havoc with a running step up knee in the corner. He goes for a second but Garnell ducks and Havoc goes out to the floor. Garnell pulls him back in with a hanging DDT for two…half-nelson suplex and a snapmare driver both drop Havoc on his head, but again only two…Garnell goes for the dirty face, but Havoc moves and catches Garnell with a chest blower for two…and back into the Crossface for another Benoit chant…Havoc gets frustrated and grabs a steel chair. Referee talks him out of using it, but Garnell gets a rollup for two…Havoc turns a tilt-a-whirl attempt into another Crossface (Jimmy Rave's 'From Dusk Til Dawn') but Garnell is able to flip Havoc onto his shoulders and cradles the leg to get a three count for the win at about 10:36 (there were stopwatch issues)…for a guy who is supposed to just be a 'death match' or 'garbage' wrestler, Havoc more then held his own here. I think Jimmy is a part of that hybrid group of death match guys that can work pretty much any style. Danny Havoc, Drake Younger, JC Bailey (RIP), Nate Webb and Rickey Shane Paige are among the names that spring to mind here. The story of Havoc fighting himself to stay within the rules of PROGRESS was well done too and I do like that it didn't directly lead to the finish. Instead of Havoc's temper getting the better of him, his trainer just managed to get one up instead. Good stuff here. (GOOD)
*Post match, Smallman gives Havoc his spoon back (that was nice of him) and compliments Jimmy on his performance, saying that he'll give Jimmy another chance on Chapter 3. I feel like that may come back to bite him…and the segment ends with a Havoc/Garnell/Smallman triple spoon. 'This is PROGRESS' indeed.
*Match #5: Velocity Vipers vs. London Riots
The Who: The London Riots consist of James Davis and Rob Lynch. I've seen them once before on the review that Patrick and I did for Chapter 36 for Wrestling Unwrapped, but I'm still going to have a hell of a time telling them apart. The Velocity Vipers are Will Ospreay (yes, he of New Japan and PWG fame) and Alex Esmail. The comparison that I saw made for them was the team of Brian Kendrick and Paul London, and physically, that certainly pans out. In the ring, we shall see…
The Why: Well, this is the first tag match in the history of PROGRESS, occurring in match number twelve. My guess is this is the beginning of establishing something of a tag team division, but I could be wrong.
The Match: Vipers make their entrance and immediately get nailed from behind by Lynch and Davis…the pre-match attack continues on the floor as the Riots are just beating the hell out of both Vipers…Vipers turn the tables and get both Riots out of the ring. Esmail catches Davis (I think) with a somersault plancha. Ospreay tries to dive out of the ring, but gets the ever loving bejesus forearmed out of him by Lynch (I think)…and Barnett confirms that it was Lynch that caught Ospreay with the European uppercut, so that confirms that I did tell them apart correctly, even if I got the move he stopped Ospreay with wrong…Lynch is in bikers, while Davis has the singlet for those following along at home…and we finally get an opening bell with Lynch beating the tar out of Ospreay…it's kinda cool to think where they'd end up seeing that Andrews, Havoc and Ospreay all debuted for PROGRESS with only a Noam Dar match in between…Fit Finlay roll by Davis. One of my favorite moves…followed by a partner capture piggyback senton. Impressive display…he's gotten significantly more technically fluent, but man, early Ospreay was a sight to see with all the flying around the ring he did…that's fucking disgusting. Davis spits on Ospreay's mouth guard and puts it back in Ospreay's mouth…and Davis just kicked the absolute crap out of Ospreay. This match is feeling like legalized assault…Esmail is trying to reach out to Ospreay for the tag. I'm sitting here thinking "why would he want any part of this?"…and that was a super flippy-doo. Corkscrew head scissors takedown…crowd chanting for Esmail by chanting 'Bieber'. They aren't wrong…and Lynch welcomes Esmail to the violence party with a brutal spear to a chant of 'you killed Bieber', as Barnett laments the lack of Justin's demise…Esmail tries to chop Lynch. It ends poorly for him…release German by Lynch and looked like Esmail landed on his shoulder…at what point does referee stoppage due to empathy become an option?…Davis with a huge exploder for two, allegedly. It does not look like Esmail kicked out, but grabs the knee right afterward, so I'm guessing that's not good…and the match basically stops until Esmail can tag Ospreay…handspring Pele kick. That's a new one…and Lynch gets caught with Code Red for two…C4 style snapmare by Ospreay…and Ospreay misses the double moonsault. Yes, you read that right. I said the words 'double moonsault'…one Lariat by Lynch later and Davis covers for the three count at 10:19…from what actually happened before Esmail got hurt, it was actually a fun little battle of aerial vs. strong style. When Ospreay and Esmail could get into the air, they had a chance. On the ground, they were taking an absolute ass kicking. Unfortunately, Esmail's injury robbed us of the sequence leading to the hot tag and thus took the fans out of the match. My guess is they went home early after the injury. Fun effort, with an unfortunate injury to Esmail. (ABOVE AVERAGE+, BUT WAS ON WAY TO BETTER)
*Upon checking Ian's review of the show, it wasn't the knee that Esmail was holding. It was his leg. He broke it on the landing of the exploder. As I said, unfortunate for him. I don't know that he ever returned to PROGRESS. I'd say it worked out okay for Ospreay though.
*Post match promo from Rob Lynch where he basically says what he said in his inset promo. Kinda defeats the purpose of those, no?
*Match #6: #1 Contender's Match- El Ligero (1-1) vs. Greg Burridge vs. RJ Singh
The Who: El Ligero was on the first show. He beat Noam Dar in the opener to advance to the four way, where he was the first person eliminated in the four way. Greg Burridge (which I originally read as Gurridge) is brand new to me. Have never seen or heard of him before. RJ Singh was supposed to be on the first show facing Colt Cabana in one of the qualifier's, but didn't make the show and was replaced with 'Loco' Mike Mason, who we don't see on this second Chapter. Probably because he was basically less talented Davey Richards. And I'm not a huge Davey fan in the first place.
The Why: The graphic for the match said it's for the number one contendership. What any of these guys have done to become number one contender is anyone's guess. This could give an interesting sign of things to come in the main event though.
The Match: RJ Singh has a pair of managers. He didn't have managers on the graphic. Hopefully Jim Smallman tells me who they is during the intros…I couldn't make out what he said during introductions for them……I'll keep looking and listening (there is a Jimmy Barnett still) and let you all know…Burridge gets the only promo and mentions what Smallman just mentioned that he's the hometown boy. Ligero was also a crowd favorite on the first show, so it appears RJ Singh is the heel in this contest…nope, RJ Singh gets an inset promo too. It just happens a bit later. 'This is PROGRESS and Singh is King' is a strong line, give him that…Burridge and Ligero trade sissy kicks, until Burridge with a finger poke for a 'holy shit' chant…Singh comes back in and gets knocked right back on wallet…okay, I do like that they are mixing in spots with all three guys involved…and Burridge has fluffy dice hanging from his crotch. Because of course he does…Ligero's reputation proceeds him, Singh is a nice little high flyer despite and Burridge is the charisma of this contest…Singh does like to focus on knee strikes…Barnett points out this is one fall to a finish, not elimination rules like the title match was…rolling hilo by Burridge. The Eddie Guerrero special from the big guy. If I had to give a build comparison for Burridge, I'd say Wade Barrett sounds about right…and the director for Singh gets an in ring face humping after attempted interference. No wonder these shows don't allow kids…Ligero with a huge dive to take out Singh's other second…Ligero with the Rings of Saturn that gets broken up with a back chop by Burridge. Back chops are for jerks!…RJ Singh applies a Camel Clutch, decreeing it's name to the 'Ethnic Submission'. That's a whole lot of wrestling history wrapped up into two words right there…Ligero catches with the same DDT he beat Dar with, Burridge stops any attempt at a cover with a submission hold…they O'Connor Roll into the ropes, knocking Singh to the floor and Ligero ends up with the cover, grabbing the tights for the three count at 11:03 and the fans are pissed at Ligero for such dastardly tactics…match itself wasn't bad, but nothing to write home about either. The finish is the big talking point as Ligero wasn't seen as a guy who would have previously stooped to the level of using the tights in order to get a victory. I actually like him doing so here, because it keeps an air of mystery about the main event still. If Nathan Cruz wins, Ligero can go back to loveable baby face who did what was necessary to get the title shot. If Marty Scurll wins, Ligero can be the little bastard who will cheat against even his friends if it means being champion. Good story, average match. (AVERAGE)
*Post match, Burridge has a promo where he uses pretty much every curse word in the book and probably makes up a couple to describe the fact that Ligero cheated him out of the number one contendership. Definitely not a family show.
*Match #7: PROGRESS Wrestling Staff: 'Showstealer' Nathan Cruz © (2-0) vs. 'Party' Marty Scurll (1-0-1)
The Who: Nathan Cruz is the first PROGRESS champion, crowned at 'In The Beginning' (available in my archive if you've not read). He won both a singles match over Colossus Kennedy and then the four way elimination main event. 'Party' Marty Scurll is the 'Villain' of modern day ROH and New Japan, but here he's still more commonly known as one half of the 'Leaders of the New School'. Scurll pinned Zach Sabre Jr at the first show in what I still feel is the best match in PROGRESS history to this point to advance to that four way.
The Why: The why here is simple and I touched on it earlier in the review. At 'In The Beginning', there was a previously mentioned four way. It came down to two people: Marty Scurll and Nathan Cruz. Scurll had a clear three count during the match, but the referee got knocked stupid. As Scurll was trying to resuscitate the referee, he was given a low blow by Cruz and then eventually Cruz's sliding single foot dropkick spelled curtains for Scurll. On the PROGRESS YouTube channel (2012 and all, a company has to have a digital presence), Cruz challenged Scurll to the rematch, even letting Scurll pick the stipulation. Scurll choose 'two out of three falls' and here we are…
The Match: IT IS NOT A NAZI STAFF!!! Okay, maybe it is…interesting that the win-loss records on the chyron for Marty Scurll has him at 0 wins and 1 loss. Two things for that- first, they are completely ignoring him pinning Zach Sabre Jr. for that 0 wins total. Second, technically he didn't lose the main event of Chapter 1. He just didn't win. I personally consider that a draw, and therefore you see the 1-0-1 record that I have given to Scurll…Nathan Cruz's chyron has him listed at 1-0, so I don't know what the hell is going on…and the crowd once again gets on Cruz with a 'shit Zack Ryder woo woo woo' chant. Made me laugh the first time, makes me laugh the second…and Scurll spits his gum at Cruz. This has been a very unhygienic show…Barnett points out Scurll's tan advantage. That checks…Scurll is quickly going after the arm and hand of Cruz. Makes sense to weaken a limb for what will probably be a long match…and Scurll busts out the Jim Briggs special. That move doesn't get enough love…overhead chop from Scurll after a shushing. Wonder if he got that from Big Show or vice versa…Cruz fires back just as strongly with chops of his own…any chop you can throw, I can throw harder. I've never understood chops. Good for crowd reaction, but painful as all hell. In a business that supposed to look like it hurts without actually doing so…we once again go out to the floor for a brawl, because that's exactly what this event needed. More crowd brawling like the main event of Chapter 1…slingshot back suplex by Cruz. Not sure if I've seen that one before…Cruz eats foot on a charge not once but twice, but a leaping knee strike gets two for Nathan…Barnett credits a delayed vertical as 'shades of the late great Davey Boy Smith'…and it totals a fifty second delayed vertical, but I think it took as much out of him as it did Nathan…that suplex gets our second 'This is PROGRESS' chant of the match…Cruz went for the sliding kick again and nobody home. Eventually it leads to a tornado DDT for a close two count…looked like Scurll was going for a rack bomb there. Don't think I've ever seen him use one of those…Scurll looks to be heading to the top fall here…Cruz catches him with an enzugiri while he's on top. They battle up and Scurll manages to get a CIMA style Meteora with Cruz trapped on the buckles. Scurll lifts up Cruz into position for the Rack Bomb, but turns it into a double knee backcracker out of it. He calls it the 'Hangover' and that's fall number one to 'Party' Marty @ 12:11
*Fall Two: For those wondering, I'm going to leave the clock running between falls, despite the both men on their feet rule…Cruz tries the Flair corner cradle right as the second fall starts but only gets two…it breaks into a slugfest before a Scurll cross body takes both to the floor…and Scurll uses beer as a weapon on the floor. I'm guessing that's called the 'Party Foul'…and a loud 'we can't see shit' chant starts while they brawl on the floor. This is exactly why I advice against it. In larger crowds, it takes a portion of the crowd out of the match…Cruz traps Scurll somewhere and sprints back into the ring looking for a countout…but Scurll rolls back in at 8…and Scurll gets Irish (English?) whipped into a couple rows of chairs, where Cruz looks for the countout again…and the fans helped Scurll back into the ring at 8 again. I'm sensing a pattern here…once again out to the floor. This is getting repetitive, gentlemen…okay, that was almost worth it. Fireman's carry slam on the sound desk by Cruz!…this time Scurll gets to the ring with a fan assist at the count of nine…Scurll eventually turns the table back in the ring with a series of windmill chops…Scurll busts out a move I've only see Cesaro (Claudio Castagnoli) use. A suplex from the apron back into the ring…a series of attempts at the figure four by Scurll are countered. Both men back up. Scurll tries for a tilt-a-whirl head scissors, but gets caught and dropped square on his dome with a Tombstone! That's the second fall (and it should be. Tombstone is another of those moves that should not be kicked out of) @ 22:00
*Fall Three: The both men on their feet rule here helps Scurll. He's out of it after that Tombstone…Scurll collapses at the bell, but the cover only gets two. Almost two minutes passed, so I can let that one go…Cruz looks to be setting up the sliding kick, but Scurll pops up with a rolling elbow and Barnett shouts out Mitsuhara Misawa. I went Masato Tanaka myself, but I'm an ECW mark…both men back up and punch drunk. Twenty five minutes in, it makes sense…series of pin attempts by Scurll, which I like. Puts over his desperation for the title…Scurll tries to run Cruz into a buckle but it's the buckle where the ref is. Scurll puts on the brakes and Cruz's trick knee acts up. Man, we're hitting all the classic heel cliches in this one; aren't we?…Barnett runs over the card for Chapter Three and he says we're getting Andrews vs. Cooper for the BWC Scarlo…after trying to fight it most of the night, Cruz finally gets caught in the figure four by Scurll…Cruz keeps trying to get to the ropes, but losing his shoulers in the process…finally, Cruz to the ropes. It would have been a viable finish. Let's see how Cruz sells it the rest of the way though…and Cruz pulls Chris Roberts into the way of a Scurll leaping knee…Cruz out to the floor and grabbing a chair. This is why not using the chair early means more…El Ligero comes out and pulls the chair away from Cruz. Cruz spits at Ligero, so Ligero delivers a superkick…to Marty Scurll as Nathan Cruz ducks. Ligero shrugs his shoulders about the whole thing and exits, as Cruz makes the cover…referee Roberts comes too and that's a third fall, giving Nathan Cruz a 2-1 win @ 30:31…so, I get the idea here. And it makes sense given that El Ligero was facing the winner of this match on Chapter 3 that he would be an interested party. What I don't care for is the fact that he stopped Cruz from using the chair. What does Ligero care if Cruz would have split Scurll's wig with the chair? Either way, he ends up facing Nathan Cruz at Chapter 3 for the title anyway…that said, the match was very good, but I can't give it excellent. Nor can I put it at the level of the Scurll-Sabre Jr match due to the booking involved. Just because I kind of understand the booking, doesn't mean I have to like it. (VERY GOOD)
*Post match: Cruz celebrates with the staff and then exits…Scurll gets the microphone from Smallman before he can wrap things up and Scurll proceeds to lament the fact that this is twice in the first two shows in PROGRESS that he's been screwed out of the title. He then makes a point to say that it doesn't matter who is champion, he will be the man to be the PROGRESS Heavyweight champion in the future. With that, Scurll exits and we fade with a splash screen telling me that Chapter 3 will be subtitled "Fifty Shades of Pain". So many jokes, so little time…after that, the credits roll and the website advertisements pop up, bringing us to a conclusion for Chapter 2.
RESULTS
Match #1: Lion Kid pins Stixx with a rolling prawn hold @ 10:24 (AVERAGE)
Match #2: BWC Scarlo Scholarship Title: Mark Andrews © pins 'Wild Boar' Mike Hitchman with a small package @ 14:05 (VERY GOOD)
Match #3: Noam Dar taps Darrell Allen via 'Champagne Super-Knee-Bar' with head kicks @ 11:04 (ABOVE AVERAGE)
Match #4: Danny Garnell pins Jimmy Havoc with a roll-up out of the Crossface @ 10:36 (ish) (GOOD)
Match #5: London Riots (James Davis/Rob Lynch) def. Velocity Vipers (Alex Esmail/Will Ospreay) when Davis pins Ospreay after a Lynch Lariat @ 10:19 (ABOVE AVERAGE+, BUT WAS ON WAY TO BETTER)
Match #6: #1 Contender's Three-Way: El Ligero pins Greg Burridge with a tights assisted O'Connor Roll @ 11:03 in a match that also involved RJ Singh (AVERAGE)
Match #7: PROGRESS Wrestling Staff: Nathan Cruz © defeats 'Party' Marty Scurll by a score of 2 falls to 1 @ 30:31 to retain (VERY GOOD)
-Scurll, pinfall, Hangover, 12:11
-Cruz, pinfall, Tombstone, 22:00
-Cruz, pinfall, superkick by El Ligero @ 30:31
FINAL SHOW THOUGHTS
NEGATIVES
I'm going to try to keep these a bit shorter then they were for Chapter 1. Mostly because this is already rocking almost ten pages here and I don't want to go much more. They improved
the lightning in the building on the hard cam, but the roaming cam lighting is still hit and miss. With the amount of crowd brawling that went on in the main event, that becomes a seriously noticeable flaw.
Second, the lack of decisive finishes kind of bothered me. I get that it's early in the company's run. But one of the trademarks (in my opinion) of 'strong style wrestling' are clean and decisive finishes. Off the seven matches on this show, two had dead in the center of the ring clean finishes that weren't rollups. I don't like that at all.
POSITIVES
There was no one on this show that felt like they didn't belong to me. Despite me not knowing who Mike Hitchman was, he really impressed me in his match with Mark Andrews. Despite not knowing who Danny Garnell was, the story that he and Jimmy Havoc told more then justified his involvement. The opener was kinda lackluster overall, but it was good for the spot with the Lion Kid gimmick being something that's easy for a crowd to get behind.
I gave them credit on the first show for crowning a champion. I'll give them credit here for knowing that they needed to set things up for future shows to keep the hype train rolling. Yes, PROGRESS got off to a strong start, but the company didn't yet have the name they do now where they could continue drawing huge cards solely on the PROGRESS name. In addition to being able to do several things for shows down the road, they immediately set up at least two matches for the next show. Nathan Cruz vs. El Ligero for the PROGRESS Championship Staff and Mark Andrews vs. Xander Cooper for the BWC Scarlo Scholarship title. Good forward thinking.
OVERALL
A better show then Chapter 1, but not the blow away show that we would eventually come to expect. We top out at 'very good' on the scale and a good portion of that is because of the booking. We'll chalk this up to the learning curve though. So where does this leave us? Well, it leaves me about to come back to check out "Fifty Shades of Pain". It leaves you guys hopefully wanting to see me do so. And I'm still hungry. I clearly need to eat more…
THE FINAL REACTION
Best Match/Moment: I'm going with the BWC Scarlo match between Mark Andrews and Mike Hitchman here. Despite the main event earning the same rating, I was more pleasantly surprised by this one then I was by the main event.
Worst match/moment: Lion Kid and Stixx as far as in ring content went. I get that it was there to get the crowd hyped and I appreciate that but it was still really sloppy, mostly on Lion Kid's part.
MVP: I'm going to issue co-MVPs here to Mark Andrews and Jimmy Havoc. Andrews for delivering the in-ring performance that he did and Havoc for telling the story that he did during his match. Credit to both Hitchman and Garnell, but clearly Andrews and Havoc were the stars of those respective matches.
FINAL SCORE: 7/10
Until next time: "This Is PROGRESS" and that's "What I Watched". Catch you all for Chapter 3: "Fifty Shades of Pain".
Chairshot Classics: WWE Royal Rumble 2016 – One Versus All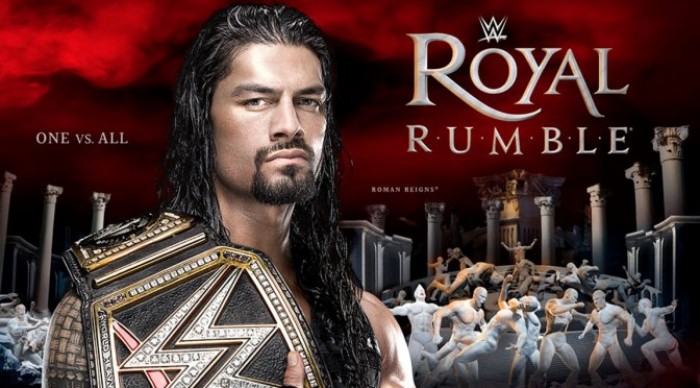 Our road to the 2019 Royal Rumble continues with a look back at one from the past!
For only the second time in WWE history, the WWE Championship is on the line in the Royal Rumble Match!
Kickoff Show Match – Fatal 4 Way Royal Rumble Qualifying Match: The Dudley Boyz (Bubba Ray & D-Von) vs. Mark Henry & Jack Swagger vs. Damien Sandow & Darren Young vs. The Ascension (Konnor & Viktor)
Swagger & Young to kick the action off, The Real American with a side headlock, Darren pushes him off into the ropes and is knocked down by a shoulder for a quick 1. Swagger to a wristlock, Henry tags in and flattens Darren after a whip by The Real American. The WSM chokes Young in the corner, tag back to Swagger, Darren reverses a whip to the ropes, ducks a right hand and drills The Real American with a discus forearm. Sandow gets a tag to a nice ovation, plant Swagger with a russian leg sweep and connects with the Cubito Aequet.
Darren back in, lands a corner clothesline to The Real American, hits a bridging northern lights suplex and only gets a 1 count. Young to a rear chinlock, Swagger rolls him out of it and Konnor tags himself into the match, forcing Darren out of the ring. He delivers a haymaker to The Real American, shoves Mark Henry on the apron and all 8 guys step into the ring for a shoving match as we go to a break….Swagger has Konnor grounded with a rear chinlock when we come back, Konnor gains his footing, gets pushed into the ropes and The Real American with a greco-roman slam.
D-Von reaches over and tags Swagger out, hits the ropes and knocks Konnor down with a shoulder block, then a clothesline, looking for a neckbreaker and he gets pushed into the corner, dropping Viktor off the apron in the process. Konnor rushes into the corner, D-Von sticks the boot up into the chin, Viktor with a leg trip from the outside as Konnor keeps the referee's attention. Viktor enters the match, The Ascension stomp away at D-Von in the corner, Viktor with heavy shots, brings Konnor back in and whips him into a corner clothesline, scores with a high knee and Konnor gets a count of 2. He looks to grind D-Von down with a rear chinlock, D-Von battles to his feet, hits the ropes and runs into a back elbow for another 2 count, Konnor going back to the rear chinlock.
D-Von fights up again, Konnor sends him into the corner, charges in and misses, going shoulder-first into the ring post and allowing Bubba to get a tag. Viktor tags in and runs into multiple clotheslines, Bubba squashes him in the corner, drops Konnor off the apron and plants Viktor with a uranage, getting 2 before Swagger is in to break it up. Sandow clears Swagger out, Henry lays out Sandow & Darren, then turns into a big boot from Bubba. He slams Young, D-Von heads up top and connects with the Wazzup Headbutt. The Dudleys call for tables, Viktor slides in and misses a clothesline, rebounding off the ropes into a 3D.
Bubba covers and Swagger again makes a save, dragging Bubba out and grabbing the Patriot Lock from the floor. The WSM takes advantage and hits a big splash to Bubba's back, turns over, covers Viktor and advances to the Royal Rumble Match.
Winners: Mark Henry & Jack Swagger (Henry/Splash)
EA's Take: Fair Kickoff match this evening with the sentimental favorite picking up the victory. When this match was announced, I figured either The Dudleys or Swagger/Henry would get the win. Sandow/Young is just a thrown-together pairing (which reminds me, what the hell happened to the Primetime Players?) and The Ascension are the jobbers of the tag team division. If it weren't for Mark Henry's interview speaking about how this could be his last Royal Rumble Match earlier in the week, I probably would have never anticipated Swagger/Henry having a shot. The Dudleys were a favorite merely for the name value, while it's obvious that none these guys will have much, if any kind of impact in the Rumble itself.
Open: A limousine pulls up in the back and out steps Vince & Stephanie McMahon. Jojo walks up asking Mr. McMahon about Roman Reigns tonight, Vince speaks about giving the champion the opportunity to make history tonight and successfully defend his title in the Royal Rumble. Steph agrees and says not only would he make history, but he'd go onto WrestleMania as champion. Vince is loving tonight, almost as much as he loves himself.
Video: "Here stands a time-tested arena where warriors have solved what countless others cannot. Now, one's immortality awaits ahead as 30 will battle to etch their place in history. But, fate twists it's cruel head. An unprecedented event occurs." For the first time in history it's One Vs. All, as Roman Reigns defends the WWE World Heavyweight Championship against 29 challengers in the Royal Rumble Match.
Match #1 – Last Man Standing for the WWE Intercontinental Championship: WWE Intercontinental Champion Dean Ambrose vs. Kevin Owens
The bell rings and the brawl begins with both guys throwing bombs, The Lunatic Fringe getting the quick advantage and working over the champion in the corner. Owens fires back with rights and chops, Ambrose calls for more, turns the tables and serves some chops of his own. He whips the champion to the opposite corner, charges in with a running forearm and follows it with a bulldog The Prize Fighter rolling to the outside. The Lunatic Fringe flies through the middle rope with a suicide dive, the champion is sent across the announce table and lands on Michael Cole. Dean tosses Owens back across, jumps off the table and meets a right hand to the ribs.
The champion attempts to drive Ambrose into the steps, Dean reverses and Owens meets the steel, getting up at a count of 4. The champion reaches under the ring and pulls out a kendo stick, teeing off on Owens back in and then out of the ring.. The Lunatic Fringe with a big swing and a miss, hitting the ring post instead and the challenger counters with a superkick. Ambrose is propped up against the barricade, The Prize Fighter charges and connects with the Cannonball, exploding into the timekeeper's area with Dean. The champion makes it up at 8, Owens returning the kendo stick shots, splits it in half and spears it into Ambrose's midsection.
Owens levels The Lunatic Fringe with a short-arm clothesline, hits the ropes for a running senton, then tosses the champion to the outside, driving him into the ringside barricade once more. The challenger now looks under the ring for some toys, putting a pile of chairs in the ring. He rolls outside and hammers Dean in the back with one, rolls back inside and grabs a seat as Ambrose gets up at 5. Back in the ring, The Lunatic Fringe eats a big right hand, Owens sets two chairs up and builds a bridge, elevating the champion on his shoulders. Dean battles out of it, takes a forearm shot, bounces into the ropes and scores with a Lunatic Lariat.
Both men reach their feet at 6, the challenger utilizing the chair again to Ambrose's ribs and pounding the back. Dean's up at 6, The Prize Fighter looks to slam him on the chairs, Ambrose blocks it, bounces off the ropes again and meets a boot to the midsection. Owens tries a powerbomb on the chairs, The Lunatic Fringe counters with a back body drop and sends the challenger through them instead. Both combatants are up at 7, Owens rolls to the floor, the champion attempts another suicide dive and gets caught, then driven spine-first into the ring apron. The Prize Fighter gets real aggressive, driving Ambrose into the ring steps numerous time, Dean struggling to his feet at 8.
Owens drags a table out and sets it up at ringside, then gets another and stacks them as Dean pulls himself back into the ring. The challenger climbs to the apron, then pulls Ambrose up to the top turnbuckle to superplex him through the tables. The Lunatic Fringe fights it off, grabs a chair and tosses it into Owens' face, the chair hanging off his head. The champion with a series of rights and chops, hits the ropes and runs into a superkick, The Prize Fighter looking for the Pop-Up Powerbomb and Dean counters into a hurricanrana. The champion ducks a clothesline, spikes Owens with Dirty Deeds and the challenger uses the ropes to get up at 8.
Ambrose spikes Owens with Dirty Deeds again, this time on a chair, but The Prize Fighter rolls out of the ring to get to his feet at 9. The Lunatic Fringe rolls outside, finds himself a table and sets it in front of the announce table. He drives Owens off the announce table, places him on the table, climbs to the top rope and comes off with an elbow drop through the table. The referee counts as both men are down, using the apron to pull up and back into the ring at an 8 count. The champion rolls out and slides another table into the ring, smacks Owens with a chair, sets up the table and props the challenger on the top turnbuckle.
Dean climbs up for a superplex, The Prize Fighter blocks and smashes Ambrose through the table with a 2nd rope fisherman's buster. Owens to his feet at 6, Ambrose stumbling up at 9 with help from the table wreckage. The Prize Fighter scores with a Pop-Up Powerbomb, the champion barely up at 9, Owens delivering a vicious chair shot then building another chair bridge. He lays the champion on the chairs, climbs up top for a moonsault, Ambrose gets to his feet and pushes Owens forward, The Prize Fighter falling through the two stacked tables and he can't make the count.
Winner and STILL WWE Intercontinental Champion: Dean Ambrose
EA's Take: Great opening contest that really got the crowd going to begin the night. A brutal brawl is what this should have been to be the blow-off to this rivalry as has been reported. I'd really like to see Owens stay in something relevant heading into WrestleMania, the guy is the best heel in the company right now. Ambrose could be involved in the main event heading to WrestleMania, but I suspect some kind of multi-man match for his IC Title could take place again. It would be a great way to showcase guys with so much up in the air right now due to injuries.
Match #2 for the WWE Tag Team Championships: WWE Tag Team Champions The New Day (Big E & Kofi Kingston) w/Xavier Woods vs. The Usos (Jimmy & Jey)
Prior to the match, Big E talks about The New Day being in mourning since Chris Jericho broke Francesca the trombone. Kofi calls for a moment of silence, but we hear a trombone in the background and out comes Woods. They welcome the newest member of New Day, Francesca 2. Jimmy & Kofi will begin, Jimmy with a waistlock, Kingston switches out, they trade side headlocks, Jimmy getting pushed off into the ropes. Kofi with leapfrogs, Jimmy stops short of one for a back suplex, Kingston lands on his feet and runs into a stiff right hand. Jey gets the tag, The Usos with a combination backbreaker/top rope foream and Jey tosses Kofi to the outside.
Jimmy levels Kingston with a clothesline on the floor as Jey distracts the official, rolls Kofi inside and covers for a count of 2. Kingston sneaks in a jawbreaker, makes a tag to Big E who charges into a right hand. Jey backs him to the corner, Big E reverses a whip across, Jey attempts to hop up and over, but E has it scouted and drives him shoulder-first into the ring post, falling to the outside. Big E follows him out, lifts Jey on his shoulder and charges toward the barricade, Jey slipping out and connecting with a dropkick to turn the tables. Woods gets involved behind the ref's back, using the barricade to spring into a tornado DDT.
Kingston tags, drops to the floor and rolls Jey in to deliver some punishment in the corner, gaining a 2 count. He grounds Jey with a chinlock, Jey to a vertical base, gets backed into the wrong corner, Big E tagging as Jey battles out. Kofi & Jey both look for superkicks, Kingston hooking the leg and holding Jey down for a Big E splash for a count of 2. Big E pounds away at Jey's chest, flattens him with a back elbow and covers, but is too close to the ropes. Kofi slingshots in with a stomp off the tag, hammers Jey in the corner, charges in and gets elevated to the apron, landing on his feet. Kingston gets a handful of Jey's hair and pays for it, getting dropped to the floor by an enzuigiri.
Big E & Xavier assist him back into the ring, Big E makes the tag just as Jimmy hits the ring with a right hand, then knocks Kofi off the apron. Big E reverses a whip into the ropes, Jimmy ducks a right and delivers a kick to the midsection, drops Kingston off the apron again, ducks a Big E clothesline and scores with a samoan drop. Kofi springboards into the ring and gets caught in a samoan drop, Jimmy rushing him in the corner with the hip attack. He ducks another shot from Big E, scales to the top and hits a corkscrew senton for a near fall, then heads back upstairs. Kofi hits the apron, Jey pulls him to the floor, looking to toss Kingston into the barricade, but it's reversed and Jey is sent into the crowd.
Back in the ring Big E crotches Jimmy on the top turnbuckle, plants him with a belly to belly suplex and covers for a 2 count. Jimmy rolls to the apron, Big E looks for a spear and meets a knee for his troubles, Kofi grabs the leg and gets kicked away, then taken out by Jey who dives in off the barricade. Jimmy is distracted and Big E spears him off the apron to the floor, all 4 men down outside, struggling to their feet. E rolls Jimmy inside and covers for 2, tag to Kofi for the combo Big Ending/top rope DDT, Jimmy slips out and shoves Big E into the corner, knocking Kingston to the canvas. Kofi looks to sneak in Trouble In Paradise, Jimmy ducks and hits a superkick, tag to Jey and he connects with an Uso Splash, Kingston getting a foot under the rope at a count of 2.
Woods has words with Jey from the floor, Jimmy takes him out with a suicide dive, but Big E is there to drive him spine-first into the barricade. Kofi looks to take advantage with a roll-up on Jey for 2, Jey rolls through and gets 2 of his own. Kofi hops to Jey's shoulders in the corner, E making a blind tag, Jey drops Kingston down and connects with another superkick before scaling to the top rope. He comes off for another Uso Splash, Big E slides in and catches him in the air into the Big Ending to retain.
Winners and STILL WWE Tag Team Champions: The New Day (Big E/Big Ending)
EA's Take: Part of me thought this could be the night that The New Day drops the titles given the way The Usos have been getting over on them of late. The problem is that New Day is just so entertaining that they are getting cheers, or as evidenced tonight, their opponents are getting booed. And that's not a knock on The Usos because they're a great team, that's just how over New Day is. The match itself to me was a little ho-hum, I did enjoy the finish however.
Video: Last Monday on Raw, Brock Lesnar sent a message to the participants in the Royal Rumble Match before falling to a Spear from Roman Reigns. Then, The Wyatt Family showed up and took them all out.
Backstage: In a dark room is The Wyatt Family, Bray speaking about slaughtering everyone in his path. After tonight, he will truly have the whole world in his hands. "The apocalypse is here…run."
Match #3 for the WWE United States Championship: WWE United States Champion Alberto Del Rio vs. Kalisto
Collar & elbow to start, Del Rio backs Kalisto into the corner, the challenger switches out and delivers right hands, Alberto doing the same. He snapmares Kalisto over for a kick to the head and a count of 1, then shoots the challenger sternum-first into the turnbuckles. The champion to the 2nd rope, reigns down right hands, Kalisto with a kick to the back that sends Del Rio outside, then hits the ropes for a suicide dive. He drives Alberto into the barricade, tosses him in the ring and climbs to the top, Del Rio sees it and drops him with an enzuigiri for a count of 2.
El Patron with a snap suplex for another 2, then looks to ground the high flyer with a rear chinlock. Kalisto fights to his feet, hits the ropes for a kick, back to the ropes and the champion splits him with a tilt-a-whirl backbreaker. Del Rio heads up top now for a double axe and a near fall, slides the challenger to the outside, dropping him face-first to the floor. Alberto outside after him, Kalisto with a hurricanrana out of nowhere, rolls the champion in the ring, attempts a headscissors takedown, Del Rio countering into a gutbuster that only gets 1. El Patron takes the fight outside, tosses Kalisto into the barricade, back into the ring and he props him on the top turnbuckle, trying to remove his mask.
The challenger fights Alberto off, comes off the top with a seated senton, into the ropes he goes, missing a 2nd rope springboard corkscrew headbutt, the champion following with a superkick and he nearly gets a 3 count. Alberto looks to finish with the Cross Armbreaker, Kalisto slips out of it, goes to the 2nd rope and spikes Del Rio with a tornado DDT for a count of 2. Kalisto this time scores with the corkscrew headbutt, hits the ropes and plants Alberto with a spikerana, covers and again only gets 2. He scales the top rope, El Patron crotches the challenger on the top turnbuckle, climbs up and brings him down the hard way with a top rope reverse suplex.
The champion toying with Kalisto and slapping him in the face, Kalisto fires back with a kick, follows with a roll-up and gets another near fall. He charges Alberto in the corner and meets boots the to face, Del Rio to the top, know he gets crotched on the turnbuckle. Kalisto climbs up to meet him, the champion with right hands, dropping the challenger and he's caught in the tree of woe. Del Rio looks for the double stomp and misses, Kalisto goes into Salida Del Sol, covers and Alberto grabs the bottom rope at 2.
El Patron dumps the challenger outside to buy some time, Kalisto to the apron, springboards in and Del Rio turns it into a codebreaker, still unable to get a pinfall. He exposes the top turnbuckle, looks to drive Kalisto into it, the challenger blocks and connects with an enzuigiri. He charges Del Rio in the corner, Alberto elevates him towards the exposed turnbuckle, Kalisto landing on the 2nd rope. He comes off the with a hurricanrana that sends the champion into the turnbuckle, follows with a 2nd Salida Del Sol and regains the championship.
Winner and NEW WWE United States Champion: Kalisto (Salida Del Sol)
EA's Take: I have to admit that I'm a little surprised to see Kalisto regain the title. I keep thinking that Sin Cara will be back here fairly soon, but with the amount of momentum Kalisto has it could be best to keep him on his own. Although I don't see him having the career longevity due to his age, you can't help but see a lot of Rey Mysterio in him and the company certainly recognizes it. I think Kalisto should get a decent title run this time around, I wouldn't be surprised to see this feud stretched out further, possibly into Fastlane.