AJPW Champion Carnival A Block Results & Review: Part 3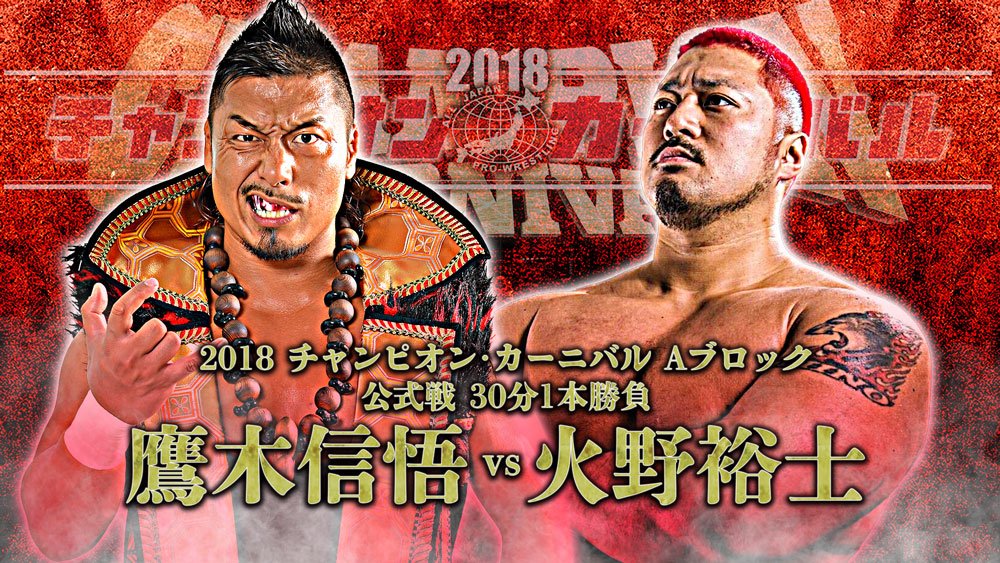 Welcome to part three of my coverage of the Champion Carnival A Block as we have a stacked show for these next two days as I have three matches each this time, so it should be fun and plenty of content. Before I begin however, we did get word that The Bodyguard did suffer a small injury on his left calf and will have to have some of his matches changed on April 16 and 18 since he was booked then, his opponents don't get a by, just matches will be moved around. Anyway, let's…dive right in.
April 14th, 2018
Champion Carnival 2018 Block A Match
The Bodyguard vs. Shingo Takagi
Review: We get Shingo coming back for his second match as he looks to keep his undefeated streak going after defeating the Tripe Crown Champion in his first match. Bodyguard however already has two losses in his name and would need to win here to keep himself in the race for a little bit longer. Before I begin, I do however have some news for Shingo Takagi as according to some reports, it appears as though he will be leaving Dragon Gate to become a Freelancer and where will he end up down the road? I don't know, but we might see him more in AJPW now it looks like. This was Bodyguard's best match in the Carnival so far and much better quality compared to his last two matches in the tournament, plus he was working with Shingo who is fantastic and if you've never seen him work, do it. You can see times where Bodyguard would move just fine and then really slow, like you can tell he was hurting before this match too. We had a nice Clothesline to the corner spot from Bodyguard until Shingo does the same thing to him and mocking his taunt in the process, that was cool. Shingo would then hit a nasty Death Valley Driver from the ring apron to weaken the monster before hitting his Pumping Bomber Lariat to secure a win over Bodyguard.
Recommended: Solid match, worth a viewing.
Champion Carnival 2018 Block A Match
Naoya Nomura vs. Yuji Hino
Review: So far Yuji Hino has two big wins under his belt by defeating two former Triple Crown Champions and now wants to keep his undefeated streak going as he fights Naoya, who wants to be the one to end his undefeated streak and show that he could be the future of AJPW next to Kento Miyahara, so let's see if he can pull it off. So far it looks like that Hino's matches are relatively short here and I don't think any of them have lasted more than ten minutes yet, but I guess it goes with his power and dominance for when he kicks the crap out of his opponents. Another solid match on this show as Naoya looked strong against Hino here and would like that he had a chance a few times to actually win it here, but Hino was just too strong for him as he hits nasty Lariat's to him and hit the FUCKING BOMB to keep his undefeated streak going. A valiant effort by Naoya, but he wasn't enough for him either. Can anyone dethrone Yuji Hino?
Recommended: Fun match, I liked it for what it was.
Champion Carnival 2018 Block A Match
Kento Miyahara vs. Ryoji Sai
Review: After six days into this tournament, we finally get our Asia Heavyweight Champion, Ryoji Sai into the mix as his first match is against current Triple Crown Champion, Kento Miyahara and what a way to have your first match and a win here with either one of these men could lead to a future title match for either championship. The beginning of the match is more than enough to get you hooked just by how everything flows with them here and their story in this match just tells it from beginning to end. Kento would show his heelish personality a little til the elder referee gets involved once again, think it's just how he is to him at this point it seems. Kento would attempt to deliver a Blackout on the outside, but his knee would hit the turnbuckle post full force and you can feel how painful that was just by watching it. Ryoji would use this to his advantage with him working on Kento's knee throughout the match and even having a table pressed down on his knee in the process.
Ryoji would start getting more control of the match now still working on Kento's knee for a while as Kento would grab the referee here and there to have him pulled a little bit closer to the ropes since the ref would attempt to back away to get the wrestlers off them, so kudos for a smart and entertaining little spot there. Around the last few minutes of the match kick up into high gear here as we get plenty of back and forth action and while Ryoji almost had it a few times, wasn't enough to win as Kento would get his second win with his famous Shutdown German Suplex Hold in an incredible match.
Recommended: Great match, all matches delivered and this was the best one of the three.
April 15th, 2018
Champion Carnival 2018 A Block Match
Joe Doering vs. Ryuji Sai
Review: Ryuji would make his second appearance here as he now takes on former Triple Crown Champion, Joe Doering who has tow losses in his record and only one win, so he would need to win this match to have a slight chance of winning the whole thing here. Oh my non-existing god, it finally happened, Joe would show some force and make some believable strikes here in this match! Keep doing more of those instead of half-assed ones and I wouldn't have to yell as much (I'll find something else to yell about.) The match itself was a quick almost six minute match, but they gave us plenty of action in that short amount of time and shows you don't need to be a half hour or more to automatically have a good match, takes the right story to do it. Ryuji would come close again until Joe hits his Running Body Press and the Revolution Bomb to put him away, making him have two wins and two losses. Ryoji has five matches left and is gonna have to stack up some wins too if he wants to stay afloat.
Recommended: Another short and solid match, watch it.
Champion Carnival 2018 A Block Match
Shingo Takagi vs. Yuji Hino
Review: So these are our two guys that are undefeated in A Block which means that one of them is gonna have to lose here tonight to secure the top spot of this block. I'm gonna be honest here, I think this might be my favorite match in the Carnival so far and I thought Shingo vs. Kento was gonna be hard to beat, but this match was just fantastic and I didn't even expect it to be this good. Both Shingo and Yuji have great chemistry in the ring as their styles work so well together with nice hard hits, beautiful sequences, and had great spots from beginning to end. Shingo fits so well in AJPW after seeing him doing this tournament and I really do hope he does do more AJPW work with the possibility of him being done with Dragon Gate, it would be a great new environment for him and would be a great addition to the roster and maybe a future Triple Crown Championship with his name on it. Yuji Hino really is growing on me after every match he's had here and this is definitely his best match in the tournament as well, has the look, power, and could be a dominant force for the company if he sticks around.
The final five minutes of the match was amazing as Shingo would hit both Last Falconry and Pumping Bomber to try and take down Yuji and it somehow still wasn't enough to take him as he was able to kick out of both moves and I was pretty speechless after that since I thought that would be it for him. Yuji's power would be too much for Shingo and would hit a bunch of stiff Lariat's in the match and you could feel each one he delivered to him and after a sixteen minute bout, Hino remains undefeated with the FUCKING BOMB to now be four wins and zero losses. If Hino wins one more match then we will most likely see him claim the finals of A Block as he now has Bodyguard, Ryoji, and Kento left to fight in this tournament and all three would have to defeat him to try and dethrone his position, but can they do it? Great effort by Shingo and I can't be mad with this loss since it was a great match and he has four more matches to go.
Recommended: Absolutely yes, great match and should be viewed.
Champion Carnival 2018 A Block Match
Kento Miyahara vs. Shuji Ishikawa
Review: I didn't expect these guys to be fighting this early, but I can't complain here since they were number three in my Top 25 Matches of last year after their Triple Crown Championship match at the 45th Anniversary Show, so I hope they can keep that match quality up with this one right here. I had two back and forth fantastic matches here as this one was just as good as the previous match here and I'm glad that the tournament is starting to pick up in their quality of matches as the tournament continues on. I can watch Kento and Shuji fighting in the ring anytime because they never disappoint me in their quality of matches and would always give us something different each time they fight. Shuji would hit his Fire Thunder from the ring apron and it looked like a nasty bump there, but Kento was still able to keep going.
The match wouldn't have a too slow moment as they had the right amount of pacing throughout the match to give the fans something to enjoy while not going too fast either and knowing when to actually slow down to tell the story in the ring. Near the ending of the bout, they would keep going back and forth with each other with their moves and hard hitting action to try and get the pinfall on each other and it would still not be enough for either of them as they both need to win this match. Shuji would hit two of his Fire Thunders and then Kento would still kick out of them to stay alive! Kento would counter him with some vicious Blackout's to keep knocking him down and it would be enough as he picks up his third win with the Shutdown German Suplex Hold, I think he might be the one at this point to end Yuji's undefeated streak, calling it now.
Recommended: Fantastic match, so yes you should watch it.
Overall: Both days delivered big time as none of the matches were bad at all and we had two top contenders for the best matches in one night, looking forward to see what happened on the next set of shows that I cover.
Favorite Match: Tie – Shingo Tageki vs. Yuji Hino and Kento Miyahara vs. Shuji Ishikawa
Least Favorite Match: Naoya Nomura vs. Yuji Hino
Score: 8.5/10
Current Standings:
Yuji Hino (4-0) (8 Points)
Kento Miyahara (3-1) (6 Points)
Shingo Tagaki (2-1) (4 Points)
Joe Doering (2-2) (4 Points)
Shuji Ishikawa (1-2) (2 Points)
Naoya Momura (1-2) (2 Points)
Ryoji Sai (0-2) (0 Points)
The Bodyguard (0-3) (0 Points)
---
Always Use Your Head and visit the official Pro Wrestling Tees store for The Chairshot All t-shirt proceeds help support the advancement of your favorite hard-hitting wrestling website, The Chairshot!

---
Stardom Dream Slam in Osaka Results & Review (3/31/2018)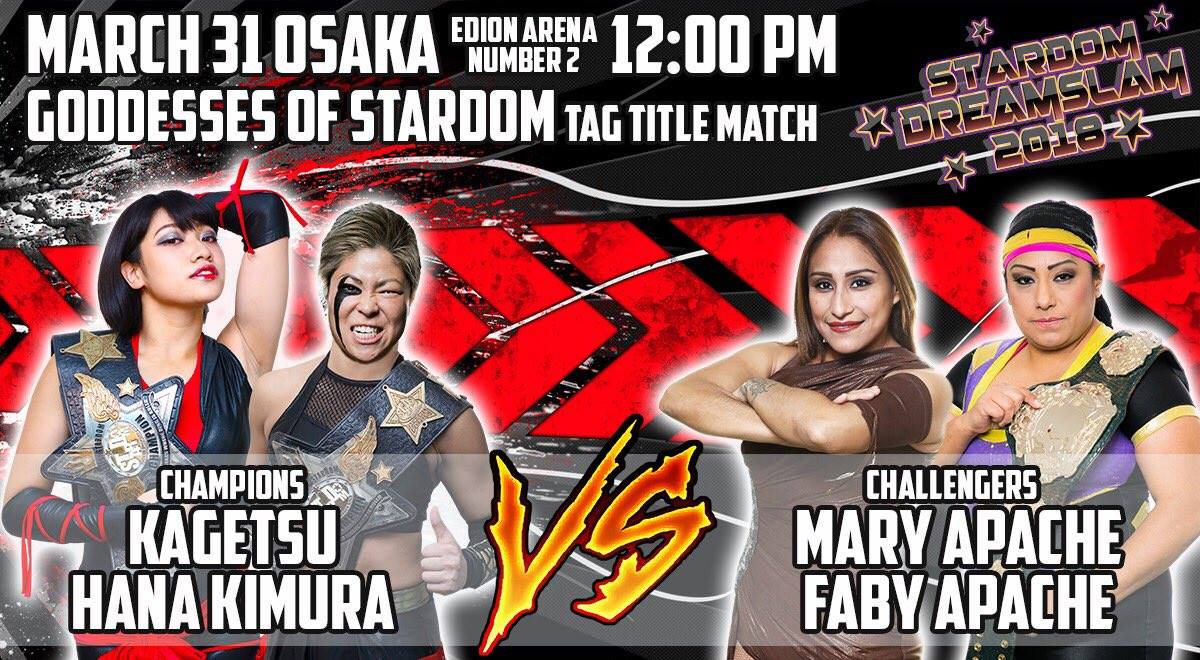 We continue our Dream Slam tour with the penultimate show. April 1st is where the big matches will be taking place, including that Exploding Death Match.
Today however, we get Io Shirai and Odeo Tai defending their Stardom titles before the big show. So let's not waste any more time and….dive right in.
Six Man Tag Team Match
Starlight Kid, Hanan & Natsumi vs Ruaka, Nao Yamaguchi & Leo Onozaki
Review: Our opener is of course a trios match with the Future of Stardom division here as both teams are looking to get a win for one of their partners that haven't won a match yet aka Leo and Natsumi, so let's see which team wins it. This is also Starlight Kid's first match since winning the Future of Stardom Championship at the last show too and looks to win and gain momentum before her match as AZM the next day. The match starts off the usual mess with where everyone would be in the ring to do something and just comes off a bit too sloppy for me here. However, some have been starting to show some progress such as Hanan and Natsumi and hopefully they show more of their growth this year. Starlight Kid though is the only good thing about the match as the rest was still sloppy up until the end where Starlight would win with her Rounding Moonsault on Nao to pick up the win.
Now on https://t.co/q8dHnF58vW from Osaka, it's a Future of Stardom Trios Match! Starlight Kid, Hanan & Natsumi vs Ruaka, Nao Yamaguchi & Leo Onozaki! pic.twitter.com/tywymud65d

— We Are Stardom (@we_are_stardom) April 9, 2018
Recommended: If you like Starlight Kid, then yes otherwise just skip.
Three Way Match
Saki Kashima vs Shiki Shibusawa vs Natsu Sumire
Review: We get a three way match this time and I really hope that this is much better than the previous one we had with Xia and if you follow my articles and have read that one or watched it, you'll know why. We have Sumire getting involved this time and I guess it's to give her something while Kagetsu and Hana have a title match, and Tam already booked for later. We also got Saki having her second match back after she lost in her return match and hoping to pick up a win this time. And then there's Shiki who lost in the finals of the Future of Stardom Championship tournament and looks to get back on the saddle. Before the match in one of the pre match interviews, Sumire said she'll win due to her professional make-up while the both of them are cheap with their make-up and when she wins, she'll dump them into the Dontobori River…the monster. Also Sumire coming out with the whip equals nice.
Damn, Starlight Kid is super quick with taking out the streamers compared to the guys at ROH, then again not hard to top ROH in things recently. Okay, stay on target now. Sumire would cut ANOTHER promo in the ring this time before the match start to insult their make-up and call them 'country side Yankii's!", then she would tell them to go to the river before they had enough of her shit and start beating her up as the match finally starts. We get a good mixture of decent wrestling and some entertainment as they would have humor in the match with Sumire trying to dictate how they all punch each other, even though it doesn't go in her favor, but the Joe Doering punches take a bit away from the match (Sorry Joe). Shiki and Saki would get payback on Sumire as Shiki would have her in a Camel Clutch and Saki pours water on Sumire to smear the make-up off of her face, the humiliation! Saki would get the win over Shiki by hitting the Killswitch for the win!
Recommended: Much better match.
Tag Team Elimination Match
Jungle Kyona, Natsuko Tora, Kaori Yoneyama & Konami vs Viper, HZK, Momo Watanabe & AZM
Review: We have a battle between Team Jungle and Queen's Quest in a regular elimination match very similar to how NJPW does them with being able to win by pinfall, submission, or throwing them over the top rope. Which unit will establish dominance?
Team Jungle's pre match interview is well..weird, they would talk about how they'll win since they have the most body weight and Kaori would shout out 'we're fat!', random. This match is mostly to give a little preview before Viper and Kyona have their SWA Championship bout on the next show. HZM would try to give Natsuko her lolipop and she didn't want it, rude. The match would start off with Team Jungle being thrown into a corner while everyone but Viper hits their moves on all four as Viper missed her Cannonball, AZM almost got eliminated quickly til Queen's Quest would catch her before elimination. Kaori would be in the ring to outsmart both Momo and Viper til it would bite her in the ass as Viper reversed a rollup to hold her down to pin and eliminate Kaori. Natsuko would get in the ring next to try and eliminate Viper, but she failed a minute later as Viper would hit the Avalanche to get rid of her too, leaving Team Jungle with two people left while Queen's Quest still has all four.
Queen's Quest would have the advantage for a moment until Konami and Kyona reverse their double teaming as Kyona and Viper were alone in the ring together wrestling back and forth til Viper attempts to throw her out of the ring, but Jungle hangs on until Viper attempts to run towards her, only to both of them being eliminated via over the top rope, leaving Konami alone against HZK, AZM, and Momo. Konami would valiantly try to fight them off, but the numbers game is too much for her, HZK would toss AZM over her shoulders to make her land a nasty Double Stomp which looked awesome, but Konami would outsmart them once again and would eliminate AZM with a nice Roundhouse Kick. Konami would last for another minute until Momo would pick up the win with her B Driver, giving Queen's Quest the victory.
Now on https://t.co/q8dHnF58vW from Osaka, the 4 vs 4 elimination tag match between Team Jungle (with Konami) vs Queen's Quest! pic.twitter.com/Yjo33PLIe5

— We Are Stardom (@we_are_stardom) April 11, 2018
Recommended: Slow start, but picks up and is entertaining.
Tag Team Match
Mayu Iwatani & Tam Nakano vs Toni Storm & Xia Brookside
Review: I know when I first started covering Stardom I said that Kagetsu was the next contender due to how she was teasing the championship match, but it actually is Mayu who has a shot against Toni Storm finally and I apologize for the mix-up. Toni right now isn't in the best mood for losing her SWA Championship and now has to worry if she'll lose her World of Stardom Championship against Mayu. Mayu and Tam wasting no time as they attack Toni and Xia.
We are underway here with Tam showing more of her in-ring work outside of Oedo Tai and she's actually not bad at all, I'm liking what I'm see and Xia is also showing improvement as well. We also get a little preview between Toni and Mayu and all I gotta say is that Mayu is back, baby! I'm finally seeing her getting into the groove of things again and I hope she takes that belt away from Toni to reclaim her top spot as the new ace of Stardom. Very entertaining match, nice offense from all four of these women and we have Mayu getting the win with a beautiful Dragon Suplex Hold on Xia to get the pin and this is just me, but Mayu has the best Dragon Suplex that I've seen in the business currently, just her arch and everything is gorgeous. Looking forward to this match.
Recommended: Very good match, definitely worth a watch.
Wonder of Stardom Title Match
Io Shirai (c) vs. Bea Priestley
Review: So this will be my first time seeing Bea Priestley in a one on one match, so I'm hoping she impresses me here because so far I am just not into her work right now and still has the worst Curb Stomp I've ever seen, so let's see if she can win me over when she fights Io. For Io, this will be her 7th title defense as Wonder of Stardom Champion and I heard the belt will be given a little makeover with some nice new white leather, so the winner will be getting a shiny new belt on top of it. This match showed me that Bea does have some potential, but still wasn't a lot to impress me in this match I'm afraid. Don't get me wrong, some of her stuff was good and has a very nice Superkick, but other stuff from her was also sloppy at the same time and her selling is not so good, but I will let it slide for now. Io as always does a fantastic job working with her opponents and can give us a solid match with almost anyone and that is what we see here. Both do well at some spots and Io would pull an Okada and hit a Tombstone before hitting her finisher which is a Moonsault Press, and retaining her title while getting the newly redone one.
Now on https://t.co/q8dHnF58vW! Io Shirai defends the Wonder of Stardom title vs Bea Priestley in Osaka! pic.twitter.com/JRuwx9413c

— We Are Stardom (@we_are_stardom) April 12, 2018
Recommended: Not great, but still pretty solid. Give it a watch
Goddesses of Stardom Title Match
Kagetsu & Hana Kimura (c) vs. Mary & Faby Apache
Review: Due to the Apache Sisters getting a pinfall on Kagetsu during one of their previous matches, we're able to have this title match taking place here and this is also Oedo Tai's 7th title defense here like how it was with Io also. So let's see if Kagetsu can get some momentum before her Exploding Death Match or if Oedo Tai can get derailed and the Apache Sisters can claim the Goddesses of Stardom Championships. Come to think of it, those are the only belts in the company that have the black leather while the rest are in different colors, weird but neat. Very nice sequences between Kagetsu and Faby to start us off and a outside spot where Kagetsu would throw Mary into the chairs and she does a front flip going pretty far with it also. Apache Sisters really do work well as a tag team and I can see why they're considered legends in Mexico and nice to see them working with Stardom to help out some of the younger talent while also giving them their daughter, Natsumi. The tag match itself was solid and both teams do very well here as we see the teamwork with just Hana and Kagetsu to see why they won the titles in the first place. Oedo Tai would retain their championships with Kagetsu hitting the Oedo Coaster on Mary Apache and they've successfully defended their championship seven times as we now have one show left which is sure to be a great one.
Recommended: Fun match, loved the tag teams.
Overall: Solid show for show and a great way to get it hyped up for the last Dream Slam show where we will have our first ever Exploding Death Match in Stardom along with the World of Stardom Championship match between Toni and Mayu. I'm looking forward to it and be sure to find it when it's up in about a week.
Favorite Match: Mayu Iwatani & Tam Nakano vs Toni Storm & Xia Brookside
Least Favorite Match: Starlight Kid, Hanan & Natsumi vs Ruaka, Nao Yamaguchi & Leo Onozaki
Score: 7/10
See you all for Dream Slam in Nagoya and be sure to check out my coverage for Champion Carnival if you want more puroresu content.
---
Always Use Your Head and visit the official Pro Wrestling Tees store for The Chairshot All t-shirt proceeds help support the advancement of your favorite hard-hitting wrestling website, The Chairshot!

---
AJPW Champion Carnival B Block Results & Ratings: Part 3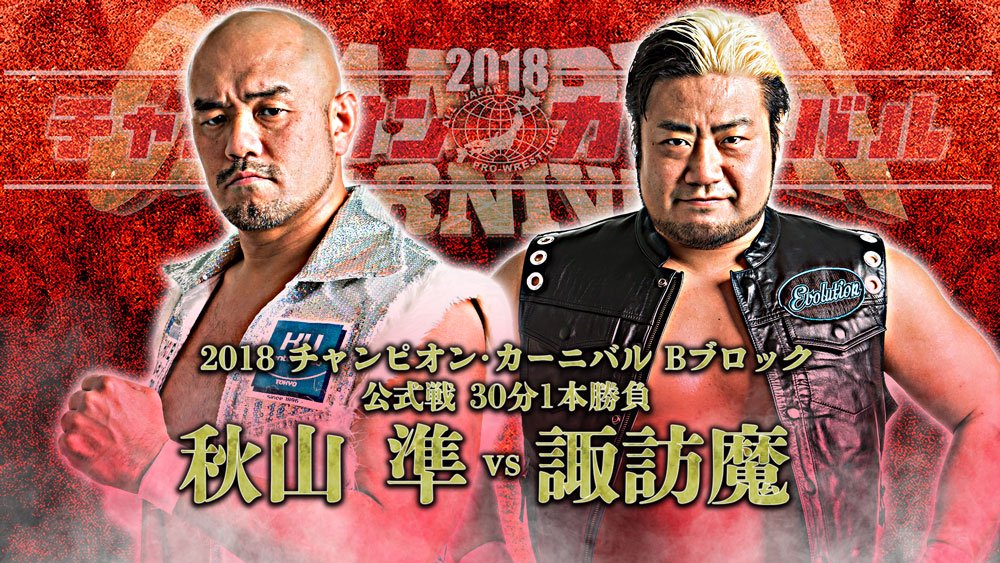 Part 3 of the Champion Carnival B Block coverage! We see Carnival Grandpa (Jun Akiyama) leading the block, and doing it in solid fashion. He doesn't look like he's being handed wins, and everyone in this block looks fairly even so far.
Now we get to see if the cream rises to the top, or if this continues to be the more competitive block.
4/12
Jun Akiyama vs Yukata Yoshie
Well we see one of the block leaders, against one of the block basement dwellers.
Akiyama has really turned up his aggression and everything these last two matches. He's taking larger bumps than I'm accustomed to seeing him take, and a few other spots are more than just knees and exploders.
When all is said and done, Akiyama wins with his signature Wristclutch Exploder. But to be honest, Yoshie is really impressing me. He looked visibly frustrated after the loss, and even though he's a bigger guy, he's been putting in really good work.
Winner: Akiyama via Wristclutch Exploder
Rating: *** 1/2
Naomichi Marufuji vs Dylan James
As much as I love Marufuji, this match was hard to swallow.
Dylan James definitely proved he's not on the same level as Marufuji, and it was glaringly obvious. He took moves sloppy, sold poorly and positioned himself slowly or awkwardly. Marufuji tried his blitz out of the corner and missed the enzuigiri to the back of his head cause James was taking too long selling strikes. So Naomichi was forced to do it again once James was in position.
This was just hard to watch honestly. I'm very happy that James tried to use his size to lean on Marufuji, but, Marufuji's depth of move knowledge, helped him win this. He's not NOAH's Genius for nothing.
Winner: Marufuji via Huricanrana Invertida
Rating: ** 3/4
4/14
Zeus vs Yukata Yoshie
Well Zeus started strong, and needs to get back on track. While poor Yoshie has been putting on progressively better matches, but just not pulling out the win.
As for the match, it was hard hitting, both men traded big blows and it all came down over confidence. Yoshie is not a small man, but Zeus is the former bodybuilder, power wrestler, so he's not gonna look weak. After a few big suplexes from Zeus, he was riding high on the confidence and went for his Jackhammer.
The Jackhammer got countered, which took all the air out of Zeus' body. A Warrior style splash off the ropes, followed up by the Diving Splash, gives Yoshie a hard fought first victory.
Winner: Yoshie via Diving Body Splash
Rating: *** 1/4
4/15
Jun Akiyama vs Suwama
Two guys towards the top of the standings, this will either give Jun more space, or help Suwama come back from an early loss.
Now this is where my lack of historical knowledge hurt me. Suwama and Akiyama went at it, like two men who hate each other. Suwama threw the guard rail at Akiyama, they both threw chairs and this was all after about 40 seconds of them just hitting each other over the ropes.
So I'm not sure where this grudge started, but the hatred was palpable. Hell, even at the end of the match it was obvious when referee Wada calls for the stoppage and Suwama doesn't release right away and continues trying to inflict damage.
Winner: Suwama via Manriki Sleeper (referee stoppage)
Rating: **** 1/4
Current B-Block Standings:
Suwama: 3-1 (6 Points)
Jun Akiyama: 3-1 (6 Points)
Naomichi Marufuji: 2-0 (4 Points)
Zeus: 2-2 (4 Points)
Dylan James: 2-2 (4 Points)
Yoshitatsu: 1-2 (2 Points)
Yutaka Yoshie: 1-3 (2 Points)
KAI: 0-3 (0 Points)
So even though he got his first loss, Carnival Grandpa is still putting on the best matches of B Block.  The A Block has more well known quality talent, but Akiyama is over performing and Marufuji still has most of his matches left.
---
Always Use Your Head and visit the official Pro Wrestling Tees store for The Chairshot All t-shirt proceeds help support the advancement of your favorite hard-hitting wrestling website, The Chairshot!

---
AJPW Champion Carnival A Block Results & Review: Part 2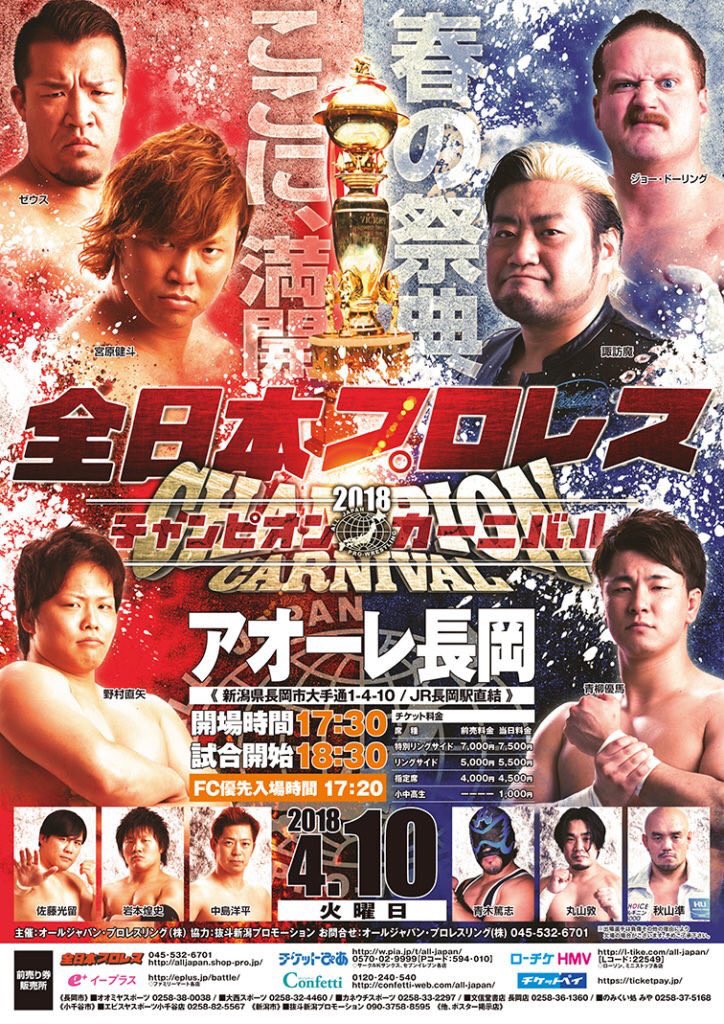 Hello and welcome to part two of our Champion Carnival! For this part it's going to be three days worth since the next two days have three B Block matches while I get one on all three of them.
Originally, I was supposed to get three matches on the April 12th show, but that got changed to one, however, I will be having five matches for the shows on April 14th and 15th, so that'll keep me busy for sure. So let us…dive right in.
4/10/2018
Champion Carnival Block A Match
The Bodyguard vs. Joe Doering
Review: Looks like Joe is set to have his second match to try and bounce back after losing to Shuji Ishikawa as he sets to take on Zeus's partner, Bodyguard in what should be a brawl for sure. Bodyguard wastes zero time here as he charges in for a Spear the second that the bell would ring to start the match and starts to get the early advantage til Joe starts getting some offense. My one problem with Joe is something that I covered in the show that happened on March 25th, and that is that I wish he showed more aggression with his strikes, like when he pulled Bodyguard in for a Clothesline and it just looked lazy. Joe is a big and powerful guy, needs to show a little bit more force in the beginning instead of near the end of the matches. Joe would then hit a Piledriver in which Bodyguard kicks out of it and I still scratch my head when people kick out of that move. Joe attempts to go for his Revolution Bomb, but Bodyguard would..attempt a reversal? It looks really sloppy and lazy, but after a couple of other moves being done, Joe would try again and pick up the win with the Revolution Bomb.
Recommended: So far my least favorite match out of my block, but up to you if you wanna watch it. Not a terrible match, but could've been so much better.
4/11/2018
Champion Carnival 2018 Block A Match
Joe Doering vs. Yuji Hino
Review: Joe really trying to get his matches out of the way since this is the third time in a row that I'm getting Joe Doering here, but let's see if he can pick up another win after defeating Bodyguard yesterday. This one is a much better bout than the one with him and Bodyguard, however this one still feels a bit lifeless here as well. I mean I get what they were trying to do with the match with them wanting to mostly show their strengths between the two powerhouses, but I felt like I really didn't get that here with this one and it is a shame too since I did expect more. Joe DID however show a little bit more force in his strikes, but not too much though, so I will keep yelling at him til it happens. Yuji picked up another shocking victory as he pins two former Triple Crown Champions with the FUCKING BOMB once again which makes him the lead of our scoreboard.
Recommended: I mean it's better than the previous one, but so far not by a lot. However, still give them a watch.
4/12/2018
Champion Carnival 2018 Block A Match
The Bodyguard vs. Naoya Nomura
Review: Both of our competitors have have both suffered a loss and would need to score a victory here to gain some momentum, now we need to see who wants it more out of these two. I forgot her name, but the female referee is really great at her job and much better than the elderly one who likes to but in most of the time, so good job. This one is a much better match than the one Bodyguard previously had here and felt a little bit more natural this time around and Bodyguard really is a good worker when you see him actually showcasing his stuff and he has shown that when he fought Kento Miyahara early last year. Naoya Nomura is someone that actually could be a key player in the company, he's young, only been wrestling for four years, and has a good look. If I could change one thing about him though, it would be that he needs to cut some of the little fat from his stomach and gain a little bit more muscle, if he could do that then he'll be a star for sure. The match was very solid, had nice back and forth action, a pretty neat Spear from Bodyguard and Naoya getting back up right away to deliver a Spear to him as well for a double countout and you hardly see that for a double knockdown spot, so it was cool to see. Naoya picked up the surprise win after hitting another Spear and added a Jacknife Hold to it to pin him for the win.
Recommended: Much better match than the previous two for sure, so yes.
Overall: Unfortunately this part of the tournament has been a bit lackluster on my end and I hope Andrew had better luck on his end for his B Block shows and if you haven't checked them out yet. I suggest you do so, since he's been gracious enough to help me out with this journey when he did have to and it's a fun experience for the both of us that's for sure. I'm hoping it picks up over the weekend for me and surprised Ruoji Sai hasn't had a match yet while everyone else did, but I think he will over the weekend.
Favorite Match: The Bodyguard vs. Naoya Nomure
Least Favorite Match: The Bodyguard vs. Joe Doering
Score: 6/10
Current Standings:
Yuji Hino (2-0) (4 Points)
Shingo Tagaki (1-0) (2 Points)
Kento Miyahara (1-1) (2 Points)
Shuji Ishikawa (1-1) (2 Points)
Joe Doering (1-2) (2 Points)
Naoya Momura (1-1) (2 Points)
Bodyguard (0-2) (0 Points)
Ryoji Sai (0-0) (0 Points)
---
Always Use Your Head and visit the official Pro Wrestling Tees store for The Chairshot All t-shirt proceeds help support the advancement of your favorite hard-hitting wrestling website, The Chairshot!

---