WrestleMania 25: Golden Matches at the Silver Anniversary of WrestleMania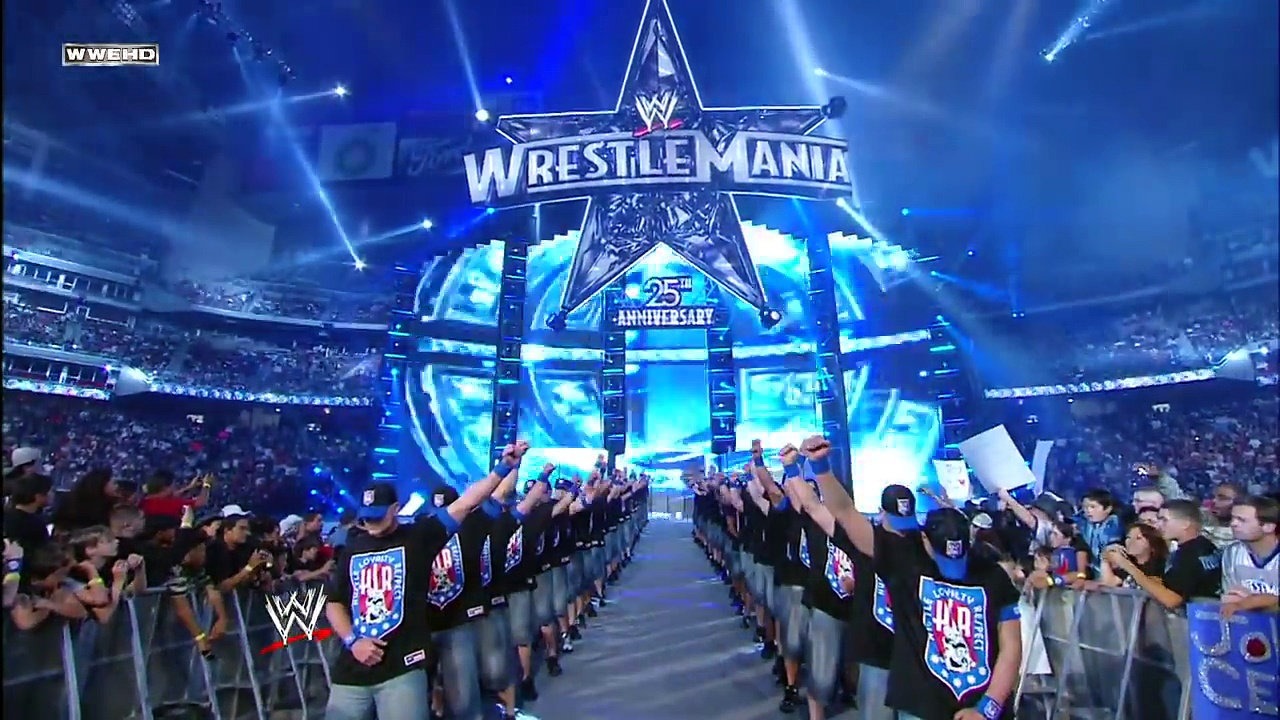 WrestleMania 25, the silver anniversary of Vince's greatest gamble. WrestleMania, the show that almost everyone thought would fail, had been around for a quarter century. It featured what looks to be a stacked card, including a dream match between Undertaker and Shawn Michaels, two legends of WrestleMania. It sounds amazing.
So, imagine my surprise when doing my research, when I discovered that this WrestleMania got mixed to negative reviews. Seriously? Does WrestleMania 25 really deserve this reaction? Let's find out!
Opener
We start with a montage of WrestleMania moments and Vince talking about people asking him about the greatest WrestleMania moment ever. Then we get various superstars saying what their favorite WrestleMania moment was.
Finkel welcomes us to WrestleMania, as only Fink can. Nicole Scherzinger (Pussycat Dolls) sings 'America, the Beautiful'. We get an old school tribute to America video. She sounds amazing.
Money in the Bank Ladder Match: CM Punk vs Christan vs Finlay (with Hornswoggle) vs Kane vs Kofi Kingston vs Mark Henry (with Tony Atlas) vs MVP vs Shelton Benjamin
Punk, MVP, Finlay, Kofi, and Christian all get great pops. Henry, Benjamin, and Kane, either got very quiet pops or outright boos. This was a great match, but there were a couple of botches involving Shelton Benjamin that were really scary and poorly thought out.
Winner: CM Punk making him the only person to win multiple MitB matches.
Highlights: Shelton Benjamin's dive into the competitors and nearly not getting caught. Hornswoggle's Tadpole Splash off of Mark Henry and everyone selling it.
Comments: Botches aside, this was a great match.
We get a video about Axxess, and it looks like a gang of fun.
Miss WrestleMania Battle Royal
The Divas came out during the concert and didn't get individual introductions, so we start right off. This wasn't bad for a battle royal, to be honest.
Winner: Santina Marella (yes, seriously)
Comments: WTF?
Handicap Elimination Match: Chris Jericho vs Jimmy Snuka, Rick Steamboat, Roddy Piper (with Ric Flair)
Mickey Rourke from 'The Wrestler' is there, supporting the legends. Jericho gets a round of boos. The Legends get a pretty good pop. Piper and Flair get the best pop of the four.
This was an okay match. All three of the Legends were really game, but of the four Legends, Flair was the only one who had wrestled in the recent past and none of them were really performing like I think everyone wanted them to (including them).
Winner: Chris Jericho. Flair is livid and jumps in the ring to fight with Jericho and ends up taking a Code Breaker. Jericho starts trash talking Mickey Rourke and ends up getting punched by the celebrity.
Comments: They couldn't find someone younger for Jericho to go up against and have that guy be backed by the Legends?
Extreme Rules Match: Matt Hardy vs Jeff Hardy
Matt comes out to a round of boos. Jeff gets a great pop. This match was really good, but something about it didn't click for me, which is disappointing because the Extreme Rules stipulation seemed to promise a really great match. Both guys did a great job, but it just felt off to me and I'm upset by that fact.
Winner: Matt Hardy by pinfall.
Comments: I wish I liked this match more than I do. It was good, had a decent story, though the thing about the dog gave me the creeps, but I just wasn't into it.
Intercontinental Championship Match: John 'Bradshaw' Layfield vs Rey Mysterio
JBL is out first to a round of boos, despite being from Texas. He runs his mouth but says absolutely nothing of interest. Rey Mysterio comes out dressed as the Joker from The Dark Knight Returns (I think that's the one with Heath Ledger's Joker). There's not much to say about this match because it was about 00:20 from start to finish, which is disappointing.
 Winner: Rey Mysterio by pinfall. Afterwards, JBL is so shocked by not only losing in his home state, but losing in such an embarrassingly short amount of time, he quits and storms out.
Comments: I believe this is when JBL had to retire from wrestling because of injuries, which might explain why the match was so short and JBL's face just before he quit. He didn't look shocked or angry, he actually looked very sad and I can understand why, that not how you want your career to end.
The Streak: Undertaker vs Shawn Michaels
HBK descends from the rafters, dressed in white, with a heavenly chorus. He gets an amazing pop. For the first time since the Streak was officially acknowledged, a good portion of the crowd seems to think that Undertaker's opponent will beat him.
The Deadman Cometh. Undertaker, ascends from the floor, seemingly from the bowels of hell, in contrast to HBK's seeming descent from the heavenly kingdom.
There is nothing I can think of to describe this match that would do it justice. If you have never seen it, make a point to watch it. Get a WWE Network Subscription, it's included in the 'Shawn Michaels: Mr. WrestleMania' collection, buy it on DVD, watch this match and see for yourself why this match is considered one of the greatest matches of all time.
Winner: Undertaker by pinfall.  The Streak is 17-0
Comments: Triple H said later that he watched this match, turned to Randy Orton, and said 'Dude, we're f**ked'. That about sums it up.
Note: This is the first time since 1998's Casket Match at the Royal Rumble that Undertaker and HBK have gone one-on-one without it being a Royal Rumble match.
Triple Threat Match for the World Heavyweight Championship: Edge vs Big Show vs John Cena
Chavo Guerrero takes Vickie to the ring. Edge comes out first to a good pop. Big Show gets a small pop. John Cena gets a good pop and has an entrance ripped off from Eminem's entrance at the MTV Music Awards.
This was a really great match. It easily could've gone for anyone. I can't say I was all that impressed with the story. Cena extorting anything from someone just gives me the spooks and the love triangle between Edge/Vickie/Big Show was just…no.
Winner: John Cena by pinfall after FUing Edge onto Big Show and pinning Big Show.
Highlights: John Cena lifting Big Show and Edge up in an FU and Edge getting down before he was squashed.
Comments: This was a good match, the story was a little 'Uh…' but the match was good.
Hall of Fame time. Our inductees are: The Funk Brothers, Koko B. Ware, The Von Erich Family (owner/promoters of World Class Championship Wrestling in Dallas), 'Cowboy' Bill Watts (owner/promoter of Mid-South Wrestling), Howard Finkel, Ricky Steamboat, and Stone Cold Steve Austin.
During the reveal, Austin comes out along with the other inductees, but then goes backstage and roars out on his ATV for a Hall of Fame beer bash with the fans, including JR, much to Cole and Lawler's amusement.
After all that fun, we find Triple H walking towards the Gorilla position when he runs into Vince and Shane. No words are said or needed, they all know what Triple H needs to do after what Randy Orton has done to them. Triple H nods and walks to the ring, while Shane and Vince look on.
WWE Championship Match: Triple H vs Randy Orton. If Triple H gets disqualified or counted out, he loses the title.
Orton comes out to boos. Triple H gets a great pop. This was a really good match. Both guys really work well together. This was a solid match that brought out the best in both guys because you WANTED to see Triple H beat the living hell out of Orton for what he did to the McMahons (which is when Triple H and Stephanie's RL relationship was officially acknowledged on WWE TV).
Winner: Triple H by pinfall.
Comments: I think the reason this match didn't get much respect is because A. It had to top Undertaker/Michaels, the Triple Threat Match, and a Hall of Fame Ceremony featuring Stone Cold Steve Austin. B. While Triple H bent the rules when the ref was out, there was no outside interference on either side, which is how you want a championship match to be, but after all that, a solid wrestling match wasn't going to stand out as much as it would have otherwise.
Overall Comments
So, does WrestleMania 25 deserve the mixed reviews and lackluster reputation it seems to have garnered? Overall, I'd say no. Okay, some of the matches weren't as good as they sounded on paper, but this was not a bad show. I think Undertaker/Michaels really sucked the life out of the two title matches, nothing was going to top it and really should've been THE main event. However, both title matches were great on their own merits and shouldn't be discounted.
Snoozers: Matt Hardy vs Jeff Hardy. I really wanted to like this match, but I just didn't.
Stinkers: Miss WrestleMania Battle Royal simply because of Santina winning.
Match of the Night: Undertaker vs Michaels. I can't say it enough, find a way to watch this match if you've never seen it.
Final Thoughts: Overall, I enjoyed this show. It was a good anniversary show.