Levin's SmackDown Live Review (10/9/18)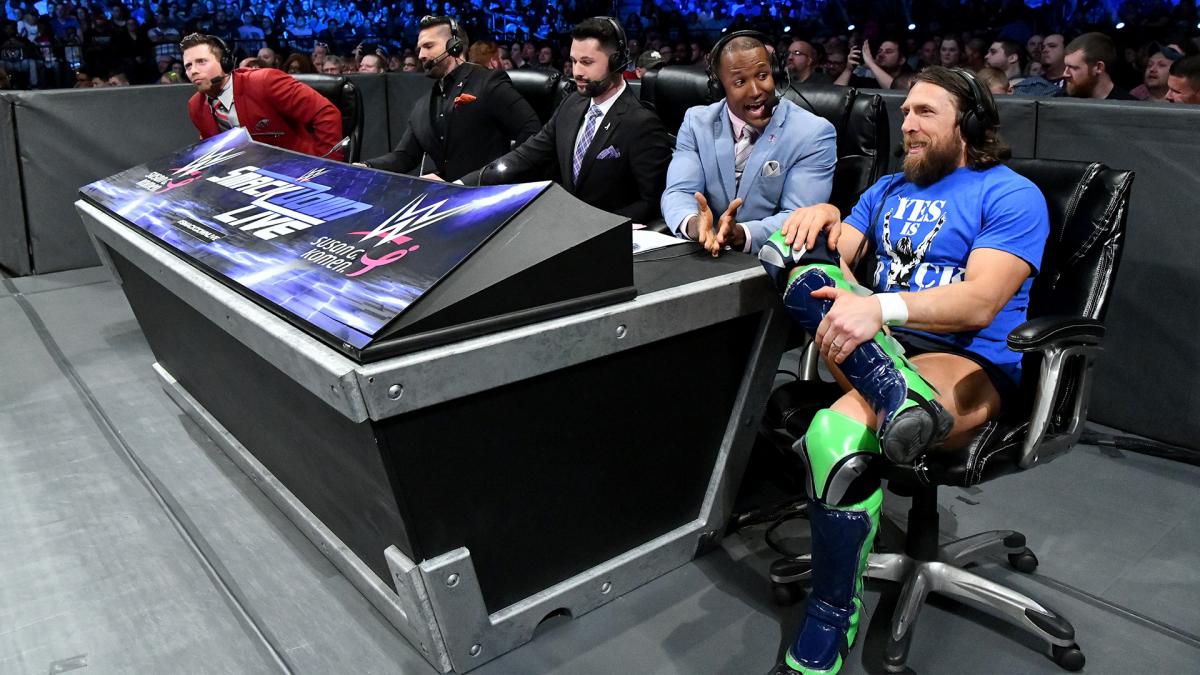 Maybe the best thing about SmackDown Live is the fact there is no wasted motion. Everything balances. It's the better product on television. The matches and storylines are more compelling. And most of all, I find myself gravitating toward the better product.
Tuesday night opened with a return match from Super Show-Down between Charlotte Flair and Becky Lynch that once again did not disappoint. It's how the blue brand tells a story, using its entire roster and using programs that keep us from getting off our seat.
There is nothing better on television. A while ago in a "Ride Along" spot, Flair and her father Ric were talking about which was Flair's best opponent. He didn't hesitate in saying Ricky Steamboat. For some time, it was thought Sasha Banks was Charlotte's version of Steamboat, but there is no comparison.
Charlotte and Becky tear down the house every time they get in the ring. I am reminded of feuds of the past, where each performer gave everything they had. This spot and the current story tells us everything we need to know about the women's division.
There are Charlotte and Becky. And then, there is everyone else.
Starting Tuesday night off with this match proves why Tuesday nights are better than Mondays – by a longshot. It's only right these two wrestled to a double count out.
Flair and Lynch face each other one more time in a Last Woman Standing Match at Evolution.
Here are other thoughts on another solid night of wrestling television…
Samoa Joe and Jeff Hardy
This was a qualifying match for the Crown Jewel pay-per-view in Saudi Arabia. Joe did not walk out of the Super Show-Down with the WWE Title. I'm curious how the company builds Joe back up to be the mega heel he became in the feud with A.J. Styles.
Hardy comes back from his vicious feud with Randy Orton.
This was the first time these two met each other in WWE. In the end, Hardy qualifies for Crown Jewel when Joe is unable to finish the match. Hardy joins John Cena and Kurt Angle in the tournament.
Randy Orton Vignette
I love how WWE from time to time takes a step back in time and works a solid vignette like the old days of the NWA. Orton is at his best 16 years into his career.
Miz TV… A.J. Styles confronts Daniel Bryan
Fresh off his win at Super Show-Down over The Miz where he earned the right to face A.J. Styles for the WWE Title, Daniel Bryan gets in the ring with both men.
Can I tell you how pissed I am at how The Miz lost on Saturday? Bryan and Styles is an instant classic, but how does WWE make up for The Miz not being part of the title picture once again? Obviously, money talks.
Oh, and I might have a man-crush on The Miz.
Styles has been WWE Champion for 336 days now, if you are counting at home. There are few who have been this good for this long. Having Bryan finally get another shot at the strap is a good thing for the challenger and WWE. It's one of those dream matches that should live up to the hype.
Oh, and few can pull off a red suit like The Miz did last night.
Styles said this match will stay in the ring – unlike the feud with Samoa Joe. Bryan said he wants to be a worthy opponent, throwing shade at The Miz. Bryan said he still has a lot to prove. Deep down he knows he can beat Styles. The "two-minute" man joke is fantastic.
Then it got real. After a few contentious moments, The Miz lights up the screen. It was AWESOME. And after Crown Jewel. He's got next.
Then Styles takes on Shelton Benjamin
Someone give Benjamin a main event shot.
Injuries have curtailed his work upon his return to WWE, but when he is on, he is as good as anyone on the blue roster. Styles wins but it was entertaining.
Happy Aiden Day… Not!
I think I am more shocked how Aiden English has become relevant. Welcome to "One Night in Milwaukee".
And of course … there is more to the tape. English says he will destroy the tape if Rusev kicks Lana to the curb and reunites Rusev Day. And how awful an angle this is.
Let's move on, please.
Randy Orton and Randy Orton
Remind me sometime to share my story of interviewing Big Show in Florence, SC. He is truly one of the nicest guys you will ever meet.
The sadistic Orton and the motivated Big Show. He looks to be in the best shape of his life. The second qualifying match for the World Cup Tournament.
Admittedly, I thought this would be a snoozer, but it was better than I thought. The big man was aggressive  but was thwarted evert time he looked to be in control. RKO and it's over.