Stardom Grand Champion Carnival 2018 Afternoon Show Results & Review (9/30/2018)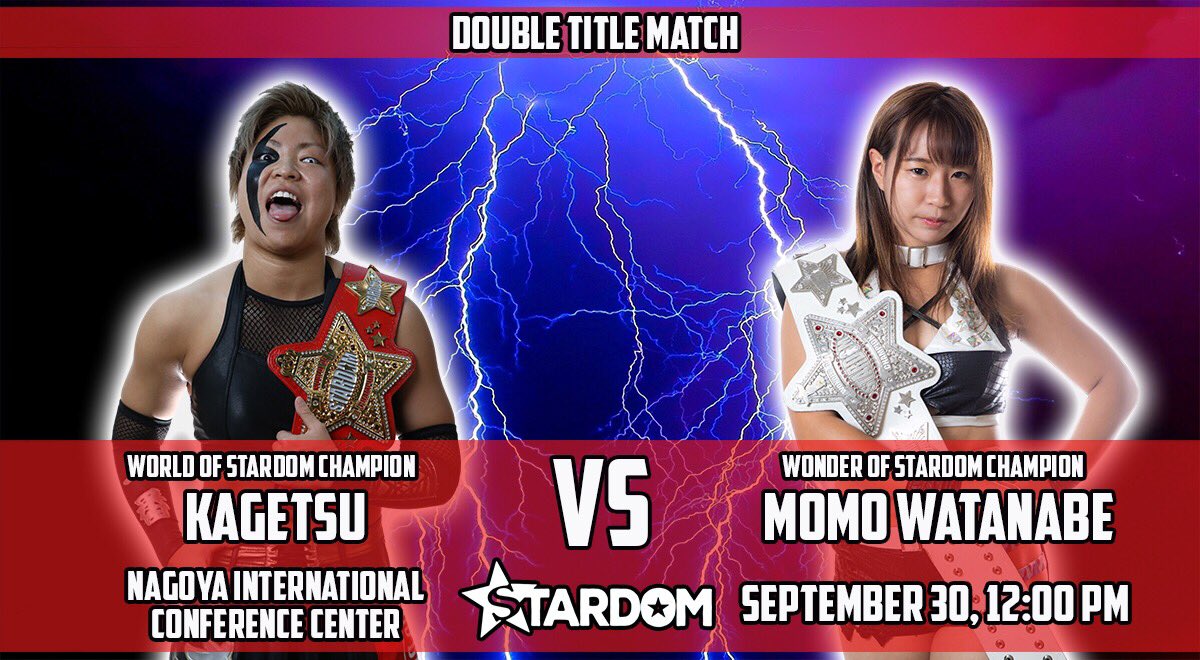 Now that the Five Star Grand Prix is over, it's time to go back to covering the full shows once again.
I wanna thank Andrew for helping me out with the tournament since he's always a pleasure to work it, wouldn't turn down to help him in a heartbeat. Also, congrats to Mayu for winning the tournament and I'm looking forward to the future title match. Our next show is the Grand Champion Carnival and they had both an afternoon and night show and will be covering both of them separately. We have a big show for the afternoon with most of them being titles matches and I can't wait to get to it.
So let's not waste any time and…dive right in.
Three Way Match
AZM vs. Shiki Shibusawa vs. Leo Onozaki
Review: Our opening match is a three-way battle between our future of Stardom division wrestlers with AZM taking on Shiki Shibusawa and Leo Onozaki. I missed doing the Leo Cutter Counter and I can't wait to bring it back for this one and let's see if she does more than two for this one. Which of these three ladies will win the match?
Saki Kashima wasn't the only that changed her attire recently as Shiki Shibusawa also appears to have a makeover with her attire and I gotta say that it looks much better than her previous outfit, good for her. Not gonna lie, for a three-way match that was less than five minutes, this was probably one of the better ones compared to the few we had this year since most of it was very smooth with the exception of whenever Leo did stuff which wasn't a lot since it was mostly AZM and Shiki doing the work in the match. Shiki keeps on improving for me and is slowly winning me over with her ability while AZM is still proving she's one of the best on the roster for someone her age. Shiki would go to pin Leo and AZM hits a Double Stomp once Shiki moved out of the way so she would land on Leo. Shiki would have AZM out of the ring to have Leo all to herself as she hits two Bulldogs and a Missle Dropkick for the win. Could she be a possible contender for the Future of Stardom Championship?
Now on https://t.co/q8dHnF58vW from yesterday's daytime show in Nagoya, it's the opening match 3 Way Battle! pic.twitter.com/Tn5a957UXc

— We Are Stardom (@we_are_stardom) October 1, 2018
Rating: Tony Schiavone and three quarters
Leo's Cutter Counter: 1 (I bring you back and this is how you repay me!?)
Tag Team Match
Hazuki & Kelly Klein vs. Kimber Lee & Rachel Ellering
Review: Our next match is a tag match with Hazuki teaming up with Kelly Klein and I'm guessing Natsu Sumire isn't at the show and since Kagetsu is in the main event, she's the only active Oedo Tai member that doesn't have a match, so they gave her Kelly since they may as well use her to finish this tour. Their opponents for the show are Kimber Lee and Rachel Ellering, who was probably the worst one out of the whole Grand Prix due to having poor lackluster matches while she did better at the MYC, funny how that works. Which of these teams will win?
Not sure what exactly to say about this match since it pretty much feels like a showcase Hazuki match than a tag match and that's what they would pretty much do. Not that I mind since more of Hazuki is good enough for me, but not really a lot of tag teaming going on in the match or we really don't get to see much of Kelly Klein in the match except for a minute and when she breaks up the pin near the end. Rachel wasn't in the match much either and when she was, she did pretty average in my opinion while Kimber was in the match mostly with Hazuki who didn't do too bad either, but the match was all about Hazuki.
Hazuki keeps on showing her consistency in the ring and is still in my top 5 for Stardom, I really hope she gets a big payoff coming soon since she definitely has earned something ever since she made her change going with Oedo Tai. Kimber would have Hazuki in a Sidewalk position while Rachel takes her down with a Neckbreaker as Kelly breaks the count. Kimber Lee would go for the Swanton Bomb, but Hazuki moves out of the way and does the Hazukistral for the win.
Rating: Tony Schiavone and a half
Future of Stardom Title Match
Starlight Kid (c) vs. Hanan
Review: Our first title match of the day as Starlight Kid is set to defend her Future of Stardom Championship and it's been a while since she last defended the title, so it's nice to see it getting some time. We find out that the opponent chosen for her in this match is Hanan, who defeated Natsu Sumire in one of the recent shows and I guess that's what made her have this title match today. Can Starlight have another successful defense under her belt or will we crown a new champion?
So how did Hanan do in her first title match? Right now, it looks like she's not ready to be in that type of position as of right now, but I think she'll do just fine if she keeps at it since she really isn't bad at all and has improved other the past few months. I really do like how Hanan uses her judo mixed in with her wrestling to give her a bit of something unique to her ability and does them very well too. The first half started off rather slow and sloppy, but they did pick up once both of these women got into the groove better in the match. Hanan would keep doing her STO's on Starlight and would attempt to pin her multiple times only for Starlight to barely kick out and even did a Northern Lights Suplex with a very beautiful bridge to top it off. Starlight would make a comeback with a Diving Body Press and a Fisherman Suplex for a two count. Starlight would go to the second rope and would do a Moonsault onto Hanan to get the victory and a fourth successful title defense.
So who will be Starlights next challenger? Shiki? AZM again due to their last match being a draw? Or will we have a new competitor? Only time will tell with what they give us next. Good job, Hanan and I'm sure you'll get another opportunity soon.
The Future of Stardom Title is on the line as Starlight Kid defends against Hanan! It's in Nagoya, and it's on https://t.co/q8dHnF58vW now! pic.twitter.com/tZvd7HL2cw

— We Are Stardom (@we_are_stardom) October 1, 2018
Rating: Eric Bischoff
SHIMMER Title Match:
Nicole Savoy (c) vs. Konami
Review: It looks like Nicole Savoy is going to defend her SHIMMER Championship during this tour, which I'm okay with since they sometimes defend their titles in other companies and gives it more exposure. Nicole did really well in the tournament and made me wanna follow her a bit more from how impressive she was. She's now set to defend her title against Konami who has been on a roll lately with her deadly strikes and submissions that could come into play here. Will Nicole retain or will Konami take the title away from her?
This match is very ground based with the both of them being submission specialists and that was exactly how it needed to be with two of these women trying to outmaneuver the other one to see who can make who tap out first, so it requires skill and timing to get the victory in the match. It looked like Konami was able to get the first lead in the match and would start to deliver those kicks that can send even the toughest to their knees. Konami is another one that keeps on progressing this year and putting on great matches with her best still being against Kagetsu during the Grand Prix. Nicole has made me a fan during the whole tour and now I wanna follow her career to see how she does outside of Stardom since she actually is really well diverse for what she does with her technical ability.
Both of them would keep trying to get a submission hold locked in to try and make the other tap or Konami just using her kicks while Nicole would just try to catch her off guard. Konami went for the Black Widow but Nicole would move Konami into position to hit the Fallaway Slam and we get a kick out. Konami would try to go for her Triangle Lancer which Nicole rolled her up for the pin but gets reversed by Konami into another pin, but Nicole would kick out and apply the Rings of Saturn as she makes Konami tap-out and Nicole retains!
Rating: Eric Bischoff and a half
Singles Match
Jamie Hayter vs. Utami Hayashishita
Review: After losing at the finals of the tournament, Utami Hayashishita has made a name for herself with all of the people she fought in the tournament and has impressed a lot of views while still having a long way to go to prove she can be the future of the company. The Super Rookie is set to take on Jamie Hayter, who had a…average performance under my block and hoping we can see some improvement since it's not a tournament match. Will the Super Rookie pick up another win or will Jamie pull off an upset?
I really couldn't tell Jamie's role as to whether she was a face, heel, or just being there when she came to the Grand Prix tour last month and in this match, we get to see where she lies and that's a heel. Jamie would attempt a handshake with Utami and once she got it, she would kick her in the midsection and the crowd would boo Jamie heavily and we hardly get to see a crowd boo that loudly when it comes to stuff like that since Sumire would usually get cheered when she does it, but when it happened to Utami, you knew they cared and Jamie fed off of that.
The match was pretty much basic but it worked with who was involved in the match since Jamie normally is around that range while Utami is still working her way in to earn her stripes despite the great progress she has been making during this time. Utami would try to get Jamie up for the Torture Rack but Jamie knows better as she would fight her off so she wouldn't be able to lock it in. Utami would have Jamie in the Sleeper Hold to hold Jamie still long enough to pick her up for the Torture Rack and makes Jamie tap out to get another victory under her belt.
Rating: Eric Bischoff
Artist of Stardom Title Match
J.A.N (Jungle Kyona, Natsuko Tora, & Kaori Yoneyama) (c) vs. STARS (Mayu Iwatani, Tam Nakano, & Saki Kashima)
Review: Our next title match is Jungle Assault Nation defending their Artist of Stardom Championships against some members of STARS such as Tam Nakano, Saki Kashima, and Mayu Iwatani. We found out that later on that night, Mayu and Saki are set to defend their Goddesses of Stardom Championships against Jungle and Natsuko, so seeing how the outcome of this match plays out could affect what happens at the night show. Which one these teams will win?
The match started off a little bit clunky with the couple slip-ups and slow moments in the match to not give it that great of a start, but the match would start to get better as it slowly progresses going forward. We really didn't get to see Saki or Kaori do a lot in the match since it mostly focused on the other four in the bout, which is weird because you would wanna focus on all of your members in the match to give it that six-man tag feel instead of just a regular two on two bout. The better moments of the match were when Mayu and Kyona shared the ring together since they're the top females in the roster and I have a feeling that if Mayu does indeed in the title from Kagetsu, don't be surprised to see Kyona being one of or her first challenger.
The interactions between Tam and Natsuko was also very interesting to see since they did fight each other in the Grand Prix and just how these two go at each other makes it all the more exciting and while I don't know the exact reason they're like this to each other, but it's still nice to see that and I hope we get another singles match between them soon. JAN would do their Triple Splash onto Tam with all three members jumping one at a time off of the ropes from bottom to upper with Natsuko delivering the one off the top but Mayu would break the hold right before the three count. Saki and Mayu would get Kyona and Kaori outside of the ring with Mayu jumping off the top ropes and landing on them to leave them outside while Tam and Natsuko are in the ring alone.
Tam would hit Natsuko with the German Suplex and would kick out of it. Mayu and Saki would get back in the ring to help her out as they threw Mayu into Natsuko for her to hit the Dropkick into the corner and almost missing from how far they threw her. Tam would quickly get over to Natsuko so she could hit the Tiger Suplex and STARS would get the win as we have new Artists of Starom Champions! This is Tam's first title in Stardom and she shares that moment with both Mayu and Saki. Since the belt is three different colors, Mayu would of course get the light blue one, Saki gets the orange one, and Tam would get the pink one. Tam would go over to Natsuko to taunt her to let her know that she defeated her again. Please let them fight again. Congrats STARS on winning the titles and will JAN suffer the same fate against Mayu and Saki during the evening show and walk out empty-handed?
The Artist of Stardom titles are on the line as Jungle Assault Nation defend against STARS! You have to see this match, on https://t.co/q8dHnF58vW now! pic.twitter.com/mWBbilePYm

— We Are Stardom (@we_are_stardom) October 3, 2018
Rating: Eric Bischoff and three quarters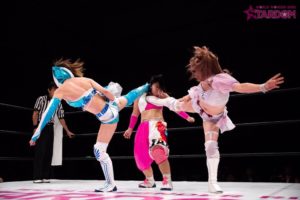 Double Title Match
Kagetsu (c) vs. Momo Watanabe (c)
Review: Our main event for this show is a title for title match with the World of Stardom Champion, Kagetsu defending her title against the Wonder of Stardom Champion, Momo Watanabe who is also defending her title in the match. It's a tough call since both of them can't afford to lose their title to one another right now but can also lead to different possible scenarios if one of them did win at the same time. This was one of the matches I was looking forward to when it got announced and it's time to see how Momo would do in the top spot. Which champion will come home with two titles?
I saw this match as another test for Momo to get her ready for the future and to see how she would do in the main event spot. I know she did main event shows before, but I mean for the World of Stardom Championship since this is her first time fighting for the title I believe and how did she do? Momo passed the test for sure and delivered us a great match against Kagetsu and this was hinted at since April when she won the Cinderella Tournament, and I'm glad she was able to have this match with both of them being champion. Momo still has more room to grow as a competitor but it really does show she indeed has a bright future in the company.
On Twitter, Stardom claimed this to be the match of the year for the company and is the match great? One of the better matches of the year for sure, but is it MOTY worthy? I will say it's in my Top 10 for Stardom this year but not their best match, you should still look it up since it's still a great bout. These women had the drive in this match when they kept going back and forth during the majority of the match whether it was mat grappling or just playing by their own arsenal and doing everything they can to get the others title. Kagetsu would even use the blue mist on Momo to get her down to hit the Oedo Coaster, but Momo would barely kick out of it to keep the match alive! The strikes these two in the match were incredibly stiff and you felt everything done to them from how hard they were hitting each other, even kicked each other in the head at the same time and both got up quickly before getting counted out. Momo also hits her Tequila Sunrise on Kagetsu and it looks like we have a new champion, but she also kicks out! Once Kagetsu kicked out of the movie, both of them were both out for the count and after twenty-two minutes of them fighting each other, the referee called for a Double Count-out and nobody loses their title.
What a way to end it and this was the right call for right now since both of these women didn't need to lose their title or win the other one and they handled it better than another time limit outcome, couldn't have asked for a better ending. After the match, Nicole Savoy would come out and challenge Kagetsu for the World of Stardom Championship later on at the night show which Kagetsu accepts since she wants to give the people what they want. Kagetsu would tell Momo that they have unfinished business and she says they'll both keep defending their titles and they will do this again. Speaking of unfinished business, Momo would call out Mayu Iwatani and challenge her to a match and would even put her Wonder of Stardom Championship on the line. Mayu said she already has a World of Stardom Championship match with Kagetsu soon, but doesn't mind fight her first and they'll do it on October 23rd.
It's the Double Title Match! Kagetsu and the World of Stardom title vs Momo Watanabe and the Wonder of Stardom title, winner take all! And it's only on https://t.co/q8dHnF58vW now! pic.twitter.com/84lSCYmL2f

— We Are Stardom (@we_are_stardom) October 4, 2018
Rating: Bruce Prichard and a quarter
Overall: I thought this was a really solid show with only one bad match in here while the rest was enjoyable. We also had a great main event to close off the show and enough hype to get the fans ready for their night show on the same day, which is something you don't wanna miss. Fun show, worth watching.
Favorite Match: Kagetsu vs. Momo Watanabe
Least Favorite Match: Hazuki & Kelly Klein vs. Kimber Lee & Rachel Ellering
Score: 8/10
WWE 24/7 Championship Results & Report! (7/20/19)
Stand back! There's a Comic-Con coming through!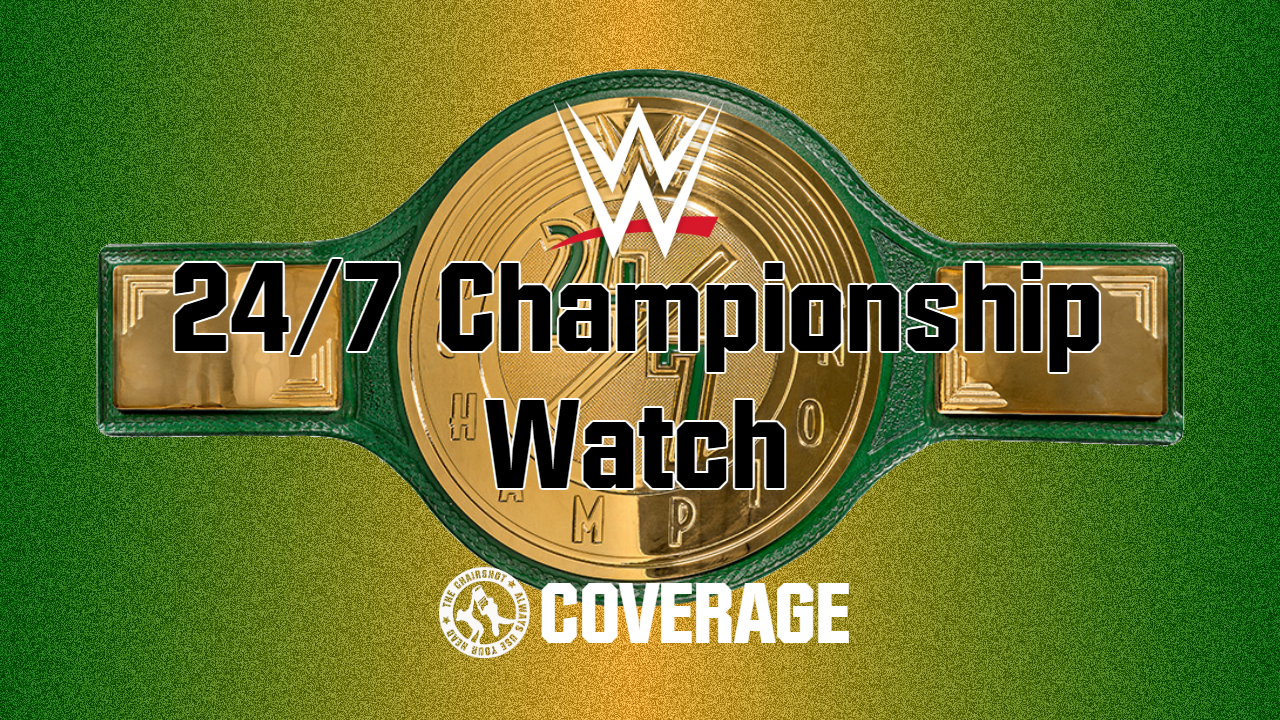 The WWE 24/7 Championship makes an SDCC debut!
As superheroes, super villains and super fans all converge in San Diego, watch as WWE icons collide! Who gets out of the convention with the title?
OFFICIAL RESULTS
WWE 24/7 Championship: R-Truth VS The Hurricane VS Drake Maverick; Truth wins and retains the WWE 24/7 Championship.
PLAY BY PLAY
What's up, San Diego and IGN!? Truth sits with hosts Max Scoville and Sydnee Goodman and has been having a blast. he's seen everything and everybody, but he just hopes no one recognized him. Truth being the 24/7 Champion, he had to stay incognito. Someone, anyone, everyone, they could take this title because it is defended at all times of the day. That is why it is the "48/7 7-11 TV" Championship. How has Truth been holding up? Well he can't sleep, not even for a nap. He's fought over this belt on a golf course, a tarmac, in a plane, and ruined one man's wedding AND honeymoon. But don't worry, Drake Maverick's not constipated.
And now at SDCC, Truth has been able to slip through as a penguin! Pengi the penguin, noot noot! He got to shake hands and hang out with Darth Vader. Truth loves SDCC, it's the bomb. But what else has Truth done while here? Chewbacca stared him down, but then Pikachu came along. The weather's been a bit iffy, though. But wait! Is that…?! Yes! It is THE Hurricane!! Truth mentioned weather, so stand back, because there's a hurricane coming through! Truth thinks this is a really great cosplay, but he's a bit thick around the waist. Oh wow, what a great referee cosplay! He looks just like John Combs! But he's blonde. No, wait, that's… Nevermind. ROLL UP! TWO, but Hurricane runs away before Truth can retaliate. Because here comes Rockstar Banana, Drake Maverick! Roll up, TWO!!
Truth bails out before Maverick can attack again. Maverick vents! Truth has ruined Maverick's life! His wedding, his honey moon, and he's yet to consummate the marriage! Maverick is getting sick and tired of this! And then he realizes he's on camera. Maverick gets up and runs off, but into the cameras! The signal goes down, but is Maverick too down in the dumps to get back up?
---
My Thoughts:
This title continues to be amazing! I was actually shocked Truth didn't lose the title here, but him retaining is actually even more surprising. Great to see Hurricane again, even if it's just for the gag of, "Oh, it's Comic-Con, cosplay is everywhere." Maverick is slowly breaking, and I love that he tied in the banana costume from when he showed up at the WWE Mattel panel during SDCC. Can't wait to see reference to this on Raw.
Andrew's G1 Climax 29 Ratings & Analysis: Night 6 B Block
Juice Robinson, Tomohiro Ishii and Jon Moxley come in at the top of the standings. How do we see B Block take shape?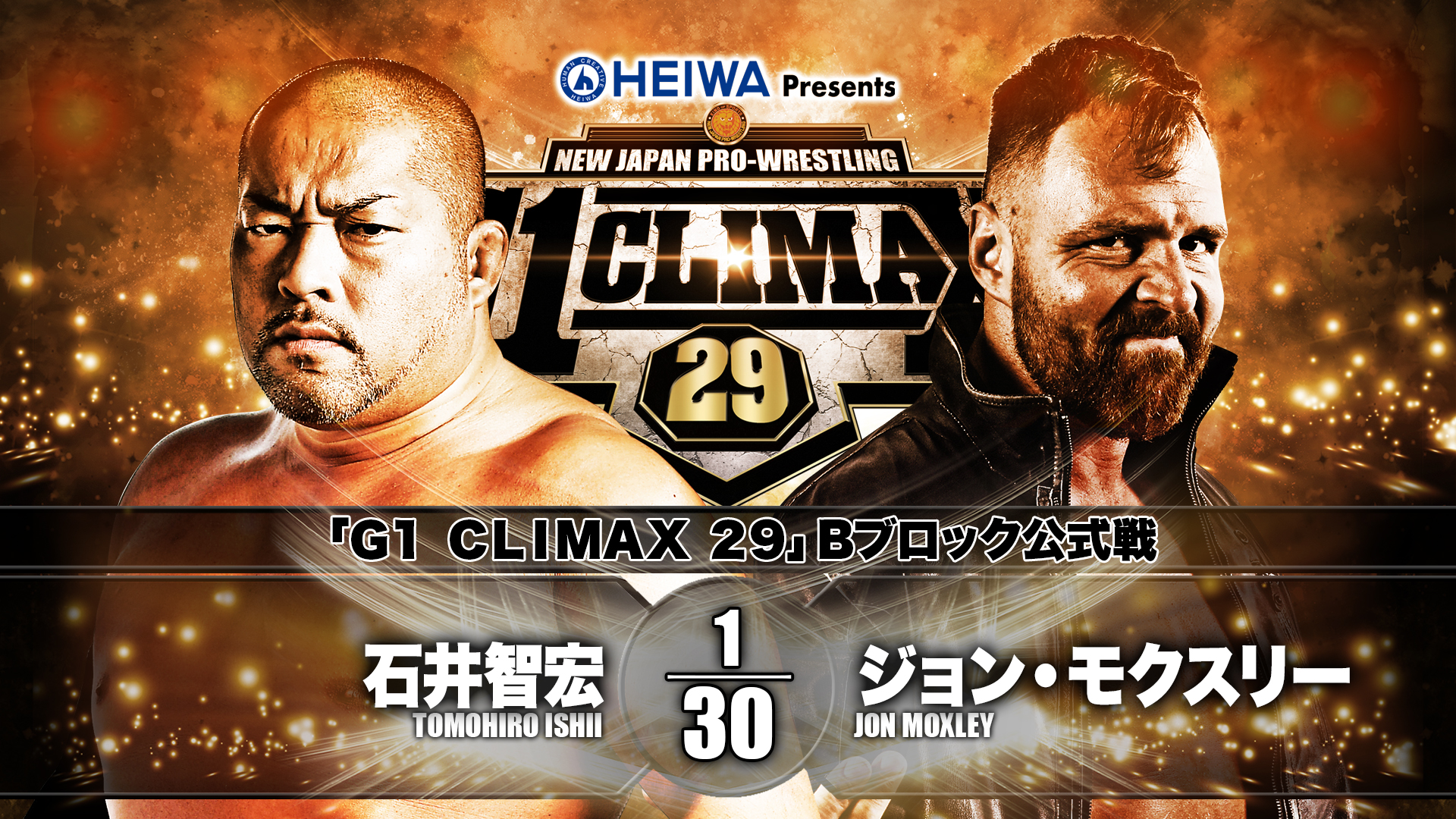 Juice Robinson, Tomohiro Ishii and Jon Moxley come in at the top of the standings. How do we see B Block take shape?
This whole day is based around two major things:
Will Jay White or Tetsuya Naito get a win?
Will Moxley or Ishii kill one another?
Let's find out!
Ratings:
Bad Luck Fale & Chase Owens vs Zack Sabre Jr & Yoshinobu Kanemaru: Fale wins via Grenade @4:50 – **
Tomoaki Honma & Hiroshi Tanahashi vs Minoru Suzuki & Lance Archer: Archer wins via EBD Claw Hold @9:50 – **
SANADA, EVIL & BUSHI vs KENTA, Kota Ibushi & Clark Connors: BUSHI wins via MX @9:02 – ** 1/2
YOSHI-HASHI & Kazuchika Okada vs Will Ospreay & Toa Henare: YOSHI wins via Fisherman Buster @8:45 – ** 1/4
B Block: Shingo Takagi vs Taichi: Takagi wins via Last of the Dragon @14:40 – ****
B Block: Jeff Cobb vs Juice Robinson: Cobb wins via Tour of the Islands @13:20 – *** 1/2
B Block: Toru Yano vs Jay White: Yano wins via Brass Knuckle Low Blow/Roll-Up @3:05 – ** 1/2
B Block: Tetsuya Naito vs Hirooki Goto: Naito wins via Destino @16:00 – *** 3/4
B Block: Jon Moxley vs Tomohiro Ishii: Moxley wins via Deathrider @20:35 – **** 1/2
Analysis:
Well Fale tried to outsmart the Rainmaker in his last G1 match, and that didn't go too well. So Sabre is being a whiny child, tried to step to Fale and for the most part, got brushed off. Fale isn't really in a position to eat another loss, but it's unusual for Sabre to be doing so poorly. I'm curious if Sabre continues this slide until maybe TAKA Michinoku returns to be his hype man, or Sabre gets off the schneid.
People, everybody dies. You know that, Lance knows that, Honma knows that…Kairi Sane knows that. This didn't really add much to things except the undercurrent of a quiet Minoru Suzuki is scary for the whole world. Also – Everybody Dies!
Now that SANADA and EVIL have had their match, there is some symbiosis back on the LIJ undercards. KENTA and Kota teaming together was a cute call back, but nothing of heavy merit came from this match. BUSHI continues to rack up positive momentum during these tags, Clark Connors is impressive for an LA Dojo Young Lion. So decent match, but aside from EVIL and KENTA brawling after the match and SANADA and Ibushi having a rather civil fan support battle, nothing too important for the impending matches.
Okada and Ospreay did have the crowd hot, but aside from a small flourish, this was mostly YOSHI and Henare. Surprisingly, YOSHI-HASHI has put together a few pinfalls in the tag matches, so that tends to actually play a role in the second half story telling. Ospreay may be on his way to a big upset since even if Okada seems to be positioned to win A Block, he won't make it through unscathed.
Now this was a fun match. It was a continuation of the Suzuki-Gun/LIJ drama, but Taichi has his own issues. Shingo is fighting as a Junior Heavyweight and Taichi moved up to Heavyweight last year, but was overlooked for the G1. So the fact that Shingo asks and gets in, yet Taichi moves up and was ignored has to bother him. With all of these little things eating through, Taichi brought out the Dangerous T that many of us have grown to love. Sure there was a brief moment of shenanigans with lovely Miho and the microphone stand, but 90% of the match was on the up and up. Pumping Bomber versus Axe Bomber was great, the callbacks to both of their mentors was wonderful and just generally speaking, when the Holy Emperor tries, those are great matches. Shingo getting the win won't sit well with Taichi, but we've got plenty more time to see how this all falls.
Juice starts off the match in a 3 way tie for first, but Cobb really needs a win to legitimize his tournament. Being undefeated in ROH for about a year, as well as all his other accolades, he needs to stop losing. Cobb showed a little more fire than usual in this match and took it to Juice. Juice has been in hard hitting affairs all tournament and it looks like Juice might've finally hit the wall. Should be interesting to see if Juice flounders from here or if he recovers.
Well the Chaos revenge tour has another stop with Toru Yano and Jay White. Jay has not gotten off to a good start and it's all his past decisions coming to bite him. This match…would be no different. Yano takes advantage of Gedo getting involved. Between Barbara Jean the turnbuckle pad and the brass knuckles from Gedo, Jay White's nuts didn't stand a chance. So Yano runs away with 2 more points and Jay's pride…and other things…are a bit sore.
Goto started off the tournament looking like a new man, Naito has also looked different, but for different reasons. Naito sitting in the basement with zero points and Goto with the renewed sense of purpose makes for an odd dynamic. This match is one of their usual ones, where it's quick bursts, hard hitting and a few solid false finishes. However, at multiple points Naito's usual tranquilo is shaken and you can see him show levels of concern. Goto being the one with the power in the match, makes for some unique interactions. Naito does pull off the win, but it's not for Goto's lack of trying and kicking out of one running Destino. Naito finally gets some points, but it's nothing near dominant enough to breathe a sigh of relief.
Moxley versus Ishii was the insane hard hitting match we expected. Ishii even flew. He hit a splash on Moxley through a table. The Stone Pitbull flew. Yes I realize there is a callback to Masato Tanaka in that move, but you don't understand, Ishii flew. Anyway, the beauty of Red Shoes as a referee is he understands each wrestlers personality, so he gives them a little more leash to do what they like to do. Moxley used weapons, Ishii egged it on, there were huge strikes, Ishii's torpedo style rising headbutts and just good violence. This was a bar fight and no one was upset. Moxley getting the win was a little surprising since most of us assume he won't be available for many if any later dates once AEW TV starts up. This was just a nice change of pace for the usual New Japan and/or Strong Style match.
Overall Score: 7.75/10
With a great Taichi match and Moxley changing the pace, this show was definitely something to behold. Jay White's continued spiral is more amusing than Sabre's since this seems like retribution where Sabre is just a punk bitch when he loses. Even with an uneventful undercard, the main Block matches kept everything moving upward and onward.
With Moxley as the sole 3-0, who unseats the Death Rider?
B Block Standings:
Jon Moxley – 3-0 (6 Points)
Toru Yano – 2-1 (4 Points)
Tomohiro Ishii – 2-1 (4 Points)
Juice Robinson – 2-1 (4 Points)
Shingo Takagi – 2-1 (4 Points)
Jeff Cobb – 1-2 (2 Points)
Tetsuya Naito – 1-2 (2 Points)
Hirooki Goto – 1-2 (2 Points)
Taichi – 1-2 (2 Points)
Jay White – 0-3 (0 Points)