It's Not Goodbye, It's See You Later: My Thank You To The Chairshot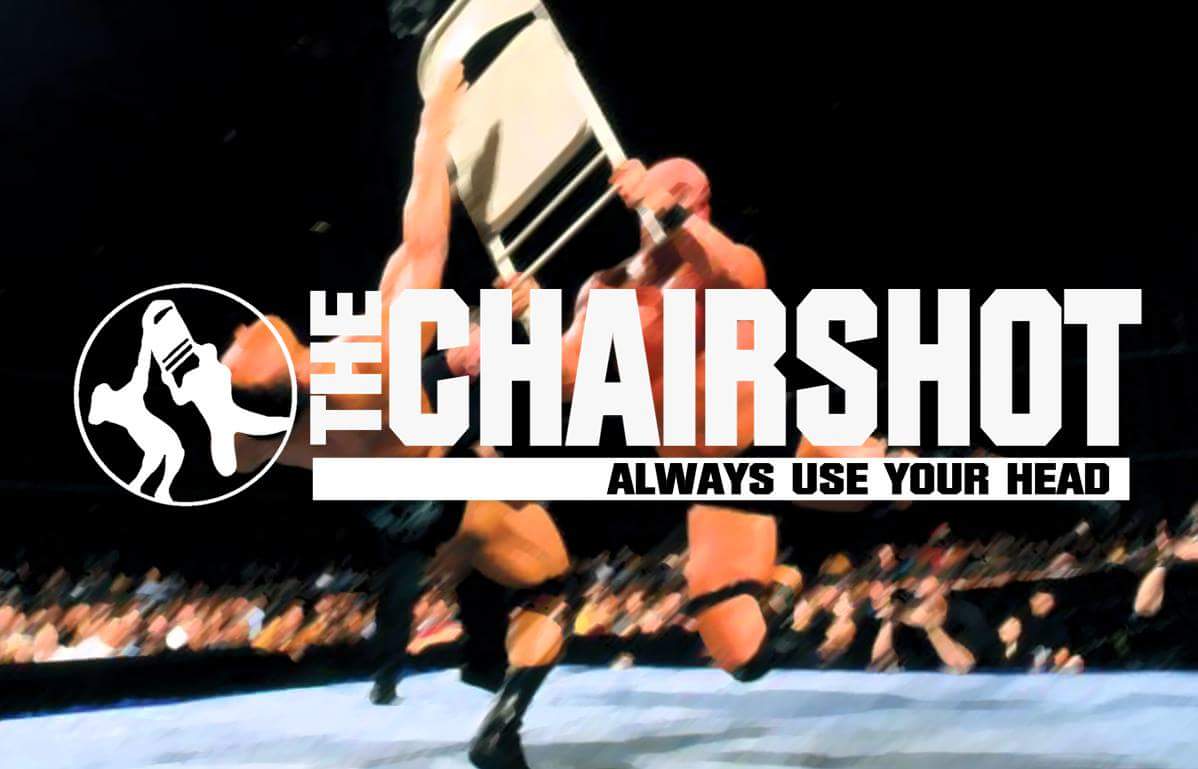 As Eric Ames' time with The Chairshot comes to an end, he explains his journey and how he got here.
Pro wrestling…the love of my life. At 33-years old, I've never loved anything or anybody as much as I love this industry and form of entertainment.
It's a journey for me that began (so I'm told) at the age of two with a WWF event at the Cumberland County Civic Center in Portland, Maine. According to my mother, "You and your father came home and you ran around the house for hours screaming your head off out of excitement. We had no idea what we were getting ourselves into and how much WWF we would have to record on the VCR every week from then on".
I've been reading pro wrestling news/dirt sheets for as long as I've had access to internet and a computer, which would have been the mid-to-late 1990's. I had to know everything going on, all the ins-and-outs, behind-the-scenes…you name it, I consumed it. Outside of intermittent times when life got a bit busy or I was distracted by things like parties and women in my younger years, I was always locked in. But, how could I be a part of this incredible circus?
Physically, being in the ring was never going to be an option for me. Not because I'm not athletic (Hello all New England Men's Volleyball Team, Intramural basketball all-stars, football, baseball), but because it seemed unfeasible given my size. If I could go back in time, I certainly would have given it a go, but in my later years those sports have taken a toll on me. So how else do I get involved?
I always have had the innate ability to look at issues from a completely objective point of view. Ask my friends how I felt about the New England Patriots and deflategate, they'll certainly tell you. My other strength has always been writing, grammar and spelling (Spelling Bee Champion bayyybeee). So that was my way in. Hindsight is 20/20 and had I been smarter or had my head screwed on straight in my late-teens/early-20's, I'd have tried doing this sooner. You can't change the past though and in 2015 I decided it was time to go for it.
TopRopeReport.com was born, a site started, conceived and run by me with the help of a handful of friends who weren't as passionate about it as me, but did whatever they could to support my pursuit of my dream. This was when I realized, "This is what I'm supposed to be doing. This is why I'm here". Unfortunately, as The Chairshot's Publisher Greg DeMarco can attest to, it's an INCREDIBLY difficult venture to start and fund on your own. Needless to say, two years of covering every news item, editing every article, writing play-by-play for every single WWE show and pay-per-view, designing every piece of merchandise and everything else that comes with starting a business, I was broke. The friends had gone as their own lives (rightfully so) took precedence. I hold nothing against them for that and if anything, am forever grateful. I was the last man standing though and it was apparent that TopRopeReport.com was in fact dead.
After a year of feeling like I'd lost my purpose, it was time for me to try and get back in, somehow…some way. It was really a matter of dumb luck that I was found by The Chairshot after a Twitter conversation with Dave Ungar, who I didn't even know. He pointed me in the right direction and very quickly I was discussing with Mr. DeMarco how I could help out. The first role I took on was Social Media Director, coming up with concepts such as #UseYourHead, Chairshot Brackets, re-launching our Facebook page and starting us up on Instagram.
To begin, my writing was primarily Chairshot Classics and an opinion piece here and there. However, when the News Editor at the time decided he was attending WrestleMania 34, I quickly was thrown into the fire on the biggest news weekend of the entire year. I'd like to think this is where I really proved my worth. Needless to say, that aforementioned News Editor had life getting in the way and needed to step down. Naturally, I was the next man up and since last May, nearly every news piece on The Chairshot came from yours truly.
Eight months later I have over 3,000 articles on The Chairshot. However, more unforeseen circumstances that are out of anybody's control have led us to today and I must step away. Not because I want to, but because I have to. There are zero hard feelings and I will forever be grateful to Greg, Andrew Balaz and The Chairshot for giving me the opportunity that I worked my ass off for years to get, my first paid gig in this business.
I hope that in my time with The Chairshot I was able to bring some clarity to the readers on news items, as a lot of outlets like to misconstrue and not report all of the details. I say that my journey has come to an end because quite honestly, I do not know where I go from here. At the end of the day, we all need to make a living and while I've had offers, I find it odd that there are sites who expect 24 hours a day out of you for absolutely no compensation. Hell, I even had an offer for a little bit more money, but I chose to stay out of loyalty to The Chairshot.
What does the future hold for me? Again, I have no idea. Is it possible I could be back with The Chairshot? Absolutely. There will still be a few more Chairshot Classics from me to come over the next month or so that were already completed, so if you enjoyed those stay tuned.
I'm sure this news will make some people happy because I'm pretty self-aware and realize I can be quite stubborn. I can say that everything I ever tried to do or fought for was for the greater good of the website. If I thought it was a bad idea, I'd fight against it. If I thought it was a good idea, I'd fight for it. I will never apologize for that and if I offended you along the way, too bad. It was never about me trying to put myself over.
Again, I can't thank Greg DeMarco and Andrew Balaz enough for the opportunity I was given. I hope anyone reading this continues to support The Chairshot because I know I will…after a Twitter break. So this isn't goodbye, it's just, "See you later". Don't forget, Always #UseYourHead.
Andrew's Top 5 Matches: Week Ending 5/19/2019
Best of Super Juniors 26 and Money in the Bank are the big things this week. Let's see what matches made the cut, and if there were any surprises!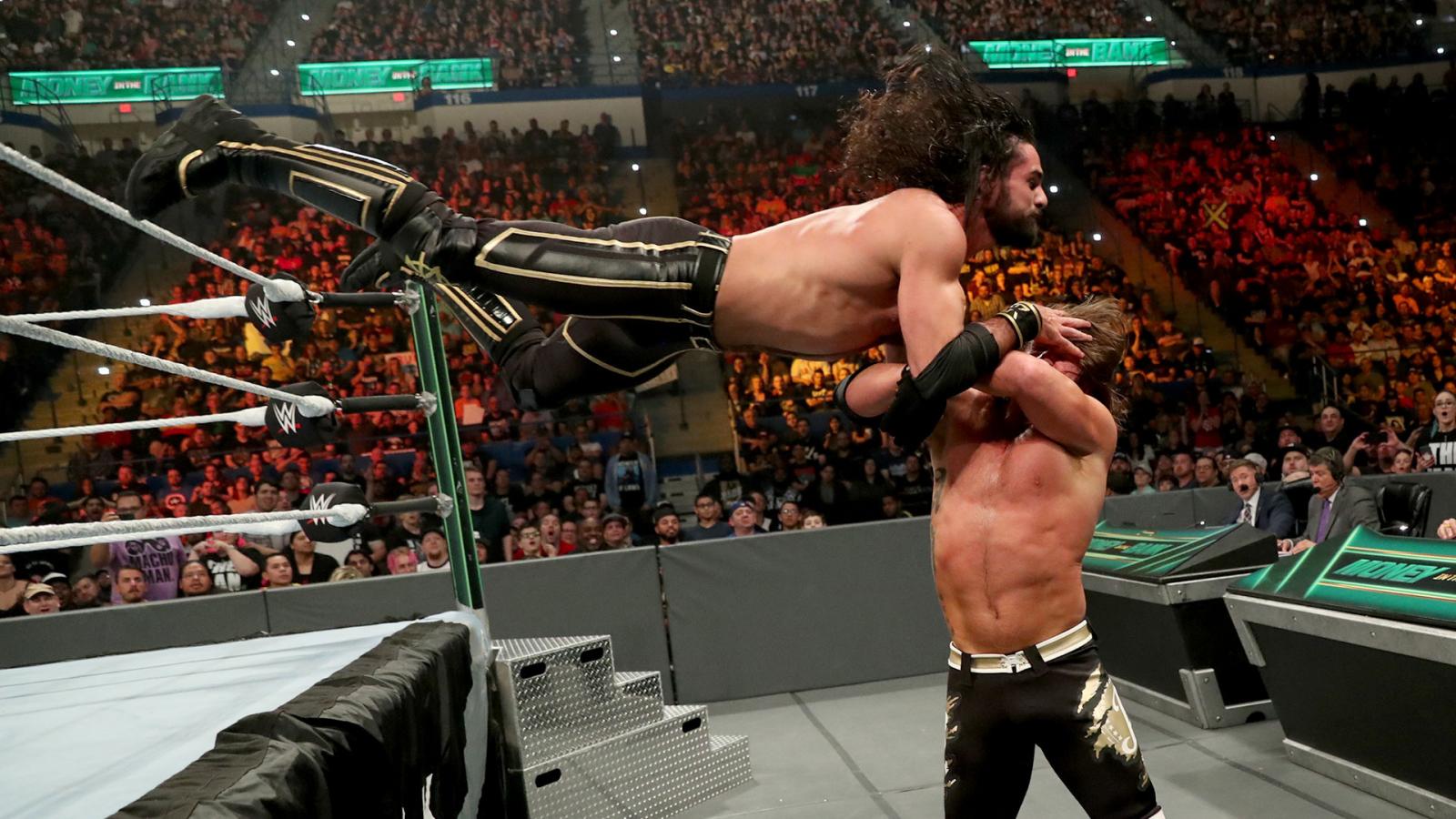 Best of Super Juniors 26 and Money in the Bank are the big things this week. Let's see what matches made the cut, and if there were any surprises!
Last week was an interesting week since it wasn't a normal Top 5 and we had two Sami Callihan matches. When it came down to it though, IMPACT: oVe Rules 8 Man: oVe vs Tommy Dreamer vs Fallah Bahh vs Rich Swann vs Willie Mack, won the vote for the week. I'm always a happy when less popular matches or companies get a fair shake in the rundown.
Either way, let's see exactly how much New Japan shows up and if anything from Money in the Bank was worth a watch!
5. NJPW BOSJ 26 Night 2: Ryusuke Taguchi vs YOH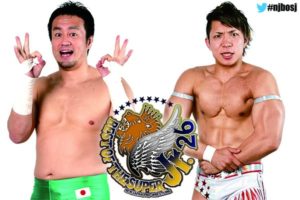 Taguchi has been having a crisis of character so to speak. He's become more of a comedy wrestler who's history doesn't really inject respect or fear into his opponents. YOH is up and coming, and was trained by Taguchi in the New Japan Dojo. So YOH is trying to establish himself beyond the tag realm and Taguchi is trying to refind himself.
We saw an interesting match. Taguchi showed a little of both worlds from comedy to more of his extensive moveset. YOH was a walking reference to older wrestlers; he even mastered the Paradise Lock apparently. Taguchi picks up the win with the variation of the Dodon that he used to remove Prince Devitt from New Japan. Very good match.
Winner: Taguchi via Dodon's Throne
Rating: ****
4. NJPW BOSJ 26 Night 4: Will Ospreay vs Rocky Romero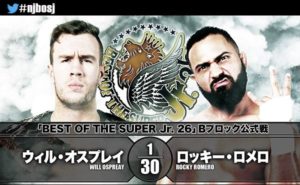 This was a little similar to the earlier Taguchi match. Rocky had something to prove. CHAOS members, and Rocky is perceived as being past his prime, but he wanted to prove he can still hang. It's been 3 years since his last BOSJ, how does the most decorated Junior Tag wrestler fair against the Aerial Assassin?
We got a great match. Rocky had numerous hope spots, hit the Forever Lariats, his half of Strong Zero and reversed the Stormbreaker first attempt into a legit Huricanrana. Ospreay turned out too be just a little too big, a little too athletic and a Shooting Star Press followed by a Stormbreaker ends this great match. Very good.
Winner: Ospreay via Stormbringer
Rating: **** 1/4
3. IMPACT: Michael Elgin vs Rich Swann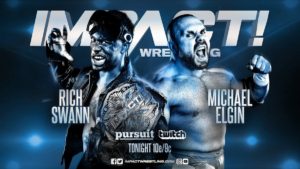 From My Analysis:
So damn this main event went 2 commercial breaks, but it was really solid. Swann wouldn't stay down and even had great hope spots. A Super Frankensteiner countering the Avalanche Powerbomb, Lethal Injection, 450, but Elgin kicked out. Swann tried a top rope Phoenix Splash, and missed. Elgin hits Splash Mountain, and Rich kicks out. Elgin rolls to the outside, catches Rich and repeatedly Powerbombs him into the post. Kid Ref tries to get the match back in the ring, Elgin pushes Kid Ref and Powerbombs Swann again for posterity. Kid Ref calls for the DQ and then runs for his life. This was a great match, the "non-finish" is rather annoying coming out of a roughly 25 minute match. But love him or hate him, Elgin can wrestle.
Winner: Swann via DQ
Rating: **** 1/4
Honorable Mentions:
NJPW BOSJ 26 Night 3: Dragon Lee vs SHO
Winner: Dragon Lee via Desnucadora
Rating: ****
WWE MiTB: Men's Money in the Bank Ladder Match: Drew McIntyre vs Baron Corbin vs Finn Balor vs Ricochet vs Andrade vs Randy Orton vs Ali vs Brock Lesnar
Winner: Brock Lesnar
Rating: *** 3/4
NJPW BOSJ 26 Night 1: Dragon Lee vs Taiji Ishimori
Winner: Ishimori via Bloody Cross
Rating: *** 3/4
WWE MitB: WWE Championship: Kofi Kingston (c) vs Kevin Owens
Winner: Kofi via Trouble in Paradise
Rating: *** 1/2
NXT UK: Ligero vs Jordan Devlin
Winner: Devlin via Snap Saito Suplex
Rating: *** 1/4
NJPW BOSJ 26 Night 2: Robbie Eagles vs Rocky Romero
Winner: Eagles via Ron Miller Special
Rating: ***
SmackDown Live: Randy Orton vs Finn Balor vs Andrade vs Ali
Winner: Andrade via Hammerlock DDT
Rating: ***
NJPW BOSJ 26 Night 2: El Phantasmo vs Bandido
Winner: Phantsmo via Greetings from Chasewood Park
Rating: ***
205 Live: Tony Nese vs Ligero
Winner: Nese via Running Kneese
Rating: ***
WWE Raw: Fall Count Anywhere: Braun Strowman vs Sami Zayn
Winner: Zayn via Claymore
Rating: ***
NJPW BOSJ 26 Night 4: Ren Narita vs Robbie Eagles
Winner: Eagles via Turbo Backpack
Rating: ***
WWE MitB: The Usos vs Rowan & Daniel Bryan
Winner: Usos via Double Uce
Rating: ***
2. WWE MitB: Universal Championship: AJ Styles vs Seth Rollins (c)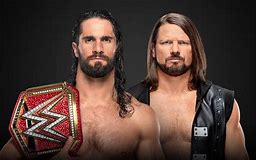 Snippet from Mitchell's Coverage:
Now it's Rollins who has to come up with something else to put Styles away. Fans rally up as Rollins stands. Rollins still has the tried and true, "Burn It Down!" He mule kicks then runs, but Styles dodges to roll Rollins to a Calf Crusher! Rollins endures but Styles cranks back hard! Rollins rolls it back and kicks Styles away! His leg is free but it is hurting! Styles crawls away but Rollins pursues. Styles hops up, moonsault DDT! Cover, TWO!! Rollins escapes with one good leg! Styles gets back up and waits for Rollins. Rollins stands and SUPERKICKS Styles down! Both men are down again, but fans rally and duel again. Styles and Rollins crawl for each other to start throwing hands! Rollins hits, Styles hits, repeat. Rollins CHOPS but Styles punches again.
Fans duel, Styles goes for the Phenomenal Blitz, but Rollins dodges to enziguri! And dodges the Pele! Mule kick! Curb Stomp countered! STYLES CLASH!! Cover, TWO!?! Rollins survives THE Styles Clash?! No one can believe it, but the fans are loving it! Styles grits his teeth as Rollins starts sitting up. Styles goes to the apron, takes aim and springboards. Phenomenal misses! Revolution Knee hits! And then, SUPERKICK! Styles is on his face, but Rollins gets back up! CURB STOMP!! Rollins put so much into that, he has to crawl to a cover! Rollins wins!!
Winner: Rollins via The Stomp
Rating: **** 1/4
1. NJPW BOSJ 26 Night 1: SHO vs Shingo Takagi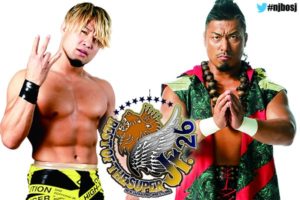 This match has had a great build all year. SHO is the power of Roppongi 3k, and throughout the LIJ and Roppongi feud for the Junior Tag Titles, we always saw SHO try to go at Shingo. Shingo called him out a little and this is a great rivalry. SHO has something to prove, but Shingo doesn't want to be upstaged by someone who was a Young Boy only a few years ago.
We saw the story unfold beautifully. Shingo dominated early, until SHO fired up and showed he wasn't just going to roll over. As the match progressed SHO started to anticipate Shingo's moves and stay a step ahead. Both men hit all of their signature moves, and neither wanted to really budge. This was just so well done, and more of a heavyweight style because they are both bigger Juniors. Shingo edged out SHO by hitting Last of the Dragons after numerous Pumping Bombers. But damn this was great.
Winner: Shingo via Last of the Dragons
Rating: **** 1/2
Thoughts:
Shingo and SHO, there is no other answer. This has been a feud that started at the end of last year and persisted through the entire year so far. Long term booking is always fun, and when both men put on a great story telling match, it's even better. Plus there's no guarantee it's over since SHO still has to surpass Shingo to feel completed.
Don't sleep on Ospreay and Romero though, that was a great match, just didn't quite match up to SHO and Shingo.
Tiffany's Takes: WWE Money in the Bank 2019
Brock and Bayley win big–do you feel as you won as fan of this show?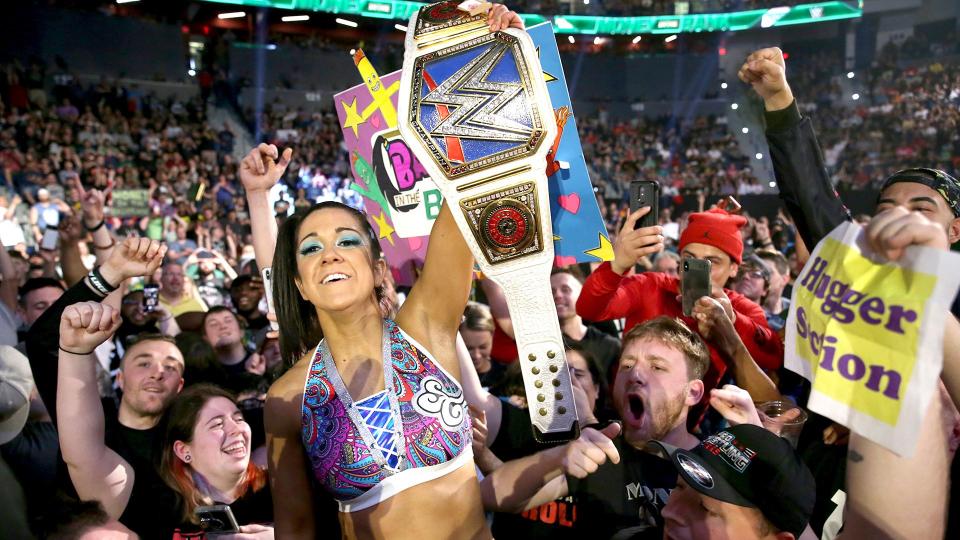 Tiffany checks in on WWE Money In The Bank 2019 as Bayley and Brock Lesnar leave Hartford the big winners. How did Tiffany take MITB?
It's one of the most momentous nights of the year! Sixteen superstars have the chance to stamp their ticket to the top in the Men's and Women's Money in the Bank Ladder Match!
WWE Universal Championship: Could someone tell me why that match wasn't saved for SummerSlam?! Rollins vs Styles has been a longed for dream match, but the build has been a little…lacking, but it was a FABULOUS match that should've been the main event of a Big Four show, not Money in the Bank.
I did love the show of respect between Styles and Rollins. This match was refreshing because they kept it as a dream match instead of manufacturing a grudge between them. Styles was the heel, but it wasn't a personal thing and they still respected each other. Next contestant.
WWE Championship: Well, it looks like Kofi's moment is going to last a little longer. Kevin Owens did EVERYTHING he could think of to take the title off of Kingston, but Kingston withstood all of it and it took one moment and Kevin Owens was pinned for the three count. The feel good moment lives on.
WWE Cruiserweight Championship: This was an okay match, but it wasn't great, which is a shame since it was the first time the Cruiserweight Championship had been on the main card in a very long time. I honestly thought WWE was going to have Daivari win and defend it at Super Show Down in Saudi Arabia, so as to have a champion of Arabic descent on the card, but I guess we'll have to see, maybe Daivari will get another chance.
WWE United States Championship: I don't know just WHY WWE insists on keeping the matches between Joe and Rey so short, but it's becoming a thing. This match was squirrelly. Rey Mysterio is the New United States Champion and a Grand Slam Winner, but Joe, with a nasty cut under his eye and a possible broken nose, clearly had his shoulder up at three. Joe attacking Rey is actually understandable, but it's looking more like 22 year old Dominick is going to have to cover for his dad.
Women's Championships: I actually had a very long, profanity-filled rant typed up about how this whole thing went down, but thankfully it wasn't needed. I don't have a problem with Charlotte as a person or as a performer, but I do have a problem with her constantly being in the title picture, either as the champion or as a contender because it suffocates the division. Yes, Daddy Ric Flair was a 16-time World Champion, but those reigns were spread out over a career of over thirty years, not stuffed into a four year Main Roster run.
Bayley cashing in and becoming the first Grand Slam Champion of the Women's Division and NOT Charlotte was a stroke of genius. Bayley has been NXT Women's Champion, RAW Women's Champion, Women's Tag Champion, and SmackDown Women's Champion. I'm still disappointed that Becky 2 Belts didn't get a longer run, but I'm not going to argue with Bayley being champ instead.
Shane McMahon vs Miz – Steel Cage Match: I'm puzzled by this match. It was okay, but it felt like no one knew what was going on or what the rules were. Shane won, but more by accident than design when he slid out of his shirt, that Miz was trying to use to pull him back into the cage, and fell to the floor. It wasn't a satisfying end to this feud, it was an odd one, but not satisfying.
Roman Reigns vs Elias: I had really hoped something constructive was going to come out of this squash, but that was not to be. Elias did the classic villain thing of wasting time because he thought the hero was down and out only to get his ass kicked by the enraged hero. Reigns powered through a backstage El Kabong to squash Elias like a bug in less than five minutes. That happened.
Lars Sullivan and Lucha House Party: I know a lot is going to be said about this and while I don't agree that WWE was playing up the revelation that Lars Sullivan made a lot of racist, sexist, and generally shitty comments in the past, I do think it was really bad optics to have him beat up three Hispanic wrestlers.
Daniel Bryan and Erik Rowan vs The Usos: This wild card is confusing me. The Usos, who are on RAW, had a title match against the SmackDown tag team champions that got turned into a non-title match that the Usos won and became the #1 Contenders for the SmackDown Tag Team Championship in a clean win. Did I miss something? Why don't we just redo the Shakeup and call it 'Trader's Remorse' or something.
Men's Money in the Bank Ladder Match: That end was bullshit and every guy in that match other than the winner deserved so much better.
Women's Money in the Bank Ladder Match: YES! Bayley is here to save us! I really thought Mandy Rose and Sonya were going to steal one but Bayley saved the day! Seriously, I was so happy for Bayley. She's been used very badly for a good chunk of her main roster run. Having her win and getting that moment was wonderful and a great feel good moment.
Overall Thoughts: So, how was Money in the Bank 2019? Other than that ending, which I will NOT being discussing here, you do NOT want my opinion right now, it was a really good show. There were a lot of surprising and feel good moments to be had. I loved how the Women's Championship marathon played out. I'm disappointed Becky wasn't given a longer run as a double champ, but Bayley as SmackDown Women's Champ is the breath of fresh air the division needs.
The end was bullshit and a disgrace. That's all I'm going to say. That's it for Tiffany's Takes. I'll be back tomorrow with my RAW takes!