Joe's Lucha Libre Weekly: News & Analysis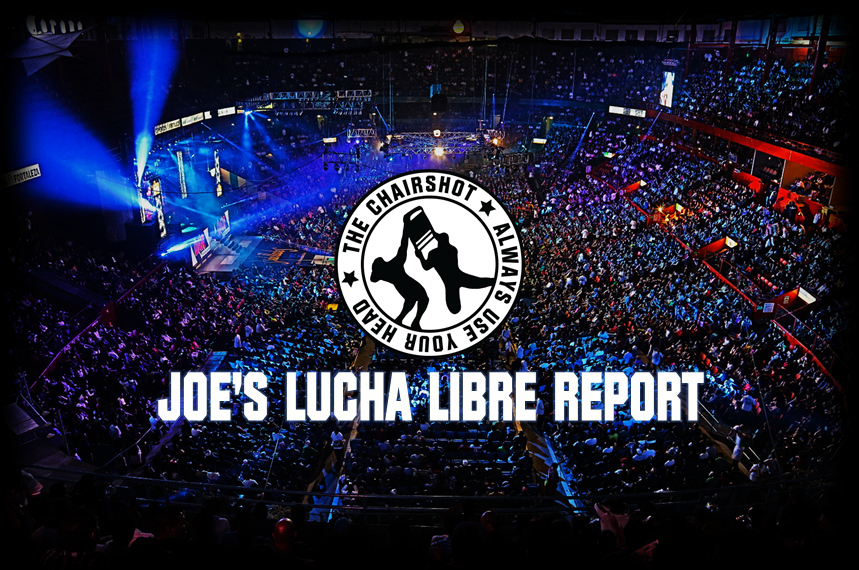 Joe brings us everything we need to know about CMLL this past week
CMLL
Arena Mexico Last Friday
Obviously these shows for this week and the upcoming Friday show are going to be a little weaker because of the Fantastica Mania tour going on. Really it's an odd relationship, I don't feel it's beneficial to CMLL because it's not like they're entering the Japanese market or getting TV exposure. I know they always sell out their merch over in Japan but I wonder if it's worth sacrificing the gate for basically six shows in Mexico. Regardless, Rush, Villano IV, and Bestia del Ring faced Niebla Roja, Euforia, and Valiente. It wasn't really a good match at all. Sometimes matches involving Rush are just angle related and that's exactly what this was. To set up a match with Euforia. The co-main event was Kraneo, Volcano, and Stuka taking on Mephisto, Luciferno, and Ephesto. Not quite a co-main event quality, at least on the technicos side. Mephisto, Luciferno, and Ephesto won the match.
Arena Puebla Monday
The main event of this show was Rush, Villano IV, and Vangellys vs Valiente, Euforia, and Kraneo. This was another angle driven match to further the eventual singles match with Rush and Euforia. Euforia kicked Rush in the groin as pay back to give Rush's team the win. The c0-main event was Niebla Roja, Stuka, and Stigma faced Mephisto, Luciferno, and Ephesto and the latter picked up the victory again here. Kind of a nothing show here.
Arena Mexico Tuesday
Main event of this show saw, Niebla Roja, Kraneo, and Volcano face Mephisto, Luciferno, and Rey Bucanero. The former win in two falls and then Roja challenged Mephisto to a one on one match and then a hair vs mask match. I doubt the latter will happen. But the singles match might. The co-main event saw the Panther clan defeat Coyote, Polvora, and Felino. This was another nothing show, just waiting for the full roster to return.
Arena Mexico Friday Preview
The main event of the Friday show will see Rush taking on Euforia. I'm willing to bet they get under 10,000 attendance for this show. Like I've been saying the shows just aren't strong until everyone returns from Japan. The c0-main event sees the return of Gilbert El Boricua teaming with Mephisto and Ephesto against Diamante Azul, El Valiente, and Niebla Roja. So they might continue the feud with Roja and Mephisto. The next match on the top of the card is Kraneo, Volcano, and Stuka facing, Rey Bucanero, Hechicero, and Shocker.
AAA
AAA has a show on the 19th and then they have a show on the 26th. The top of the card for the 19th show this Saturday is Psycho Clown, Dr. Wagner Jr, and La Parka vs Rey Escorpion, Blue Demon Jr, and Hijo del Fantasma. Pagano and Brian Cage vs Texano and Joe Lider. Seeing Pagano and Lider on opposing teams tells me there's gonna be some kind of storyline here that they gotta fill in the lines with. Taya makes her return to AAA television. She teams with Maximo and Murder Clown against La Mascara, Chessman, and Faby Apache.
The top of the card for the 26th show is, Psycho Clown, Dr. Wagner Jr, and Aerostar vs Rey Escorpion, Hijo Del Fantasma, and Monster Clown. Murder Clown, Drago, and Laredo Kid vs Chessman, Averno, and Super Fly. Pagano and Joe Lider vs Miedo Extremos and Ciclope. So on the 19th show Lider and Pagano are opposing teams but on the 26th they're not. Interesting. Something has got to happen here.
Here & There
News here is CMLL with pressure from ROH pulled Rush from MLW. I had to imagine everyone involved figured this might happen. Bauer tried offering Rush a job at BeIN commentating soccer but CMLL still pulled him. So I guess Rush will work the eternal abyss that is Ring of Honor. I don't want to slight them but it just feels like they have had so much talent through the years and they still have the same indie show production and they haven't gotten bigger. I'm aware they're running MSG but the only reason their business got big was because the bullet club, and Cody pairing with the Bucks. Them and New Japan sold out MSG. So we'll see what happens to Ring of Honor now. That's my rant.
Rey Mysterio had a really good match with Andrade. You should watch it.