Top 5 Matches brought to you by Andrew! Do you agree with his list? Have you seen everything on the list?
Weeks come and go, but the Top Matches must always be known! It's always fun when we get a monthly vote, because that means we're one step closer to that fun Match of the Year voting! So, January's big money winner came down to the wire. Only a couple votes separated first and second, but, Kenny Omega vs Hiroshi Tanahashi @ WK13, has won January!
As for the first week of February, it was a Velveteen runaway. Granted, Halftime Heat won the vote, but no match got a vote, unless it involved Velveteen Dream.
So this week may be obscure for some, but with the big New Japan title match happening on Monday, and some less than inspired WWE TV, All Japan was a beacon in the night with the Junior Battle of Glory tournament.
But no worries everyone, odds are that you saw at least two of these matches. So you're gonna be alright for another week.
5. AJPW Junior Battle of Glory: Koji Iwamoto vs Kotaro Suzuki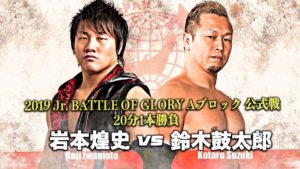 Kotaro Suzuki has to be seen as a ringer here. A disciple of Misawa, recently lost the GHC Junior Championship after winning NOAH's Junior Tournament. Iwamoto on the other hand had a small hiccup where he lost his belt to Shuji Kondo, and then won it back. Now the division is slowly resetting and we're gonna see how the challengers stack up. Suzuki is a big ask on the first night, let's see who wins.
This was a hard hitting match, with only a few minor hiccups. Suzuki is great to watch in the ring and Iwamoto stepped up a bit. Iwamoto hit numerous STO variations, but never his Koko no Geijutsu. Suzuki on the other hand pulled out a few of his signature moves. Tiger Feint, Endless Waltz, Blue Destiny…but the thing that hurt the overall was the finish. Blue Destiny is a Gory Neckbreaker (think Victoria's Widow's Peak). Suzuki hits it, Iwamoto kicks out. Kotaro laces Iwamoto's arm like a La Magistral cradle, but sits through and hits one elbow strike, which he calls Javelin, and that's the pin. It's just awkward, yes the elbow strike is technically 'open' or 'unprotected' but it makes Blue Destiny look weak, when that had proper build for a finish.
Just another match that suffered from one too many false finishes, but it was still solid and gives Suzuki a claim to the Junior Title regardless of how he finishes in the tournament.
Winner: Suzuki via Javelin
Rating: *** 3/4
4. IMPACT! Impact Tag Team Championship: LAX (c) vs Lucha Bros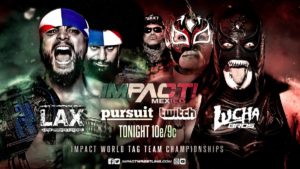 They had a lot to follow after their Homecoming match, but this wasn't bad. It starts quick again, and this match had the same issue the last one did, where it felt too fast. Moves weren't hitting flush, double clutching or waiting too long to take a spot hurt the match a little. Both tag teams kicked out of the respective finishers, so no one looks bad. Lucha Bros have to hit a second Spike Feat Factor, as Fenix lays out Ortiz with a tope. Konnan makes them shake hands, but there's still a little heat.
Winner: Lucah Bros via Spike Fear Factor
Rating: *** 3/4
3. AJPW Excite Series All Asia Tag Team Championships: Naoya Nomura & Yuma Aoyagi (c) vs Ryuichi Kawakami & Kazumi Kikuta
Kikuta and Kawakami are from Big Japan. It appears that Big Japan is trying to take both tag titles out of All Japan, since Violent Giants lost a few weeks ago to Sekimoto and Okabayashi. Will Big Japan take the All Asia titles as well?
This is probably my favorite match of Nomura and Aoyagi's since they won the titles from Yuji Nagata and Jun Akiyama. Kawakami kept egging on a strike exchange, and Kikuta brought a more Tae Kwan Do style about his offense. After a brawl on the outside for a while, the action in the ring was crisp and good. Great strike excahnges, near falls and the finish was surprising enough for a rematch to not be out of the question. Aoyagi broke up Kawakami's offense with a Jumping Knee, but Kikuta took him out, and then ate a spear from Nomura for only a 2. Nomura seeing the opportunity, counters a kick from Kikuta and hits Maximum (Death Valley Driver), for the 3 count.
Also a nice spot with a bag of powder to try and blind the babyface champions reminded me of "Mr. Fuji's Racist Salt". So that's always nice when I can pop myself for no real reason and because of Edge and Christian shenanigans.
Winner: Nomura via Maximum
Rating: ****
Honorable Mentions:
AJPW Junior Battle of Glory: Kotaro Suzuki vs Tajiri
Winner: Tajiri via Cradle (after Mist)
Rating: *** 1/2
NJPW Road to New Beginning Osaka: Shingo Taka & Tetsuya Naito vs Taka Michinoku & Taichi
Winner: Shingo via Last of the Dragon
Rating: *** 1/2
NJPW Road to New Beginning Osaka: BUSHI, SANADA & EVIL vs Minoru Suzuki, Yoshinobu Kanemaru & El Desperado
Winner: LIJ via Magic Killer
Rating: *** 1/4
IMPACT! Sami Callihan vs Puma King
Winner: Callihan via Piledriver
Rating: *** 1/4
AJPW Junior Battle of Glory: Atsushi Murayama vs Koji Iwamoto
Winner: Iwamoto via Koko no Geijutsu
Rating: *** 1/4
IMPACT! Rohit Raju vs Trey
Winner: Trey via Meteora
Rating: ***
NXT: Io Shirai, Kairi Sane & Bianca Belair vs Shayna Baszler, Jessamyn Duke & Marina Shafir
Winner: Io via Moonsault
Rating: ***
SmackDown Live: Randy Orton vs Mustafa Ali
Winner: Orton via RKO
Rating: ***
IMPACT! Rich Swann & Willie Mack vs Dave & Jake Crist
Winner: Swann via 450 Splash
Rating: ***
2. NXT: Drew Gulak vs Matt Riddle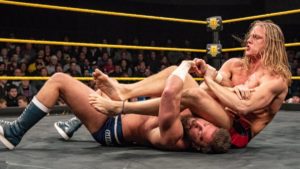 There are so many 205 Live stars that I would LOVE to see get a true NXT run. Drew Gulak is one. This match with Matt Riddle–a legit clinic–makes that desire even stronger. I don't know what's in the plans for the WrestleMania Friday Takeover, but the rematch of this should be.
Winner: Riddle via Bromission
Rating: ****
1. AJPW Junior Battle of Glory: Atsushi Aoki vs Seiki Yoshioka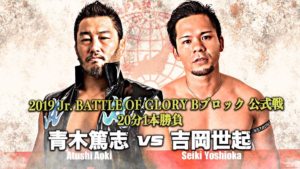 Seiki is currently from Wrestle-1 wrestling in the Strong Hearts stable with a few Junior title reigns under his belt. Aoki is essentially the face of All Japan's Junior division. So a first night pairing with these two, should be explosive.
This match lived up to the build. Yoshioka worked Aoki over with numerous stiff strikes, and kept him reeling for most of the match. He got in Aoki's face at numerous points in the match, including a strike exchange on the turnbuckles. Aoki got the best of the exchange, and rode the momentum to a victory there. And Avalanche Slam after the Sunset Flip Powerbomb was blocked, Yoshioka fired up, Aoki lands a Lariat and Jumping Piledriver, both for near falls. Then finally needs his finisher, Assault Point (Wristclutch Belly to Back Suplex Hold) to pick up the hard fought win.
Winner: Aoki via Assault Point
Rating: ****
Thoughts:
Now this is a hard week. The Top 5 are all basically equal, however the Impact match isn't their best match up, so I guess on principle I can eliminate that one.  But regardless of my enjoyment of the Junior Battle of Glory tournament so far, I also really love technical wrestling. So my vote goes to Riddle vs Gulak, but the All Japan tournament has really started off strong.
Well give this week a vote and Always Use Your Head!