Cook: Come On WWE Fans, Get Happy!
Are you not entertained???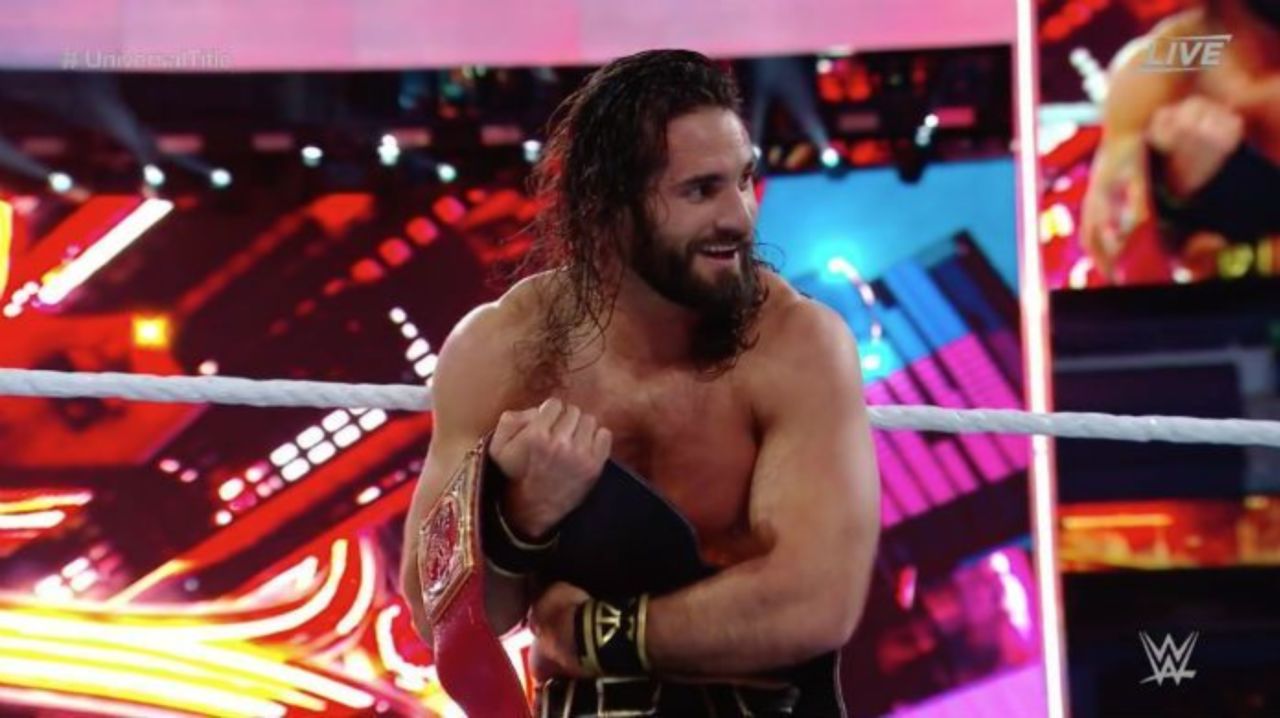 Steve Cook reminds you that WWE gave you what you wanted–you should be happy!
WWE is usually all about making us mad. Don't get me wrong. I'm not criticizing the strategy. Not at all. If there's one thing I know about people in the Year Of Our Lord 2019, it's that our natural setting is "pissed off". We're always mad about something and we're always mad at somebody. Yet, we rarely do anything useful about it. We continue to consume what we typically consume, whether we like it or not.
WWE fans had plenty of reasons to be mad heading into WrestleMania. Brock Lesnar had held the Universal Championship hostage for most of the past two years, leaving Raw without a regular presence on top of the card & rendering most of the Universal Championship challengers ineffective. Kofi Kingston had been held down by the man for eleven years. Becky Lynch was the peoples' choice among the female Superstars & won a Royal Rumble match, but she couldn't even get a one on one match because ol' Charlotte Flair had to shoehorn herself in there. And don't even get me started on the whole business with Charlotte beating Asuka for her title like a week before the show.
Plus, WrestleMania was going to be way too long and contain way too much. I'm a fat kid that loves cake, but even I get sick of cake after eating enough of it.
(OK, that's a lie. I always love cake.)
WrestleMania wasn't perfect, though God Bless you if you think it was. The show was so long that most fans couldn't get the heck out of New Jersey once it was over. (I made the call of going to bed at 10 & watching the rest of WrestleMania after work on Monday. Not popular with my online bosses*, but it was the right decision for my physical & mental state at work on Monday.)
(*Editor's note: This didn't bother Greg or Andrew here at The Chairshot!)
Baron Corbin won a match. Over Kurt Angle, no less! You better go to our ProWrestlingTees store & get your "Baron. Corbin. Sucks." shirt now, because I think you'll be getting a lot of usage out of it over the next few months. They got plans for that guy.
---
Also, click the shirt to buy!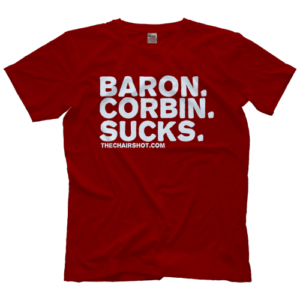 https://www.prowrestlingtees.com/related/thechairshot/baron-corbin-sucks.html
---
Shane McMahon beat The Miz. Triple H winning is more excusable, Triple H having the longest match on the card yet again…not so much.
That's all I can find to complain about after seven & a half hours of programming. People that know me know that I typically do a lot more complaining than that. The road to get where we are may not have been perfect, but the main things people wanted to happen last night all happened.
Seth Rollins sent Brock Lesnar running back to the Las Vegas territory & took the Universal Championship.
Becky Lynch won the Raw & SmackDown Women's Championships in the match that went on last.
Kofi Kingston won the WWE Championship in an epic match with Daniel Bryan.
Most of us wanted these things to happen. Most of us didn't think they all would. We may have expected two out of three at best. Surely WWE would throw a curveball at some point. Heck, considering how much the company loves heat, maybe just one would win, or even zero.
They all won.
They weren't the only feel-good stories either:
Curt Hawkins won his first match in 269 attempts, and gained the Raw Tag Team Championship for Zack Ryder & himself in the process
Billie Kay & Peyton Royce made the Women's Tag Team Championship Iiconic
There's some stuff that I'm forgetting about (Joe destruction, Cena interruption), as we know, it was a long show.
One of the reasons WrestleMania gained the status it holds to this day as the biggest wrestling show of the year is the fact that it sent the fans home happy, without fail, for fifteen years. It presented the one thing that their fans wanted to see most. For most of the 1980s, it was Hulk Hogan coming out on top over a dastardly bad guy. Towards the back half of the 1990s, it was Stone Cold Steve Austin stunning some fool on his way to another title reign. Even through the years where people were split on the merits of John Cena, WrestleMania would present classic matches that made fans happy & built up the brand name.
---
Maybe a Baron Corbin Sucks shirt isn't your speed?
That's okay, we have others!
Be like Elisa and get yours at:
https://www.prowrestlingtees.com/related/thechairshot.html
---
The most fondly remembered WrestleMania events are the ones where heroes we never thought would climb to the top did, and where monsters we never thought would fall fell. WrestleMania 35 saw both of these things happen. I'm sure the happiness won't last forever. WWE constantly has shows, and we will soon have new stories to get all up in our feelings about. But for at least one night & morning, WWE fans could actually be happy if they chose to be.
I hope you all take advantage of it.