Joe's Lucha Libre Weekly: News & Analysis (5/13/19)
Joe keeps you up-to-date in all the happenings from Mexico and the crazy world of Lucha Libre! Dig in and get educated…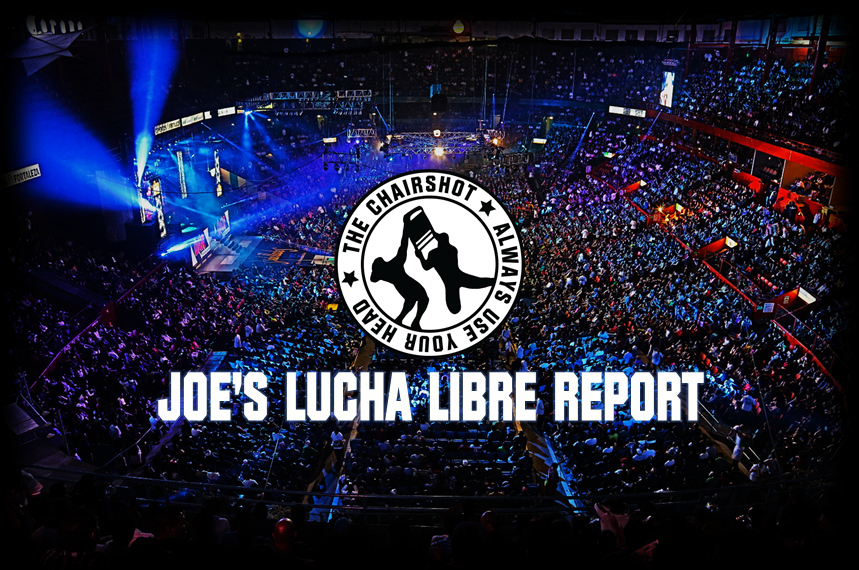 Joe Dinan keeps you up-to-date in all the happenings from Mexico and the crazy world of Lucha Libre!
CMLL
Arena Puebla Monday
The main event of this show was Caristico vs Volador Jr. Volador took a lot of the match and he won in the third fall by taking Caristico's mask off and then rolling him up, hiding his face from the ref. The co-main event was Mistico, Atlantis, and Soberano vs Ultimo Guerrero, Cavernario, and Gran Guerrero. The match was alright and it saw the latter winning.
Arena Mexico Tuesday
Caristico, Angel de Oro, and Niebla Roja faced El Terrible, Euforia, and Gran Guerrero in the main event. It was your standard Tuesday main event. Nobody really working too hard. Caristico's team ended up winning. In the co-main Titan, Stuka, and Flyer defeated Los Hijos del Infiernos in an alright match. There was a lightning round match between Audaz and Misterioso. It was quite sloppy and it ended abruptly when Misterioso just pulled off Audaz's mask.
Arena Mexico Friday
Well something to start with. Matt Taven will be here next week so I assume they'll continue his little thing with Volador. The main event of this weeks show saw Mistico, Dragon Lee, and Volador facing Mr. Niebla, Cavernario, and Negro Casas. It was just a match. Dragon Lee returned from Japan for some reason to do a random match just to leave again. I mean it's his back on a 15 hour plane ride. Volador pinned Mr. Niebla with a back stabber for the win. Mascara Ano 2000, Sanson, and Cuatrero defeated Los Guerrero's when Mascara low blowed Ultimo Guerrero when the ref wasn't looking. Ultimo challenged him to a hair vs hair match. Atlantis, Soberano, and Atlantis Jr faced Villano IV, Rey Bucanero, and Hijo del Villano III. Atlantis pinned Hijo Villano III with a hurricanrana. Earlier on the card they also set up a hair vs hair match between Amapola and Kaho Kobayashi. Lots of hair matches!
Be sure to also catch the Best Of The Super Juniors. There's a lot of nice Lucha talent there. Bandido, Dragon Lee, Titan, among others.
AAA
The MSG tickets do not seem to be moving well. I noticed they changed the format in which you can look at the tickets on the ticket master app. You were at first able to get a seat viewer to get a view of each seat and maybe you can do that on the web browser but I can't on the app. Regardless of what's happening the tickets were hardly moving. There were some seats in the lower section sold and a handful in each available section. I'm going to guess they haven't sold more than 1000. It's a tough task for AAA. Obviously Mexican fans in Mexico are used to seeing most of the tickets get sold via walk up tickets. I'd assume the close seats are ones that are bought early and the rest are walk ups. I don't have numbers on that, but I'm guessing this because of the way the tickets are priced. The VIP tickets range from 400-700, top seat for 400, silver meet and greet 500, gold meet and greet 600 and 700 for the platinum which seems to be the front row. I'm no economist but those prices seem very high for traveling Mexican's from Mexico to buy. They along with MSG said they're expecting a fly in crowd from Mexico for Mexican Independence day. So here's my guess, the front row seats are probably for the hardcore wrestling fans and the rest of the tickets are from walk ups or close to the day of tickets for Mexicans. Tickets from the section 100 and beyond are very affordable. I also wonder if some people aren't buying because they figure prices might lower eventually since little tickets are moving. I guess we will have to see.
AAA has a show this Saturday and Sunday. I'm lead to believe that Tessa Blanchard will make her debut there. It'll be interesting to see how she gets over. If she does. I assume she will, she's very good. Here's the line ups. May 18th, Psycho Clown, Dr. Wagner Jr, and Pagano vs Rey Escorpion, Texano Jr, and Killer Kross. Laredo Kid, Puma King, and Hijo Del Vikingo vs La Mascara, Chessman, and Sammy Guevara. La Mascara won't be there since he left the company but that won't stop AAA from advertising it. Faby Apache and Lady Shani vs Tessa Blanchard and Chik Tormenta. On the 19th we have, Dr. Wagner Jr, Psycho Clown, and Puma King vs Blue Demon Jr, Killer Kross, and Daga/Tessa. That's what it says, Daga/Tessa. La Parka, Laredo Kid, and Hijo del Vikingo vs Texano Jr, Rey Escorpion, and La Hiedra. Pagano vs La Mascara vs Chessman. So no Mascara. I assume Taurus will replace Mascara in all of these spots. That's the new line up for Los Mercenarios, Rey Escorpion, Texano Jr, Hiedra, and Taurus.
Silver King
Very sad to say as most know by now that Silver King died this past weekend. Silver King is known to fans around the age of 30 or anybody who watched either WCW or Mexican wrestling or his time in NJPW as Black Tiger. Silver King is the son of the original Dr. Wagner, brother to Dr. Wagner Jr. He worked with El Texano as Los Cowboys early on in their career. Obviously to Americans he is known for his time in WCW where they had a lot of those lucha guys doing silly things after 1997. He was known as a very good worker. He was one of the few guys back then that studied other styles and adapted to it when necessary. The situation surrounding his death is sad and shows the lack of attention some wrestlers or promotors have. I feel like having a doctor and ambulance on hand is important because anything can happen out of nowhere as was the case here. And if you're a promoter and you can't afford to spare that money wise then maybe you shouldn't be in the business of promoting shows.
Aside from that and even if all of that was covered I don't know what Juventud and the ref were thinking. Juventud has been wrestling for nearly 30 years all over the world in almost every major company. How does he have the mental lapse that he had where he is completely unaware that Silver King is unresponsive? I'm not a wrestler but I know wrestlers are communicating all the time. Especially wrestlers that require cooperation for there moves as is the case for lucha libre or indie style. How does the ref not know to throw up the X when he tries talking to Silver King and he doesn't respond? We all as fans know when things don't feel part of the show and the talent should definitely know when something is wrong. And it definitely shouldn't take 5 minutes like it took. Maybe a minute or two? But even then, it's unacceptable and it's sad we had to lose a great wrestler and storied person at such a young age. It was very similar to Perro Aguayo Jr. Everyone is late to check and nobody is around to see how he is. When Jerry Lawler had his heart attack on commentary they immediately attended to him. And maybe it's easier because he wasn't in a match so you knew something was wrong. But like I said when you communicate with a wrestler and he doesn't answer then something is wrong. let's learn and get better. Rest easy Silver King.