Taking Over: Greg DeMarco's Look at WWE NXT Takeover Fatal 4-Way (9/11/14)
"Taking Over" continues as we see how Takeover Fatal 4-Way (9/11/14) holds up today!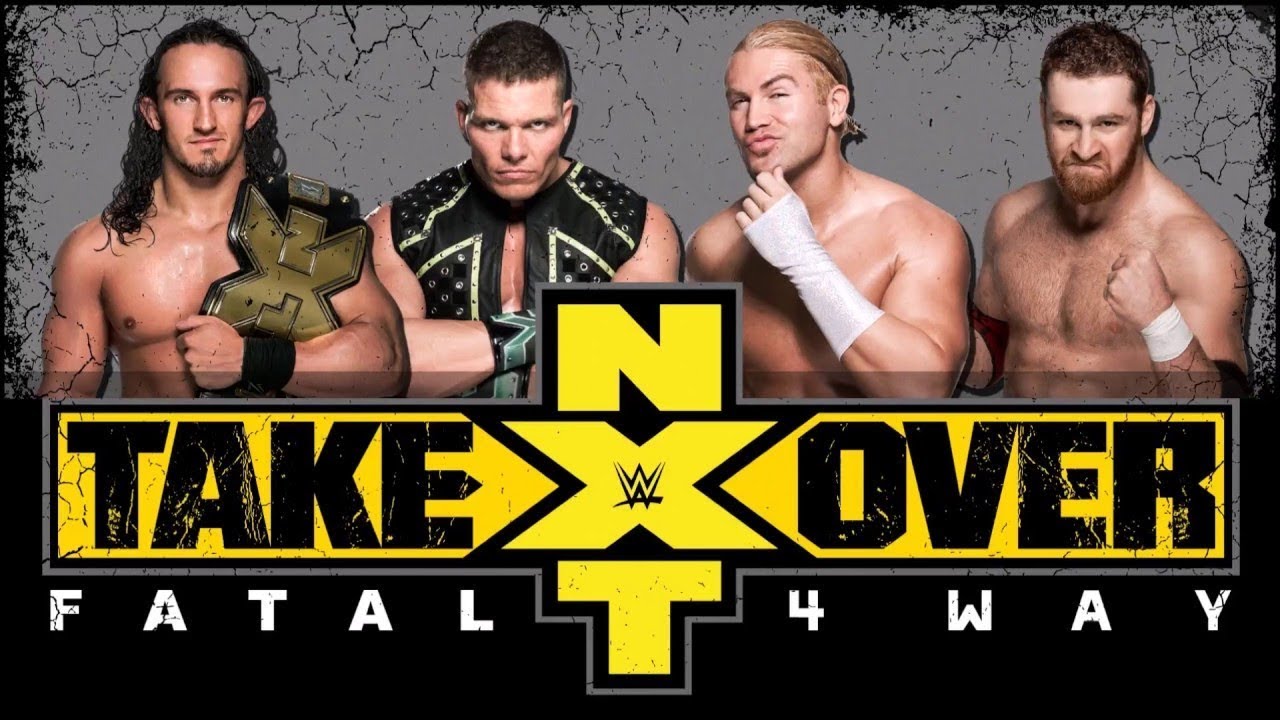 Greg DeMarco takes a look back at the second NXT Takeover in the first edition of "Taking Over" as we march towards WWE NXT Takeover XXV!
WWE NXT Takeover is turning 25 on June 1! Well, sort of… On June 1, WWE NXT will present the 25th Takeover event, a stand-alone show from Connecticut–which I wouldn't call the heart of WWE, but the brain. I am taking a look back at the first 24 to see just how far we've come. Join me for "Taking Over," my look back at the first 24 Takeover events.
Prior editions:
NXT Takeover Fatal 4 Way
Thursday, September 11, 2014
Full Sail University, Winter Park, Florida
Commentary Team: Tom Phillips, Renee Young, and Byron Saxton
NXT Tag Team Championship: Lucha Dragons beat The Ascension to win the championships – A good match, but not great. It's a far cry from what the Takeover opening tag team match would become. Big pop for the finish, though.
Baron Corbin beat CJ Parker – This was back when I hated Baron Corbin. Wait, that was yesterday. Anyway, this is a squash to elevate Baron Corbin, even though we didn't get a true entrance for Corbin. Corbin's hair didn't look terribl ehere, in fact it looked better than CJ's. According to commentary, this was Corbin's NXT debut. Huge pop for the End Of Days. In fact, Crbin was crazy over here.
Hair vs. Hair Match – Sylvester Lefort vs. Enzo Amore – NXT was definitely more "developmental" at this time, and this match showed it. Both these guys had the personalities to excel, but never pans out. They worked hard and did get the crowd invested, which is job #1.
Hideo Itami NXT debut promo – Thi sis where he shifts from KENTA to Hideo Itami, , and he cut most of the promo in Japanese. The Ascension would come out and eventually attack, but Itami got the upperhand in the end. This was an insanely promising start to his WWE career. The visual of him sitting in a chair begging them both to get back in the ring was amazing.
Bull Dempsey vs. Mojo Rawley – Quick win for Bull Dempsey, who should have been a bigger deal. He'd be a great fit at NXT UK. His theme song is still the most underrated they've ever made.
NXT Women's Championship: Charlotte Flair successfully defended against Bayley – Bayley, just like everyone, was crazy over at Full Sail. Her "childhood dream" gimmick can only go so far, though. Charlotte Flair was the decided heel here, and showed signs of the greatness she'd achieve while also showing how green she was. Charlotte was absolutely ripped here. Charlotte nailed a terrible looking moonsault that the announce team didn't know how to sell. Charlotte won with Natural Selection, which may have been an audible after the moonsault debacle as you can hear Bayley call for the spot. It's amazing what Charlotte has become. Sasha Banks attacked Bayley after,and Charlotte
NXT Championship: Adrian Neville successfully defended against Tyson Kidd, Sami Zayn, and Tyler Breeze – One hell of a match, and I remember how great the build was. Breeze won a #1 contender match but had his title match interrupted by Kidd, Kidd and Zayn were eventually here to make it a Fatal 4-Way. I really thought Breeze would win here, but that was really wishful thinking on my part. This match was one-fall rules. Tyson Kidd's Sharpshooter is criminally underrated. Neville shows heel tendencies here, pulling the referee out of the ring before he can count the three in Zayn's favor (legal in a 4-way match), Neville would then superkick Zayn on the floor and pin Kidd after a Red Arrow. The story after the match was Zayn's reaction and dejection, setting up the obvious main event for the next Takeover. I loved the character shift for Neville, winning "by means necessary" and showing signs of the amazing heel we'd see later.
Where are they now:
The Ascension – Konnor & Viktor are on Raw, and are basically an afterthought after being repackaged as a ripoff of late 80s/early 90s tag teams like The Road Warriors.
Kalisto – Doing very little as a member of the Lucha House Party on Raw, but he's also a former NXT Tag Team Champion and 2-time United States Champion, along with a former Cruiserweight Champion.
Sin Cara – Still wearing that cursed mask, so he's injured.
Baron Corbin – Sucking on the main roster! He's been a Money In The Bank briefcase holder (he lost his cash in), Andre The Giant Memorial Battle Royal winner, and United States Champion. He was also Constable Corbin and the General Manager of Raw. He retired Kurt Angle. And he sucks.
CJ Parker – He is likely best known for being Kevin Owens' first NXT opponent, and busting his nose in the process. He left WWE, and is now back to working as Juice Robinson in ROH and New Japan, where he is the IWGP United States Champion (although you wouldn't know it by watching their product).
Sylvester Lefort – He ended up getting released in early 2016, went to TNA to be part of The Tribunal under his name Tom LaRuffa. He worked there through the end of 2016, before returning to Europe where he remains active to this day.
Enzo Amore – Ugh…he went to the main roster with Big Cass (on Raw) and Carmella (on Smackdown), working as a team until they broke up in what was actually a good angle. He eventually showed up on 205 Live, where he drew some good heat, but ended up leaving the company for outside the ring issues. He's released some rap songs/videos, and made an ill-fated appearance at ROH/NJPW G1 Supercard.
Hideo Itami – Such a promising start, he had a good run in NXT that included a NXT Championship shot at Bobby Roode. He went to 205 Live, but failed to become Cruiserweight Champion. He eventually requested his release and returned home to Japan.
Bull Dempsey – He had a small NXT run before being released, and works as Bull James on the independents, mostly in the Northeast United States.
Bayley – She'd have a better run later with Sasha Banks, before moving to the main roster and holding the Raw Women's Championship. She won the WWE Women's Tag Team Championship with Sasha Banks, and is not on Smackdown.
Charlotte Flair – Just main evented WrestleMania, is an 8-time Women's Champion, and is one of the very best performers of either gender on the main roster.
Sami Zayn – A mid-card player on the main roster, just recently returned from injury and is doing some great character work on Raw. Also (briefly) held the NXT Championship but was just the transitional champion from Neville to Kevin Owens.
Tyler Breeze – Moved to the main roster too soon, found some critical success with Fandago as the Fashion Police, has floundered during Fandango's injury recovery, is back in NXT and working a program with Velveteen Dream.
Tyson Kidd – Career cut short by injury after holding tag team gold, and now works as a producer behind the scenes.
Neville – Had a respectable main roster run before taking over (pun intended) WWE 205 Live. That alignment led to his eventual downfall when he didn't want to put Enzo Amore over strong after being pushed to the kickoff in his match with Austin Aries. He's currently preparing to face Adam Page at All Elite Wrestling's Double Or Nothing event.
Overall Impression
Renee young was better than I remember on commentary here. Overall this was a good show that, outside of the main event, wouldn't hold up against the Takeover events of the past few years. But the foundation was being laid, and this should be evaluated as such. The main event was spectacular, and this was a rare Takeover with six matches. Those, plus two other in-ring segments, still went just under two hours. All four members of the main event wrestled on the Raw before this, and that decision, along with this match, can really be credited with the early rise in populary of NXT.
One additional thing that's quite evident in watching these events, is now much easier it is for the talent to stay in perfect shape in NXT as they're spending less time on the road. You can see the differences in Charlotte, Bayley, Sami Zayn, Tyler Breeze, and others.
A Change In Attitude #2 King of The Ring 1996
The journey starts at the genesis of The Attitude Era's biggest star, Stone Cold Steve Austin and his infamous promo!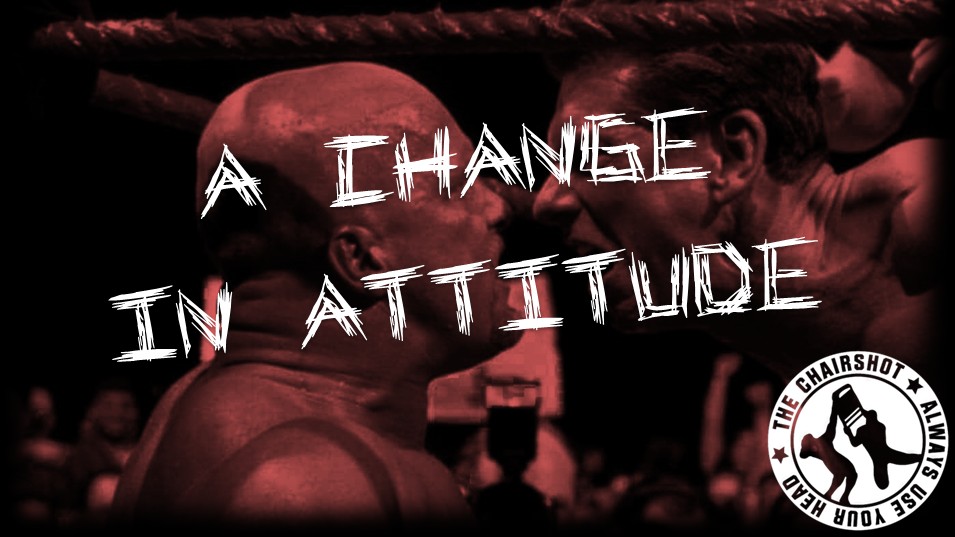 The journey starts at the genesis of The Attitude Era's biggest star, Stone Cold Steve Austin and his infamous promo!
Powered by RedCircle
Join Ori, Tanner and Mags as they look back at the Attitude Era of the WWF through today's eyes.
For the latest, greatest and up to datest in breaking news, opinions, and podcasts ALWAYS #UseYourHead and visit TheChairshot.com
A Change In Attitude #1: Who Are We?
Ori, Tanner & Mags give an introduction to themselves, their content creation history & the concept behind A Change In Attitude's look at the WWE Attitude Era.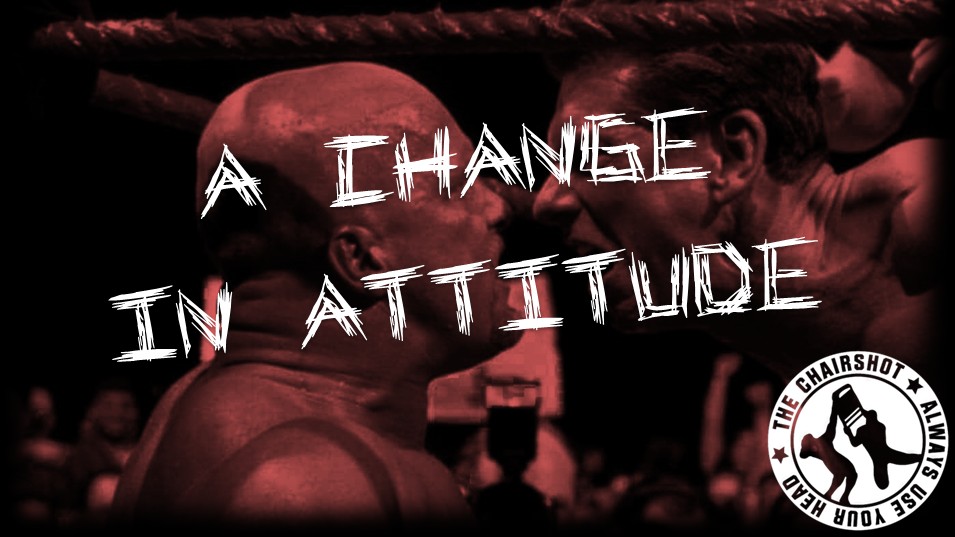 Ori, Tanner & Mags give an introduction to themselves, their content creation history & the concept behind A Change In Attitude's look at the WWE Attitude Era.
Powered by RedCircle
A Change In Attitude on Twitter:
Also on:
About A Change In Attitude
From Mr. McMahon eating Stone Cold Stunners to Mankind eating thumbtacks in Hell In A Cell, the rise of The Rock and all points in between, the Attitude Era is the most memorable period in WWE (and wrestling) history. Ori, Tanner, and Mags take you through this period on A Change In Attitude!
About the Chairshot Radio Network
Created in 2017, the Chairshot Radio Network presents you with the best in wrestling and wrestling crossover podcasts, including POD is WAR, Women's Wrestling Talk, Chairshot Radio daily editions, The #Miranda Show, Badlands' Wrestling Mount Rushmores, The Outsider's Edge, DWI Podcast, Bandwagon Nerds, the Greg DeMarco Show, 3 Man Weave, Five Rounds, Turnbuckle Talk, The Reaction and more! You can find these great shows each week at theChairshot.com and through our distribution partners, including podcasting's most popular platforms.
---
The Chairshot Radio Network


Your home for the hardest hitting podcasts and radio shows!
Listen on your favorite platform!
iTunes  |  iHeart Radio  |  Google Play  |  Spotify
Listen, like, subscribe, and share!
---