Chris's Grades & Analysis For WWE Raw 7/22/19
Raw is Reunion: how did it grade?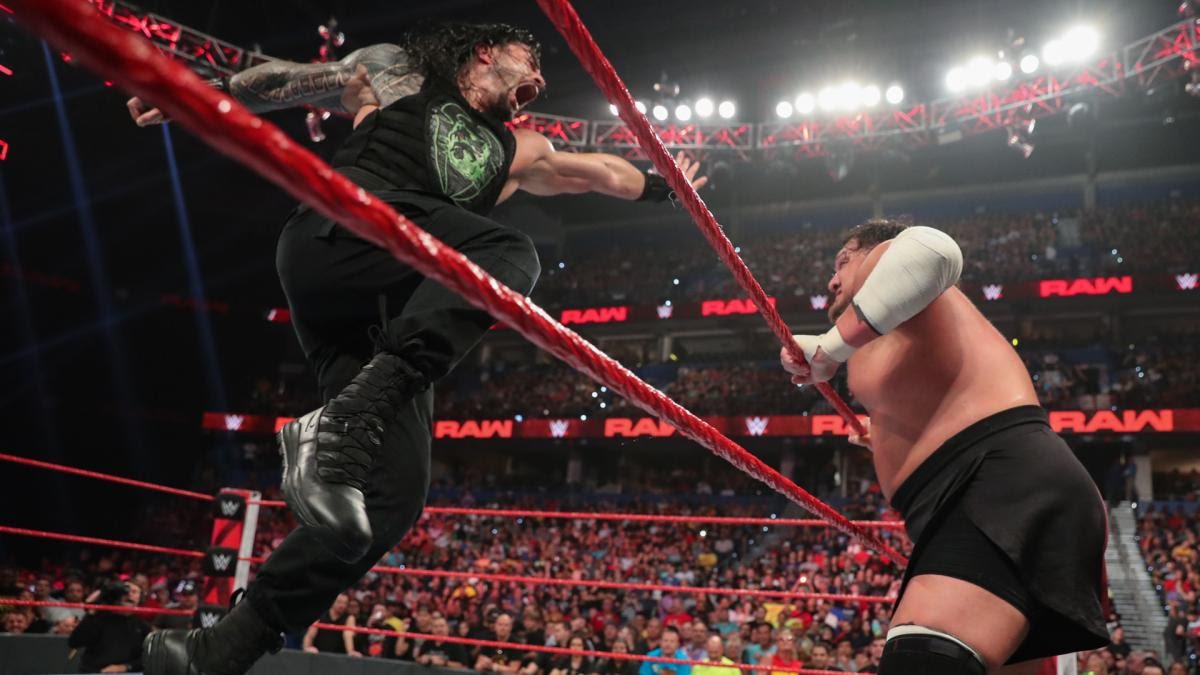 Tonight on Monday Night Raw is dubbed the First-ever Raw Reunion of WWE, Legends such as: "Stone Cold" Steve Austin, Hulk Hogan, D-Generation X, Ric Flair and a plethora of others will make appearances. Which superstars are getting the burial treatment, my money's on Nobody's Favorite Son Baron Corbin!
Chris's Grades For WWE Raw:
John Cena Returns-The Uso's (w/Rikishi) vs. The Revival (w/Devon Dudley) 
What a great opener for Raw Reunion with The Cenation Leader himself and the brief appearance of The Doctor of Thuganomics dropping bars with The Usos was amazing. A good back-and-forth match with The Revival cutting off the ring and keeping things old-school. The Usos have chemistry with just about any team they face. Can't wait to see this match again at SummerSlam.
Winners: The Usos, Grade–B
The 24/7 Championship Becomes Legendary: Truth def. Maverick; Patterson def. Maverick; Brisco def. Patterson; Kelly def. Brisco; Michelle def. Kelly; Blayze def. Michelle; DiBiase def. Blayze; Maverick def. DiBiase; Truth def. Maverick to become a Ten-Time 24/7 champion!
It was awesome how WWE orchestrated all the legends winning the 24/7 Title to prove that it's the highlight of WWE programming. Maverick making his wife an accomplice to win back the title was a fun developmental, last but certainly, not least Truth got his baby back…and Maverick's wife!
Grade–A
Drew McIntyre vs. Cedric Alexander
This was a physical war that these two had. Its been brewing for weeks and McIntrye finally got his hands on Alexander and made an example out of him. I liked that WWE didn't give Alexander his first loss on Raw, I'm seeing McyIntyre's road to SummerSlam become more clear.
Winner: No Contest, Grade–B
The Viking Raiders vs. Curt Hawkins and Zack Ryder
The grade is only because The Major Bros got some good offense in, outside of that it was yet another squash match for a monstrous tag team that should already be challenging for the tag team titles.
Winner: Viking Raiders, Grade–B
Roman Reigns vs. Samoa Joe, Segment and Match
Every time Joe and Roman fight its an all-out war, it's physical and explosive. Two powerhouses tearing each other apart and a car crash of a match. This match was no different even before the match was made official. Somehow these two behemoths find a way back to each other, I would have preferred to see Joe get the victory but Reigns won here.
Winner: Roman Reigns, Grade–B+
The Beastslayer Proves That Brock Lesnar Is A Man Not A Beast on Miz TV
This really didn't progress the ongoing storyline of the Universal Championship, all it accomplished was label The Beast Incarnate as a 'Seth Rollins Wannabe'. Most-likely due to time constraints Miz didn't ask any hard questions, that he always does so brilliantly.
Grade–C
Sami Zayn vs. Rey Mysterio
This culminated after Zayn interrupted the Raw Reunion Party, and called the  fossils legends and the celebration was appalling
I want to see a real match between these two because I know it will be a five-star classic. With that being said you knew the babyface was going to shut the loudmouth heel up. This could have gotten an A if the focus wasn't surrounding the legends of the past.
Winner: Rey Mysterio, Grade·B-
AJ Styles vs. Seth Rollins
Once again another great match was cut short for what? Another DX reunion that we've seen so many times. I'm not knocking DX alright I'm just saying that the focus needed to be on the current superstars of today, not the Legends of the past.
Winner: Seth Rollins by DQ, Grade–C
The Fiend Strikes Again, on Mick Foley
I was hoping and praying that Bray Wyatt wouldn't get canned because of the nostalgia, thankfully it didn't occur. The manner WWE is handling The Fiend is completely different from how they did The Eater of Worlds. Also, the fact that Foley was his victim speaks volumes, and The Mandible Claw could be his new finisher.
Grade-A
Natalya and The Man Becky Lynch Brawl on A Moment of Bliss
Before Lynch had a moment to speak Natty interrupted, and picking off right where last week ended a brawl ensues. Natty has never been terrific on the mic which is why she needs to do her convincing in brutality.
Grade–B+
Braun Strowman vs. Randy Rowe
I can't believe that we even had to sit through that, I thought for sure Strowman would still be battling Bobby Lashley. Once again WWE gave the legends too much TV time, and Strowman wrestled a jobber! Strowman should have been the one to dethrone Samoa Joe for his United States title several months ago, this is atrocious.
Winner: Braun Strowman, Grade–F
Stone Cold Gives the Raw Reunion Toast
The Attitude Era fan in me loved this, Austin's always been a master of the mic. When he talks people listen. This was a perfect way to cap off the night, With one of the hottest icons in WWE history! Now I get it We had to have the reunion but it took up a ton of time for full-time talent, Next week let's get back to explosive matches!
Grade–B+
Show Grade–B
Chris's Analysis: 
Despite many rumors, we open the show with Mr. Hustle Loyalty and Respect John Cena to a ruckus reaction from the WWE Universe! He's hyping all the Icons and Legends that will make appearances tonight. Cena says the WWE is his home, always has been and always will be (holding back tears). Cena introduces The Usos…They want to rap with The Doctor of Thuganomics!
Cena tries to leave but they announce Rikishi is in the building! Rikishi tells Cena to back dat ass up! Before they can dance Ala-Too Cool style, here come The Revival and Devon Dudley as some Backup (I was hoping Bubba Ray Dudley was coming out with him but sadly no). It's Usos vs. The Revival after the commercial.
Backstage we see Jimmy Hart and Hulk Hogan is pumped up for tonight.
We return and The FIVE-TIME WCW Champion Booker T is making his way to the commentary table! The bell rings and Jimmy and Dawson start things off, Dawson locks in a headlock but Jimmy escapes and lands a hard back-body drop to both Dash and Dawson. After a few minutes of high-octane offense, Jimmy gets planted face-first on the ropes, and now Dawson is doing what they do best…Cutting off the ring and dominating. During the break, we see a Burger King Whopper commercial with 'The Goddess of WWE' and Ron Simmons!
We return and Dash has Jimmy in a deep headlock while taunting Rikishi. Jey gets the tag and is firing on all cylinders. Dawson gets the tag while Dash is about to get dropped and pulls him back. Which allows Dash to land a jaw-smashing elbow into a German Suplex, but Jimmy makes the save! The finish comes after Dash is clotheslined out of the ring-Jimmy as well and Devon and Rikishi get into a spat and Dawson off the distraction and gets blasted with a Superkick. Dash is back in and gets the same…Jimmy up and hits the Splash for the 1-2-3!
We are getting a special edition of two segments…First is A Moment of Bliss with The Man Becky Lynch, and Miz TV with The Beastslayer Seth Rollins-If that's not enough we will also get Seth Rollins vs. AJ Styles!
Backstage we see Alicia Fox discussing her perfect hat for SummerSlam with Dana Brooke and… Kaitlyn…and WWE Hall of Famer Torrie Wilson. Alicia and Torrie embrace in an elated hug when…Santino Marella shows up in a blue suit! I wonder if he brought The Cobra with him? Torrie asks him about his sister and he says she's great, but Alicia asks about 'his other friend' He pops out The Cobra…Phew, we can all relax now lol. Nobody asked for a 'Scottish Psychopath though. McIntyre is on the hunt for Cedric Alexander.
A ploy by Drake Maverick: Charly Caruso is interviewing R-Truth and Carmella about his escape from SDCC this past week, where Hurricane Helms almost won the 24/7 Championship. Truth is on alert for challengers but he wasn't prepared for Rene Michelle. She claims he ruined her wedding, her marriage, and her husband's wife…in comes Maverick for a roll-up, New 24/7 Champion!!
Caruso looks on in bewilderment as The Godfather asks her "Do you know what time it is?" Time to ride the HO-TRAIN!
We're back now as Drew McIntyre and Cedric Alexander are about to clash. Both competitors start brawling at the entrance ramp, McIntrye hits a big boot and Alexander is rammed into the steps. Alexander finally gets some offense and lands a moonsault to wipe McIntrye out! The Scottish Psychopath lands a sick Alabama Slam and slams Alexander face-first on the ring apron! All-the-while the official is begging to get the match started. McIntyre stands tall!
Wrong Move Maverick: While escaping with the 24/7 title, he goes into the locker room to flee the arena but he's stopped dead in his tracks by…The Boogeyman as he feels him getting closer he falls down. Pat Patterson of all people calls for a referee and pins Maverick to become the first-ever Hall of Famer 24/7 Champion!
We return from commercial as 'Captain Charisma' is joining the commentary table for The Viking Raiders vs. Curt Hawkins and Zack Ryder. Well at least it's not local talent anymore, but jobbers still. The bell rings and the former tag team champions go right after Erik and Ivar, The Major Bros hit a double-dropkick to send Ivar out of the ring! Both Ryder and Hawkins are looking quite impressive, they manage to hit a double Sto Russian Leg Sweep for a Two! Of course, their momentum is short-lived as the monstrous Vikings take back control. The finish comes when Ivar flattens both their opponents with a massive dive and they hit The Viking Experience for the 1-2-3
Raw Reunion Party: We see a slew of legends and greats having a great time and for the first time in what seems like forever so is Mike Kanellis. That is until his wife shows up and humiliates him! She's wearing the pants in the marriage, and Mike was supposed to rubbing belly lotion on her so she doesn't get stretch marks. She storms off and the only word left to say is… DAMNNNN
We see 'The Samoan Submission Machine' in a foul mood heading towards the ring.
We return from commercial and The Club is ready to celebrate, the OC, the Original, Official, Only Club that matters! Tonight Styles is going to take care of Rollins and if he gets up, he's going to make an example out of him!
Jerry Briscoe has won the 24/7 Championship from Patterson. Oh hi, Kelly Kelly, it's so good to see you…kick to the nuts and we have ourselves the First-ever Female 24/7 Champion!
Now we go to ringside as Samoa Joe is making his entrance, which poor soul is about to go Night, Night? Joe grabs a mic and calls the Raw Reunion a plague, it's just another pathetic attempt to hold on to the nostalgia. The Big Dog has heard enough, as Joe is dissing on Rikishi and The Usos he makes his way for The Big Fight! Roman says talk your trash about my family to my face, Joe "I already said something about your family" well then you know what's next!
The Brawl ensues as Joe is on the attack, ramming Roman from the barricade to barricade! Joe throws him back in the ring and Roman cleans his clock with a Ferocious Superman Punch that drops him face-first on the apron! Roman goads him into a match and it happens after the commercial. We return as the bell rings, both competitors started off with heavy-hitting. Joe gets some offense in and Roman is reeling. It's a scary sight to see Joe a 282lb man fly with a suicide dive! The finish comes as Roman escapes a Coquina Clutch by throwing Joe outside, Joe comes back in…Spear 1-2-3!
The A-Lister is making his way to ring for a special edition of Miz TV after the commercial. We're back as Miz plugs his Miz and Mrs. Show and welcomes The Beastslayer to the show. Before we get into his SummerSlam match against Brock Lesnar for the Universal Championship, we get a recap of Extreme Rules. Rollins gave the most hilarious BRRROOOCCKK LESSNAR impression. Hold the phone…Paul Heyman is here, well of course he is. Rollins calls Lesnar a Seth Rollins wannabe because it took him Four Years to cash-in on him and return the favor from WrestleMania 31. Heyman gets threatened and flees.
The Party Pooper Arrives: As Charly Caruso is about to ask the legends who their pick is for SummerSlam, Sami Zayn spoils the fun. He basically calls the legends fossils and says this is pathetic, Rey Mysterio tells him to learn some respect. The Hall of Famer and Former Raw General Manager Kurt Angle tells them to settle it in the ring.
Another 24/7 Champion as Kelly Kelly is celebrating her win she runs and hugs Candace Michelle and then Melina and Naomi join the mix. Melina's got a new license, a referee license…Candace rams Kelly Kelly into a steel rack for the pin. Not so fast as Alundra Blayze is choking out Candice and Melina call in after she taps. Another female champ!
We return back to ringside as "Hard Hittin Back Breakin" blares through the arena…It's Coach and he is joining the commentary table for Mysterio vs. Zayn. This is gonna be good! The bell rings and Zayn goes on the attack. Mysterio fights back and rolls to the apron, enzugiri and climbs up top.
Zayn shoves him and The Master of the 619 is in a tree of woe. Zayn lands a dropkick in the corner and gets a two! Mysterio pops up on the shoulders for his usual hurricanrana but Zayn counters into a powerbomb. As Mysterio is about to dial it up for 619, Zayn bails…not so fast as Mr. Monday Night R-V-D is here followed by Sargeant Slaughter and Hurricane Helms… Don't forget about Angle! Zayn with no choice but to get back in the ring, slingshot into the ropes 619 and a Five-Star Frog Splash for RVD 1-2-3
At least Zayn didn't get buried by the legends, and so far no current superstars have been…but the night is still young.
The Nature Boy Ric Flair pulls up in a Limousine strutting his way into the arena.
Backstage we see Montez Ford searching Angelo Dawkins. Apparently, he was chilling with RVD, Kelly Kelly, Ric Flair, and Sexual Chocolate Mark Henry. Dawkins takes a call.
We return to ringside as the new 24/7 Champion Alundra Blayze has a mic and says she told you she wasn't going to be champion for long. She grabs a trash can and before she can drop the title, The Million Dollar Man Ted Dibiase buys it from her! Classic EVERYBODY'S GOT A PRICE!
When we return from commercial it's  Styles vs. Rollins!
Back live as Jerry the  King Lawler is joining the commentary table. Here comes The Club with a new entrance video to represent The OC. Rollins makes his entrance now, when these two faces off at Money in the Bank I wanted heel Styles vs. Rollins but at least we're getting it tonight! The bell rings and both competitors are jockeying for position, Rollins locks in a headlock. Off the ropes and he bulldozes through Styles with a shoulder tackle. So far its been all Rollins and as I write this, Karl Anderson distracts him and gets sent to the outside.
The Club is about to gang up on Rollins when… D-Generation X The Heartbreak Kid Shawn Michaels and The Game HHH come out to even the odds. What was that about being the only club that matters? Commercial. We return as Styles and Rollins are throwing bombs, Styles throws him face-first on the ropes. Rollins back up and nails the Slingblade, followed by the top-rope blockbuster and the flying knee! As Rollins runs off the ropes to hit the Stomp both Gallows and Anderson trip him up and cause the disqualification.
Now we got The Club vs. Rollins and DX in a brawl before the babyfaces clean house. Styles slings his buddies some chairs and when they are about to bring the fight, Oh, You Didn't Know Your Ass Better Call Somebody! Road Dogg flanked by NWO and X-Pac come down to school The Club. Here's the Real OG The Klik and NWO! Rollins does the honors and OC If You're Not With That We Got Two Words For Ya…Suck It!
Backstage Mark Henry and Mick Foley are talking and commercial.
We return to The Million Dollar Man getting into his limousine to leave with the 24/7 Championship but Maverick was waiting and he now has the gold! Come on honey now we can consummate the marriage…holy crap here comes the flood of superstars.
Back to ringside as The Hardcore Legend Mick Foley is coming out to the ring. The 24/7 Championship chase interrupts for a moment, then he shows a clip of the night he won the WWE Championship on Monday Night Raw in 1999. Is there a power outage again? Nope, It's Bray Wyatt and The Fiend is here! He applies the Mandible Claw on its original owner and chokes Foley out! They are FREAKIN killing it with Wyatt, yes it's only been two appearances but that's more than you could say for The Eater of Worlds!
We return from commercial as Alexa Bliss and Nikki Cross are here for A Moment of Bliss, with The Man Becky Lynch. Before Lynch can get one word out, Natalya comes out. Alexa rolls a recap of the war of words after Natalya became the #1 contender. Natalya was training her friend Ronda Rousey to beat Lynch at WrestleMania. And a brawl ensues as WWE officials break things up.
Charly Caruso is interviewing Natalya and she claims she's going to give Lynch the ass-whooping of a lifetime in her hometown of Canada at SummerSlam, Man!
The Rightful Owner: Maverick is walking towards the limousine to leave with his wife when Truth comes from behind to roll him up, but he's holding onto his wife for dear life. That is until Camellia kicks him and R-Truth gets his baby back!
We return from commercial as The Monster Among Men is making his entrance, and he'll be taking on Randy Rowe who's already in the ring. Really, Really, Really? We're back to this, what the hell if this doesn't get WWE to wake the hell up and build Strowman back up I don't know if they ever will! Strowman with a massive Chokeslam for the easy 1-2-3
We return from commercial as the Legends are in the ramp for the Toast to Monday Night Raw, here comes Stone Cold Steve Austin and the roof has just come off the place! It's amazing that the WWE Universe still responds so loudly for Austin! He grabs a mic and says it's good to back in the squared circle, and everyone on the stage has busted their ass and driven all over the place for them. They're all family, the ring crew is family and each and every one of you are all a part of the WWE family! All of the Legends join him in the ring for a toast to end the show!
Well, folks, we saw a ton of Legends tonight and it brought back a slew of great memories. It was great to see the greats come back, but it also shows a major problem. When has there been any current superstar that not just during their push, but every single damn time they enter an arena gets such a loud pop? We also only received six full matches tonight, and one of them was cut short for the DX reunion. Ok, we've all had a great time, next week let's get back to having competitive matches!