Tiffany: What's The Deal With Roman Reigns On The SummerSlam Poster?
Roman Reigns was prominently featured on the WWE SummerSlam poster, and didn't even do a signing. Tiffany explores–what happened?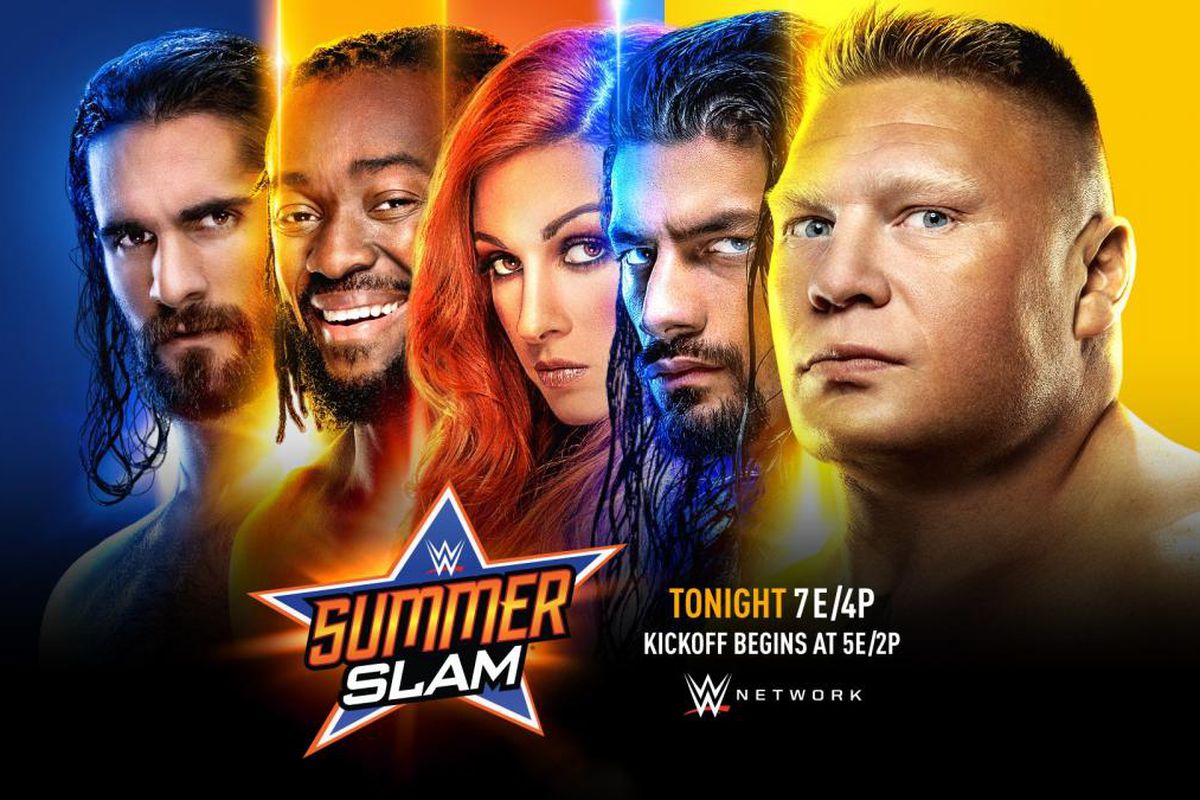 Roman Reigns was prominently featured on the WWE SummerSlam poster, and didn't even do a signing. Tiffany explores–what happened?
So, one of the 'Why are you even complaining about this' stories coming out of SummerSlam was the fact that Roman Reigns was not part of the SummerSlam show despite being featured prominently on the SummerSlam poster. The anti-Roman brigade, having been forced to keep their criticisms to a minimum due to Reigns' return from cancer treatment, seized on this, touting the oversight as a sign of Reigns being overrated. So, what happened?
Well, rumor is that WWE HAD been planning to use Reigns in a match, possibly against Daniel Bryan as part of the feud that had just been starting on SmackDown as part of the mystery attacker storyline. However, also according to rumor, WWE decided to wait and let the storyline build some more, rather than go for the quick match.
Why is this a big deal? Well, if you really wanted to be a dick, you could say that WWE committed false advertisement by featuring Reigns on the post and then not even having him in a segment. That's because posters are advertisements of the show and the whole point is to convince you buy tickets because your favorite superstar was going to be a part of the show. To have a superstar on the poster for SummerSlam and not use them is very unusual, especially in the age of Photoshop, where you can switch superstars out at will, which WWE did in 2017 when they had to replace Reigns with Kurt Angle at the last minute.
How do I know? Well, scrolling through the PPV thumbnails on the WWE network, I failed to find a poster where someone who was prominently featured wasn't part of the show in some capacity. I have did find a few instances of the women being on a poster and not being a big part of the show, but the only example I could find of a woman being on the poster and not being part of the show was Eva Marie on the Fastlane 2016 poster, and yes, I really did scroll through 30+ years of PPV thumbnails to see.
Why the fuss? Well, it's a day that ends in 'y' and I think a lot of the anti-Reigns people have been looking for SOMETHING to complain about. They can't really bitch about him getting pushed after his return because he hasn't had a title match since his return. If they try to claim that he faked his cancer, they get trounced, and rightfully so, they can't complain about his awful matches when he and Buddy Murphy put on an instant classic last week, so they've latched on to this, probably breathing a sigh of relief at FINALLY having something to throw at Reigns and WWE.
Is this as big a deal as people are trying to make it? No. It is surprising that WWE did it, but in hindsight, and given ALL the rumors about how Vince often rewrites stuff at the very last minute, it seems more likely that something had been planned for Reigns and SummerSlam and then got postponed for the post-SummerSlam SmackDown than WWE willfully engaging in false advertising or whatever else the anti-Reigns people have tried to claim. As WWE always says when posting match cards for local shows, 'Card subject to change', and that goes for posters too…usually.