(NOAH) WEEKLY NEWSLETTER VOL.53 ~ 22ND SEPTEMBER 2019
N-1 Victory finalized on Monday! Hisame brings us the tournament updates and any and all fallout through the week! 
N-1 Victory finalized on Monday! Hisame brings us the tournament updates and any and all fallout through the week!
NOAH THIS WEEK…
NOAH held the final night of "N-1 VICTORY" at The Edion Arena 1st Stadium Osaka, with 2597 in attendance. While the arena might not have been fully at capacity, the crowd was enthusiastic right from the first bell, and by the end of the event NOAH announced that the "NOAH GHC" hashtag was trending.
Unusually for NOAH they announced they were having some dark matches before the show had began, in which Tadasuke appeared in aviator shades and leather jacket…
The event will be televised on Monday 23rd September on G+
A Golden Era NOAH wrestler, and one not often seen these days in NOAH, Takeshi Rikio, was in attendance.
After the dark matches had finished he announced the beginning of the event, and bought Takeshi Sugiura and Kenoh to the ring to announce the main event stipulation. Rikio's imposing presence was probably for the best, as Kenoh and Sugiura stood and glared at each other and looked like they wanted to start the match there and then.
Rhyno made his first appearance in NOAH, and defeated Masa Kitamiya with the gore in six minutes. In his post match interview, Rhyno swore that he would take down everyone in the NOAH locker room one by one.
Despite his strong man training, Yoshiki Inamura was taken down by Kazuyuki Fujita in three minutes and 44 seconds via referee stop following punches to the face and the modified camel clutch.
Fujita will be making a second appearance in NOAH when he teams with Takashi Sugiura at Korakuen Hall on October 3rd against Hitoshi Kumano and Shuhei Taniguchi.
Atsushi Kotoge (along with pink hair, which he says is the first time he has put a color in it) took on Daisuke Harada for the IPW Junior Heavyweight title, and to defeat him (after a hard fought match in which the bruising Harada inflicted around Kotoge's neck match his new hair color), used a finisher he had used against him once before to win matches, the "OverKillSwitch" in 16 minutes and 34 seconds.
Kotoge was a little dazed after the match (headbutting Harada probably didn't help), and gave a somewhat rambling promo. He basically said he was happy to win the belt, but not under the circumstances that he and Harada now deeply hated each other. He was a lot happier the next day (even though he was doing promotion, tired, and being trolled by Takashi Sugiura), but was certainly much happier by the time NOAH's next event in Saitama on Saturday 21st came round.
Kazushi Sakuraba teamed with The Sugiura Army (Hajime Ohara and NOSAWA Rongai) against Yoshinari Ogawa, Kotaro Suzuki and Chris Ridgeway (STINGER). It was said to be very technical especially between Ogawa, Ridgeway and Sakuraba.
In an amusing side note, Sakuraba is still refusing to wear the "Company Dog" Sugiura Army t-shirt, although apparently he does have one.
Takashi Sugiura sold one to him on discount.
At the first event after Osaka on the 21st in Saitama, the usual brawl broke out between The Sugiura Army & STINGER, with NOSAWA starting it by offering a sarcastic handshake to Suzuki. Although STINGER said nothing about it, I can imagine that in Kayfabe terms at least they aren't too pleased about people preferring to remain at the merchandise stand with RATELS, rather than return to their seats and watch their match…
YO-HEY & HAYATA fought over HAYATA'S GHC Junior Heavyweight championship in a fast paced match, which was said to be a mixture of both technical and high flying, but without too much emphasis on one. HAYATA (who had painted half of his face as a skull like his old Dove Pro days against YO-HEY), got the win after seventeen minutes with the Headache.
After the match, YO-HEY asked HAYATA for a rematch at Sumo Hall. HAYATA thought about it for a few seconds, said "Next…Sumo Hall" and left the interview.
Unfortunately HAYATA has had to miss NOAH's next two shows (21st and 23rd September) with influenza, and while fans asked YO-HEY how "Wife" was, YO-HEY himself was not as playful about the match with HAYATA like he was in Osaka, calling him "HAYATA" and not "wife", and rarely for him, using bad language.
It will be interesting to see the relationship between them when HAYATA does return.
Kaito Kiyomiya teamed with the veterans Keiji Mutoh and Jun Akiyama against Naomichi Marufuji, Masaaki Mochizuki and Shuhei Taniguchi.
Fans said that this match belonged to Shuhei Taniguchi as he stood out this evening.
Kaito Kiyomiya said that he had learned a lot from the two vets he teamed with (Akiyama declined Mutoh's suggestion to challenge for the GHC Heavyweight by saying he was too old at fifty).
Naomichi Marufuji, however, said that he had found his "aim" in this match.
Takashi Sugiura and Kenoh had an epic main event\N-1 Finals match, despite their agreement that their match would eclipse all others on the card (especially that of Mutoh and Akiyama), both knew that they had to win. The match was hard fought, the sweat flying off of them when they got into an exchange, and Kenoh finding a way out of the dreaded neck choke, which originally cost him the title, but he was determined that it would not cost him the match. Everything that Sugiura served to Kenoh, he threw it back at him.
After 28 minutes, 40 seconds with the spectacular Rolling Diving Footstamp, Kenoh picked up his first win over Takashi Sugiura and his (and the) ever first N-1 Victory Win, and with it the right to go to Sumo Hall and challenge Kaito Kiyomiya.
After the match, Kenoh's younger blonde brother came to the ring, and said that at Sumo Hall he would show a new view.
Kenoh told him he felt the same way, but Kenoh's view was different, he would show him his own (and not what the company wanted), and he would shine this ring "like a diamond".
Kenoh and Kiyomiya kicked off the first of their pre-matches in Saitama on Saturday 21st September, however it was Kiyomiya who got the win via submission on Yoshiki Inamura (Kenoh called it "a strange stretch").
Kiyomiya's new submission hold looks like that at first he is going for the Tiger Suplex, but then he locks in his move which (while still unnamed) he said was inspired by Mitsuharu Misawa's chin lock and Toshiaki Kawada's stretch plum.
He says he has a new one for Sumo Hall…
EVENT RECAPS AND POST MATCH PROMOS
N-1 VICTORY final night ~ 16th September 2019, Edion Osaka 1st Arena
Post match promos ~ N-1 VICTORY final night
"NOAH THE SPIRIT" Night 1 ~ 21st September 2019, Espowar Isanuma, Saitama
Post match promos ~ "NOAH THE SPIRIT" 21st September 2019
NEWS
NOAH announced that they would be streaming the GHC Heavyweight match singing between Kaito Kiyomiya and Kenoh on the 20th September live on their YouTube channel.
They also announced that there would be a big announcement.
Naomichi Marufuji vs Great Muta
Before Kenoh and Kaito Kiyomiya came out, Naomichi Marufuji and The Great Muta took the stage. Naomichi Marufuji announced that he and The Great Muta would have a singles match at Sumo Hall on 2nd November. Keiji Mutoh, who said he was there as an agent for the Great Muta, said that The Great Muta was honored to be appearing in NOAH, he had appeared in many promotions, but in hell there was no distinction between promotions.
He also said that Great Muta wanted to see Marufuji bleed. Marufuji said that he would ask Keiji Mutoh to ask Great Muta not to do that.
GHC Heavyweight belt changed
After Marufuji\Muta and before Kiyomiya\Kenoh, NOAH's President Takeda announced that the old GHC Heavyweight belt (which will be 20 years old next year), will be renewed with a new belt created that will be presented to the winner of Kenoh and Kiyomiya at Sumo Hall on November 2nd.
The belt has been designed by the same designer, Reggie Parks, who did the original.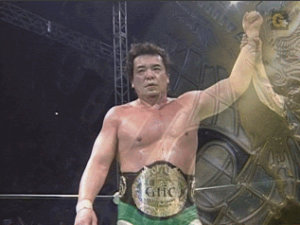 Kenta Kobashi let everyone into a little secret about the belt.
It's not actually the one that Misawa was wearing when he defeated Yoshihiro Takayama at Differ Ariake in April 2001. What happened was that three months later when Jun Akiyama won it in July 2001 from Misawa, someone (Kobashi thinks it was probably Makoto Hashi), polished it with an abrasive chemical which destroyed the gleam, and so Misawa had to order a new one.
The fact of the matter is is that a lot of promotions are redoing their belts, partly because they are old (although in some cases a lot older than the GHC Heavyweight), and also because their rosters are now being filled with the young as the generations turn over and the veterans take a quieter role. The fact is that the young want their own belts, and their own memories to link to the promotions past.
The new belt is not intended as a burial of Misawa or his memory, the title will still be "The GHC Heavyweight", and in a nod to Misawa and NOAH's roots, the inside of the belt, the part that will be closest to the skin, is green.
GHC Heavyweight match signing, Kenoh vs Kaito Kiyomiya
Kaito Kiyomiya and Kenoh (looking like twins) came out and took their places. President Takeda sat between them long enough to get them to sign for the match, and then left them to it.
Kenoh started off by saying how the GHC front had been very uninspired since Kiyomiya became the champion, and he will rectify it when he becomes champion at Sumo Hall.
Asked about the new belt, Kiyomiya said he would connect the old to the new with it, while Kenoh said that all the new belt meant was something that LIDET wanted to give to Kiyomiya, but he wouldn't let that happen.
Kenoh's baiting of Kiyomiya failed to get a response, until he made one of his usual swings in emotion about Kiyomiya and spoke of him being "22 years old and with a pure heart" soon after his coming back from expedition, and said looking at him now he had been "warped" by LIDET, and how, he, Kenoh would draw the old Kiyomiya out (a prime example of Kenoh's see-saw feelings about Kiyomiya which hover between deep jealousy and touching concern).
Kiyomiya made one of the rare occasions when he verbally responds to Kenoh by telling him that he was tired of him watching over him like he was his mother!.
Afterwards, they stood around the new belt for photo opportunities, and glared at each other.
THIS WEEK IN NOAH
Monday 23rd September: IMesse Yamanashi (bell sounds 5pm)
Thursday 26th September: Naomichi Marufuji's 40th birthday
Sunday 29th September: "Meeting for Muscles", Saitama
CURRENT CHAMPIONS
*This chronology will only be maintained for NOAH wrestlers.
BROADCASTS
Monday, September 16th: Osaka Edion Arena 1st Stadium ~ Monday 23rd September, G+
Monday, October 3rd: Korakuen Hall ("Premium Prelude") ~ Tuesday 8th October, G+
Sunday, October 20th: Korakuen Hall ("Premium Prelude")  ~ Saturday 26th October, Samurai TV
LINKS
Kenoh defeats Sugiura and wins "N-1". 2nd November GHC Championship Challenge at Sumo Hall
"Come At Me You Bastards" ~ Kenoh's live talk and photo event
Atsushi Kotoge gives cheers to sluggish Jubilo Iwata, High School Soccer
Kenoh was super fighting elite
Marufuji vs Muta, first showdown 2nd November Sumo Hall
The match signing for Kenoh and Kiyomiya on the 2nd November at Sumo Hall, Beast Fujita and Sugiura unite
PICTURE CREDITS: Noah GHC
GIF CREDITS: Samurai TV