NXT Minus 6: The Best Matches of 2019
Bradley lists out the top NXT matches of 2019 and crowns his match of the year!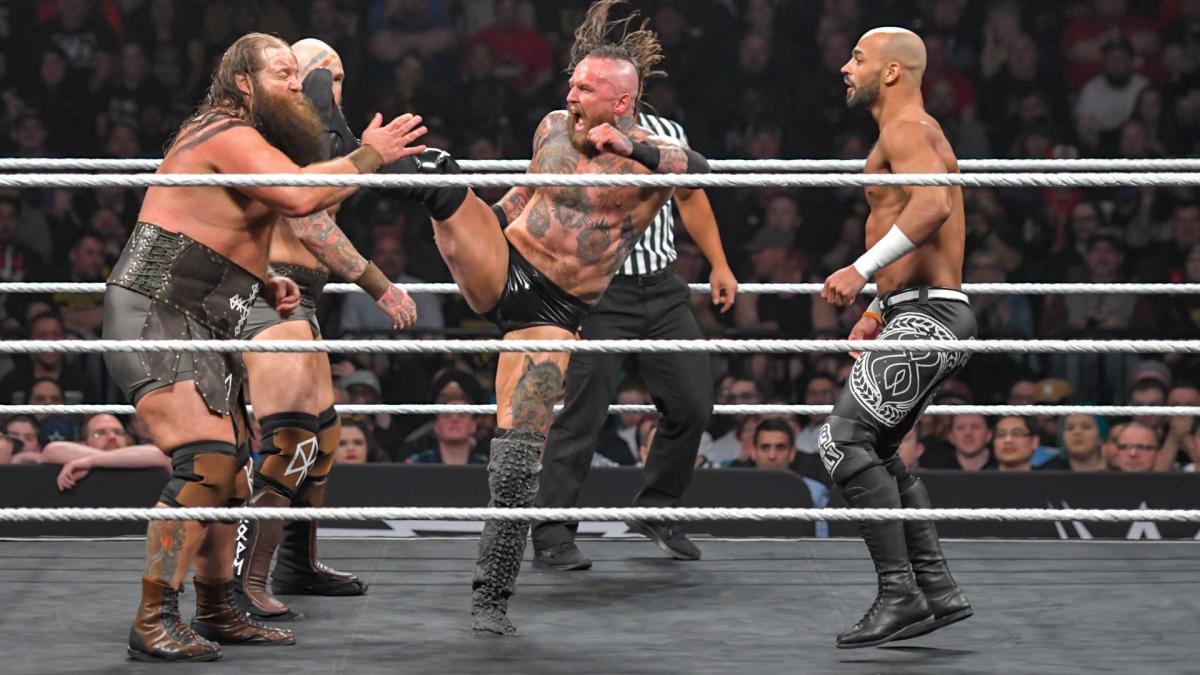 I saved the best for last.
Everything 4.8 stars or better.
Three 5-star matches.
Undisputed Era versus The Revival, NXT TV, November 20, 4.8 stars
A dream match-up of sorts. Timing. Teamwork. Intensity. Dash Wilder eats the pinfall with a defiant "kiss my ass." Rewatching this match made me realize I should have done a separate list just for all the great tag team action we got from NXT in 2019. 
Lio Rush versus Angel Garza for the NXT Cruiserweight Title, December 11, NXT TV, 4.8 stars
Even before the opening bell, these two turned up a level of intensity not typically seen in the Cruiserweights. I appreciate the addition of Rush's wife in a tasteful way that made sense without being overbooked. I feel bad that his title run was so short; Rush is a special talent. However, Garza's victory was well deserved. He's worked his ass off to get over for all the right reasons.  
Io Shirai versus Shayna Baszler, cage match for the Women's Title, June 26, NT TV, 4.8 stars
There are matches in a cage, and then there are cage matches. Everything Baszler and Shirai did was all about the cage. The big spots. The hard shots. The ending. What a gloriously tragic ending. My heart broke for Shirai when Baszler fell out of the cage onto the floor. Then we get the birth of batshit crazy Io, and for that I will be forever grateful. 
Fatal 5 way for #1 contender spot, Ricochet versus Aleister Black versus Adam Cole versus Matt Riddle versus Velveteen Dream, 4.8 stars
I believe the expression is "turning chicken shit into chicken salad." We don't get Ciampa-Gargano IV for the title. Instead, our consolation prize is this hot gem. So many subplots & history between all the contestants made for great drama. And of course, an ending that set the stage for one of NXT's all time great rivalries. Bonus points for Mauro Ranallo referring to Ricochet as the Lord of the Fly. 
Johnny Gargano versus Adam Cole, Takeover New York, 4.8 stars
I wanted this to be 5 stars. I wanted it to be MOTY. It almost was. The end brought me down. After taking all that punishment, one guy fights off 4 and still kicks out of a dump truck of finishers? Sorry. No. Despite the ending, it was a great match & a deserving moment for Johnny Takeover. 
Io Shirai versus Candae Lerae, Takeover Toronto, 4.8 stars
The Evil Genius of the Sky is crazy wicked. Even her walk to the ring screams insanity. I had low expectations for this match, primarily because I've not been impressed with Lerae. I'm happy to say I was very wrong. Lerae more than held her own, but Crazy Io was just too much. Possibly my second favorite NXT Women's match ever, behind Bayley-Banks in Brooklyn.
Men's War Games, Takeover War Games III, 4.8 stars
Car crash of the year. Insane violence. A super avalanche Air Raid Crash. And Kevin Owens!!! It wasn't perfect, but after what every man went through for our entertainment, I wouldn't criticize a single thing. 
Adam Cole Versus Johnny Gargano, NXT Championship Match, Takeover XXV, 4.9 stars
This was better than their previous match. The underlying story of their familiarity led to some amazing counters & chain wrestling. Gargano in particular hit moves I've never seen from anybody. The only reason I'm not giving this 5 stars is they relied too heavily on superkicks. At times it felt like I was watching the Young Bucks battle each other. 
NXT Tag Title Ladder Match, Takeover XXV, 5 stars
It starts with an air guitar battle with Montez Ford and Kyle O'Reilly. It quickly turns into very real violence. They played fast and loose with the ladders. I even loved Jaxson Ryker's appearance. Watching 6 guys flatten a human being with a ladder is a sight to behold. I've written about how special the ending is, with Angelo Dawkin's nuclear spear and Ford's leap onto the ladder. Lost in the excitement was the ridiculous bump Wesley Blake took off the ladder. Much respect for that. I can't remember the last time I ended a match with an audible "holy f$%&ing $h!T!" The story was simple: be the best team in a place where that still means something. If for only one night, the Street Profits could honestly say they were the best tag team on the planet. The story. The effort. The emotion. The ending. Perfect. 
Tyler Bate versus WALTER, Takeover Cardiff, 5 stars
Not to take anything away from WALTER, but this match is Tyler Bate. The Big Strong Boi gave us his Sgt. Pepper. It is one of the single finest performances I have ever seen.  When it was over, I had a tear in my eye, not because Bate lost but because I knew I had just witnessed a masterpiece. Bate's effort touched me in a way that few matches ever have. And to think that he was only 22 at the time is still something I can't quite comprehend.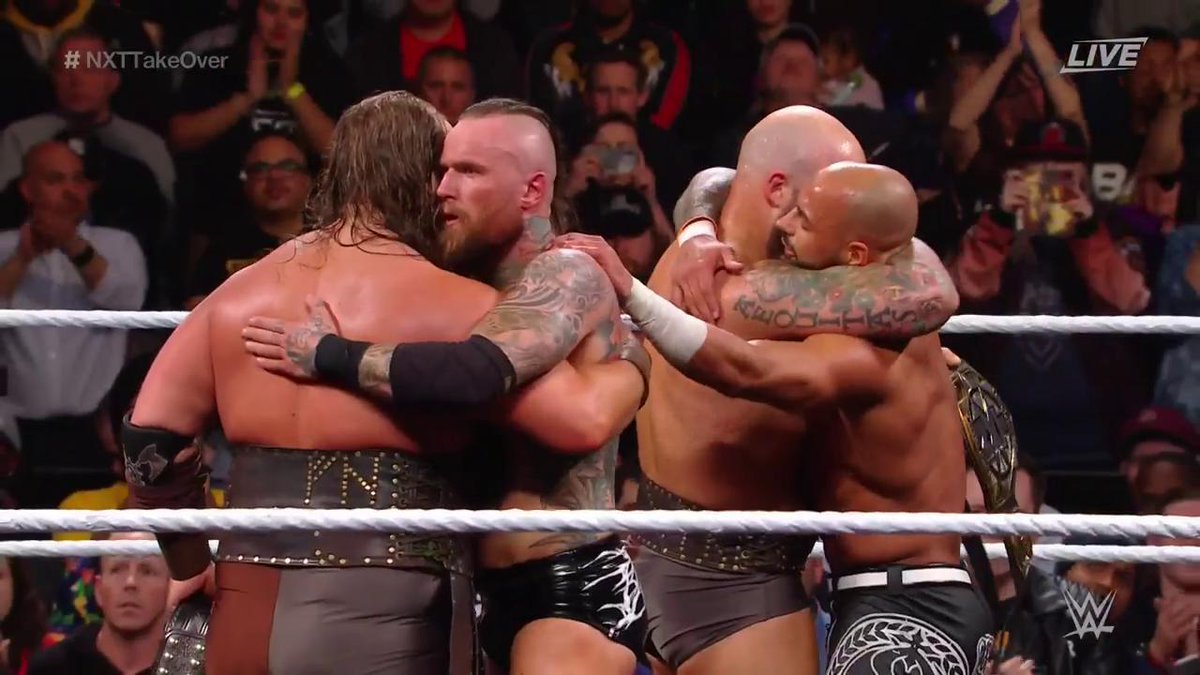 War Raiders versus Aleister Black & Ricochet for the NXT Tag Team Titles, Takeover New York, 5 stars 
It's hard to create genuine moments in wrestling today. Everybody knows everything. Eras are ending. History is made. Torches are passed. That's why this match is so special. The action was amazing. When it was over, I gave it 4.9 stars. The post-match put it over the top. The show of respect from the War Raiders to Black/Ricochet was genuine class. The fans send off felt so spontaneous and was almost more emotion than the arena could hold. The in-ring action, the level of respect between the competitors and the gratitude from the fans is absolutely everything that is great about wrestling. It was a moment you simply could not script or predict. For that reason, it is my 2019 NXT Match of the Year.
Thanks for spending your time with my crazy ramblings about the best wrestling on the planet. I hope you enjoy reading it as much as I enjoy writing it.
Here's to a great 2020 from the Black & Gold Standard!
King's WrestleMania Rewind: Stone Cold VS. Scott Hall (WrestleMania X8)
Chris King is back with another WrestleMania Rewind, looking at the NWO's Scott Hall battling Stone Cold Steve Austin at WWE WrestleMania X8 from Toronto!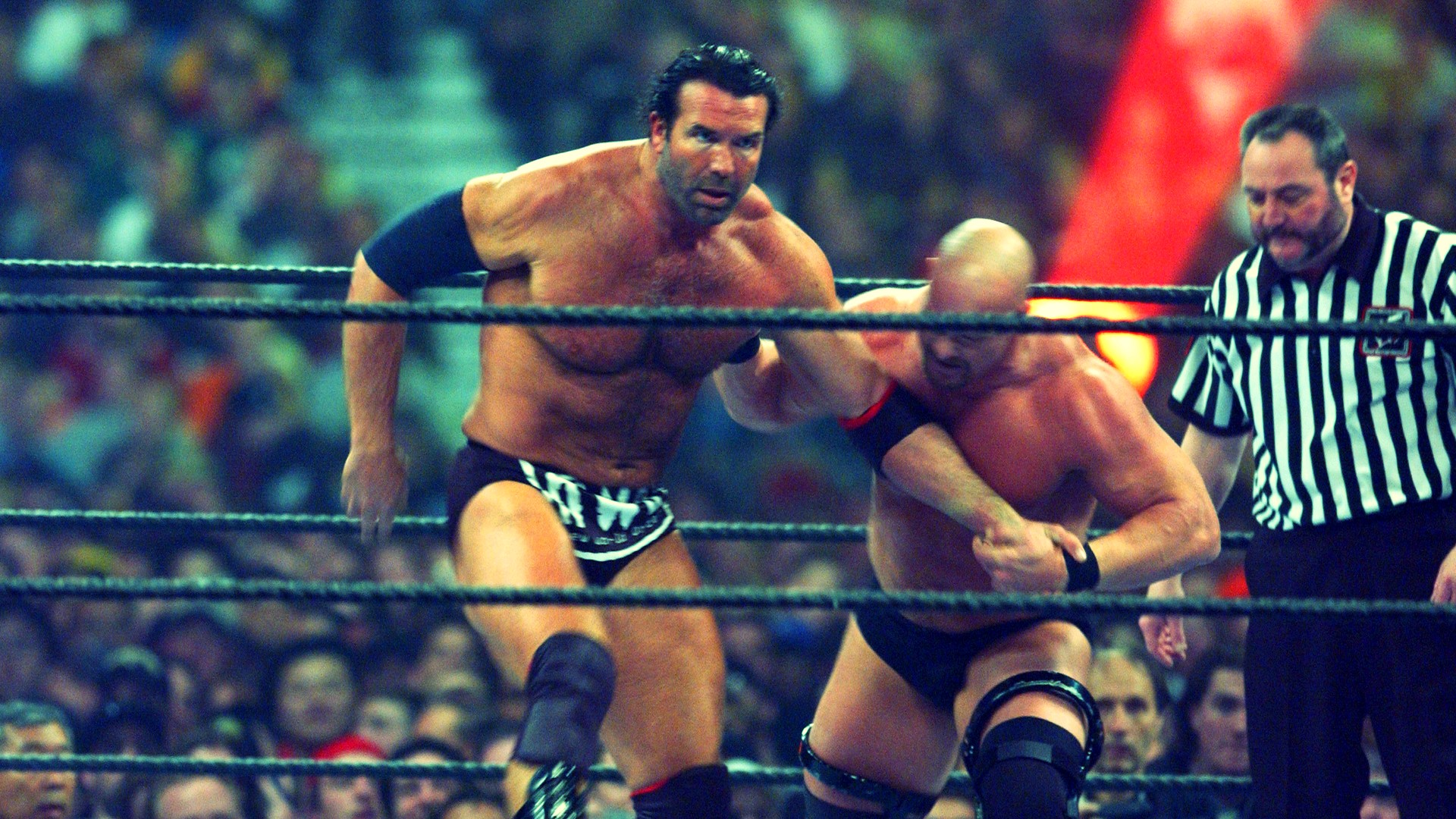 Chris King is back with another WrestleMania Rewind, looking at the NWO's Scott Hall battling Stone Cold Steve Austin at WWE WrestleMania X8 from Toronto!
Chris King is back this week with another edition of WrestleMania Rewind, where he is rewatching all the past Mania matches and feuds. This week you're in for a treat as we look back at 'Stone Cold' Steve Austin vs. Scott Hall at WrestleMania X8.
In late 2001, Vince McMahon bought out his competition WCW and acquired the rights to a plethora of talent including Booker T, Eddie Guerrero, Chris Benoit, and the iconic trio known as NWO. Hulk Hogan; Kevin Nash, and Scott Hall were hell raisers, and what better way to make a name for yourself than take out the two top superstars in the WWE The Rock, and Stone Cold?
The NWO cost Austin his chance at becoming the Undisputed Champion at No Way Out during his match with Chris Jericho. Adding insult to injury, the NWO spray-painted 'The Texas Rattlesnake' with their brand logo just like they did in WCW. As you can imagine, Austin was pissed and out for revenge against the group and primarily Scott Hall.
Hall would challenge Stone Cold to a match at WrestleMania 18. Both superstars beat the living hell out of each other leading up to this highly-anticipated match for who runs the WWE.
The glass broke and Stone Cold made his iconic entrance, and black and white NWO covered Halls' entrance alongside Kevin Nash. With the odds stacked against 'The Toughest S.O.B' could Austin or NWO prove their dominance? Sadly the NWO  broke up that very night when Hulk Hogan came to the aid of his adversary The Rock after their 'iconic' dream match. Stone Cold would ensure the victory with the Stunner. Hall would perform an Oscar-worthy sell over the finisher.
What a time to be a wrestling fan in the 2000s when nothing was impossible for WWE. Who would've thought WCW would go out of business and Hogan would make his long-awaited return to WWE?
King's WrestleMania Rewind: Seth Rollins vs. Kevin Owens (WWE WrestleMania 36)
Chris King takes a look at the most underrated WWE WrestleMania matches, and starts off with Seth Rollins battling Kevin Owens at WrestleMania 36!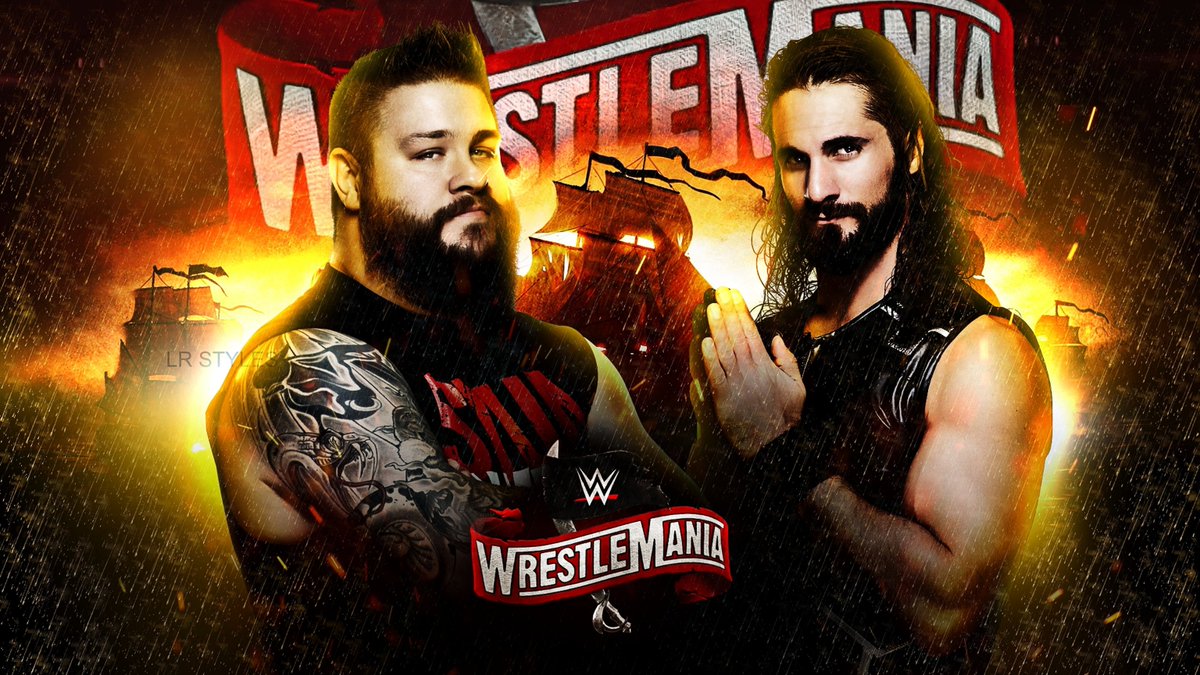 Chris King takes a look at the most underrated WWE WrestleMania matches, and starts off with Seth Rollins battling Kevin Owens in the WWE Performance Center at WrestleMania 36!
Chris King is starting a new series heading into WrestleMania season dubbed WrestleMania Rewind. Each week he'll be going back and sharing his insight over underrated matches at the Show of Shows. First up, is Kevin Owens vs. "The Monday Night Messiah" Seth Rollins at WrestleMania 36.
At the 2019 edition of Survivor Series, Rollins sacrificed himself during the men's traditional match allowing SmackDown to ultimately gain the victory. The following night the self-proclaimed Messiah, berated the whole roster but KO was not having any part of it. Owens quickly became a huge barrier in Rollins' cause for the greater good. The Authors of Pain attacked Owens with Rollins' character in question.
Owens finally had enough of his rival's mind games and torment and challenged Rollins to a match on the Grandest Stage Of Them All. Rollins mockingly accepted his challenge and the match was made official for night one of WrestleMania. Owens came out of the gate beating the holy hell out of the Monday Night Messiah trying to achieve his long-awaited moment at Mania but, Rollins tried to steal a disqualification victory by using the ring bell.
Owens hellbent on revenge provoked Rollins into turning their encounter into a no-disqualification contest where the fight could be taken all over the empty arena. The highlight of the match, was when KO used the WrestleMania sign to deliver a thunderous senton bomb through the announce table. Owens would secure the victory with a Stunner in an incredible match. Despite having no crowd during the pandemic era, both KO and Rollins put on an intense performance under the brightest lights.
In my personal opinion, this was a great feud that helped both superstars in their transformation as compelling characters for years to come.