NXT Minus 6: The Best Matches of 2019
Bradley lists out the top NXT matches of 2019 and crowns his match of the year!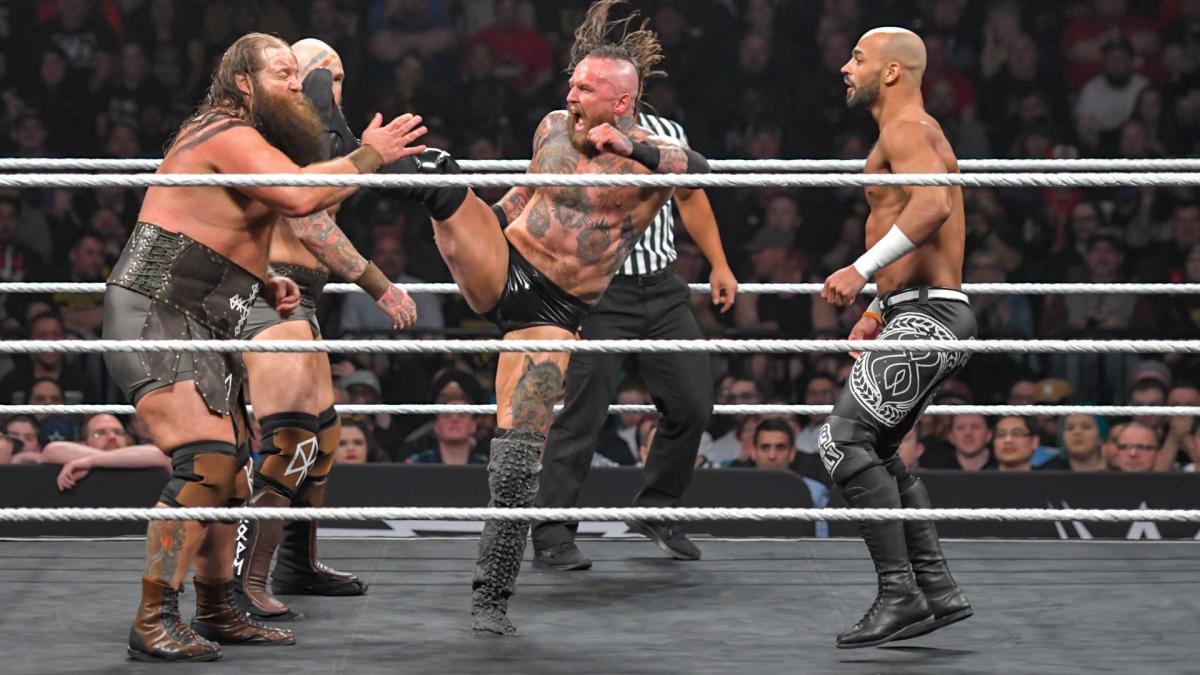 I saved the best for last.
Everything 4.8 stars or better.
Three 5-star matches.
Undisputed Era versus The Revival, NXT TV, November 20, 4.8 stars
A dream match-up of sorts. Timing. Teamwork. Intensity. Dash Wilder eats the pinfall with a defiant "kiss my ass." Rewatching this match made me realize I should have done a separate list just for all the great tag team action we got from NXT in 2019. 
Lio Rush versus Angel Garza for the NXT Cruiserweight Title, December 11, NXT TV, 4.8 stars
Even before the opening bell, these two turned up a level of intensity not typically seen in the Cruiserweights. I appreciate the addition of Rush's wife in a tasteful way that made sense without being overbooked. I feel bad that his title run was so short; Rush is a special talent. However, Garza's victory was well deserved. He's worked his ass off to get over for all the right reasons.  
Io Shirai versus Shayna Baszler, cage match for the Women's Title, June 26, NT TV, 4.8 stars
There are matches in a cage, and then there are cage matches. Everything Baszler and Shirai did was all about the cage. The big spots. The hard shots. The ending. What a gloriously tragic ending. My heart broke for Shirai when Baszler fell out of the cage onto the floor. Then we get the birth of batshit crazy Io, and for that I will be forever grateful. 
Fatal 5 way for #1 contender spot, Ricochet versus Aleister Black versus Adam Cole versus Matt Riddle versus Velveteen Dream, 4.8 stars
I believe the expression is "turning chicken shit into chicken salad." We don't get Ciampa-Gargano IV for the title. Instead, our consolation prize is this hot gem. So many subplots & history between all the contestants made for great drama. And of course, an ending that set the stage for one of NXT's all time great rivalries. Bonus points for Mauro Ranallo referring to Ricochet as the Lord of the Fly. 
Johnny Gargano versus Adam Cole, Takeover New York, 4.8 stars
I wanted this to be 5 stars. I wanted it to be MOTY. It almost was. The end brought me down. After taking all that punishment, one guy fights off 4 and still kicks out of a dump truck of finishers? Sorry. No. Despite the ending, it was a great match & a deserving moment for Johnny Takeover. 
Io Shirai versus Candae Lerae, Takeover Toronto, 4.8 stars
The Evil Genius of the Sky is crazy wicked. Even her walk to the ring screams insanity. I had low expectations for this match, primarily because I've not been impressed with Lerae. I'm happy to say I was very wrong. Lerae more than held her own, but Crazy Io was just too much. Possibly my second favorite NXT Women's match ever, behind Bayley-Banks in Brooklyn.
Men's War Games, Takeover War Games III, 4.8 stars
Car crash of the year. Insane violence. A super avalanche Air Raid Crash. And Kevin Owens!!! It wasn't perfect, but after what every man went through for our entertainment, I wouldn't criticize a single thing. 
Adam Cole Versus Johnny Gargano, NXT Championship Match, Takeover XXV, 4.9 stars
This was better than their previous match. The underlying story of their familiarity led to some amazing counters & chain wrestling. Gargano in particular hit moves I've never seen from anybody. The only reason I'm not giving this 5 stars is they relied too heavily on superkicks. At times it felt like I was watching the Young Bucks battle each other. 
NXT Tag Title Ladder Match, Takeover XXV, 5 stars
It starts with an air guitar battle with Montez Ford and Kyle O'Reilly. It quickly turns into very real violence. They played fast and loose with the ladders. I even loved Jaxson Ryker's appearance. Watching 6 guys flatten a human being with a ladder is a sight to behold. I've written about how special the ending is, with Angelo Dawkin's nuclear spear and Ford's leap onto the ladder. Lost in the excitement was the ridiculous bump Wesley Blake took off the ladder. Much respect for that. I can't remember the last time I ended a match with an audible "holy f$%&ing $h!T!" The story was simple: be the best team in a place where that still means something. If for only one night, the Street Profits could honestly say they were the best tag team on the planet. The story. The effort. The emotion. The ending. Perfect. 
Tyler Bate versus WALTER, Takeover Cardiff, 5 stars
Not to take anything away from WALTER, but this match is Tyler Bate. The Big Strong Boi gave us his Sgt. Pepper. It is one of the single finest performances I have ever seen.  When it was over, I had a tear in my eye, not because Bate lost but because I knew I had just witnessed a masterpiece. Bate's effort touched me in a way that few matches ever have. And to think that he was only 22 at the time is still something I can't quite comprehend.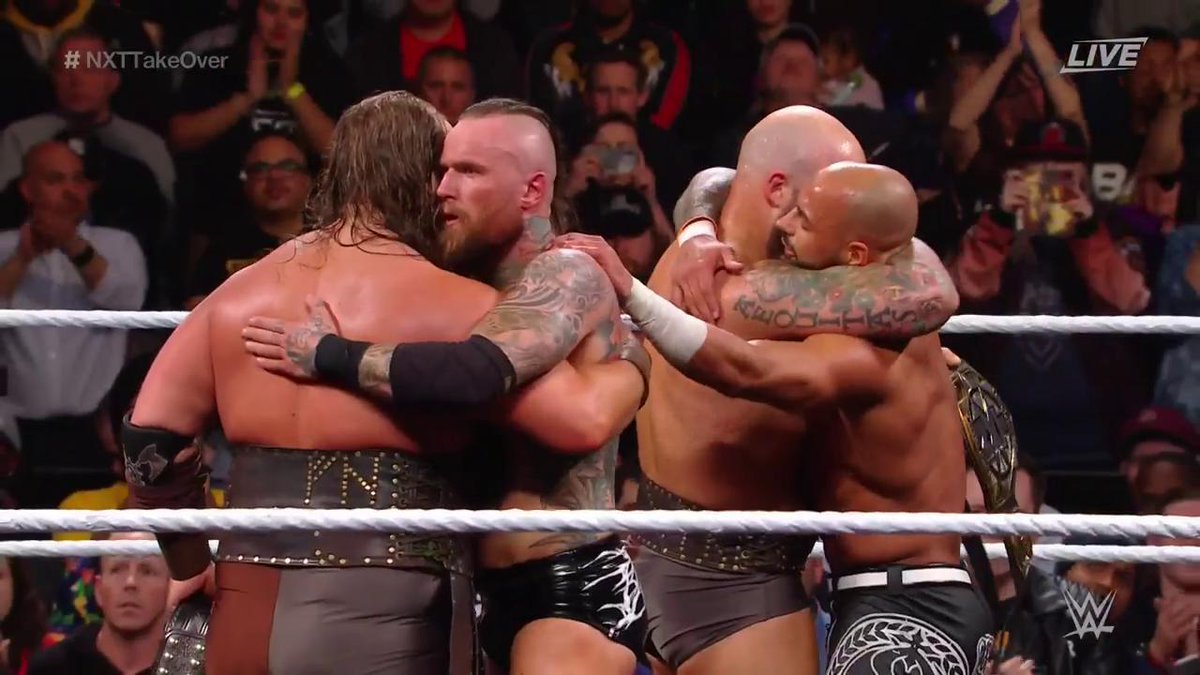 War Raiders versus Aleister Black & Ricochet for the NXT Tag Team Titles, Takeover New York, 5 stars 
It's hard to create genuine moments in wrestling today. Everybody knows everything. Eras are ending. History is made. Torches are passed. That's why this match is so special. The action was amazing. When it was over, I gave it 4.9 stars. The post-match put it over the top. The show of respect from the War Raiders to Black/Ricochet was genuine class. The fans send off felt so spontaneous and was almost more emotion than the arena could hold. The in-ring action, the level of respect between the competitors and the gratitude from the fans is absolutely everything that is great about wrestling. It was a moment you simply could not script or predict. For that reason, it is my 2019 NXT Match of the Year.
Thanks for spending your time with my crazy ramblings about the best wrestling on the planet. I hope you enjoy reading it as much as I enjoy writing it.
Here's to a great 2020 from the Black & Gold Standard!