Tiffany's AEW Dynamite Takes: Homecoming!
It's the first Dynamite of the New Year, how will the Elites celebrate their Homecoming?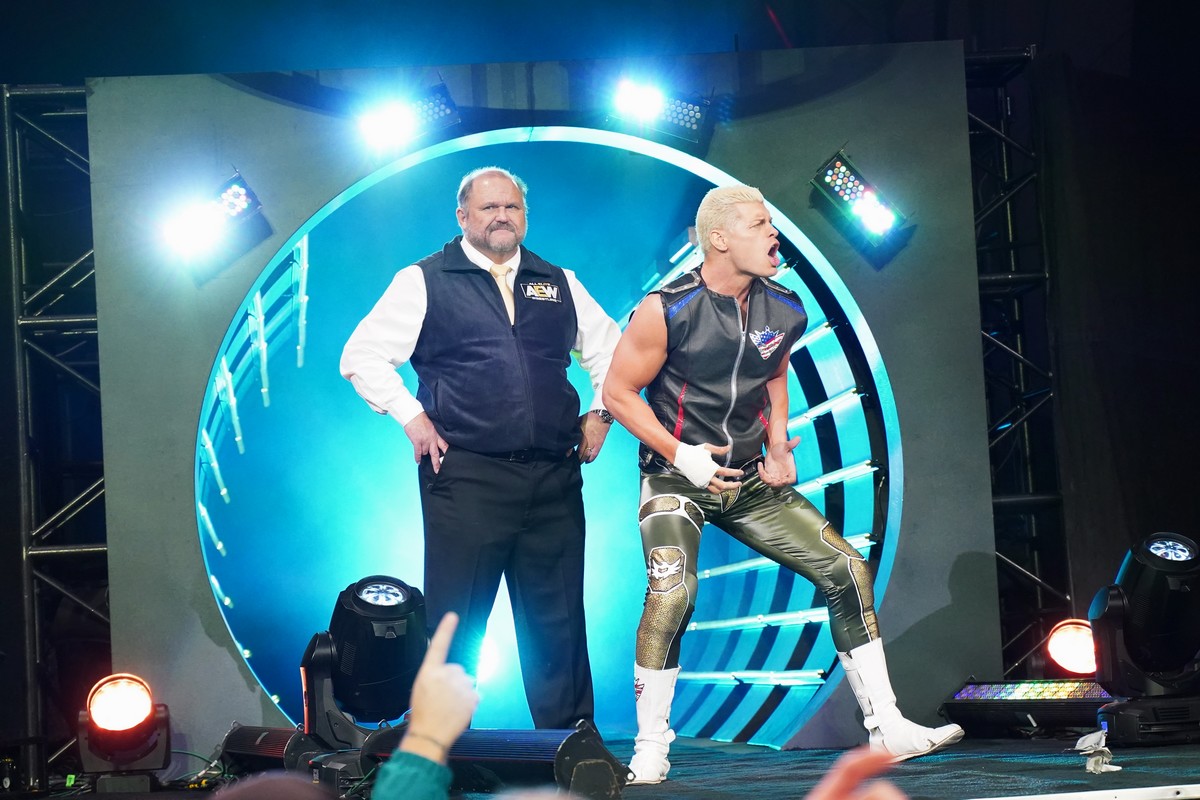 It's the first Dynamite of the New Year, how will the Elites celebrate their Homecoming?
Love the opener! It's been a wild ride for the Elite.
Okay, Taz is the guest commentator for Dynamite!
Cody Rhodes vs Darby Allin
Okay, Darby Allin is being creepy. Okay, so it is officially official, Arn Anderson is managing Cody Rhodes. If you grew up watching the NWA in the 80s, this is absolute madness. To quote Dr. Peter Venkman, 'Human sacrifice! Dogs and cats! Living together! Mass hysteria!'
Of course, Aubrey Edwards is there and like their match at Fyter Fest, this match is a classic! Both guys left it in the ring. I'm not sure if Cody's arm is real or a work, but he sold it like a champ. Allin's selling was a little over the top, but not awful.
Something's got to be done about that coffin drop. That landing was nasty. I'm kind of shocked that Cody won, but I'm guessing, going by the opener, the Elite are going to be trying to get back on top.
Not a fan of that SCU/Sammy Guevara segment. Bleh.
Riho vs Hikaru Shida vs Britt Baker vs Nyla Rose
A little surprised that this match is second, especially with the hour time limit, but I don't think it's going that long, not with the rest of the card.
How strong is Hikaru Shida? I've never seen ANYONE back body drop Nyla Rose before. I like Britt Baker playing the smart game and trying to pick the scraps instead of trying to match her opponents. I'm a little disappointed Riho won, but I'm guessing that they didn't want to give anyone a one week title reign in case they decided to go with Statlander. Did appreciate Rose being a sore loser, even though she didn't take the pin.
Oh, I thought Janela was faking. Guess his next feud is with Kip Sabian, which should be interesting.
I'm still a little 'meh' on Dark Order, but anything is better than the bondage porn gimmick. Plus, their logo reminds me of Hydra.
Jon Moxley vs Trent?
Love Justin Roberts trying to sell his own shirt. Love Mox being referred to as the #1 Contender. Not sure why he's wearing his dark pants though. Love the basic wrestling start.
This was SUCH a good match! I love Mox having a non-jobber to work with, he gets to show himself and his wrestling skills off. Trent gave Mox his best match to date, other than Kenny Omega. I love that Mox can hit that Paradigm Shift out of anywhere. Loved the face off with Cassidy and Mox is STILL undefeated! Let's go to Japan and kick Lance Archer's ass on Saturday!
The big question going in is: Will Mox join the Inner Circle, thus eliminating himself as #1 Contender? And the answer is…we will find out next week. Damn! Hope it doesn't involve wrecking that car, I'll cry. I do like that Mox considers Jericho a friend and mentor and that's why he'll wait. I love the RL details in this.
Dustin Rhodes vs Sammy Guevara
Well, Sammy learned: Never underestimate those wily vets!
This was a pretty good match. I KINDA get why people keep saying 'Sammy Guevara has unlimited potential'. He's really good, but against more seasoned vets, some of his stuff looks silly and sloppy. Dustin looked AMAZING! That apron Canadian Destroyer was WILD! Not a fan of the finish, but it moves the feud with Jake Hager along. I'm guessing we'll get Rhodes vs Hager at Revolution.
Hangman Page needs an intervention or AA. Rest of this segment was…ugh. I think Page is part of the Dark Order, but we'll see.
So, the only way Cody is going to get his hands on MJF is if he beats Waldo in a steel cage match! I'm not going to dignify the third stipulation because that ain't going to happen, and Cody not putting his hands on MJF until the match sounds intriguing. Also, AEW hasn't done a cage match yet, so I'm excited to see this. Hopefully they don't go the WCW or TNA route and make it super complicated just to be different.
Love Jurassic Express. That group is so delightful. Little weirded out by Marko Stunt holding Jungle Boy's gum.
Love the caption on Hangman Page's name. Legends of Memphis Wrestling Tribute sounds super fun!
Ooh, I think Britt Baker just turned heel. She's right, though, she's been busting her ass on AEW almost every week while holding down a full time dental practice while Riho's barely been on the show. Guessing she'll be feuding with Statlander if Statlander wins.
Not sure what to make of Omega and Page teaming up again.
Young Bucks and Kenny Omega vs PAC and Lucha Brothers
This was pretty much what I expected from all six men involved: lots of acrobatics, not a lot of mat wrestling. All that said, it was a really good match. The overall story has been the Elites trying to get back on top of the company THEY created, and that story was definitely being told. There's also the feuds between PAC/Omega and the Young Bucks and the Lucha Brothers being told. Not surprised the Elite won, or that Page didn't want to join in the celebration, AM surprised that none of the heels the Elite is feuding with showed up. Not a big deal, we needed to end the first show of the year on a high note and that did it! On to next week!
That's it for the first Dynamite Takes of the year! Stay tuned for ongoing coverage!