Andrew's Impact Wrestling Results & Ratings 5.19.20
Who will join Hernandez and Trey in the second round of the #1 Contender Tournament?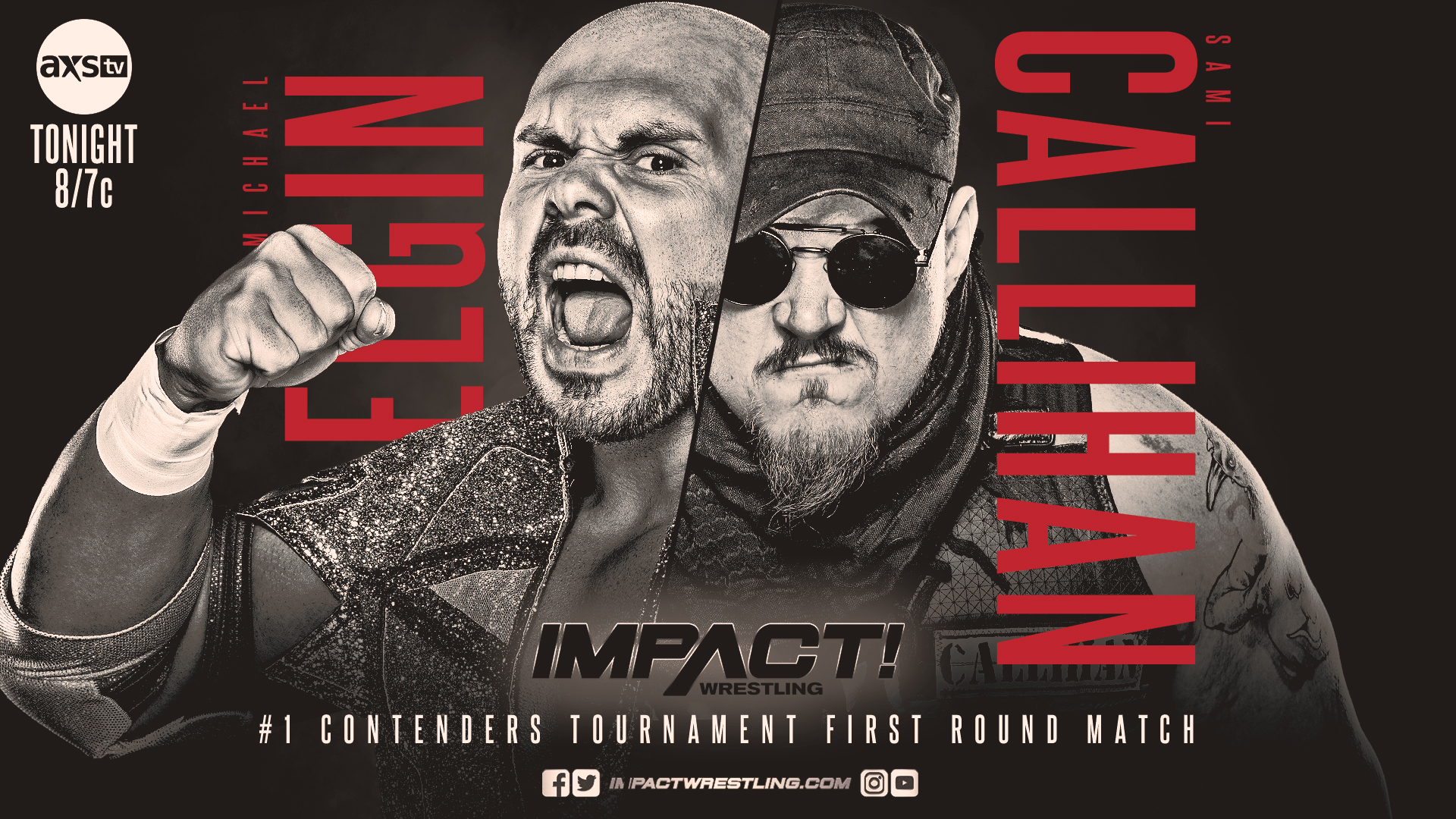 We get the last two matches of the #1 Contender Tournament First Round to look forward to tonight! Ace Austin or Rhino? Sami Callihan or Michael Elgin? The latter carries more interest to most, and should be a good match.
Also tonight we see if oVe can scrape together a win, or continue to fail like most other things in Ohio. PLUS! Let's not forget about Johnny Swinger's X Division championship match. Yes…I typed that correctly.
Let's get to the show!
Ratings:
#1 Contender Tournament: Ace Austin vs Rhino: Ace wins via The Fold – ***
Dave Crist w/Fulton & Jake vs Crazzy Steve: Steve wins via King Kill 33 – **
XXXL (Acey Romero & Larry D) vs TJP & Fallah Bahh: Fallah wins via Samoan Drop/Mamba Splash Combo – ***
TNA World Heavyweight Championship: Moose (c) vs Suicide: Moose retains Momentum Roll-Up w/tights – ***
X Division Championship: Johnny Swinger vs Willie Mack (c): Mack retains via Standing Moonsault – *
#1 Contender Tournament: Sami Callihan vs Michael Elgin: Elgin wins via Elgin Bomb – *** 1/2
Results:
#1 Contender Tournament: Ace Austin vs Rhino
Ace was penciled in as of yesterday, since Ken Shamrock was injured last week by Michael Elgin. This was a more competitive match than most would've initially thought. Ace used his speed and heel ingenuity to try and gain a few advantages. It resembled some of the old Rhino versus Rob Van Dam matches during the ECW heyday.
After Rhino got some momentum going his way, Ace tries to use a chair; but Rhino blocks and takes it away. While the referee is taking the chair from Rhino, Ace produces his Gambit Stick and smacks Rhino with it. Then comes The Fold, and Ace moves on to the next round. Rhino has been putting in good work during his last few matches. I'm happy to see more Rhino doing good work.
Josh Mathews interviews Moose again. Josh keeps trying to discredit his title reign, but Moose makes some decent points…even though they are a little delusional. Good segment. 
Bitches bout to get snatched up in the Heat Wave. See for yourself:
.@HoganKnowsBest3's vibe and @RealTSteelz's vibe seem to be connecting. #IMPACTonAXSTV pic.twitter.com/qoSg1QQgXK

— IMPACT (@IMPACTWRESTLING) May 20, 2020
Dave Crist w/Fulton & Jake vs Crazzy Steve
Steve comes out with his cymbal monkey and things don't start out well for Dave Crist. Steve brings it to Dave, so Dave had to powder for a few seconds. It took a little bit of help from Fulton and Jake, for Dave to start taking control. A Falcon Arrow gives Dave a shot, but Steve kicks out. As Dave goes to the corner to get Steve, Steve launches himself from the middle rope, hits King Kill 33 and the match is over.
Afterwards, Fulton is sick of their losing. He yells and chokes out both Crist brothers, then quits oVe. Wild Fulton could be interesting. Maybe Cancel Culture is in his future since Joseph P Ryan was out there taking notes?
Rosemary's bored flirty gimmick is well…let's just say that light as a feather and stiff as a board, there's a joke there. I'm not gonna say it…but it's there.
.@WeAreRosemary and @JohnEBravo1st are getting along just swimmingly. #IMPACTonAXSTV pic.twitter.com/TLmEfCy1Sn

— IMPACT (@IMPACTWRESTLING) May 20, 2020
XXXL (Acey Romero & Larry D) vs TJP & Fallah Bahh
Fallah shows off some great agility for a guy his size. Forward Roll and Cartwheel to avoid some offense, and then we see a few quick tags with the Filipino tag team. Larry D is getting spun in circles to a degree, but eventually Acey tags himself in and knocks down TJP as the show goes to commercial.
Coming off of commercial Larry and Acey are double teaming TJP, but TJ slowly tries to fight his way out…until he gets sandwiched. This post break action was a little hectic but really fun. Acey was throwing his weight around, for lack of a better term. Pounce on Fallah, corner Splash, just generally swatting away TJP…the match looked a little bleak for TJP and Fallah. Fallah manages to stop Larry from Vader Bombing TJP after dispatching Acey to the outside. Samoan Drop from Fallah, Mamba Splash from TJP, and I'm pretty sure we can consider TJ and Fallah the number one contender tag team now.
TNA World Heavyweight Championship: Moose (c) vs Suicide
This match doesn't start off as quickly as their match last week, but it definitely held its own. Moose applied more of the power game, and showed to be more of the methodical and boastful heel. An aspect of his personality we were fully aware of, but during the beginning of this delusional reign, he seemed more enamored with being champion than working on character wrinkles. We saw a lot more character this time.
Even Suicide got some work, since we saw him try to fire three times, as Moose kept mocking him, before the fourth lariat attempt sent Moose flying. They teased the same ref bump spot as last week, but both men avoided that. Just as Suicide looked to have things all but won, he goes for a Crossbody, Moose rolls through the landing, hooks the legs and tights; retaining the TNA championship by hook or by crook.
X Division Championship: Johnny Swinger vs Willie Mack (c)
Swinger jumps Mack before the bell, and keeps a measure of offense going for a while. Hit the Swinging Neckbreaker, but Willie gets his foot on the bottom rope. Swinger thinks he won, so he goes to collect the title and celebrate. After finally being talked down by the referee, Mack grabs him, Samoan Drop, Standing Moonsault…match over.
After the match, Swinger hits a Chop Block, Chris Bey comes out for the beat down. There was a moment of distrust, but Bey and Swinger seem to develop a friendship. Swinging Finesse? I'll work on something.
Who is Wheelz Deaner?
.@OfficialEGO and @Walking_Weapon haven't exactly had the highest caliber competition lately but that's about to change with @CodyDeaner NEXT WEEK! #IMPACTonAXSTV pic.twitter.com/pH5uIBH1lN

— IMPACT (@IMPACTWRESTLING) May 20, 2020
#1 Contender Tournament: Sami Callihan vs Michael Elgin
Elgin goes after Sami's injured ankle immediately and that really sets a tone early on. Elgin definitely takes the angle of wanting to inflict pain and not win too quickly. Sometimes playing with your food too long, doesn't turn out well. But we go to a commercial as soon as they get back in the ring.
When we come back from the commercial, the match starts to pick up. Sami won't lie down, and Elgin is getting a sick pleasure out of picking apart Callihan, Sami does get a few strikes in, which allows him to hit a dive to the outside, because at this point he's trying to pull out all stops. The match is solid up until to finishing sequence. Sami hits a Masato Tanaka style Sliding Forearm, which he tries to lead into the Piledriver, but the ankle makes him vulnerable. Elgin hits the Buckle Bomb, but Sami launches himself out of the corner with a Lariat, only to be responded to by Elgin with a Lariat of his own. Both guys fire, Elgin hits a Spinning Backfist, tries the Buckle Bomb again, but Sami slips out.
Sami's ankle buckles and he eats one more Spinning Backfist, and then an Elgin Bomb to give Big Mike the win. This was hard fought and showed a lot of heart from Sami. With all of Callihan's fighting from underneath and the possible respect with him and Shamrock, we get more inclinations towards Sami possibly turning face.
Overall Score: 6.5/10
We see an interesting episode from Impact this week. The wrestling was fairly solid, save for matches that were intended for storyline/gimmick purposes. Oddly though, the even flow made the show an easy watch, but not enough higher moments to really break it to the next level of "great".
Kiera Hogan and Tasha Steelz with a tenuous partnership, Joseph P Ryan with possible interest in Madman Fulton and Johnny Swinger finally finding a riding buddy are all interesting wrinkles. Impact still does the best job at keeping everyone from the bottom to the top of the card active on the shows, but again, this episode was too consistent to really be amazing.
Still a pretty good show, with a lot of things to like. I'm just being nit picky.