Rob: Booking The Women In AEW
Rob Bonnette checks back in with a look at AEW and the much maligned booking of their women's division.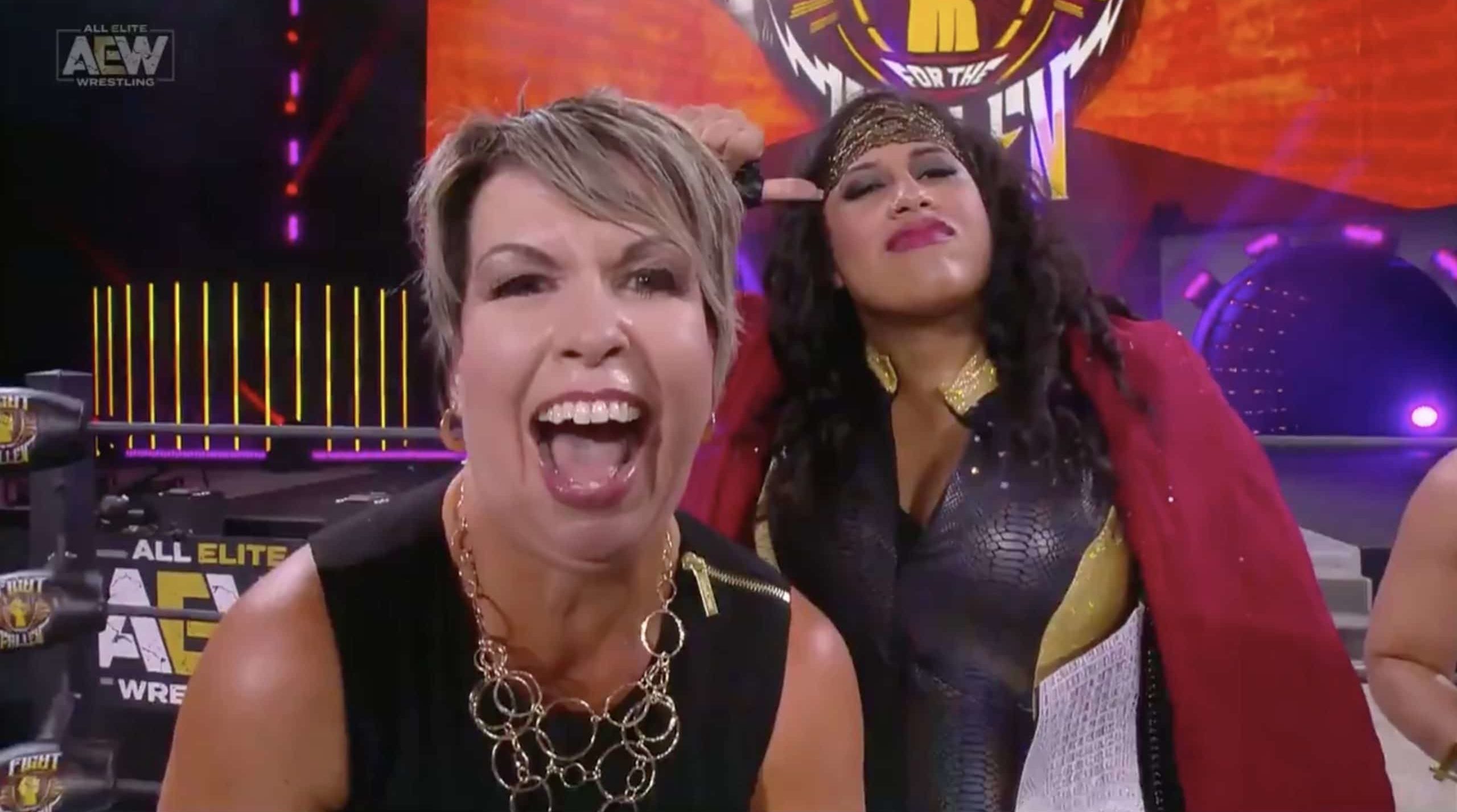 Rob Bonnette checks back in with a look at AEW and the much maligned booking of their women's division.
Does AEW really care about it's women's division?  
This week in Wrestling Twitter history will undoubtedly go down in infamy as one of the craziest ever.  We had Marty Jannetty tell on himself for what sure sounds like a murder, and then there's Brandi Rhodes.  The launch of AEW Heels and the immediate backlash that it got led to her fighting for over a day with random folks on Twitter before eventually deactivating her account.  To coin an old phrase she got run out of the territory.  And without having read all the comments she got I'm guessing some of them were out of bounds (she gets a ton of crap from racists and sexists all the time and that should never be discounted when you talk about her), the ones that were most prominent were about charging money for Heels and giving the women more time on TV.  There isn't a week that goes by where podcasters and countless people on twitter will tell you that the 'wrong person' winning on an episode of Monday Night Raw is the worst thing ever, but you're telling me that the virtual relegation of an entire division to the kids table week in and week out is off limits?  OK……
Now there's been enough discussion of AEW Heels, so let's look at how the women's division is booked.  Are the criticisms fair?  Well yeah.  The women's division is often treated like an irritant more than anything else.  The women's champions have often been seated in the crowd during Dynamite instead of even getting a promo segment.  The televised matches are often WWE Divas Era short, there was a title match added to a pay per view at literally the last minute with zero build, and there doesn't seem to be any real time commitment to anyone other than one or two ladies there.  And even the recently started women's tag team tournament, which is a great idea, is running on their YouTube show and not Dynamite, which suggests that it really isn't that important.  If it really matters then it's on your main TV show not your supplementary programming.
This all screams very loudly that the women's division is not going to get anywhere near the kind of space that Impact or WWE give theirs.  For all the very warranted criticism that both of those companies get re: their women's divisions they are head and shoulders out in front in terms of the commitment they give them compared to every other major American company.  AEW meanwhile is competing with Ring of Honor to see who can relegate theirs the most.  When the subject has been broached the answer you get has mostly been 'give it time'.  Well it's been almost a year.  The pandemic and injuries have affected the women's roster for sure but even before that the same questions and issues were there.  Meanwhile they've shown the full commitment towards their men's singles division and tag team divisions from signings to who's gotten to hold the titles.  There's been no learning curve there so it's ridiculous to think that they have to figure a bunch of stuff out in order to put the women on TV more.
Which brings us to the real reason that it's not happening: whoever is making the final decisions (likely Tony Khan) just doesn't care.  Let's call it what it is.  After ten months if you're having two minute matches on TV and dumping most of the rest on a YouTube show, then you've made a choice as to how you see that division. And their main sycophant Dave Meltzer essentially gave the game away here.
"So sad that people think you need to sacrifice your ratings for a cause instead of put your best product and most attractive product out there. For me, sorry, I'd rather see Fenix & Pentagon than a bad women's match." pic.twitter.com/kwiq4U03s5

— Meltzer Said What? (@MeltzerSaidWhat) August 9, 2020
What Dave is saying here is that because the women's division right now is a ratings drag and so many of them aren't as good in the ring as midcard men like Pentagon Jr, Ray Fenix, and Scorpio Sky that they shouldn't bother getting those women TV time and stick with what's working instead.  Of course by that logic there won't be a good time to give the women more time on television because none of them will ever be as good as the men he mentioned. This is a major cop out, because if workrate was that important there are a number of experienced, talented women out there in the United States (the other excuse being that a lot of their signed women are outside the country and can't get back in due to COVID 19) who they could have signed instead of the ones they did.  They had several of them in the casino battle royal at All Out last year (s/o to our own @itsreycash for digging that up) that they could have brought in to hold the fort down until their greener women were ready to work in the ring.
In the here and now yes the women's division is a ratings drag but there's no way out of that without giving them more time and taking that initial hit.  WWE threw Alexa Bliss, Carmella, Nia Jax, Dana Brooke, Mandy Rose, Sonya Deville, and Liv Morgan all into the fire of TV before they'd passed whatever threshold some people have in their minds and to various degrees it's worked. Whoever AEW has on their roster who supposedly isn't TV ready won't get there without reps. Orange Cassidy, Darby Allin, Jungle Boy and Luchasaurus didn't have any live TV exposure before Dynamite started and they've done fine.  No reason they couldn't have signed some more seasoned women and gotten them ready for TV the hard way, because at least while that was going on they'd be having good matches.
But let's cut to the chase here.  The real reason the women's division is struggling is that they don't care about it.  If they did then they would have signed more women in the United States who were available.  They would brought in Deonna Purazzo when she was released by WWE or Tessa Blanchard who despite all her baggage would have anchored the division and would have not have lost the company any cool points that the she would the WWE if and when they eventually bring her in.  They could have done something very easy like crown Jazz, a former multi time WWE Women's champion with a fair bit of name recognition still, as their first women's champion and had her drop the title to whoever they wanted to lead that side.  They could sign any of the women in the US who work for Shimmer that are sitting at home because they aren't running.  When you look at who they have signed lately (Zack Ryder, the Revival, Luke Harper, Matt Hardy) and who they reportedly tried to sign (Rey Mysterio, Jr) then it's clear what their line of thinking is.
And you know what?  It's working.  Last week they drew their biggest audience, over 900,000, since before the pandemic began.  And they drew it by loading up with all their important male wrestlers and bringing in Eric Bischoff for a debate segment between Chris Jericho and Orange Cassidy.  The four minutes that the women's division, less time than the dancers at Raw Underground were onscreen Monday night, did not affect how people took the show one way or the other.  So their core audience doesn't really care either, at least not enough to make a decision not to watch in protest because of it.  In fact I saw a few people on Twitter who essentially echoed Meltzer's sentiment that it's better to put on guys like Sky, Fenix, etc than help the women's side develop. I was even told that there are already places people can go watch women's wrestling if they want to see it instead of asking AEW to give theirs more time.
Meltzer has intimated that AEW is all about getting the biggest ratings possible right now and that if you don't help on that front then you're likely to get benched on Wednesdays.  And they've set things up so that the women's division isn't much help there.  And while that's their fault, it looks like they won't be providing much of a solution in the near future.