Andrew's Impact Wrestling Results & Match Ratings: 9.29.2020
With Victory Road as a Saturday ImpactPlus special, we got ourselves a Go Home show!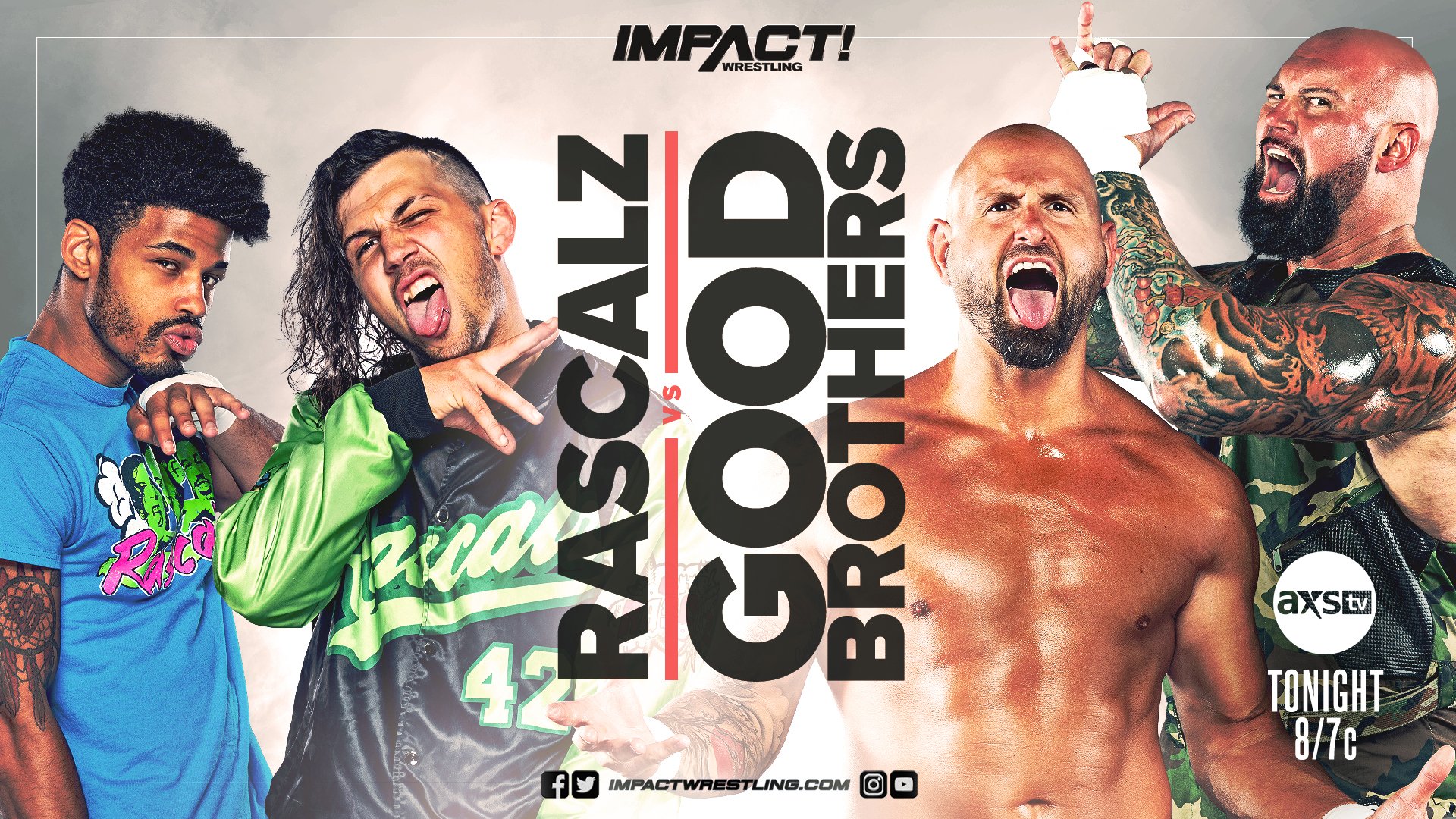 With Victory Road as a Saturday ImpactPlus special, we got ourselves a Go Home show!
Since it feels like Victory Road wasn't really discussed, prior to last week, I really wonder how they're going to fill out the show and make it compelling. It's hard to buy into any big title changes happening when Bound for Glory is Impact's WrestleMania.
But Impact Wrestling has been pretty smart the last year or so; so I'm cautiously optimistic.
Let's get to the show!
"If you guys wrestled half as good as you told stories, one day you might be champions too."

There's no love lost between The Good Brothers and The Motor City Machine Guns. #IMPACTonAXSTV @MachineGunKA @The_BigLG @fakekinkade @SuperChrisSabin pic.twitter.com/TqJYc8n5yd

— IMPACT (@IMPACTWRESTLING) September 30, 2020
Ratings:
Taya Valkyrie & Rosemary vs Havok & Nevaeh: Taya wins via Road to Valhalla – ** ¾
Tenille Dashwood W/Kaleb with a K vs Jordynne Grace: Grace wins via Rear Naked Choke – ** ¼
The Rascalz (Dez & Wentz) vs The Good Brothers: Good Brothers win via Magic Killer – ***
Battle for Bravo's Best Man: Johnny Swinger vs Fallah Bahh: Fallah wins via Bahhnzai Drop – N/A
The North vs Ace Austin & Madman Fulton: North win via Northern Assault – *** ½
Results:
Taya Valkyrie & Rosemary vs Havok & Nevaeh
Nevaeh and Taya start, and it's playfully cheeky. Taya takes a small advantage off the Arm Drag and convinces Nevaeh to agree to dual tags for the women with the bigger issues. When Havok and Rosemary lock horns, the Demon Assassin actually gets a bit of an advantage. Rosemary moves her to her corner, both she and Taya hit some tandem moves, before Taya goes to work solo.
Havok blocks a Taya Irish Whip and starts out powering her. This gives Havok's team the shot for tandem work, and Nevaeh gets some more time to shine against the longest reigning Knockouts Champion. Nevaeh has her way with Taya, cuts off the ring and brings Havok back in. Taya tries to take on the situation alone before she realizes the numbers are catching up with her. She crawls through Havok's legs and tags in her Demon.
Rosemary takes the hot tag and cleans house. Knocks down Nevaeh, chokes Havok with the Upside Down, tags in Valkyrie, Double Spear on Havok…but Havok rolls for the tag while Rosemary and Taya gloat. Nevaeh takes out Rosemary, Taya hits the Road to Valhalla on Nevaeh and they are victorious!
Kiera Hogan and Tasha Steelz hit the ring after and wipe out Rosemary and Taya. Havok and Nevaeh make the save though. So that's an unexpected dynamic, except for the beef that Steelz and Hogan had with Nevaeh and Havok a few months ago.
Chanko for Choshu sounds like it should be a Ska Band or like Japanese Punk Rock. Now…now I want to make that happen…
Deonna Purrazzo looks great in her backstage interview, as Gia tells her that Victory Road will have a Knockouts Title match. Susie versus Deonna. This could be an interesting point in Susie's story with the suppressing Su Yung aspect.
Tenille Dashwood W/Kaleb with a K vs Jordynne Grace
Kaleb is doing some really good work with this snobby photographer/manager role. These two are actually a pretty solid pairing since it's helping to bring out personality in both of them.
Jordynne starts off quick, just smothering and getting on top of Tenille. Suplexes, Sentons and power moves really allow Jordynne to take a fast advantage. Tenille finally manages to use her height and legs to an advantage to comeback right before the commercial.
After the commercial, Tenille stays in charge, and gets in some solid moves and a lot of character work. She knocks down Jordynne repeatedly as she poses and makes cute references to maybe she shouldn't chop her. Things start going the same way the last match did, Kaleb interfering, the Taste of Tenille in the Tree of Woe; but Jordynne dodges the Spotlight Kick.
Tenille gets away from the Grace driver, tries the O'Connor Roll, but Jordynne sinks in the Rear Naked Choke and Tenille taps out. We'll probably see a rubber match, either at Victory Road or on a future IMPACT. But this is a solid story for a number one contender after the Kylie challenge is finished.
Rich Swann gets a solid montage showing him working out, the stitched up angle, and a doctor saying his prognosis was wrong. Rich should be fine.
IMPACTPlus Flashback Moment: Madison Rayne vs Gail Kim, TNA Knockouts Championship, Victory Road March 18, 2012
Reno Scum and @SuperMexCTM just jumped @HEATHXXII and @Rhyno313 to reclaim the cash. #IMPACTonAXSTV @Thornstowe_Scum @legendbaby81 pic.twitter.com/g2IwPLlO0y

— IMPACT (@IMPACTWRESTLING) September 30, 2020
The Rascalz (Dez & Wentz) vs The Good Brothers
Karl and Dez start off, with Karl eventually eating a kick and being on the receiving end of some quicker offense. Karl tags out to LG and that's the early story here. Gallows lays into the smaller team, but whenever Karl comes back in, The Rascalz find a little daylight.
After the second tag out, Karl finally keeps the pressure up and doesn't fall victim to any Rascalz chicanery. LG comes back in and starts hammering down Elbows and Gallows grinds on a few chokes. Dez catches Gallows with a Back Elbow and Wheelbarrow Bulldog, for both men to make the tag, but Wentz comes in hot. Fast paced action as Wentz has all of the momentum, he tags Dez in, which seems kind of fast, and that may be a mistake.
A tandem Footstomp looks good, but Hot Fire Flame is countered by Karl's knees, Wentz is dumped out, Dez tries a dive on Gallows, Gallows catches him and chicks Dez into Wentz. Then throws him back in, Anderson Spinebuster, Magic Killer, we get in a win for the Good Brothers.
Good Bros cut a promo claiming to have The Machine Guns in their sights, and challenge them at Bound For Glory. So…that's a huge match if it happens.
Brian Myers and Tommy Dreamer have a hallway showdown set to old Western showdown music. Myers tries to be big, Tommy blocks the swing, chokes him against the wall and Myers punks out immediately. Dreamer says Victory Road, and this is solid. Myers feigning being professional while acting like a complete entitle bitch is a great gimmick.
The Tenille/Jordynne rubber match is official for Victory Road, thanks to Kaleb…with a K.
Battle for Bravo's Best Man: Johnny Swinger vs Fallah Bahh
Fallah goes full E. Honda on Swinger in the corner. A few great comedy bumps by Swinger, but Swinger causes a distraction, hits Fallah with Crazzy Steve's monkey to get the pinfall! But Bravo berates the referee, tells him to restart it since there was cheating. So Fallah runs over Swinger and Bahhnzai Drop. Fallah is the Best Panda Man.
Rohit and TJP with a promo for a Beat Rohit challenge. TJP is a little stereotypical, borderline sexist…but there's still some comedy in his delivery. It won't be received well since TJP isn't very likable via Twitter, but it was a decent attempt in my opinion. 
Eddie Edwards comes to the ring, says he knows it was Eric Young. Sami Callihan shows up, Eddie then decides to blame him, but Sami says he's a good guy and knows who did it. Lights go down and a crazed,jacked, jorts wearing Ken Shamrock is behind Eddie and hits a solid Front High Kick, pounds on Eddie a little and then Ankle Lock. Callihan is on the outside looking like the evil super villain with his perfect weapon. Only thing said was Shamrock screamed "Get out of my way" before beating the hell out of Eddie. I'm interested, not gonna lie.
.@IamKylieRae is so excited for @realsuyung to get a shot at @DeonnaPurrazzo THIS SATURDAY at Victory Road! #IMPACTonAXSTV pic.twitter.com/17jllvDWn9

— IMPACT (@IMPACTWRESTLING) September 30, 2020
The North vs Ace Austin & Madman Fulton
This match had a great dynamic throughout. Early on Ace literally relaxed on the apron as Fulton manhandled both members of The North. After Fulton did some damage, Ace decided to just pick and choose his spots to come in. Quick strike offense that utilized a lot of kicks and knee lifts, as there are a few tag exchanges, before The North finally put the brakes on the assault.
The North cut off Ace and started showing why they are so good. Ace went for his Triangle Kick, but Page grabbed him and Alexander was able to start tossing around Ace. Ethan came in and goaded Fulton numerous times to force the referee to hold back Fulton, so The North can get in more tandem offense. Great tag work from both teams, and then it breaks down a little to Fulton get pissed and asserting himself to bail out Ace.
Fulton looks like a monster as he gets knocked out, but slowly rises up the apron. This forces Ethan to throw Josh at his legs, similar to how Josh does the Low Crossbody. Ace catches Ethan with a few kicks, looks to set up a Guillotine Leg Drop, but Josh shoves Ethan out of the way, then they have a great strike combo, treated Ace's face like a pinball. The half unconscious body of Ace falls onto Josh's shoulders and they hit the Northern Assault, for an emphatic victory.
Overall Score: 7/10
This was a solid episode, it did however, feel a little slapdash with the fairly quick insertion of Victory Road and this stop gap show before Bound for Glory. The matches all make sense and came together logically, but I can't help to feel a little underwhelmed.
By that I mean, most of us didn't expect Eddie to beat EY anyway, now there's a big obvious asterisk with what Shamrock did to him. Susie facing Deonna feels more like an avenue to continue the re-emergence of Su Yung, as opposed to a real challenger. Tenille and Jordynne, though a solid storyline away from the title, still feels like an extra step because there's a show with a name on it.
Don't get me wrong, none of the matches sound bad, and building storyline within another show is wonderful, but this episode just hit me a little oddly. Pretty good action and vignettes, just I don't really know. Can't quite put my finger on why it's left me more scratching my head than ecstatic for Victory Road.