Andrew's NJPW Strong Ep. 16 Results & Match Ratings: 11.20.2020
NJPW Strong episode 16 is the Showdown tour ending! A tag rivalry building, a grudge match, a match for top monster and the IWGP US Title Briefcase is on the line!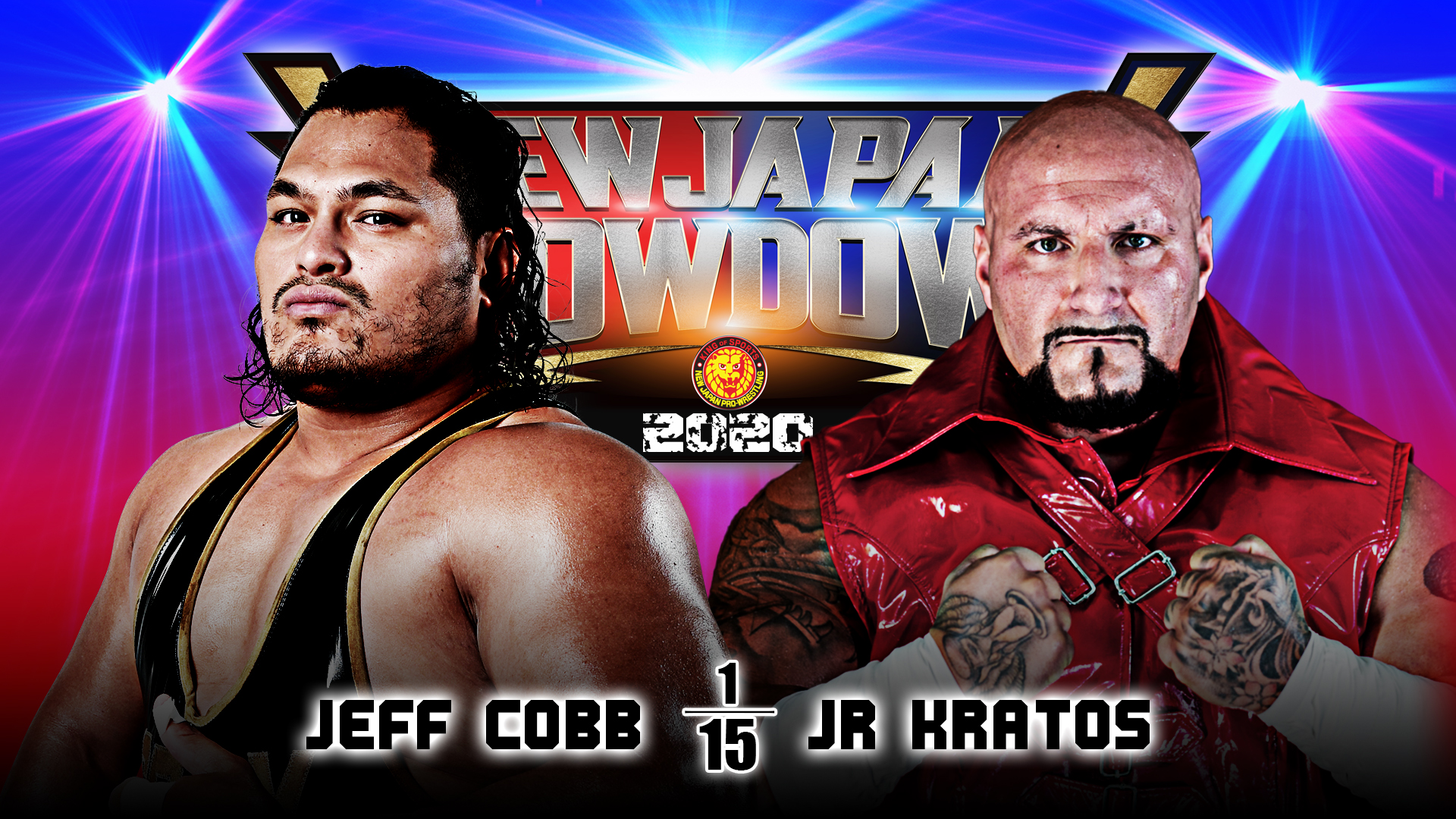 NJPW Strong episode 16 is the Showdown tour ending! A tag rivalry building, a grudge match, a match for top monster and the IWGP US Title Briefcase is on the line!
Coming off an episode that felt like their most well-structured show, combining story from commentary and story told in the ring, we see the culmination of this tour! JR Kratos could be a huge player in Strong, along with Tom Lawlor's Team Filthy. Plus, David Finlay is looking for vengeance against KENTA and his cheating.
Let's see how this plays out!
Ratings:
Logan & Sterling Riegel vs The DKC & Clark Connors: Clark wins via Boston Crab @9:06 – ** ½
Rocky Romero vs Rust Taylor: Taylor wins via Gaia Lock @10:00 – **
Jeff Cobb vs JR Kratos: Cobb wins via Tour of the Islands @7:34 – ***
IWGP US Title Briefcase: KENTA (c) vs David Finlay: KENTA retains via Go 2 Sleep @14:11- *** ¼
Results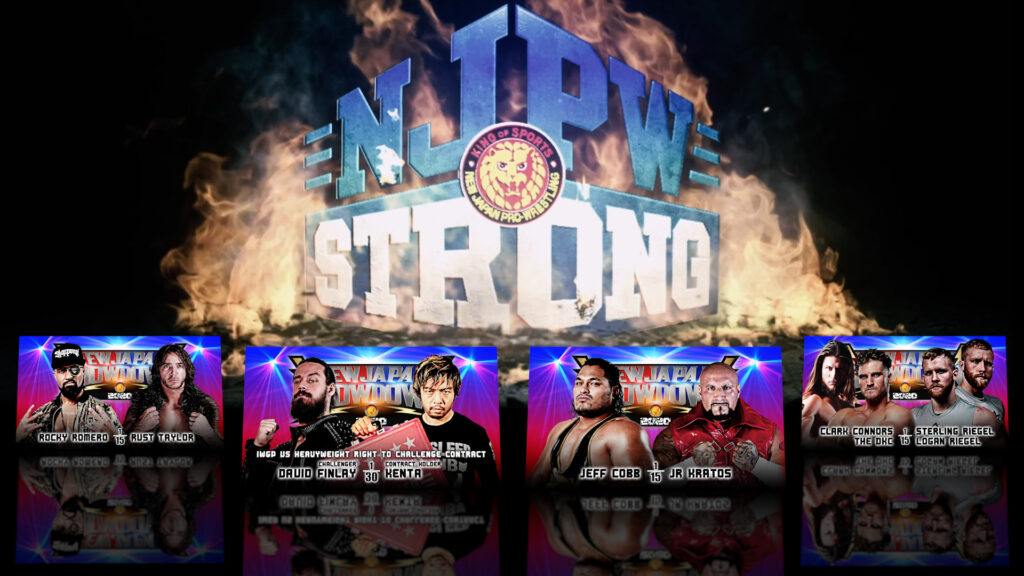 Logan & Sterling Riegel vs The DKC & Clark Connors
When it breaks down, this was a solid basics kind of tag match. My issue comes from the fact that DKC isn't good. He over exaggerates his motions to the point where they look like a kid pretending to do karate in the playground, and not somebody simulating a fight. Clark however is a hot tag incarnate and he's just a short fuse for a long period of time.
The Riegels had control for most of this match, where they isolated DKC with a few tandem attacks and just wrestled circles around him. But after Clark broke up a pinfall, yelled at DKC and stared down Logan Riegel, DKC found inspiration to get a tag. Everything Clark does, he does with force and purpose. His chops, shoulder tackles, his Spear is insane.
Things fell apart for the Riegels when they went for their Tandem Assisted DDT, but Clark just Body Checks Logan into tomorrow and they manage to beat up of Sterling, stop Logan from breaking up anything and Clark's Boston Crab evens up their team score.
I suppose if they're trying to build a feud this is fine, but the Riegels seem to have talent and DKC is a joke. So I'm personally not interested or impressed, but the story is at least relevant.
Rocky Romero vs Rust Taylor
With the story they were attempting to tell, I expected more aggression. Since Rust is trying to prove something to Rocky, whom he feels slighted by, I wanted more fire. This match started at a moderate pace, nothing offensive, but nothing really interesting.
Rocky hit a Diving Knee to try and focus on Rust's arm, to set up for the Armbar, but psychology elements were a little few and far between in this match. Hell there was even a spot they ran back because it was supposed to be an arm grab to spin Rocky into a Sole Butt, but it just looked like a confused mess the first time…and then they went right back to the spot (which is terrible).
So it was at that point I stopped caring. Rust won with an interesting Headscissors Armbar, but after the redo spot I was counting the seconds.
Jeff Cobb vs JR Kratos
Billed as a monster match, it does a good job at laying the ground work for more moving forward. Kratos shows that Cobb may be more agile, but Kratos isn't a statue. Everything he does has a burst and a pop, it's quite impressive. Between a nice Discus Lariat, even a Jumping Knee Strike, Kratos' moves just stand out.
The saving grace for Cobb, was honestly Kratos' over confidence. He applied his power moves methodically, but never really tried to smother Cobb. So when Cobb doesn't win after an Olympic Slam & Moonsault combination, we see a bit of a power trade. Then Kratos no sells a German Suplex, charges, Cobb ducks and catches Kratos on the rebound into the Tour of the Islands.
Post-Match has Team Filthy (Tom Lawlor, Rust Taylor) come out to beat on Jeff Cobb. Then Fred Rosser and Rocky Romero try to make the save for Cobb. Danny Limelight aligns himself with Tom Lawlor and then PJ Black clears the ring with a chair.
IWGP US Title Briefcase: KENTA (c) vs David Finlay
KENTA tried to control the pace and the narrative early, as he retreats to ropes, goes for slow and methodical rope breaks, chastising the referee to do his job and make Finlay abide by the rules. This all slowly annoyed Finlay, so he chased KENTA on a powder which seemed to give Finlay a small advantage, but it was playing into KENTA's plan. KENTA powders again, which forces Finlay's anger to get the best of him and he shoves the referee away and then eats a Chairshot for his impudence.
KENTA then controls a long portion of this match with his Stun Gun, Green Killer and just striking Finlay, keeping an optical edge. KENTA keeps rolling and looks like he's going to set up for his Hesitation Dropkick, but Finlay fires and follows KENTA with a Corner Lariat. Finlay builds a last gasp at this point, attempts Prima Nocta, but KENTA blocks it. Finlay hits a Stunner, and it looks like he's about to end things, but KENTA grabs the referee and Finlay wipes him out.
Finlay blocks the first attempt to use the briefcase as a weapon, but he falls victim to his frustration again. Where he gets the visual pinfall, but the ref is still down, so he stops everything, wallows in self pity for a moment before trying to figure out how to salvage the situation, giving KENTA recovery time, and plenty of Low Blow time.  After the Low Blow, we get the briefcase shot and then a Go 2 Sleep and KENTA retains the contract!
Overall Score: 5.25/10
Well this episode fell off hard compared to the previous one. Sadly, it's been mostly on par for 75% of the Strong episodes, which lies somewhere between slightly above average and disappointingly mediocre. Team Filthy could be an interest Suzuki-Gun style heel stable in the US portion of the roster, but the Hontai group feels super weak and uninteresting. Also DKC even being slightly relevant in a building storyline coupled with Limelight getting thrown into Team Filthy are just bad turns that I didn't need to suffer with in 2020.
Clark Connors is a stud and the Riegels seem like a really well put together team, but DKC's involvement makes me hate the feud. Plus I'm curious where Jeff Cobb will be placed since he aligned himself with Ospreay's Empire for the Tag League, so will he have a US and Japan specific persona? That also brings me to the thing I hate the most about this episode, KENTA. Not the match, because we should know what to expect. But from the fact his hair was still a highlighted mop, we knew this was filmed before the G1, so he had the Tanahashi defense after he filmed this, but we didn't officially know the result until now. So will they ever play with filming timing, because if they film stuff ahead of time and then just go forward on the marquee programs, do we even really have to care about the Strong matches?
Here's to hoping it's just awkwardness because of covid, and moving forward it will be less painfully dumb and obvious on match finishes.